What a weekend of NFL games. Admittedly, I was not particularly excited about the playoffs when I first became aware of the matchups, but I was wrong — the NFL produced some legitimate entertainment in round one.
While it's going to do little to soothe the grief of those whose favorite teams lost this past weekend, each team has something to build and improve on as they prepare to contend for Super Bowl LV in 2021. We highlight these things in this article.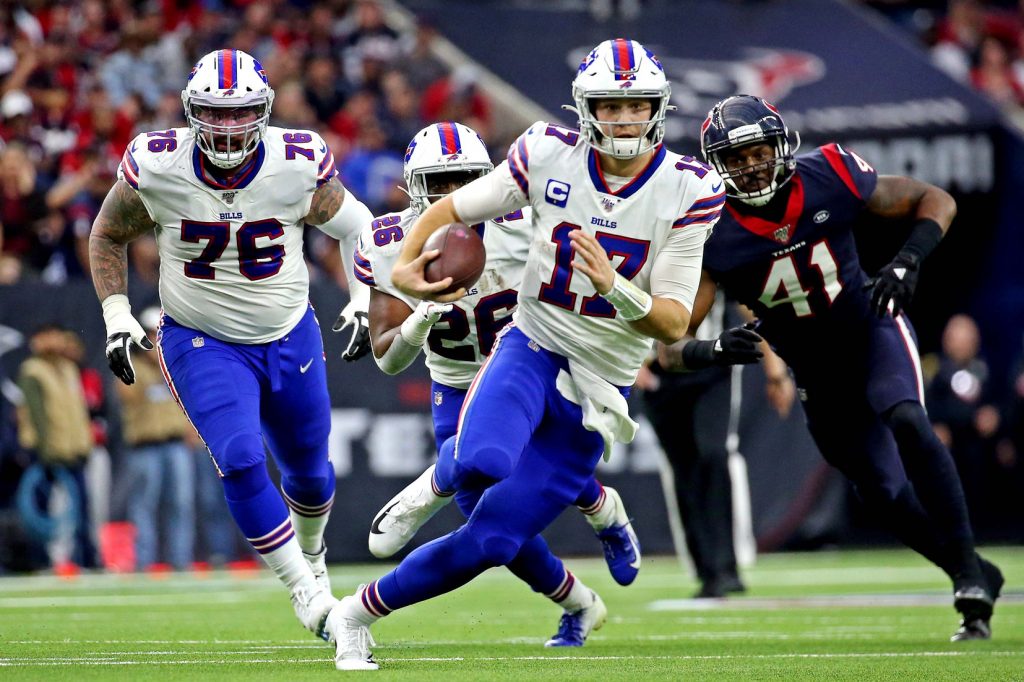 © Troy Taormina-USA TODAY Sports
The Bills went into Saturday afternoon's game against the Houston Texans as our 10th-best team in terms of PFF ELO, about two points better than an average team on a neutral field. They won six of their seven games that were decided by eight points or more, but only four of 10 close games. While they are still searching for their first playoff win since 1995, Buffalo is built very well defensively, with a secondary that is a top-six group in the NFL in terms of PFF WAR. They have a top-six group in terms of special teams and acquired some serious talent on the offensive side of the ball in John Brown, Cole Beasley, Ty Nsekhe and Devin Singletary last offseason. Some questions remain, though, as they strive to make the Super Bowl for the first since the 1993 season. 
It's tough to look at what the Bills did with the second-year signal-caller from Wyoming and not immediately think of the 2018 Chicago Bears and Mitchell Trubisky. The interesting thing about that comparison, though, is that the Bills' offense was not even one of the more efficient in the league, as they were 24th in the NFL in yards per play overall and 22nd in net adjusted yards per play. Before (predictably) falling to 31st in yards per play in 2019, the Bears were 20th and 15th, respectively, last season with Trubisky at the helm.
On average, the Bills got further away from scoring with each passing play (-0.03 EPA per) and failed to score a touchdown after the first drive against a struggling Texans team.
With our quarterback annual coming out later this month, it's good to reiterate that a quarterback's rate of negatively graded plays is his most stable trait, and Allen went into the playoffs leading all quarterbacks in that statistic. As we talked about in our writeup of the Bears' under win total going into the season, no quarterback who finished in the bottom five in terms of negatively graded play rate guided a top-10 passing offense the following year in terms of EPA per pass play.
Allen has a lot going for him. His arm strength is matched by few in the NFL, and his playmaking ability on the ground is surpassed by only Lamar Jackson among signal-callers in the league. The Bills worked around his weaknesses and enhanced his strengths for much of the second half of the season, and a Ravens-level of that approach could certainly work in 2020 (if Brian Daboll returns), but I suspect we'll see a great deal of under money on the Bills' win total for 2020 as a result of the question marks surrounding the former first-round pick.
Defensive Regression
This is another similarity between the 2018 Bears and the 2019 Bills — the Bills' defense was one of the league's best. They allowed the fourth-fewest yards per play, forced a turnover on over 12% of opposing drives and were third in net adjusted yards allowed per pass attempt. Despite a rough second half against DeAndre Hopkins on Saturday, Tre'Davious White was one of the best cornerbacks in the NFL, while Micah Hyde and Jordan Poyer have been one of the best safety combinations since they joined the team in 2017. Their coverage grade of 90.5 was the fourth-best mark in the NFL, and they've been in the top 10 in that metric for each of the seasons in which Sean McDermott and Leslie Frazier have been in charge.
Ok, so what's the point? As we've written about several times, coverage is what wins defensively in the NFL, but coverage is not very stable from season to season, and it is very susceptible to injuries. Hyde, Poyer, starting corner Levi Wallace and star linebacker Tremaine Edmunds started all 16 games this season, while White only missed a meaningless Week 17 matchup with the New York Jets. If there are any perturbations to this stability, the Bills may go from a top-five defense to a top-10 one, which, as we've seen, is enough to drag a team down when the quarterback play is iffy. 
On the other hand, first-round pick Ed Oliver was able to generate 29 total pressures and 21 stops as a part-time player, and McDermott and Frazier have consistently been atop our defensive play-caller rankings during their time with Buffalo. The AFC East is not a division that's exactly replete with great quarterbacks (especially with the question marks surrounding Tom Brady's future), so their schedule might do them some favors on that side of the ball after a relatively easy 2019 slate. It's tough to win consistently with defense in today's NFL, but if a team can do it, it might be the Bills in 2020.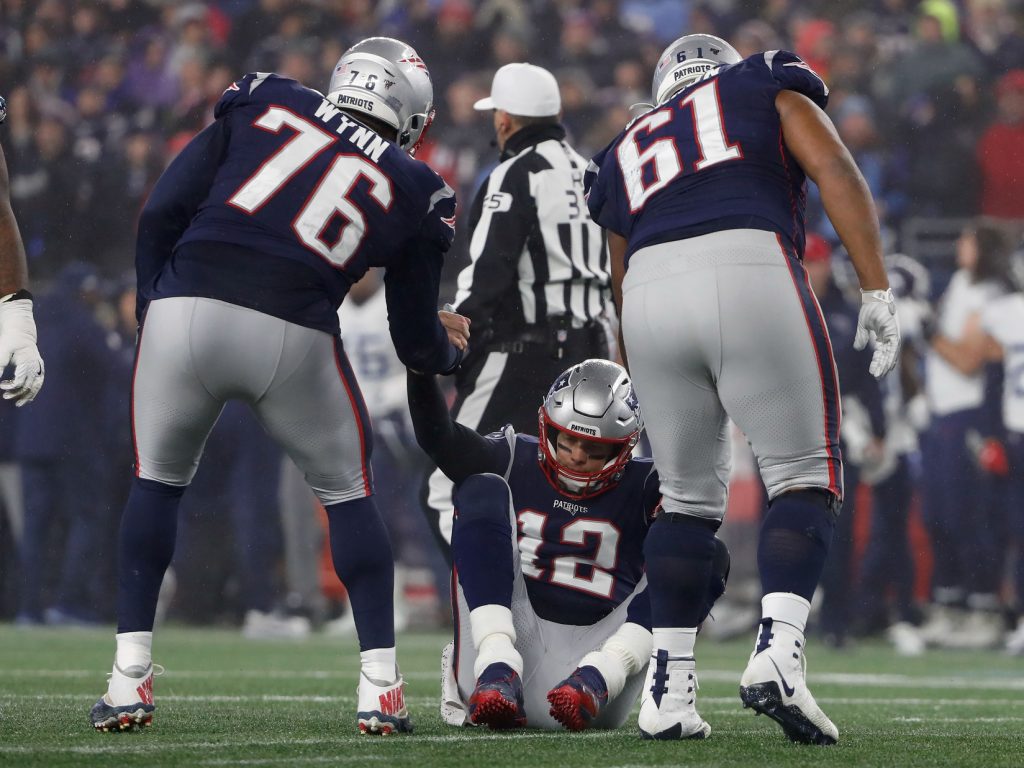 © Winslow Townson-USA TODAY Sports
Welp. It finally happened. After 10 consecutive seasons of earning a first-round bye in the AFC playoffs — and nine making the AFC Championship Game — the Patriots fell to the Tennessee Titans 20-13 in a game where their league-leading defense did enough to win, but Bill Belichick, Tom Brady, Josh McDaniels and a weak supporting cast could not muster enough offense to move on to the divisional round. 
A lot of questions persist into the 2020 offseason. Will Brady return? How much longer will Belichick coach? What will they do if McDaniels moves on? Can the defense curb their late-season decline and remain one of the league's best? We examine some of those things here.
Can the offense rebuild?
All bets are off with this unit if Tom Brady leaves, as the Patriots signal-caller probably did better than his surroundings would suggest in 2019, earning the 12th-highest overall grade among quarterbacks due in large part to his receivers dropping the second-most passes in the league. The move that sent a second-round pick to the Atlanta Falcons in exchange for wide receiver Mohamed Sanu ended up being a bust, as Sanu was able to muster only 0.94 yards per route run as a Patriot. As predicted, the first-round investment in running back Sony Michel could not overcome an offensive line that fell from second to 10th in run blocking this season. First-round pick N'Keal Harry was injured to start the season and then was even less efficient than Sanu was (0.83), while the tight end positions were almost non-existent throughout the entire year. 
To get back to where they want to be in 2020, they have a lot of work to do to rebuild this unit. It was going to be impossible for them to replace Gronk, but they needed to do a better job than Matt LaCosse and Benjamin Watson. Eric Ebron, Tyler Eifert and Hunter Henry are some (at least initially) good options in the free-agent market.
With Julian Edelman also getting up there in age, it would also benefit them to invest in the receiver position, and preferably on the outside. There are a number of projected first-round receivers in the upcoming draft, but given Belichick's track record in drafting receivers in the first round, another trade might be in order.
With all of these question marks surrounding support, would it even make sense for Brady to return? Give me the "no" on that prop.
Can the defense remain elite?
The Patriots were on a historic run for the first half of the season, leveraging brilliant coverage with the best defensive play-calling group in the entire NFL. Despite losing Trey Flowers in free agency, putting almost no emphasis on the pass-rush, the coverage for the Patriots was still the league's best, earning a 92.7 overall grade in the regular season and holding the league's leading passer to under 100 yards in their playoff matchup on Saturday. They rushed roughly the median number of players on average while quarterbacks held on to the ball at a rate higher the league average, and their coverage still mostly held up, as they allowed only six yards per pass attempt and brought in 25 interceptions.
In 2020, though, they will not have the pleasure of facing the league's second-easiest schedule, and they are also looking at the free agency of Devin McCourty, Jamie Collins and Kyle Van Noy. Defense is nowhere as stable from season to season as offense is, meaning that the Patriots can be as fundamentally good as they were and still not produce turnovers at a rate that was the league's third-highest, as they did in 2019, for example. Knowing Belichick and company, though, they might take a look at what is one of the better free-agent classes in terms of defensive backs, and re-stock what is one of the best groups in the league.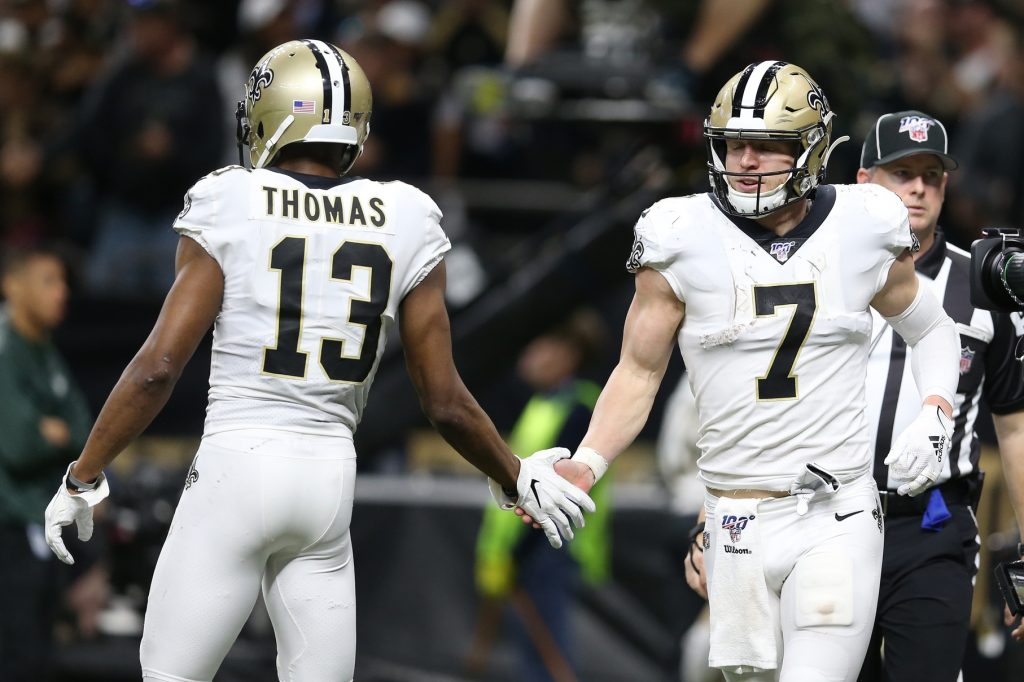 © Chuck Cook -USA TODAY Sports
The Saints were our top NFC team in terms of PFFELO heading into the playoffs. They had to play in the first round of the postseason because of some tiebreakers and a close loss to the San Francisco 49ers in Week 15, and they ultimately lost to the Minnesota Vikings in overtime at home on Sunday. It was their third consecutive crushing playoff loss, and it leaves them a decade away from when they last held up the Lombardi Trophy, in what was Drew Brees and Sean Payton's fourth year with the club. 
Like with Tom Brady, there are question marks about Brees' future, and Teddy Bridgewater (also a free agent) filled in admirably in his stead this season. There's a chance that Brees moves on after the season, but I would estimate that it's far less likely than Brady's chances of moving on from the Pats. Assuming he returns, here are some things that will determine if they can contend for the Super Bowl next season.
Jared Cook was the most efficient tight end in the NFL during the last quarter of the season, and he finished the year with the second-most receiving yards on the team (704). However, Ted Ginn's 421 yards were the second-most among wide receivers and were simply not enough to keep defenses honest against Michael Thomas at times during the season. With Alvin Kamara (predictably) regressing as a weapon on the ground and through the air, the Saints are trending dangerously close to being a Michael Thomas/Taysom Hill-or-bust offense, which will struggle to compete in the NFC moving forward. As we said above with the Patriots, the draft has some receivers that could entice New Orleans.
That being said, Thomas has been remarkable from the moment he stepped on the field in 2016, catching 501 of his 628 possible targets (79.7%) while generating almost 6,000 receiving yards and over 2,100 yards after the catch during that time. He's become an increasing focal point of opposing defenses during that time, as his yards per catch after the catch has declined in each season. If the Saints can acquire a field-stretcher in the draft (My colleague Mike Renner has linked them to Henry Ruggs of Alabama) or someone like Amari Cooper or even Breshad Perriman in free agency, things should open up even more for the fourth-year player from Ohio State as he continues his assault on the record books.
Offensive scheme
Payton has been one of the best offensive play-callers in the NFL for as long as we've measured such a thing, and far be it from me to have all that much of a gripe about how they run their offense. However, an offense that induces an ADOT higher than just one other NFL team requires efficiency that is difficult to sustain come playoff time, which is when every defense is relatively stout and explosiveness is at a premium. It's difficult to cross the street as much as they try to do in the playoffs without getting hit by the proverbial car. 
Brees has been the best player in the league in each of the last two seasons in terms of limiting negatively graded throws, but his 25.6% positively graded dropback rate is a middle-of-the-pack mark among playoff quarterbacks. Only 2.7% of his dropbacks were graded as big-time throws by our system this season, which is better than just two playoff quarterbacks. Brees' style of play, avoiding pressure by making quick decisions and getting the ball into Thomas and Kamara's hands underneath, certainly plays into Payton's play-calling, but more downfield throws could help them build separation against good-but-weaker teams (like the Vikings) and avoid the heartbreaking defeats that have been their trademark over the last three years.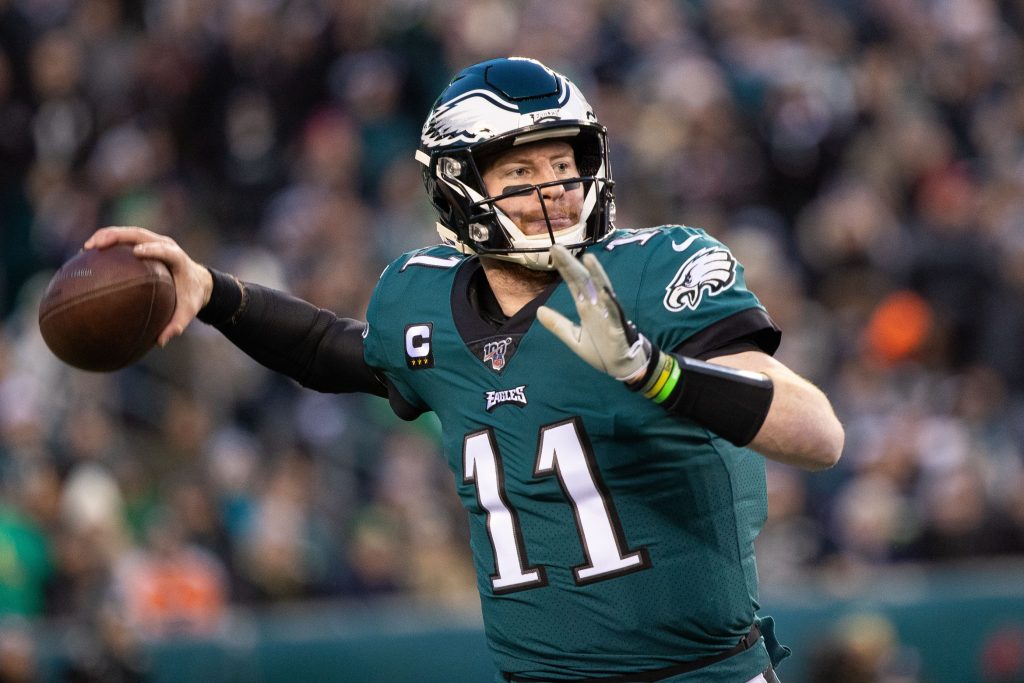 © Bill Streicher-USA TODAY Sports
The Eagles had to overcome a lot in 2019. With injuries to their top defensive backs, offensive linemen, wide receivers and eventually their quarterback in the wild-card round, the Eagles won the NFC East despite not being close to being the best team in the division. Ultimately this caught up to them in the playoffs, as Josh McCown, Miles Sanders and company could not get in the end zone in a 17-9 loss.
As the Eagles look to 2020, much of what was said about them going into 2019 will be true. Carson Wentz is still a top-half-of-the-NFL quarterback grade-wise without any support, and support is likely on the way. Doug Pederson is one heck of a coach, and there is a lot of talent along the front seven of that defense. They have some questions to answer before they contend for a Super Bowl in 2020, though, and here they are. 
Cornerback
The Eagles are one of the biggest examples of how poor coverage can not be overcome by a great pass-rush, as they have been a top-six group getting after the passer in each season of the Doug Pederson era. What has fallen drastically since their 2017 Super Bowl run is their coverage. Part of this is health-related, but almost none of their cornerbacks have played well over the past two seasons. 
After a season in which he played only 542 snaps and graded well (70.4 coverage grade) prior to an ACL injury, Ronald Darby earned only a 41.0 coverage grade across 506 snaps in 2019. Jalen Mills failed to earn over a 60.0 coverage grade in just under 1,000 coverage snaps the last two years, a year after playing over 1,100 snaps in a Super Bowl-winning 2017 season that earned a 67.2 coverage grade. Rasul Douglas (49.7), Avonte Maddox (57.4), Sidney Jones (68.3 on only 293 snaps), Craig James (41.0) and Cre'Von LeBlanc (69.3 on just 82 snaps) are not offering anything that's positive EV any time soon. A total and complete overhaul at the cornerback position is likely necessary.
There are some cornerbacks to be added via the upcoming draft, but the best opportunity for the Eagles to address this position is to weaken their division rival by signing Byron Jones, who has the type of position and scheme flexibility that should add substantial value to a rebuilding Eagles cornerback group. Without quality players at the cornerback position, the Eagles risk wasting some of the last years of the brilliant Fletcher Cox and Brandon Graham, along with the early seasons of the promising Derek Barnett. With competence at the position, their effectiveness could be extended for a few more seasons. 
Health
Injuries are hard to predict and prevent, but a combination of an aging roster and bad luck has had the Eagles looking like a M.A.S.H. unit over the past few years. In their Super Bowl-winning season of 2017, they overcame the loss of Jason Peters, Carson Wentz, Ronald Darby, Caleb Sturgis, Jordan Hicks, Sidney Jones and Chris Maragos for an extended amount of time. When this injury trend continued into subsequent seasons, with Lane Johnson, Malik Jackson, Alshon Jeffery, Corey Clement, DeSean Jackson, Hassan Ridgeway and Darren Sproles missing significant time in 2019, it turned out to be too much to hoist the Lombardi again.
The most significant injury concern is, of course, Carson Wentz, who finally started all 16 games in 2019 but left the playoff game against the Seattle Seahawks with a head injury and looked hampered by injury several times during the course of the season. While it's probably unlikely that there's anything systematic about what has ailed Wentz — he's in the top half of the league in play-action percentage used (30.4%) and in the bottom half in time to throw (2.56) — better support in the way of young wide receiver depth is needed after J.J. Arcega-Whiteside. The combination of Jeffery and Jackson is likely too long in the tooth to count on moving forward, and Nelson Agholor has been nothing short of a disappointment every season other than 2017. A complete overhaul, one that gets the ball out of Wentz's hand even faster than it does now, is likely in order if we're going to avoid an Andrew Luck-like outcome for what is one of the most talented young quarterbacks in the league.