The regular season has concluded, and for several prospects, that means there's no more tape to grind. This, in turn, means that it's time for another mock draft. This time, we're projecting what we believe will actually happen come next April. Let's dive into the picks.

There will be no change at the top for the foreseeable future. If the Bengals own the top spot, Burrow is the pick. He's easily the highest-graded quarterback in the country and has done things from an accuracy perspective we've never quite seen before. He's been over 10 percentage points better than the next closest quarterback in terms of accurately placed footballs on throws past the line of scrimmage (75.9%). 
2. New York Giants – Edge Chase Young, Ohio State
The first two picks are no-brainers at this point. Young is the most dominant college football player we've ever graded here at PFF. He's going to shatter the single-season pass-rushing record a year after he became the only true sophomore to lead the country in pressures.
Thomas' career grading profile is about as impressive as we've seen from an offensive lineman in our six years of analyzing college (that is until Oregon's Penei Sewell next year). He's allowed all of 35 pressures in three years as a starter in his career, and he is currently the highest graded draft-eligible Power-5 offensive lineman. Not a bad replacement for Trent Williams. 
4. Miami Dolphins – QB Justin Herbert, Oregon
The Dolphins are in a spot where they can afford to let a franchise quarterback develop, so I wouldn't argue too strenuously with this pick. All Herbert's tools have resulted in only 20 big-time throws on the year —26th among all QBs in college football.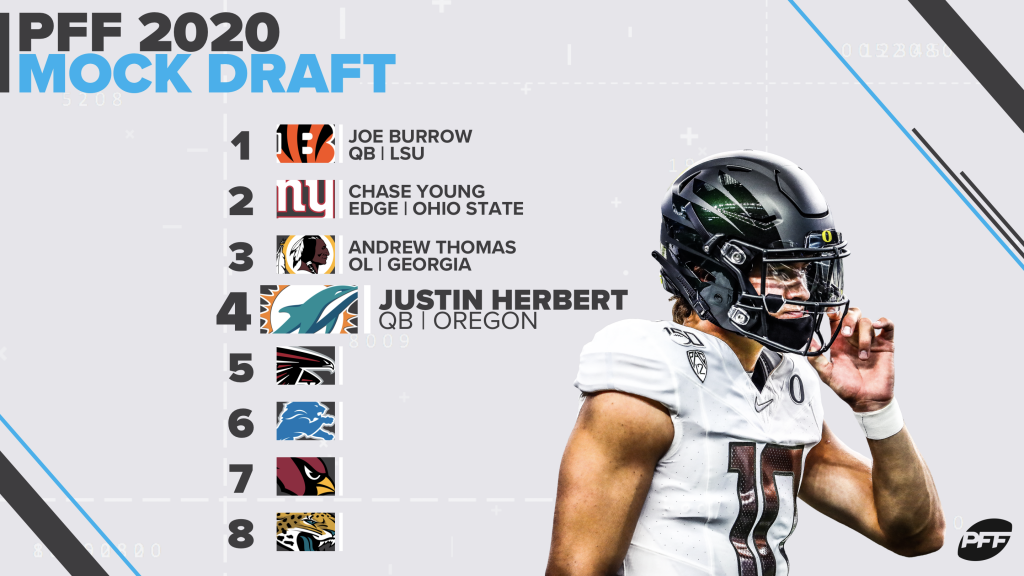 5. Atlanta Falcons – CB Jeffrey Okudah, Ohio State
Get used to this fit popping up a lot in mock drafts as long as the Falcons are slotted near the top of the draft. The division rival Saints defense got completely revitalized when they hit on Ohio State cornerback Marshon Lattimore, and Okudah could do the same for the Falcons. Okudah has allowed a passer rating of only 54.5 on 104 targets for his career. 
6. Detroit Lions – Edge A.J. Epenesa, Iowa
After a lackluster start to the year, Epenesa has shown down the stretch that he's a talent worthy of a top-10 selection. Over his last six games, Epenesa has racked up 28 pressures and a pass-rushing grade over 90.0. His versatility is perfect for Matt Patricia's scheme and would give them a lot of options opposite Trey Flowers.
Any offensive lineman will do here for Kyler Murray and the Cardinals. I particularly like the Wirfs fit because, with Murray's mobility, defenses often choose to bull-rush their ends to keep contain. The Iowa right tackle has as strong of an anchor as you'll ever see from a true junior and is unlikely to cede much ground into the pocket against a bull-rush. 
Jeudy didn't build too much upon the sophomore campaign that saw him win the Biletnikoff Award for the nation's top receiver, but then again, he didn't have to. Jeudy is a special athlete and route runner who looks like the true number one the Jags have been missing. 
9. New York Jets – OT Alex Leatherwood, Alabama
The Kelvin Beachum era in New York likely ends after this season with the left tackle's contract expiring. That opens the door for Leatherwood and his silky smooth feet in pass protection. He only allowed 11 pressures on 409 pass-blocking snaps this season.
Back-to-back Alabama offensive tackles in the top-10 and they're both that good. The last time the Chargers drafted an Alabama right tackle, it didn't work out so well, but Wills is a different breed from D.J. Fluker. At 6-5, 320 pounds, Wills is far more explosive than he is a brute in the run game. It's a big reason why he earned a freaky 91.4 run-blocking grade this year.
11. Denver Broncos – DI Derrick Brown, Auburn
We have questions about his down-to-down consistency as a pass-rusher, but there's little doubt that he's already a man amongst boys with a 90.2 overall grade this season. He goes to a Broncos defensive line that's lost its luster on the interior and has Derek Wolfe hitting free agency. 
Fulton was the highest-graded coverage corner in SEC play this season. He earned an 89.7 coverage grade in both 2018 and 2019. That's consistency and a sample size worth trusting. There's no need to even dive into why the Eagles need a corner.
Diggs did not disappoint coming back from injury this year. He allowed only 22 catches on 52 targets with nearly half of those yards coming in one game against LSU. Tampa has added a ton of corners in recent years, but so far, nothing has stuck.
14

. Carolina Panthers – DI Javon Kinlaw, South Carolina

The Panthers have been looking for another difference-maker to pair with Kawann Short for some time now and none have quite panned out. Kinlaw can certainly be that guy after earning pass-rushing grades of 88.7 (2018) and 91.0 (2019) the past two years.
15. Cleveland Browns – LB Isaiah Simmons, Clemson
The Browns could use help at linebacker, safety and slot corner, so why not draft a guy who can play all three? That's what Simmons has done for Clemson's defense this year and has graded out above average in coverage every year of his career.
16. Oakland Raiders – WR Ceedee Lamb, Oklahoma
This would be one of the steals of the draft if Lamb were to make it all the way to No. 16. The Oklahoma wideout has bridged the gap between himself and Jerry Jeudy considerably this season, as Lamb leads all draft-eligible players in yards per route run on the year. He'd be the true number one that Oakland thought they had in Antonio Brown.
Battling through multiple injuries and preseason surgeries this year, Shenault still managed to break 15 tackles on 56 catches this season. He's not Lamb or Jeudy as a route runner, but he's a special player with the ball in his hands. 
18. Oakland Raiders (via Bears) – DI Marvin Wilson, FSU
Wilson's season tapered off down the stretch before a hand injury ended his year. Still, he finished with a higher pass-rushing grade in his third college season (90.9) than any other defensive tackle in this draft class.
19. Tennessee Titans – Edge Yetur Gross-Matos, Penn State
Harold Landry has been solid off the edge for the Titans, but the same can't be said for the revolving door across from him. Gross-Matos has elite physical tools and has seen a massive jump in his pass-rushing grade from 67.7 last year to 82.8 this season.
You can throw the last few games out the window because Delpit was injured, but even still, it's been an uninspiring junior campaign for a safety who was once thought of as a possible top-five pick. He missed a tackle in every game this year except Week 1 against Georgia Southern.
21. Dallas Cowboys – Edge Julian Okwara, Notre Dame
Okwara's ability to get upfield and penetrate fits in perfectly with what the Cowboys like to do defensively. He earned a 90.0-plus pass-rushing grade before his season was cut short with a broken leg.
22. Miami Dolphins (via Steelers) – OT Josh Jones, Houston
I fully expect Jones to shoot up draft boards during Senior Bowl week down in Mobile. He earned the highest grade of any draft-eligible offensive tackle this year and the highest we've ever given to a Group of Five offensive tackle. 
Henderson has been picked on more this year than his first two seasons as a starter for the Gators defense, but he still offers ability in man coverage that the Chiefs don't currently have on their roster. In 2018, Henderson allowed only 18 catches and a passer rating of 49.4.
Johnson has utterly dominated in Pac-12 play this year and has shot up the PFF draft board accordingly. He's allowed fewer than five yards in his coverage in five of Utah's last six games. Those are absurd numbers. With Trae Waynes a free agent and Xavier Rhodes struggling, the Vikings could very well address cornerback in the first once again.
25. Miami Dolphins (via Texans) – Edge Curtis Weaver, Boise State
He's the most productive pass-rusher in the country not named Chase Young and nothing on tape that suggests he wouldn't continue that dominance against better competition. With all the needs on the Dolphins roster, any value position will do.
26. Buffalo Bills – C Tyler Biadasz, Wisconsin
The highest-graded center in college football, Biadasz has the size to play any interior position. Quinton Spain has been a godsend at left guard but is only on a one-year deal and the Bills can't afford to let their line backslide in 2020.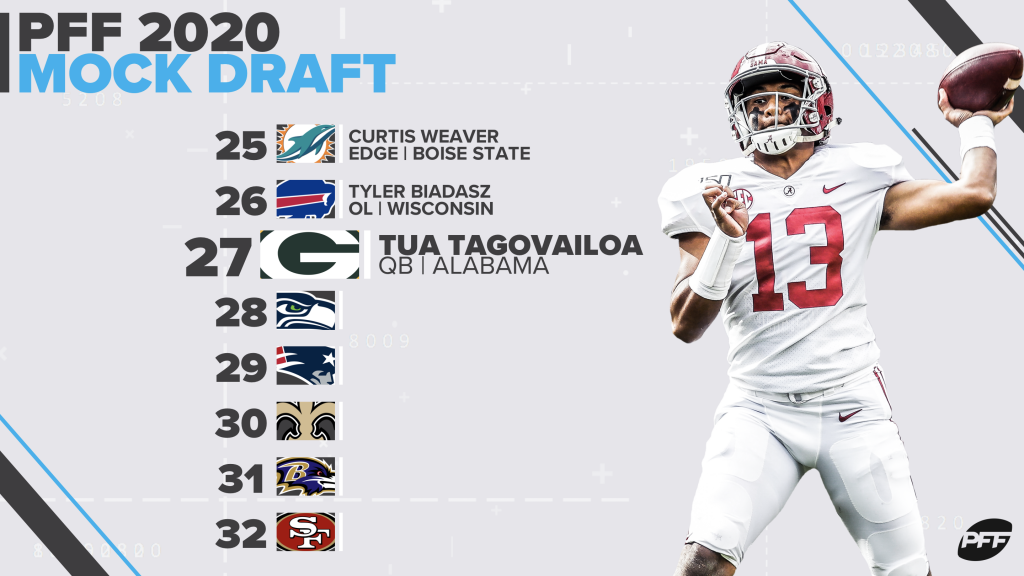 Tua's slide ends in poetic fashion. Fifteen years after the Packers tabbed Aaron Rodgers as their heir apparent to Brett Favre, they get their QB of the future to develop once again. With how serious and unknown Tua's medical situation is, it's difficult to see anyone taking a risk on him early on in the draft. 
Not every scheme is going to place a first-round grade on Hall's skillset, but any press-cover-3-heavy team absolutely should. Hall led the nation in forced incompletions in 2018 and only played six games this past season before breaking his ankle.
Chaisson fits what the Patriots have gone for in the past in terms of athletic profile. They love big athletes who can cover as well as rush the passer. Chaisson has flashed in both regards, though he's never been dominant, as is indicated by his 75.8 overall grade this season  
Think Ted Ginn without the drop history. Ruggs should challenge the 4.2-second mark at the combine in Indy and has only dropped four of 100 catchable passes in his career. That's a good combo to pair with Drew Brees late in his career.
31. Baltimore Ravens – RB Travis Etienne, Clemson
The only franchise we might be able to get on board with taking a running back in the first round. Etienne is simply a different caliber of athlete, even from the rest of this talented running back class. He's going to shatter PFF's single-season record for broken tackles per touch this season. Adding that kind of explosiveness to the backfield with Lamar Jackson is terrifying.
With Jimmie Ward set to hit free agency, Davis can seamlessly fill that role in the 49ers' defense. We've seen him make picks and pass breakups while both covering the slot and playing the deep middle of the field.