With the 2019 regular season complete, we're turning our eyes toward this offseason's potential free agent class. The offensive free agent list is filled with starting quarterbacks and pass-game playmakers, so it's only right that the group of defensive free agents has weapons to thwart opposing passing attacks. On the back of PFF research that coverage players hold more value than pass-rushers, our list of free agents will reflect those findings, as will age, and versatility to be coveted by many teams. Here's our early look at the top defensive free agents.
A move to cornerback rejuvenated Jones' career in 2018 as he showed that he can play single coverage on the outside at a high level. He finished with the No. 14 coverage grade among corners in 2018 (80.4) before dropping to 21st in 2019 (74.8), but those are extremely valuable numbers as he hits the open market. Many will point to Jones not picking off a pass over the last two years, but his 74.1 coverage grade in single coverage is 11th-best during that time and Jones has also shown the ability to match up against tight ends when called upon. Jones brings youth and coverage ability to the open market, making him the top defensive free agent heading into the offseason.
Another top coverage player, Harris has an extended track record of success, but he's going to be 31 at the start of the 2020 season. He's also coming off his worst season, finishing with a slightly above-average coverage grade of 66.8. However, this was the first season of Harris' career that saw him play exclusively on the outside after he was the best slot corner of the decade who held his own on the outside when needed. Harris is an intriguing candidate for teams looking to put him back in the slot where he excels in both man and zone coverage.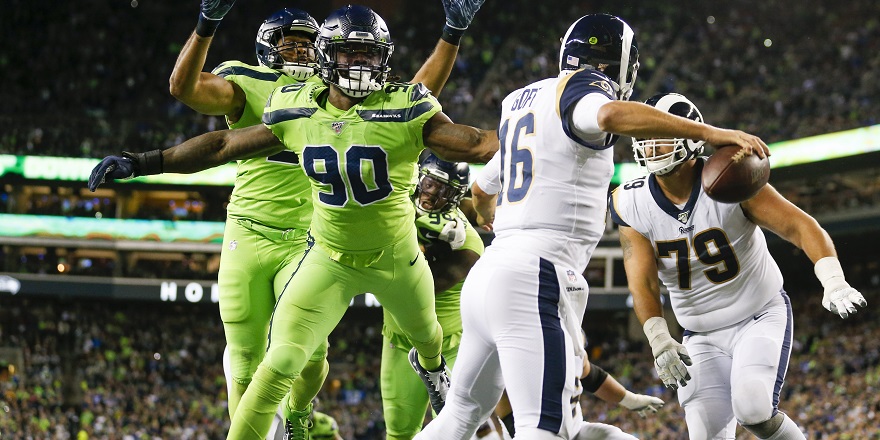 © Joe Nicholson-USA TODAY Sports
Clowney put up an 88.0 overall grade in 2018 – highest of his career – and he followed up with an 87.3 grade after a trade to the Seahawks, despite seeing his sack total drop from nine to three. Clowney has the No. 11 overall grade among all edge defenders since 2017, including the No. 3 mark against the run (91.3) and, but just the No. 25 pass-rush grade at 83.9. Pass-rushers earn massive contracts for their ability to get after the quarterback, but Clowney has always been good, not great, in that department. The price tag may be too high for many teams, but Clowney brings top run defense and solid pass-rush to the table, though his game has never really lived up to his draft hype and he's never matched the production of other dominant edge defenders.
Heading into his age-26 season, Jones is one of the best young defensive linemen in the game. He graded at 84.9 overall during the regular season, good for sixth among interior defensive linemen. It marks his third straight year ranking in the top-eight at the position, and this year saw him move around the defensive front more than ever, increasing his versatility. Jones can get after the quarterback as his 58 total pressures rank fourth on the interior and he's a proven, disruptive run defender. Jones is right there with Clowney as the most valuable defensive lineman on the market, with Clowney only getting the edge due to positional value

One of the league's most underrated players, Harris has been a playmaker on the back end of the Minnesota defense since seeing extended playing time in 2018. Harris has the top regular-season coverage grade among safeties at 91.6 after ranking sixth last season. He's played the majority of his snaps at free safety, but this season has seen him play about 40% of his snaps in the box or over the slot, showing that he can play a more versatile role in a defense. Harris makes plays on the ball as he has nine interceptions and seven pass breakups over the last two years all while missing just four of his 100 tackle attempts. Playmaking, sure tackling safeties are of immense value in the NFL, and Harris has shown both traits as much as any safety in the league over the last two seasons.
Littleton has quietly become one of the best coverage linebackers in the league, capable of running the seam with tight ends and closing quickly on running backs underneath. Littleton has 18 pass breakups and six interceptions over the last two seasons while posting a 90.6 coverage grade, third-best in the league. Potential suitors are going to love Littleton's ability to affect the pass game. However, he's had his struggles against the run. His 50.8 run defense grade ranks just 103rd out of 126 qualifiers over the last two years, so that could hurt his value for teams looking for an all-around three-down linebacker.
Simmons had a breakout 2019 season, grading at 90.8 overall and earning PFF first team All-Pro honors. The only thing keeping Simmons from being higher on the list is the multiple-year sample, as his previous three years saw Simmons grade between 60.9 and 75.3 prior to his 2019 ascension. The biggest place where Simmons improved has been at the catch point, where he broke up 11 passes in 2019 after breaking up just three in his first three years in the league. At only 26 years old, Simmons will be coveted by two-high safety teams with interchangeable roles, and the hope is that his breakout season was an indicator of big things to come. Even if he can't duplicate his All-Pro season, Simmons still brings a solid all-around safety who can line up all over the field.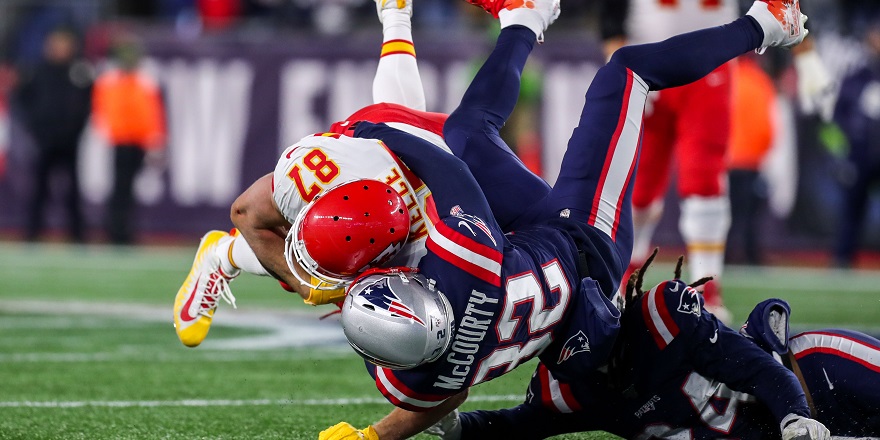 © Paul Rutherford-USA TODAY Sports
The only thing keeping McCourty from being higher on the list is age as he enters the 2020 season at 33 years old. McCourty exemplifies what you want in a "safe" safety as he's rarely out of position in the passing game and a sure tackler in space with just 71 career misses on 890 tackle attempts. While McCourty has dabbled in multiple roles playing closer to the line of scrimmage or covering tight ends, he's at his best as a deep free safety where he will rarely bust coverages and take advantage of quarterback mistakes when presented. McCourty's biggest value may be a pure free safety role he can provide a mistake-free veteran presence to a secondary.
Over the last three seasons, Boston has quietly been one of the best pure free safeties in the league, and he's done it with three different teams. He's not as versatile as other safeties on the list as he lines up almost exclusively as a pure free safety, but with 11 interceptions and 16 pass breakups over the last three years, Boston is a game changer on the back end. On the other side, his tackling has been poor as he's missed 25 tackles over the last two seasons. While tackling and lack of versatility drop his value, Boston is a perfect fit in a deep safety role for both single and two-high safety teams.
Barrett has gone from underrated role player to potentially overrated pass-rusher after a career year that saw him pressure the quarterback 82 times (20 sacks, 18 QB hits, 44 hurries). The sacks will get most of the attention, and perhaps lead to his being overpaid, but it's the 82.0 pass-rush grade that is a better indicator of Barrett's future success. He' graded between 71.3 and 82.0 as a pass-rusher in all five years of his career, and that baseline projects a solid player rather than the Defensive Player of the Year candidate that the stats would suggest. Barrett deserves credit for taking advantage of a starting role and putting together a career year, but potential suitors must look beyond the gaudy sack totals before investing long term.