With the first 20 picks of the 2020 NFL Draft officially set in stone, we thought it was time to revisit our first-round mock draft. The offensive tackle and wide receiver classes are well represented with six of each appearing in our first round.
With the Bengals officially having locked up the first overall pick in the draft, get used to seeing Burrow's name here because it isn't changing from now until draft day. His 94.3 overall grade is the highest we've ever seen from an SEC quarterback.
If positional value didn't matter, Young would be the No. 1 overall pick. There's not a box he doesn't currently check at the position, and even better, he's seen his grade improve every single year at Ohio State.
3. Detroit Lions — CB Jeffrey Okudah, Ohio State
Okudah isn't as much of a sure thing as Young, but he similarly checks pretty much every box you want to see at the position. Okudah hasn't allowed 50 or more yards in any single game this season.
4. New York Giants — OT Jedrick Wills, Alabama
Wills has been a rocketship up draft boards this season — and for good reason. Wills improved by leaps and bounds, even as the season went along. He allowed 11 pressures all season but only one in his last five games.
5. Miami Dolphins — QB Tua Tagovailoa, Alabama
The hip injury is a serious concern, but it's not as if the Dolphins need Tua to see the field day one. Tagovailoa had only 24 turnover-worthy plays in his entire college career.
Thomas is the rare offensive lineman who's started since his true freshman year yet never really played bad football. He earned a 76.7 pass-blocking grade as a true freshman for Georgia.
The Panthers just drafted edge last season, but Epenesa is a different breed than Brian Burns. Epenesa is more than comfortable kicking inside and did so on 92 snaps at Iowa this season.
Wirfs only allowed multiple pressures in two games this season, and he only allowed one total pressure over his last six games. That's indicative of just how far he's come after earning a 52.9 pass-blocking grade as a true freshman.
Brown is in the conversation for being the most powerful defensive lineman in college football. He didn't miss a single tackle on 42 attempts all season and had a 90.6 pass-rushing grade.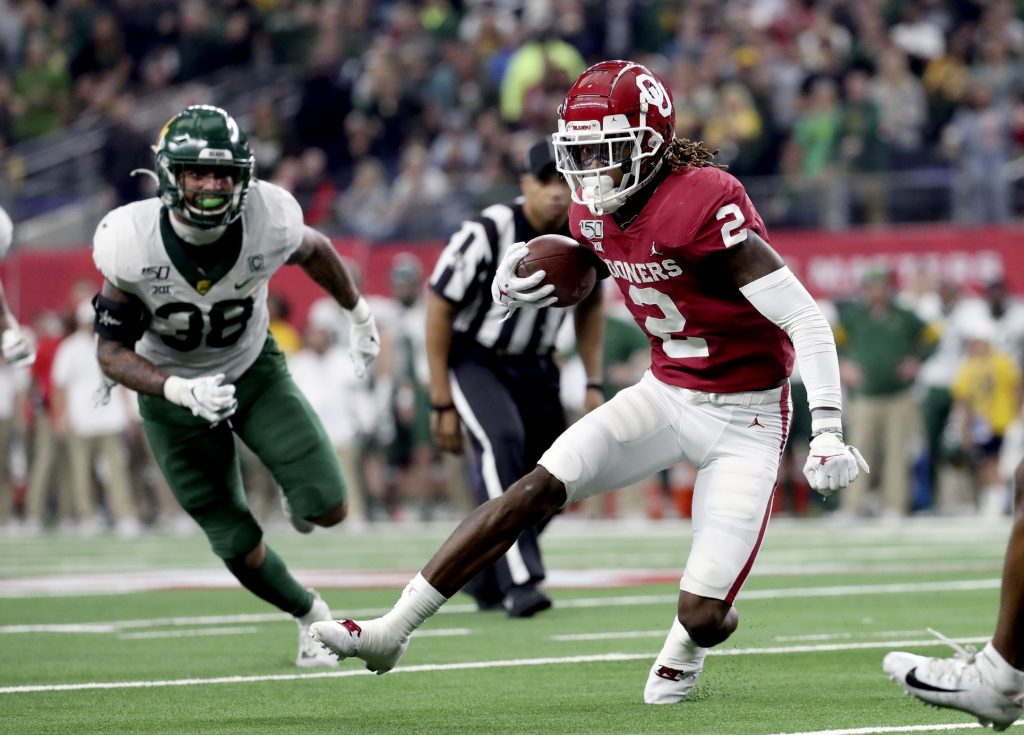 © Kevin Jairaj-USA TODAY Sports
Lamb's blend of size and production as an outside receiver may very well push him above Jeudy come draft day. It's an insanely deep receiver class, but Lamb's a different breed. He's broken an absurd 25 tackles on 58 catches this season.
11. New York Jets — WR Jerry Jeudy, Alabama
A little bit of a drop issue popped up for Jeudy this year, but he was still below a 10% drop rate for the season (7 on 78 catchable). He'd be the No. 1 receiver Sam Darnold needs to continue his development in Year 3.
12. Oakland Raiders — LB Isaiah Simmons, Clemson
Simmons has lined up all over the place in his three seasons at Clemson, yet he's still earned a 92.0 coverage grade for his career. That will fit in nicely in a Raiders defense that could use almost any position that can cover.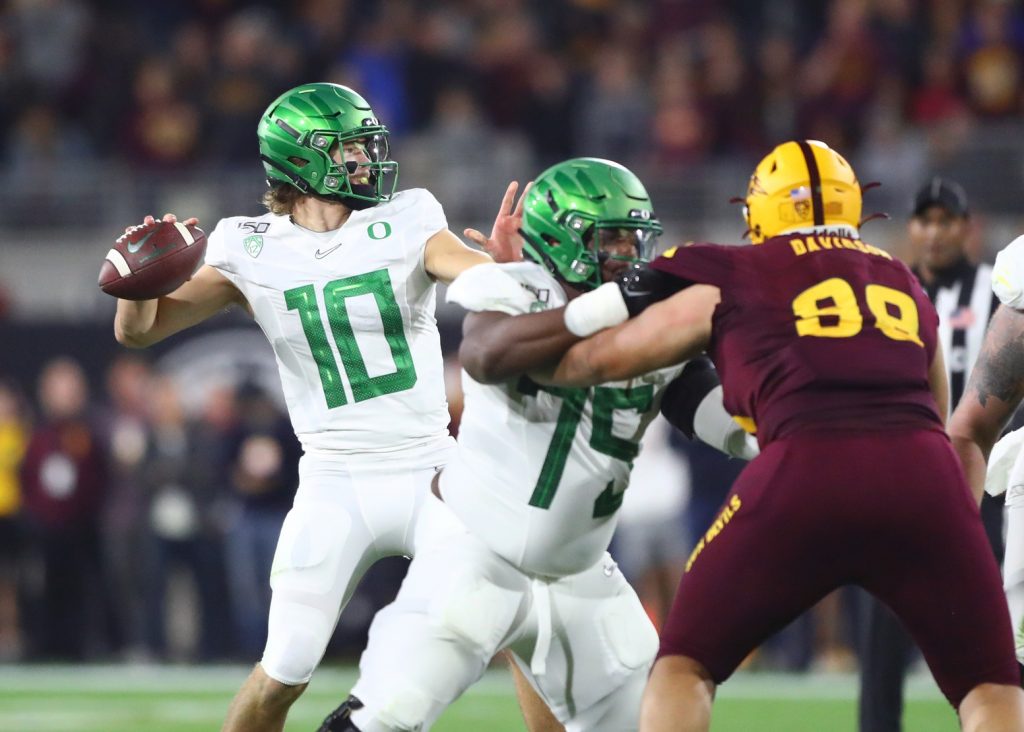 © Mark J. Rebilas-USA TODAY Sports
Herbert's likely going to be an acquired taste for some come draft time. You have to bet on his high end that saw him have five games with passing grades over 80.0 this past season instead of his low end that earned game grades below 60.0.
Leatherwood has some of the smoothest feet of any offensive lineman in this draft class. While he's a work in progress to some degree, it's encouraging that he still only allowed 10 pressures all season.
15. Denver Broncos — WR Laviska Shenault, Colorado
Battling through injuries, Shenault didn't produce quite like he did in 2018. However, Shenault was in the conversation for the Biletnikoff Award as a true sophomore after hauling in 87 passes for 1,019 yards and breaking 29 tackles in the process.
Fulton was the highest-graded cornerback in SEC play this season. NFL evaluators will love that he's lined up in press coverage on the third-most snaps of any draft-eligible cornerback (301).
We've talked a lot about Delpit's missed tackle problem (20 on 71 attempts this year), but not enough about the fact that he's only allowed nine receptions in his coverage all season. On 17 targets, he's got six combined picks and pass breakups.
The Dolphins need NFL-ready offensive line help. Jones is the elder statesman here, as he's a redshirt senior in a class full of true juniors. He allowed only four pressures on 325 pass-blocking snaps all season.
The Raiders get their version of division rival Chris Jones. At 6-foot-6, 300 pounds, Kinlaw has all the physical traits you could want. Oh, and he also has the on-field production, with 40 pressures and a 90.7 pass-rushing grade this year.
After teasing high-end talent before an injury shortened his season in 2018, Diggs put together a dominant 2019 campaign by any measure. He only allowed 22 catches from 52 targets for 309 yards and a passer rating of 44.5.
Johnson has been one of the biggest movers up the PFF draft board this season. He allowed only nine completions from 22 targets for 112 yards over his last seven games in Pac-12 play.
22. Tennessee Titans — Edge Julian Okwara, Notre Dame
Okwara may very well take the NFL Scouting Combine crown come late February in Indianapolis. Okwara was inconsistent but still earned a 90.4 pass-rushing grade this season.
23. Buffalo Bills — WR Tee Higgins, Clemson
Six-foot-plus receivers aren't supposed to be home-run threats the way Higgins has been for Clemson this season. The junior is averaging 20.8 yards per catch and has the highest receiving grade of any Power-5 receiver.
I fully expect Elliott to come flying up boards the more people get to his tape this season. Elliott earned a higher grade than likely top-10 pick Derrick Brown for the season and in SEC play.
Henderson has top-10-like traits at the cornerback position but had far from a top-10 performance this season. After earning an 81.7 coverage grade last year, Henderson earned a 57.1 this season and allowed five catches of 40 or more yards.
26. Seattle Seahawks — OT Mekhi Becton, Louisville
The mountainous offensive tackle will fit in just fine with the Seahawks' run-heavy approach. Becton had the second-most big-time blocks of any offensive tackle in the FBS.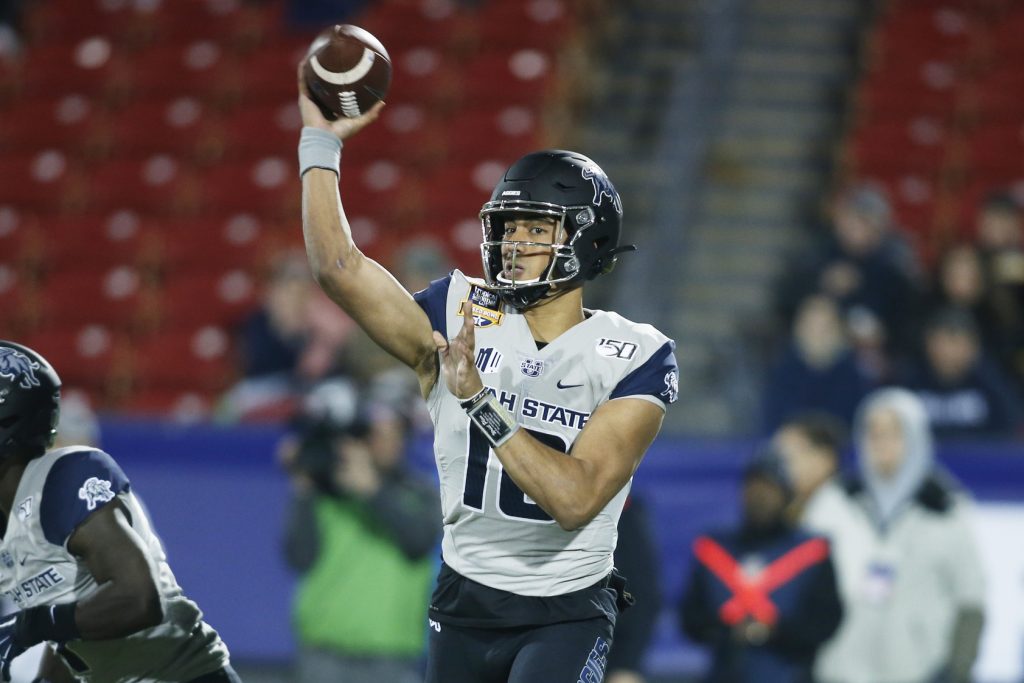 © Tim Heitman-USA TODAY Sports
Few coaches have the job security to take a first-round quarterback who almost finished with as many picks as touchdown passes, but I think Bill Belichick might be safe. Even in a rough year, Love consistently flashed high-end play with the third most big-time throws in the country this season.
The Packers have some speed at their WR position in Marquez Valdes-Scantling, but MVS' ball skills pale in comparison to Ruggs'. Ruggs also has the type of speed that I'm not sure even Rodgers could overthrow.
Even with the much-improved defense, the Chiefs still have a need at corner. Hall led the FBS in forced incompletions back in 2018 before an ankle injury cut his 2019 season short.
The Saints have to be licking their chops if a talent like Reagor falls all the way to them at the back end of the first round. Reagor didn't have the year he wanted to, with only 611 yards, but as a true sophomore in 2018, he went for over 1,000 and went 15-for-31 on contested targets.
Kyle Shanahan sees his opportunity to get his own Gronk/Hernandez combo and takes it. The 49ers coach loves movable chess pieces, and no one personifies that more in the draft class than Bryant. At 6-foot-2, 240 pounds he moves more like a wide receiver than a tight end.
32. Baltimore Ravens — LB Kenneth Murray, Oklahoma
Murray has looked like a different player towards the latter half of this season. After 51 stops in 2018, Murray is already at 64 this season. More importantly, after 20 missed tackles last year, he's only at 11 this season.