The Dallas Cowboys inched closer to missing the playoffs on Sunday in Philadelphia as they failed to score a touchdown in a 17-9 loss to a Philadelphia Eagles team that was only a few weeks removed from yielding 37 points in a road loss against the hapless Miami Dolphins. Much like with the Chicago Bears, we didn't have to be all that surprised by this, as there were fundamental reasons why the Cowboys were not all that different from the 10-6 team they were in 2018, some of which came to fruition in their first non-winning season in the Dak Prescott era.
Here, we look at some of the reasons why the Cowboys will be on the outside looking in come Week 17.
Noise
We'll get to the fundamental reasons in a second, but the truth of the matter is that the Cowboys were simply unlucky at times in 2019. Dallas was statistically one of the best teams in the NFL this season; going into yesterday's games, Dallas was pacing the entire NFL in yards per play offensively (6.5), and the difference between them and the second-place team (Baltimore) was the same as the difference between second place and ninth place. Defensively speaking, Dallas also surrendered just 5.1 yards per play during that same stretch, which is the eighth-best mark in the league.
Viewing efficiency from either an expected points added or PFF grade (where they were fourth and seventh in our Massey ratings) standpoint yields a similar result. Football is about moving the ball on offense and keeping opponents from moving it on defense. Their relatively easy schedule (26th in opponent PFFELO going into the week) aside, the Cowboys' play-level fundamentals were not that of a loser.
When adding up the PFF WAR for each team, Dallas' roster earned the second-highest number of wins going into last week's game, and with that, the highest discrepancy between process and results in the entire NFL. After a season in which Dallas won 10 of its 14 games played by a one-score margin, the Cowboys were just 1-6 in such games in 2019. A lot went right for the 'Boys fundamentally in 2019, but the dice just came up snake eyes this time around.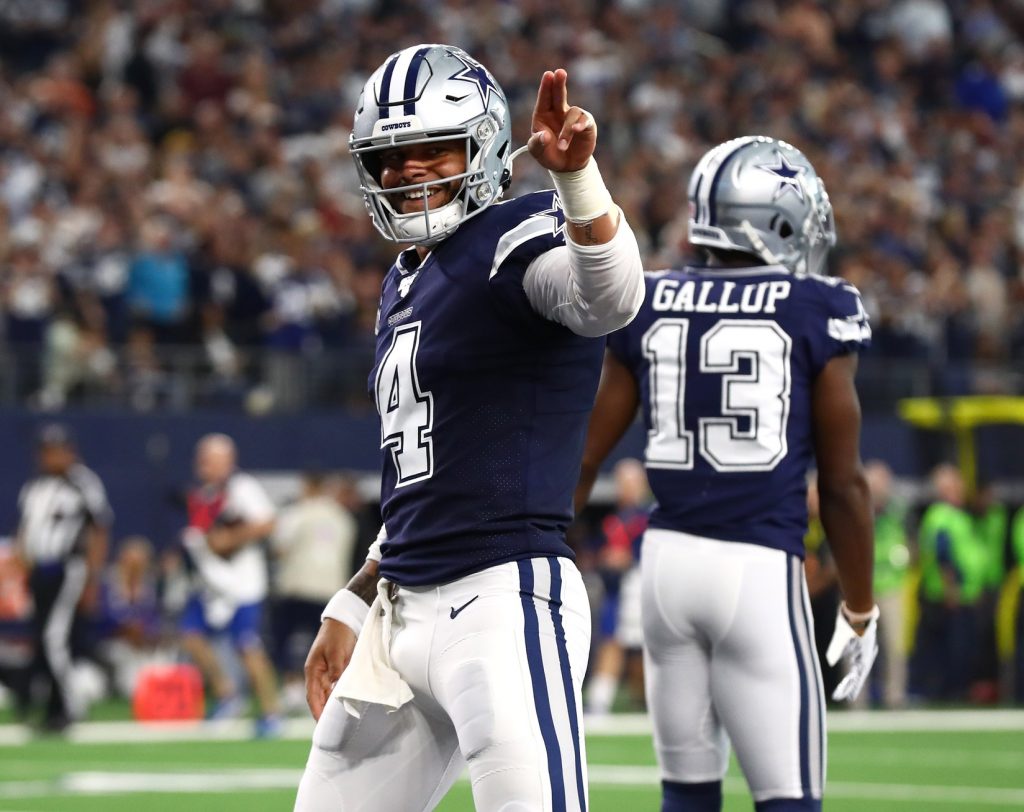 © Matthew Emmons-USA TODAY Sports
We were skeptical of Dak going into the year — and for good reason. In 2018, he earned only the 18th-best grade among quarterbacks, took 56 sacks and averaged less than 7.5 yards per pass attempt. His best season up until that point was his rookie year, and things were trending poorly for him. However, this year he played like a superstar and was regularly near the top of the leaderboard in terms of PFF WAR, PFF grade, ESPN's QBR, EPA generated per dropback and various other accuracy measures.
That said, it's been a tale of two seasons for the fourth-year pro from Mississippi State. Through 11 weeks, Prescott led the NFL in passing yards generated on deep passes (827, with nine touchdowns) and Amari Cooper was one of the most valuable receivers in the league, earning 409 of those yards (second in the league). Dak has fallen out of the league's top 10 since then, and he completed just one of seven such passes in their loss to the Eagles on Sunday (41 yards; Cooper has only 46 said yards since Week 12). The recent difficulties in generating explosive plays are likely due to injuries to both men, but that speaks to the above discussion of good and bad fortune.
As far as looking to the future, there are a lot of commitments that the Cowboys have made, all of which make signing Dak to a less-than-record-breaking deal the preferred option. We've seen quarterbacks in Dak's cluster light up the world for shorter periods before earning cap-crippling deals (see the LA Rams), so the approach that the Cowboys have taken is understandable, but only time — and what Dallas decides to do at head coach — will tell as to Dak's future as the Cowboys' franchise quarterback. 
Coaching
Speaking of, this one is going to get the most attention since many of the Cowboys' losses involved head coach Jason Garrett making high-profile gaffes in high-leverage situations. But despite these errors, one can make an argument that this hasn't been the worst season for the 10th-year head coach and former Cowboys backup quarterback.
Firstly, he elevated former Cowboys quarterback Kellen Moore to offensive coordinator over Scott Linnehan, and the above results (at least on the stat sheet) have been positive. For example, the Cowboys made the correct decision from an EPA perspective on 71% of second downs in 2019 (sixth in the NFL going into Week 16), versus 64% of second downs in 2018. On scripted plays, the Cowboys have been positive in both the running and the passing game, although this did not carry into Sunday's game against the Eagles.
Dallas only went for 25% of reasonable fourth-down plays in 2019, which was actually a drop of about 10 percentage points from a season ago, but those decisions cost Garrett's team less in the way of expected points than they did last year. Improvements aside, the team flat out did not show up in many spots this season, losing outright as a favorite against the Saints, Packers, Jets, Vikings, Bills, Bears and Eagles. Any improvements Garrett may have made in constructing a staff or preserving expected points will likely fall by the wayside when weighed against such poor game-by-game results relative to expectations.
Defensive Regression
The Cowboys' defense was not as good as the Bears' a season ago, but they had their days, one of which a 13-10 win against the Saints on Thursday Night Football in which they allowed just 176 total yards and sacked Drew Brees twice. Almost half of their starting defensive players earned top-six WAR values at their respective positions, including both young linebackers Jaylon Smith and Leighton Vander Esch. Despite allowing 20 or more points in each of their post-New Orleans games, including 30 in a loss to the Rams in the playoffs, the Cowboys bought into defensive end Demarcus Lawrence and Smith with contract extensions, while putting off an extension to their most valuable defensive player, Byron Jones.
Playing in the NFC East allowed them to feast early, as each quarterback they faced over the season's first four weeks finished the year as his team's backup quarterback. As a result, they allowed only 56 points and were 3-1 through the season's first month. While the group did not fall off of the table afterward, they struggled mightily in some of the aforementioned losses to the Packers, Jets, Vikings, Bills and Bears, and they did not force the turnovers necessary to elevate themselves over late-season injuries and poor performance. They finished an opposing drive by forcing a turnover at a rate two percentage points lower than they did in 2018, while not increasing their sack total.
If Byron Jones is not retained this offseason, the offense is going to be required to do even more than in seasons past, and given the limitations of Dak and the rest of the group, that will spell trouble in what is likely going to be an improving NFC East.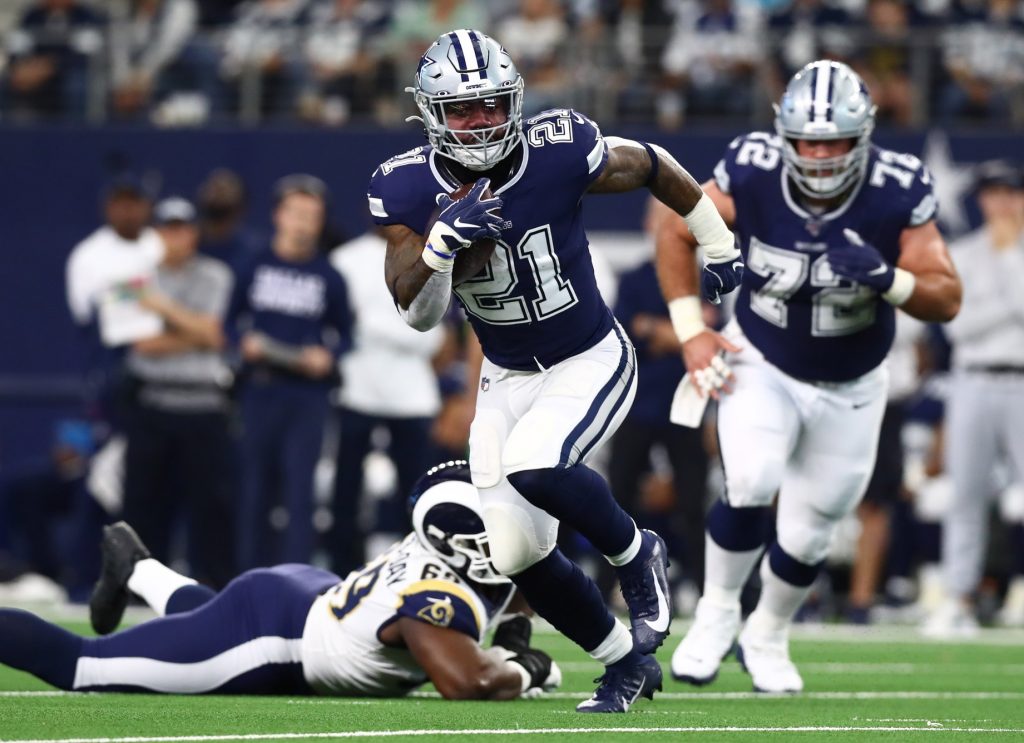 © Matthew Emmons-USA TODAY Sports
I just had to put this here. Despite what appeared to be a valiant effort to properly value the running game leading up to the regular season, eventually, Zeke won out, securing himself a six-year, $90-million contract just before the beginning of the season. He is grading better as a rusher than he did last year, and his offensive line has earned the league's fourth-best run-blocking grade in the NFL. Zeke has generated a positive EPA as a rusher, and the Cowboys are one of the few teams that can claim this for themselves as a whole. Zeke is one of the most valuable backs in the league this year in terms of PFF WAR — and none of it has ended up mattering.