Behind every good pass defense is a good cornerback. And behind the Cowboys' good pass defense of 2018 was Byron Jones, who earned an overall grade of 83.1 last season, ranking seventh out of 131 qualifying cornerbacks.
After Jones was drafted back in 2015 with the Cowboys' first-round pick, he went on to play safety for the first three years of his career. While he was a solid all-around safety who could provide run support and cover all positions, his athletic profile is probably better served as an outside cornerback, which our grades help to show. In fact, after making the switch to cornerback last season, he is coming off a career year after earning his first 80.0-plus overall grade.
Yes, Jones is freakishly athletic, but he can also have an impact in the middle of the field, which is why he was used as a safety in the first place. However, he brought that toughness over from the safety position and used it as a cornerback and terrorized wide receivers in 2018, helping the Cowboys earn the seventh-best team coverage grade (89.6), a considerable jump from the 15th spot they earned the year before.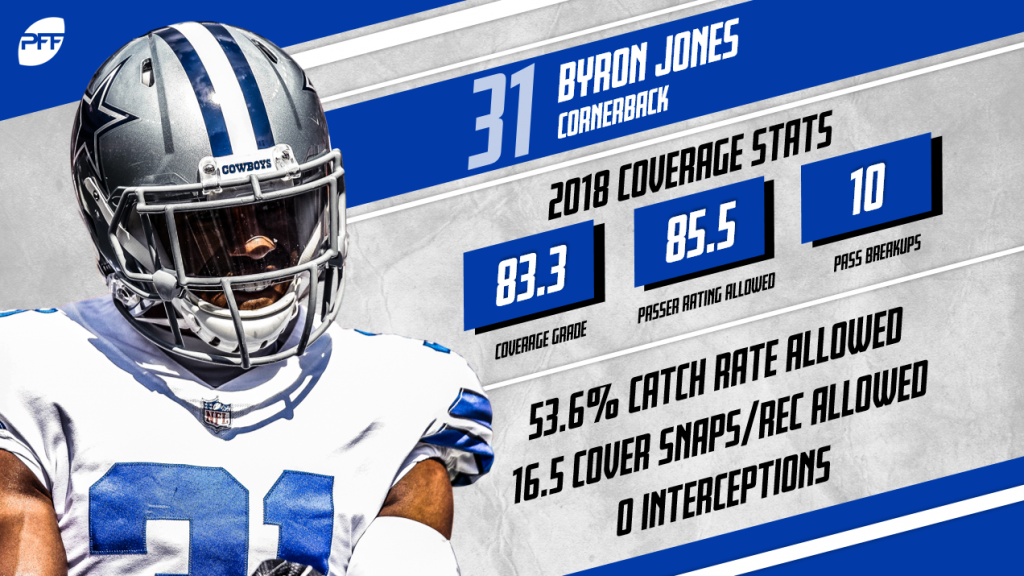 Jones didn't take too kindly to quarterbacks targeting him, as he recorded 10 total pass breakups, which tied for the 10th-most among cornerbacks last season. On top of that, Jones also allowed a catch percentage of just 53.6% — 14th at the position — and a passer rating of just 85.5, ranking 41st out of 131 qualifiers.
His per-snap metrics are also off the charts, as he allowed a reception just once every 16.5 cover snaps, ranking eighth among cornerbacks, and he allowed only 0.79 yards per cover snap, tying for 12th.
With Jones' playmaking ability on full display in 2018, quarterbacks became hesitant to target him. On average, Jones was targeted once every 8.8 cover snaps, making him the eighth-most avoided cornerback in the league last year, trailing some of the most feared cornerbacks in the league like Patrick Peterson (11.1) and Casey Hayward (10.8).
One part of any good cornerback's game is press coverage, and Jones was one of the best at that very thing last season. As an outside cornerback in the Cowboys' Cover-1/Cover-3 scheme, Jones was used in press coverage on a whopping 448 snaps last year, which is 40 more than the next cornerback (Steven Nelson, 408) and nearly 90 more than the next player after that (Stephon Gilmore, 359). Jones was used in press coverage for a reason — he was one of the very best in the league when lined up in right in front of the opposing receiver.
Jones had a coverage grade of 82.2 when in press coverage, ranking seventh out of 80 cornerbacks who had at least 100 press coverage snaps. The fact that Jones was able to maintain such a high grade in press coverage — which is a risky coverage by nature — given his high volume is even more impressive, especially when you consider the fact that among the 17 cornerbacks with at least 250 snaps in press coverage, Jones was one of only two to earn a coverage grade of 80.0 or higher.
Diving further into his press-coverage numbers, Jones allowed just 0.78 yards per cover snap, ranking seventh among cornerbacks, and he had a forced incompletion rate of 24.5% that ranked sixth. Additionally, Jones allowed a reception just once every 17.1 press-coverage snaps, ranking fourth at the position. Evidently, Jones is an absolute monster when he's in the wide receiver's face at the snap.
The Cowboys go into 2019 as one of the most talented teams in the league, and if Byron Jones can keep it up (or get even better), Dallas should once again compete deep into the playoffs. Tasked with having to guard some of the best wide receivers in the league in a conference that houses some high-flying offenses, Jones has a lot on his plate for 2019, but if his last season is any indication, he is more than capable of holding his own, and he should establish himself even more in the coming season.