Every team has a different outlook for fantasy football. Some, like the Chiefs, have a world of options. Some, like the Dolphins, might not offer much of anything. But no matter what a team has to offer, it's rare that the drafting community nails the value on each player.
So today, I'm looking at each team around the league and identifying its most undervalued player in fantasy drafts this year. Sometimes it's a guy going in the second round who should go in the first; sometimes it's a guy not being drafted at all who is worth a late-round flyer. It's a matter of value relative to cost. Monday, I looked at each team's most overvalued fantasy asset.
(All ADP information comes from Fantasy Football Calculator.)
Chase Edmonds, RB (undrafted): Edmonds is currently free in drafts, and he's probably the single top handcuff in the league. If David Johnson goes down, Edmonds would flirt with a top-10 ranking. Grab him as a freebie lottery ticket.
Julio Jones, WR (10th overall, WR4): It's hard to argue with Jones as the No. 10 player (I don't actually have him that high in the PFF Fantasy staff rankings), but he should be going ahead of Michael Thomas and (for me) Davante Adams. WR2, not WR4.
Justice Hill, RB (144th overall, RB53): Even if Mark Ingram stays healthy all year, there will be enough carries in Baltimore for Hill (and/or Gus Edwards) to be productive. If something happens to Ingram (and remember, he turns 30 in December)? Hill's got a huge ceiling.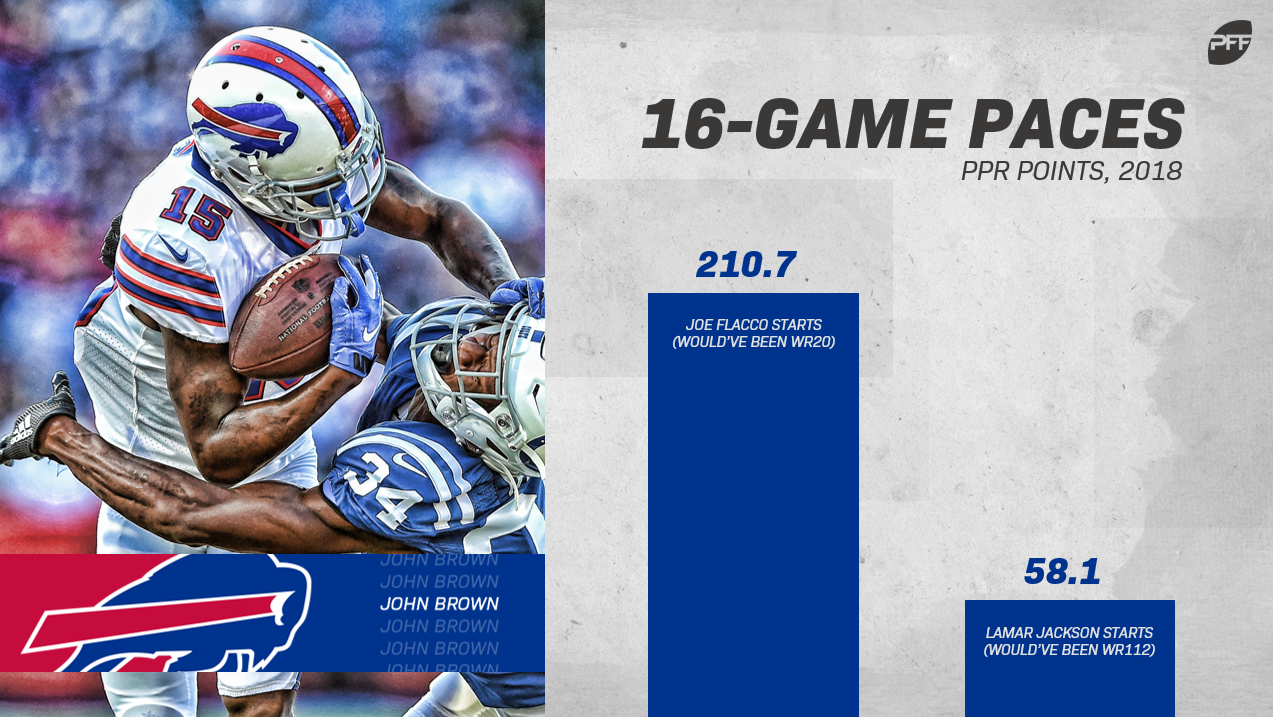 John Brown, WR (153rd overall, WR57): Brown's 16-game pace with Joe Flacco starting last year was 210.7 PPR points, which would have been the WR20. With Lamar Jackson, it was 58.1 points, which would have been WR-my-chart-doesn't-go-that-low (actually WR112). For all of Josh Allen's flaws, he can throw it deep. Brown is worth a late pick in every league.
Curtis Samuel, WR (90th overall, WR36): Samuel's ADP has steadily risen all offseason/preseason, and I don't even care, it needs to go higher. He's entering his third year (and for a player who basically had to learn a new position in the NFL and spent plenty of time hurt his first two years, the third year is even more crucial. Draft him. Draft him a lot.
Trey Burton, TE (165th overall, TE17): Burton doesn't carry a massive ceiling, but his floor is one of the highest among the TE2s. He's a borderline starting tight end available almost at the end of drafts.
Giovani Bernard, RB (undrafted): Bernard was a bell-cow back in the two games Joe Mixon missed a year ago, and for good reason, as the Bengals have essentially nothing else in their backfield. He's got that potential if Mixon misses time again this year.
Rashard Higgins, WR (undrafted): There aren't a lot of poorly valued players in Cleveland (if anything, most of the Browns are being overvalued), but Higgins is worth a flyer late in drafts as sort of a two-player handcuff as insurance to both Odell Beckham Jr. and Jarvis Landry.
Michael Gallup, WR (158th overall, WR59): Gallup saw his playing time and usage both climb by about 50% once Amari Cooper joined the roster. Entering his second year, it could climb even more. He's basically free.
Noah Fant, TE (193rd overall, TE21): Fant and T.J. Hockenson were college teammates and both went in the first round of this year's draft. Hockenson was seen as the better prospect, but on the other hand Joe Flacco has had better luck targeting tight ends in his career than Matthew Stafford. I'm not in love with either guy, but I definitely don't understand why Fant is 60 spots cheaper in drafts. (This was written before Fant's preseason injury, so if that lingers … well, never mind.)
Marvin Jones, WR (100th overall, WR40): Jones was a borderline WR2 through Week 10 last year before his injury, and now Golden Tate is gone. He's the end-zone target in this offense and is only a year removed from a WR1 finish. This is an egregious undervalue.
Aaron Jones, RB (29th overall, RB15): If Jones is used (and produces) anything like his last month-plus before injury last year, he's an RB1 or close to it. And there's not much reason to think he won't be.
Deshaun Watson, QB (60th overall, QB3): Watson is the third quarterback off the board this year, but he's my QB2 and I'd wager he is the best bet to knock Patrick Mahomes off the throne for No. 1.
Jack Doyle, TE (undrafted): Doyle was a question mark entering camp, but he's been fine during the action so far. He had a significant advantage over Eric Ebron in playing time in games both were active last year, and even if Ebron has closed the gap, Doyle being completely free in drafts is an overcorrection. (And, in case Jacoby Brissett has to play quarterback for some or all of the year … Doyle was TE6 in 2017 with Brissett as the primary quarterback.)
Dede Westbrook, WR (91st overall, WR37): Westbrook, Leonard Fournette, and the Jaguars defense are the only entities out of Jacksonville even being drafted this year, so Westbrook claims this crown almost by default. But as the only healthy and trustworthy pass-catcher in this offense, and now with at least a semi-competent quarterback, Westbrook going four spots below his 2018 finish doesn't make sense.
Sammy Watkins, WR (94th overall, WR38): The benefit of the ridiculous depth at the wide receiver position is you can afford to take a high-ceiling option with injury risk, because there are always competent guys on the wire. Enter Watkins.
Melvin Gordon, RB (31st overall, RB17): I'm open to the idea that I'm wrong for continuing to have Gordon as the No. 6 running back in my own rankings. That's possible. I'm not ready to concede that the risk is so great that he should be going as a mid-to-low RB2, that he should be going one spot above David Montgomery. It's a ridiculous overcorrection.
Malcolm Brown, RB (178th overall, RB61): The fantasy community has been claiming that Darrell Henderson is the Todd Gurley handcuff. Word out of camp is that Brown could be, and Henderson is more of a third-down/pass-catching option. Even if that word is wrong, Brown is just about free and that's a risk worth taking.
Preston Williams, WR (undrafted): Other than a possible running back, if there's a player in Miami who could be a weekly fantasy starter this year, it's someone we don't know about. For all the upside guys like DeVante Parker and Kenny Stills might have, their ceilings aren't very high. Is Williams'? Probably not, but after he starred in the team's preseason opener, there's more of a chance of him being a diamond in the rough than Parker suddenly being a WR2.
Mike Boone, RB (undrafted): Scroll up two teams and read the Malcolm Brown blurb. Replace Brown's, Henderson's, and Gurley's names with Boone's, Alexander Mattison's, and Dalvin Cook's. There we go.
Maurice Harris, WR (undrafted): The Patriots have precious few sure things in their offense — basically just Julian Edelman and (probably) James White. But Harris has been impressive in camp so far and appears to have a line on a starting job in what should be a good offense.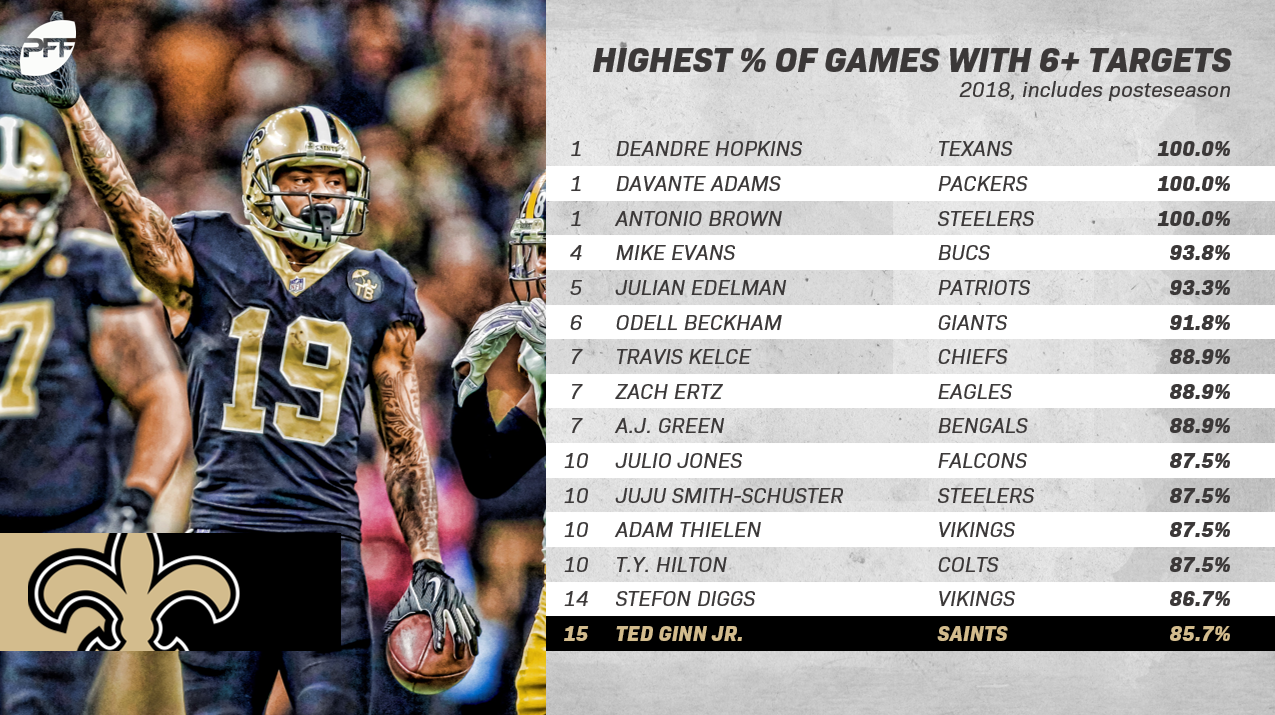 Ted Ginn, WR (undrafted): Tre'Quan Smith certainly had his moments as a rookie, but it was Ginn who dominated the targets of the two when he was healthy. He's the No. 2 receiver in this offense you want.
Golden Tate, WR (127th overall, WR51): Tate's ADP has dropped a round and a half since news of his suspension (and rejected appeal) came out, but it was already too low. He's a tackle-breaking machine with the 11th-most PPR points among receivers over the last five years. The early missed games will hurt, but once he's back he'll produce.
Chris Herndon, TE (undrafted): Herndon had some sleeper value this offseason before his four-game suspension was announced, and yes, missing four games out of a position where many players don't draft a backup will hurt. But Herndon was a top-10 fantasy QB over the last three months of 2018 as a rookie. That's sneaky upside.
Josh Jacobs, RB (39th overall, RB20): No rookie has a more obvious line on a massive workload than Jacobs. And with defenses having to account for Antonio Brown and the revamped Oakland passing game, Jacobs could profit. He's going criminally low.
Carson Wentz, QB (83rd overall, QB7): The Eagles are by and large being drafted properly, if a little high. Wentz is in the "drafted properly" group, but he's more likely to climb than fall, given his wealth of weapons and creative offense.
James Washington/Donte Moncrief, WR (Washington 119th overall, WR48; Moncrief 122nd overall, WR49): I included Washington just to cover myself, but the clear thing here is that the drafting community is splitting the difference here, and one of the guys here is going to offer big value. Moncrief is my pick.
Tevin Coleman, RB (55th overall, RB27): Jerick McKinnon's health issues should really open the door for Coleman to be a fantasy starter (and Matt Breida to be a deep flex), but he's still going lower than that.
Chris Carson, RB (40th overall, RB21): Only nine players cracked 1,000 rushing yards last year. Only four had more than the 1,151 Carson put up, and he did that in only 14 games and while splitting time with Mike Davis and Rashaad Penny. Davis is gone now, Carson is getting talk about increasing his usage in the passing game, and he's being drafted as a back-end RB2 at best. That needs fixing.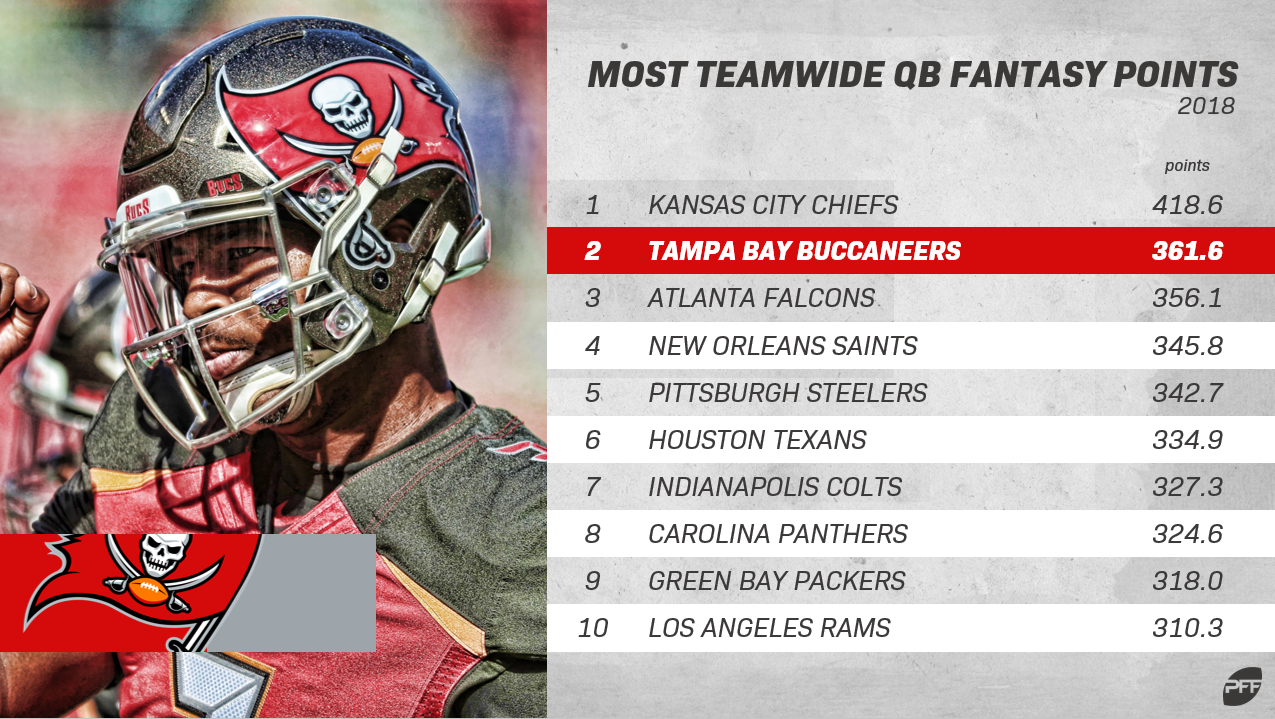 Jameis Winston, QB (116th overall, QB13): So Mike Evans is an easy top-10 receiver, Chris Godwin is going inside the top-20, and O.J. Howard is a top-six tight end. Tampa Bay still has a garbage defense and an awful running game. Bruce Arians' influence should help. The team just had the second-most QB fantasy points in the league, and now has Blaine Gabbert instead of Ryan Fitzpatrick? Winston's an easy QB1.
Delanie Walker, TE (145th overall, TE13): There's no on-field reason to ding Walker. His injury was a fluke that isn't likely to repeat, and before that he had five straight years as a TE1, include three-straight top-five years. Pounce.
Jordan Reed, TE (154th overall, TE14): The next even slightly negative word about Reed's training camp to come out of Washington will be the first such word this year. Yes, that happens every year, and yes, Reed carries massive injury risk. But at this price tag, he's worth the chance that he can finally put together a healthy year.