When I first put up my fantasy football rankings for the 2019 season, Ezekiel Elliott was a top-four running back, Melvin Gordon a top-six. They moved around in there — I had Elliott as high as second, Gordon bounced between fifth and sixth — but that's where they were.
Today, if you check out my rankings on the PFF Fantasy staff rankings page, you'll see that I have Elliott and Gordon … as the Nos. 4 and 6 running backs, respectively.
Many fantasy rankers around the industry have moved both running backs down their boards in light of their ongoing holdout situations. Burned so recently by the Le'Veon Bell situation, it makes some sense — why not prefer guys who we have more assurance to be on the field rather than guys who we could next see in 2020 on whole different teams?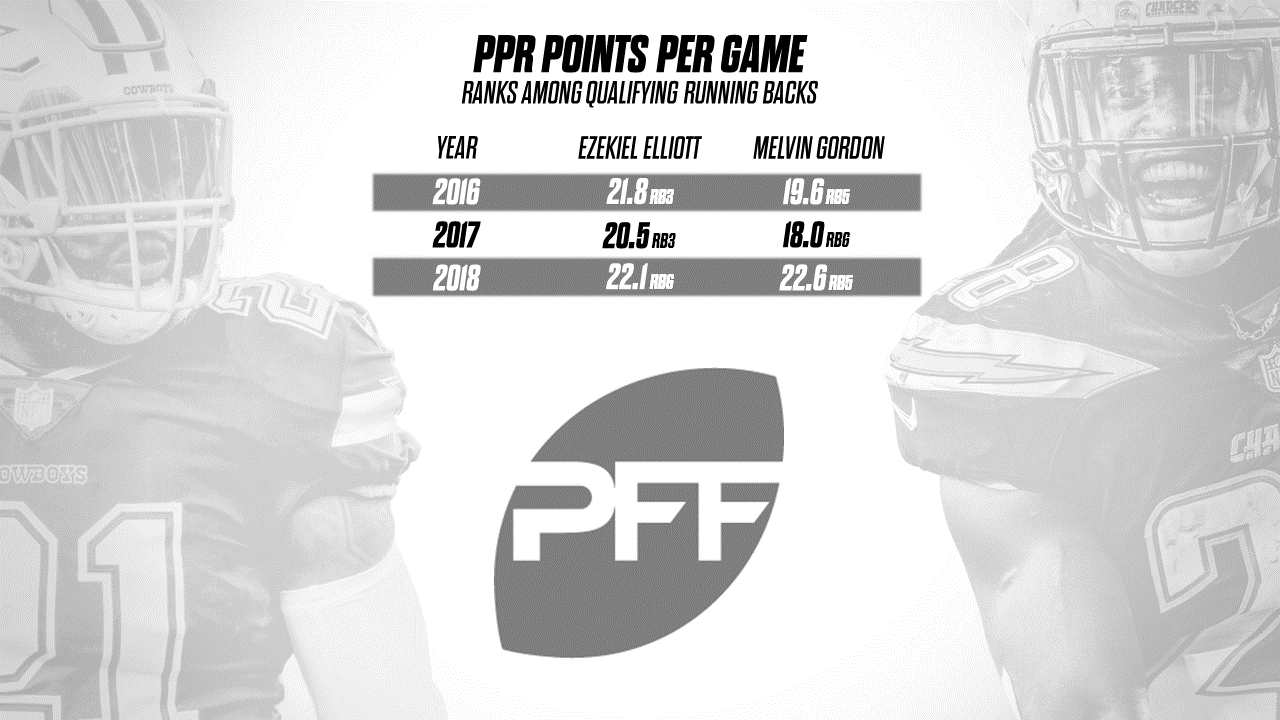 Here's why I'm holding strong on those two, though:
Our sample size of guys who have legitimately missed the season at all recently is 1
For those who drafted him but not James Conner last year, Bell hurt. A lot. He probably cost those players their season. And it's fresh on the brain. But it's also basically the only data point of things that work out that way. John Riggins in 1980 is the last example I can think of of a big-name back missing the full season, and the rest of our samples are Eric Dickerson and Emmitt Smith missing portions of the season, and even those were each more than 25 years ago.
If Elliott and/or Gordon miss the season, that will suck. But as much as I am a supporter of players getting their money when they can, historical evidence tells us that the realist worst-case scenario is a couple of games missed, not 16. More likely, they report before the season.
I would have no idea where to bump them down to
Every year in baseball, there's backlash against the idea of that year's best pitcher winning MVP, because, even if it's agreed that he is the best player, "pitchers can't win MVP." It's gibberish, but it exists. And inevitably, the voters who believe that put a position player first … and then that best pitcher second, or fourth, or ninth. Do you see the incongruence there? If a pitcher "can't" win MVP, then giving that pitcher any vote at all doesn't make sense. If he's the "best," he should either be the No. 1 vote or, if pitchers can't win MVP, off the ballot altogether.
Similarly, we have literally no idea what the level of risk is with the holdouts. With injuries (A.J. Green, Antonio Brown, etc.), we have medical data to draw from. Holdouts? We have no idea. I don't have it in me to arbitrarily slot Gordon, say, 27th among running backs just because he might be out. That's "Uh, well, I think between Miles Sanders and Tarik Cohen" makes sense." We are completely guessing. I don't like guessing.
In other words, if you take Ezekiel Elliott in the first round and he holds out, you're screwed. If you take him in the third and he holds out, you're … still fairly screwed. And if you say you're taking him in the ninth (or whatever) … well, someone's taking him before then. Moving him down that far is the same as taking him off your rankings altogether. Based on what I know, my choices are either to rank them like they're playing, or remove them. I don't have an in-between that makes sense.
To me, my rankings are my draft board. The player I rank first is the player I would take first. The player I rank 200th is, assuming roster construction makes sense that way, the player I would take 200th. So would I be comfortable taking Elliott at fourth if my draft were held right now? No. But would I do it? Yes. My PFF compatriots might not, but my rankings are my rankings.
(The one caveat here: Draft strategy. For example, I had the 10th pick in a draft Friday, and Gordon was available to me. But I selected Julio Jones there, because I was reasonably positive Gordon would still be there on the wrap … and he was. So you can game-theory yourself into a different scenario, but that's different than shying off a player.)
There will be a time, as the season draws near, when I will bump a still-holding-out Elliott or Gordon down in my rankings. But it will be because of Le'Veon Bell's 2017, not his 2018. If you remember Bell's 2017, he missed almost all of training camp thanks to franchise tag complications, and then was rusty in Week 1, rushing for only 32 yards on 10 carries. He didn't score his first touchdown that year until Week 3, didn't get his seasonal yards per carry over 4.0 until Week 6. Rust matters.
But when it comes to ranking a guy based on the ephemeral chance of a holdout that we simply don't have the power to handicap? I'm abstaining altogether. Elliott's my No. 4 running back. Gordon's my No. 6. That's where they are, and that's where they'll stay.