Quarterback has the reputation of a position with staying power in fantasy football. And while that is not an undeserved reputation, it's worth noting that we haven't had a No. 1 fantasy quarterback who finished top-five the year before since Drew Brees was No. 1 in back-to-back years in 2011 and 2012, and that's the only time a player went from top-five to No. 1 in the last decade.
So when we look at the candidates to be the No. 1 fantasy quarterback in 2019, it's tempting to stop at the top tier (frankly, this year it's tempting to stop at the top one), but we have to look further, because players rise to the top unexpectedly all the time.
Below, we're considering the players who have a reasonable shot at finishing the year as the No. 1 quarterback. Will this year's No. 1 come from this group? It's no guarantee, but odds are good. And are these the top seven quarterbacks in my rankings? Nope. Sometimes a player can't reasonably be No. 1, but he's a safer bet to finish in the top tier. This isn't a breakdown of the fantasy rankings. It's just a search for who could be No. 1.
The prototype
Across the last decade, these are the average stats of the No. 1 fantasy quarterback each year:
| | | | | | | | | |
| --- | --- | --- | --- | --- | --- | --- | --- | --- |
| Att | Comp | Yds | TD | INT | Rush | Rush Yd | TD | Pts |
| 581.2 | 391.9 | 4568.9 | 39.4 | 11.2 | 64.0 | 314.3 | 3.9 | 384.0 |
That includes a wide range of performers, from Michael Vick's 320.3 points in 2010 to the monster season we just saw in 2018. But overall, this is about the stat line we'll be looking for.
The favorite
Mahomes is probably the biggest favorite to finish as the season-end No. 1 overall quarterback we've had in a while after he finished as the No. 1 quarterback in 2018 by more than 70 points and put up the biggest QB fantasy total of all time. Mahomes is going first at the position in drafts, on average (per Fantasy Football Calculator) more than 20 picks earlier than the second quarterback.
Why would he not make it? Regression is close to undefeated, so the smart money is on Mahomes not repeating quite the dominant season he had in 2018. He could still finish first even if he slips a fair amount, but that's a starting point. Add in the loss of Kareem Hunt and likely loss of Tyreek Hill, and Mahomes' supporting cast is going to be a good bit worse to start 2019 than it was to start 2018. Does supporting cast matter for a quarterback like Mahomes? We might see.
What are his chances? Obviously, they're great. If you're betting on a quarterback to finish first overall, the only reason you wouldn't pick Mahomes is because the odds don't favor much payout.
The second tier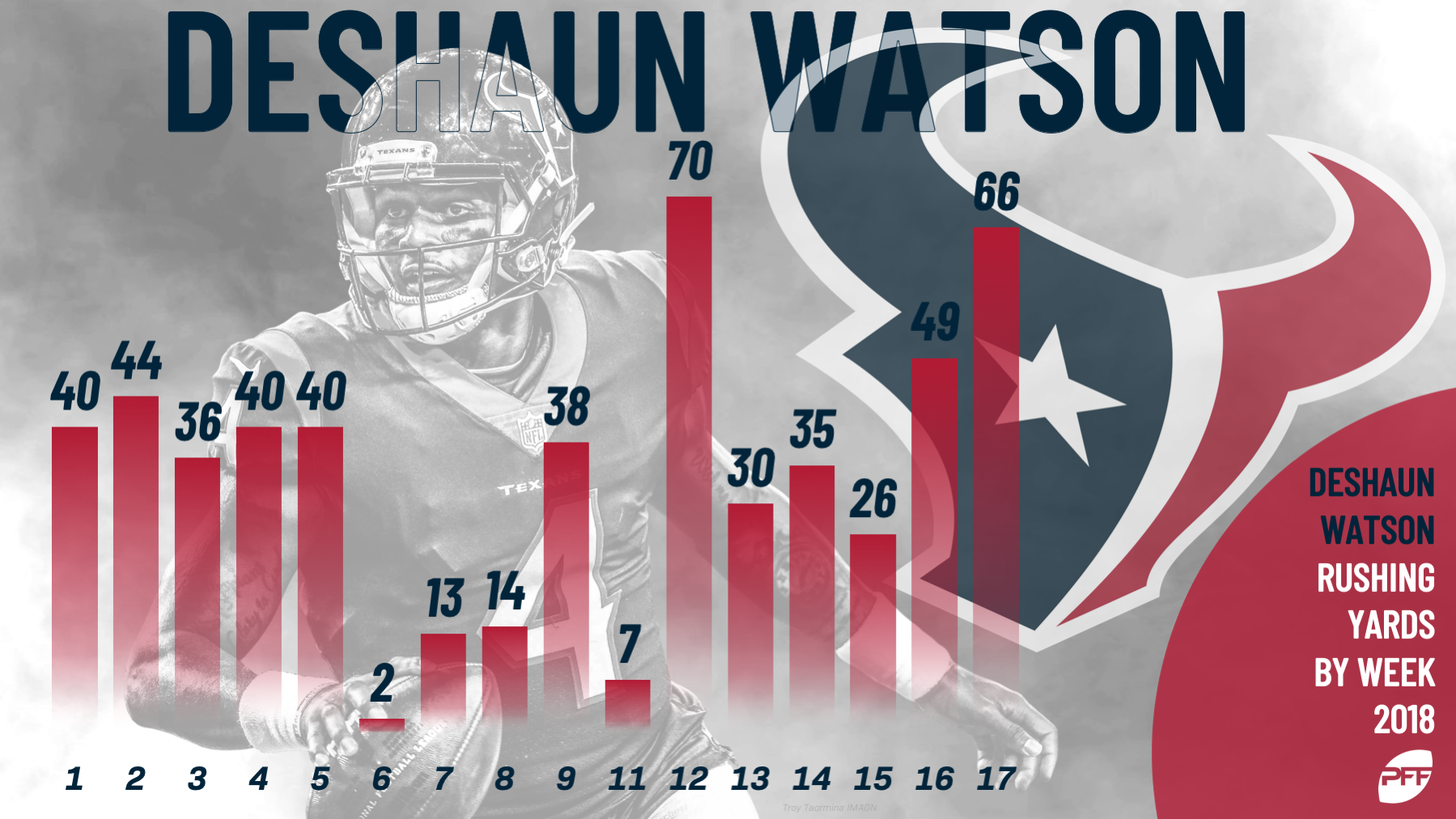 Watson was on pace for a 400-point rookie season before a midyear ACL tear, and 400 points would easily be enough to lead the league most years. He still put up 346.6 in 2018 (QB4) despite a down chunk in the middle of the year where he reportedly wasn't even allowed to fly to away games because of injury. Watson had a total of 74 rushing yards in Weeks 6-11, topping 14 in a game only once in that time; he had at least 30 in all the other games if 2018 except one. Give him a full season of health (always a long shot with that offensive line, but still) and his ceiling climbs even higher.
What would have to happen: The line would need to keep Watson upright and intact more than it has so far in his career. And a full season of health from Will Fuller and/or Keke Coutee as a second fiddle to DeAndre Hopkins wouldn't hurt.
What are the chances? Not bad! Obviously, Watson (and everyone in the rest of the piece) needs Mahomes to fall off, but once you get past him, Watson is probably the next favorite.
Rodgers was first off the board in drafts a year ago, a round better than Watson. He disappointed, finishing the year as the QB7 — and even that is misleading, as nearly 14% of his full-season scoring came in a single Week 16 game against the Jets that likely didn't help his fantasy owners. Rodgers wasn't healthy for a big chunk of the year after a Week 1 injury, and other than Davante Adams his pass-catchers disappointed.
What would have to happen: Someone needs to produce behind Adams. That can be Marquez Valdes-Scantling or Geronimo Allison or Jimmy Graham or Jace Sternberger or any number of other options, but Rodgers' best years have come when he has utilized multiple productive options, and as it stands, it's Adams and the Pips.
What are the chances? Lower than they've been in some time. As long as Rodgers is Rodgers, he's always a contender for the crown, but his path to the top is murky.
Newton didn't even finish as a top-12 quarterback in 2018, in part because he missed the last two games of the season to injury — he was QB6 through Week 15. But as long as Newton has his legs, he's always a threat to show up at the top of the rankings. He has nearly 5,000 rushing yards in his career (4,808), 1,200 more than second-place quarterback Russell Wilson, almost 2,200 more than third-place Rodgers. The only player at any position with more rushing touchdowns than Newton's 58 since he entered the league is Marshawn Lynch, at 61. A runner like Newton automatically gets a boost.
What would have to happen: Health, first. Reports have Newton nearing a return to throwing after offseason shoulder surgery; if he's 100%, that's a big start. Newton will also need to get closer to his 2015 form as a passer. He threw 35 touchdowns in his MVP season but has never topped 24 in any other season. With a full season of D.J. Moore and Curtis Samuel as his 1-2, and with Greg Olsen expected to be healthy, Newton has a better group of weapons than he's had in a while.
What are the chances? Getting lower every year. Newton is still an elite fantasy option at quarterback, but he dropped under 500 rushing yards for the second time in three years last season and put up a career-low four rushing scores.
The longer shots
It might be a surprise to see Luck listed as a longer shot after he finished fifth at the position in scoring in 2018 and with a QB2 ADP in early drafts this year. But what Luck offers in safety, he lacks in upside somewhat. Luck had 11 different games of 20-plus fantasy points in 2018, but only topped 25 once, in a 35.7-point Week 4 that signaled his return to the upper echelon. In other words, Mahomes' average game in 2018 was better than all but one of Luck's single games across the season.
What would have to happen: Luck's passing is enough to be a top-flight fantasy contributor, but his rushing has fallen off. He put up a career-low 148 rushing yards in 2018, lower even than his 196 yards in seven games in 2015. He didn't put in a single rushing score after at least two in every full season of his career. If that's the kind of rushing Luck is going to offer, his shot at being the No. 1 is negligible.
What are the chances? Low. A healthy Luck is close to a sure thing to be a top-seven (or so) quarterback in 2019, but getting him to the peak of the mountain requires a stretch that 2019 Andrew Luck might not be capable of anymore.
Wilson was the No. 1 fantasy quarterback only a year ago, back in 2017. He fell to QB9 last year despite raising his passing touchdowns by one. He attempted almost 130 fewer passes in 2018 than 2017, ran for 210 fewer yards, saw his rushing scores drop from 3 to 0.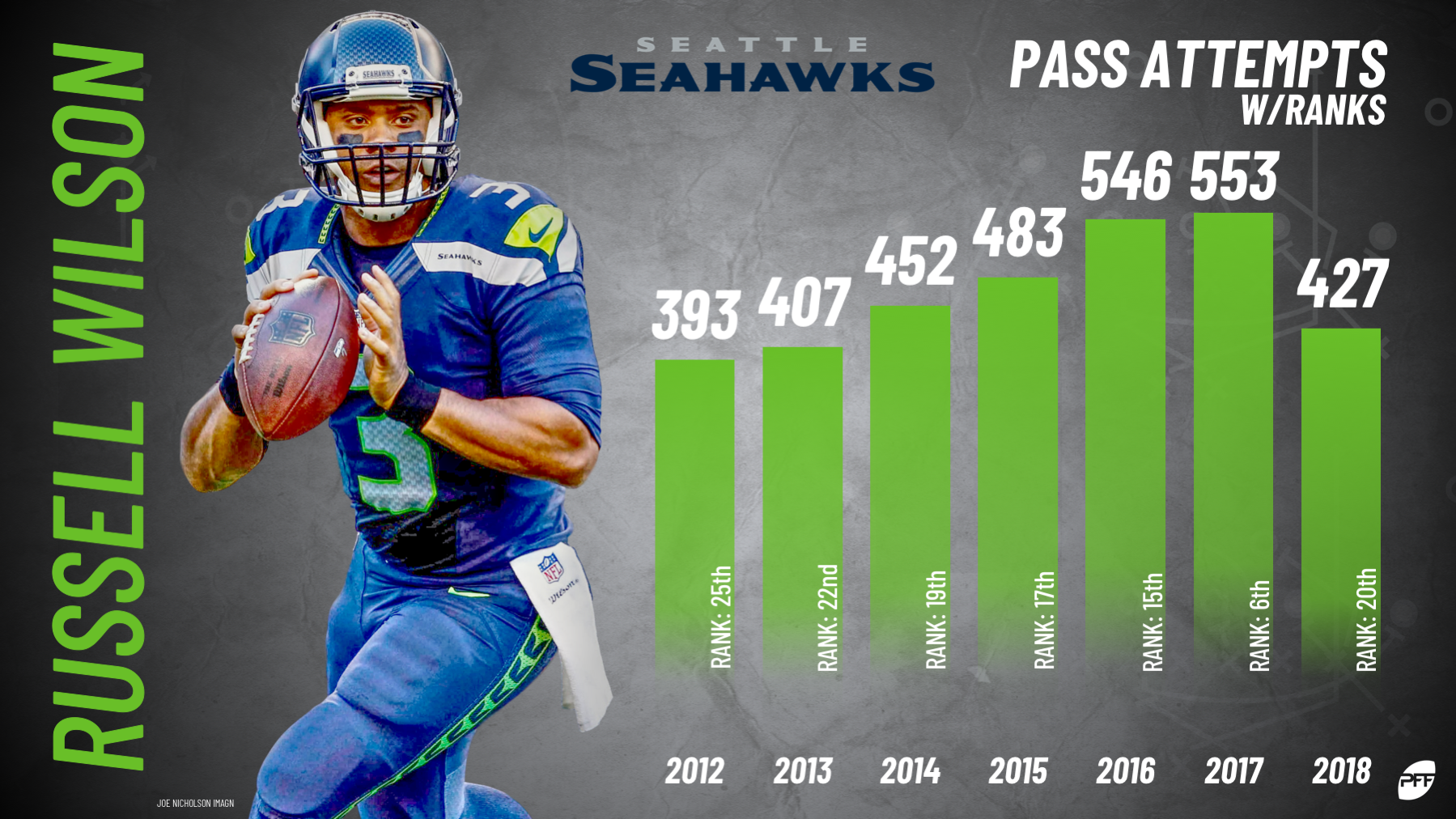 What would have to happen: He'd have to pass more. The Seahawks were the run-heaviest team in the league in 2018, with Wilson's production only staying as high as it was because of a career-high 8.2% passing touchdown percentage. You can book Wilson for more rushing production than 2018, but if he isn't passing more, he isn't a QB1 contender.
What are the chances? Everything about the Seahawks tells us the run-heavy approach is the new normal. Wilson's ceiling has lowered. He's not much of a contender.
Mayfield had a plenty productive rookie year in Cleveland, finishing 16th in QB fantasy scoring despite not taking over the starting job until Week 3. He set a rookie record with 27 passing touchdowns, and he did it with a supporting cast that was good-not-great. Now, he add Odell Beckham Jr. and (for some of the year) Kareem Hunt, plus a full season of Nick Chubb, to what he had in 2018.
What would have to happen: Mayfield would have to dial his passing production up to 11, because he's not a big contributor on the ground. He only had 131 rushing yards and no scores as a rookie. He put up a bit more on the ground in college (18 touchdowns across three years with Oklahoma), but Mayfield isn't really a rusher, so he'll need all the air production his new weapons can help him with.
What are the chances? Low. Like Luck, Mayfield is reasonably safe to be a QB1 or close, but his ceiling isn't likely that of the QB1.
The top 20 quarterbacks on (very subjective) likelihood of finishing as QB1 only
1. Patrick Mahomes, Kansas City Chiefs
2. Deshaun Watson, Houston Texans
3. Aaron Rodgers, Green Bay Packers
4. Cam Newton, Carolina Panthers
5. Andrew Luck, Indianapolis Colts
6. Russell Wilson, Seattle Seahawks
7. Baker Mayfield, Cleveland Browns
8. Drew Brees, New Orleans Saints
9. Jameis Winston, Tampa Bay Buccaneers
10. Lamar Jackson, Baltimore Ravens
11. Kyler Murray, Arizona Cardinals
12. Ben Roethlisberger, Pittsburgh Steelers
13. Carson Wentz, Philadelphia Eagles
14. Matt Ryan, Atlanta Falcons
15. Tom Brady, New England Patriots
16. Jared Goff, Los Angeles Rams
17. Kirk Cousins, Minnesota Vikings
18. Jimmy Garoppolo, San Francisco 49ers
19. Dak Prescott, Dallas Cowboys
20. Mitchell Trubisky, Chicago Bears