This is not a "what I think will happen" mock draft. It's not even a "what I think *should* happen" mock draft. This is a mock draft solely based on selecting the most fun fantasy football option for all 32 picks of the first round. I define "most fun" as a mix of 1) Year 1 upside for the rookie, 2) the selection not theoretically leading to muddled backfields or especially crowded passing games, and 3) generally cool and chill outcomes occurring.
More of PFF's 2021 NFL Draft tools here: 
2021 NFL Draft Big Board | 2021 NFL Draft Guide | 2021 NFL Draft Stats Export | NFL Mock Drafts | NFL Mock Draft Simulator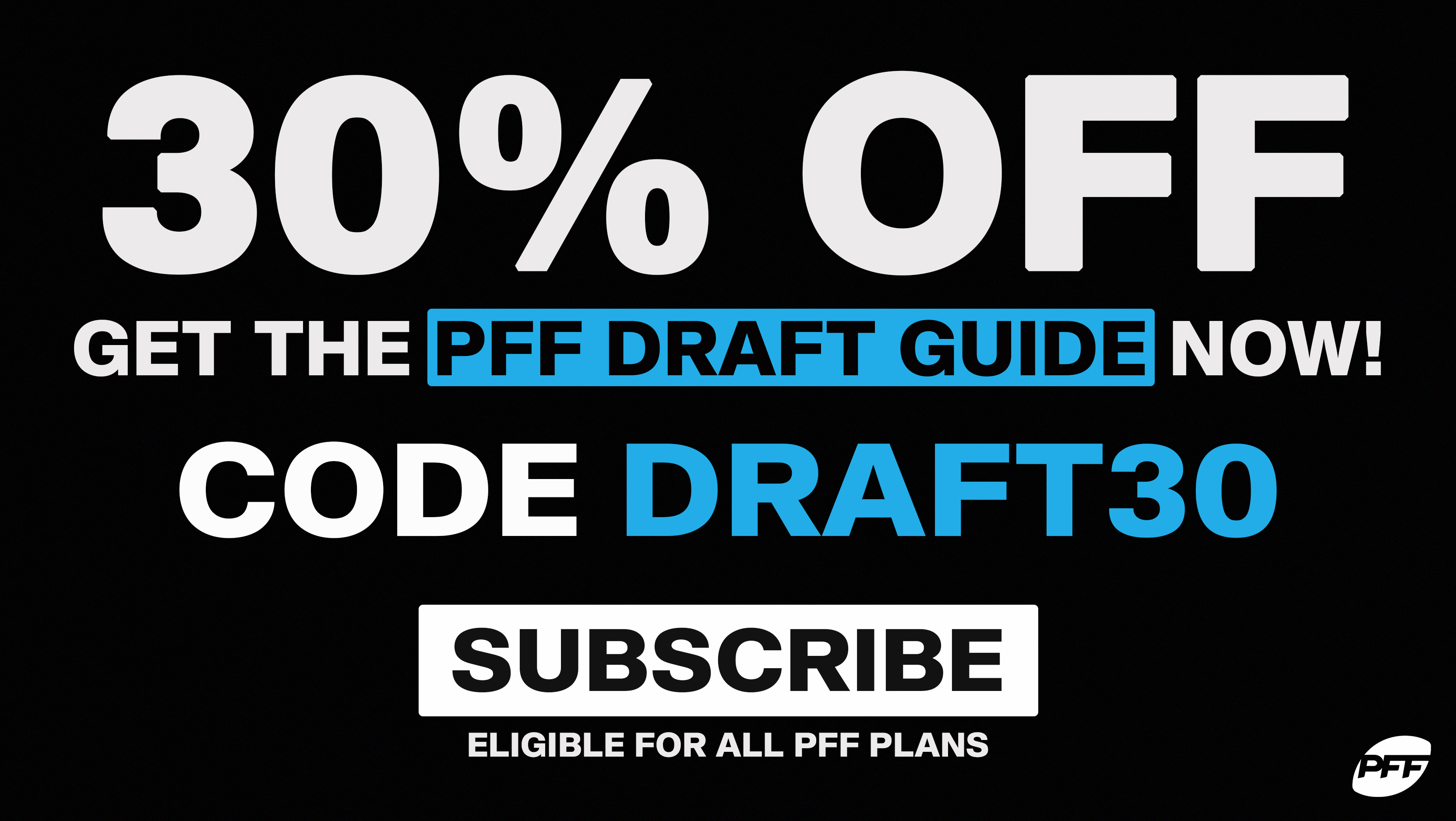 In fantasy land we want to ideally draft great offensive players that happen to play on a team with a bad defense; the more opportunities to score points the better. Because of this: Zero defensive players will be mocked in this draft. Check out PFF's 2021 NFL Draft Big Board and Draft Guide for more information on every available prospect.
At the risk of being absolutely massacred on social media by those that don't realize the true intention of the piece: my 2021 most fantasy-friendly mock draft.
Six of the seven rookie QBs to finish as top-12 fantasy producers since 2010 have 1) started in Week 1, and 2) averaged at least 25 rushing yards per game in college. Lawrence will certainly be under center when the Jaguars kick off in September, and his crisp 24 yards on the ground per contest at Clemson demonstrates his dual-threat ability. Lawrence is my QB13 in best-ball land at the moment.
Much like Lawrence, Wilson will mightily benefit purely from getting to work as his new employer's undisputed starting QB. Unlike Lawrence, we don't have quite as clean of an NFL projection due to the mystery surrounding how Wilson's style will hold up against vastly superior competition than he faced in college. The presence of Wilson doesn't make the Jets offense all that alluring; it's still an upgrade over their present atrocity of a QB room.
Now things get interesting. Obviously Justin Fields would be just fine here as well, but Lance might offer an even higher overall ceiling if everything goes right. That pipe dream seems most likely to occur under the tutelage of Kyle Shanahan, who would seemingly have a plan for getting the most out of Lance's tantalizing dual-threat ability if they decide to go in this direction.
The draft's only five-tool receiver, my pro comp for Pitts is Mewtwo, the fictional Pokemon that was created in a lab via DNA engineering experiments. There simply isn't a part of football that causes Pitts any sort of significant struggle. PFF's highest-graded receiver in the 2021 class deserves to be the first non-QB selected on Day 1 of the draft. Lapping Hayden Hurst on the depth chart shouldn't be much of an issue considering the volatile nature of his performance last season; Pitts would be my re-draft TE6 if he lands here.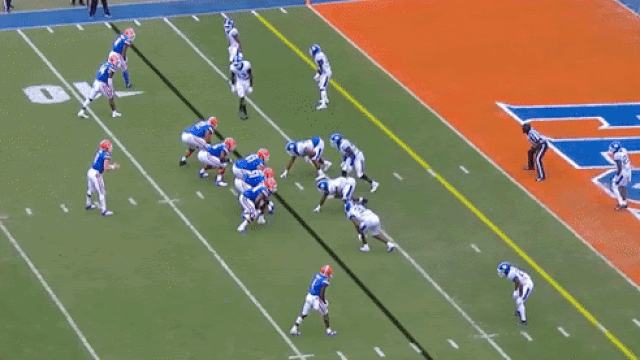 Obviously Joe Burrow would also benefit from the Bengals adding a receiver here, but that scenario would somewhat cap the respective ceilings of Tee Higgins and Tyler Boyd. Don't get me wrong: Burrow throws the rock enough to enable three fantasy-relevant receivers. Still, we'd be looking at three borderline WR2s between Higgins, Boyd and whatever first-round receiver the Bengals choose to replace A.J. Green with; the latter two receivers have a chance to leap into WR1 territory in fantasy land if Cincy decides to build its offensive line and/or defense instead.
Tua wasn't as bad as you thought he was as a rookie, and I'd be intrigued to see what sort of numbers the likes of DeVante Parker, Will Fuller, Mike Gesicki and Lynn Bowden can put up without a high-end rookie being added to the equation. Obviously continuing to surround Tua with talent should be a priority; this would just be a muddled passing game to decipher that could ultimately prove to be a headache in fantasy land. Thus, getting Tua one of the draft's consensus top two linemen is a gift that would help everyone involved.
Nobody has more available targets than the Lions at the moment. Chase could step in from Day 1 and see 120-plus targets easy. Yes, his QB would be Jared Goff, but we can at least give the much-maligned signal-caller credit for enabling plenty of fantasy-relevant receivers during his time with the Rams. Opportunity is the most important factor to consider in fantasy football; there's not another offense in the league that would give Chase a higher Year 1 target projection.
The Panthers could choose to replace Curtis Samuel in a big way; I hope they don't. Both D.J. Moore and Robby Anderson are going to have a tough enough time posting huge numbers with 1) Sam Darnold, and 2) Christian McCaffrey seeing the lion's share of work in the pass and run game alike. Our best-case scenario for the value of both DJM and Anderson is for the Panthers to improve their overall offense without adding more target competition to the equation. Of course, our next pick would also work just fine here.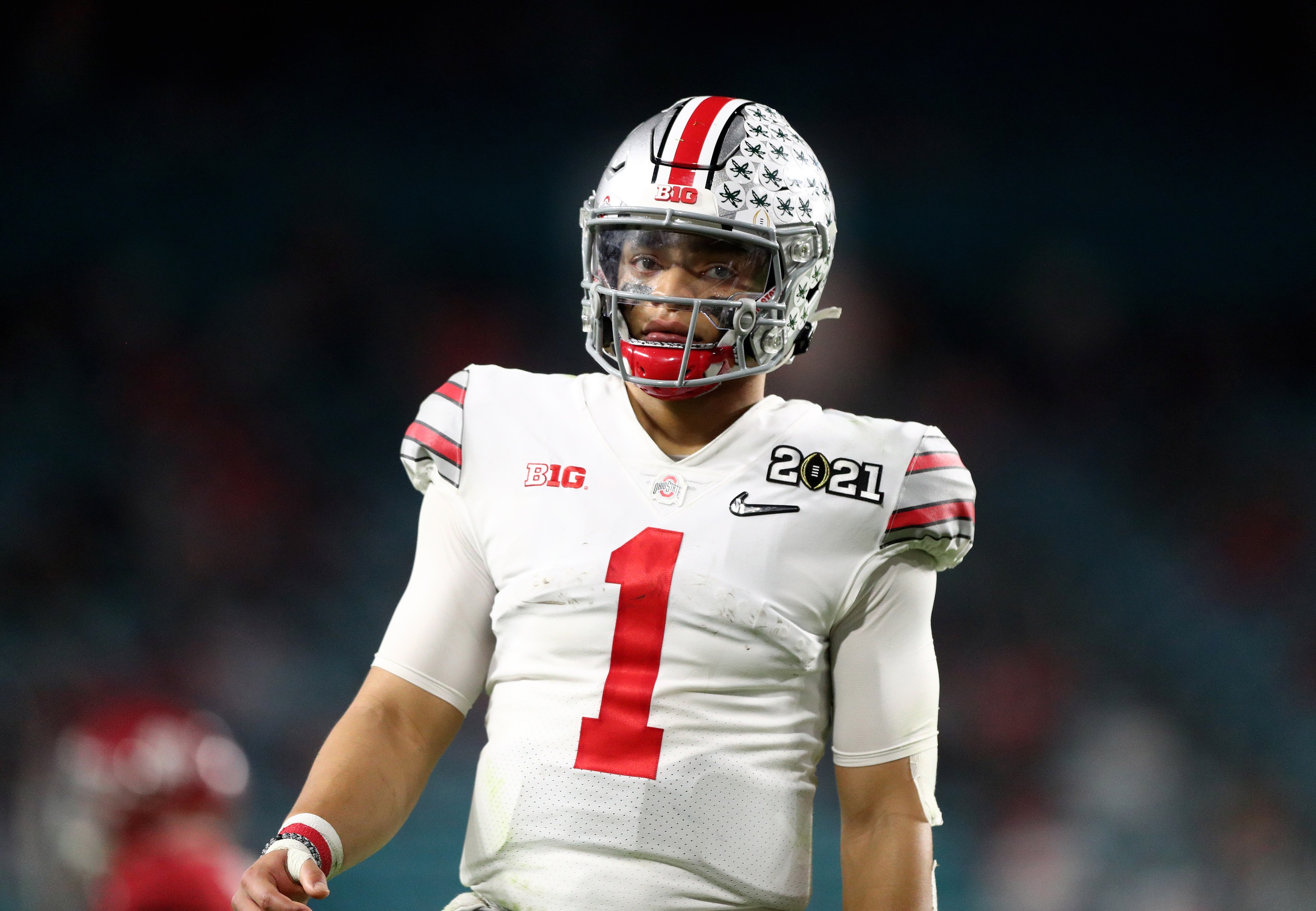 The Drew Lock experience features some highs (fifth in big-time throw rate in 2020!), but generally the flashes of brilliance are outweighed by extreme lows (35th in turnover-worthy play rate). I'd fully expect Fields to win the job out of camp in the unlikely scenario that he falls to Denver at No. 9 — and this pairing would be fantastic for fantasy business. Dropping Fields into an offense featuring Courtland Sutton, Jerry Jeudy, K.J. Hamler, Tim Patrick, Noah Fant and Albert Okwuegbunam is borderline erotic; it's my most fantasy-friendly landing spot for Fields in terms of strictly 2021 projections.
Last season proved to be overwhelming at times for whoever happened to be under center after Dak Prescott was lost for the season. This was mostly due to a lack of depth, as resources up front were scarce with each of Zack Martin (6 missed games), Tyron Smith (14) and La'El Collins (16) struggling to stay on the field. Clearly this defense needs plenty of work as well, but don't be surprised if the Cowboys stick to their roots and select their seventh offensive linemen inside of the first three rounds since 2011.
I discussed DeVonta Smith's over/under draft position being at 11.5 with PFF_George on the latest episode of The PFF Fantasy Football Podcast. The Giants have Kenny Golladay, Sterling Shepard, Darius Slayton, Evan Engram and Kyle Rudolph already; I don't think one more receiver is exactly going to make the difference between Daniel Jones balling out or not. In fantasy land it'd be particularly helpful to not further crowd this low-ceiling situation. The inner workings of Dave Gettleman's mind are an enigma; gun to my head I think he adds another piece to either his offensive or defensive front at No. 11.
Speed kills, and Waddle has plenty of it. It's easy to imagine the likes of Jalen Hurts, Dallas Goedert and Miles Sanders all benefiting from Waddle's field-stretching ability if the Tyreek Hill comps are even somewhat close to being true. The addition of Waddle also wouldn't necessarily write off Jalen Reagor as a bounce-back candidate; it's not illegal to have more than one solid WR in the year 2021. Adding the man that just averaged *18.5* yards per target seems like a good way to help your young QB, and triple-digit targets could be on the way in Year 1 inside of this unproven passing game.
Jaylen Waddle should be viewed as a top-15 talent despite concerns with his size (5-foot-10, 180 pounds).

Waddle's speed/explosiveness is rare, and his short-area quicks/lateral agility is an even bigger separator for him in the 2021 class. pic.twitter.com/wBFdIUtFnL

— Austin Gayle (@PFF_AustinGayle) December 29, 2020
Better protecting Justin Herbert is in the best business of everyone involved in this offense. There are already plenty of high-end receiving talents available between Keenan Allen, Mike Williams and Austin Ekeler, not to mention more than capable complementary options Jalen Guyton, Tyron Johnson, Jared Cook and Donald Parham. Herbert was PFF's No. 1 QB under pressure last season; that doesn't mean the Chargers shouldn't do everything in their power to limit the amount of hits their young QB takes moving forward.
The Vikings join the Seahawks and Titans as teams that *want* to run the ball but might not have the sort of defenses to make that pipe dream come to fruition. Either way, we can take solace with the Vikings' passing game thanks to the reality that it's so heavily condensed around Justin Jefferson and Adam Thielen. Adding another receiver to the equation would also be annoying for projecting Irv Smith's target share. I fully expect the Vikings to use the majority of their high-end picks on the defensive side of the ball; maybe at least one can be spared to help improve PFF's 29th-highest-graded unit in pass protection from a season ago.
This offense is already a fantasy disaster outside of Cam Newton potentially supplying some dual-threat late-round goodness. This run-first scheme has more than a few mouths to feed in the passing game between Nelson Agholor, Hunter Henry, Jonnu Smith, James White and Kendrick Bourne. Throw in a backfield that will feature at least three backs who will not benefit from Newton's goal-line dominance, and it's already easy to fade basically everyone involved. However, giving Josh McDaniels a chess piece like Smith could help propel Newton to a true comeback szn for the ages. It'd be impossible to expect any single receiver in the offense to see consistent high-end target share, but at least Cam would be close to arguably having the best crop of skill-position weapons of his career.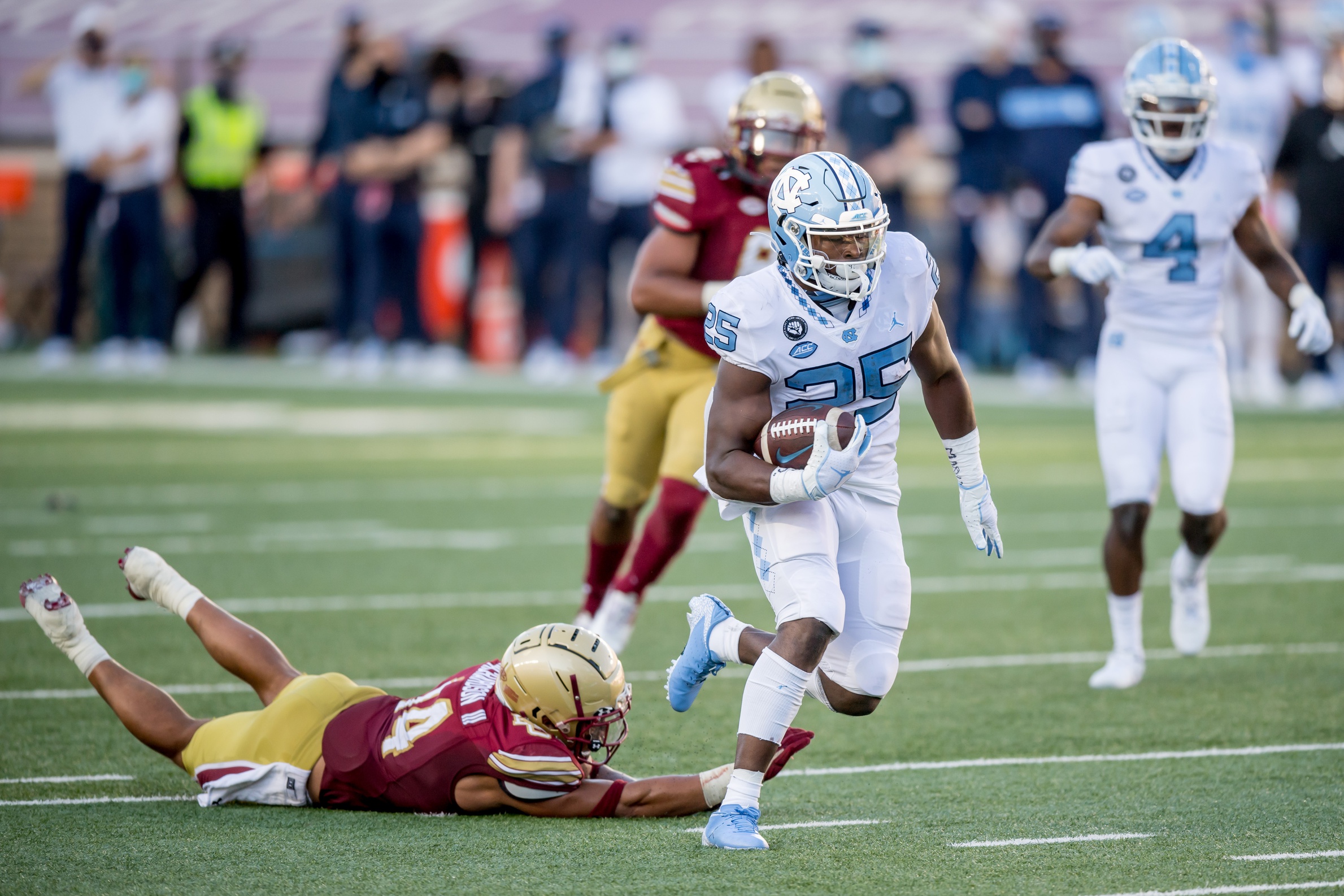 This is the first pick that I believe would truly be a disservice to the present and future of the team in question. The Cardinals only have two picks before Round 5; they have far more pressing needs than at RB. However, committing this sort of draft capital to Williams would almost certainly lead to a featured role in an offense only featuring receiving-first RB Chase Edmonds, dusty James Conner and 2020 seventh-round pick Eno Benjamin. Williams would be the favorite to inherit Kenyan Drake's 21 (!!!) available carries from inside the 5-yard line. He boasts the sort of elite tackle-breaking ability that could lead to a steady and fantasy-friendly diet of 15-plus touches per game in a hurry.
The Raiders have been a top-five team in dollars spent on the offensive line in each of the past six seasons; right meow they rank 21st. Derek Carr is borderline great when given a clean pocket to throw from; it's in the best interest of everyone involved in this offense for this front to be as good as possible. The backfield will probably be a mess of a committee regardless, but at least an upright Carr should be able to (again) enable Darren Waller to great heights and (maybe) another WR as well.
The worst thing to have in fantasy land is crowded situations in the backfield and passing game. Hence, the Dolphins come away with two first-round offensive linemen. It'd be easy to see them using these selections to further bolster either their RB or WR room; just realize the likes of DeVante Parker, Will Fuller and (especially) Myles Gaskin will see their respective ADP skyrocket if the Dolphins surprisingly refrain from adding to their skill-position corps.
One the one hand, Marshall's presence in the offense would condense target share for the likes of Terry McLaurin, Curtis Samuel, Logan Thomas and the team's RBs. On the other hand, we could more securely lock Samuel into the slot in this scenario, and McLaurin would still project as the target leader in a vastly improved offense. DGAF god Ryan Fitzpatrick has a history of getting the most out of contested-catch artists like Marshall; don't count out more than one receiver balling the hell out in Washington this season.
The Bears get a QB that might actually be considered an upgrade, while the likes of Allen Robinson, David Montgomery and even Darnell Mooney won't have to worry about any more competition for touches. Sounds like a win/win to me, although the realistic chances of Jones falling this far seem slim. Note that Jones' demonstrated lack of a rushing floor will have me almost fully fading him in fantasy land for 2021 regardless of the landing spot.
Toney seems to be this year's pre-draft WR that nobody on draft Twitter likes all that much, so why not add him to the already-crowded Colts passing game that could easily regress with Carson Wentz under center? It's probably unwise to expect T.Y. Hilton and Parris Campbell to enjoy full seasons of health; this situation would make it easier than ever to fade everyone involved and invest our time elsewhere.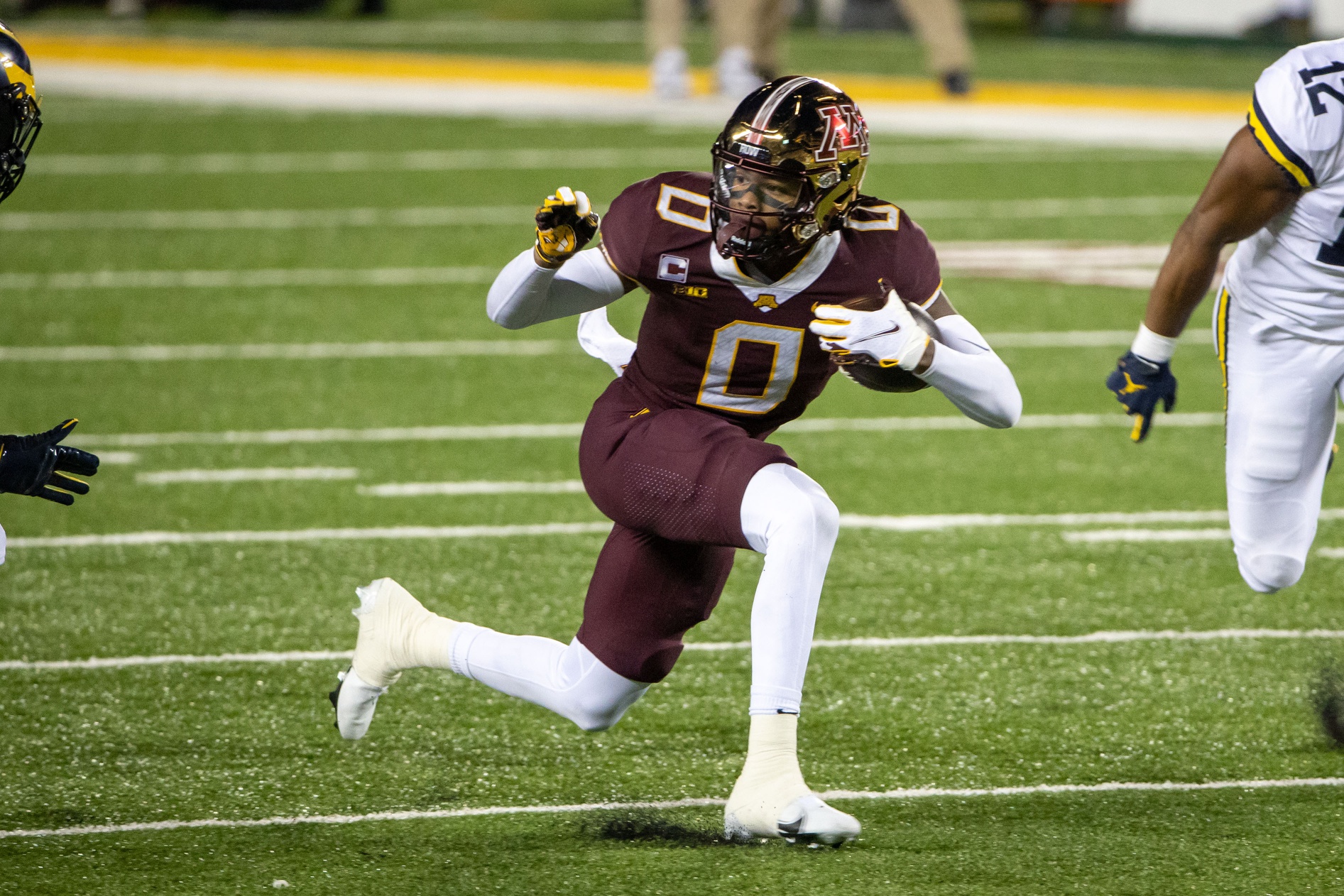 The Titans want to be a run-first offense; it remains to be seen if their defense will allow them to do so. There are enough open targets from Corey Davis and Adam Humphries for A.J. Brown to get the sort of workload that his immense talents deserve while *also* enabling another fantasy-relevant receiver. Perhaps the Titans focus in on more of a slot type with Josh Reynolds now in the fold; either way there's plenty of high-efficient targets available inside of the league's reigning fourth-ranked scoring offense.
Only the Falcons arguably offer a better Year 1 destination for a RB than the Jets and Steelers in terms of raw opportunity. Neither situation necessarily offers a high-end QB or good run-blocking line, but there's a high likelihood of obtaining a three-down workload in either offense. From a schematic standpoint, Etienne's best fit is probably here thanks to the potential for him to thrive in Mike LaFleur's (hopefully) Shanahan-esque outside-zone scheme.
Each of Le'Veon Bell (25.6 touches per start), DeAngelo Williams (22.8), James Conner (20.8), Jaylen Samuels (18) and Stevan Ridley (17) were absolutely fed the ball from 2014-2018. We've seen more of a committee look in between Conner injuries over the past two seasons, but coach Mike Tomlin at his core is a featured-runner type guy. Harris is the No. 1 RB in this class when it comes to projecting who has the most NFL-ready three-down ability; his potential lack of home-run ability would easily be outweighed by a potentially huge receiving workload in Pittsburgh.
My fingers are crossed that neither James Robinson nor Laviska Shenault have to battle with high-round rookies. The addition of a Day 1 or Day 2 RB or WR would muddle the projection for all parties involved. We can more safely project Robinson as a top-15 fantasy option if the Jaguars do refrain from heavily investing in their skill-position units. Shenault would profile as Urban Meyer's latest WR/RB hybrid, potentially emerging as a fantasy-friendly millennial version of Percy Harvin and Curtis Samuel. Let me dream, people.
66 seconds of Laviska Shenault making plays pic.twitter.com/zTTqfEeyUI

— Ian Hartitz (@Ihartitz) April 6, 2021
PFF's reigning No. 1 offensive line is all set, Baker Mayfield has more than a few talented receivers at his disposal, and Nick Chubb along with Kareem Hunt form the NFL's best backfield. There's no need for the Browns to invest any serious early-round resources in their offense; all the pieces are already in place for another big step forward in 2021. Still, rules are rules, so I'll simply add to the already beastly front and call it a day.
Brown posted the third-highest playmaker rate (rewards big plays and broken tackles) of all draft-eligible WRs from 2020. We probably aren't going to see any single receiver get enough consistent target share to thrive inside of this run-first offense, but at least Brown's field-stretching ability could further help Lamar Jackson threaten defenses deep and thus help open up the rest of the offense.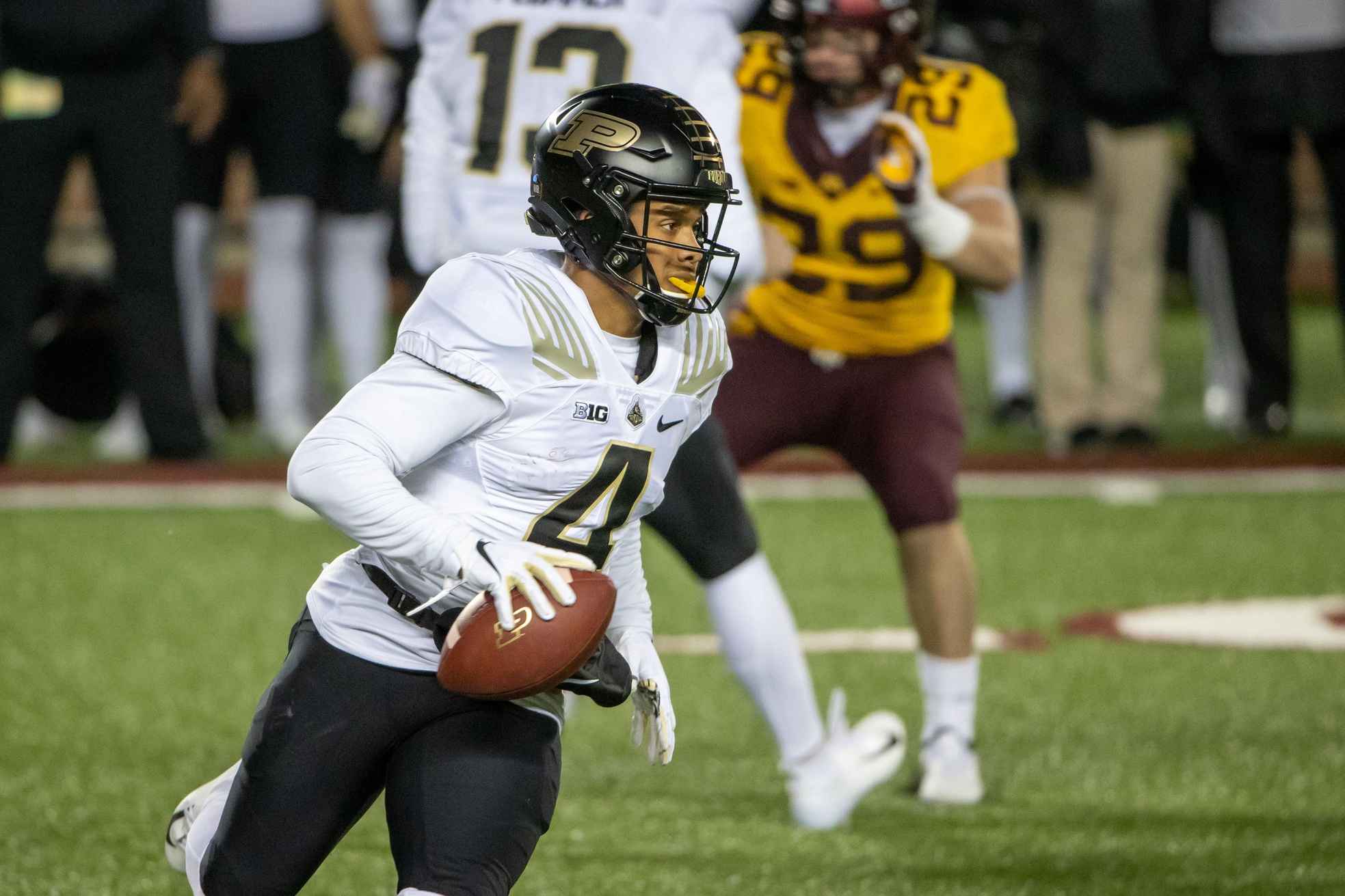 We've heard that some teams might view Moore as more of a Darren Sproles-esque gadget than full-time WR; what better spot for him to land than the very offense that enabled Sproles to his greatest heights? Obviously Michael Thomas and Alvin Kamara are the top two options in this passing game, but Moore could rather seamlessly slide into the slot and provide a new horizontal dimension to this offense. Perhaps the Saints are truly in on Tre'Quan Smith as their No. 2 WR of the future; either way adding another speedy weapon to help Jameis Winston and/or Taysom Hill seems like a good idea.
Give Moore the prime Randall Cobb role and call it a day. Nobody is suggesting Davante Adams shouldn't get all the targets he can handle, but giving Aaron Rodgers more than one true high-end weapon isn't the worst thought in the world. I'm in on MVS as a functionable field-stretcher talent; sliding Moore into the slot would provide some immediate juice into the underneath passing game, and it wouldn't be out of the question for the rookie to flirt with higher-end fantasy value if he can earn Rodgers' trust before too long.
This backfield seems destined to again feature both Zack Moss and Devin Singletary unless they commit serious resources to a potential three-down back like Carter. This offense hasn't been all that fantasy-friendly to RBs due to Josh Allen's penchant for 1) scoring on the ground inside the 10-yard line, and 2) not wasting his time with silly tasks like checking the ball down. Still, Carter would feasibly be in line to work as the lead back inside of last season's second-ranked scoring offense; even a workload of around 200 touches would be good for fantasy business.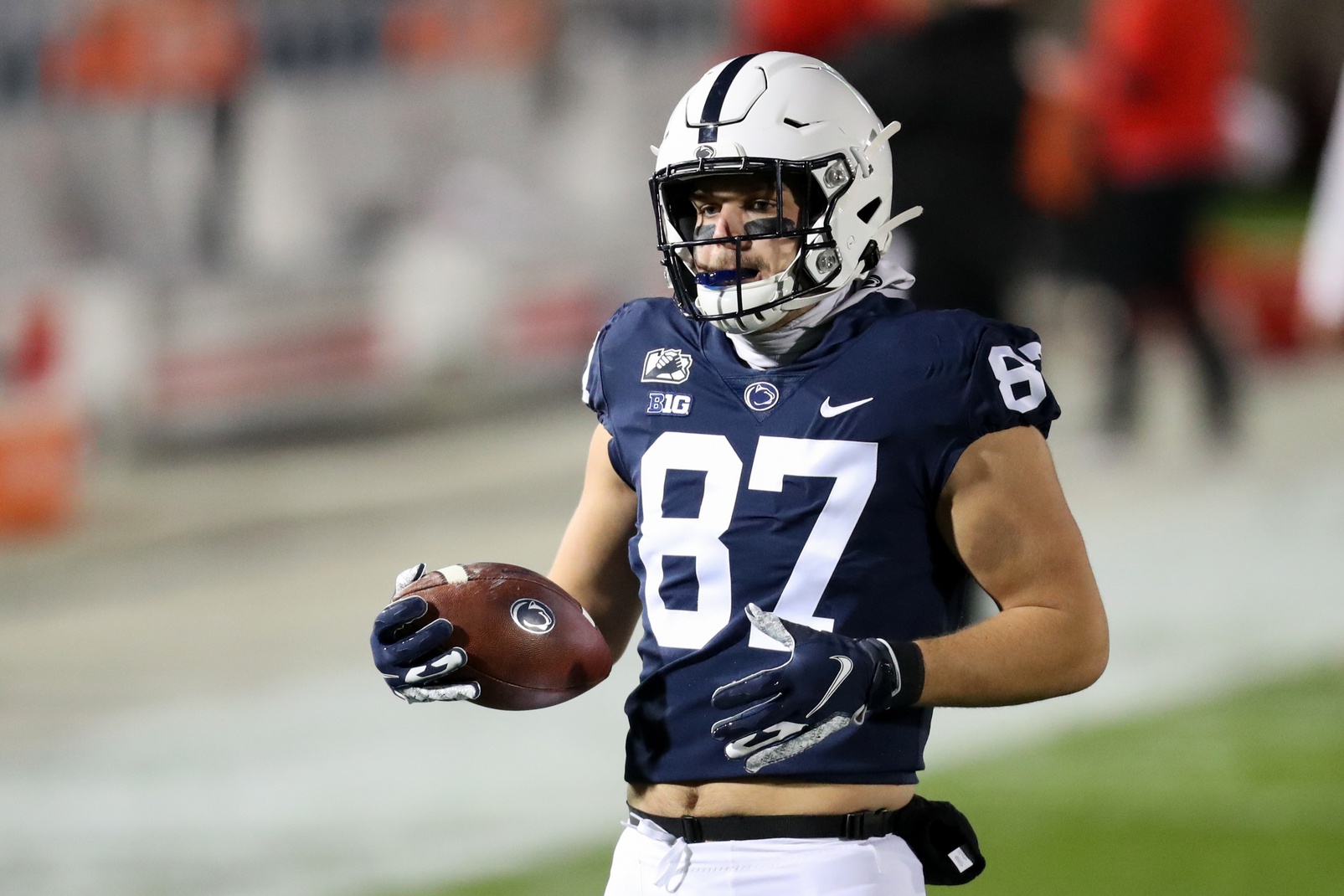 This is not shade toward Mark Andrews; the Ravens just don't make a huge habit of giving him a large snap share as it is. All in all, Andrews played at least 70% of the offense's snaps in just five games last season. Respect to Nick Boyle and his contributions to the running game, but Freiermuth would provide a true replacement for Hayden Hurst as the passing game's No. 2 TE. Unnecessary? Sure, but giving Jackson too many weapons doesn't seem like such a bad idea, either.
Much like the Bills, the Buccaneers seem destined to utilize a multi-back committee backfield at the moment. The only way we could truly expect this to change is if they devote high-end draft capital to a potential three-down back. Enter: Sermon, who functioned as just that at both Oklahoma and Ohio State. A film grinder's delight, Sermon has the sort of elusiveness to earn Bruce Arians' trust in a hurry. And if not, this backfield was already annoying as hell to decipher anyway.