A five-tool player in baseball represents someone capable of hitting for average, hitting for power, running, fielding and throwing at a high level. At a minimum, the player should be above-average in each of these categories, representing a true all-around and versatile stud.
We can take this principle from baseball and apply it to the 2021 NFL Draft class using PFF's plethora of college football data. Honing in on the top five most important tools from a wide receiver is a bit subjective, but I'm confident someone notching high marks in the following variables deserves to be lauded as an all-around stud. In no particular order:
Speed

Size

Hands

Route-running ability

Playmaking ability
Each draft-eligible WR with percentile ranks in height, weight and 40-yard dash above 50 fulfills our first two categories. Further evaluating each remaining talent's drop rate (hands), ability to win against single coverage (route-running) and playmaking ability (big plays and broken tackles) gives us a short list of some of the game's most complete receivers.
View PFF's 2021 NFL Draft position rankings:
QB | RB | WR | TE | T | iOL | DI | EDGE | LB | CB | S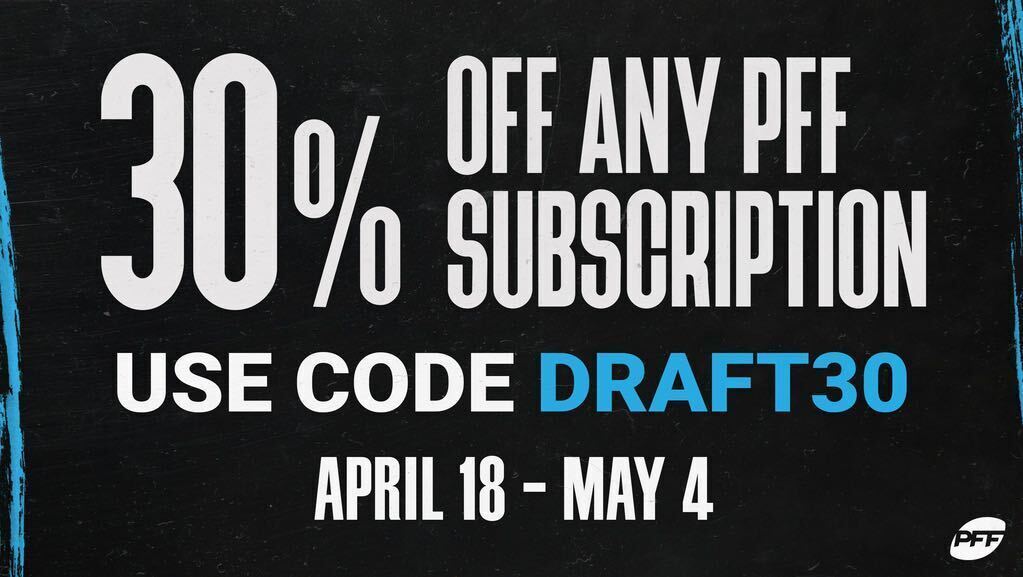 The majority of the draft's "elite" prospects were knocked out due to size concerns. More failed to run the 40-yard dash in a fast enough manner. All in all, the only WRs with weight, height and speed percentiles of at least 50 are: Terrace Marshall, Nico Collins, Jalen Camp, Trevon Grimes, Jacob Harris, Simi Fehoko, Tamorrion Terry and Josh Imatorbhebhe. This isn't to suggest the other available talents won't go on to have great NFL careers; we're simply looking for the most well-rounded prospect possible.
There were enough drop issues with the latter four receivers to cross their names off the list. Further complicating matters is the reality that Marshall (routes), Collins (lack of YAC ability), Grimes (routes) and Camp (routes) each left a bit to be desired either in terms of their respective fluidity in and out of routes or with the ball in their hands.
All in all, only one player in this draft truly checks each and every box that you would want from a perennial No. 1 receiver.
Kyle Pitts is the draft's only true five-tool receiver
Yes, Pitts is technically a tight end. Also yes, he looks and acts the part of a true No. 1 pass-game option. Pitts lined up in the slot or out wide on 42% of his snaps during his three-year career at Florida. As Florida HC Dan Mullens said: "He's an elite wide receiver and an elite tight end." Pitts himself has stated that "no teams have mentioned" him playing wide receiver, although they've brought up using him all over the formation.
Pitts' gaudy pro day simply provided quantitative data for what we already knew: The man is a monster. He's 6-foot-5 and 245 pounds with 4.44 speed and the longest wingspan (83.38 inch) among any WR or TE in the NFL during the last 20 years to boot. Oh, and by the way: Pitts doesn't even turn 21 until October.
PFF has never given a college pass-catcher a higher single-season grade than 2020 Pitts (96.2). The man truly didn't miss all season and didn't drop a single pass. Attempting to check Pitts with a mere mortal routinely ended poorly for defenders of all shapes and sizes. Overall, Pitts averaged 4.91 yards per route run against man coverage in 2020, which was the third-highest mark in the NCAA and just about two yards higher than any other player at the position.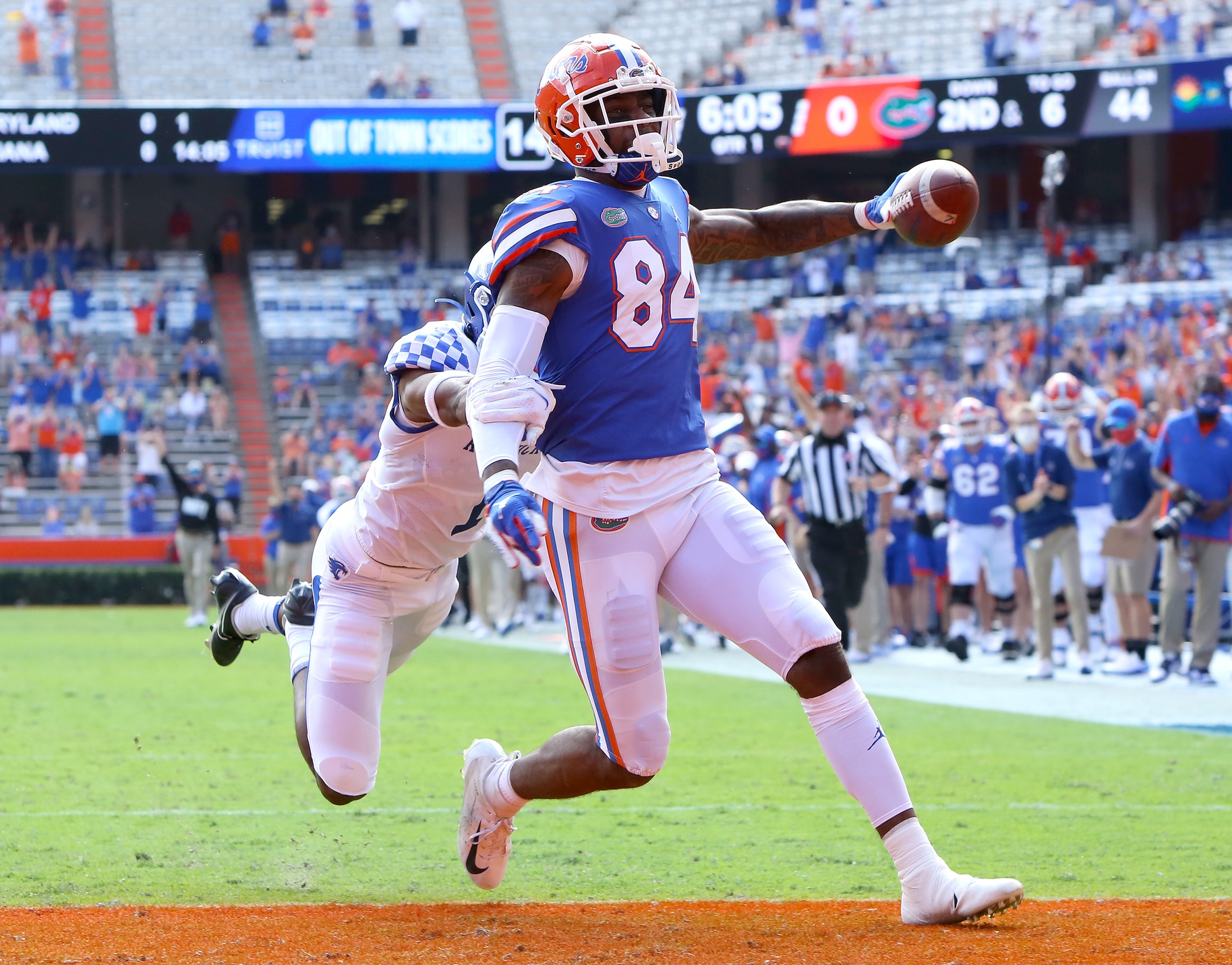 I created a metric called "playmaker rate" that weights TDs, big plays and broken tackles before being divided by total touches. Pitts finished 2020 as the No. 1 draft-eligible receiver in playmaker rate among 78 qualified players; the man is a problem in the open field.
My pro comp for Pitts is Mewtwo, the fictional Pokemon that was created in a lab via DNA engineering experiments. There simply isn't a part of football that causes Pitts any sort of significant struggle. PFF's highest-graded receiver in the 2021 class deserves to be the first non-QB selected on Day 1 of the draft.
Honorable mention
Size robbed each of PFF's top-five ranked WRs from making the list. Each of DeVonta Smith, Jaylen Waddle, Rashod Bateman and Elijah Moore finds himself in the 25th percentile of weight or lower; it's a good thing they're entering the NFL in 2021 not 1991.
Ja'Marr Chase has the speed, hands, route-running and play-making ability down; the only problem is his height (6-foot, 42nd percentile) and weight (201 pounds, 49th percentile) leave a bit to be desired. With that said: Chase plays plenty big and deserves to be the draft's consensus top-ranked WR.

Credit to Marshall for just missing the cut; it's easy to see why LSU's latest stud receiver has been rocketing up draft boards throughout the offseason.

This Mickey Mouse-sized class of receivers also loses talents such as Rondale Moore, Kadarius Toney, Dyami Brown and Jaelon Darden among others in our study due to size concerns. Credit to the latter player for leading all WRs in playmaker rate along the way.
I'm most-intrigued by Nico Collins when it comes to projecting a later-round talent to exceed expectations. He checks every box from a size/speed perspective and deserves some benefit of the doubt from a production standpoint due to Michigan's general refusal to employ a modern passing attack. Collins isn't a perfect prospect and needs to improve his overall route-running ability; just realize he makes up for it with physicality and "my ball" mentality

.




---

More of PFF's 2021 NFL Draft tools here: 
2021 NFL Draft Big Board | 2021 NFL Draft Guide | 2021 NFL Draft Stats Export | NFL Mock Drafts | NFL Mock Draft Simulator