Watching Jameis Winston play football always brings out a roller coaster of emotions, regardless of whether you're rooting for or against the 27-year-old QB.
This is because Winston is essentially the NFL's version of Dr. Jekyll and Mr. Hyde. One play will showcase the former No. 1 overall pick's rare willingness to sit in the pocket amidst chaos before unleashing and completing a rocket downfield into tight coverage. The next play could very well be an absurd pick-six that even an average Madden user would be ashamed of.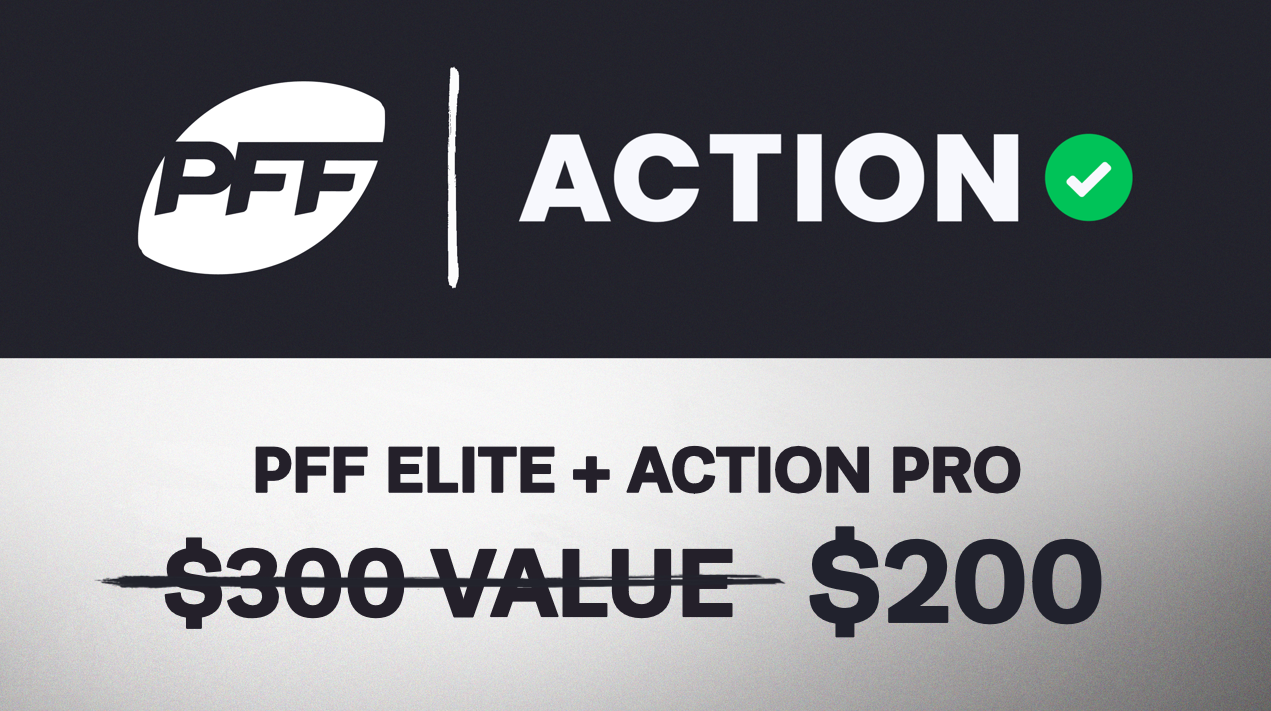 [Subscribe to PFF's ELITE – Annual subscription here now and enter promo code ACTION on checkout to take advantage of the offer.]
Winston's masterpiece occurred in 2019, when he threw a pick-six on the last play of the season to register the first 30 TD/30 INT season in NFL history. It probably could've been even worse; he arguably had another 20 interceptions dropped.
And yet, Winston isn't exactly bad. Yes, Winston is 38th in QB Rating and dead last in interceptions as well as turnover-worthy plays. Also yes, his career average of 7.7 yards per attempt is tied for 12th among 69 QBs with at least 300 dropbacks since 2015, and he's 11th in both passing touchdowns and passing yards during this stretch.
Winston finished the 2019 season as fantasy's fifth-highest-scoring QB. Say what you will about the man's 28-42 record and consistent penchant for bone-headed turnovers, but he's as entertaining as any QB in the league for better and for worse.
Today I'll pay homage to more players who have made a habit of displaying Winston's extreme boom-or-bust nature. Again: I very much enjoy watching Winston play football and think the NFL is a better product with him as one of the league's 32 starting QBs. None of the players that will be listed are bad; they just tend to trade big-time highs with similarly extreme lows. 
Note that Winston isn't eligible because he's obviously the perfect Jameis Winston. There are other players that deserve this "honor." Without further ado: The 2021 edition of the Jameis Winston All Stars.
A few months ago, I was chastised on Twitter for suggesting that Lock could be the AFC West version of Winston. It's true that Lock hasn't performed nearly as well as Winston through 18 career starts in basically any efficiency metric, and we also haven't seen the sort of high-end counting numbers that can make a bad real-life QB a good fantasy option.
With that said: Lock has occasionally demonstrated the ability to make extremely high-level throws.
Drew Lock does some really cool shit sometimespic.twitter.com/JFjL1OLJW9

— Ian Hartitz (@Ihartitz) March 23, 2021
In 2021, the top-five QBs in big-time throw rate were Aaron Rodgers, Patrick Mahomes, Tom Brady, Russell Wilson… and Lock. Of course, Lock joins a far less good-looking group among the top-10 QBs in turnover-worthy play rate, as his closest-ranked signal-callers from last season are Joe Flacco, Carson Wentz, Ryan Fitzpatrick and Taysom Hill.
You can correctly argue that plenty of Lock's highlight-reel throws are unnecessary and irresponsible, going for the big play downfield when an easier path to yardage is open underneath. Consistently going for these sort of high-risk throws is a bad habit that has gotten the young QB into plenty of trouble: 12 of Lock's league-high 15 interceptions were thrown into tight coverage last season.
And yet, it's entertaining as hell to watch. Lock started 13 games in 2020 and 10 were decided by six or fewer points. Sure, we saw the worst of Lock in notable atrocities against the Chiefs (43-16 loss), Raiders (37-12 loss) and Bills (48-19 loss), but most of the time this rollercoaster mixed in at least a few highs with the lows.
It seems likely the Broncos address their QB room to some extent in the draft or free agency, but their lack of a power move thus far indicates Lock might just have one more chance to seize this job. There's skill-position talent everywhere, and at least the rising third-year QB has (sporadically) shown the ability to operate at a high level. Here's to hoping Lock can take a leap forward in 2021, and if not at least it'll be fun to watch.
Arguably my biggest pet peeve in football analysis is when someone implies that a player was actually bad because "if you take away big play X, they really didn't do anything." Every now and then there's a reasonable reason to do this; the time the entire Jaguars defense quit after Bilal Powell fell down so he ran 75 yards to the end zone is a good example. However, aside from clear communication breakdowns resulting in a busted coverage or worse: Big players make big plays in big games; we can't penalize someone for making a huge play when a lesser player very well wouldn't have produced the same results.
This argument was repeatedly thrust on Sanders throughout the 2020 season due to his tendency to break massive runs. He ripped off a league-high three runs of 50-plus yards, making dudes miss and showing true jets along the way. This didn't stop the haters from pointing out that these performances didn't consist of much else:
Vs. Steelers: 74-yard TD run. 10 other carries: 6 yards and 1 TD.

Vs. Ravens: 74-yard run which resulted in a TD for J.J. Arcega-Whiteside after Sanders fumbled into the end zone. Eight other carries: 44 yards and 0 TD.

Vs. Saints: 82-yard TD run. 13 other carries: 33 yards and 1 TD.
Adding fuel to the fire is the reality that Sanders picked the wrong year to be so close to Ezekiel Elliott atop multiple leaderboards. Zeke (5) was the only RB to put the ball on the ground more often than Sanders (4), while these NFC East backs led their position with eight drops apiece.
Sanders ranked fifth and eighth in yards per carry and after contact per attempt among 47 qualified backs last season. Plenty of really good things happened when the Eagles got him the ball, but he'll need to clean up these ball-security issues to put it all together in 2021. 
Johnson technically played 16 games last season including the playoffs. However, he was heavily limited due to injury in three games; he was benched in another; and a fourth featured Mason Rudolph under center. Johnson totaled just 17 targets in these five games.
As for the other 11 games? The Steelers' No. 1 WR was fed a ridiculous 13 targets per game. This wasn't due to some wild outliers; Johnson literally had double-digit targets in all 11 of those contests.
Of course, we can't simply cancel out Johnson's self-inflicted performances. It's tough to be hard on the guy for getting hurt, but the drops are another story. All in all, PFF charged Johnson with a league-high 15 drops across the entire season.
Here's the thing: Drops aren't necessarily a good metric to judge a receiver on. Yes, catching the football is objectively priority No. 1 during the course of any given pass play. Also yes, drops as a volume stat tend to reflect receivers that managed to get open as opposed to truly bad players. This is reflected by the reality that Johnson isn't exactly in bad company atop the leaderboard: Tyreek Hill (13), Jerry Jeudy (12), D.K. Metcalf (11) and Stefon Diggs (10) were also in the double-digit drop club last season. A look at the double-digit drop club from 2012 reveals plenty of future hall of famers have had similar issues.
This isn't to suggest Johnson doesn't need to work on his hands; he still ranked 13th in drops per target among 137 players with at least 50 pass-game opportunities last season. Just realize that between the injuries and drops were regular flashes of brilliance in all facets of the game.
Ballerpic.twitter.com/0R6iLcYVuI

— Ian Hartitz (@Ihartitz) March 24, 2021
The peaks and valleys from Hurst in 2020 were absolutely awful to deal with in fantasy land. The ex-Ravens TE had more than a few good games; he cleared 50 yards and/or found the end zone on 10 separate occasions. The problem is that his other six games featured less-than-stellar 4-48-0, 3-38-0, 1-9-0, 2-8-0, 1-7-0 and 0-0-0 performances. Hell, even 4-28-1, 4-21-1 and 1-1-1 lines didn't exactly send fantasy investors home with a smile on their faces.
On the season, Hurst was the PPR TE10 and just 0.2 fantasy points away from finishing as the TE8; it was a productive campaign that saw him finish in line, if not ahead, of lofty preseason expectations. Still, the sporadic nature of his production made it tough to ever truly feel good about him.
And then there's the whole blocking issue. Clearly Hurst is more of a receiver than someone you want to actively run the ball behind, but PFF's 96th- and 94th-ranked run- and pass-blocker has as good a case as any for the position's single worst blocker of 2020.
Hurst provides enough athleticism to cause problems for defenses down the seam, and he's also a plenty reliable target in the red zone. There's a reason why the Falcons generally had plenty of success through the air with him on the field. It's not all bad, but it's tough to name another TE that experienced more volatile ups and downs than Hurst in 2020. We'll see if he can round out his game a bit more during his second season as a full-time starter.
It was hard not to go this direction after seeing a hilarious quote tweet correctly point out that Peat is getting dusted in the Madden 21 advertisement photo for Jameis Winston as the Saints QB1. While Peat certainly hasn't been a bad player throughout the entirety of his five-year career, things have been rough recently:
2015: PFF's No. 58 highest-graded tackle

2016: No. 41

2017: PFF's No. 29 highest-graded guard

2018: No. 82

2019: No. 70

2020: No. 52
Peat does deserve credit for starting 78 games over the past six seasons on what has routinely been one of the league's best offensive lines. I haven't recognized the Pro Bowl as a relevant individual accolade since Trevor Siemian declined an invitation, but Peat has been selected to the event three years in a row if you're into that kind of thing.
Arguably the biggest issue has been Peat's poor performances when it has mattered most. Overall, he's allowed three or more pressures in each of the Saints' last five playoff games compared to just nine of his last 36 regular-season contests (25%).
If you believe in the idea that an offensive line is only as strong as its weakest link then you'll be hard pressed to call Peat a true problem. He's been a consistent starter in one of the league's perennially best units. Note that the following ranks refer to the Saints' entire offensive line:
2015: No. 9 in PFF team pass-blocking grade, No. 13 in run-blocking grade

2016: No. 9, No. 13

2017: No. 2, No. 11

2018: No. 13, No. 21

2019: No. 2, No. 5

2020: No. 13, No. 8
The likes of Drew Brees, Sean Payton and the rest of the Saints' typically fantastic offensive line certainly deserve most of the credit; just realize Peat has been a key cog in a wildly successful unit for quite some time regardless of some of his personal lows.
The year is 2021; it's good to be better against the pass than the run compared to the opposite. Still, Okwara took this to a wild level in 2020, ranking No. 8 in pass-rushing grade compared to No. 136 in run-blocking grade among 149 qualified edge defenders. No edge defender had a wider difference in pass-rush vs. run-blocking grade, but credit to Okwara for getting his name up alongside some of the position's top talents at getting after the QB:
Part of the problem for Okwara was simply missing tackles he was in a position to make. Only five edge defenders missed more total tackles than the Lions' rising sixth-year veteran.
Okwara is a great story, making a real name for himself in the league after going undrafted following a four-year career at Notre Dame. He'll continue to have a home somewhere as long as this sort of pass-rush success continues, although we'll have to see some improvements against the run and from the Lions defense as a whole before sticking him in a conversation with the elites of the position.
White caused more havoc than just about any other linebacker when it came to getting after the passer last season, ranking third and first in pressure and sacks among everyone to play the position. Asking him to attack usually brought about good results: White graded out as PFF's 32nd-best LB among 107 qualified players when asked to blitz in 2020. Throw in the reality that two of White's best six games came in the playoffs, and it's easy to call last season a success while also believing the best is still to come for the 23-year-old talent.
You won't need to use your toes to count the number of linebackers more physically gifted than White, however this didn't exactly translate to great coverage ability in 2020. All in all, opposing QBs completed 103 of 122 targets into White's coverage for 916 yards and four scores, averaging a cool 7.5 yards per attempt along the way. Rallying up to deal with check-downs isn't always a bad thing for a defense to have to deal with, but the Saints, Rams, Panthers, Packers and Vikings separately managed to complete at least eight passes against White in just 60 minutes of action. Sheesh.
PFF graded White as the NFL's No. 1 pass-rushing LB of 2020, but the No. 101 and No. 92 player when it came to coverage and run defense ability. Credit to the Buccaneers' never-ending supply of beasts across the defensive line as well as partner in crime Lavonte David for making the shortcomings in White's game less of an issue than they might be elsewhere. This shouldn't take away from the fact that White remains a big reason why this defense is awesome. The question is whether or not White can continue to improve and morph into one of the league's best all-around players at his position.
The first two weeks of the season basically told you everything there was to know about the 2020 version of Adams. He looked like a legit defensive MVP candidate in Week 1, making impact plays all over the field during a win over the Falcons. And then Cam Newton completed five of six passes into Adams' coverage for 126 yards and five first downs in Week 2, with old man Julian Edelman notably getting the best of the Seahawks safety on multiple occasions.
We saw both trends continue throughout the season. Adams continued to prove he's a savant of sorts when it comes to his ability to get after the QB, easily leading all safeties with 29 pressures and 7.5 sacks. However, opponents completed 38 of 50 passes into his coverage for 423 yards and a pair of scores.
The last we saw of Adams wasn't good, as he mixed in more coverage issues with less intensity than usual against the run. The answer to some of his problems could be due to injury, as Adams stated, "I hyperextended my elbow Week 1. Week 2, I dislocated both my ring and middle finger multiple times. I then strained my groin Week 3, which knocked me out for four games. Came back and dislocated my shoulder. Ended up tearing my labrum."
Adams was easily PFF's top-ranked safety as a pass rusher, but he slipped to No. 69 against the run and No. 91 in coverage among 112 qualified players. The Seahawks spent far too much on Adams for this to be acceptable and for him to function as anything other than an elite player at the position. Hopefully a healthier version of Adams produces better overall results in 2021; just realize there was exciting action when he popped on the screen last season for better and for worse.
Give me a corner that takes chances in an effort to create turnovers over one that is afraid to get beat eight days of the week. With that said: Jackson took this boom-or-bust mentality to a different level in 2020. There was plenty of good and bad that happened when opponents targeted him:
Interceptions: 9 (No. 2 among all CBs)

TDs: 5 (tied for No. 12)

Yards: 584 (No. 38)

Dropped or off-target incompletions: 20 (tied for No. 14)

QB rating allowed: 62.7 (No. 5)

PFF coverage grade: 68.3 (No. 47)
Depending on the stat, Jackson either looks like one of the league's best or worst corners. It's fair to say he leans closer to the former bucket than the latter thanks to the game-changing nature of his ball-hawking ability, but there were some truly rough moments along the way.
Jackson's rise from an undrafted free agent to someone that Bill Belichick feels confident deploying all over the formation can't be ignored. Hopefully the turnovers come less hand-in-hand with big plays allowed in the future.