Ohio State prospect Justin Fields was the latest QB to set Twitter ablaze with a great pro day performance. His 4.44-second 40-yard dash has only been topped by Robert Griffin (4.41) among all first-round QBs since 2006, while we also saw multiple throws that showed off some high-end arm strength.
The reality that the 22-year-old talent is an elite prospect shouldn't come as a particular surprise to anybody: Fields was PFF's third-highest-graded QB in 2020 and falls behind only Trevor Lawrence and Zach Wilson on our NFL Draft Big Board. Sometimes a great pro day causes overreactions, but we already had plenty of live-game evidence that Fields is both fast and possesses plenty of arm talent.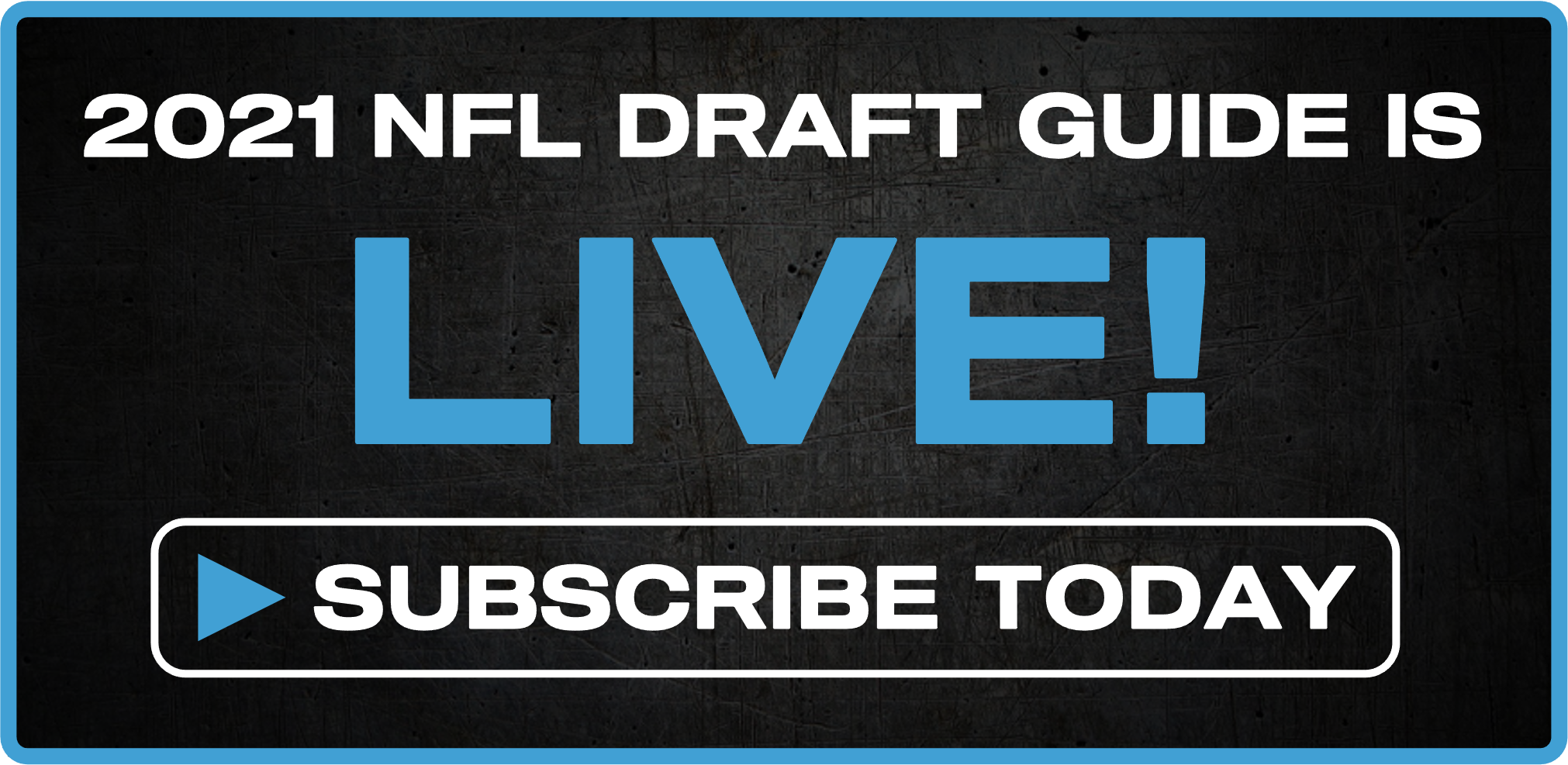 Obviously it remains to be seen how Field's NFL career will shake out. Still, he already has the look of a productive rookie QB based on the position's recent first-year success stories.
Seven rookie QBs have finished as a top-12 fantasy signal-caller since 2010. The two common characteristics for everyone except Justin Herbert were 1) a demonstrated rushing floor, and 2) the opportunity to start in Week 1. Note that the Chargers' wildly successful rookie boasted enough athleticism to function as a more productive rusher at the NFL level and found himself under center for good in Week 2.
Fields averaged a cool 39.4 rush yards per game during his 22 starts at Ohio State despite fully functioning as a pass-first QB. The seven rookie QB1s since 2010's rushing yards per game in college are listed in parentheses:
This brings us to the second part of the equation: earning a starting spot by Week 1. Fields is already going off the board in Underdog Fantasy best ball drafts as the QB20, and it's easy to see him out-performing that mark if the right situation presents itself.
What follows is a breakdown on Fields' top five landing spots from a fantasy football perspective. The likelihood that Fields can topple each team's existing QB will be considered in the ranking, although it's generally good practice to assume any top-10 signal-caller will be on the field sooner rather than later as a rookie. Specifically, just four of 23 QBs drafted inside of the top-10 picks have started fewer than 10 games as a rookie since 2010, and the average top-10 QB has started 12.3 games during his debut campaign. I'll approach this realistically: The Jaguars and Jets are out, since they're fully expected to take Trevor Lawrence and Zach Wilson with the first two picks of the draft, while I won't look at anybody slotted outside of the top 10 due to the likelihood that Fields is off the board early.
There isn't an easier spot on this list to imagine Fields starting immediately. The Drew Lock experience features some highs (fifth in big-time throw rate in 2020!), but generally the flashes of brilliance are outweighed by extreme lows (35th in turnover-worthy play rate). I'd fully expect Fields to win the job out of camp in the unlikely scenario that he falls to Denver at No. 9 — and this pairing would be fantastic for fantasy business.
There's simply a never-ending supply of playmakers in this passing game. Wherever you look, there's a receiver to be (at a minimum) intrigued by:
There isn't a better 2021 landing spot for Fields considering the Broncos' plethora of upside receivers and relatively clear path to the top of the QB depth chart.
This is a dream destination for any high-end QB thanks to the status of not one, not two, but three ballers littered throughout their skill-position tree. The likes of D.J. Moore, Robby Anderson and Christian McCaffrey have been forced to suffer through largely atrocious QB play throughout their respective careers; adding a healthy and explosive dual-threat talent to the equation could bring out the best in everyone involved in both the run and pass game.
It wouldn't be a guarantee that Fields beats out Teddy Bridgewater from Day 1, although the leash can't be very long after the latter QB's 2020 campaign featured more downs than ups. Bridgewater wasn't awful, but sheesh: Throwing for just 15 scores and 3,733 yards inside of OC Joe Brady's constantly sound scheme wasn't exactly the debut season that most would've hoped for.
The real allure of the Panthers would be the potential for weekly shootouts, as PFF's No. 26-graded defense from last season has a ways to go before we can treat it as even an average unit. Fields would be in the weekly QB1 conversation with a starting job in Carolina thanks to his sneaky strong supporting cast and likely meh defense.
Matching Fields with Kyle Shanahan, who helped get the most out of a rookie version of Mr. RGIII back in the day, would be the best fit in terms of pure upside. I mean, c'mon people: picturing Fields throwing to Brandon Aiyuk, Deebo Samuel and George Kittle is borderline erotic. The QB-friendly nature of Shanahan's offense can't be overstated: Nobody has averaged more yards per attempt on passes thrown behind the line of scrimmage over the past three seasons than Jimmy Garoppolo.
It remains to be seen if the 49ers moved up to the No. 3 spot for Fields, Trey Lance or Mac Jones, but each will seemingly start the season as the backup. This team is in win-now mode and could be the exception to the rule when it comes to a top-10 pick finding the field rather quickly. This isn't to suggest that the artist known as Jimmy G is incapable of losing a preseason QB competition; just realize he's a stiffer test than most of the other incumbent starters on this list.
The only "concern" for Fields in this offense would be overall volume. The defense figures to get back into top-10 territory with a healthy Nick Bosa in 2021, and we've seen Shanahan be more than willing to ride his run game to victory if given the chance. There isn't a better long-term, real-life fit for Fields than San Fran, but his path to an immediate fantasy-friendly role might be a bit overstated. Jimmy G has gone 22-8 with the 49ers; don't expect a change under center unless the 1) injury bug strikes again, and/or 2) bottom truly falls out.
Tua wasn't as bad as you think last season, and the Dolphins' decision to move out of the No. 3 pick seemingly sets him up as their QB of the moment. Still, Fields falling to No. 6 isn't entirely out of the question, leaving Miami with a big-time choice when it comes to who they want under center in 2021.
We'd have to give Tua the edge coming out of camp as the incumbent starter who *should* be healthier an extra season removed from hip surgery. Either way, it's easy to see how having Will Fuller's field-stretching speed in the fold can immediately elevate whoever is under center. Deshaun Watson has averaged 8.8 yards per attempt vs. 7.6 and 26.1 fantasy points per game vs. 23.1 with Fuller compared to without since 2017, while DeAndre Hopkins was also far better in the fantasy points (20.3 vs. 18.9) and TDs (0.81 vs. 0.43) per game departments with the Texans speedster even though he had more targets per game without.
DeVante Parker and Mike Gesicki are also plus talents. Throw in the potential for a Day 1 or 2 receiver, and it's easy to see a healthier version of this offense flirting with the league's top-10 scoring units with more consistent play under center.
The fit with Fields requires a bit more imagination than elsewhere, particularly when it comes to immediately seizing the starting job. Still, the talent at receiver, combined with Fields' fantasy-friendly dual-threat talent, would make it tough to rank him too far outside of the position's top 12 during any given week if a starting job opportunity in Miami is floated his way. 
Obviously a homecoming for Fields as well as the chance to chuck the rock to Julio Jones and Calvin Ridley would be a fun time; the issue is thinking that Matt Ryan won't be under center when healthy in 2021. Teams always seem to have a way of working around the cap, but at the moment the Falcons still have over a hundred million reasons why Ryan should remain their starting QB.
There are more pressing needs for the Falcons anyway; Ryan was PFF's 12th-highest-graded passer during a relatively down 2020 campaign. Building around a rookie QB presents a rare opportunity to spend heavily on other positions; already having a high-priced signal-caller on the roster doesn't exactly open up these same sort of opportunities.
Perhaps the Falcons decide Fields is too elite of a prospect to pass up and simply value the opportunity to add this sort of high-end asset to their team. Even then, he'd need an injury or previously unforeseen drop in performance to touch the field in 2021.