Fantasy football draft strategy can be as simple or as complicated as you want to make it. But like anything, the more complicated things are, the more likely we are to make mistakes. And that's the last thing we want on our draft day. Even the smallest mistakes can have a ripple effect that can impact your entire draft.
But there's good news. We have a solution for you that's extremely simple. In fact, it's just one 8×11 sheet of paper. A single draft board that will have every piece of information you need to completely dominate you competition. No more outdated magazines or binders filled with printouts. Say goodbye to the web browsers with 15 tabs open and complicated excel spreadsheets that always seem to break halfway through your draft.
We're going to share with you my personal draft board for 2019 fantasy football drafts, but before we do, here are few tips to keep in mind that will help you dominate your draft:
Draft for value, and don't reach. When you reach, you let value slip to you opponents. You put your board in place based on how your value players. Stick to the plan and don't deviate on draft day. Your opponents are going to make mistakes and let value slip to you. Make them pay for it.
There are no "must draft" or "must avoid" players. Even though you may really like certain players, look at the first tip. Don't reach for these guys. It's a mistake that allows value to slip to your opponent. Likewise, there are no "must avoid" players, only players to avoid at certain ADPs. However, there's a point in drafts where these guys will become values if they stick around on the board.
You don't need Patrick Mahomes to win your league. Sure, he's very nice to have, but Mahomes is going to go earlier than it's worth drafting a quarterback in leagues that start only one quarterback. "But you don't understand. Everyone in my home league drafts quarterbacks very early." That's fine. You don't have to drink the Kool Aid. Follow your board and you'll still end up getting value.
Ceiling is more important than floor. If you're faced with a decision between two players, choose the player with the higher ceiling. For example, Larry Fitzgerald and Will Fuller are often picked in the same area of the draft. If you had to choose between the two, the better option is Fuller. Sure, his floor is much lower, but Fuller's massive upside gives him the greater potential to be a fantasy difference maker.
Don't overlook the importance of roster construction early in your draft. This one can't be overstated. People often draft based off of rankings, which isn't necessarily a problem. However, a fantasy draft isn't checkers. It's chess. We need to think down the line at how early picks we make will impact our roster construction down the line. That's especially true if your faced with the possibility of taking a wideout early in your draft.
With these tips in mind, let's dive into the draft board and strategy for each position in this year's drafts. If you haven't already, make sure you check out my skill position fantasy football tier ranking. I provide detailed information on quarterbacks, running backs, wide receivers, and tight ends.
The following advice is general and can be considered for all fantasy football scoring formats. Keep in mind that the difference between PPR and non-PPR isn't often as significant as many make it out to be. For example, according to the PFF Fantasy Football Stats tool, James White was the No. 7 RB in PPR in 2018 and the No. 11 RB in non-PPR. Likewise, Tarik Cohen was 11 in PPR and 17 in non-PPR. The difference between the two formats for these PPR specialists was marginal at best. So instead of moving players up or down significantly based on scoring settings, it's a better idea to just be aware of pass-catching backs. These players will be more volatile regardless of the format.
[Editor's Note: All of PFF's EDGE and ELITE subscribers have access to Jeff Ratcliffe's updated draft board, 2019 Fantasy Playbook, rankings, projections and more. Subscribe today to gain access!]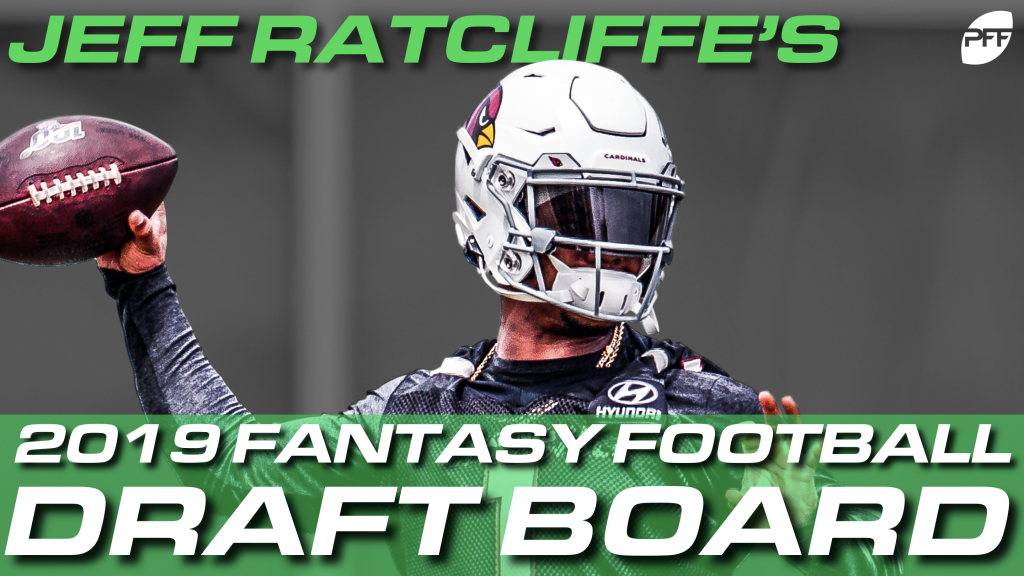 Rounds 1-5
It's easy to sit here and tell you that you should draft Christian McCaffrey or Saquon Barkley, but that advice isn't going to do you any good if you end up with a pick at the tail end of a snake draft. Instead, I encourage you to put together a strong set of overall rankings.
In a 12-team league, I recommend covering five rounds of the draft, which equates to roughly 60 players. To get you started, here are my top 60 players. This is a balanced set of rankings that can be applied to all fantasy formats.
Top 60 overall

Rk
Player
Pos
Rk
Player
Pos
1
Ezekiel Elliott
RB
31
Damien Williams
RB
2
Saquon Barkley
RB
32
Aaron Jones
RB
3
Christian McCaffrey
RB
33
Devonta Freeman
RB
4
Alvin Kamara
RB
34
Marlon Mack
RB
5
DeAndre Hopkins
WR
35
Stefon Diggs
WR
6
Davante Adams
WR
36
Josh Jacobs
RB
7
Le'Veon Bell
RB
37
Julian Edelman
WR
8
Julio Jones
WR
38
Robert Woods
WR
9
David Johnson
RB
39
Brandin Cooks
WR
10
Michael Thomas
WR
40
Kenny Golladay
WR
11
Odell Beckham Jr.
WR
41
Kerryon Johnson
RB
12
James Conner
RB
42
Chris Godwin
WR
13
Travis Kelce
TE
43
Patrick Mahomes
QB
14
Tyreek Hill
WR
44
David Montgomery
RB
15
JuJu Smith-Schuster
WR
45
Cooper Kupp
WR
16
Joe Mixon
RB
46
Alshon Jeffery
WR
17
Antonio Brown
WR
47
Mark Ingram II
RB
18
Todd Gurley II
RB
48
Phillip Lindsay
RB
19
Melvin Gordon
RB
49
Chris Carson
RB
20
Dalvin Cook
RB
50
Tyler Lockett
WR
21
Nick Chubb
RB
51
DJ Moore
WR
22
Keenan Allen
WR
52
Tyler Boyd
WR
23
Mike Evans
WR
53
Allen Robinson
WR
24
Leonard Fournette
RB
54
James White
RB
25
Zach Ertz
TE
55
Robby Anderson
WR
26
T.Y. Hilton
WR
56
Calvin Ridley
WR
27
Amari Cooper
WR
57
Kenyan Drake
RB
28
George Kittle
TE
58
A.J. Green
WR
29
Derrick Henry
RB
59
Jarvis Landry
WR
30
Adam Thielen
WR
60
Hunter Henry
TE
The goal with this list is to draft for value with each of your picks until this list is completely exhausted. With the first few picks, it's fine to just follow straight on down the list. Though, as I noted above, you will need to consider early on if you want to get one of the top 10 running backs. Given the premium at the position, you may not get a shot at one if you decide to go with a wide receiver in the middle of the first round. If you think your draft is going to go RB-heavy, it may make more sense to grab the best RB on the board and let value slip to you at wide receiver.
Let's say you pick at the 1.06 and five running backs have already come off the board: Ezekiel Elliott, Barkley, McCaffrey, Alvin Kamara, and David Johnson. DeAndre Hopkins is the top man on your board, but if you go with him, the remainder of the top 10 running backs will almost certainly be gone before your next pick. If you're comfortable starting out the season with a front-end RB2 as your top back, then go for Hopkins.
However, I recommend being a bit more flexible with your board and grabbing one of the remaining top-10 running backs. In this instance, it would be Bell. That may seem like we're overvaluing him, but we aren't. What we're doing is placing a premium on our roster construction. Sure, Hopkins is amazing, but we're going to have more opportunities to score value at wideout than we will at running back.
Otherwise, keep drafting players off this list until the list is gone. You'll notice there's just one quarterback listed: Patrick Mahomes. He's almost guaranteed to be picked well before where we have him ranked. Don't worry about it. There's so much depth at quarterback that you'll be able to find a solid option much later on in the draft.
As you select players from the top 60, don't worry about bye weeks or players on the same team. These are little things that shouldn't impact your decisions in the early rounds of a draft. All of the players in the top 60 are strong fantasy options, so just continue to load up on as many of them as you can.
It's likely you'll still have options from this list for the first six rounds, and perhaps even longer. Remember to keep a close eye on your roster construction and get ready to switch gears as soon as the list is empty. From here I'm going to go by position and pinpoint the players I'm highlighting on my draft board and the round I'm comfortable selecting them based on current ADP data. Keep in mind that these round grades are suggested value and do not guarantee that the player will not be picked earlier in your drafts.
You can follow along with these players on a printable version of my 2019 fantasy football draft board. Keep in mind that this PDF was produced on July 29th. If you want the most current copy of my draft board, you can always find it in the 2019 PFF Fantasy Playbook.
Quarterback
You hear it every year, but you can wait at quarterback. I know, I know. Your league drafts quarterbacks earlier than fantasy industry types. But don't worry. You're still going to have plenty of strong options in the middle and late rounds.
We all know what Mahomes did last season. But did you realize that he wasn't even selected until the 10th round in most fantasy drafts last year? Jared Goff was a breakout option who you could have drafted in the 11th round as the 16th quarterback off the board. Dak Prescott finished 10th among quarterbacks and was a 13th-round pick. Mitchell Trubisky came off the board in the 14th round and posted multiple first-place weekly fantasy finishes.
The depth at quarterback in today's NFL is staggering. Last season, 12 quarterbacks threw for more than 4,000 yards and nine topped 30 touchdown passes. So even if your league drafts quarterbacks early, don't take the bait. Unless you see value fall at the position, like Deshaun Watson in the sixth round, the earliest you should be looking to draft a quarterback is the seventh/eight round.
Rounds 7-8: Matt Ryan, Russell Wilson, Baker Mayfield
While I think you can get better options later in the draft, getting one of these three signal-callers in this range is solid value. Ryan is coming off a second-place fantasy finish where he nearly topped 5,000 passing yards, though that's likely the top end of his fantasy range. Wilson took a step back for fantasy purposes in the Seahawks' run-heavy offense but showed he can still get it done in the red zone. Mayfield is one of this year's sexiest fantasy names and could be off the board at this point.
Rounds 9-10: Drew Brees, Cam Newton, Jared Goff, Carson Wentz, Kyler Murray, Ben Roethlisberger
This is really the sweet spot if you want to take a middle-round quarterback approach in drafts this year. All of these guys may not be on the board, but at least one of them should be. And every one of these quarterbacks have strong QB1 potential.
Rounds 11-16: Philip Rivers, Jameis Winston, Dak Prescott, Mitchell Trubisky, Tom Brady, Lamar Jackson, Kirk Cousins, Jimmy Garoppolo, Josh Allen
These signal-callers are the most likely to still be on the board at the end of the draft for those looking to use a late-round quarterback approach. I don't always recommend entering the season with a backup quarterback, but it makes sense to grab two from this group. You aren't spending much capital to get these guys, and taking two gives you a little insurance in case one of them goes bust. If you take this approach, it's a good idea to draft one "safe" option, and one upside option. So Rivers and Winston, or Brady and Trubisky, etc.
Running back
The rankings list above gets you through 26 running backs, but there are some interesting names just outside the top 60 who you can stockpile. Remember, draft for ceiling, not floor. That's especially true in the middle and late rounds.
Rounds 6-7: Miles Sanders, Austin Ekeler, Tevin Coleman
Questions abound at the running back position when you get into the middle rounds, but Sanders is in an interesting position in the Philly backfield. It may take him into October, but he has a good shot of leading the Eagles backfield in fantasy scoring. Ekeler is now in a premium handcuff spot given the uncertainty of Melvin Gordon's situation. While Coleman is in a crowded house in San Francisco, he's the strongest bet to lead the backfield in touches.
Round 8: Darrell Henderson, Latavius Murray, Derrius Guice, Rashaad Penny
This is the prime range to target premium handcuffs. Henderson and Murray fit the bill and would get major value boosts if either Todd Gurley or Alvin Kamara missed time. Likewise, Penny has value independent of his handcuff status. Guice is coming off a major injury and is on a potentially bad offence, but he could still see ample volume this season.
Round 11: Royce Freeman, Ronald Jones
Don't let last season fool you. Freeman was better than you think. In fact, his 3.2 yards after contact per attempt was nearly a full yard more than teammate Phillip Lindsay averaged. While we can't say the same thing about Jones, we also don't have much to go on. He's an upside dart given the clean slate in Tampa Bay with the new coaching regime in place.
Rounds 12-16: Nyheim Hines, Ito Smith, D'Onta Foreman, Jaylen Samuels, Kalen Ballage, Damien Harris, Chase Edmonds, Kareem Hunt, Devin Singletary
It's all about the upside in the last few rounds of your draft. While I prefer the options at wide receiver in this range, this group of players offers the greatest fantasy potential at the position. Hines will continue to see a role as a receiver in the Indy offense. Smith, Foreman, Samuels, Harris, Edmonds, and Singletary offer handcuff value with the potential for more fantasy upside during the season. Hunt's situation is murky, but if you're able to stash him for the first nine weeks of the season, he could pay dividends when his suspension is over.
Wide receiver
Ideally, you'll be sitting with at least three running backs after the first six rounds. That means you'll likely have two wideouts and potentially a tight end. From there, you'll want to stockpile as much talent as you can at running back and wide receiver, focusing on high-ceiling options. As I mention above, you might end up with a backup quarterback or maybe a backup tight end. But you really want to fill your bench spots with backups at running back and wide receiver. Say it with me now, "I will not draft a backup team defense. I will not draft a backup kicker."
Rounds 6-7: Mike Williams, Corey Davis, Marvin Jones, Dede Westbrook, Dante Pettis, Christian Kirk, Emmanuel Sanders
There are 29 wide receivers listed in the top 60, but there are rock-solid options even just outside that list. The value is strong at wide receiver up and down the draft this year, and it starts with this group.
Rounds 8-9: Will Fuller, Keke Coutee, Courtland Sutton, Curtis Samuel, Donte Moncrief
Here's another sexy group of wideouts who offer major upside at a nice discount. Fuller was in the midst of a breakout year before getting hurt last season. Likewise, Coutee has the potential to put up strong production in Houston. Sutton was heavily targeted in the red zone last season and offers touchdown upside. Samuel is primed for an expanded role in Carolina. And Moncrief could be emerging as the No. 2 option in Pittsburgh.
Round 10: DeSean Jackson, Devin Funchess, Anthony Miller
While the production wasn't particularly impressive from Jackson last year, he still has major speed and is in a good position to produce in Philly. Likewise, Funchess landed in a solid spot with the Colts and could be an added red-zone weapon for Andrew Luck. Miller scored an impressive seven times last year and should take a step forward in Year 2.
Rounds 11-12: Tyrell Williams, James Washington, DaeSean Hamilton, Parris Campbell
Grip it and rip it. All four of these receivers offer big-time upside at a nice draft day discount. This is one of the best spots to target upside at wide receiver in your drafts.
Rounds 13-16: Andy Isabella, Marquez Valdes-Scantling, D.K. Metcalf, John Brown
The upside continues in the last few rounds of your draft. You have three rookies who offer high ceilings in Isabella and Metcalf. Valdes-Scantling could move up the board if he manages to beat out Geronimo Allison for the No. 2 job. Brown isn't in the best offense in Buffalo, but his skillset should mesh well with Josh Allen.
Tight end
The depth at tight end is almost nonexistent yet again this year. While it's very tempting to grab one of the Big 3 in Travis Kelce, Zach Ertz, and George Kittle, we also need to consider roster construction. You're likely going to need to draft these guys in the first two rounds, which could leave you thin at running back. I've found that rounds 5-7 are the optimal spot for addressing tight end.
Round 6: Evan Engram, O.J. Howard
Hunter Henry actually cracked our top 60, so he can be considered in the fifth round. But Engram and Howard aren't far behind. Both players are young and have an opportunity to see a healthy workload this season.
Rounds 7-8: Jared Cook, Eric Ebron, Vance McDonald
Cook is coming off a strong fantasy season and gets a nice upgrade at quarterback with Drew Brees now throwing him the ball. Ebron finally broke out last year, but look for some regression. His touchdown production was unsustainable, and Jack Doyle should eat into his target share. McDonald has the opposite, as his targets should go up with Jesse James out of the way. The Steelers also have a big hole to fill in their offense with Antonio Brown out of the mix.
Rounds 9-10: David Njoku, Austin Hooper
If you're looking for upside options after the first nine tight ends are off the board, these two are your best bets.
Rounds 11-16: Trey Burton, Mark Andrews
It's going to be tough to grab a big-time breakout at tight end in the late rounds of your draft, but you can at least shoot for upside with these two players. Burton was a top-10 fantasy option last season, though he can be a streaky producer. Andrews quietly topped 550 receiving yards in his rookie season and is primed to take a step forward.
Team defense and kicker
In most cases these two positions should be your last two picks in the draft. Don't waste a middle-round pick on the Chicago Bears because the top pick rarely finishes as the first fantasy defense — ask anyone who drafted Jacksonville last year. Likewise, Greg Zuerlein is a fantastic kicker, but you don't need him to win your league. In fact, if you have these positions in your league, you're extremely likely to stream at some point in the year. It doesn't make sense to expend draft capital on a pick that you're ultimately going to end up cutting.
The 2019 fantasy football draft blueprint
Alright, now that we have all our values and targets in place, let's outline the draft strategy for 2019 fantasy football drafts. Remember, flexibility is key, so you need to be able to adjust to the conditions of your draft. Always keep your eye on what your opponents are doing and be prepared to pounce on any opportunity that presents itself.
That said, it's a good idea to come in with a general set of ideas:
Draft off your Top 60 list until it's empty, but keep in mind roster construction in the first two rounds. This is especially important if you're in the middle or end of the first round. Remember that good running back options aren't likely to fall to you, so you may need to bump them up a bit on your board. Value is much more likely to slip at wide receiver.
Look to address tight end between Rounds 5-7. If you see more than just the Big 3 off the board in Round 5, grab one at this point. If no other tight ends have been drafted, you can wait to Round 6 or even Round 7. However, it isn't advisable to wait any longer. After the first nine tight ends, your options will be very dicey.
Given how thin running back is, don't expect to find diamonds in the rough in the late rounds. Ideally, you'll want to draft four running backs in regular-sized leagues with a 16-round draft. To maximize the position, grab four running backs in the first eight rounds.
Wait until the ninth round to look at quarterback unless some serious value slips at the position. That's unlikely in home leagues, but resist the temptation to feed into any quarterback runs in the early rounds. When your opponents draft a quarterback, they let value slip to you. If you don't like the options available in Rounds 9 and 10, you can wait even longer. You'll still have solid quarterbacks to choose from in the late rounds of 1QB leagues.
Value will fall all over the board at wide receiver. When you aren't looking at quarterback in the late rounds, backfill your bench with as much upside at wideout as you can.
Wait until the last two rounds at kicker and team defense and look to grab options with plus matchups in Week 1. We have this information for you in the 2019 PFF Fantasy Playbook.
So there you have it. You'll notice that my fantasy football draft board and strategy tips present a dynamic approach to drafting that doesn't lock you into just one path. You have multiple options at each position to target throughout the various rounds. And hey, you might not agree with all of these picks. That's fine, but the method is the most important takeaway here. You don't want to lock yourself into just one player per round. If that player gets picked before you're up, you run the risk of forcing a pick that you may regret. Instead, follow this approach and you'll end up with a very strong team that will dominate your league.