Free agency and the 2022 NFL Draft have come and gone. Now, it's time to fully embrace the 2022 offseason by breaking down each team's fantasy football aspirations before fantasy-draft season truly gets underway in August.
What follows is a fantasy-focused breakdown of the New York Giants, focusing on key questions like:
Does

Daniel Jones

' dual-threat ability make him a late-round fantasy value?

Will

Saquon Barkley

get back to 2018-2019 form in 2022?

Does

Kenny Golladay

have a high-end bounce-back campaign in him?
Every fantasy-relevant player from the Giants will be covered in the following paragraphs. Make sure to check out the PFF Team Preview Landing Page through early July for more all-encompassing fantasy football coverage.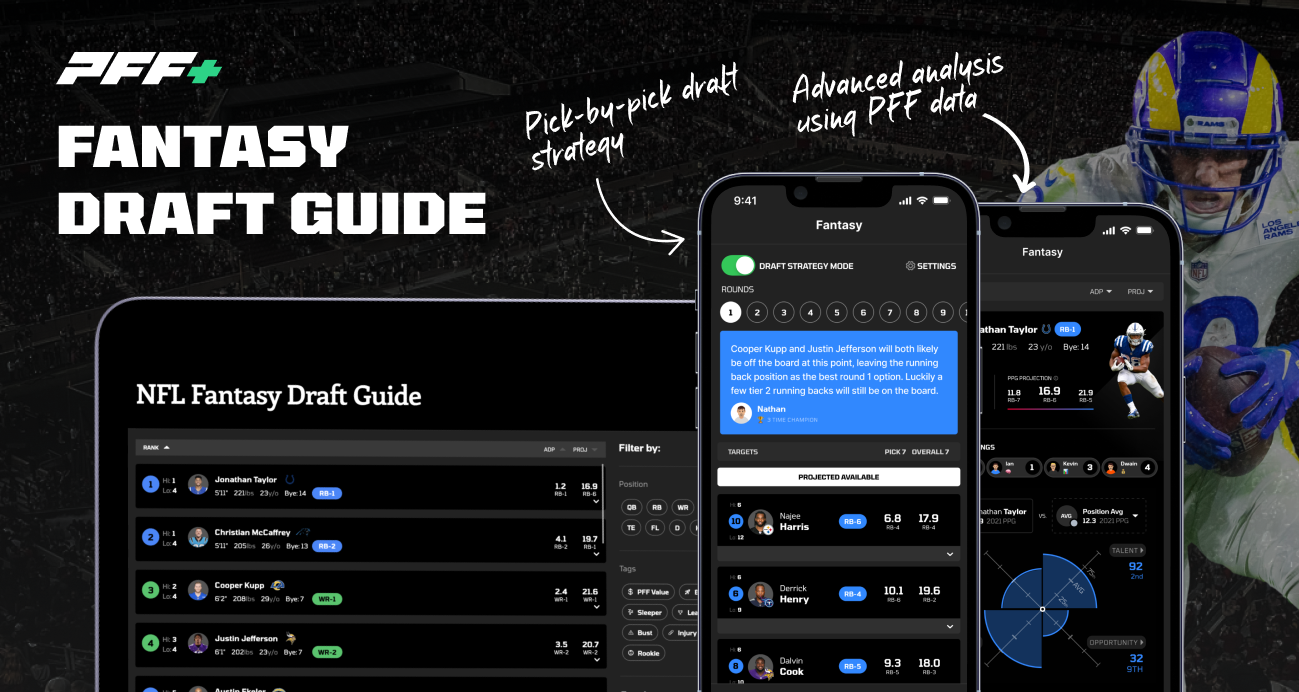 Notable offseason moves
From the front office, to the coaching staff, to the roster: Every 2022 NFL team will be different than its 2021 version.
Former Bills offensive coordinator Brian Daboll is the new man in charge of the New York Football Giants. He's joined by offensive coordinator Mike Kafka and defensive coordinator Don Martindale, who profile as rather awesome hires after departing from the Chiefs and Ravens, respectively.
The Bills moved up from 24th to 11th and most recently to third in pass-play rate in non-garbage time situations over the past three years, indicating that Daboll is comfortable grooming his offense to the talents of his personnel.
Perhaps one of the bigger tells of an incoming run-first offense is the decision to sign Tyrod Taylor as the backup. Daniel Jones has worked as one of the league's more underrated rushing quarterbacks during his short career. From 2018 to 2021 only the Ravens and Saints ran more designed runs than the Bills; don't be surprised if this offense is far more of a run-first unit than the 2021 edition of the Bills, and at a minimum Daboll figures to keep defenses more than honest with his quarterback involvement in the run game.
Additionally, the Giants have made plenty of changes to their roster. The following quarterbacks, running backs, wide receivers and tight ends have either joined or left the Giants in some way, shape or form this offseason:
The Giants made a splash by using their second-round pick to add WR Wan'Dale Robinson to their crowded wide receiver room and also selected TE Daniel Bellinger in the fourth round. It's unclear if Robinson is a sign that the Kadarius Toney experience is wearing thin on the Giants, or if he's simply another piece of the puzzle in an offense that could feasibly be without Sterling Shepard (Achilles) to start the season. It's tough to see Bellinger having a larger role than as a committee tight end. The fantasy track record of players not selected inside of the draft's top-three rounds isn't pretty.
Don't let the 4.81-second 40-yard dash fool you: Jones is truly one of the position's better pure rushers.
He can't keep getting away with this! pic.twitter.com/33Z4nm8cum

— Ian Hartitz (@Ihartitz) May 18, 2022
This rushing upside helped Jones rip off three top-12 fantasy finishes during the first four weeks of 2021 before he suffered a concussion against the Cowboys. It's also a big reason why he trailed only Lamar Jackson in games with 30-plus fantasy points back in 2019. Jones (26.3) is one of just 10 quarterbacks averaging more than 25 rushing yards per game since 2019 (min. 8 games).
I don't get it either, but Jones is a legit dual-threat quarterback by definition of the law.
Sadly, this rushing floor hasn't equated with a consistent fantasy floor: Jones ranks just 25th in fantasy points per game since 2019. Of course, Jason Garrett, the offensive line and the Giants' usually banged-up group of receivers deserve some of the blame for Jones' lack of passing success during his short career. This is reflected in his surprisingly solid career PFF passing grade, but otherwise we're looking at anyone's idea of a below-average to bad quarterback.
PFF passing grade: 73.1 (No. 23 among 51 quarterbacks with 300-plus dropbacks since 2019)

QB rating: 84.3 (No. 38)

Big-time throw rate: 3.7% (No. 31)

Turnover-worthy play rate: 3.9% (No. 39)

Yards per attempt: 6.6 (No. 38)

Adjusted completion rate: 73.8% (No. 32)
Further complicating matters is the fact that Jones hasn't exactly improved by leaps and bounds every season. Swapping Joe Judge for Brian Daboll is certainly a positive, but it's far from a given that Jones suddenly becomes a passable passing quarterback (ha!) while operating behind PFF's reigning 30th-ranked offensive line and a group of generally underwhelming skill-position players who range from unproven to potentially past their best days.
Maybe Daboll brings out the best in Jones combined with an improvement from an offensive line that was worked on during the offseason. Sterling Shepard's recovery from his Achilles injury could always be ahead of schedule. Perhaps Kadarius Toney trade rumors become a funny memory. A true optimist might even think Kenny Golladay and Saquon Barkley are poised to party like it's 2019 again.
Ultimately: A helluva lot needs to go right for Jones to make a leap from pretty bad to good.  He's played enough below-average football to warrant taking a chance on similarly-meh late-late round quarterbacks who simply don't have quite as long of a terrible track record. Specifically, I'd draft Zach Wilson, Tua Tagovailoa and Trevor Lawrence ahead of Jones, although he'll be on the streaming map in good matchups and deserves to go ahead of less fantasy-friendly and statue-esque signal-callers like Mac Jones, Matt Ryan and Jared Goff. Credit to Daboll for helping Josh Allen be a great fantasy quarterback even before Allen transitioned into a great real-life signal-caller, but there is more than enough evidence out there to prove there's quite a difference between the two players.
I personally spoke at length with Dr. Edwin Porras on the Fantasy Points Injury Prone Podcast about whether Barkley should be considered more at risk for future injury than other backs. The short and sweet answer: No.
Friends don't let friends forget about Barkley's ascension back to RB1 production prior to his complete fluke ankle sprain suffered in Week 5. The Giants understandably eased Barkley back into action during the first two weeks of the season before handing him a combined 42 carries and targets against the Falcons and Saints. All the former No. 2 overall pick of the 2018 NFL Draft did with the opportunity was peel off PPR RB9 and RB2 finishes, supplying one of the year's best feel-good moments along the way.
Saquon Barkley pure joy after scoring was the feel-good moment of Week 4pic.twitter.com/2hFHQk7dlB

— Ian Hartitz (@Ihartitz) October 5, 2021
There were still flashes of the old Saquon after he returned from injury (again) in Week 11. He ripped off a vintage jump-cut-filled burst against the Eagles in Week 12. Later Barkley demonstrated some route-running goodness on a touchdown catch against the Chargers.
Unfortunately, as a whole Barkley was objectively a bad running back in 2021. Really bad.
PFF rushing grade: 65.7 (No. 43 among 50 running backs with 100-plus carries in 2021)

Yards per carry: 3.7 (No. 44)

Yards after contact per carry: 2.6 (No. 41)

Missed tackles forced per carry: 0.12 (No. 44)
Barkley was bad last season, but let's not act like he was the only veteran rusher with some underwhelming efficiency stats. His average of 3.7 yards per carry was the exact same as Alvin Kamara and James Conner. Barkley averaged more yards after contact per carry than David Montgomery and D'Andre Swift. Guess who averaged more yards per route run than Najee Harris and Dalvin Cook? That's right: Barkley.
Similar to Jones, Barkley deserves some slack for being forced to operate behind one of the league's worst offensive lines. Also similar to Jones, there's optimism surrounding Barkley getting back to his old ways inside of this more modern and well-schemed Daboll-led offense.
Nobody is expecting the 2022 version of Barkley to be as good as he was in 2018 and 2019. The good news for future fantasy investors is that he doesn't have to be; there's more than enough available volume inside of an offense that has nowhere to go but up, and Barkley is available deep into the third round, sometimes even the fourth, of fantasy drafts for the first time of his career.
While Breida does have familiarity with Daboll thanks to their 2021 season together with the Bills, the fact that he never received anything close to a featured role is great news for Barkley's potential to get just that. Daboll was happy to feature Devin Singletary in a fantasy-friendly three-down role down the stretch of 2021 and could look to do so more than ever with Barkley, who isn't guaranteed to be in New York past 2022.
Historically, running backs who get 250 touches in a season don't bust. One-hundred-seventy-two running backs have had at least 250 touches in a season since 2010; just nine finished as the fantasy RB24 or worse in full-PPR scoring:
2010: Thomas Jones

2011: Cedric Benson, Willis McGahee

2012: Darren McFadden

2015: Jonathan Stewart

2018: Peyton Barber

2019: David Montgomery, Carlos Hyde, Sony Michel
The failures mostly suffered from a lack of receiving upside and being stuck inside of a bad offense. The latter variable could certainly sink Barkley in 2022; just realize it's risky business fading a running back set up for this much volume because you simply think he "sucks."
Ultimately, Barkley just turned 25 in February and *should* enter next season far closer to 100% than he ever was in 2021. His 91-721-4 receiving line from 2018 reflects the sort of absurd pass-game upside at hand if utilized correctly. I'm happy to be above consensus on Barkley, who is being priced as a middling RB2 despite all indications pointing toward an RB1-level workload.
Draft Barkley because of what he can be in 2022, not because of what he was in 2021. Our ability to forecast volume is far superior than predicting injuries to presently healthy players; don't be afraid to scoop up Barkley in the third or fourth round in fantasy drafts of all shapes and sizes.
Breida doesn't figure to have much standalone value but would undoubtedly rise up the ranks to a decent extent should Barkley be forced to miss any time. The likelihood that Daboll wouldn't trust Breida as an every-down back doesn't land the ex-49ers/Dolphins/Bills talent high enough in the ranks to pursue in regular re-draft or best-ball formats, but he's viable in drafts that go 20-plus rounds. I'd rather draft Breida and cut him for a defense before Week 1 than invest an actual draft pick in the most streamable position in fantasy football.
Last season was a rough one for Golladay. He suffered a hamstring injury on Aug. 3 before straining his hip in Week 3. Golladay then hyperextended his knee in Week 5 before finally suffering a rib injury in Week 13 for good measure. His reward for playing through the pain was getting to catch passes from Mike Glennon and Jake Fromm, who took over for an injured Jones starting in Week 13.
Golladay simply hasn't been healthy for the better part of the last two years. While the Giants clearly regret making him the game's ninth-highest-paid receiver in terms of total value, their only way out of the contract before the next offseason is via trade.
Don't expect anybody to sign up to take on Kenny G's contract. This means Golladay is once again the projected No. 1 pass-game option inside of an offense that could feasibly be without all of its top target competition from a season ago:
Shepard suffered a late-season Achilles injury that could either leave him completely off the field to start the season or at a minimum operating below 100%. Giants GM Joe Schoen noted that he's "

hopeful

" Shepard is back by August, but that seems awfully optimistic.

Trade rumors surrounding Toney have quieted down after the draft, but selecting the 5-foot-8 and 179-pound Robinson sure seems like more of an insurance pick for either Toney or Shepard as opposed to Golladay. Note that Toney is also recovering from a

reportedly minor offseason knee surgery

.

Evan Engram

racked up 182 targets in 31 games over the past two seasons. He now resides in Jacksonville. Don't expect journeyman

Ricky Seals-Jones

to command this same sort of gaudy role.
Golladay presently carries an ADP as the WR57 over at Underdog Fantasy. Only the Patriots seemingly offer cheaper value at the position. One of the biggest fallers in ADP from 2021 to 2022 despite having less competition and an extra year of familiarity with his quarterback, Golladay is someone I'm perfectly comfortable throwing a dart at as my WR5 or WR6 once drafts get into the double-digit rounds.
Then there's Toney, who put some borderline erotic film together as a rookie.
Kadarius Toney 10 targets per game who says nopic.twitter.com/SgrsmKfhpc

— Ian Hartitz (@Ihartitz) November 3, 2021
While the flashes were brief and fleeting, Toney finds himself in some excellent company when it comes to efficiency on a per-route basis. The following leaderboard reflects the only rookie wide receivers to average at least 2.0 yards per route run over the last five seasons:
There's a scenario where both Golladay and Toney breeze past 100 targets in 2022. Of course, things could also get muddled in a hurry depending on Robinson's Day 1 involvement and Shepard's recovery. Even Slayton shouldn't be completely cast aside given some of his success stretching the field over the years.
Ultimately, Golladay and Toney are good examples of worthwhile darts priced far closer to their floor than ceiling. The former receiver remains just 28 years old and is only two seasons removed from finishing as the overall PPR WR9. The latter passed the eye and analytics test with flying colors as a rookie and could find additional versatility as a rusher and passer (!) unleashed with Brian Daboll.
Robinson carries some solid draft capital but could struggle to find an every-down role when the rest of these receivers are healthy.
PFF's 2022 Draft Guide noted the following on the Kentucky receiver:
Where he wins: Shimmy-shaking. Robinson has that kind of bounce that everyone is looking for at the receiver position. He can make hard cuts and juke moves in space without seemingly losing a step.
What's his role: Slot-gadget. With the size of windows over the middle of the field in the NFL, it's going to be difficult for Robinson to replicate a lot of the production we saw from him at Kentucky. He may be limited to a screen/schemed target role.
Where he can improve: Route pacing. When Robinson went vertical on tape at Kentucky, he let you know immediately off the snap with his urgency. Safeties in the NFL are too savvy and athletic to not stay on top when that's the case.
It seems odd that the Giants would spend a second-round pick to acquire Daboll's new version of Isaiah McKenzie; don't discount the possibility of Robinson starting from day one. I'd rather take my chances on Golladay and Toney given they have flashed upside worth chasing against professional competition, but Robinson is essentially free in fantasy drafts despite going far higher than expected.
Don't hate the player; hate the ADP, and all of the Giants are more affordable than ever in fantasy land.
Both RSJ and Akins have occasionally flashed some fantasy-relevant goodness over the years, but both also struggled to pull away inside of tight ends rooms that were ripe for the taking. Credit to RSJ for peeling off three top-14 finishes in consecutive weeks while filling in for Logan Thomas last season; just realize the true 100% role he was playing is something that only exists in Washington. Akins' best season was back in 2019 when he went 36-418-2 while splitting snaps with Darren Fells for the Deshaun Watson-led Texans.
It's possible Bellinger winds up taking the lead, but ultimately this has the looks of a committee situation that fantasy managers don't need to overly worry about. Yes, Brian Daboll helped enable Dawson Knox to some solid fantasy production in 2021. Also yes, the Bills regularly rotated multiple tight ends from 2018 to 2020, ultimately ranking 28th in total targets to the position during Daboll's time in Buffalo.
Betting on RSJ is betting on the Giants' handing him something close to an every-down role. Unfortunately, his near-minimum contract simply doesn't give enough confidence to bet on him ahead of fellow late-late round tight ends like Evan Engram, Hayden Hurst and Austin Hooper. Note that none of these tight ends should be relied on as your starter in traditional re-draft formats; these are only guys that should be added in TE-premium or best-ball formats that require you to roster multiple players at the position.