Free agency and the 2022 NFL Draft have come and gone. Now, it's time to fully embrace the 2022 offseason by breaking down each and every team's fantasy football aspirations before draft season truly gets underway in August.
What follows is a New England Patriots fantasy-focused breakdown, focusing on key questions such as:
Could

Mac Jones

take a second-year leap?

Should fantasy managers simply target the cheapest Patriots running back?

Will a change of scenery produce a boom year for

DeVante Parker

?
Every fantasy-relevant Patriot will be covered in the following paragraphs. Make sure to check out the team preview landing page through early July for more all-encompassing fantasy football coverage.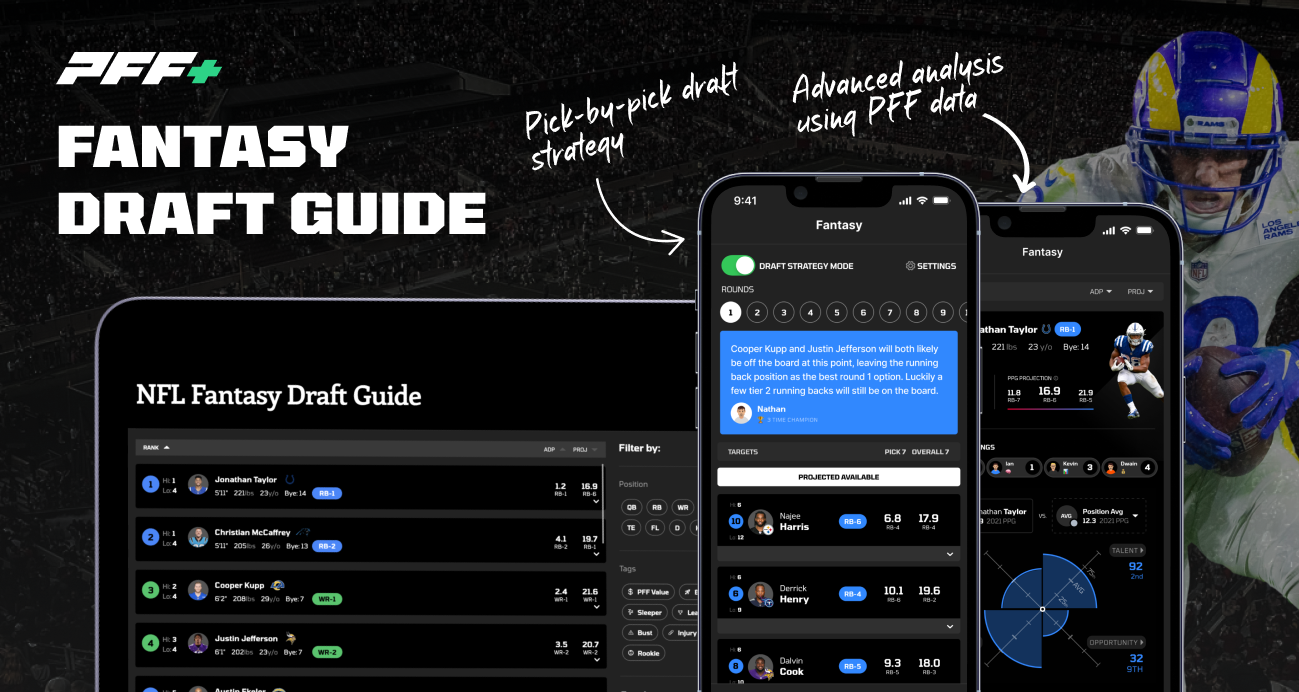 Notable offseason moves
From the front office, to the coaching staff, to the roster: Every 2022 NFL team will be different than its 2021 version.
Bill Belichick is back for his 23rd season as the Patriots' head coach. However, long-time offensive coordinator Josh McDaniels left for Las Vegas, meaning Belichick is tentatively expected to run the offense. Former assistants, as well as ex-New York Giants and ex-Detroit Lions head coaches, Joe Judge and Matt Patricia also could feasibly have a say in play-calling on both sides of the ball. Hell, Bill O'Brien was even spotted at Patriots practice in early May.
It's tough to fully know just how different Belichick plans on making the offense, but early signs are that things could be more spread out after choosing to essentially abolish the fullback position from the roster. The league's fifth-most run-heavy offense in non-garbage time situations from 2021 doesn't figure to party through the air like it's 2007 again, but at a minimum, Jones could be asked to handle more of the weekly offensive burdon with 18 professional starts now under his belt.
Additionally, the Patriots have made plenty of changes to their roster. The following quarterbacks, running backs, wide receivers, and tight ends have either joined or left the Patriots in some way, shape or form this offseason:
The Patriots further muddled things up in their running back and wide receiver rooms by addressing both positions within the first four rounds of the draft. Second-round WR Tyquan Thornton has speed for days (4.28-second 40-yard dash), but his polish and ability to contribute from Day 1 is in question. Fourth-round RB Pierre Strong Jr. adds some true big-play ability to the room and also has plenty of speed (4.37-second 40-yard dash), although it's unclear how big of a role is on the table for 2022. Fourth-round QB Bailey Zappe and sixth-round RB Kevin Harris aren't expected to have much of a role in 2022 or beyond. The fantasy track record of players not selected inside of the draft's top-three rounds isn't pretty.
Jones peeled off four top-10 fantasy finishes during his final eight games in 2021. While this demonstrated ceiling is nothing to scoff at, Jones' floor was far more apparent throughout the season. Overall, Jones joined Trevor Lawrence, Ben Roethlisberger, and Matt Ryan as the only quarterbacks with double-digit fantasy finishes as the QB20 or worse.
Jones posted rather solid marks in PFF passing grade (78.6, No. 11 among qualified quarterbacks), yards per attempt (7.3, tied for No. 16), and QB rating (92.5, No. 18) last season. It's legal for players to get better as they gain more experience, so we shouldn't rule out Jones ascending to even greater heights this season.
Mac Jones pic.twitter.com/GVzswnFnPt

— Ian Hartitz (@Ihartitz) May 10, 2022
The main problem in fantasy land is that even good passing efficiency isn't enough to enable a fantasy-friendly quarterback when dealing with below-average passing and rushing volume.
Eleven different quarterbacks scored at least 300 fantasy points in 2021. This included six signal-callers who, like Jones, didn't reach even 50 rush attempts on the year: Tom Brady, Aaron Rodgers, Matthew Stafford, Dak Prescott, Joe Burrow, and Kirk Cousins. Their offense's rank in situation neutral pass-play rate: No. 1, No. 16, No, 15, No. 12, No. 13 and No. 20. The Patriots have a long ways to go from their 28th-place ranking to be considered anything close to a pass-first offense.
Jones has rushed for more than 20 yards in three of his 48 combined games at Alabama and New England, so there has never been a rushing floor here, and it'd be silly to expect one to emerge out of thin air in 2022.
Betting on Jones emerging as a top-12 fantasy quarterback is gambling on his ability to overcome a lack of volume with truly elite efficiency. This isn't impossible, although he's not exactly surrounded by the world's best weapons to make his life easier. Don't discount Jones as a viable streamer in the right matchup, but I prefer Zach Wilson, Trevor Lawrence, and Daniel Jones as late-round darts thanks to their superior projected volume in the pass and run games while operating alongside better or equal skill-position groups.
This running back room is all sorts of crowded, and the expectation again is that at least three players will be used on a weekly basis. Harris profiles as the lead back, but Stevenson should see plenty of work on early downs as well while and one of Strong, White, or Montgomery will likely be the leader on passing downs.
It's fair to question the overall upside of this situation, to begin with. The Patriots' No. 1 running back in PPR points per game over the past decade has been as follows (minimum eight games):
If anything, the group's primary pass-catching option has been the best bet to produce a top-end fantasy producer. Reminder: Blount scored 18 touchdowns in 2016 while Harris found the end zone on 15 separate occasions last season, and neither managed to function as a true fantasy RB1 due to the lack of targets at hand.
The main issue with this backfield is the reality that everyone seems to be multiple injuries away from seeing anything resembling a three-down role. Harris and Stevenson haven't been trusted in the passing game in the past, and they could feasibly lose some carries to Strong, who joins Montgomery and Taylor as threats to White's pass-down role (if he's even healthy enough to suit up this season). Sixth-round rookie Kevin Harris finding a way to steal snaps wouldn't be the weirdest thing to ever happen in this backfield.
This situation should be, at least, a little clearer come September, as the Patriots aren't going to keep seven running backs active on game day. Still, the lack of ceiling at hand for everyone involved leaves me unwilling to treat anybody as a viable RB3 in fantasy land. (Damien) Harris, in particular, should beat out my ranking, but the unlikelihood he sees the sort of volume needed to come close to flirting with RB1 production makes prioritizing Kareem Hunt, A.J. Dillon, Tony Pollard and even Dameon Pierce more appealing. The same sentiment is true for Stevenson. Reminder: Brandon Bolden regularly worked as the offense's passing-down back ahead of both Harris and Stevenson with White sidelined last season. Neither Patriots early-down back is looking at anything close to a three-down role in 2022.
White is my preferred dart of the group if healthy enough to suit up by Week 1. He quietly peeled off PPR RB25 and RB9 finishes during the first two weeks of the year before getting hurt. The pass-catcher is where the real fantasy value is hidden in this offense: White and Bolden (three) nearly had as many top-12 PPR finishes as Harris and Stevenson (four) on the season. The common adage of targeting the cheapest available Patriots back, combined with evidence that the pass-catcher presents the most fantasy upside, makes White the New England running back to target if you feel like doing so at all.
Finding a high-end fantasy wide receiver in New England not named Julian Edelman has been awfully difficult over the years. Specifically, the Patriots haven't fielded a different top-24 PPR producer at the position since 2017:
Of course, most of those teams employed Rob Gronkowski as their de facto No. 1 passing-game option while running backs of all shapes and sizes (mostly short) also consistently made their presence felt in the passing game.
The "problem" in this low-volume New England passing game is the reality that Jones was perfectly content with spreading the ball around last season. Overall, Meyers (126 targets) was clearly the No. 1 wide receiver, but Hunter Henry (75 targets), Bourne (70), Agholor (64), Bolden (49), and Jonnu Smith (45) were also plenty involved.
Meyers has already achieved so much for a former undrafted free agent. While his 26-359-0, 59-729-0 and 83-866-2 receiving lines over the past three seasons haven't necessarily jumped off the page, he worked as the No. 1 passing-game option for the league's sixth-ranked scoring offense in 2021. This role once again appears to be on the table ahead of 2022, but can Meyers finally start scoring more touchdowns? He's one of just 11 wide receivers in NFL history with 1,500-plus receiving yards, yet five or fewer touchdowns, in the first three seasons of their career:
The list certainly isn't great, although four of the other 10 members did go on to experience at least one or two seasons' worth of touchdown regression. Ginn managed to score 10 touchdowns with the Carolina Panthers in 2015, Hilliard had solid fourth (55-787-8) and fifth (52-659-6) seasons, Westbrook also took a nice jump into his fourth (44-736-6) and fifth (65-1,191-9) seasons, and Harris scored on six occasions for the 1980 New Orleans Saints.
Credit to Bourne for turning in three top-eight finishes throughout the course of 2021, but the problem was that he also had eight games outside of the position's top-55 producers. It's tough to blame him for the boom-or-bust production, as he never received more than eight targets in a game all season. Bourne simply wasn't on the field all that often, playing 50% or fewer snaps in eight games while only surpassing even the 60% threshold on four occasions. Perhaps he'll post another stellar rushing line (12-125-0) and work as the offense's more clear-cut No. 2 pass-game option this time around, but making that assumption is a bit of a leap of faith. Like most of this muddled offense, a lot needs to go right in order for Bourne to hit in a meaningful way. That doesn't mean he's not viable in the late rounds of drafts, but just be careful about expecting anything too wild.
This takes us to Parker, who was shipped off with a fifth-round pick from the Dolphins in exchange for a third-round pick. Parker's production came crashing back down to Earth over the past two seasons after posting a career-best 72-1,202-9 receiving line in 2019. He surpassed the century mark on three separate occasions against Belichick and company over the years and should have every chance to start right away. The question is whether or not he'll be in a rotation of sorts. Meyers lined up in the slot on 56% of his snaps last season, Bourne posted a 38% slot rate, but Agholor just 9.5%. Second-round WR Thornton (3%) profiles as more of an outside field-stretcher in a similar mold as Agholor. There's a chance that Parker, Thornton, and Agholor stick to the outside, rendering each a weekly tough sell in fantasy land.
This is the root of the problem with projecting every skill-position group in this Patriots offense: too many people are involved. It'd make sense if Meyers continues to work as the primary slot receiver without any additional competition added to that role, but his outside reps are at risk from Parker and Thornton. It's possible Bourne winds up splitting the slot work with Meyers while the team's new additions largely take over outside duties.
Ultimately, none of these receivers look to have the sort of upside WR2 outcome in their range of possibilities that fantasy managers would like to see from a mid-round selection. Still, this uncertainty could leave each priced well outside the position's top-50 options. I'm most keen on throwing a dart at Meyers in the hopes that his 2021 campaign carries weight in the mind of Jones, but there is a scenario where this offense rotates five wide receivers. Hell, even six could be splitting things up depending on if Harry is ever traded. Removing Agholor from the equation would make it a lot easier to project the other outside receivers, although it seems unlikely given the Patriots would eat $10 million in dead money by releasing him at this point.
Henry caught 50 passes for 603 yards and nine touchdowns in 2021. History tells us that his chances of replicating this feat on similar target volume are poor: 10 of 12 tight ends that scored eight-plus touchdowns on fewer than 80 targets went on to work as the TE14 or worse the following season. Perhaps Henry joins Rob Gronkowski (TE1) and Antonio Gates (TE7) as exceptions to the rule, but just realize it's awfully tough to expect anybody to be so efficient on limited volume two seasons in a row.
Even that rather awesome effort wasn't enough for Henry to finish higher than the TE14 on a per-game basis. A boost in target volume seems unlikely considering the team's aforementioned surplus of capable receiving running backs and wide receivers. We just saw that even a career-high touchdown total couldn't produce anything more than an overall PPR TE8 finish.
Generally, offenses with two heavily-involved tight ends cancel each other out. The only teammates to finish as top-12 fantasy tight ends in the same season since at least 2010 are Gronkowski and Aaron Hernandez as well as Zach Ertz and Dallas Goedert. Henry failed to play more than 75% of the offense's snaps in all but five of the team's 17 regular-season games while Smith only surpassed that threshold once all season. Throw in the lack of overall routes available in this run-first offense, and neither Henry nor Smith project to have the sort of volume worth pursuing in any non-TE premium draft.
I'd rather chase David Njoku, Logan Thomas, Evan Engram, and Cole Kmet, who have each seen their 2022 situation improve from last year in terms of positional target competition.