It's time the Green Bay Packers gave Ty Montgomery the workload his play has been crying out for all season.
Against Chicago this week, Montgomery received a season-high 16 carries—his first game approaching a full-time backfield workload—and he responded by rushing for 162 yards and two touchdowns, breaking seven tackles along the way.
It was the first week that Montgomery has received more than 10 carries, but in the five games that he has at least five rushes, he has averaged 7.1 yards per carry, 6.2 of which have come after contact. He has broken 16 tackles in 50 carries across those games.
Ty Montgomery may have been seen as a receiver prospect coming out of Stanford, but the truth is, he was always a natural running back.
At 6-feet in height and around 220 pounds, Montgomery is built like a running back, not a receiver, and his role at Stanford always felt a little like they just didn't quite know what to do with him. Here's a look at what I wrote about Montgomery as a prospect coming out: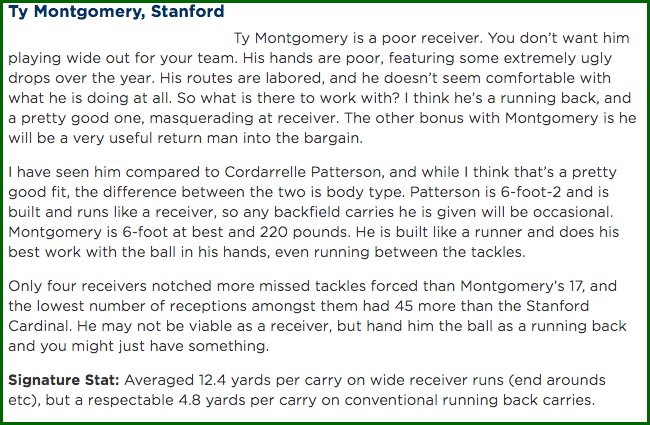 The Packers selected Montgomery as a receiver in the third round of the 2015 draft, and he spent the first period of his NFL career at the position before injuries forced the team to move him into the backfield in an emergency capacity. From that point on, he has looked more at home as a running back than he ever did playing wideout.
The signs were there at Stanford. Though they rarely lined him up as a conventional tailback, they did run plays with him as the primary ball-carrier behind effectively conventional pro-style run concepts, and he was successful doing so.
Here Montgomery takes the direct snap, but then just runs a simple counter play to the left side of the line and shows good burst and strength to lower his shoulder and take the yardage that was there.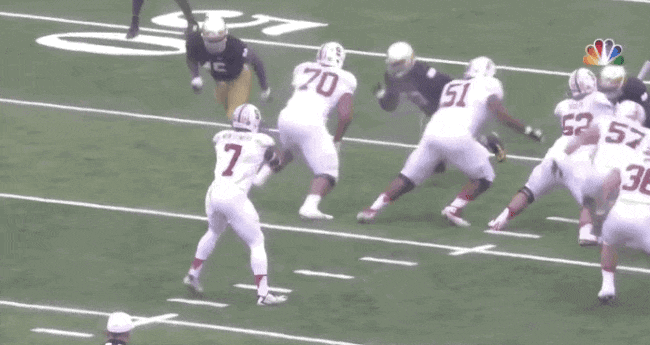 That's not a spectacular play or anything, but it's solid indication of basic running back tools that were there to see during his collegiate days.
The Chicago defense was certainly a big contributor to Montgomery's success in Week 15, as was some impressive blocking from the Packers. Despite only 16 carries, though, he ended up leading the league in rushing yards and yards after contact; he also had the longest run of the week, and broke seven tackles, tied for the most on the ground by any player.
Montgomery showed good burst and the ability to cut and make people miss, as well as the ability to drag defenders for additional yardage. Take this play that combines all of those elements: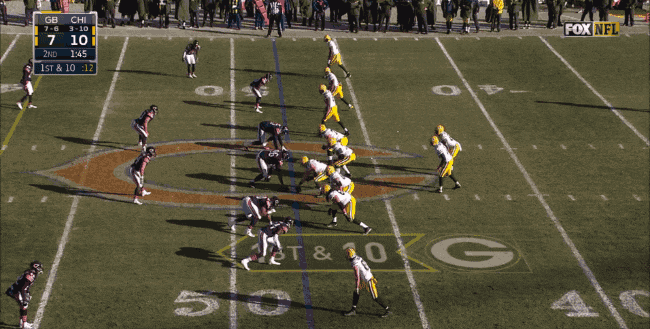 Montgomery gets through the line with a nice cut and already has a good run on his hands, but he heads to daylight well, and then picks up an extra 15 yards through the attempted tackles by Bears defenders, all the while protecting the ball with two hands to ensure he doesn't fumble.
It's too soon to anoint Montgomery as an elite running back at the NFL level—he has just 55 total carries on the season, or less than 20 percent of the rushing workload of Ezekiel Elliott in Dallas—but the evidence is mounting that the Packers have discovered a real talent in the backfield, effectively by accident. The apprenticeship he had at receiver in his first season in the league only makes him a more dangerous weapon when he is moved into the backfield, because this is now a player with legitimate position flexibility, posing a real challenge for defenses to match up with from a personnel standpoint.
Despite all of these plays, there still hasn't been a game in which Montgomery has topped 20 touches of the ball from scrimmage this season, and it's time for that to change. That 20-touch figure should be the baseline target for a player that has provided a significant spark to an offense that had become stale and predictable. It took them awhile, but the Packers have realized Ty Montgomery is a natural running back—now it's time for them to hand him the workload he deserves, too.