Free agency and the 2022 NFL Draft have come and gone. Now, it's time to fully embrace the 2022 offseason by breaking down each team's fantasy football aspirations before fantasy draft season truly gets underway in August.
What follows is a Cincinnati Bengals fantasy-focused breakdown, focusing on key questions like:
Can

Joe Burrow

put up the sort of counting numbers to take home MVP honors?

Will

Joe Mixon

turn in another fantasy RB1 performance?

Do

Ja'Marr Chase

,

Tee Higgins

 and

Tyler Boyd

form the NFL's best wide receiver trio?
Every fantasy-relevant player from the Bengals will be covered in the following paragraphs. Make sure to check out the PFF Team Preview Landing Page through early July for more all-encompassing fantasy football coverage.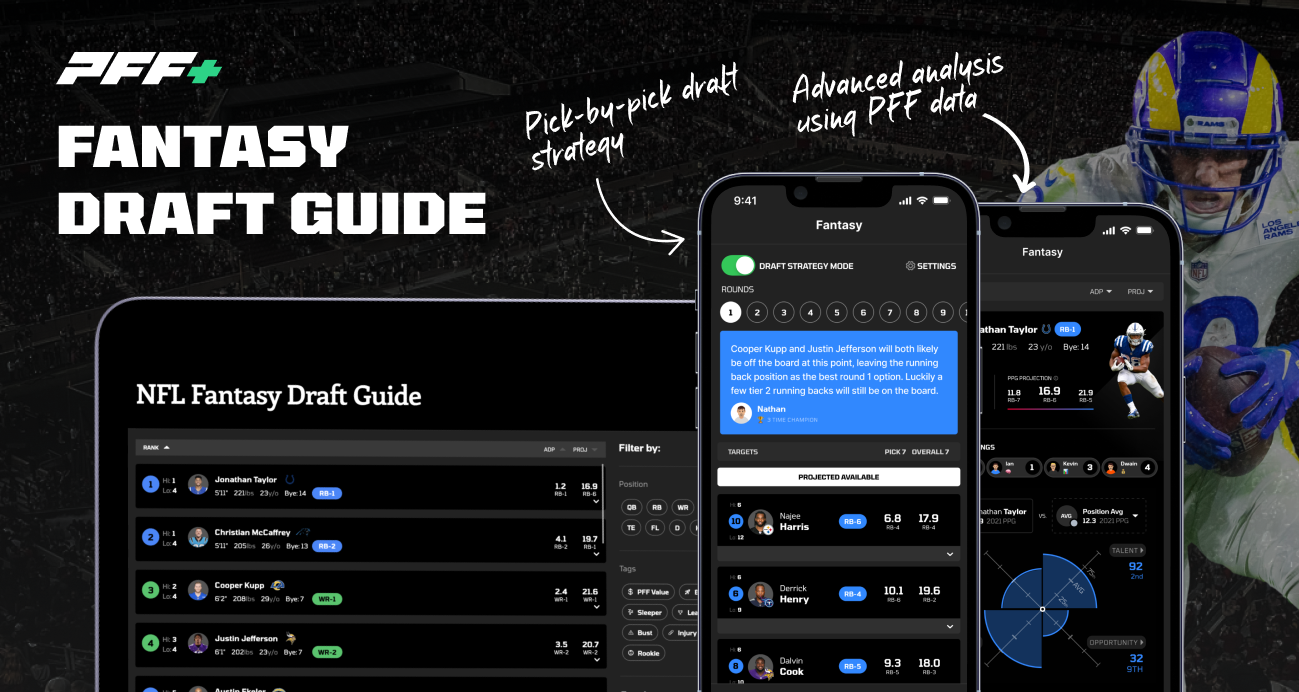 Notable offseason moves
Head coach Zac Taylor, offensive coordinator Brian Callahan and defensive coordinator Lou Anarumo are all back for their fourth season in Cincinnati. Continuity is a helluva drug, although Taylor and Callahan's offensive scheme and pace (Football Outsiders) have varied by season:
2019:

64.9% pass-play rate in non-garbage time situations (No. 8); 29.25 seconds per play in neutral situations (No. 7)

2020:

64.2% (tied for No. 11); 30.31 (No. 16)

2021:

62.3% (No. 13); 32.79 (No. 30)
Note that Burrow was on pace for a league-leading 658 pass attempts in 2021 before his injury. Last season, the Bengals did improve their pass-play rate to 63.7% after their Week 10 bye after posting a 62.3% mark in Weeks 1-9, but this is still a far cry from their 67.7% (No. 5) mark during the first 11 weeks of 2020.
The Bengals ranked 10th in EPA per pass play (+0.111) and 26th per run (-0.146). This is one of the larger discrepancies in the league, so it'd behoove the Bengals to pass more than just about any offense out there.
EPA per pass and run play in 2021 (PFF)

Further up: Efficient fooking pass offense
Further right: NFL's best rushing attacks pic.twitter.com/guvXoDXYrL

— Ian Hartitz (@Ihartitz) June 21, 2022
Additionally, the Bengals have made plenty of changes to their roster. The following quarterbacks, running backs, wide receivers and tight ends have either joined or left Cincinnati in some way, shape or form this offseason:
WR Auden Tate: The contested-catch maestro signed with the Atlanta Falcons in free agency. The former seventh-round pick set career-best marks in receptions (40) and receiving yards (575) in 2019 before being limited to just 16 games in 2020 and 2021 combined. Tate's overall numbers (61-799-2) don't reflect the

number of rather awesome catches

he managed to put on film over the past four years.

TE C.J. Uzomah: Signed a surprisingly steep three-year, $24 million contract with the New York Jets. Uzomah came back strong from a torn Achilles in 2021, posting career-high marks in receptions (49), receiving yards (493), and receiving touchdowns (five) alike. While he's not a spring chicken (30 next January),

historically tight ends age far better than running backs and wide receivers

.

TE Hayden Hurst:

Signed a one-year, $3.5 million contract with the Bengals that includes $2 million guaranteed. Hurst has unfortunately lost out to two of the league's most productive tight ends in

Mark Andrews

and

Kyle Pitts

, only starting even half of his games in 2020. It wasn't a coincidence that the former 2018 first-round pick posted career-high marks in receptions (56), receiving yards (571), and touchdowns (six) that season.
The Bengals declined to draft a single skill-position player in the draft. Both the running back and wide receiver rooms boast more continuity than just about anyone, as the Bengals are one of just six offenses with fewer than 13% of their 2021 targets available ahead of 2022.
Burrow's rookie season was far better than essentially anyone other than Justin Herbert or Mac Jones over the past two years. Still, it was nothing compared to the numbers that he managed to put up in 2021:
PFF passing grade:

91.2 (No. 1 among 44 quarterbacks with 100-plus dropbacks in 2021)

QB rating:

108.3 (No. 2)

Big-time throw rate:

6.4% (No. 5)

Turnover-worthy play rate:

2.4% (No. 5)

Yards per attempt:

8.9 (No. 1)

Adjusted completion rate:

79.4% (No. 3)
Burrow was arguably the NFL's most-efficient quarterback last season. While he might not have the same sort of rocket launcher as Justin Herbert or Kyler Murray's athleticism, the Bengals' 25-year-old prodigy managed to put together an impressive mixtape last season.
Joe Burrow pic.twitter.com/0V8dVbCP39

— Ian Hartitz (@Ihartitz) June 21, 2022
Burrow's back-to-back overall QB1 finishes in Weeks 16 and 17 certainly helped many capture fantasy football championship glory, but the Bengals' middling pass-play rate and snail-like pace prevented him from putting up those sort of numbers throughout the season. Overall, Burrow had just one top-five finish in Weeks 1-15 last season.
He still peeled off seven top-12 finishes during the first 15 weeks of last season so just realize he needs to be incredible throwing the ball after his average rushing yards per game was cut in half from 2020 (14.2) to 2021 (7.4).
The Bengals are projected to have one of the league's highest-scoring offenses again in 2022, and they could be better than ever if PFF's eighth-ranked offensive line manages to rise to the occasion. PFF's Mike Renner explained the ranking with the following statement:
"This is the most improved offensive line in the NFL, at least on paper. Ted Karras (72.4 grade in 2021), Alex Cappa (71.3) and La'el Collins (80.2) all represent significant upgrades over the Bengals' 2021 starters at those respective positions. Add to that the fact that Jonah Williams and Jackson Carman are both high draft picks on rookie deals who could develop in 2022, and it's easy to see why hopes are high in Cincinnati."
Burrow comes in as my QB8. Tom Brady is the only pure pocket-passer I have ranked higher, and that's only because the Tampa Bay Buccaneers are far more certain to again be one of the NFL's most pass-happy offenses. I'd take Burrow ahead of Russell Wilson and Dak Prescott due to his superior continuity and weaponry. The latter two quarterbacks also appear to be on the downturn of their career in terms of rushing production.
Mixon worked as the overall PPR RB4 in 2021, scoring more fantasy points than every running back other than Najee Harris, Austin Ekeler and Jonathan Taylor. The Bengals' featured back only fell to RB6 status on a per-game basis, as 2021 was anyone's idea of a fantastic year from Mixon.
Here's the "problem:" Mixon's actual production was quite a bit better than what we expected. The RB10 alongside D'Andre Swift in expected PPR points per game, Mixon was much closer to a borderline RB1 than a true top-five producer due to his lack of a consistent passing-game role. Overall, Perine (31 targets) and Evans (17) actually combined for the same amount of targets as Mixon (48).
Clearly, the Bengals value Perine enough to play him ahead of Mixon in two-minute situations even on the last drive of the Super Bowl. However, it's tough to fully understand the move. Neither Mixon (28.9 PFF pass-block grade) nor Perine (25.8) ranked among PFF's top-85 running backs in protecting the passer. This sounds bad, but Perine spent more than five snaps pass protecting in a game on just three occasions all season. Mixon (73) actually spent more total snaps pass blocking than Perine (45) in 2021.
Mixon averaged more yards per reception (7.5 vs. 7.3) with a lower drop rate (2.3% vs. 6.9%) than Perine in 2021. Similar to Antonio Gibson and Josh Jacobs, there's nothing about Mixon's profile that indicates he's incapable of handling a big receiving role … other than the unfortunate reality that he's never gotten one.
Potentially complicating matters ahead of 2022 is Evans' emergence, as he looked a lot like the group's most-dynamic pass-catcher during his limited action as a rookie.
Chris Evans (the actor) playing football pic.twitter.com/tnimSg0Wv6

— Ian Hartitz (@Ihartitz) June 21, 2022
The Bengals spent plenty of time last offseason talking about Mixon in the passing game. Bengals OC Brian Callahan went as far to say: "I don't want Mixon to leave the field, and I think he's up for that." Of course, a sprained ankle in Week 4 didn't help matters, as Mixon posted three of his top-five highest regular-season snap counts during the first three weeks of the season.
Ultimately, beggars can't be choosers. Mixon will likely (again) breeze past the 300-touch mark with good health. The "problem" in fantasy land is that true every-down backs, such as Najee Harris, Christian McCaffrey and Leonard Fournette (among others), have the chance to flirt with 400 combined carries and targets with good health, and in full-PPR scoring, one target is worth approximately 2.7 rush attempts in terms of expected fantasy points.
Cincy's improved offensive line could help Mixon improve upon his mediocre average of 4.1 yards per carry (No. 30 among 50 qualified running backs) from a season ago. While Mixon didn't perform all that much better in advanced rushing analytics such as missed tackles forced per carry (0.14, tied for No. 35) and yards after contact per carry (No. 18), his status as a bell-cow inside of an expected top-10 scoring offense makes another 15-plus touchdown campaign more than possible.
Mixon comes in as my RB11 in full-PPR scoring, but he'd leap ahead of Aaron Jones and Swift in half-point or standard formats. Still, it's tough to fully rationalize ranking Mixon ahead of fellow lead backs that have the potential to handle large pass-down roles, such as Austin Ekeler, Dalvin Cook, Fournette and Saquon Barkley. I'm a tad lower than consensus on Mixon compared to his RB7 ADP over at Underdog Fantasy, although the Bengals' featured back comes in as just the RB13 in full-PPR scoring in our PFF projections.
Mixon had COVID for the Bengals' meaningless Week 18 matchup against the Browns, and he played just 28% of the offense's snaps in Week 5 while operating at less than 100% with a sprained ankle. Perine worked well ahead of Evans in terms of snaps (61% vs. 10%), carries (11 vs. 0), and targets (5 vs. 2) alike in Week 5, but received starter's rest treatment in the regular-season finale. It's at least mildly concerning to Evans' theoretical upside that he failed to command a bigger role ahead of Trayveon Williams in terms of snaps (56% vs. 44%), rush attempts (7 vs. 9) and targets (5 vs. 2).
It's unlikely that Perine would command Mixon's exact role should he be thrust into the starting lineup, but he'd likely be the lead back even if Evans is the more dynamic option. Reminder: Perine was on the field for the Bengals with the Super Bowl on the line. Meanwhile, Evans didn't command more rush attempts than Williams in a meaningless Week 18 matchup. Things can always swing in training camp, but for now, Perine deserves to be ranked higher than Evans, as he's a quality late-round dart available far after most other handcuffs. Offseason hype around Evans is warranted in terms of what he put on film as a rookie, but just realize what head coach Zac Taylor thinks is ultimately what matters when attempting to project playing time.
Wide receiver: Ja'Marr Chase (WR3), Tee Higgins (WR9), Tyler Boyd (WR44), Stanley Morgan (unranked)
,
Mike Thomas
(unranked),
Trent Taylor
(unranked)
Chase is fresh off arguably the best rookie season from a wide receiver in NFL history. His 81-1,455-13 regular-season receiving line set the stage for more than solid 9-116-0, 5-109-0, 6-54-1, and 5-89-0 receiving lines in the playoffs, as the No. 5 overall pick of the 2021 NFL Draft was largely unstoppable from start to finish.
Overall, Chase has scored 34 touchdowns in his last 35 professional and collegiate games. It's scary how quickly Chase finds himself at the top of the position's leaderboard in just about every metric. Reminder: He just turned 22 years old in March:
PFF receiving grade:

84.0 (No. 10 among 89 wide receivers with 50-plus targets in 2021)

Yards per route run:

2.51 (No. 7)

Yards per reception:

18 (No. 2)

Targets per route:

21.2% (No. 35)
A.J. Brown and Justin Jefferson are the only rookie wide receivers who averaged more yards per route run than Chase over the past five years. Madness.
Of course, that latter target number is only as low as it is because of the Bengals' plethora of talented wide receivers. The following players had at least 10 total targets in 18 games with each of Chase, Higgins and Boyd healthy and active last season:
| | | | | |
| --- | --- | --- | --- | --- |
| Name | POS | Routes | Targets | Air Yards |
| Ja'Marr Chase | WR | 691 | 140 | 1812 |
| Tee Higgins | WR | 643 | 136 | 1665 |
| Tyler Boyd | WR | 631 | 89 | 698 |
| C.J. Uzomah | TE | 531 | 73 | 334 |
| Joe Mixon | HB | 363 | 65 | -19 |
| Samaje Perine | HB | 190 | 35 | -20 |
| Drew Sample | TE | 142 | 15 | 45 |
| Chris Evans | HB | 48 | 12 | 84 |
Obviously, Chase (18.7 PPR points per game) out-scored Higgins (15.6) during this stretch, but their expected points (14.8 vs. 13.6) were far closer. Boyd was the clear No. 3 option but was on the field enough to potentially see a nice boom in targets if Burrow's comments on having to rely less on explosive plays in 2022 wind up being true.
Ultimately, Chase is enough of a freak talent to continue to buy at a premium despite his overall target numbers likely falling behind players ranked around him. Consider that Chase's 80.1 PPR points above expectation were more than everyone other than 2021 Cooper Kupp (+106.3) and 2021 Deebo Samuel (+112.9) over the past two seasons. His trademark go-routes fill up most of the highlight reel, but the rising second-year superstar is also already one of the trickier receivers to get to the ground after the catch. Somehow, Chase ranked fourth in the NFL in yards after the catch per reception (7.8) despite having an average target depth five-plus yards ahead of everyone in front of him.
And then there's Higgins, who finds himself in a borderline erotic comp group of wide receivers that have posted a PFF receiving grade north of 80.0 during their first two seasons over the past decade. The 23-year-old talent has posted 67-908-6 and 74-1,091-6 receiving lines in his first two regular seasons and provided mostly clutch 1-10-0, 7-96-0, 6-103-0, and 4-100-2 playoff receiving lines.
The 2021 numbers are even more impressive after considering Higgins was playing with a bum shoulder after Week 2 last season. He underwent surgery to repair his labrum in March and will reportedly be ready well before training camp.
Like Chase, Higgins has already demonstrated the ability to play the wide receiver position at a very high level. Also like Chase, Higgins should continue to benefit from being one of Burrow's top-two targets on an every-week basis.
The reigning WR13 in PPR points per game, Higgins actually averaged more expected PPR points per game than Chase during the 2021 regular season. He's worthy of investment as a legit top-12 option already. Consider that the following quarterbacks have produced multiple top-12 PPR wide receivers in the same season since 2012:
Burrow firmly fits into this group in terms of ability and play style. I'm firing up both Chase (WR3) and Higgins (WR9) inside my top-10 wide receivers thanks to their respective statuses as ballers with good (possibly great) volume inside of an elite passing attack. This is in line with Chase (Underdog Fantasy ADP WR3) and Higgins' (WR10) general sentiment among the public.
Boyd (my WR44) is someone I'm higher on than consensus ADP (WR52). The Bengals' long-time slot maven doesn't turn 28 years old until November and could be leaned on more than ever if teams combat Chase's big-play ability with more consistent two-high looks. While nobody is arguing that Boyd will work as a top-two passing-game option in this offense, there might be enough production for him to work as an upside WR3.
Death, taxes and Boyd meeting or out-performing ADP:
2021:

11.5 PPR points per game (WR36); ADP WR40 (per Fantasy Football Calculator)

2020:

12.8 (WR36); ADP WR33

2019:

13.9 (WR26); ADP WR22

2018:

15.8 (WR19); ADP not ranked
Clearly, he doesn't boast the same sort of ceiling as Chase or Higgins, but Burrow has shown a willingness to feed him when either of the latter receivers has been sidelined. Overall, Boyd has worked as one of Burrow's top-two wide receivers in 12 games (10 in 2020 pre-Chase, 2 in 2021 with Higgins injured), and he's managed to post weekly finishes as the PPR WR5, WR9, WR9, WR10, WR15, WR17, WR20, WR28, WR31, WR36, WR51 and WR63 – good for a 17-game pace of 117-1,224-6 on 147 targets.
I love scooping up Boyd in the middle-later rounds in drafts of all shapes and sizes thanks to his potential to (again) beat ADP as an upside WR3, but with the potential for so much more should either Chase or Higgins be forced to miss time. Boyd is an arbitrage version of Russell Gage (ADP WR41) in this respect.
Tight end: Hayden Hurst (TE22), Drew Sample (unranked)
The Athletic's Paul Dehner Jr. spoke about Hurst in a column focusing on a fantasy question from every NFL team, noting: "His signing flew under the radar of the offensive line improvements, but the Bengals think it could end up being one of the most impactful moves of the offseason."
The key question for Hurst is whether or not he'll fully work ahead of Sample. Two-TE committees make it awfully tough for either party involved to see enough target volume to post big-time fantasy numbers, particularly inside of an offense that was one of just five groups to post a tight end target share of 15% or lower.
2021 NFL target share by position pic.twitter.com/hYQJlEUq6V

— Ian Hartitz (@Ihartitz) May 3, 2022
This overall volume is the primary concern: Zac Taylor's offenses have ranked 27th and 30th in total targets to tight ends over the past two seasons. While they did finish 14th in 2019, that was more so due to Tyler Eifert's presence and a lack of proven wide receivers outside of Boyd. Hurst's best-case scenario is to emerge as the team's every-down starter, but just realize C.J. Uzomah was just the TE27 in expected PPR points per game with this role in 2021.
Still, Hurst joins Gerald Everett, Irv Smith, and Tyler Higbee as my favorite candidates to emerge as the 2022 version of Dawson Knox: An underpriced starter in a great passing game who emerges as a legit fantasy asset thanks to a high touchdown rate on limited targets. While I'd take all the above tight ends ahead of Hurst, he's appropriately priced as the TE24 over at Underdog Fantasy and possess the potential to provide some boom weeks with an every-down role inside of what figures to be one of the NFL's most prolific passing attacks.