The two biggest fantasy football cheat codes are receiving running backs and rushing quarterbacks because having multiple means of production can quickly turn an average real-life player into a star in fantasy land.
Last season, only one of fantasy's top-seven quarterbacks could be confused as a statue in the pocket, and now he's (allegedly) retired:
High-volume rushing quarterbacks are elite fantasy football assets. Cool? Cool.
Today's goal isn't to re-prove or go against this fairly common knowledge in fantasy land. Rather, let's find out whether or not dual-threat quarterbacks' rushing volume decreases the longer they're in the league. Historically, age hasn't been an issue at the quarterback position, but it'd make sense if dual-threat talents rely less on their legs as they grow more comfortable reading NFL defenses and/or once they have millions upon millions of reasons to prioritize their health.
---
Click here for more PFF tools:
Rankings & Projections | WR/CB Matchup Chart | NFL & NCAA Betting Dashboards | NFL Player Props Tool | NFL & NCAA Power Rankings
Best Bets Tool
---
The Study
Overall, 25 quarterbacks have posted at least one season with 75-plus rush attempts since 2000. The goal is to track year-over-year changes in usage, so quarterbacks who only tapped into their rushing upside after joining their second team (Alex Smith, Rich Gannon) weren't included. The same is true for the Taysom Hill's and Terrelle Pryor's of the world, as each never received a real shot to play pure quarterback. Finally, Tim Tebow and DeShone Kizer were left out because they never received another chance to start at least four games in a single season following their initial high-volume campaign.
This leaves us with a 19-player sample size of high-usage rushing quarterbacks. The following table denotes their rush attempts per game by season (min. four starts). I took a number of precautions to avoid outliers by going through each individual quarterback's career and not including injury-riddled campaigns (for example, Cam Newton in 2019) as well as not accounting for starts in instances in which the signal-caller was mostly just used as a wild cat change-of-pace backup (2018 Lamar Jackson for the first half of the year and 2009 Mike Vick).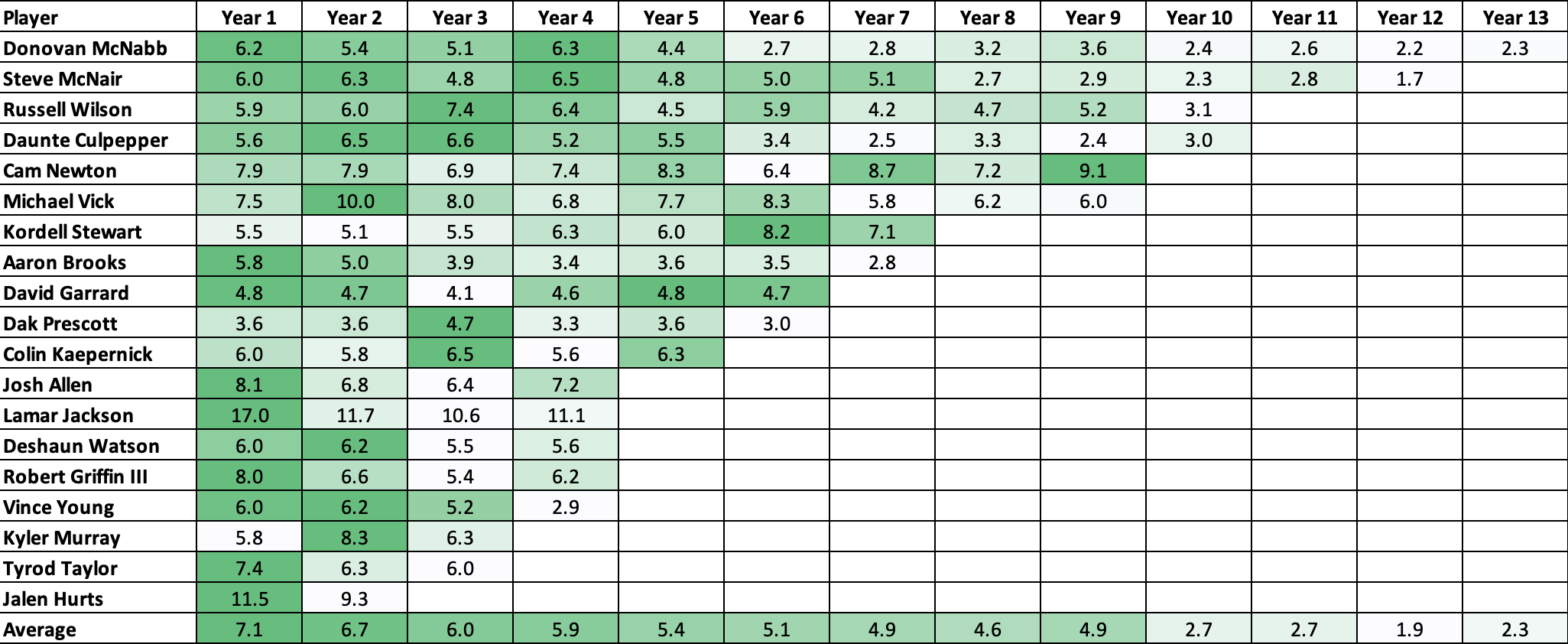 Rushing quarterbacks run less as they get older
Generally, quarterbacks run less as they gain more NFL experience. To be fair, the sample of run-heavy quarterbacks with more than five-eligible seasons dwindles down to just nine players. Still, out of that group, only Newton and Kordell Stewart showed any sort of real late-career reliance on their legs. This can rather easily be attributed to both quarterbacks struggling to move the ball through the air later in their careers.
Injuries certainly played a role in plenty of these quarterbacks running less. Note that there isn't any sort of evidence that mobile quarterbacks are more prone to injuries than pocket passers, but it does make sense that any player will be more impacted from injuries in addition to general wear and tear the longer they play due to the reality of this incredibly physical sport.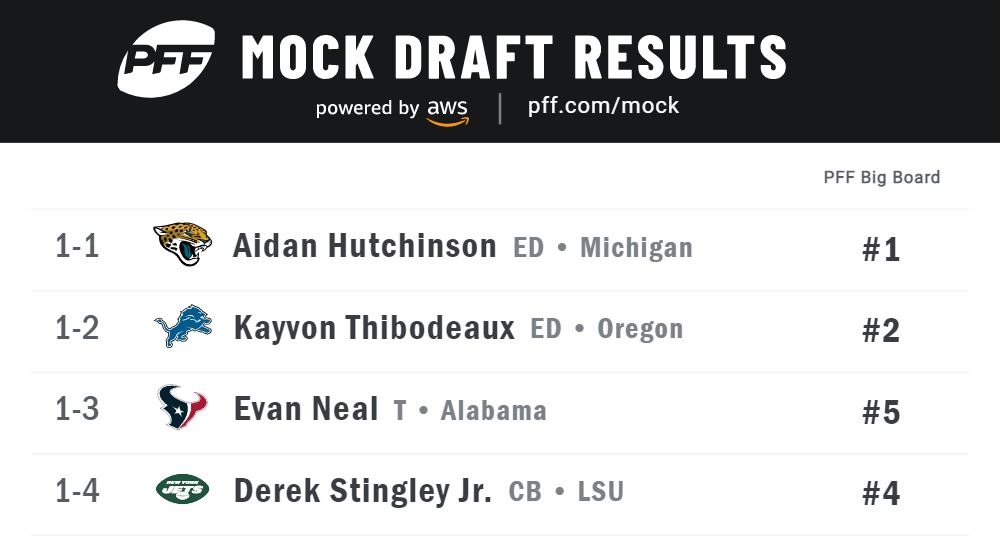 What this means for 2022
Seven players qualify and project as 2022 starters: Russell Wilson, Dak Prescott, Josh Allen, Lamar Jackson, Deshaun Watson, Kyler Murray and Jalen Hurts. The following chart denotes what percentage of their fantasy production has come purely from rushing production:

Each quarterback suffered a fairly drastic falloff in the percentage of their fantasy production coming from rushing by Year 4 at the latest. Prescott's drop was the most extreme, albeit plenty expected considering that he suffered a severely broken ankle in 2020.
Of course, fantasy managers shouldn't necessarily care how their quarterback racks up points, as long as they continue to produce at a high level. Allen is a prime example of someone who leaned heavily on his legs to start his career but has only gotten better as a fantasy quarterback thanks to his improvements as a pure passer.
With this in mind, the table below denotes each of these quarterbacks' key passing metrics from 2021 among 44 quarterbacks with 100-plus regular-season dropbacks (Watson's numbers are from 2020).
| | | | | |
| --- | --- | --- | --- | --- |
| Quarterback | PFF passing grade | QB rating | YPA | Adj Cmp % |
| Russell Wilson | 70.9 (No. 20) | 103.1 (No. 4) | 7.8 (No. 5) | 72.7% (No. 31) |
| Dak Prescott | 84.7 (No. 7) | 104.2 (No. 3) | 7.5 (No. 11) | 77.3% (No. 11) |
| Josh Allen | 80.3 (No. 10) | 92.2 (No. 19) | 6.8 (No. 30) | 73.8% (No. 26) |
| Lamar Jackson | 67.3 (No. 24) | 87 (No. 27) | 7.5 (No. 8) | 74.3% (No. 25) |
| Kyler Murray | 89.8 (No. 4) | 100.6 (No. 11) | 7.9 (No. 4) | 77.5% (No. 9) |
| Jalen Hurts | 70.7 (No. 21) | 87.2 (No. 26) | 7.3 (No. 18) | 73.7% (No. 27) |
| Deshaun Watson | 91.5 (No. 3) | 112.4 (No. 2) | 8.9 (No. 1) | 78.5% (No. 10) |

Sometimes the truth Hurts
Prescott, Murray and Watson stand out as the top-three quarterbacks based on these passing metrics. Wilson and Allen have earned the benefit of the doubt over the years and shouldn't be classified as one-dimensional quarterbacks by any stretch of the imagination. The same sentiment is true, though to a lesser extent, for Jackson, although it's at least mildly concerning that his PFF passing grade, QB rating and adjusted completion rate have fallen every year since his 2019 MVP campaign.
And then there's Hurts, who was a rather mediocre passer in 2022 despite operating the league's most run-heavy offense. Note that the Philadelphia Eagles tried to run a more balanced offense during the first seven weeks of the season before changing course in Week 8. The decision was obviously a good one considering the squad made the playoffs, but it's tough to say whether or not head coach Nick Sirianni is content with Hurts as his long-term option under center.
If there's one thing to take away from this article, it's to be careful about ranking Hurts too highly in dynasty land. Currently the QB7 in ADP courtesy of DLF, history tells us to caution against assuming that Hurts will continue to rely on his legs as heavily for much longer and to this point, he hasn't demonstrated the sort of passing upside to make up the difference as a fantasy asset. Hurts is my QB16 in dynasty — behind signal-callers such as Mac Jones, Trevor Lawrence and Matthew Stafford — not because I believe those latter quarterbacks are better fantasy options in 2022 but rather due to the potential that Hurts emerges as a less fantasy-friendly quarterback in future years or the Eagles decline to make him their long-term answer at the position.
Improvement from the offense and quarterback himself could flip all of this on its head but just realize dual-threat quarterbacks historically have not relied on their legs as much as they've gained more professional experience. In addition, failure to compensate with high-level passing ability could lead to some trouble in paradise as far as fantasy value is concerned.