• Baltimore Ravens quarterback Lamar Jackson ranks second in the top-300 Superflex fantasy football rankings.
• 12 quarterbacks rank among the top-20 players.
• Chicago Bears quarterback Justin Fields comes in at QB16 as one of the top sleeper options.
• Click here for the rest of PFF's fantasy rankings.
Estimated reading time: 19 minutes
---
The 2022 fantasy football season is upon us — which means it's time to seriously prepare for drafts of all shapes and sizes. As always, it's important to determine not just who the best players are, but also who will get the most opportunities.
The following are my top 300 players in Superflex drafts broken into tiers, which are based on 12-team leagues.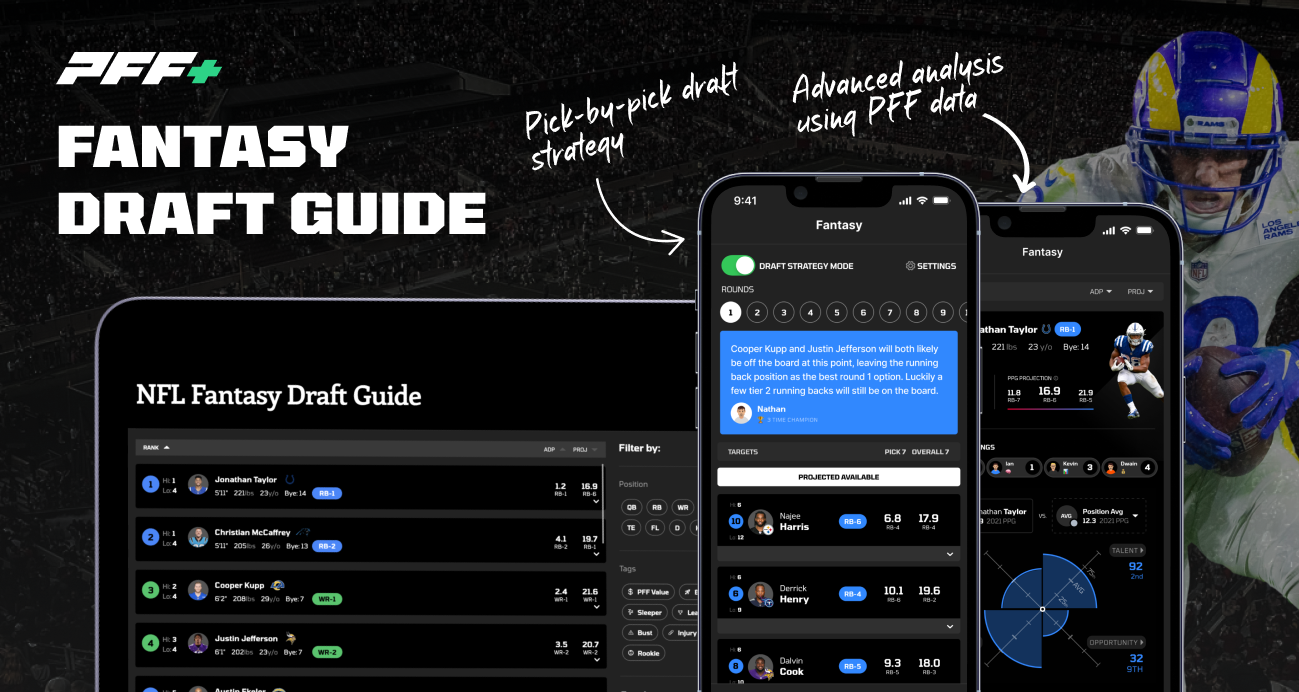 Last Updated: Sept. 3, 2022
Tier 1
It would be easy to group the top-six quarterbacks, but these two stand out from the rest thanks to their rushing production.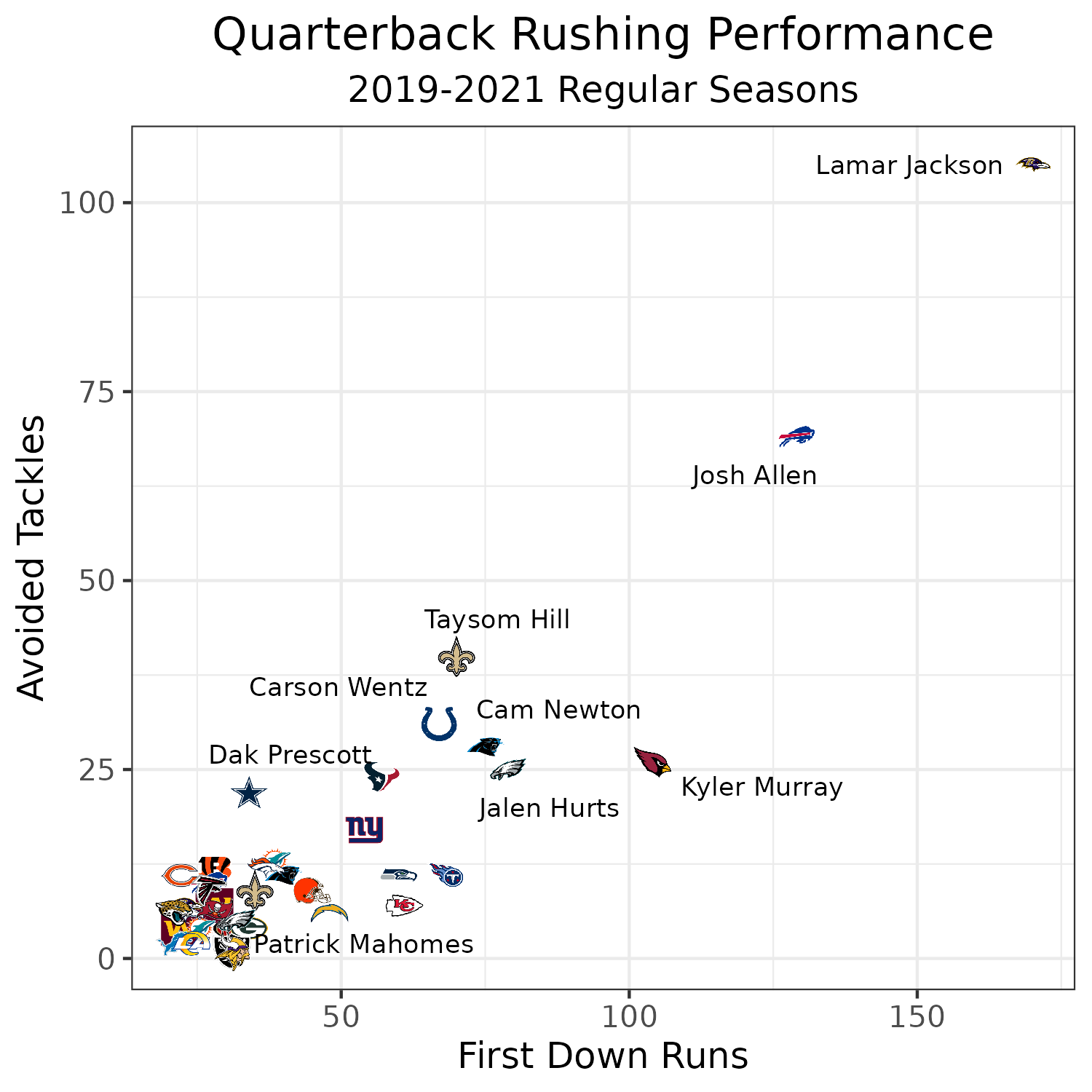 Josh Allen is a consensus QB1, but some aren't as sold on Lamar Jackson, who was QB4 through the first 10 weeks of the season before injuries derailed the second half of his year. This was particularly impressive considering he didn't have his top-three running backs, two of his wide receivers, his second tight end or his best offensive lineman for most of that stretch.
His offense should be much closer to full strength to start this season. The Baltimore Ravens also invested draft picks on the offensive line and two backup tight ends to give him more options. This should all be enough to elevate the offense get to the red zone and allow Jackson to score several touchdowns.
If Jackson can continue to be one of the best decision-makers in the NFL, mixed with his legs and a healthy offense, he could have one of the best fantasy seasons we've seen from a quarterback.
It's worth noting that Jackson's ranking depends largely on league format and how much rushing is valued relative to passing. In most leagues, where rushing touchdowns are valued a little more than passing, these quarterbacks should get picked in the last third/early-fourth round.
---
Tier 2
This tier mixes the next four quarterbacks who are clearly ahead of the rest, along with the top two running backs and wide receivers. A fantasy manager who feels comfortable spending both their second and third-round picks on quarterbacks can get away with picking an elite player at another position. The safer pick is to stick with a quarterback.
Patrick Mahomes, Justin Herbert, Kyler Murray and Allen were the only quarterbacks last season who generated 15-plus fantasy points per game as passers and two-plus as rushers. They've each finished as a top-three fantasy quarterback at least once in their career and may not have peaked yet.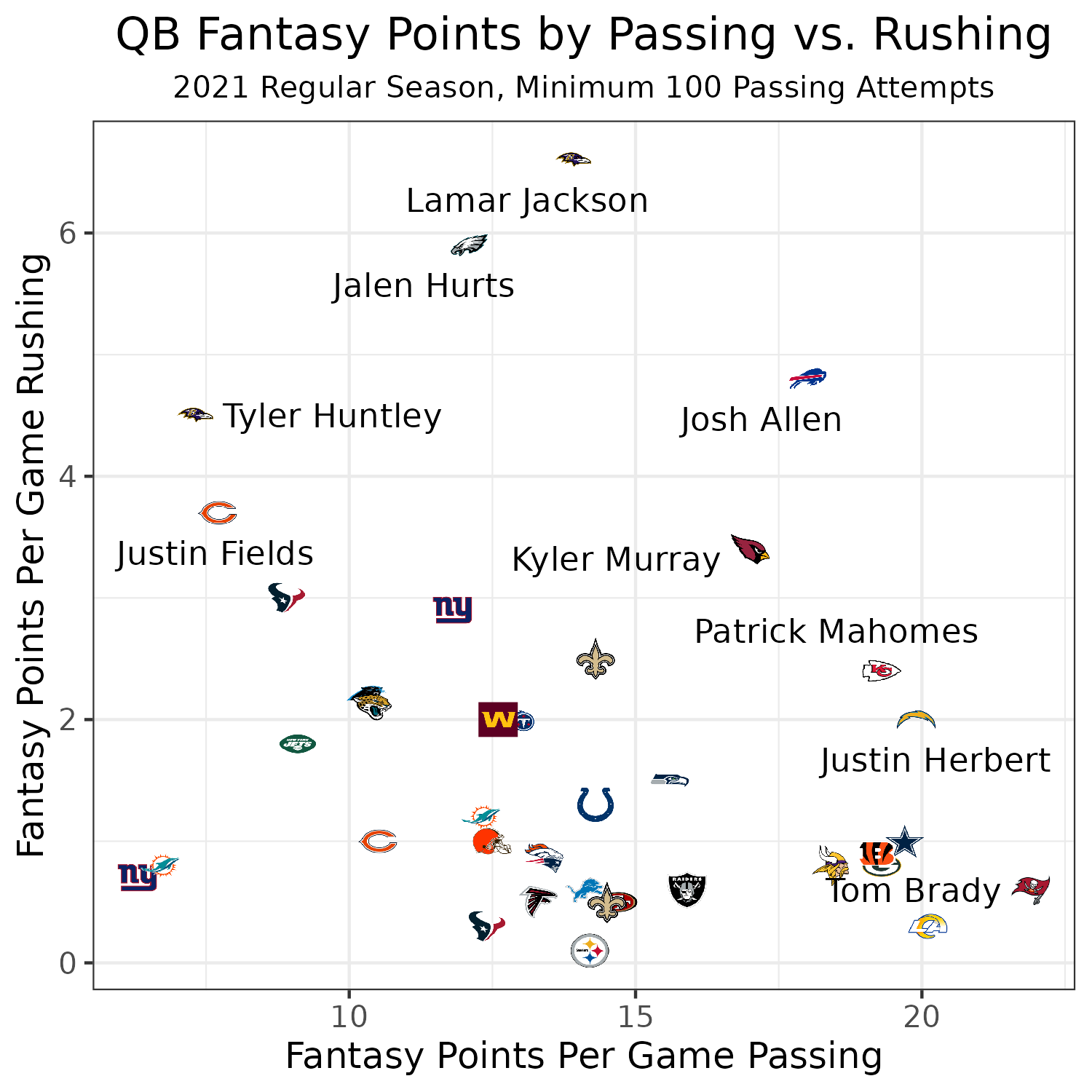 Jalen Hurts' possesses a similar running ability to Jackson, as he finished sixth last season in fantasy points per game. The main change to the Philadelphia Eagles' offense was the A.J. Brown addition, which should only help his production. He's the riskiest of the quarterbacks in the tier, but it also shouldn't surprise anyone if he finishes the year as QB1.
---
Tier 3
Quarterbacks dominate the third tier, as it's easy to find either a high upside player or an old reliable player. There are enough good quarterbacks for everyone to get one, but it would advantageous for fantasy managers to have two quarterbacks from the first three tiers. It would be tempting to wait a round for a quarterback with some of the elite fantasy running backs still on the board. Every Superflex draft is different, so if your league is going particularly quarterback-heavy (or light) early, it's a wise option to go in the opposite direction.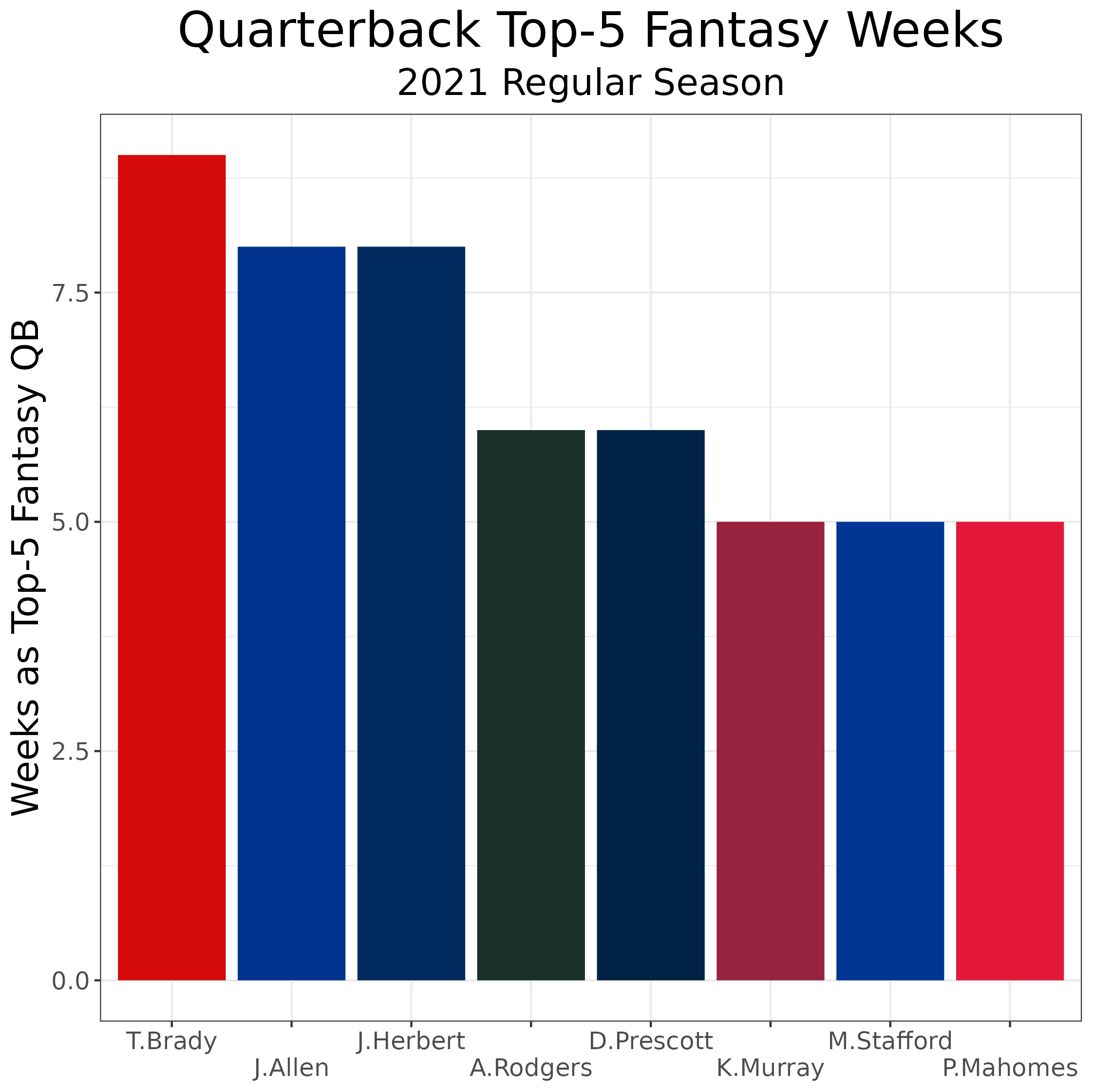 The two younger quarterbacks highlight the tier.
Joe Burrow finished last season at QB8, including back-to-back games as QB1 to end his season. The Cincinnati Bengals offense was healthy throughout the season, but there is reason to believe a healthy Cincinnati offense can be even better next season.
The former first overall pick led the league in times sacked (51). Quarterbacks have a lot of responsibility for how often they are sacked, but the offensive line also plays a significant role. The Bengals spent a combined $74 million in new contracts to three free agent offensive linemen, as they were the only team to improve from a below-average offensive line last season to an above-average line to start this season.
The improved line should help the Bengals' offense get to the red zone more often, giving Burrow more time to make big plays.
Trey Lance skyrockets up the fantasy rankings as the San Francisco 49ers' new starting quarterback. He only started two games as a rookie, but he carried the ball 16 times in one game and finished as a top-10 fantasy quarterback in the other. He's projected to be a top-five quarterback in rushing yards and should finish second in rushing touchdowns.
He still has a lot of potential as a passer, even if he endured some ups and downs in his limited action. The receiver talent at his disposal also gives him an advantage over other young rushing quarterbacks we've seen in the past. He is the riskiest quarterback in fantasy drafts, but he's a risk worth taking.
---
Tier 4
DOMINATE FANTASY FOOTBALL & BETTING WITH AI-POWERED DATA & TOOLS TRUSTED BY ALL 32
Unlimited Fantasy League Sync
Fantasy Start/Sit Line-Up Optimizer & Waiver Wire
WR-CB & OL-DL Matchups, PFF Player Grades, & Premium Stats 2.0 Tools
Nathan Jahnkes Rankings - #1 Most Accurate Last 70 Weeks
PFF Best Bets, Player Props, & Power Ranking Tools
NFL Mock Draft Sim with Trades & Draft Grades
Already have a subscription? Log In