Each week in this space, we'll be taking a look back at Sunday's games to find five of the most interesting and most important stats for fantasy owners. With 15 of 16 games from NFL Week 3 in the books, here are the five stats you need to know:
1. Keenan Allen currently leads all players in fantasy points scored. Through three weeks, he totals 87.7 fantasy points, 404 receiving yards, 43 targets, and 29 receptions. For perspective, those numbers rank: 12th, 15th, eighth, and seventh-best through the first three weeks of the season all-time.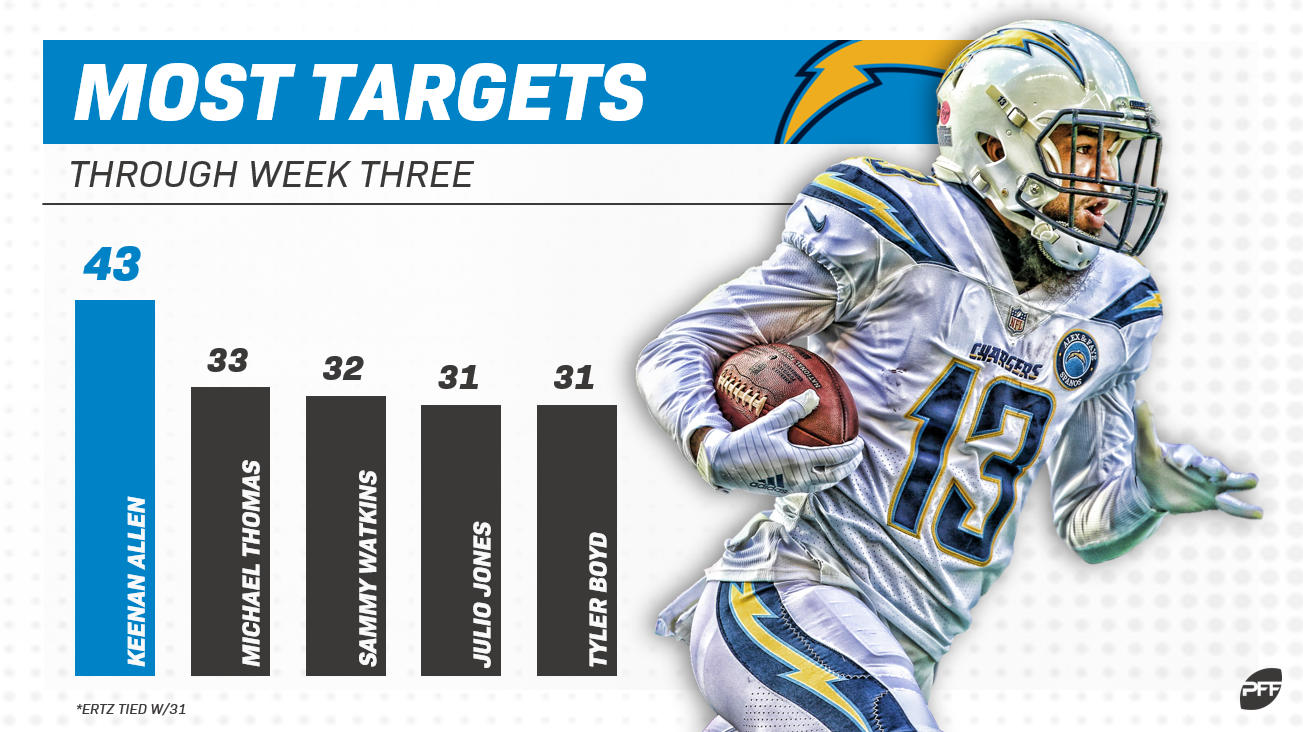 Allen came into the week leading all players in volume (XFP), and pushed himself even farther ahead on Sunday. He saw a league-high 16 targets in Week 3, catching 13 for 183 yards and two scores. This was Allen's fourth career game of 13 or more receptions, an accomplishment that trails only Wes Welker (five) and Antonio Brown (five) all-time. Allen's league-leading 38% target share is bound to regress, and maybe he doesn't finish the season with the most fantasy points at the position, but there's little reason think he can't finish top-five. Mike Williams seems to be the disappointment some of us thought he was, and with Hunter Henry out for most (if not all) of the season the Chargers have little recourse but to lean heavy on Allen.
2. Through 14 games with the Cowboys (including the postseason), Amari Cooper is averaging 18.6 fantasy points per game. Among all wide receivers last year, that would have ranked ninth-best.
After two weeks of victory laps, one player I'll admit being totally wrong on was Cooper. On Sunday, Cooper caught six of seven targets for 88 yards and two scores, bringing his full-season average to 21.3 fantasy points per game (fourth-best). Most impressively, this came in spite of a brutal cornerback matchup, lined up against elite shadow cornerback Xavien Howard on 30 of his 33 routes. Cooper is an easy WR1 moving forward, and especially next week — in Week 4, Cooper projects to draw shadow coverage from Marshon Lattimore who currently leads all cornerbacks in yards allowed (334).
3. In his first career start, Daniel Jones totaled 34.2 fantasy points (second-best on the week) and helped lead the Giants to their largest come-from-behind victory in 49 years. This ranked behind Eric Hipple (42.7) and just ahead of Daunte Culpepper (30.9) and Cam Newton (30.7) for the most fantasy points scored by a quarterback in his first career start all-time.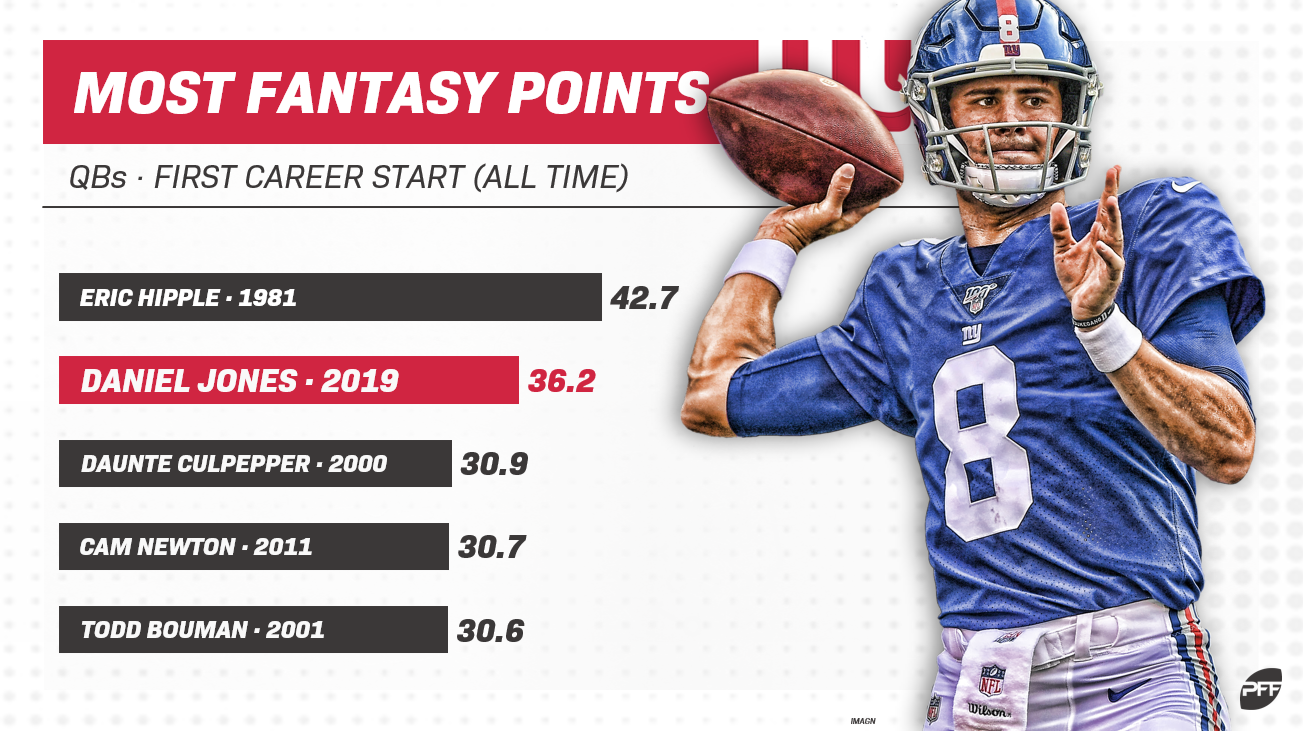 Jones was a controversial prospect coming out of the draft, with a lot of question marks, but this was an encouraging start to his career. And this comes following an equally encouraging preseason, where Jones led all (112 qualifying) quarterbacks in completion percentage (85.3%), yards per attempt (12.2), and passer rating (137.3). Given Eli Manning's performance this season, and in recent years, I don't think it's a stretch to assume Jones is an upgrade to all New York pass-catchers. Further, I think Jones has high-end QB2 upside given the state of the defense (which should lead the Giants to lean pass-heavy) and rushing appeal (four attempts for 28 yards and two touchdowns).
Also of note: Jones' performance under pressure:
FYI, that's the 4th-most pressured passing yards by any QB in any regular season game in PFF history (2007-2019)

Over that span, there are 1,674 instances of a QB attempting at least 12 pressured pass attempts in a game. Jones is the first to record a perfect passer rating https://t.co/XcV55PCSc5

— Scott Barrett (@ScottBarrettDFB) September 23, 2019
Bonus stat: Wayne Gallman played on all of the team's 39 snaps following Saquon Barkley's injury in Week 3. Elijhaa Penny — the only other running back on the roster — was active but didn't see the field. Gallman could be in line for a bell cow workload (which head coach Pat Shurmur has historically preferred) for however long Barkley remains sidelined, making him the top waiver add of the week.
4. Nick Chubb played on just 67% of Cleveland's snaps through the first two weeks of the season. In Week 3, he played on 99% of the team's snaps.
Like the aforementioned Cooper, I was lower than most on Chubb, concerned he might not receive a bell cow workload this year. Although that still might be true when Kareem Hunt returns from suspension, and it was true through the first two weeks of the season, it wasn't the case on Sunday. In Week 3, Chubb played on 67 of 68 snaps while drawing 23 carries and six targets out of the backfield. It wasn't a big day fantasy-wise, but the volume is what we should be focusing on, and it's enough to reconsider him as a mid-range to low-end RB1 moving forward (at least until Hunt returns).
Similarly, Rex Burkhead saw a significant uptick in usage with James White inactive due to the birth of his child. He played on just 35% of the snaps through the first two weeks of the season but saw that number jump to 74% in Week 3. White will be back next week, but with Sony Michel struggling (two fewer rushing yards on nearly twice as many attempts), perhaps Burkhead has already carved out a flex-worthy role.
Immediately following the release of C.J. Anderson, Kerryon Johnson saw his snap share jump from 56% to 77% in Week 3. Through the first two weeks of the season, Johnson saw just 54% of the team's running back opportunities (carries plus targets), but that number jumped to 75% in Week 3. Johnson didn't have much to show for it (43 yards on 21 touches) but this was an inspiring sign of better days to come.
Alvin Kamara played on 55% of the team's snaps through the first two weeks of the season but 83% in Week 3. This was in spite of the fact that New Orleans led 27-7 heading into the fourth quarter. Kamara ended the game with 16 carries, 10 targets, 161 yards, and two scores, while Latavius Murray earned just two touches. Perhaps, with Drew Brees sidelined and offensive dominance no longer a weekly assurance, we finally see Kamara unleashed as a true bell cow, just as he was last year before Mark Ingram returned from suspension (when he averaged an absurd 33.0 fantasy points per game).
On the other side of the spectrum, Aaron Jones' snap share fell from 60% to 39% and Josh Jacobs' fell from 60% to 42%. Jones was spelled by Jamaal Williams at the behest of head coach Matt LaFleur, and I'd expect a near-even committee moving forward. Jacobs' decline in playing time was due to gamescript and the fact that the team prefers Jalen Richard in passing situations. Jacobs has handled 74% of the team's carries but has run a route on only 28% of Derek Carr's dropbacks. For at least the time being, he's a workhorse but not yet an every-down bell cow.
5. Adam Thielen ranks eighth among all players in target share, comprising 28.8% of Kirk Cousins' targeted throws. Still, he ranks just 74th in targets (15).
Thielen also ranks third in air yardage market share (48%). Unfortunately, that doesn't really matter when your quarterback is averaging just 21.0 pass attempts per game. For perspective, Kyler Murray leads the league with 45.7 pass attempts per game. Last season, Seattle was the only team to attempt a pass on fewer than 51% of their plays (47.6%), while the league average sat at 58.8%. This season, Minnesota has attempted a pass on just 38.7% of their plays. While this is undoubtedly good news for Dalvin Cook — the early favorite to league the lead in rushing yards — this spells disaster for owners of Thielen and Stefon Diggs. Gary Kubiak and his influence over the offense is mostly to blame, but this is at least partially related to the fact that two of these games have been blowout victories. Expect the team to lean more pass-heavy next week, on the road against a stout Chicago run defense where a positive blowout is unlikely.