Hello, and welcome to Week 2 of XFP — the Expected Fantasy Points Report. If you're unfamiliar with expected fantasy points, I offered up an in-depth explanation earlier this offseason.
Every week we'll be using a 10-season sample of play-by-play data to calculate expected fantasy points from a player's seasonal or weekly usage. We look at each target (by distance from the end zone and depth of target) and each carry (by distance from the end zone and down and distance) and add this up to determine how valuable a player's role was for fantasy. We can contrast this with fantasy production to measure efficiency.
In layman's terms, expected fantasy points measures the exact worth of a player's volume — "how many points a player should have scored" given his workload, based on what the average player would have scored.
Through two weeks of action, here are the top-25 players in expected fantasy points per game: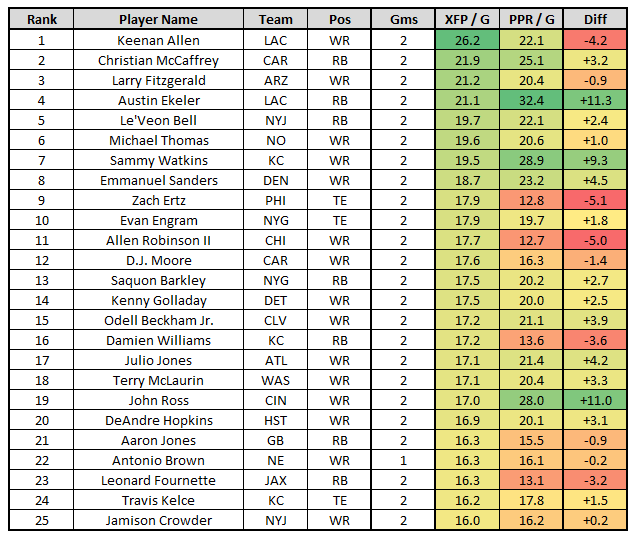 (XFP: 26.2, PPR: 22.1, Diff: -4.2)
Allen currently leads all players in expected fantasy points (XFP) per game with 26.2 — 20% more than the next-closest player. He ranks first in air yards (334), second in targets (25), and third in expected touchdowns (2.1). Allen has always seen good target volume, but he ranked just 27th in air yards per game (79.0) last year, which is more than half his current average (167.0). Look for this trend to continue with Hunter Henry out of the lineup and Mike Williams banged up, and expect better efficiency than we saw in Week 2 (-11.7). Last week top shadow cornerback Darius Slay lined up against Allen on 33 of 38 routes (including in the slot). This week he'll run the majority of his routes against Bradley Roby, our 13th-worst-graded cornerback over the past two seasons (of 62 qualifiers).
(XFP: 21.2, PPR: 20.4, Diff: -0.9)
Fitzgerald currently ranks third among all players in XFP per game (21.2). Through two weeks he ranks seventh in targets per game (10.5), ninth in air yards per game (131.0), and fourth in expected touchdowns per game (1.0). In comparison to last year, he's averaging twice as many XFP per game and 1.9 times as many air yards per game.