One of the great determining factors in a wide receiver's draft value is whether he can play outside or whether he is a "slot receiver only" at the NFL level.
With more college programs using their best receivers in the slot, where the matchups can be more favorable and where they won't have to contend with press coverage, it can be more difficult to evaluate that in a prospect. And that element of uncertainty can see elite receivers slip in the NFL draft.
Justin Jefferson was the fifth receiver taken last season. He lasted until No. 22 overall in part because of questions about whether he could be as successful on the outside as he was in the slot during his final college season at LSU. His rookie season proved the answer was a resounding yes, but the unknown element and projection needed at draft time was a very real drag on his stock.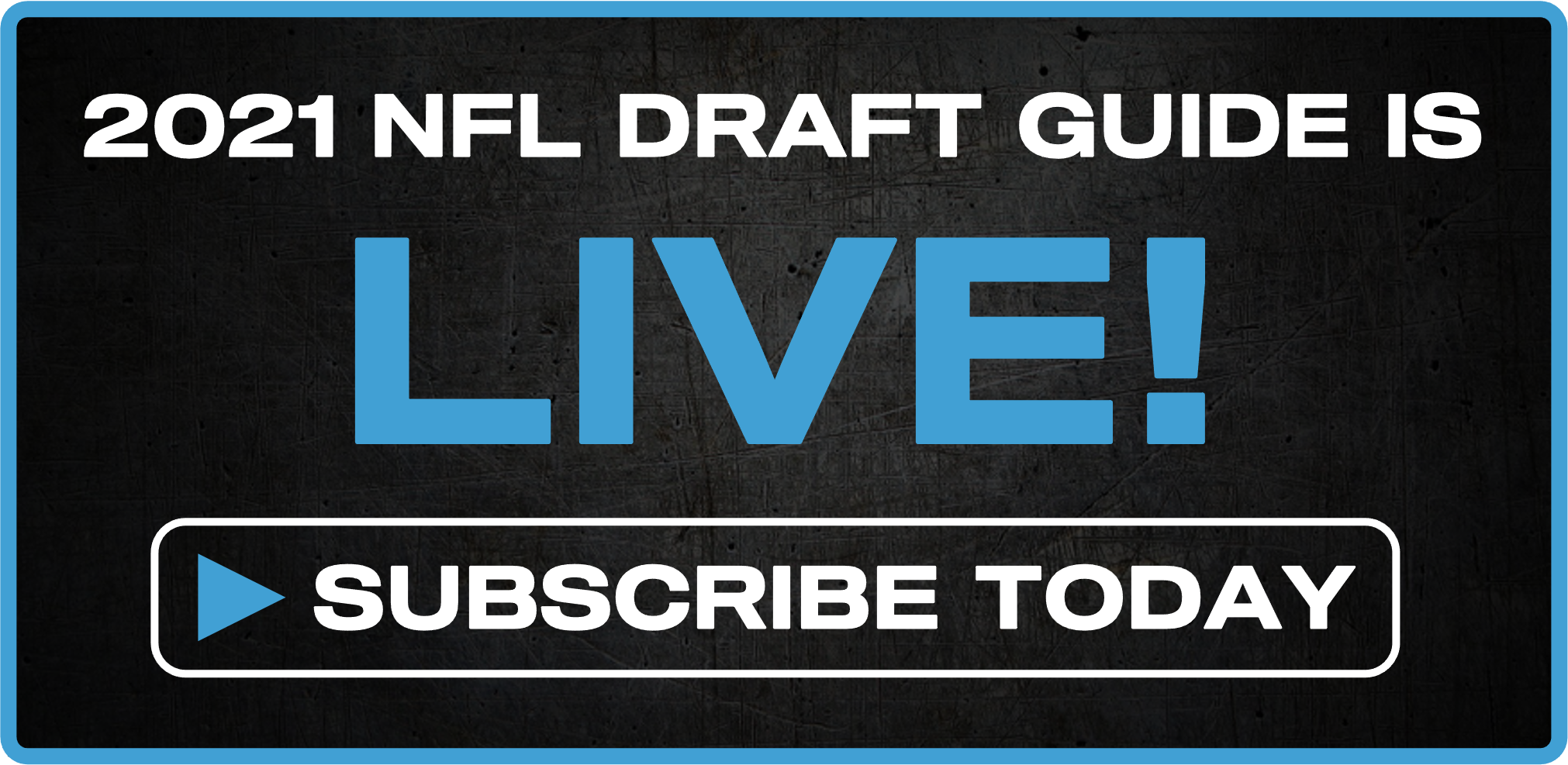 The reason why it is such a big deal is not that slot receivers aren't valuable, as PFF research suggests that targets to the slot can be more valuable than targets to outside alignments. The reason, in fact, is that almost any elite outside receiver can succeed in the slot, but that doesn't work in reverse.
If we look at all receivers in the NFL last season when lined up in the slot, the top seven in terms of yards per route run are all outside receivers before we even get to Cole Beasley, arguably the best slot receiver in the league.
The Dallas Cowboys, having lost Beasley to the Buffalo Bills, needed a slot receiver rather than an outside receiver with the roster they had last offseason. Yet, they were happy to draft CeeDee Lamb in the first round and play him almost exclusively in the slot (91.1% of his snaps), where he was the third-most-productive receiver before his quarterback got hurt and he slipped to 21st in the league by the end of the season.
Not only will a good outside receiver do a good job in the slot in addition to being able to succeed outside, but he will likely be even better there than a good slot receiver.
So, when we evaluate the receivers in the 2021 NFL Draft, their prospects of winning on the outside should be a genuine factor in determining how early they can be drafted.
If a player doesn't project to the outside as well, it would seem like extremely bad process to draft them over a receiver that you believe can, even if you think they are a better slot receiver than that alternative. If a player is going to be a slot receiver only, they better bring something truly special to the table to offset that relative loss in outside value.
Take Jaylen Waddle as an example. There are those, including PFF's Mike Renner (the creator of the PFF 2021 NFL Draft Big Board), who have Waddle above DeVonta Smith and Rashod Bateman, but 75.2% of his college snaps came in the slot and an even bigger proportion of his production came inside.
Waddle has the kind of quickness and strength despite his size to project outside, but that unknown should definitely move him below Smith and probably Bateman on most draft boards.  Waddle does have that special blend of speed and quickness that helps to offset some of that concern and is also a devastating punt returner, which is why he is rightly ranked ahead of some of the other players for whom this is also a concern.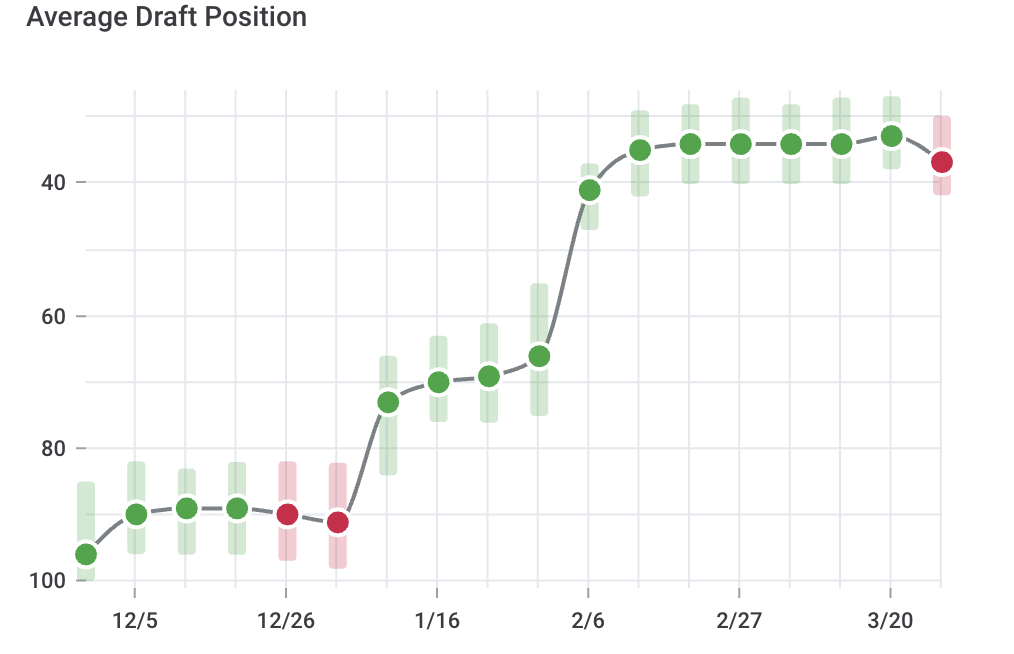 Elijah Moore has been skyrocketing up draft boards in recent weeks. He has gone from a fringe third-round player to a first-round player, according to PFF's mock draft simulator, but there is virtually no evidence that Moore can survive on the outside at the NFL level.
Last season, 77.9% of his snaps came in the slot. And even of the snaps that he did take out wide, he was positioned at the tail end of a stack formation to ensure he still had a free release off the line around 50% of the time. That is a very real red flag that his own team didn't think he could play outside or at least didn't want to run the risk that it would impact his play.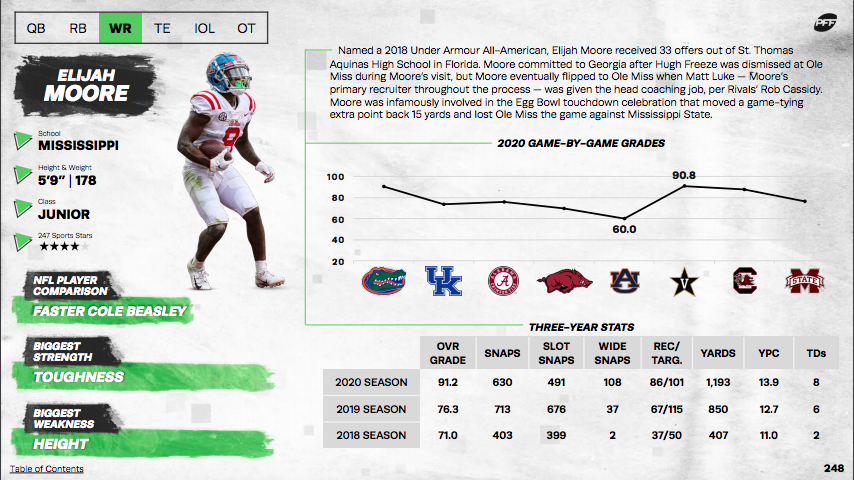 Moore does everything well from the slot, but he is way undersized and has shown no evidence that he can play on the outside. This, of course, would make him a huge reach in the first round unless you have supreme confidence in projecting beyond what the evidence in his career thus far suggests is there.
Rondale Moore suffers from a similar issue. Moore was a devastating weapon when healthy for Purdue and was the best athlete on the field pretty much any time he played in his college career. Still, his role was even more limited and contrived than Elijah Moore's, and he measured at just 5-foot-7 in height during his pro day.
Moore is an absurd athlete, but does he have the skills to align to the outside and run more than the gimmick route tree we have seen from him so far? Rondale's draft stock appears to be slipping a little as we approach the NFL draft, and that lack of a defined NFL role is likely a big reason why.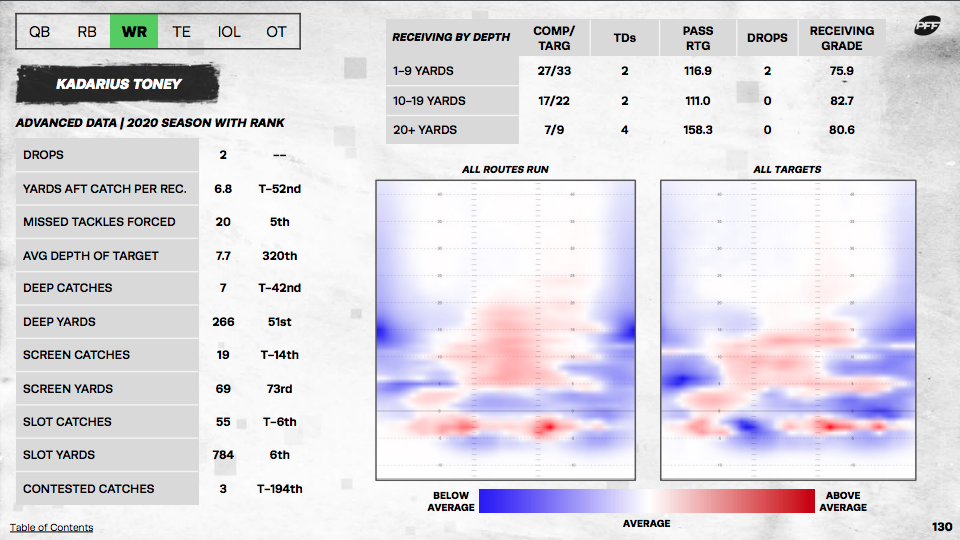 Florida's Kadarius Toney is another player who has been part gimmick and part slot receiver during his college career. But unlike the Moores, I think we have reason to be confident in his ability to project outside in a similar way to Jefferson a year ago.
The first reason is size. Toney is 6-foot and 193 pounds, a significant size difference compared to the other slot receivers mentioned. And while his alignment was similar in college (82.3% from the slot last year), he showed development in his route running and an understanding of defender-leverage that might allow him to transition to that outside alignment well at the next level. He has a wiggle to his movement that reminds me a lot of former Bills receiver Stevie Johnson, who was a little taller and heavier but would cause defenders endless trouble at the line with his crossover releases.
Toney may be as limited as any of the slot receivers in terms of college experience, but he is also the one I am most confident in when it comes to projecting his ability at the next level.
Ultimately, this is a strange draft class for containing so many exceptionally talented receivers who may project to being slot-only players at the next level. While that is still valuable, it isn't as valuable as a receiver who can do both, and so it becomes a real challenge to rank or draft those players above the likes of Rashod Bateman or even LSU's Terrance Marshall Jr. unless you believe they can do what Justin Jefferson did a year ago — transition to the outside and do more at the next level than they did in college.
If they can't, drafting them in the first round would be losing out on the best value.
---
View PFF's 2021 NFL Draft position rankings: