PFF's fantasy football recap focuses on player usage and stats, breaking down all the vital information you need to achieve fantasy success in 2022. This is only focused on the players who are relevant in fantasy football leagues.
---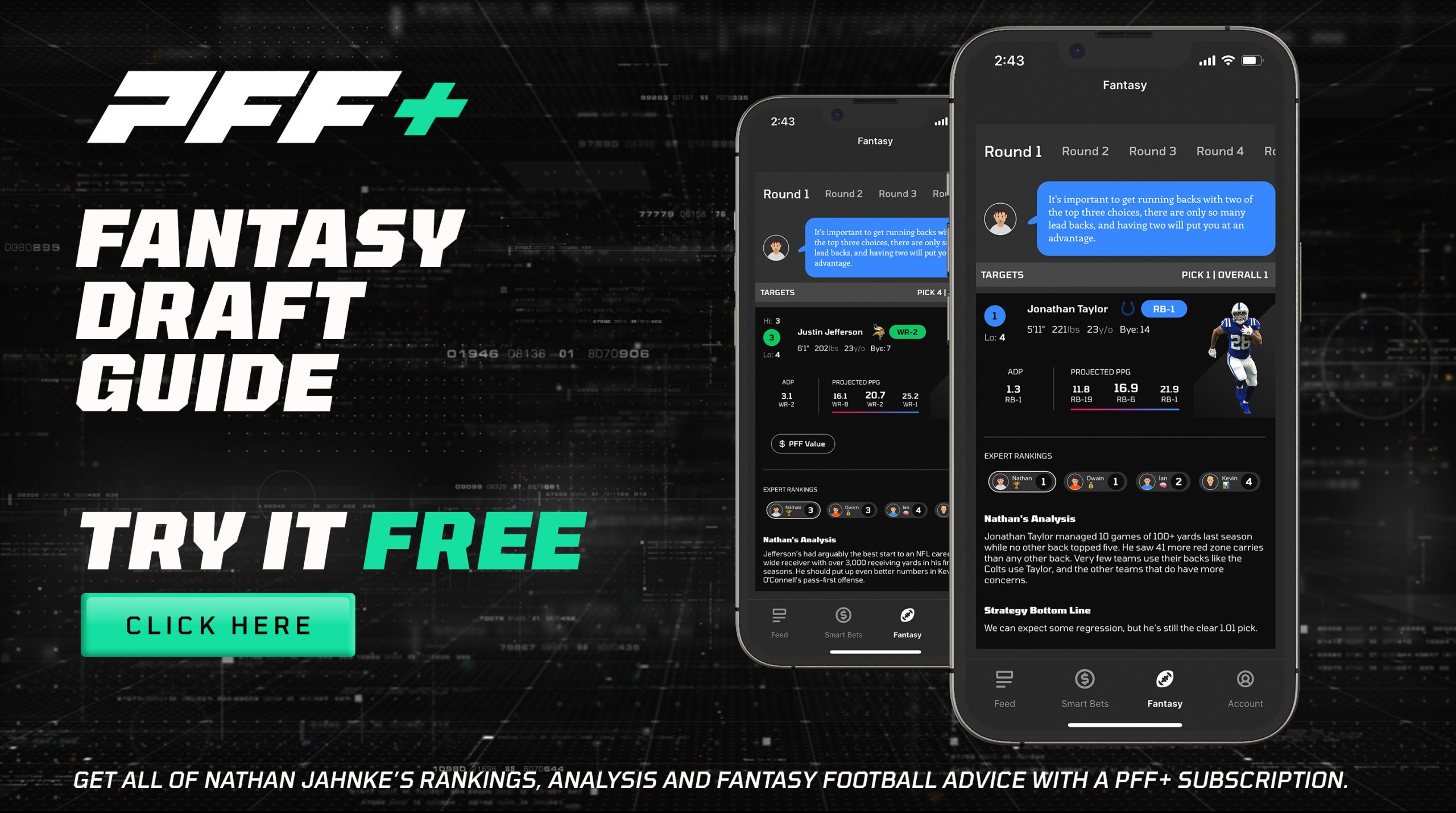 ---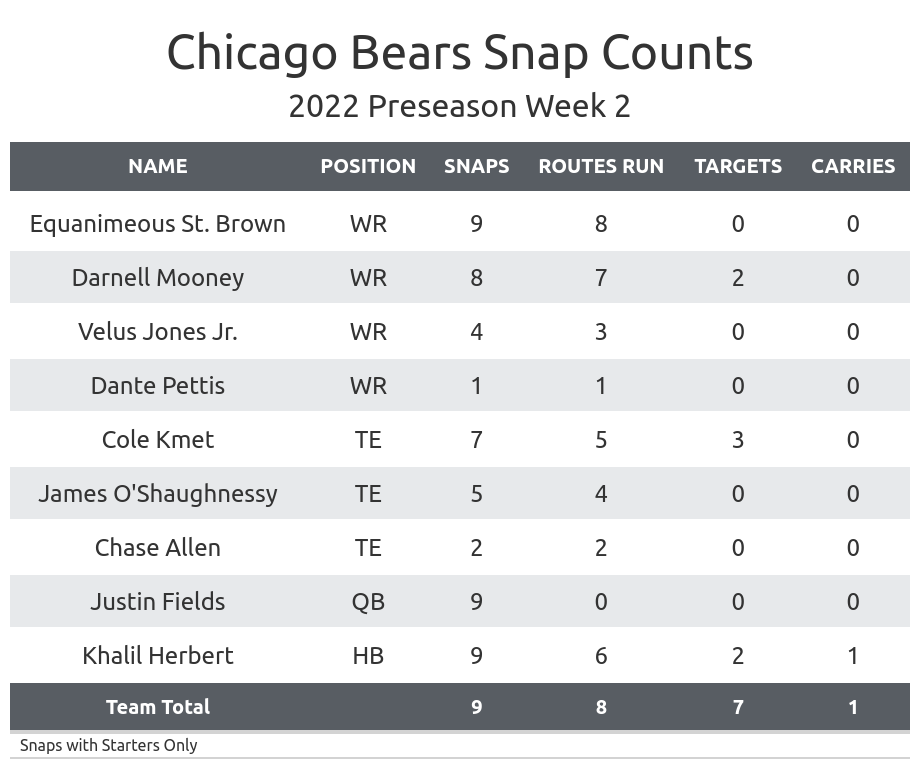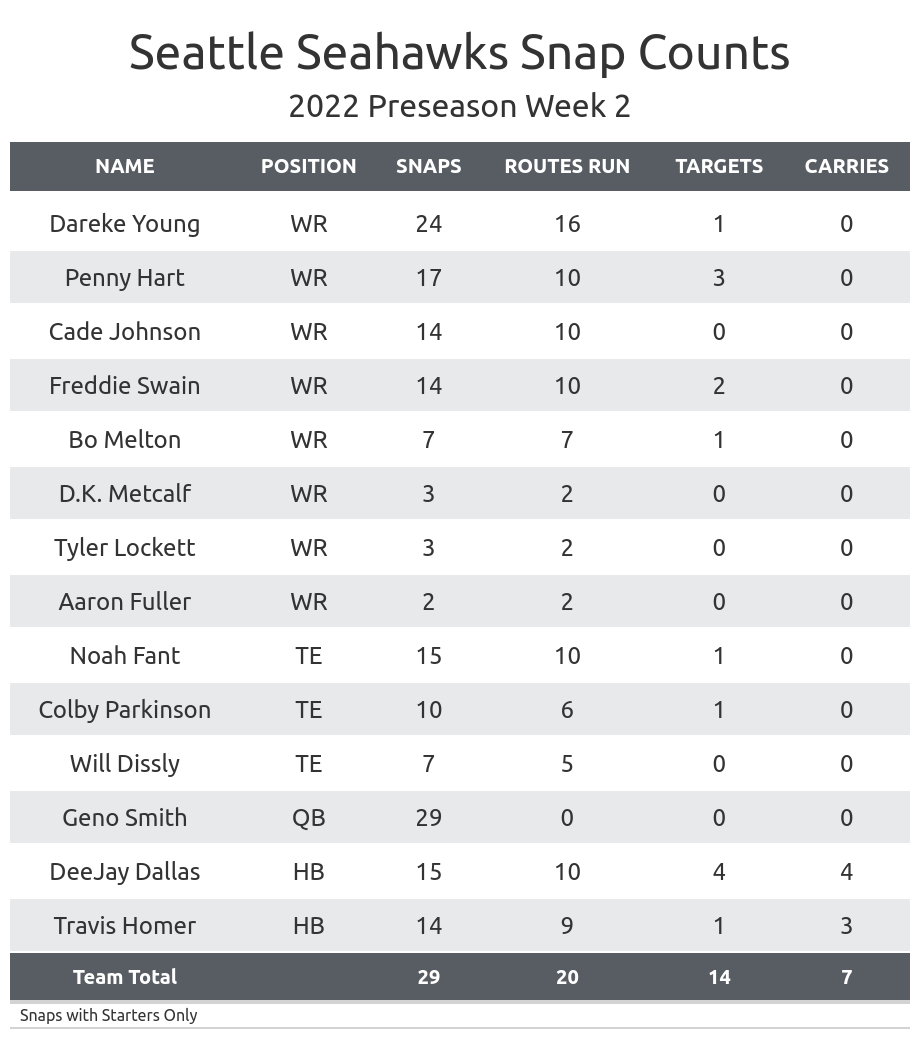 Draft Khalil Herbert: David Montgomery missed another preseason game with an undisclosed injury, allowing Herbert to play 100% of the snaps with the starters for a second straight week. He again left the game once the starters were finished. It was good to see Chicago get him involved as a receiver (two receptions) and pass protector. Receiving and blocking aren't his strengths, but even low efficiency there is better than being off the field. Rookie Trestan Ebner was the next back on the field and seems locked into the third spot on Chicago's running back depth chart, but he seems unlikely to contribute this season without an injury.
Herbert is Montgomery's clear handcuff, but he could also see significant playing time depending on how the new coaching staff wants to distribute touches.
Draft Velus Jones Jr. in deep leagues: Jones missed the first preseason game with an undisclosed injury but made his NFL debut Thursday night. The third-round pick played in three-receiver sets with the starters and continued to play once the second team came in. He will probably fall to fourth on Chicago's receiver depth chart once Byron Pringle returns from his quadriceps injury, but he has a decent chance of surpassing Equanimeous St. Brown for the third spot could eventually pass Pringle, too.
There are plenty of rookie wide receivers to take a chance on before Jones, but he has a clear path to playing time, and his quality of play is unknown.
Consider drafting Cole Kmet only if his ADP falls: The Bears tight end missed the Bears' first preseason game but started this one. He was off to a great start with two catches from three targets for 31 yards — both passes went for first downs. On the downside, he didn't play all nine offensive snaps and only ran a route on five of eight pass plays. The Bears invested in backup tight ends James O'Schnaussey and Ryan Griffin, so they could rotate Kmet out more often compared to past years under the new coaching staff. Offensive coordinator Luke Getsy came from Green Bay, which constantly rotated tight ends. Kmet is typically the 12th tight end picked in fantasy drafts, but he would need to both maintain his past volume while improving significantly as a player to warrant that pick.
Draft Travis Homer in deeper leagues: Both Seahawks backs who were competing for the early-down job missed this game due to injury, allowing Homer to be the every-down back. He was the Seahawks' only offense over the first 20 minutes, recording 46 yards from three carries and one of the team's only two receptions. He played each of the Seahawks' first 12 plays before DeeJay Dallas took over. Homer seems locked in as the Seahawks' third down and two-minute drill back. Seattle's offense hasn't looked great, meaning Homer could garner a hefty amount of clear passing game opportunities when on the field. If one of the two Seahawks rushers is injured, Homer would also play some snaps on early downs, which would be enough opportunities to potentially be a fantasy starter in some matchups.
Don't draft Noah Fant: Fant was part of the Russell Wilson trade this spring. His usage in the first preseason game was worrisome, as he split time with 2020 fourth-round pick Colby Parkinson for the entire first half. Will Dissly missed that game but was back Thursday night to complicate the situation. Both Fant and Dissly started and proceeded to be used interchangeably throughout the first half. Parkinson joined the rotation on the third drive. Fant appears to be on the top of the depth chart, but it would be hard for any tight end to be a consistent fantasy starter with this kind of rotation. It will be even harder with the Seahawks' quarterback situation.
Ignore the Seahawks wide receiver snaps tonight: D.K. Metcalf and Tyler Lockett were supposed to not play, but they both played all three snaps on the first drive before leaving for the rest of the game. They are locked in as the starters. Freddie Swain played five of the six snaps on the Seahawks' first two drives, but then his night was done. He's likely locked into the third receiving spot.
---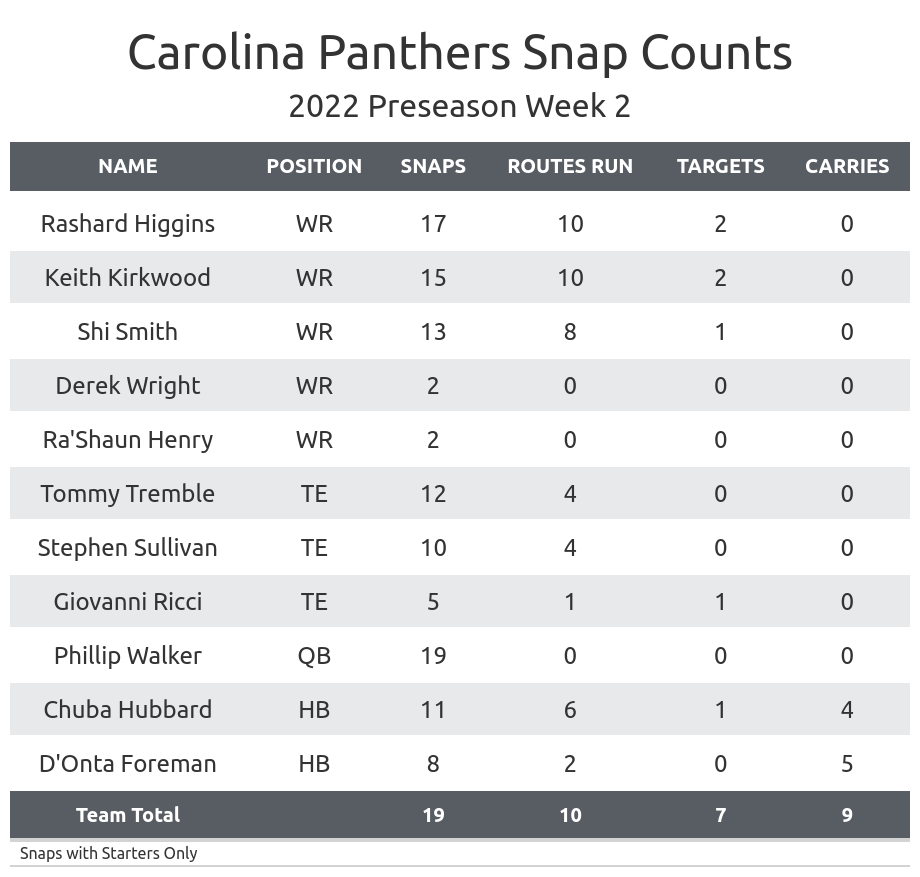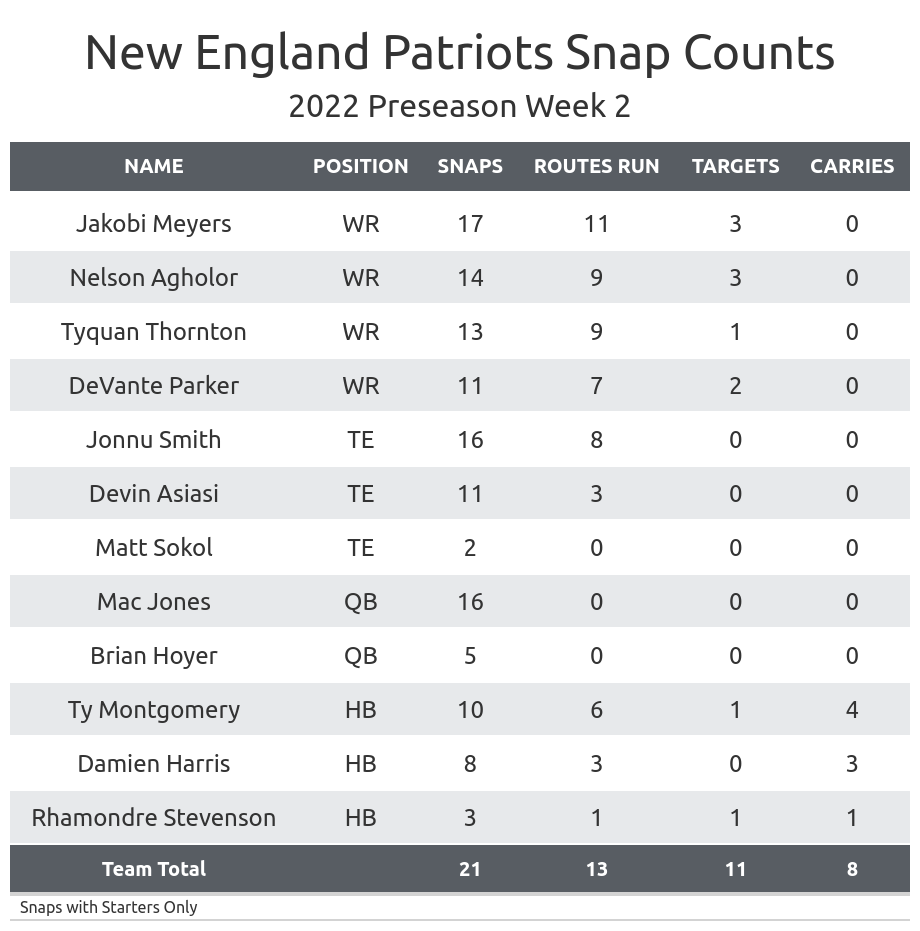 Draft Damien Harris and Rhamondre Stevenson: James White's retirement and Brandon Bolden's departure have left a void for New England on third downs. The Patriots used their backs in the preseason last year similar to how they did in the regular season, with a rotation by situation. White received every third-down snap with the starters.
New England mixed things up tonight, rotating by drive instead of situation. Harris took the first and fourth drives, Stevenson the second and fifth, and Ty Montgomery the third and sixth. Chances are Montgomery will see more passing-down work, and Harris and Stevenson more early-down work once the season hits. The fact that the Patriots were even willing to try all three backs on third downs is a good sign for Harris' and Stevenson's fantasy value compared to last season. Harris lined up out wide on a snap, something he has done only 18 times in his three-year career. Stevenson received the work on the first two-minute drill, which he never did last season.
It's worth noting the two rookie backs didn't see any work with the first team, or the first two drives with the second team, and so they might not get a chance to contribute on offense this season unless there is an injury or trade.
Avoid Most Patriots Wide Receivers: Four of the top five wide receivers on the Patriots' depth chart were available tonight, with Kendrick Bourne as the only receiver sitting out. DeVante Parker and Jakobi Meyers took every snap on the first two drives, with Nelson Agholor joining in three-receiver sets. Tyquan Thornton started seeing playing time on the third drive, taking snaps away from Parker on the third drive and Agholor on the fourth. The situation will be even more complicated on the outside after tonight when Bourne returns.
Meyers is the only safe option, as he was the only one to play every drive with the starters. He should consistently be the Patriots' slot receiver.  He is one of the top sleeper wide receiver options this season.
Don't Draft The Panthers' Backup RBs: The Panthers rested Christian McCaffrey, five wide receivers and four tight ends, among several others. The one exciting battle was the backup running back spot. Chuba Hubbard started the last preseason game and split time with D'Onta Foreman for the entire first half last week. Foreman received the start this season, but they remained in a rotation. He saw more snaps in rushing situations, and Hubbard more in passing situations.
Hubbard is likely the one with more standalone value, but that will only matter in very deep leagues. If there is an injury to McCaffrey, we could see these backs split 50-50 again, making it unnecessary to draft either player as a handcuff.
---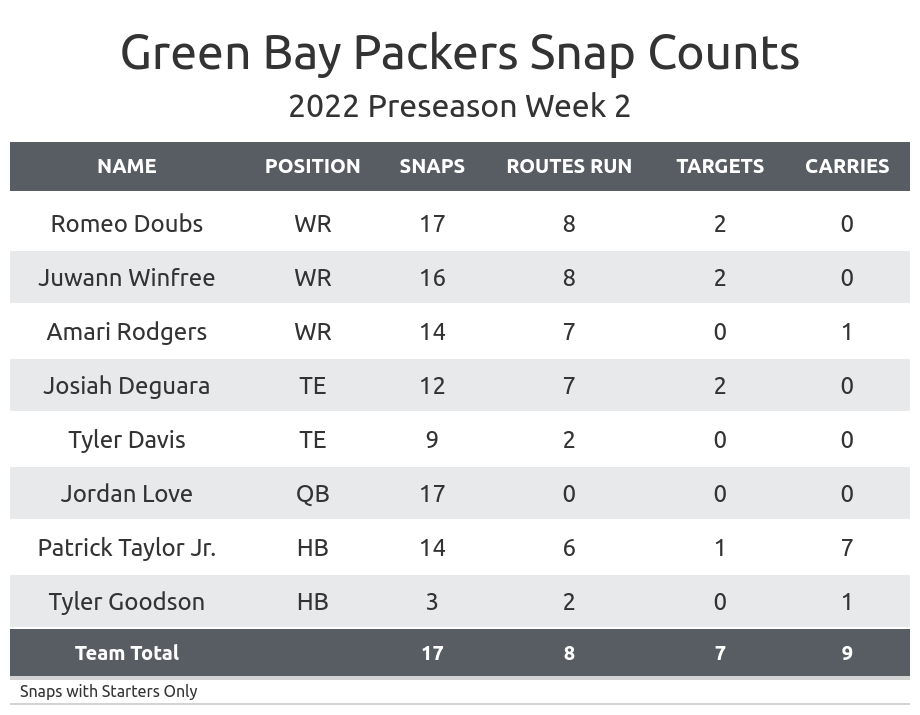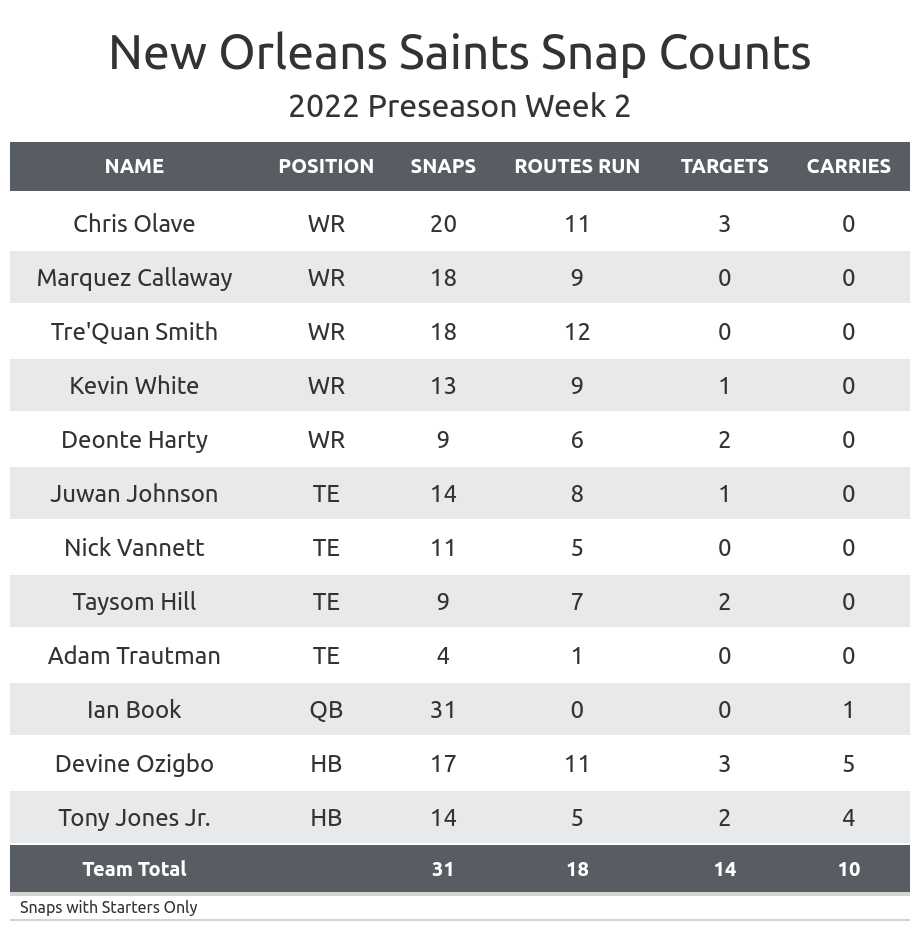 Remain cautiously optimistic about the rookie wide receivers: The Saints and Packers rested several players, including the top three wide receivers on Green Bay's depth chart and the top two on New Orleans'. 
Both Chris Olave and Romeo Doubs played the majority of the first-team snaps tonight, outside of Olave having a long drive off in the second quarter before returning for the two-minute drill.
You can't take much away from a performance standpoint with backups playing, but both players led their teams in targets while they were on the field and both scored a touchdown. Ideally, we could have seen them with the real first team, but they rarely left the field while starting the game — which is the best you can expect.
Avoid the Saints Tight Ends: The Saints used all of their tight ends despite resting starters at most other positions. Four different tight ends were used with the first-team offense: Adam Trautman and Nick Vannett were both used more as run-blockers and should be off fantasy radars. Taysom Hill was used sparingly as a receiver, with Juwan Johnson running the most routes and leading the team in snaps with the first team. Johnson has the most potential and could be drafted in larger leagues as a deep sleeper, but the four-man rotation will make it hard for anyone to have any consistent fantasy value.
---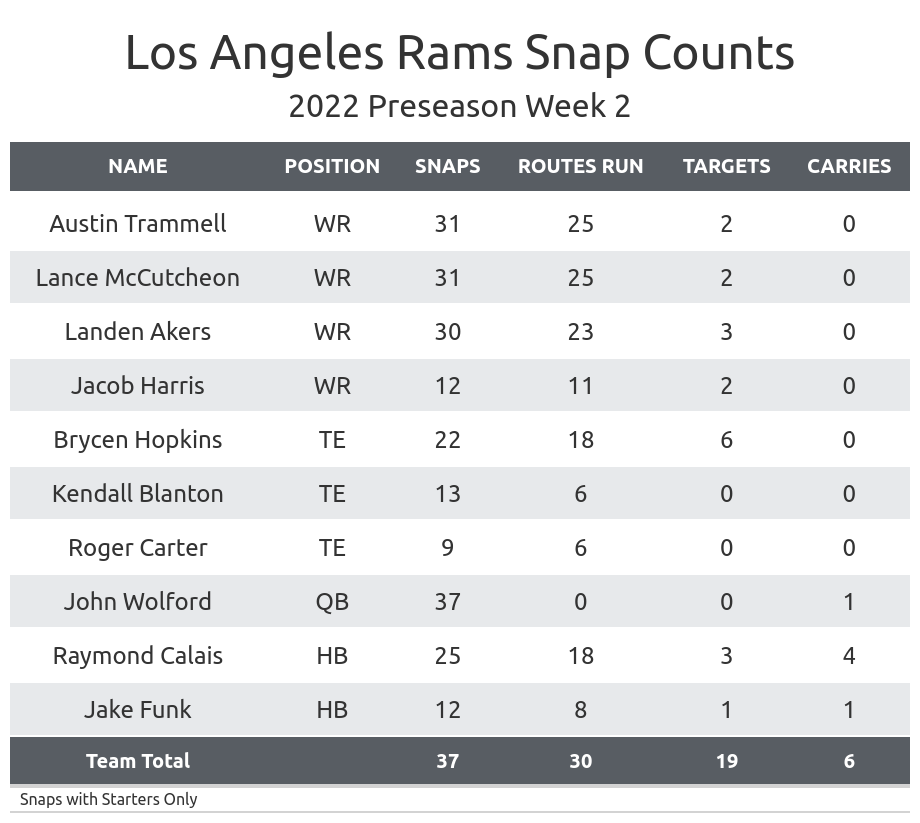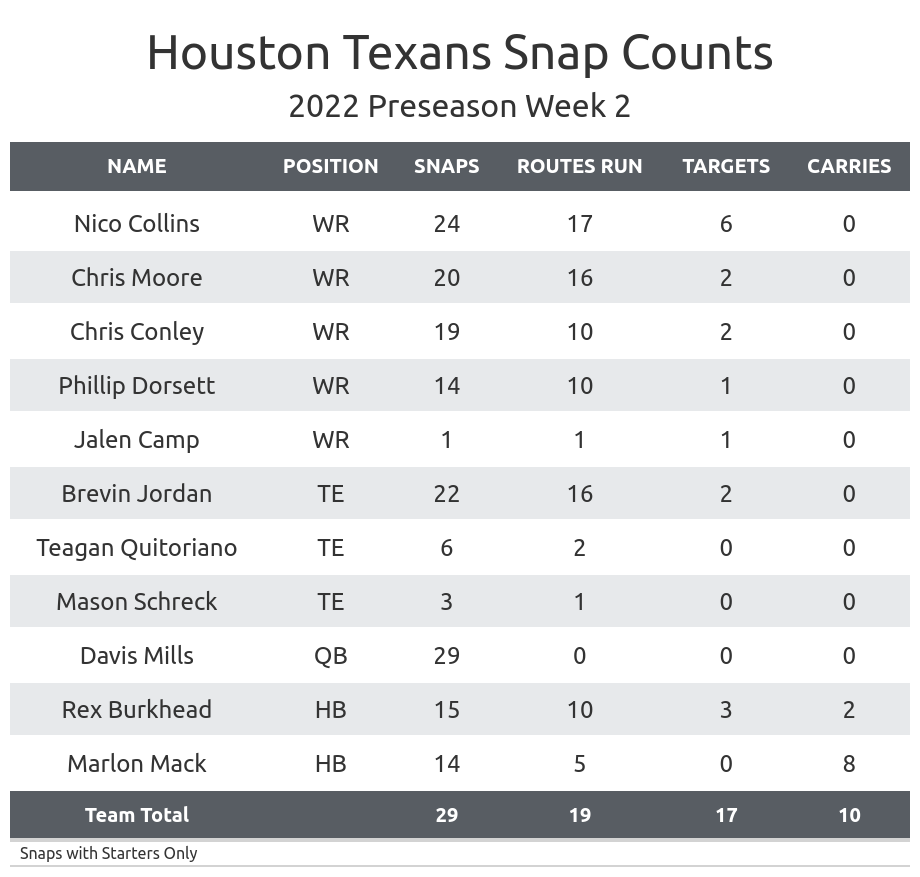 Have a backup plan when drafting Dameon Pierce: Marlon Mack started for the Texans last week and took all of the first and second down snaps with the first team. Pierce only played with the second team but was the highest-graded running back of the week. Pierce didn't play in the first half, which was very disappointing until the Pro Football Network's Aaron Wilson revealed the Texans liked Pierce enough that he didn't need to play. Mack was the early down back in the first half, and Royce Freeman took over in the second. This is a good indication that Pierce will be the starter in Week 1.
Texans receiving back Rex Burkhead didn't play in the first preseason game but did  Friday night. He's traditionally been a receiving back but led the Texans in first- and second-down snaps outside of two-minute drills last year. He was restricted to third downs, the two-minute drill and one random first down Friday night, which is bad news for Burkhead but good news for Pierce. Burkhead could still be draftable, as the Texans could be in a lot of pass situations this season, which would leave Burkhead on the field while Mack and Pierce are on the sideline. Mack is now probably just Pierce's handcuff.
Consider Brevin Jordan as a late-round tight end pick: The 22-year-old spent the first half of the season as a healthy inactive, but by November, he was on the Texans' active roster, and by December, he was playing a lot on passing downs. The fifth-round pick was the third-highest graded tight end, behind Kyle Pitts and Pat Freiermuth. He shared time with veteran Pharaoh Brown in Houston's first preseason game, Jordan played 11 personnel snaps over the first two drives, Brown took them on the third drive, and Jordan continued to see work with the backups.
Brown missed this game due to an injury, allowing Jordan to take every 11 and 12 personnel snaps. Chances are Jordan will continue to lose some time to Brown once the veteran is healthy, but it's good to see the Texans trust Jordan in all passing situations without a rotation when needed. If Jordan improves, as we would expect of any 22-year-old, he could become the Texans' full-time starter who could also double as a fantasy starter.
Ignore the Rams Snap Counts As Usual: The Rams continued their preseason tradition of resting every starter as well as several key backups. Jacob Harris was the most notable player who played for fantasy football purposes. The wide receiver/tight end hybrid was the 142nd pick of the 2021 NFL Draft but had a forgettable rookie season due to a groin injury early in the season and a torn ACL and MCL later in the season. He played just 17 offensive snaps as a rookie — largely run blocks in the fourth quarter of wins. He was one of 11 wide receivers that measure in 6-foot-5-plus to receive an offensive snap last season.
He fully converted to wide receiver this season and started Friday night after missing last week. The former UCF Knight was part of a four-man rotation at wide receiver with the starters and caught one pass. He is intriguing because he could be a threat in the end zone if he gets some playing time, giving him some value as a punt play in DFS depending on his regular season usage.
---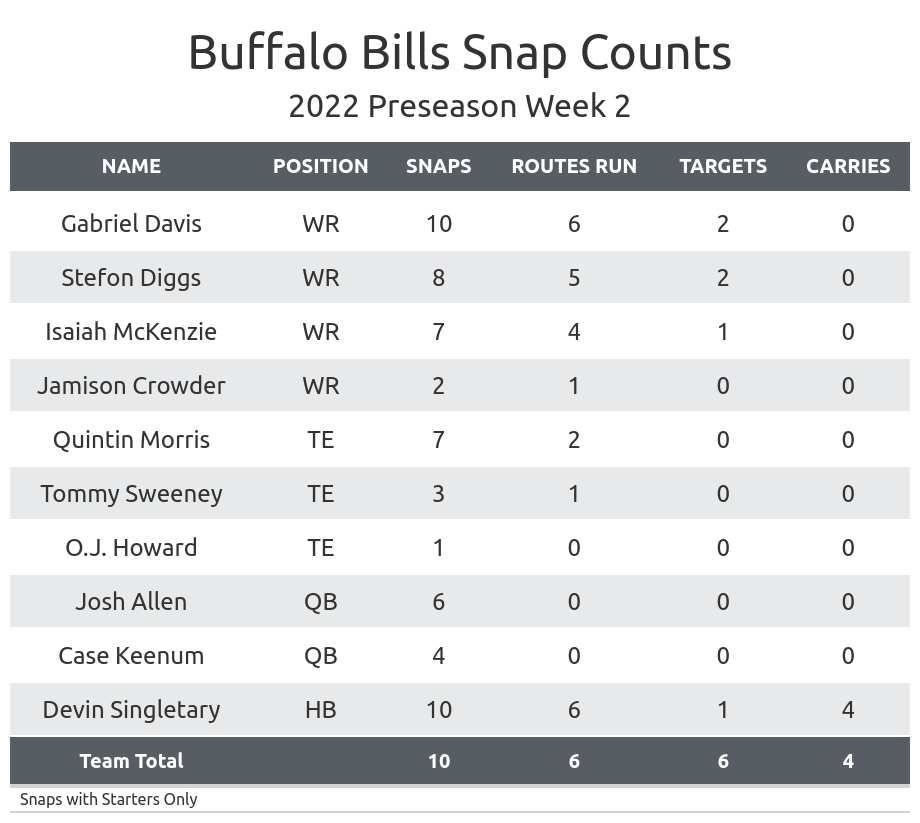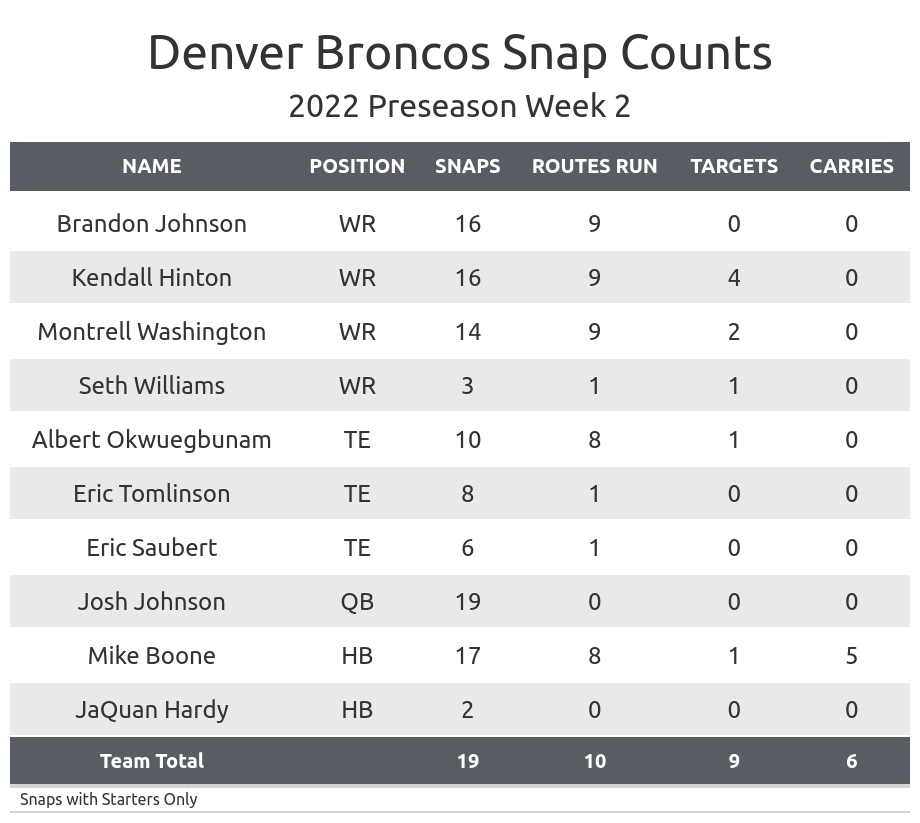 Draft the Bills' wide receivers: Gabriel Davis scored four touchdowns in the Bills' last game, which led everyone to believe he'd start opposite Stefon Diggs. This became a safe assumption after the Bills opted to not re-sign Emmanuel Sanders. It was good to see that plan enacted, as Davis played 100% of Buffalo's offensive snaps with the starters.
Isaiah McKenzie's hype grew during training camp, as he appeared to be ahead of free agent addition Jamison Crowder. McKenzie played every snap in 11 personnel with the starters on the first drive. Crowder took over in the slot in the second drive, but mid-drive, McKenzie took over for Diggs on the outside. This likely means all four wide receivers will see significant playing time, and McKenzie could play on the outside at times. All three Bills starters should be drafted and could have big seasons. Crowder is still an OK late-round pick, as he could easily have standalone value if any of the three starters were hurt.
Draft Devin Singletary: Singletary took every snap for the Bills in the first quarter and only left the game when the offensive line did. The Bills could have easily rotated a back into the game on the second drive, similar to how they rotated Crowder in at wide receiver, but instead, it was all Singletary. Zack Moss was the first backup who came into the game, and rookie James Cook didn't play until later. Singletary seems to have a clear hold on the starting job and could keep it the rest of the year, so his average draft position (ADP) should increase. The other backs can still be drafted but probably shouldn't be started until Singletary's hold on the starting job loosens. 
Drop O.J. Howard in dynasty leagues: The former first-round pick found some success early in his career but was held under 500 offensive snaps in the last two seasons combined, including just 25 receptions. The Tampa Bay Buccaneers opted not to re-sign him even with Rob Gronkowski's potential retirement. Buffalo took a shot on him with a one-year deal.
Dawson Knox missed this game after the tragic passing of his brother. Tight end Quintin Morris started instead of Howard and played in passing situations while Tommy Sweeney played in run situations. Therefore, Howard's spot on the regular season roster isn't secure. His best chance of playing significantly this season is if he's on a new team.
Don't draft Albert Okwuegbunam: The Broncos rested their top two running backs, top three wide receivers and most other starters — similar to last week. Okwuegbunam was once considered a sleeper due to his solid play on a small sample size the last two seasons. However, he's not draftable this year unless it's a deeper league. He not only played but was rotating in and out with Eric Saubert and Eric Tomlinson. He continued to play into the fourth quarter.
The third-year tight end could still play in passing situations during the regular season but is unlikely to play much on early downs. Once the rookie third-round pick Greg Dulcich is healthy, he could take some of  Okwuegbunam's snaps. The best-case scenario for Okwuegbunam's fantasy value is a trade.
---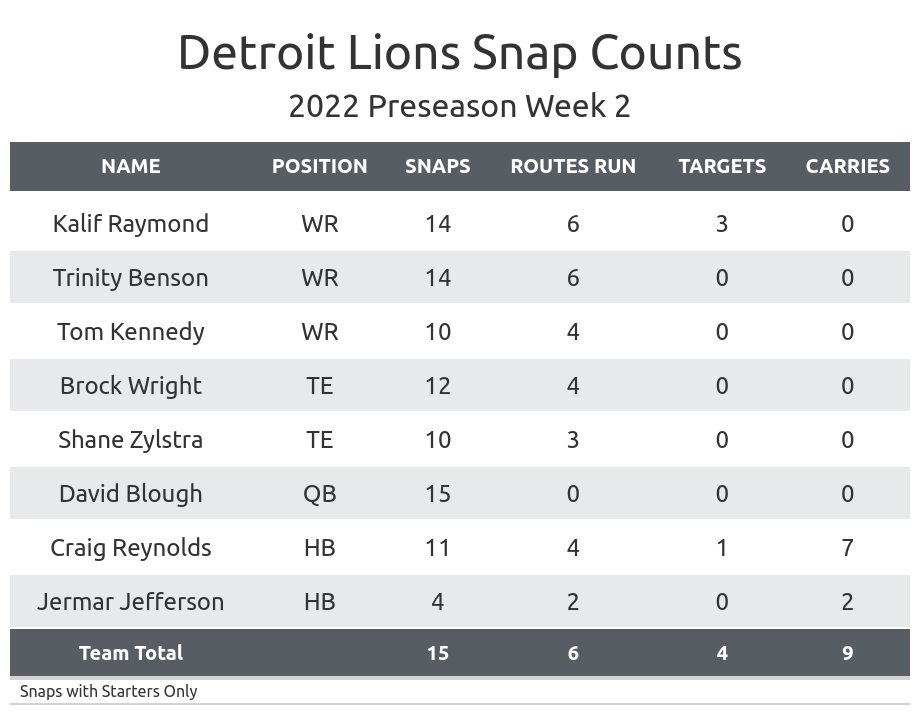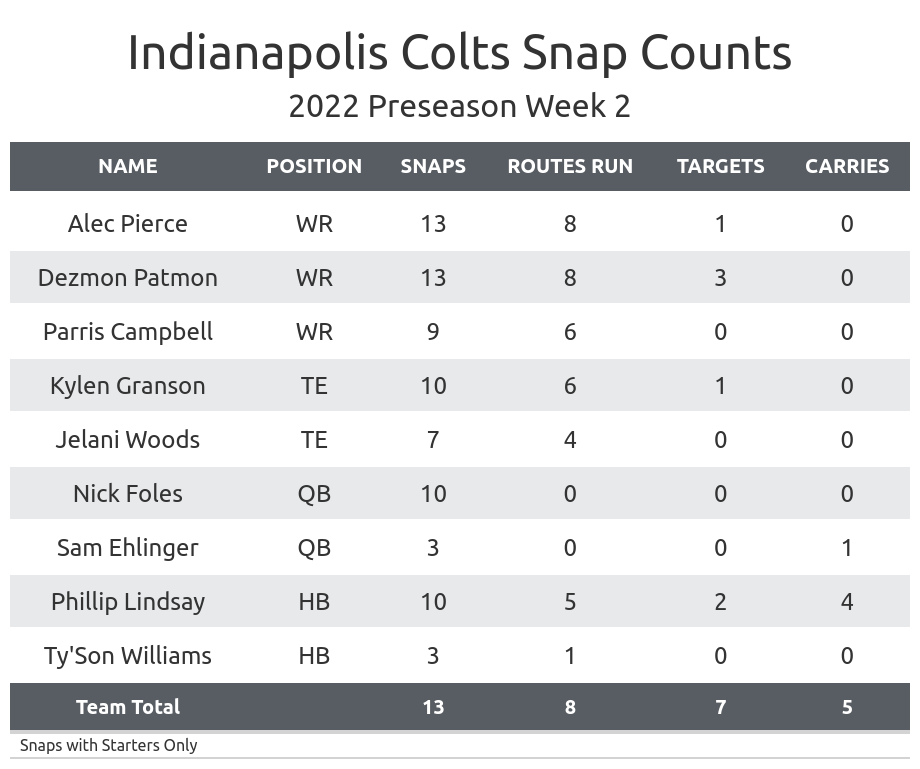 Draft Alec Pierce: The 53rd overall pick from the 2022 draft was the Colts' third wide receiver last week while starters played. This week, Indianapolis rested some starters, including Michael Pittman. Pierce played Saturday and played in two-receiver sets, which is something he didn't do last week with the starters. Parris Campbell was restricted to snaps in the slot in 11 personnel. This could mean Pierce has already surpassed Campbell for second on the depth chart on the side, making Pierce an every-down player. Any wide receiver drafted in the first two rounds deserves to be picked in fantasy drafts, and Pierce has a higher floor than most of the rookies.
Avoid the Colts' tight ends in most leagues: Mo Alie-Cox was among the starters who didn't play. It was good to see that Indianapolis values him as a starter, but that likely won't stop the Colts from using a three-man rotation at the position. The team lost Andrew Ogletree to an ACL tear, which will cost the sixth-round pick his season. This allowed third-round rookie Jelani Woods to move up the depth chart and play a lot of snaps with Kylen Granson Saturday. The three healthy tight ends will all have some good games throughout the season, but it will be impossible to predict which tight end does it on any given week.
Ignore the Lions' snap counts: Detroit rested its top two running backs, top three wide receivers and top tight end in this game. Luckily, the starters played last week to give us some sense of how they would have been used. Craig Reynolds was the only draftable player who could potentially be worth stashing on your fantasy roster. He played very well late last season while the other backs dealt with injuries, and he appears to be the clear leader for the third running back spot. If D'Andre Swift or Jamaal Williams suffers an injury at some point this season, Reynolds should play a ton of snaps.
---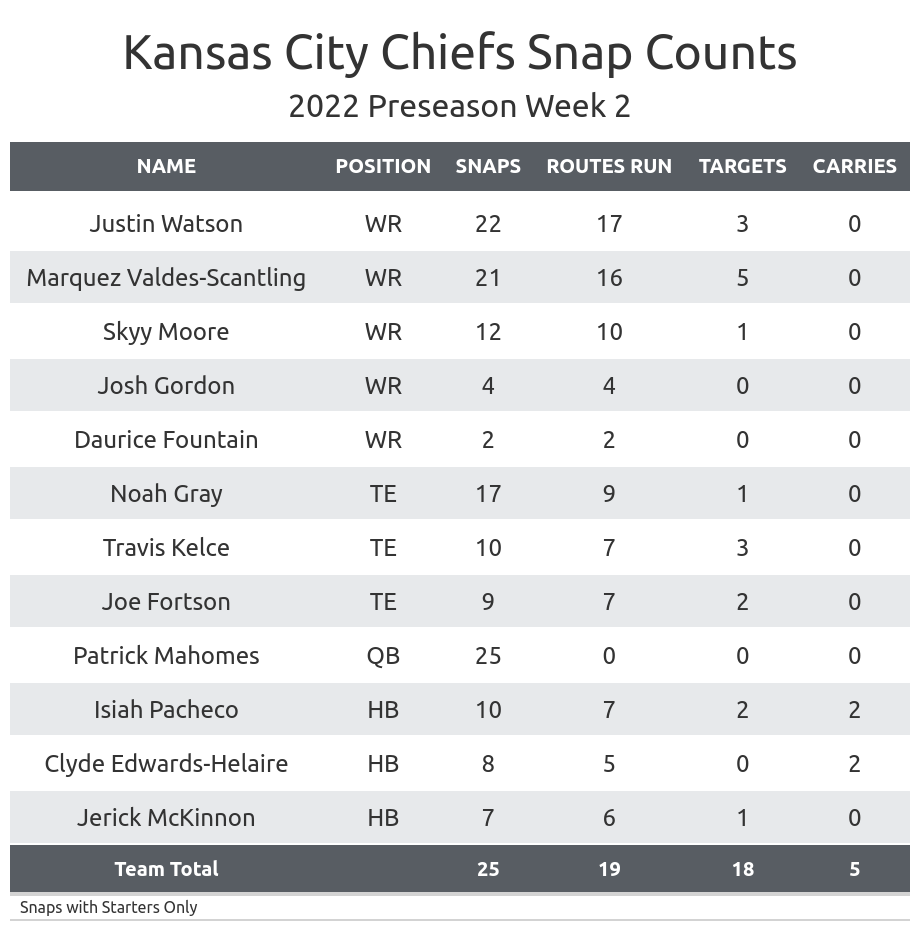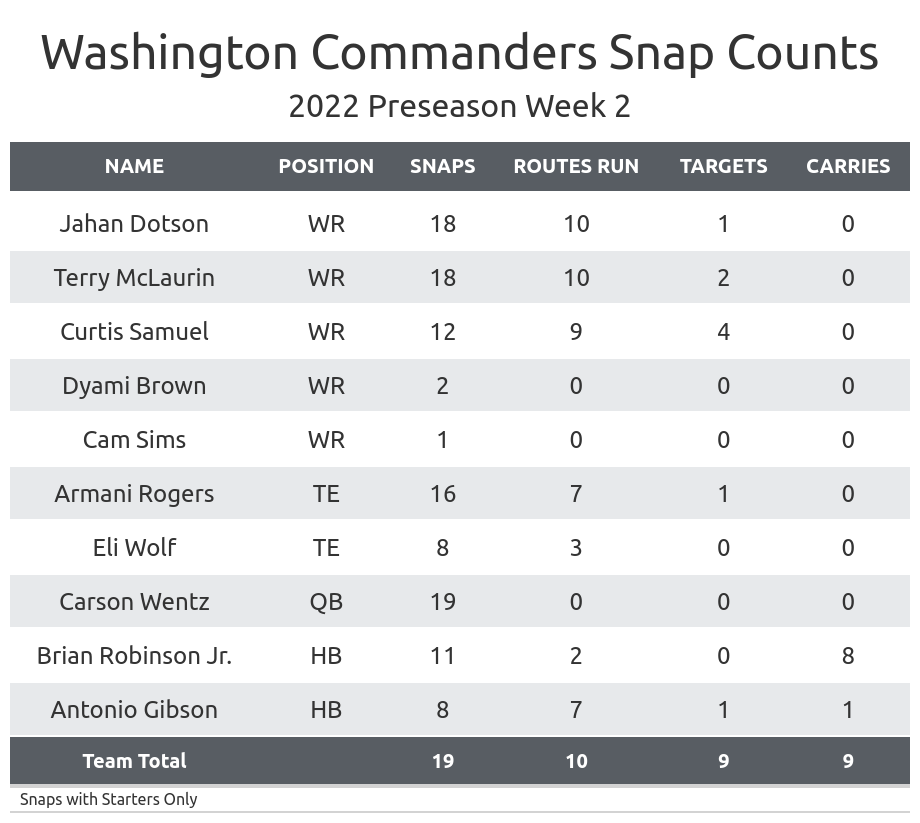 Draft Brian Robinson: The rookie third-round pick started while Antonio Gibson rotated in. Robinson out-snapped Gibson on early downs two to one. Gibson received all of the third-down snaps with the first team, but that was only because J.D. McKissic was out with an injury. Gibson continued to play with the second-team offense for the second straight week. This backfield will likely be a three-man committee all season, making it a headache for fantasy managers. Gibson's ADP should continue to fall while Robinson's should increase.
The Chiefs are also a three-man committee: Isiah Pacheco made headlines last week after playing with Kansas City's first-team offense. He continued to get snaps with the first team Saturday. The Chiefs' first team offense ran more plays this week, giving us a better idea of how the backfield will be managed. Jerick McKinnon is still part of the Chiefs' plan, as he consistently played on third down while staying in for additional early snaps. None of Kansas City's three backs, including Clyde Edwards-Helaire, is likely to play more than 50% of the team's offensive snaps consistently, making it very difficult to trust any on a consistent basis. Ronald Jones remains unlikely to make the roster after another game buried on the depth chart.
Move Skyy Moore down the fantasy rankings: Moore remains fifth on the Chiefs wide receiver depth chart and is closer to sixth than fourth. Kansas City didn't have two of its top three receivers Saturday due to injury, and both Marquez Valdes-Scantling and Justin Watson played ahead of Moore in two-receiver sets. Watson had a big day with 53 yards from two receptions, whereas Moore was held without a catch. It was also concerning that the Chiefs ran a few three-receiver sets with the starters where Daurice Fountain played instead of Moore.
Moore will still probably play once the regular season hits, but it will likely be limited to under 50% of the Chiefs' offensive snaps unless his play improves. It's also time to start drafting Watson in late rounds, as he could end up being a starter in three-receiver sets.
Don't draft Travis Kelce in the first round: Kelce will be 33 years old in less than two months, and Kansas City is getting ready for it. The Chiefs rotated Kelce out more often during the second half of last season, and that trend has continued in the preseason, as the team's backup tight ends are showing that plan could be sustainable. Blake Bell caught a touchdown in the Chiefs' first game last week. Joe Fortson caught both touchdowns from Patrick Mahomes this week while Noah Gray caught a 30-yard pass.
Kelce will still be one of the best fantasy tight ends this season, but the decrease in playing time will chip away from his targets, catches and touchdowns enough to no longer make him a first-round value like past seasons.
Draft Jahan Dotson: Dotson was a clear starter for Washington for the second straight week, and he caught his only target for 12 yards. Any first-round rookie who is already a starter needs to be drafted, but Dotson is still being overlooked.
---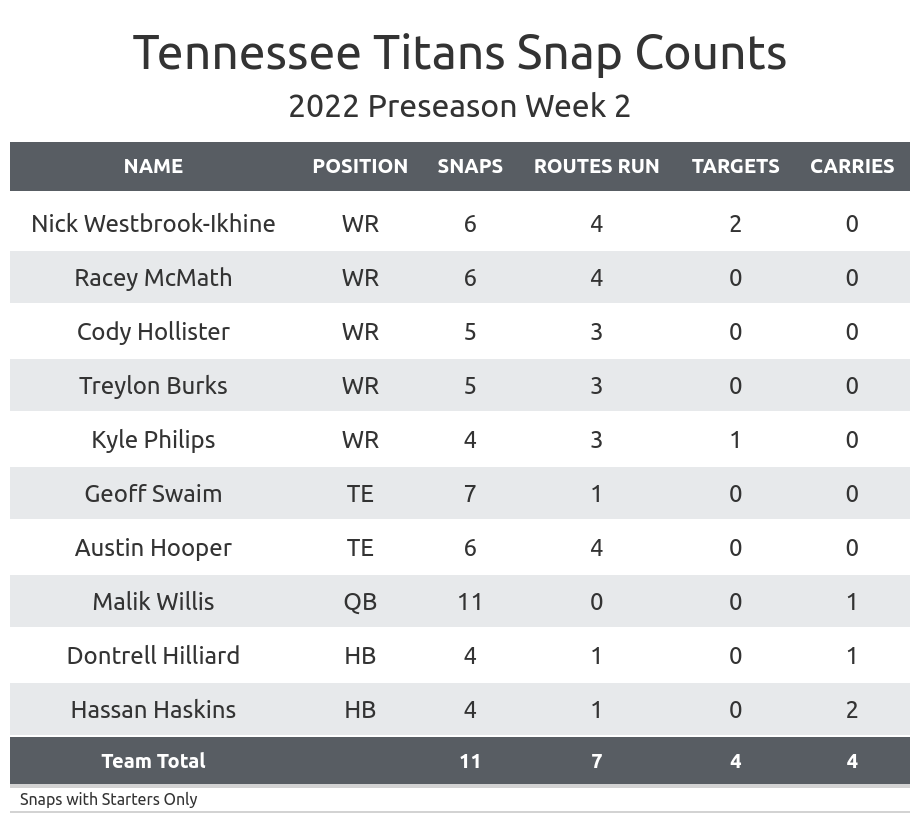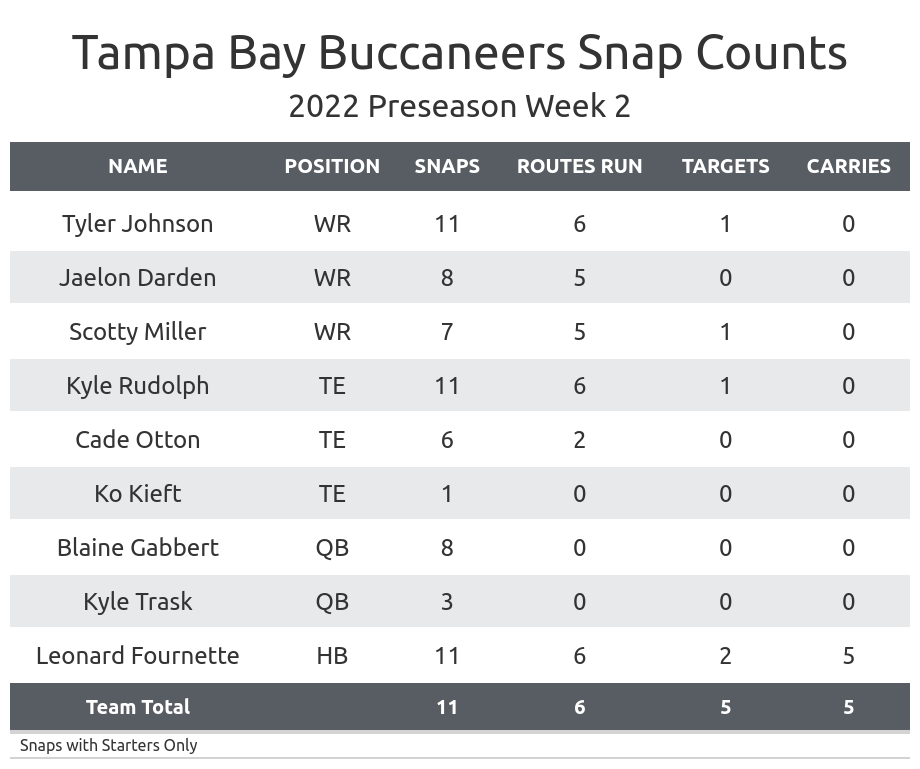 Draft Dontrell Hilliard late: Hilliard rested in the Titans' first preseason game, making it pretty clear he had a role in the offense. This week, he played the first drive before his night was done. His expected role is a third-down back, but oddly, fullback Tory Carter was taking the third-down snaps. Hilliard is unlikely to have much fantasy value if Derrick Henry is healthy, but he could have significant value if Henry gets hurt.
Fourth-round rookie Hassan Haskins was the next man up, unlike the first preseason week, but it wasn't long before undrafted rookie Julius Chestnut also received playing time. Both rookies should be faded in redraft.
Making sense of the Titans' wide receivers: Robert Woods was the only notable wide receiver not to play for the Titans today. Tennessee used a four-person rotation for the first three drives. All four are fighting for the No. 2 spot and who gets to rotate in the most. Fifth-round rookie Kyle Philips was the one constant, as he would always play in three-receiver sets. The Titans use a lot of two tight end sets, so Philips probably won't be a consistent fantasy contributor. He is still the most likely player from the group to see significant playing time this season.
Why Austin Hooper can succeed, unlike past Titans tight ends: The Titans' tight ends have had trouble finding fantasy success in past years because of the rotation the offense employs. Typically, a receiving tight end would play in 11 personnel, Geoff Swaim would play 21 personnel and Swaim and a third tight end would often be the pair in 12 personnel.
Tennessee signed Hooper to be the team's new receiving tight end. He has experience playing every down, and tonight he was the one with Swaim in 12 personnel. He should see more playing time than past receiving tight ends in Tennessee, which makes him worth a late-round draft pick.
Rachaad White is trending up: The third-round rookie was fourth on the Buccaneers' depth chart in their first preseason game. Giovani Bernard missed this game and Leonard Fournette started, but White was the second running back to see offensive snaps. Ke'Shawn Vaughn fell to fourth on the depth chart. This increases the chances White sees some noteworthy time this season.
Avoid the Buccaneers tight ends: Kyle Rudolph saw his first action as a Buccaneer tonight, including playing every snap with the first team. While it's good to see he's ahead of rookie Cade Otton, we don't know how snaps will be distributed once Cameron Brate is also playing. The two tight ends might be fun plays in DFS, but it will be hard to trust either in redraft.
---
---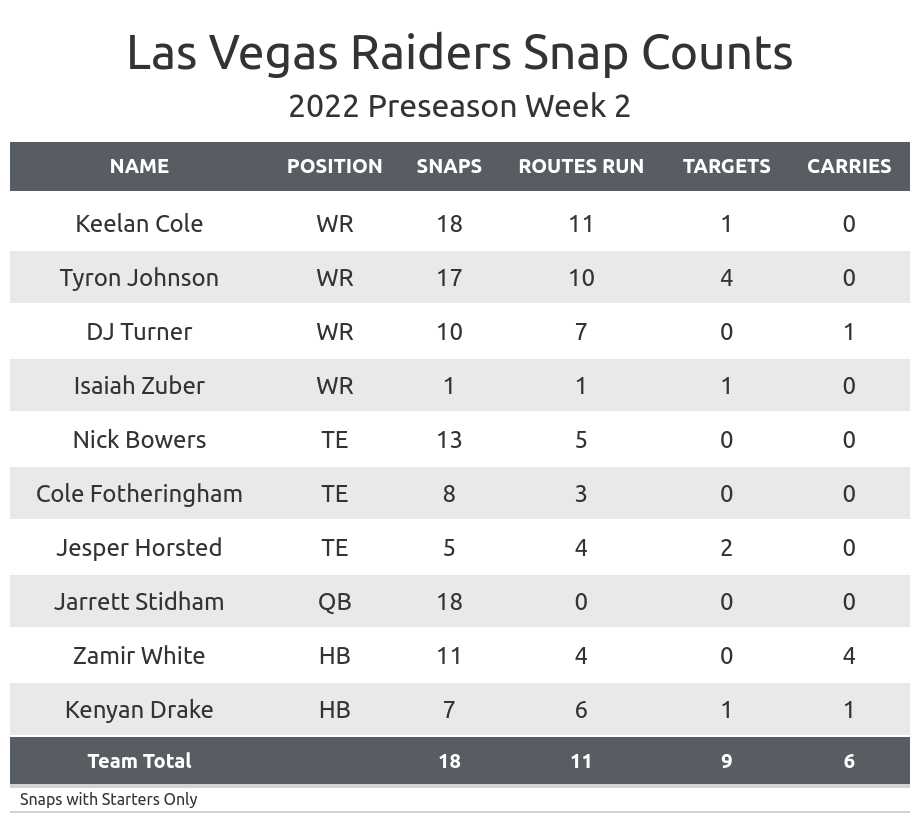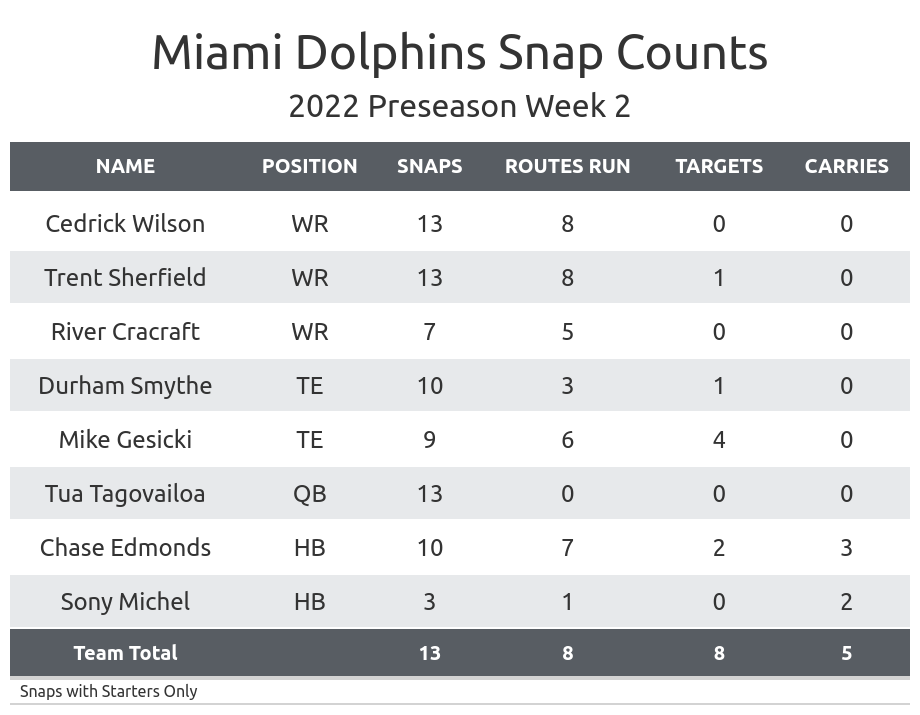 Draft Chase Edmonds: The free agent from Arizona started the game for Miami and took each of the first 10 snaps. Raheem Mostert didn't play tonight, so it's unclear exactly how snaps will be distributed between the two. Edmonds is at least guaranteed the passing-down snaps, which attaches some value to him. The fact that the Dolphins view Edmonds as a potential every-down player could be huge for his fantasy value. He is currently undervalued by his ADP and may be a top-15 back due to volume alone if he and Mostert split the early downs.
Avoid Mike Gesicki: Both Gesicki and Durham Smythe started the game. While they both played in two-tight end sets, they split snaps out of 11 personnel. Smythe took those snaps on first and second down, and Gesicki did so on third down. He continued to see playing time after the starters left the game. The vast majority of his snaps were at in-line tight end, unlike past seasons during which he mostly played in the slot. 
His situation of playing later in the game is more understandable than some other tight ends, as he's basically undergoing a position change. Not playing in 11 personnel on early downs and the new competition for targets this year will make it much harder for him to be a consistent fantasy starter compared to past seasons.
Draft Zamir White, not Kenyan Drake: The Raiders rested early-down back Josh Jacobs and third-down back Ameer Abdullah similar to last week. Zamir White was the early-down back, and Kenyan Drake was the third-down back with the starters in this contest. Typically, backup early-down backs can see significant playing time, but a backup third-down back only plays when the starter is hurt. White also has the upside to earn more time as the year progresses.
Mack Hollins leads the Raiders' WR3 competition: The Raiders have consistently rested Davante Adams and Hunter Renfrow this preseason, allowing for an open competition for the third spot. Hollins seemed to be the favorite for the third spot heading into tonight, and that is all but confirmed after he got the night off, too. He's unlikely to have much fantasy value with how many targets the top two receivers and Darren Waller will command.
---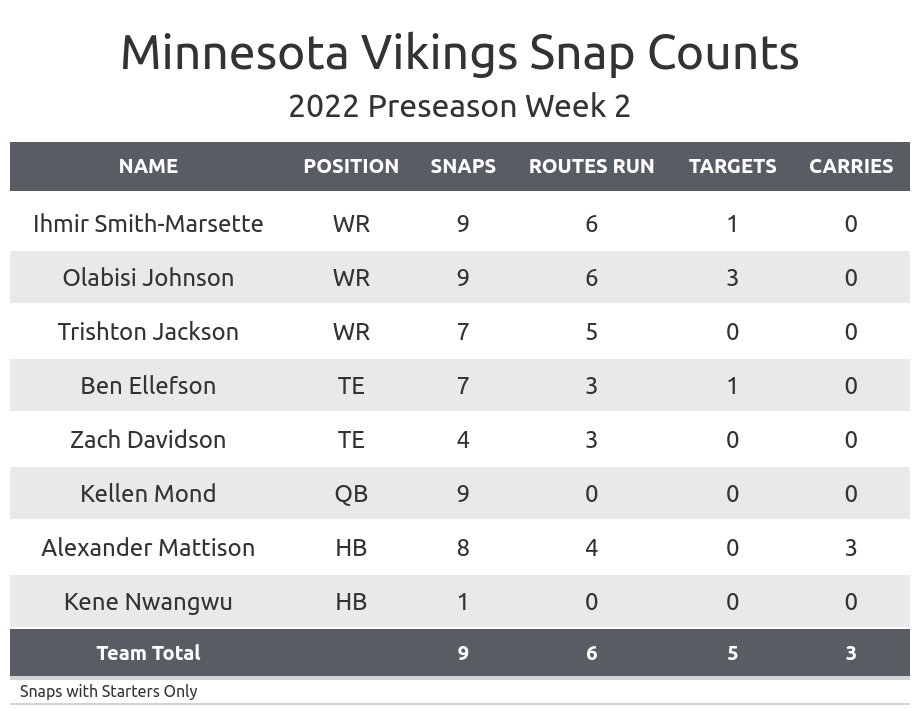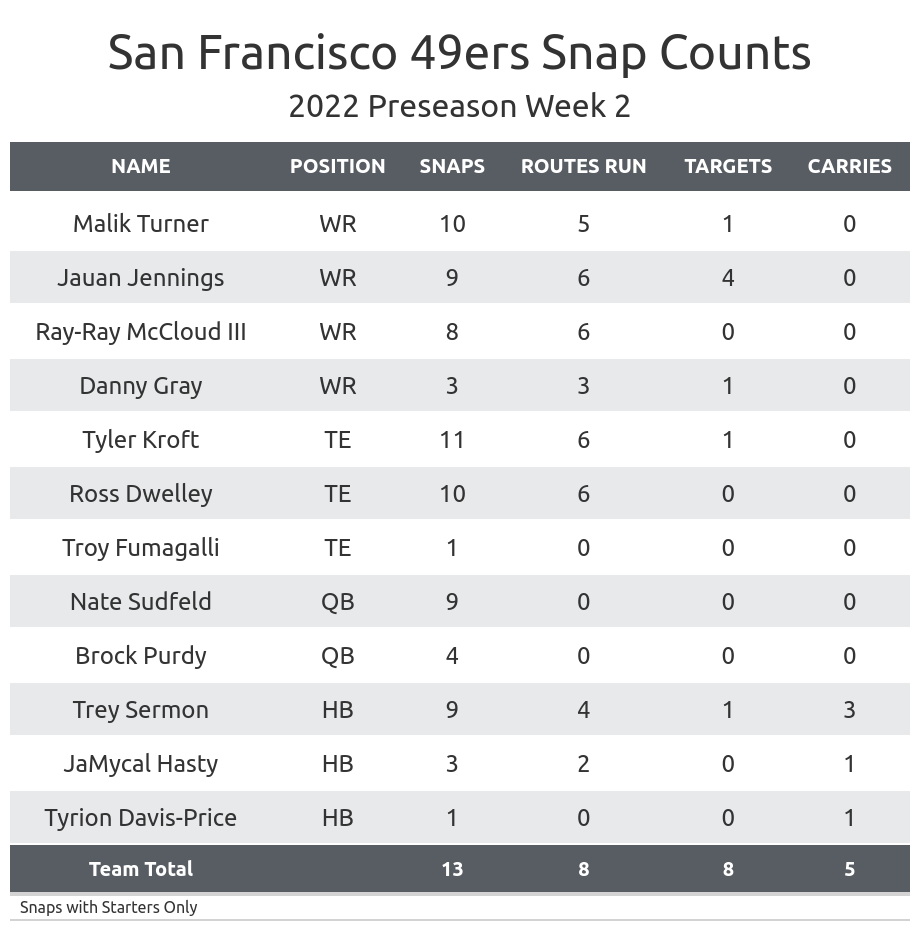 Monitor the 49ers' backup running back situation: The 49ers rested most of their starters. It's pretty clear which players have fantasy value this season on the team, but the backup running back is a question mark. Jeff Wilson Jr. appeared to be in the lead for the job, but he hasn't played in either preseason game. Wilson was excused for personal reasons and only recently returned to the team. The lack of recent practice could have contributed to him not playing rather than him being locked into the No. 2 spot.
Trey Sermon played early downs with JaMycal Hasty on third downs tonight. The third preseason game should be telling, but there is also plenty of time for the pecking order to change.
Ignore the Vikings' snap counts: The Vikings rested their top running back, top three wide receivers and top tight end. There is no competition for any of those spots. Alexander Mattison was the only active player worth drafting, as he's one of the best handcuffs in the NFL. He played on the first drive and departed before the rest of the starters tonight.
---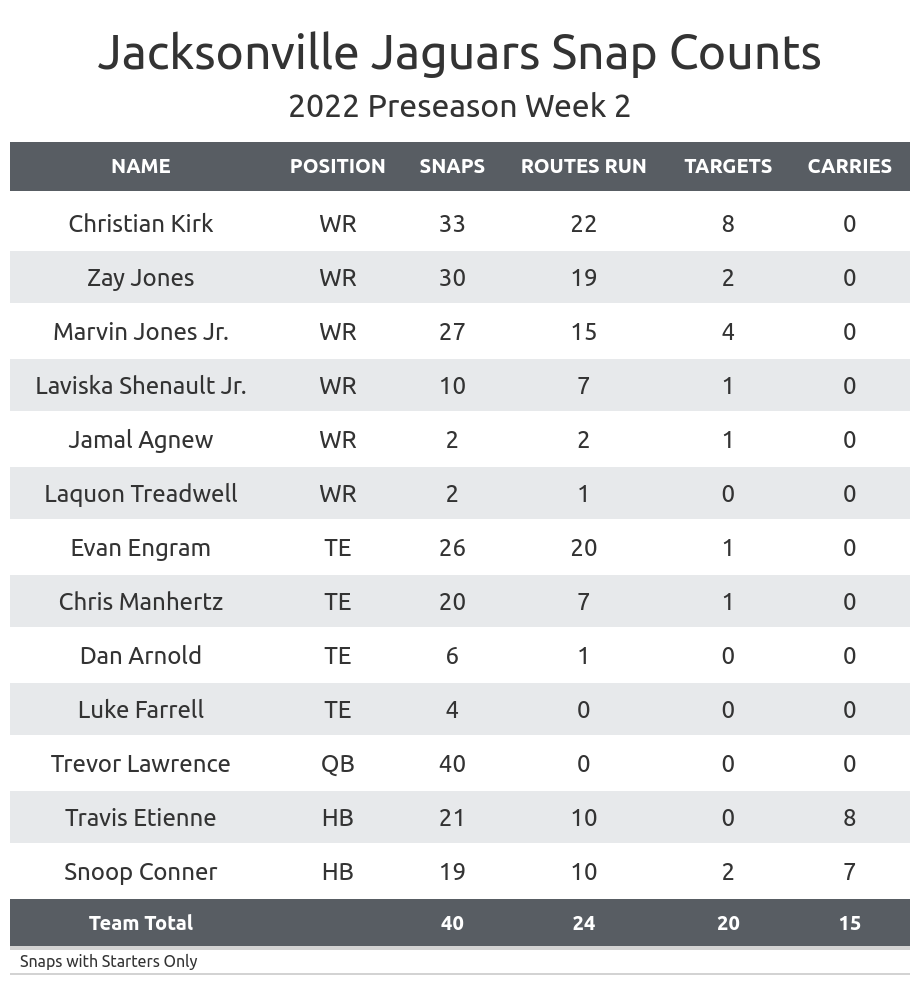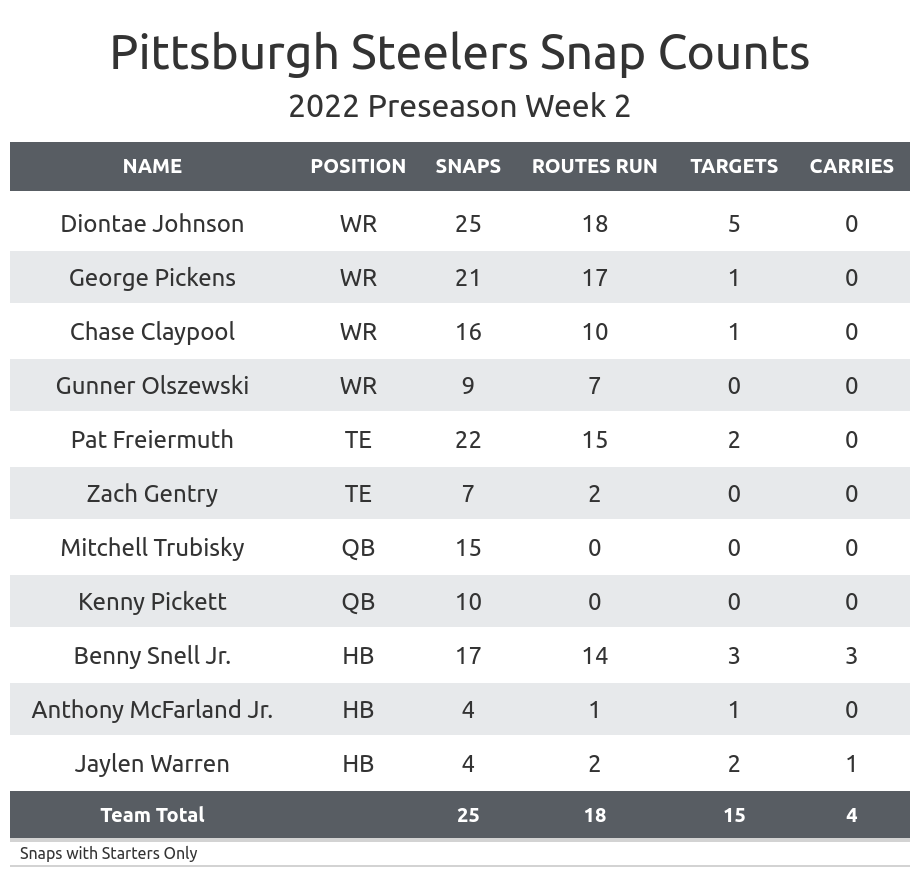 Draft George Pickens: The Steelers used all of their starting wide receivers today, which included Pickens playing on 17 of 18 pass plays. He and Chase Claypool split playing time in two-receiver sets. Gunner Olszewski took over for Claypool in the last five minutes of the first half, which explains Claypool's relatively low route count compared to the other receivers. It's too early to confirm Pickens is ahead of Claypool, but it's enough to be very excited about Pickens' usage this season. Now he just needs more targets.
Benny Snell remains the Steelers' handcuff: Najee Harris had the night off in Pittsburgh. Snell started the game and played each of the first 11 snaps. Jaylen Warren was the next back to see opportunities, followed shortly by Anthony McFarland. Snell returned for the two-minute drill. His job as the handcuff isn't completely secure, but he is a clear favorite at this point.
Don't worry too much about Travis Etienne: Etienne took all six snaps on the first drive, five of the first six snaps on the second drive and the first four snaps on the third drive. A big reason for Snoop Conner subbing in was their second and third drive lasted a combined 25 plays. The vast majority of running backs would be subbed out at least a little bit in those situations. Conner took the snaps in the red zone, but Etienne already played eight snaps on the drive. Had the drive been shorter, I would have expected Etienne to receive those snaps. Snoop Conner received the two-minute drill, which also likely had to do with Etienne seeing enough total snaps for the night. Wide receiver Marvin Jones was similarly taken out for that drive.
Once James Robinson is back, we could see a very different rotation. While Robinson is working back to 100%, I wouldn't hesitate to start Etienne.
Draft Christian Kirk: The Jaguars had all of their receiving weapons at their disposal tonight, giving us a strong look at how the players will be used in the season. Kirk was targeted on eight of the 24 pass plays in the first half, which is a good sign he will be heavily involved this season. He and Marvin Jones both played over 80% of the pass plays on the first drive, with Zay Jones a clear third. Marvin can still have fantasy value as a red-zone threat, but Zay probably won't see enough snaps or targets to be fantasy relevant unless the offense plays a lot better than in recent years.
The other wide receivers on the roster may have had large roles last year, but they were barely involved and shouldn't be on fantasy radars. Laviska Shenault Jr. only started seeing playing time in the last four minutes after Marvin Jones Jr.'s day was done. He received zero snaps with the first team before that.
---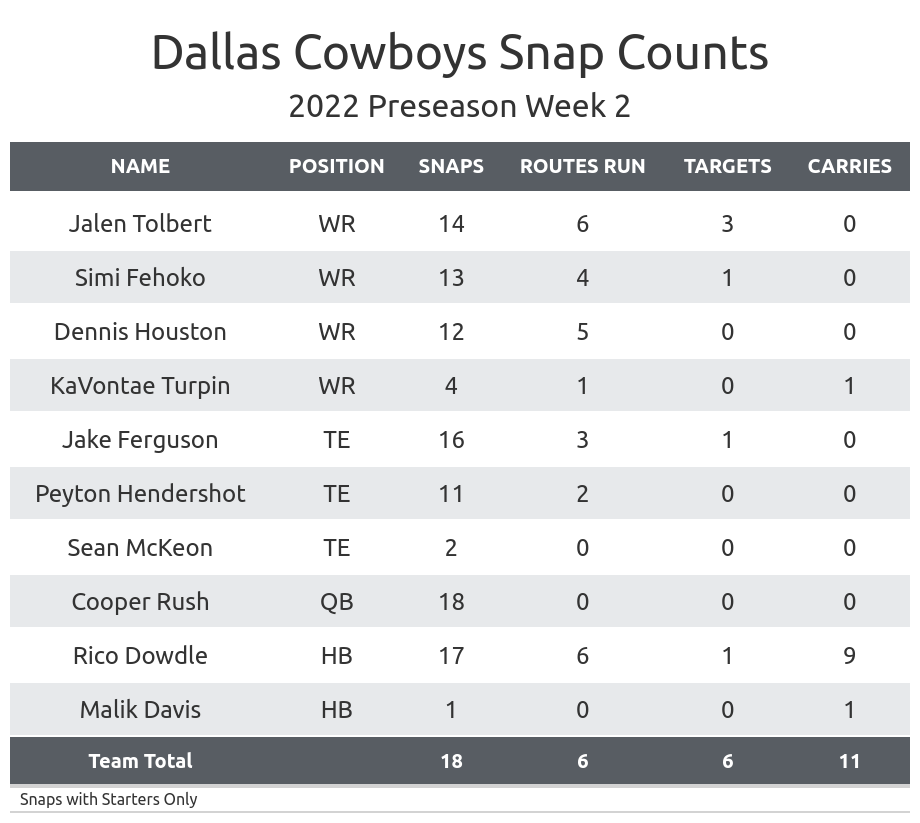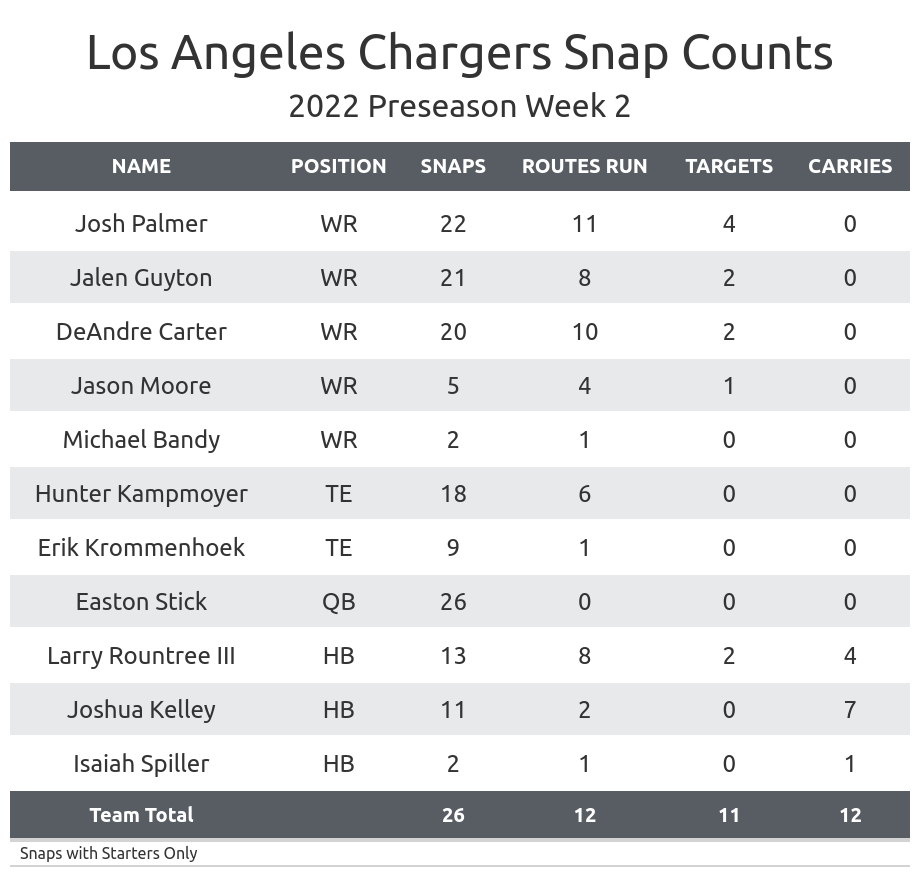 Avoid the Chargers' backup running backs: The Chargers rested their starters tonight, including Austin Ekeler. It's clear Los Angeles still doesn't have a clear backup behind him.
Joshua Kelley and Larry Rountree III rotated in and out over the first quarter —where Los Angeles kept the ball for over 12 minutes — while rookie Isaiah Spiller took over once the second quarter started. It's likely all three backs would receive playing time if Ekeler gets hurt. One would need to emerge from the group to be worth drafting, and so far that hasn't happened.
Consider Josh Palmer as a late-round flier: The Chargers' top two receivers didn't play today, leaving Palmer and Jalen Guyton as the starters. The two competed for playing time last year and will continue to compete this season.
The former third-round pick is the favorite and has the most potential in fantasy football after an average rookie season. He was the most impressive part of the Chargers' offense with the first team tonight, bringing in three passes for 75 yards and a touchdown. It might be difficult for Palmer to have much fantasy value with the talent Los Angeles has on offense when the starters are playing, but he could be a potential fantasy starter if someone gets injured.
Ignore the Cowboys' snap counts: The Cowboys rested their starters and several key backups. They did this at wide receiver and tight end more out of necessity due to injuries. On the bright side, this allowed rookies such as Jalen Tolbert and Jake Ferguson to see extended playing time. On the downside, it's harder to know how they will be used when more starters are healthy.
---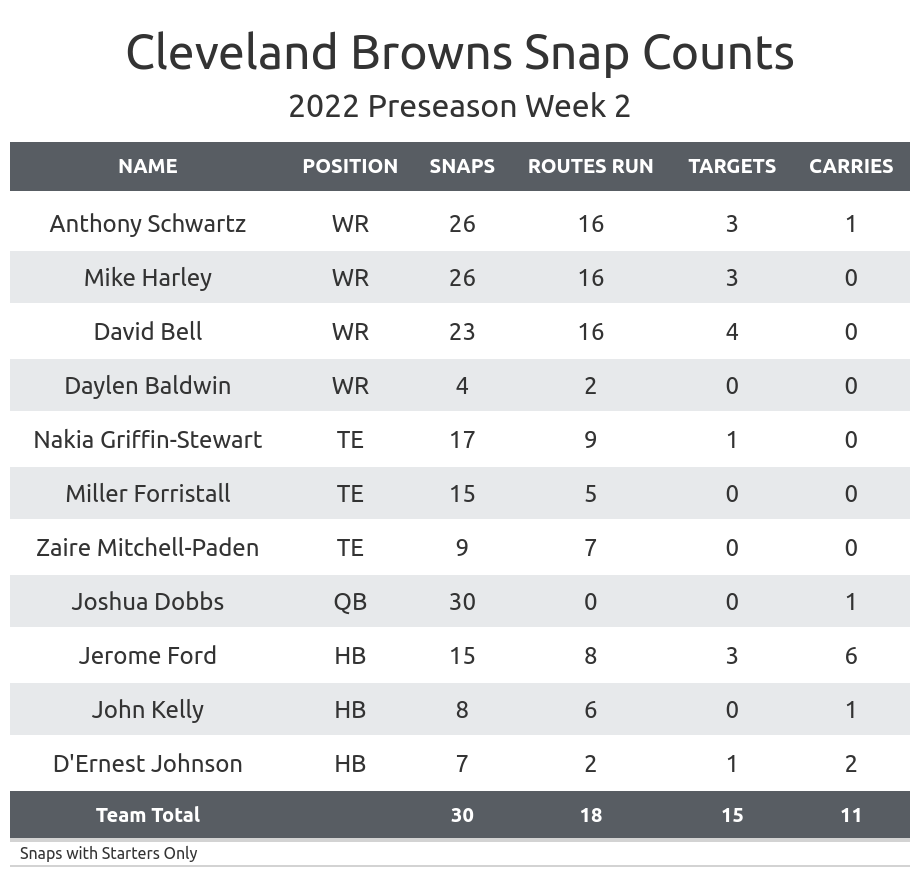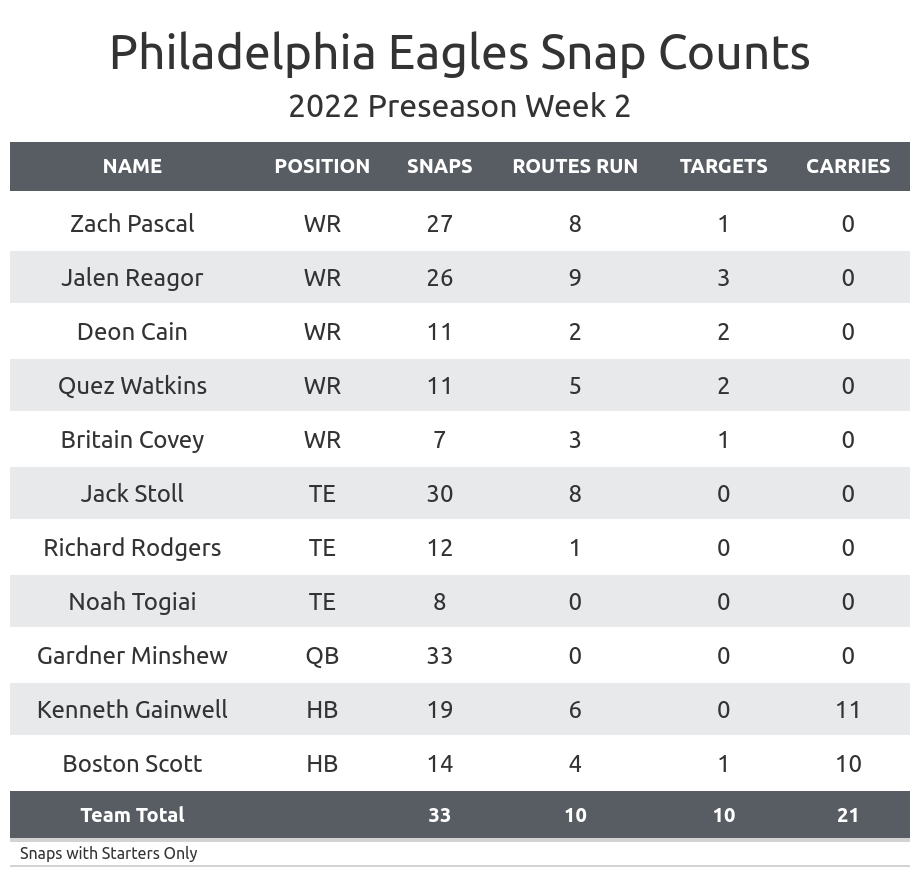 Slightly slow the hype for Kenneth Gainwell: The second-year back is one of my favorite sleepers for the season. He didn't see a single snap on the Eagles' first drive, with Boston Scott taking every play. Gainwell came in on the second drive, also saw double-digit carries and looked a little better running with the ball. Miles Sanders missed the game with an injury. 
The Eagles typically rotate running backs by situation, so they are unlikely to follow this game's plan exactly in season. The former Memphis Tiger should still take most of the third-down snaps. It's also worth noting that Gainwell had been dealing with a hip injury, which could have helped Scott get the start today. 
It was good to see him run so much and run well, but the fact that Scott is clearly part of the Eagles' plan at running back is a little discouraging.
Avoid the Eagles' third wide receiver: The top two spots on the depth chart are set, but there is a four-person battle fighting for the third spot. Jalen Reagor and Quez Watkins started the game similar to last week, with former Colt Zach Pascal coming in for three-receiver sets and rotating in for both other receivers. Watkins had the most snaps last season, particularly in the slot, which is what the Eagles need, making him the favorite. Watkins also stopped playing late in the third quarter, while the others kept playing into the second.
None of them stood out today, with the Eagles focused on running the ball. Greg Ward could also be in the mix, but he's missed both preseason games with a toe injury. We could likely see a heavy rotation of players, making it hard for any of them to be relevant in fantasy leagues.
Jerome Ford moves up the depth chart: Ford led the Browns in both rushing and receiving yards last week, and he scored a touchdown both ways. The only problem is that he was fifth on the depth chart. His good game moved him up to fourth above John Kelly. Ford featured early today, rotating in for D'Ernest Johnson. Johnson took seven of the first nine plays, then Ford took most of the second quarter with Kelly mixing in later in the quarter.
It will still be very difficult for Ford to contribute this season with the depth the Browns have at running back, but a potential Kareem Hunt trade would certainly help.
David Bell makes his debut: Bell started for Cleveland, which didn't play the top two players on the depth chart, but he is already a clear top-four receiver on the team. He should be able to surpass Anthony Schwartz, who also started today, sooner rather than later. Bell led the team in receiving in the first half with two catches for 37 yards. He could very well rank third or fourth on the team in targets this season. Any rookie who is likely to be that high on the team in targets is at least worth taking a gamble on late in fantasy drafts.
---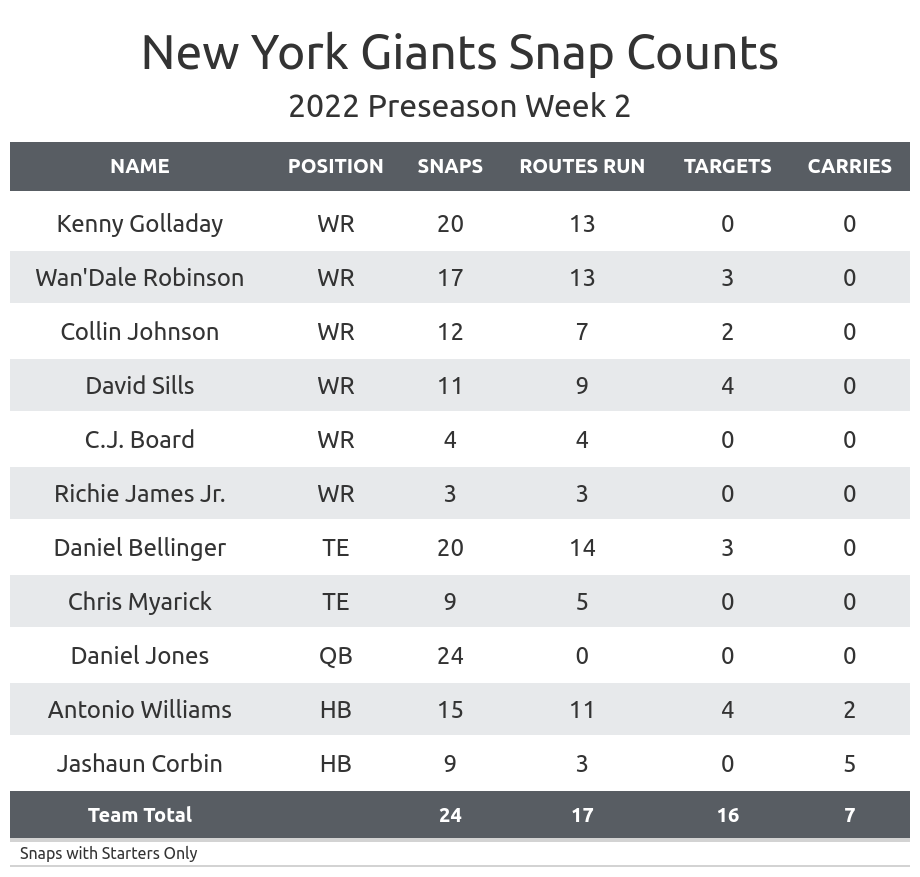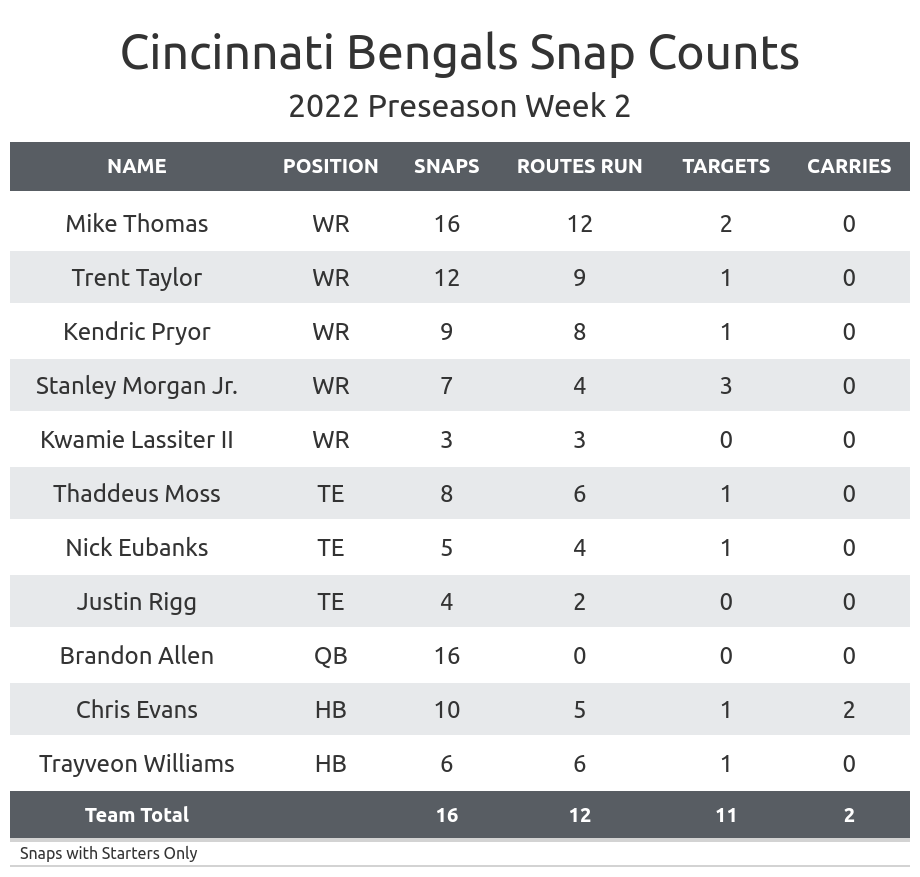 Draft Wan'Dale Robinson: Robinson played the vast majority of slot snaps for the Giants in 11 personnel for the second straight week. He was thrown three short passes, although they weren't particularly effective plays. He should have a decent floor, as the Giants look like they want to manufacture touches for him. This makes him worth a late-round gamble; he could end up making more big plays than he was able to tonight.
Draft Daniel Bellinger: Bellinger took almost every snap with the starters and continued playing with the backups. This wasn't a surprise, but it was still good to see. He received three of the 16 targets with the first team. Several teams are using tight ends in different personnel groupings or rotating tight ends, so Bellinger has a decent chance of being one of the leaders in offensive snaps at the position. This gives him a good floor of targets. His production from there will depend on his talent and the Giants' offense. Taking a chance on him with his floor is a better risk than taking a chance on several other running back situations in the league.
Treat Samaje Perine as the Joe Mixon handcuff: The Bengals rested their starters, and that included Perine. This is another example of a team telling us something based on who is and isn't playing. The fact that Perine didn't play again keeps it clear he's the second back on the team. Chris Evans started the game and saw some rotation with Trayveon Williams. Evans still has value in dynasty leagues, but he is looking less and less like a re-draft option.
---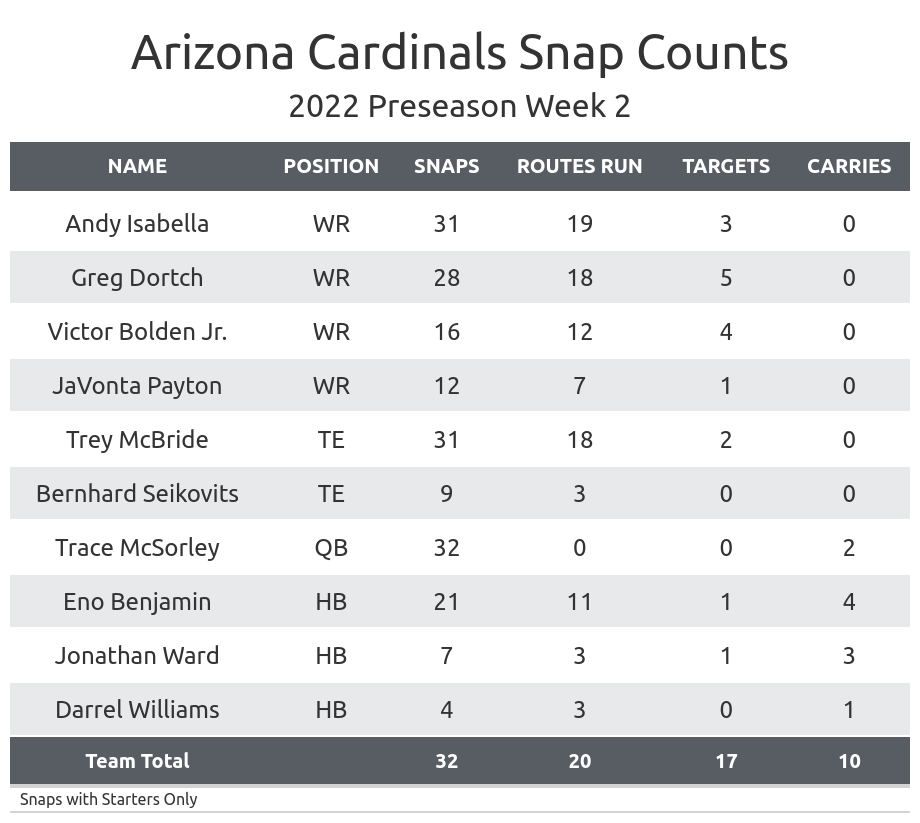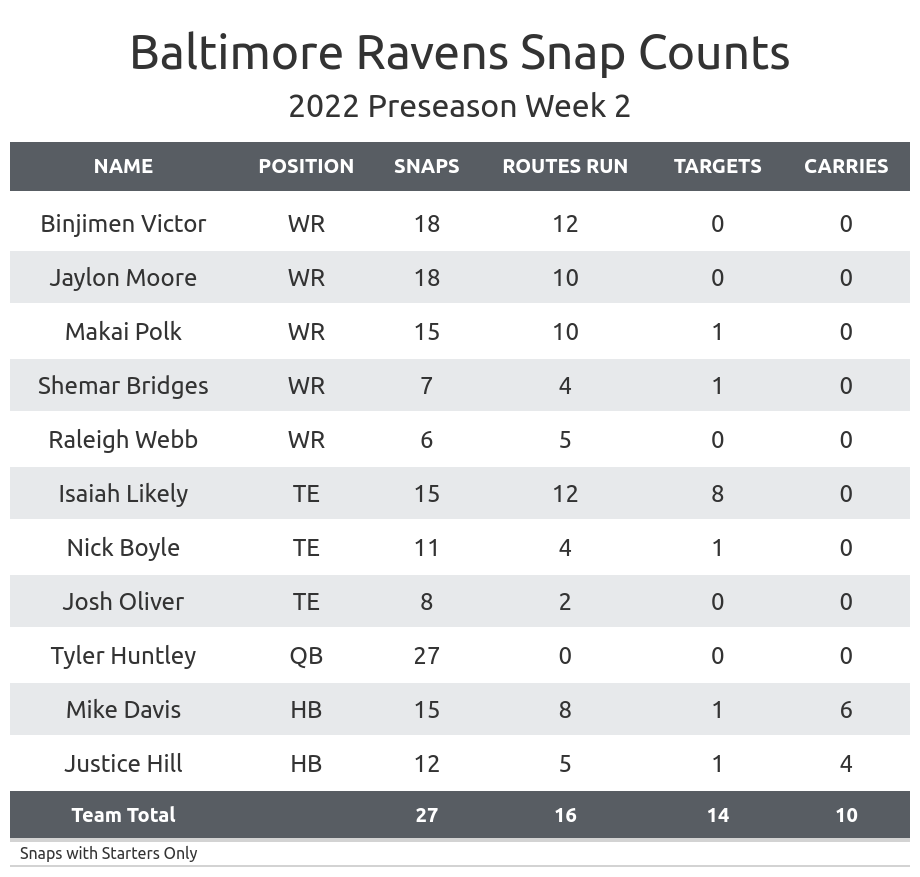 Don't draft a Cardinals backup RB: The Cardinals didn't play James Conner tonight but had all of their backups at their disposal. Most teams follow one of two patterns in the preseason: they will either rotate running backs by drive, or by the situation. Arizona didn't follow either pattern, instead having one player see a few snaps, then someone else, then one of the other two, and so on. Eno Benjamin started the game and would probably score the most fantasy points if Conner were to get hurt, but it would probably be a heavy rotation in that situation. We could see all three handle a few snaps each game if Conner needs a break when healthy. It's best to just avoid the situation.
Darrel Williams received only four snaps, but they were early on, which could mean the Cardinals don't need to see much from him. It could also mean they don't value him as much, but they also didn't play him later in the game like a team typically would with someone further down the depth chart. Jonathan Ward suffered a shoulder injury, which left Benjamin playing most of the second quarter.
Monitor the Cardinals' tight ends: Arizona was busy this offseason at tight end, re-signing Zach Ertz to a three-year, $31.65 million deal, bringing back Maxx Williams on a one-year contract after a strong start last season and drafting Trey McBride 55th overall. All three missed their first preseason game, but McBride made his debut tonight. He played the vast majority of snaps with the first team and was targeted twice. It's unlikely McBride will hold fantasy value this season without an injury, but he could hurt Ertz's fantasy value.
Consider a late-round pick on Isaiah Likely: The Ravens rookie led all tight ends in receiving yards last week (44). He put up an even more impressive performance today, catching eight passes for 100 yards and one touchdown in the first half. It's worth noting that Tyler Huntley liked throwing to tight ends more than most quarterbacks last season, which does influence the numbers, but it's hard not to be impressed with Likely's performance.
The Ravens let go of two of their top four wide receivers and spent the offseason investing in more tight ends than wide receivers. Several of Likely's targets have come from two-tight end sets, and it would not be surprising if the Ravens use two tight ends even in third-and-long situations to get their best receivers in on the play. This would make it possible for both Mark Andrews and Likely to see significant targets since they should both get a lot of work on passing downs.
Likely's upside is enough to make him a late-round draft pick when you take into account the uniqueness of the Ravens' offense and the lack of proven wide receivers on the team.
---
Table Notes
Snaps include plays called back due to penalties, including offensive holding or defensive pass interference. The other three stats have these plays removed.

Targets may differ from official NFL sources. The most likely discrepancy would be from a clear thrown-away pass, where the NFL may give the target to the nearest receiver, while this data will not.

Carries are only on designed plays. Quarterback scrambles won't count for the total number of carries in the game.