Picking the right running back in the middle-to-late rounds of fantasy football drafts could be the key to winning a league. Rashaad Penny was a sleeper last season who ended up leading all running backs in fantasy points over the last five weeks of the season. Similarly, Devin Singletary was a mid-round pick who finished second in that time.
With that in mind, we are going to dive into five sleeper running backs who are typically available in Round 10 or later in fantasy football drafts. Each back will receive significant playing time this season and can push for the starting jobs on their teams. Any of them can be the next Penny or Singletary, helping win a championship in January.
---
Stevenson was a fourth-round pick in 2021 who had to fight for playing time in a crowded Patriots backfield, as he spent four of the first seven weeks inactive. Stevenson carried the rock 20 times for 100 yards and two touchdowns in Week 10 when Damien Harris missed a game with an injury. The former Oklahoma back maintained a role for the rest of the season, including another 100-yard, two-touchdown game during fantasy championship weekend.
The 246-pound back was particularly good at ensuring every run went for a positive gain and making defenders miss.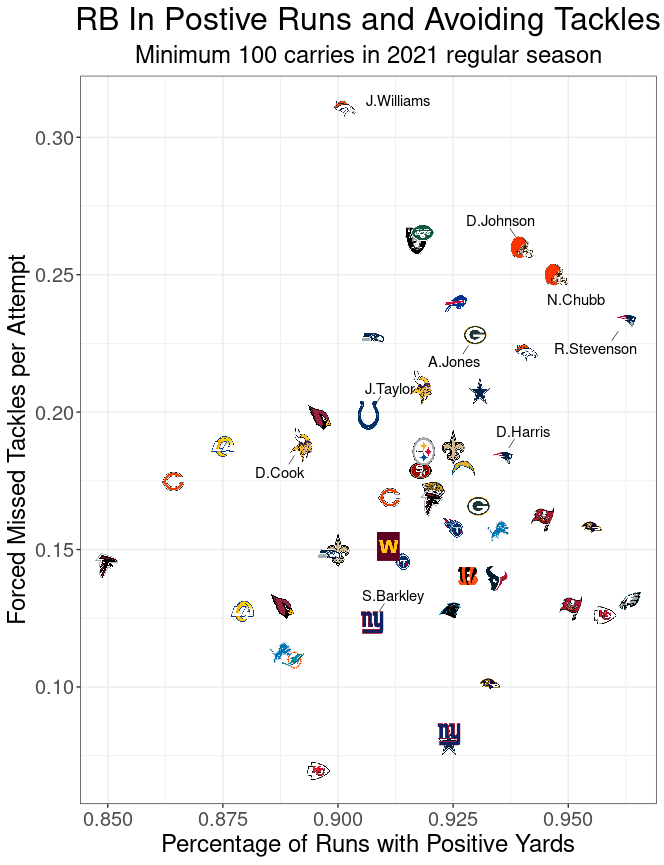 The backfield seems even more crowded this year after the Patriots drafted Pierre Strong Jr. and Kevin Harris in addition to retaining James White. Luckily, those players probably won't be a threat to Stevenson's playing time. White is a third-down back while Strong is seen as a good fit to play White's role. This leaves Harris as his main competition for this season.
The Patriots rushing duo had multiple weeks last season where both backs posted top-20 finishes among running backs for the week, so Stevenson can be a fantasy starter in the right situation even if both are healthy. The value becomes much more substantial for both of these backs if the other is missing, as the healthy back finished top-four in fantasy points in three of the last four games where the other back was out.
Harris is in a contract season, and it seems unlikely he will receive an extension. Trade speculation started when the Patriots brought in Leonard Fournette for a look in free agency and continued when the Patriots drafted two backs. Once another team faces an injury at running back, the Patriots could trade Harris, leaving Stevenson as the starter and more room on the roster for the younger backs. Stevenson's average draft position (ADP) would skyrocket if this happened.
---
Henderson started the 2021 season as the Rams starter with Cam Akers on injured reserve. He had a fine start to the season with double-digit carries in each of his first eight games and seven touchdowns in that time. In both 2020 and 2021, he looked like one of the league's best running backs early in the season before injuries derailed his season.
The 24-year-old managed just 23 offensive snaps over the last six games of the regular season and missed the first three rounds of the playoffs. He returned in time for the Super Bowl to take the receiving snaps while Akers played on early downs.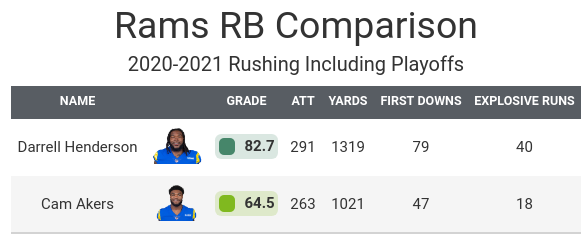 The Rams seem confident in their two-back committee heading into the 2022 season. Sony Michel left for Miami in free agency, and the Rams only invested a fifth-round pick as his replacement. Henderson could see a similar role to the Super Bowl, where he played on passing downs while also receiving some carries. He should only be in fantasy lineups as an emergency when this is his role.
Nonetheless, the reason to draft Henderson is for the weeks where he doesn't have that role. Henderson could become the Rams' starter again if he outplays Akers, or if Akers suffers an injury. Henderson's one of the most talented handcuffs when healthy, making him a must-start if Akers spends any time as the starter.
---