• De'Von Achane is fifth on the depth chart: He didn't play until the second quarter and wasn't particularly effective, but there is plenty of time for him to move up the depth chart.
• Robbie Chosen surprisingly didn't play: He appeared on the third team on the Miami Dolphins' official depth chart and wasn't announced among the several players not playing, but he was on the sideline in shorts.
• The Falcons rested everyone: Not only did the Falcons rest their starters, but several key backups, as well.
---
PFF's fantasy football recap focuses on player usage and stats, breaking down all the vital information you need to achieve fantasy success in 2023. Check out PFF's 2023 Fantasy Draft Kit for even more content to help you dominate your league.
Player Profiles
More Rankings: PPR | Half-PPR | Standard | Superflex
Dynasty Rankings: PPR | Rookie | Superflex | Superflex Rookie
Position Rankings: QB | RB | WR | TE
Sleepers: Top-10 | QB | RB | WR | TE
League Winners: QB | RB | WR | TE
12-Team Draft Strategy: Overall strategy | Picks 1-3 | Picks 4-6 | Picks 7-9 | Picks 10-12
10-Team Draft Strategy: Overall strategy | Picks 1-3 | Picks 4-7 | Picks 8-10
---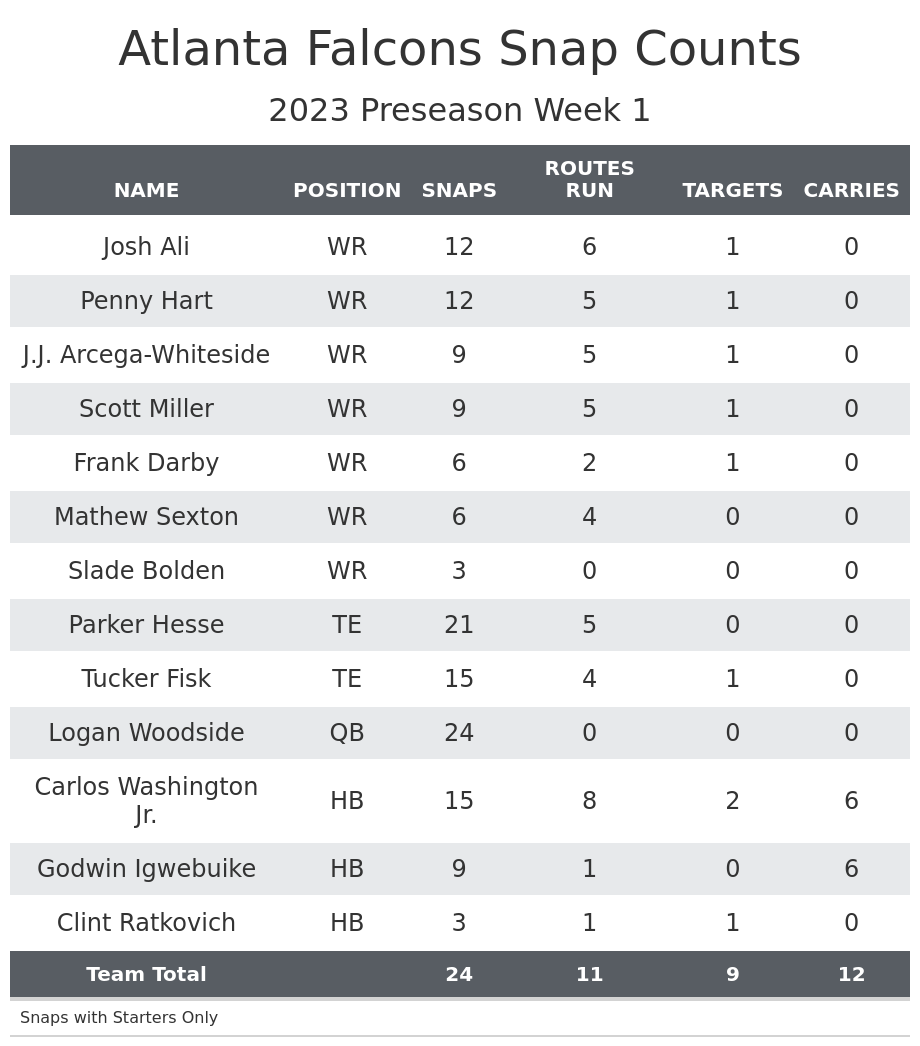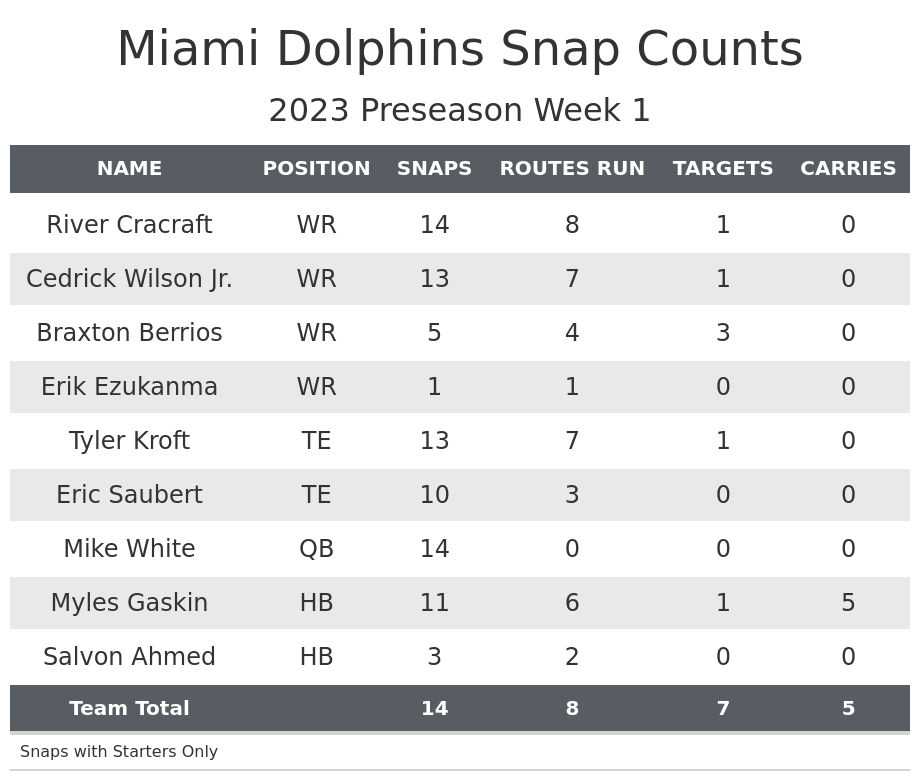 De'Von Achane has work to do: Achane currently sits at fifth on the Dolphins' running back depth chart.
Raheem Mostert

and

Jeff Wilson Jr.

were both given the night off with the rest of the starters.

Myles Gaskin

and

Salvon Ahmed

were the only running backs to play for Miami in the first quarter.

The Dolphins started transitioning to more backups throughout the second quarter, particularly on the offensive line. This was when Achane started mixing in.

Gaskin put up a great performance, recording seven carries for 57 yards.

Achane continued playing into the third quarter but gained only 25 yards over his first

10

carries.

On the bright side, Achane did make a few nice catches. But he caught only one pass in the first three quarters.

Plenty of rookie running backs were far down the depth chart in the first week of the preseason last year, including

Tyler Allgeier

with the

Atlanta Falcons

and

Rachaad White

with the

Tampa Bay Buccaneers

. Both worked their way up the depth chart quickly.

It's far too early to give up on Achane for 2023, but this game hurt him more than it helped.
The Atlanta Falcons rested almost everyone: Atlanta didn't use its top two quarterbacks, top three running backs, top three wide receivers and top two tight ends.
Miscellaneous Notes
The Dolphins announced ahead of the game that

Tua Tagovailoa

,

Raheem Mostert

,

Jeff Wilson Jr.

,

Alec Ingold

,

Tyreek Hill

,

Jaylen Waddle

and

Durham Smythe

were among the starters not playing.

Wide receiver

Braylon Sanders

suffered a minor knee injury earlier in the week, so he was also among the 31 Dolphins ruled out before the game.

Dolphins free agent addition

Robbie Chosen

wasn't among the players listed as not playing but was on the sideline in shorts. It's unclear why he didn't play, but based on training camp reports and the unofficial depth chart, it doesn't seem like Chosen is an established starter
---
Table Notes
Snaps include plays called back due to penalties, including offensive holding or defensive pass interference. The other three stats have these plays removed.

Targets may differ from official NFL sources. The most likely discrepancy would be from a clear thrown-away pass, where the NFL may give the target to the nearest receiver, while this data will not.

Carries are only on designed plays. Quarterback scrambles won't count for the total number of carries in the game.