Taking a running back first helps long-term:

Adding a running back first can still allow a team to take several talented wide receivers down the stretch while taking advantage of value at quarterback and tight end. 

Don't be afraid of a second-round quarterback:

If

Josh Allen

,

Jalen Hurts

or

Patrick Mahomes

slides to the end of the second, pick him up before the third round.

Pile up on wide receivers later:

While wide receiver will be the clear weak point for a team following this strategy, the depth at wide receiver will help make up for it.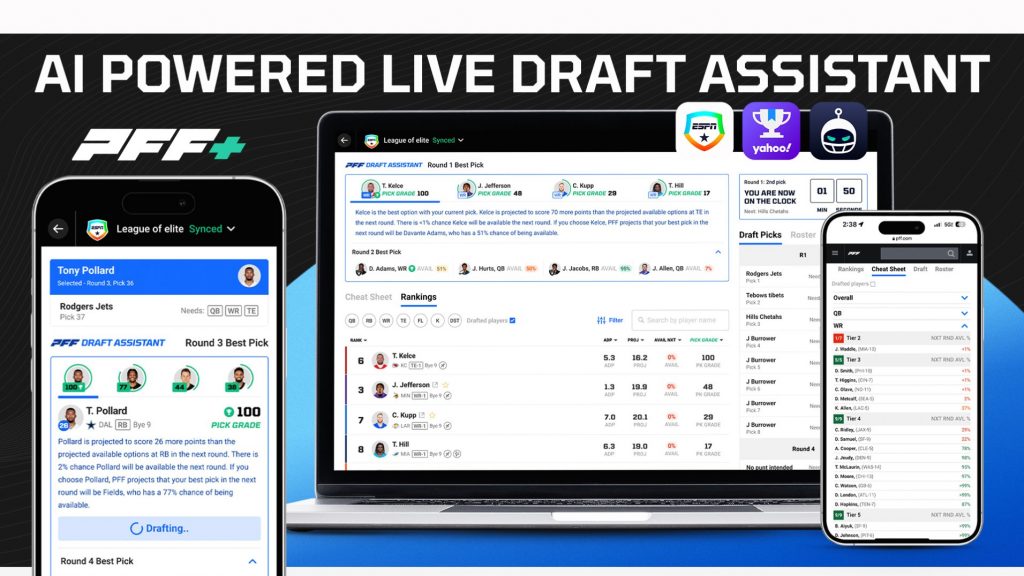 Estimated reading time: 16 minutes
---
The perfect 2023 fantasy football draft series combines current average draft positions from expert and casual drafts to see which players should be available at each pick, and then we make the best picks given that information.
---
More Rankings: PPR | Half-PPR | Best Ball
Dynasty Rankings: PPR | Superflex | Rookie | Superflex Rookie
Position Rankings: QB | RB
Sleepers: WR | TE
Last updated: 6 p.m. Sunday, July 16
---
Round 1, Picks 1-3: Draft a running back
An argument could be made for a wide receiver such as Justin Jefferson, but it is harder to find the depth at running back than it is at wide receiver when great options will be available at quarterback and tight end in early picks. Christian McCaffrey and Austin Ekeler have clearly been the top-two fantasy running backs in recent seasons thanks to both their rushing and receiving abilities. Injuries are always a risk, and the production of a player picked here will not be replicated by any player in any way, but it simply comes down to the build of a team starting with running back ends up being better than starting with Jefferson based on how drafts are currently playing out.
McCaffrey was nearly unstoppable last season after getting traded to the 49ers, averaging 23.0 PPR points per game once he became a starter in San Francisco.
He has averaged 9.8 rushing and 11.3 receiving PPR fantasy points per game since 2020, which ranks seventh and second, respectively, out of 79 running backs with at least 25 games in that span.

The 49ers retained the majority of their offensive line this offseason, outside of losing right tackle

Mike McGlinchey

. The unproven

Colton McKivitz

is expected to take his place. McKivitz has played 145 offensive snaps over the past two seasons.

McCaffrey is the definition of an every-down back, but the 49ers were OK with giving him rest whenever they were ahead late. His playing time dipped below 59% when San Francisco had a touchdown or more lead in the second half of games.

He is, by far, the safest bet to be an elite fantasy back this season while playing with the same coaching staff around him with similar backups.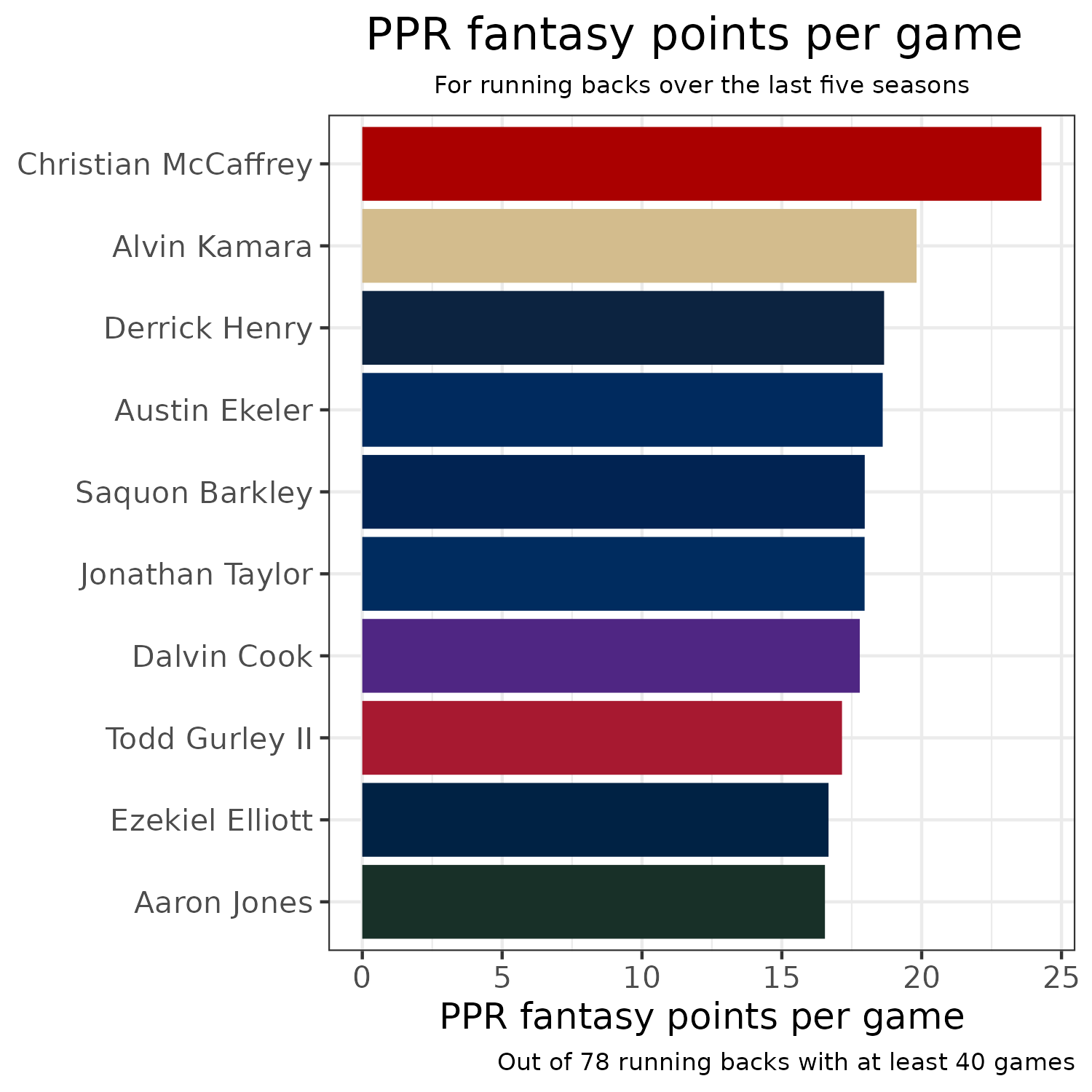 ---
Round 2, Picks 22-24: Draft a quarterback
Josh Allen, Jalen Hurts and Patrick Mahomes are easily the best quarterback options in fantasy football this season regardless of format thanks to their various combinations of passing and rushing production. In past seasons, all 12 fantasy managers could get a quarterback they could be happy with, but that's no longer the case after Tom Brady retired and Aaron Rodgers, Matthew Stafford, Russell Wilson and Ryan Tannehill all took steps back while being 34 years old or older.
Being one of the eight teams with a great option will be advantageous to the other four teams, and having one of the elite options is worth the edge; especially considering how consistent young great quarterbacks are in fantasy football from one season to the next. After picking a quarterback here, there is probably no need to pick a backup.
Allen is at the peak of his career and gained a group of new receivers to help him.
Allen has made 2.3 big-time throws per game over the past three seasons, which is the best among quarterbacks. That has only increased, up to a league-leading 2.5 last season.

The Bills added the second-best tight end prospect in the past five seasons,

Dalton Kincaid

, in the first round of the draft in addition to two solid role players in free agency in

Deonte Harty

and

Trent Sherfield

.

The Bills had four players with 50 or more routes and a sub-63.0 PFF receiving grade. Three of them are off the roster while tight end

Quintin Morris

remains but is further down the depth chart.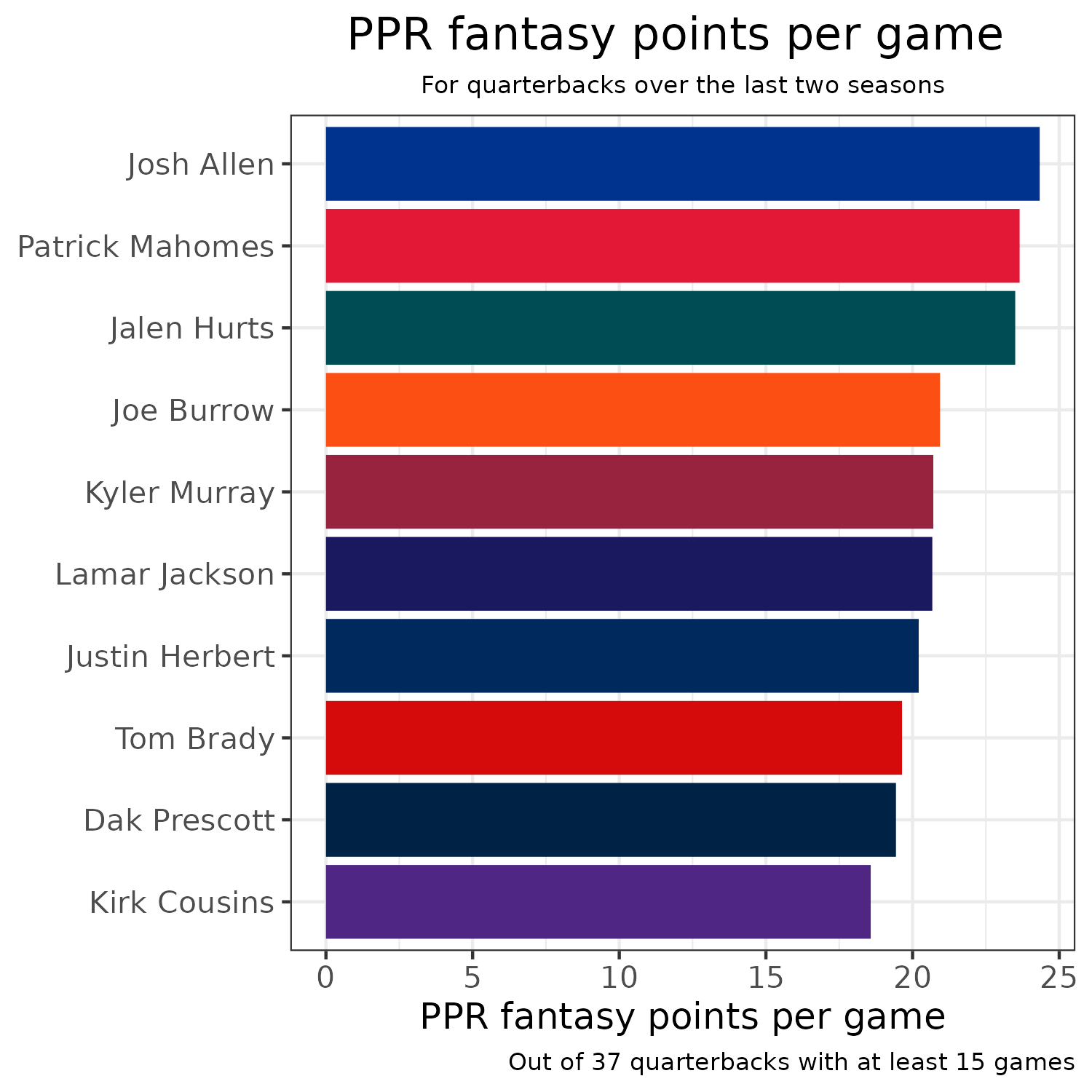 ---
Round 3, Picks 25-27: Draft a tight end or wide receiver
There are plenty of great wide receiver options here, as well as the best tight ends not named Travis Kelce. The most important point is fantasy managers are unlikely to find a running back at a value here. Everyone in the top two tiers is likely gone, so the gap between running backs now and running backs later are smaller than the gaps at wide receiver or tight end.
Tight end is likely the better option assuming Andrews is available, as it's harder to find value at the position at other points.
Andrews has the best shot of overtaking Travis Kelce as the top overall tight end, which he's already done once in 2021.
Over the last two seasons, Andrews ranks second in targets (8.1), receptions (5.6), receiving yards (69.0) and receiving PPR points (15.15) per game among tight ends.

He's accomplished this while ranking first in most of those numbers per route run, including 2.09 yards per route run.

The problem is he hasn't been running nearly as many routes as the Kansas City Chiefs have been among the most pass-happy offenses in recent seasons while the Baltimore Ravens have been among the most run-heavy.

That is about to change with the addition of Todd Monken as offensive coordinator. Matching Andrews' efficiency with a pass-first offense gives him a chance of being the top-fantasy tight end again.
---
Round 4, Picks 46-48: Draft a wide receiver
Both picks at this turn should be at wide receiver regardless of the pick in the third round. The top-five tight ends are likely off the board, and picking someone outside of the top five would be a reach. It's also harder to find value at running back around this pick, which corresponds nicely to a team that still needs multiple starters at wide receiver.
McLaurin returns as the Washington Commanders' top wide receiver with Eric Bieniemy as his new offensive coordinator.
He averaged 70.1 receiving yards per game last season, which ranked 13th-most among wide receivers.

McLaurin accomplished this by dominating man coverages. He avoided 0.036 avoided tackles per route run, ranking seventh among wide receivers.

He's ranked top-30 in fantasy points among wide receivers each year of his career, and his current peak is at WR14 which he accomplished this past season.

The move to Bieniemy as offensive coordinator should only help McLaurin. He already has the big plays, but this should help him gain more volume.
---
Round 5, Picks 49-51: Draft a wide receiver
As mentioned in Round 4, the best value at this point in the draft is at wide receiver, and this team needs multiple starters.
Williams has been the Los Angeles Chargers' big playmaker with an offensive coordinator who likes to attempt big plays.
42.3% of Williams' receptions have gained at least 15 yards since 2018, which ranks third among wide receivers.

He also gained a touchdown on 10.8% of his receptions, which is tied for ninth in that time.

Williams

has 9.728 receiving fantasy points (no PPR) per game, which ranked 12th out of 172 wide receivers with at least 15 games since 2021.

Williams is the type of receiver to destroy man coverage with an attacking offense, but the

Chargers'

passing attack only threw past the first down marker on 36.0% of attempts — the second lowest.

Their new offensive coordinator Kellen Moore will likely utilize Williams more to attack defenses. His

Dallas Cowboys

threw past the sticks on 42.5% of passes last season — the sixth-most.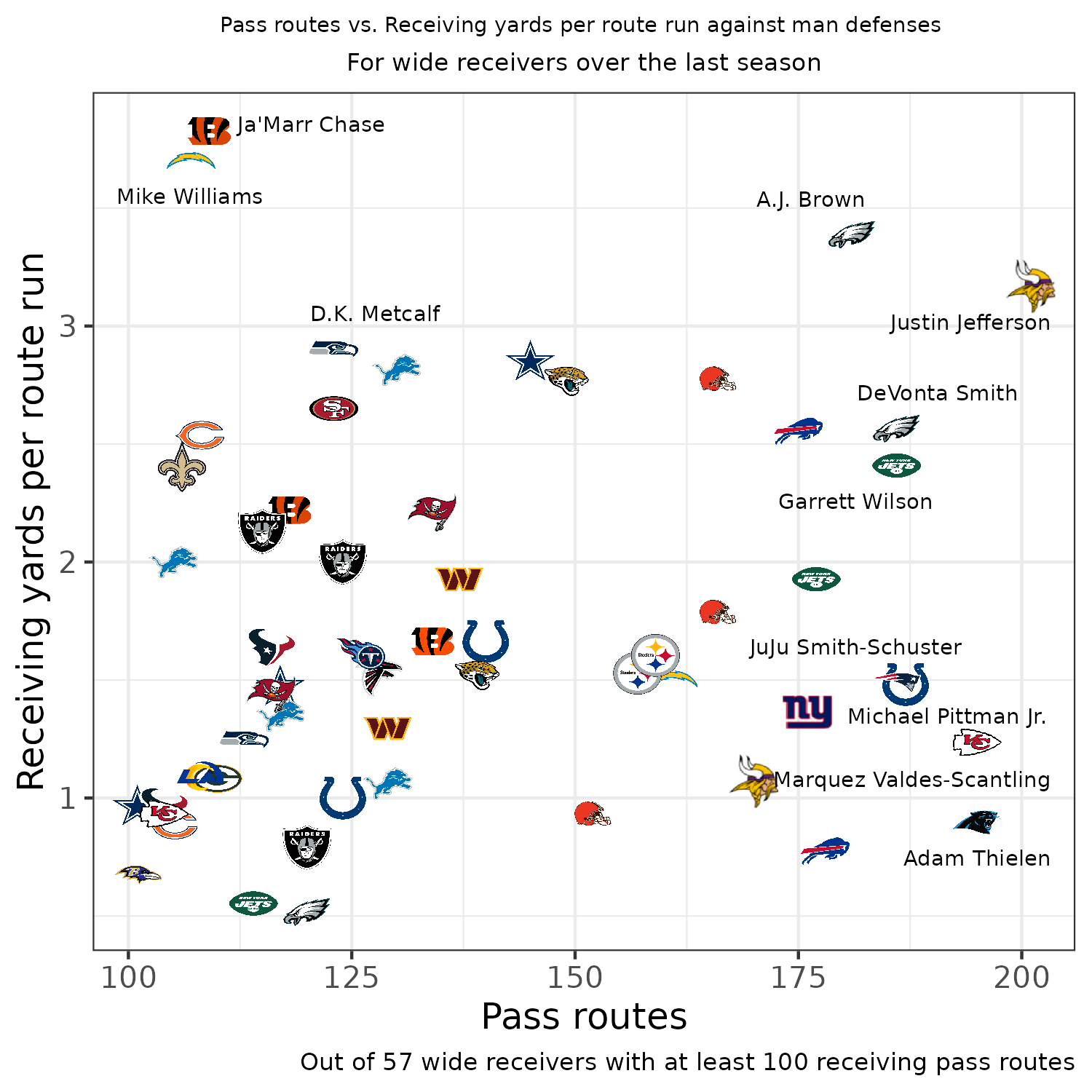 ---
Round 6, Picks 70-72: Draft a tight end or wide receiver
The run at wide receivers continues unless a tight end was passed on in Round 3. There is still some hope that Dallas Goedert or Kyle Pitts is still available at this point, but in sharper leagues, they are typically off the table by now. This team should have three starting wide receivers and a starting tight end by the end of this pick.
Pittman is the clear-cut top receiving option on the Indianapolis Colts.
Pittman finished as a top-20 fantasy receiver last season as one of the few bright spots in the offense.

His PFF grade took a step back in Year 3 (78.0 to 70.6), but he remains the top option in the passing game even if he doesn't rebound.

A big part of his fantasy success was from volume. He ranked top-10 last season in routes run (40.1), targets (8.7) and receptions (6.2) for wide receivers.

The volume of routes run is expected to decrease this season with Shane Steichen at head coach, which is why he is typically drafted outside of the top-20 wide receivers.

He should still dominate the Colts in terms of targets per route, giving him a high ceiling.

If

Anthony Richardson

can be an instant improvement over past

Colts

quarterbacks, Pittman has top-15 potential.
---
Round 7, Picks 73-75: Draft a running back
This is the point of the draft to get back to running back after neglecting the position for five rounds because there are still clear fantasy starting options available. This conveniently rounds out a starting lineup outside of any flex spots.
Conner remains the clear-cut starter in an Arizona Cardinals offense that will struggle.
He's put up some great numbers in Arizona's offense in the past. He has 0.79 rushing touchdowns per game, which is tied for second-most out of 94 running backs with at least 15 games since 2021.

This has led to 16.4 PPR fantasy points per game, ranking seventh-most among the same 94 backs.

Arizona had the second-lowest run-blocking team grade last season. Adding

Paris Johnson

in the draft should help, but it might take time for him to develop.

The offense, in general, isn't expected to be as good. It's unclear if or when

Kyler Murray

will play this season, and losing

DeAndre Hopkins

without replacing him also won't help.

The Cardinals have a new coaching staff, so if anything, the staff will try using younger backs more rather than let Conner see even more time compared to what he's done in the past.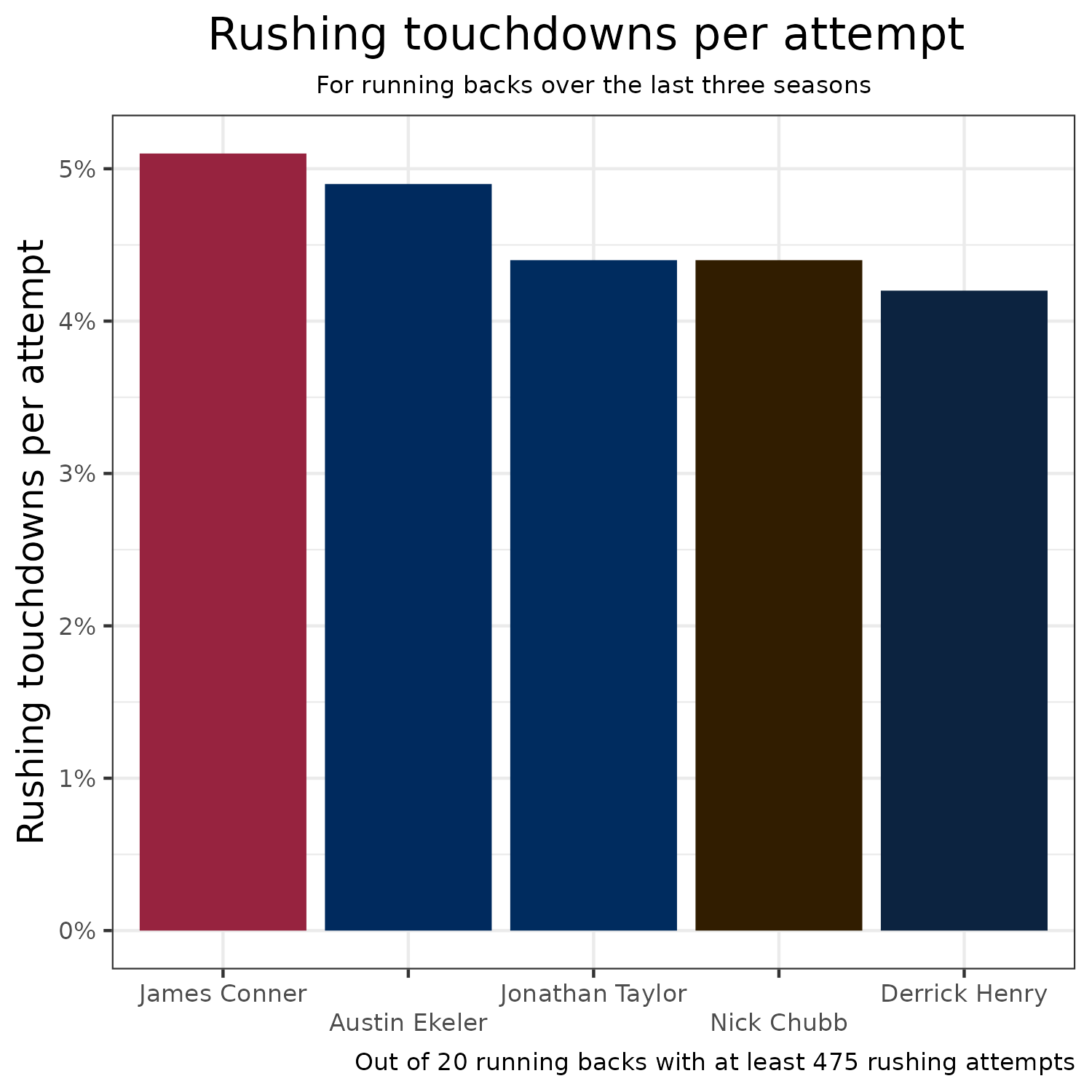 ---
Round 8, Picks 94-96: Draft a wide receiver
After picking a quarterback and tight end early, the next several rounds can focus more on depth at running back and wide receiver. At this turn, it makes sense to target wide receiver before running back because the top running backs generally will still be available in the next round, but the top wide receivers won't. If this team is picking second or third instead of first, it's typically worth seeing what the needs are of the team picking first and second, and if they need a running back more than a wide receiver, then potentially go running back first.
Davis' best play has been better than most wide receivers, but he's lacked consistency.
Davis has two of the top-25 games in terms of receiving yards over the last two seasons, with 201 in their playoff game against the

Kansas City Chiefs

in 2021 and 171 yards against the

Pittsburgh Steelers

last season.

He's also the only wide receiver with a four-touchdown game in that time.

50.6% of his receptions have gone over 15 yards and 15.7% have resulted in a touchdown. Both rank first over the last two seasons out of 69 wide receivers with at least pass routes.

Davis is still only 24 years old, so he's still at a point in his career where he

should be improving

and becoming a more reliable target in the

Buffalo Bills

offense.
---
Round 9, Picks 97-99: Draft a running back
With this pick, it makes sense to pick a running back or wide receiver; whichever position wasn't picked in Round 8.
Charbonnet landed with a team that loves to use running backs but also used a second-round pick on a running back last season in Kenneth Walker III.
The second-round rookie has the

best vision

in the class and is also the class' best short-yardage back.

Seattle has been the home of several fantasy starters when a player has been given the opportunity.

Kenneth Walker III

was RB9 from Week 6 until the end of the season once he became the starter last season.

Rashaad Penny

was the top running back over the last six weeks of 2021 once he began seeing significant playing time, including four games with 130 or more yards and at least one touchdown.

Chris Carson

was a top-20 fantasy running back each season from 2018-2020.

The problem is that Walker and Charbonnet will likely share the workload as long as both are healthy.

We could see an ugly three-man rotation to begin Charbonnet's career, as

Pete Carroll mentioned

DeeJay Dallas

fairly early on when discussing his new running back room.

This is similar to the running back rotating Seattle used to begin last season: Penny, Walker and Dallas.

Charbonnet remains this high despite the competition because of his talent, and he is just one injury away from being a top-10 fantasy running back.

Charbonnet ranked higher on

PFF's big board

this season (50) than Walker did last season (55). There is certainly a chance Charbonnet becomes the starter at some point.
---
Round 10, Picks 118-120: Draft a wide receiver
A lot of the best running backs available here will also be available in two rounds from now, so wide receiver is the position to target here.
The 23-year-old receiver played in only eight games last season due to injuries, but he's consistently made an impact when healthy.
Moore has 33.2 yards after the catch and 1.0 receiving avoided tackles per game over the last two seasons, which rank sixth and eighth respectively. 

The

Arizona Cardinals

lost

DeAndre Hopkins

,

A.J. Green

and Robbie Chosen this offseason. They added

Zach Pascal

and rookie

Michael Wilson

,

which will be unlikely to make up for the difference.

Moore should be high on the Cardinals' pecking order in terms of targets on an offense that will probably need to pass a lot.

His low average depth of target will help him continue to succeed regardless of who is playing quarterback throughout the season.
---
Round 11, Picks 121-123: Draft a wide receiver or tight end
A second tight end probably isn't necessary if a tight end was picked in Round 3. If one was picked later, it could be good to add another option before some teams choose their starting tight end. There are a few high-upside options here. Yet another wide receiver is a fine pick if this team doesn't need a backup tight end.
The fourth-round rookie was one of the few bright spots for the Tennessee Titans last season.
He was the most efficient tight end on a per-play basis.

Out of 55 tight ends with at least 150 routes, he ranked second in targets per route (0.26), first in receptions per route (0.19), first in yards per route (2.61), fifth in touchdowns per route (0.017) and fourth in avoided tackles per catch (0.219).

Austin Hooper

and

Geoff Swaim

were the two players ahead of him on the depth chart at times, and neither is on the roster entering the 2023 season.

Tennessee added run blocker

Trevon Wesco

, who will not be a threat to Okonkwo on passing downs.

The big concern for Okonkwo is if the Titans don't expand his role in a significant way.

Austin Hooper

,

Anthony Firkser

and

Jonnu Smith

have all been sleeper tight ends in recent seasons, and none have worked out for fantasy managers.

Tennessee has had a different tight end lead the team in snaps on first and second downs compared to third down in each of the past four seasons.

Okonkwo has graded out better as a receiver than any Titans tight end in the Mike Vrabel era, so ideally, he can be an exception.

This also isn't a black-and-white issue. He can see a slight increase in snaps and be a fantasy starter, but ideally, he becomes an every-down player, in which he has top-five potential.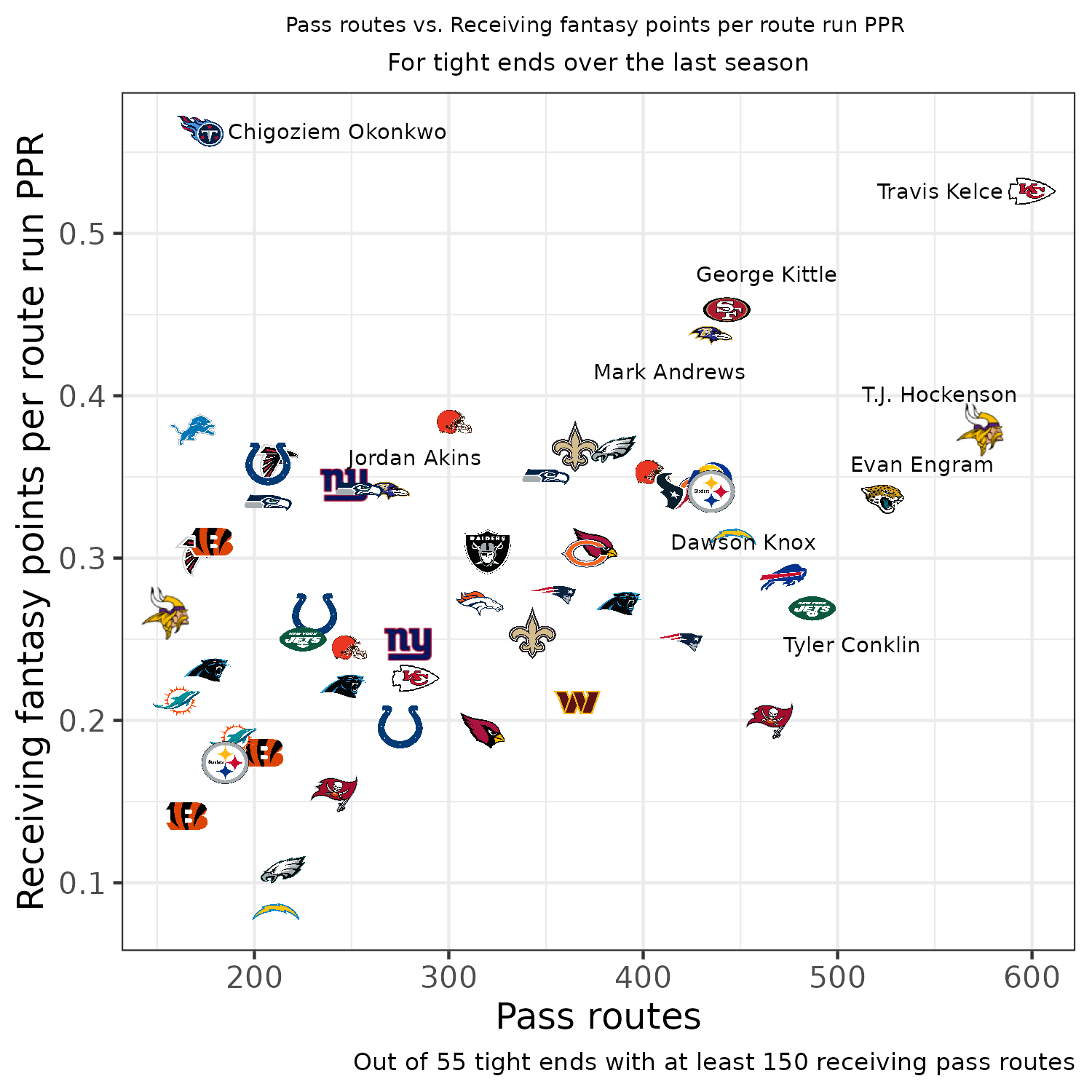 ---
Round 12, Picks 142-144: Draft a running back
The next few picks' value are at running back, where there are plenty of options who are currently second on the depth chart and could earn enough touches to be a fantasy starter even if there isn't an injury.
Singletary was a fantasy starter in Buffalo thanks to the number of opportunities he received, but he's unlikely to see those opportunities for the Houston Texans.
Devin Singletary

registered 22.1 pass routes per game, which ranked fourth out of 94 running backs with at least 15 games since 2021.

He could very well be the receiving back in Houston, but

Dameon Pierce

will likely lead the team in carries.

Even if Singletary has an every-down role as he had in Buffalo, the Texans' offense isn't likely to be as high-scoring as the Bills' offense was.

His upside comes from the potential the Texans' offense could have mixed with being a well-rounded back.
---
Round 13, Picks 145-147: Draft a running back
Similar to Round 12, this is an appropriate time to add more running back depth.
Warren ended last season as the Steelers' third-down back, with the potential to play more snaps on early downs.
As a rookie, Warren averaged 0.464 avoided tackles per reception, which ranked as the most out of 62 running backs with at least 110 pass routes last season.

He wasn't as good in the run game but still averaged a solid 0.247 avoided tackles per rushing attempt, which ranked 16th out of 80 running backs with at least 35 rushing attempts.

Warren won't have fantasy value in his current role, but there is a chance he starts seeing more early-down snaps. He would be an every-down back if

Najee Harris

suffers an injury.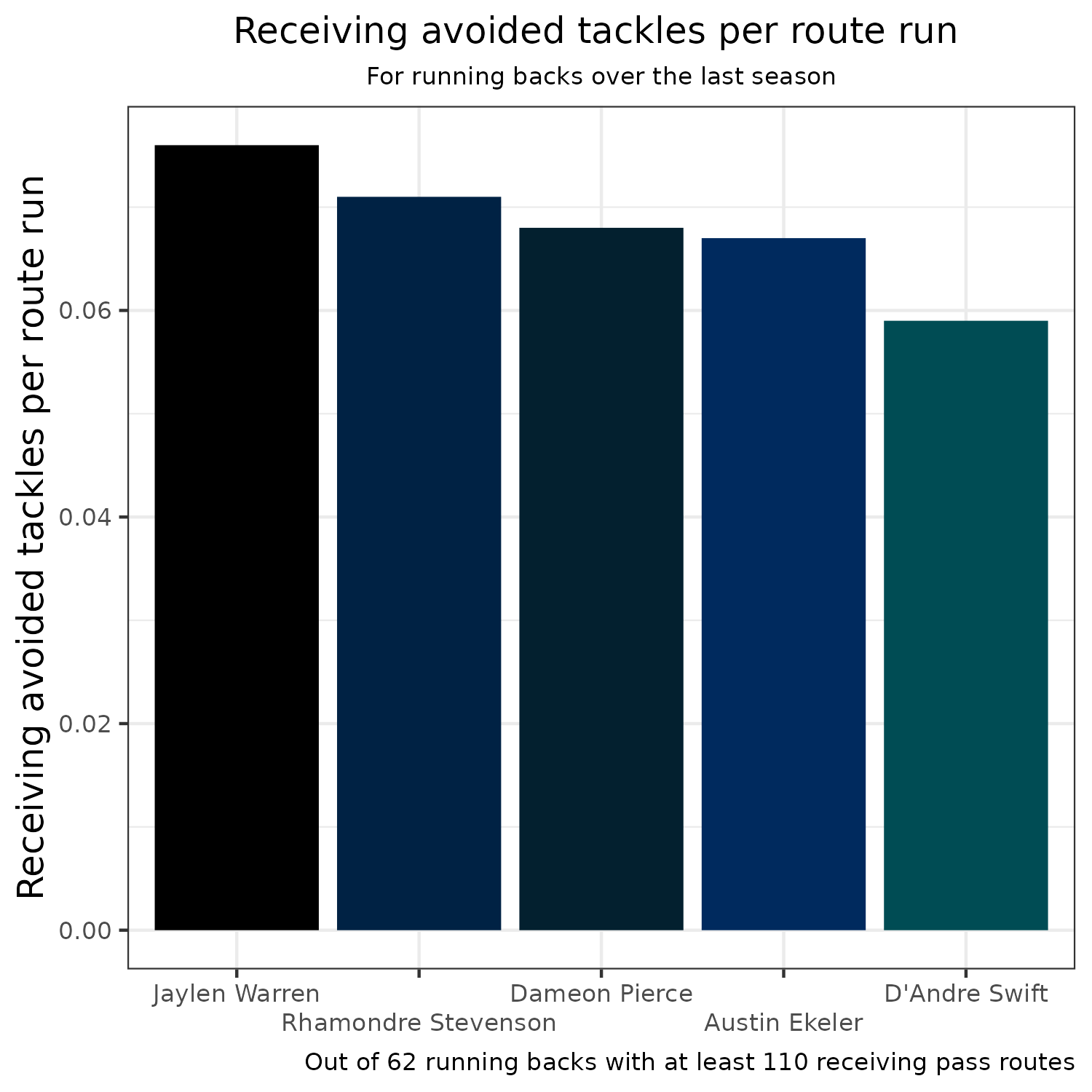 ---
Round 14-18: Fill Depth 
Use any additional picks to pick a kicker and team defense if your league plays with them. If not, stock up on more running backs and wide receivers.