Every year in fantasy football, there are a few especially buzzed-about players who catapult up draft boards. This week, we're looking at some of those players and evaluating whether the rises are justified.
Monday, we took a look at the quarterbacks who jumped the most in ADP since February (either by BestBall10 ADP or FantasyFootballCalculator ADP), and tried to determine whether or not their ADP jump went too far or not far enough. Tuesday, we did the same exercise with running backs. And Wednesday, we hit wide receivers.
This time, we're zeroing in on the tight end position – in order, looking at the tight ends who have seen the largest relative ADP jump:
ADP jump: TE20 (in February) vs. TE9 (in July)
Ben Roethlisberger has had a tight end finish top-10 in fantasy points per game only once over the past 10 seasons, but McDonald seems poised to buck that trend following the departures of Antonio Brown and Jesse James. He finished 10th in total fantasy points last year, despite ranking just 17th in target market share. He did this while playing on only 50% of the team's snaps, out-snapping James by just a single snap. Still, he stood out in efficiency, ranking fourth-best (of 35 qualifiers) in yards after contact per reception (7.7), third-best in yards after contact per reception (4.3), and second-best in missed tackles forced per reception (0.29). With more volume and every-down role incoming, he could be one of the best values at the position.
My ranking: TE8
ADP jump: UDFA vs. TE28
Waller is an athletic freak, and, reportedly, one of the NFL's "best-kept secrets," who will be given "the chance of the lifetime" as Oakland's TE1 this year. Last season, in Oakland, Jared Cook ranked fifth in total fantasy points. Waller is a longshot to match him but is still a great value at ADP.
My ranking: TE18
ADP jump: UDFA vs. TE33
Watson is 38 years old, suspended for the first four games of the season, and did very little to impress as New Orleans' starting tight end last season. Still, he's basically free, and the favorite to replace Rob Gronkowski as New England's starting tight end. He's a fine late-round dart throw in super deep leagues.
My ranking: TE23
ADP jump: TE9 vs. TE4
Last year, Howard:
ranked second among all tight ends in PFF grade (89.4);
averaged 2.83 yards per route run, which ranks 15th-best of the PFF era (2007-2018);
averaged 12.0 yards per target, which ranked third-best of the PFF era (of 429 qualifying seasons);
ranked tied for fifth at the position in fantasy points per game (12.1), despite splitting time with Cameron Brate and leaving two games early due to injury
All of this paints the picture of a breakout waiting to happen. The only concern with Howard is new head coach Bruce Arians' history with the position. Over Arians' last eight seasons as either a head coach or offensive coordinator, he's never had a tight end finish top-18 at the position in total fantasy points scored. Howard is a risky investment, and priced as though he's a lock to break out, but not necessarily overpriced.
My ranking: TE5
ADP jump: TE22 vs. TE18
Baltimore's wide receiving corps consists of: our 56th-highest-graded wide receiver from a season ago (Willie Snead), Seth Roberts (who ranked 88th), four other veterans who caught a combined 29 passes last year, and five rookies (the most notable of which, Marquise Brown, is already on the non-football injury list to start camp). That leaves Andrews (the team's primary pass-catching tight end), Lamar Jackson's most productive receiver, who was personally responsible for 26% of Jackson's passing yards on just 12% of his throws. Last season Andrews totaled 552 yards, or the 22nd-most by a rookie tight end in NFL history — remember, rookie tight ends typically make a sizeable leap in their sophomore seasons. On top of this, he was also hyper-efficient, ranking fifth of 30 tight ends in yards per route run.
My ranking: TE16
ADP jump: TE12 vs. TE8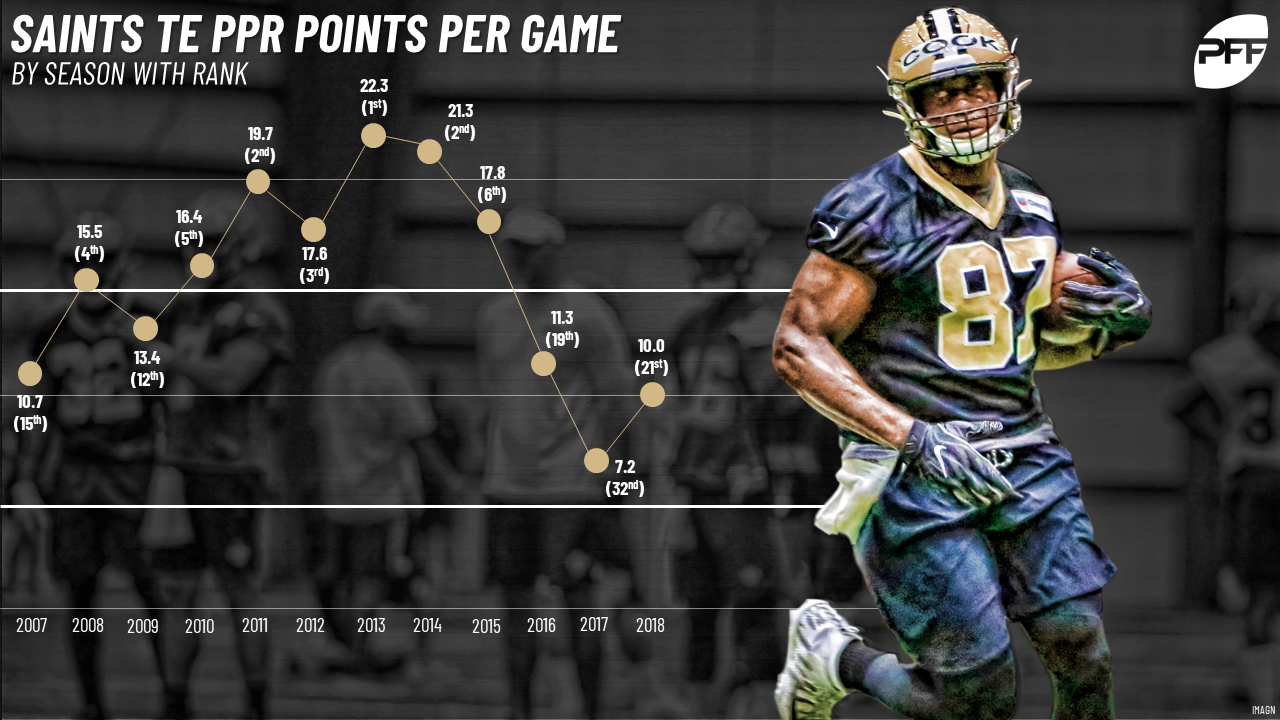 After ranking fifth in fantasy points last year, Cook somehow landed in an even better situation for fantasy this year — the Saints seem to have finally acquired a component to their offense that they've desperately lacked in recent years, but surely have been looking for. Coby Fleener was signed to a big contract but never lived up to it, ranking fourth-worst (of 27 qualifiers) in PFF receiving grade during his New Orleans tenure. In 2018, a 37-year-old Watson did little to improve on Fleener's numbers. But before that, New Orleans had ranked top-six in tight end fantasy points scored in seven of their last eight seasons, or top-12 in all eight seasons. (Jimmy Graham was the team's most targeted tight end in only four of these seasons.)
My ranking: TE7
ADP jump: TE19 vs. TE16
I already covered this elsewhere: Goedert might be a great pick in dynasty leagues, but at ADP, he's an easy fade in redraft leagues.
My ranking: TE25