The 2021 fantasy football master draft strategy returns with a simple premise: Follow this handy, step-by-step guide, and you're sure to enter the season with a quality roster that balances reliability and upside. Sept. 9 can't come soon enough.
Pair this with PFF's fantasy football rankings/projections and my 2021 PPR Fantasy Football Rankings & Tiers to build a top-tier squad.

---
Click here for more PFF tools:
Fantasy Draft Kit | PFF Betting Dashboard | PFF Fantasy Rankings
PFF Fantasy Projections | NFL Premium Stats | Win Totals Tracker
---
ROUND 1 (1-12): DRAFT A RUNNING BACK, WIDE RECEIVER, OR TRAVIS KELCE
Running backs have returned to the top of the fantasy football food chain. It wasn't long ago when drafters selected Julio Jones and Antonio Brown over their bell-cow counterparts, but a few talented running back draft classes have brought leagues back to the golden days.  
Every fantasy football draft is unique, but one thing is certain: Running backs are the drivers behind fantasy-winning teams. Get your studs early and wait till the later rounds to take shots on backs in ambiguous backfields. That's where we'll find the next breakout at the position. 
Unlike last year, when the strategy was focused on grabbing a workhorse running back no matter what, 2021 presents us with a different approach in the second half of Round 1.
If you miss out on the Tier 1 crop of running backs — Christian McCaffrey, Dalvin Cook, Ezekiel Elliott, Alvin Kamara or even Aaron Jones — be open to drafting an elite wide receiver in the second half of Round 1. (This might not be the move in standard or half-PPR formats, where receivers can't make up ground versus running backs as easily without being rewarded a full point per reception.)
Wide receivers have the highest percentage of top-12 finishes (55%) over the past three seasons in PPR scoring. The Tier 1 wide receivers — Davante Adams, Tyreek Hill, Stefon Diggs, Calvin Ridley and DeAndre Hopkins — are strong bets to meet Round 1 production without the cost. These receivers represent five of the top seven players in PFF's PPR fantasy projections.
Selecting Diggs at the back-end of Round 1 is a sharp move, as he could easily repeat as the league leader in targets. In Josh Allen's only preseason game, the Buffalo Bills threw the ball on 85% of its offensive plays. You want the centerpiece of Buffalo's passing attack. 
Travis Kelce is the third option here if he happens to fall to the back end of Round 1 (10-12). Targeting tight ends with elite upside will be a recurring theme in this piece, as the approach provides fantasy managers a massive positional advantage. 
ROUND 2 (13-24): DRAFT A RUNNING BACK, WIDE RECEIVER OR DARREN WALLER
Fantasy managers should feel comfortable taking an elite wideout in Round 1 because Round 2 is also filled with a plethora of running back talent. The non-first-round Tier 2 running backs — Nick Chubb, Joe Mixon, Najee Harris, Antonio Gibson, Jonathan Taylor and Clyde Edwards-Helaire — provide enough production for a roster's RB1 slot.
If you went with a running back in Round 1, take whoever remains from the Tier 1 wide receivers or tight end Darren Waller at the tail end of the second round. 
With hardly any target competition to speak of, Waller has a legitimate shot to unseat Travis Kelce, the five-year reigning TE1 in fantasy football. Even if he doesn't quite catch Kelce, the cost of acquiring him in the second or third rounds compared to Kelce's mid-first-round price tag is the vastly superior value. Waller led all players in fantasy points per game from Weeks 13-17 (26.5) last season.
Ideally, you have a running back and wide receiver for those who miss out on Waller after the first two rounds. This approach makes it much easier to stay fluid and flexible for the next few rounds. 
ROUND 3 (25-36): DRAFT A WIDE RECEIVER OR GEORGE KITTLE
At this point, your roster is one of the following positional combinations: RB-WR, RB-TE or RB-RB. It's essential to draft at least one running back in the first two rounds because the talent pool starts to fall off at the start of Round 3. Also, the middle rounds are chock-full of wide receiver talent, which should be the primary focus. 
Draft the highest-ranked wide receiver from Tier 2, which includes Justin Jefferson, Keenan Allen, A.J. Brown, Allen Robinson, Terry McLaurin, CeeDee Lamb and Amari Cooper.
Drafters should lock-in on Jefferson because he is going to be absolutely peppered with targets with Irv Smith Jr. sidelined for the foreseeable future due to injury. Jefferson commanded a 29% target share (10.5 targets per game) during the final four weeks of 2020 when starting tight end Kyle Rudolph missed time. 
If you still haven't drafted a tight end, George Kittle is your guy. He scored double-digit fantasy points in 64% of his games since 2018 and finished last year ranked first in yards per route run (2.84) for the third time in a row. With TE1 overall upside, his Round 3 ADP is straight blasphemy. 
If, for some reason, you've avoided running backs up to this point or the other drafters went extremely receiver-heavy through the first three rounds, don't shy away from either D'Andre Swift or Chris Carson (who are both often available in Round 4 per Underdog ADP). 
Swift finished last season 18th in fantasy points per game (14.9), due in large part to his 46 receptions and 10 touchdowns. Carson was a top-eight fantasy running back through the first six weeks of the 2020 season, averaging 20 fantasy points per game (seventh), notching four RB1 fantasy finishes and seeing 16.4 touches per game (13th) on only a 56% snap share.
Just be wary of Swift's groin injury and be sure to get a discount on his ADP because he could miss Week 1.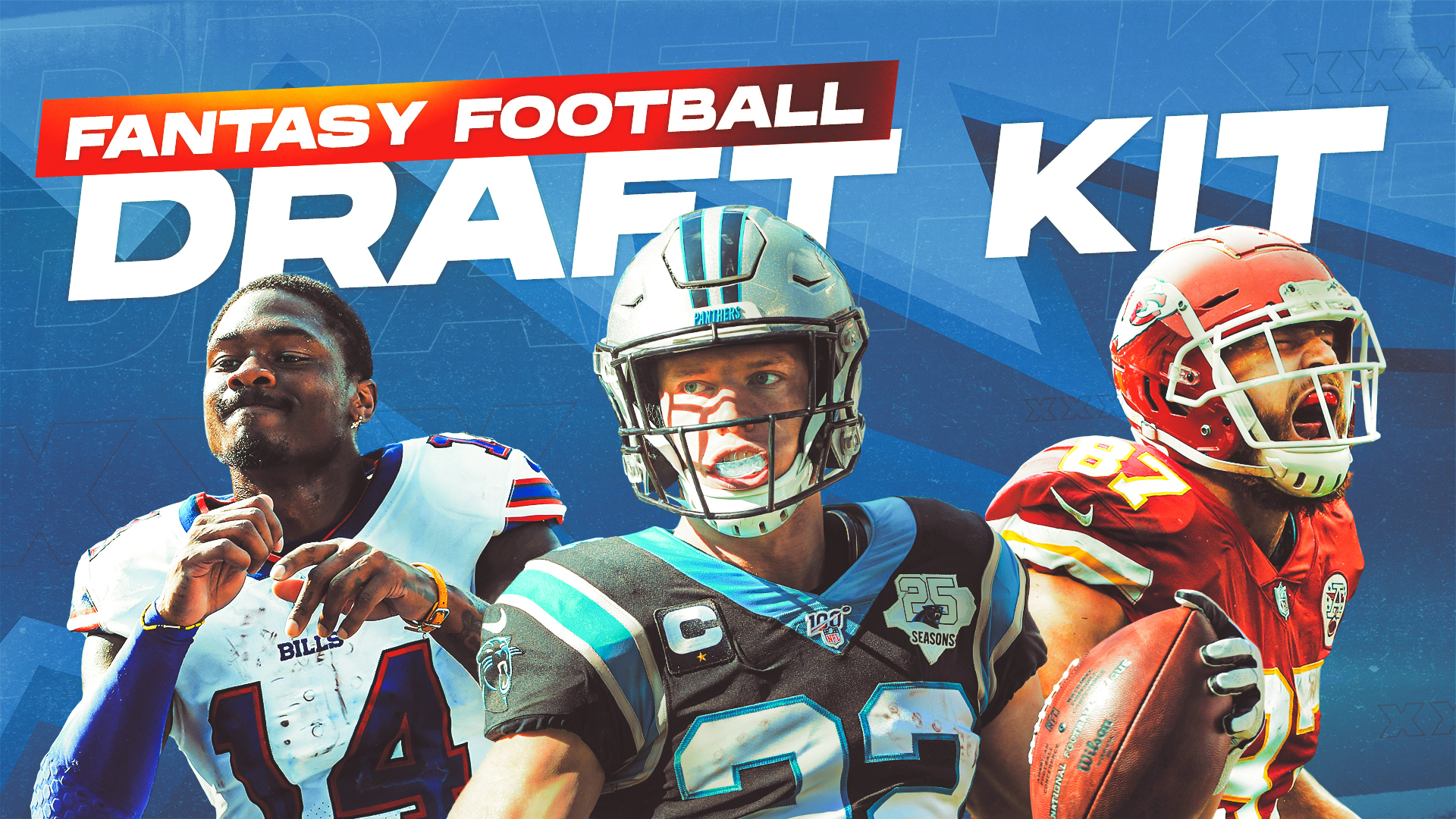 ROUND 4 (37-48): DRAFT A WIDE RECEIVER OR RUNNING BACK
Free for 7-days. Subscribe to continue reading and unlock
All premium content with the best insights + analysis in the game
NFL Draft Guide, Big Board + Mock Draft Sim
Fantasy Draft Kit and Nathan Jahnke's award winning rankings
Bet smarter with PFF player mismatches and expert betting insights
NFL and CFB player grades and premium stats
Unlock all PFF data trusted by all 32 NFL teams

Already have a subscription? Log In