Minnesota Vikings tight end Irv Smith Jr. will miss the start of the 2021 NFL season due to a meniscus injury that will likely require surgery, Tom Pelissero of NFL Network reported.
Smith was set to become a major contributor this season after the Vikings moved on from Kyle Rudolph this offseason.
The former second-round pick out of Alabama has 66 catches for 676 yards and six touchdowns over his first two NFL seasons. He finished 2020 with a 70.0 PFF grade.
Tyler Conklin, Brandon Dillon, Zach Davidson and Shane Zylstra are the other tight ends currently on Minnesota's depth chart. Teams must trim rosters down to 53 by 4 p.m. EST on Tuesday.
Blow to Minnesota: #Vikings TE Irv Smith will miss the start of the season due to a meniscus injury that will likely require surgery, per @TomPelissero. Tyler Conklin, Brandon Dillon, Zach Davidson and Shane Zylstra are the other four tight ends currently on Minnesota's roster.

— Ari Meirov (@MySportsUpdate) August 29, 2021

---
Click here for more PFF tools:
Fantasy Draft Kit | PFF Betting Dashboard | PFF Fantasy Rankings
PFF Fantasy Projections | NFL Premium Stats | Win Totals Tracker
---
Take Smith off the board in fantasy drafts: The likelihood of Irv Smith's breakout season takes a hit with a meniscus injury sidelining him for at least a few weeks. He's off the board in all but deeper fantasy leagues or those that prioritize multiple tight ends. Click here to find PFF's 2021 fantasy rankings.
Tyler Conklin is now draftable in all formats: The fourth-year tight end has also been battling injury — a hamstring pull has kept him out of the preseason. Click here to view PFF's tight end rankings and tiers.
For now, it might be best to avoid the Vikings tight ends: Instead, bump up target hogs Justin Jefferson and Adam Thielen, who should see as high a percentage of targets as any receiver combination in the NFL.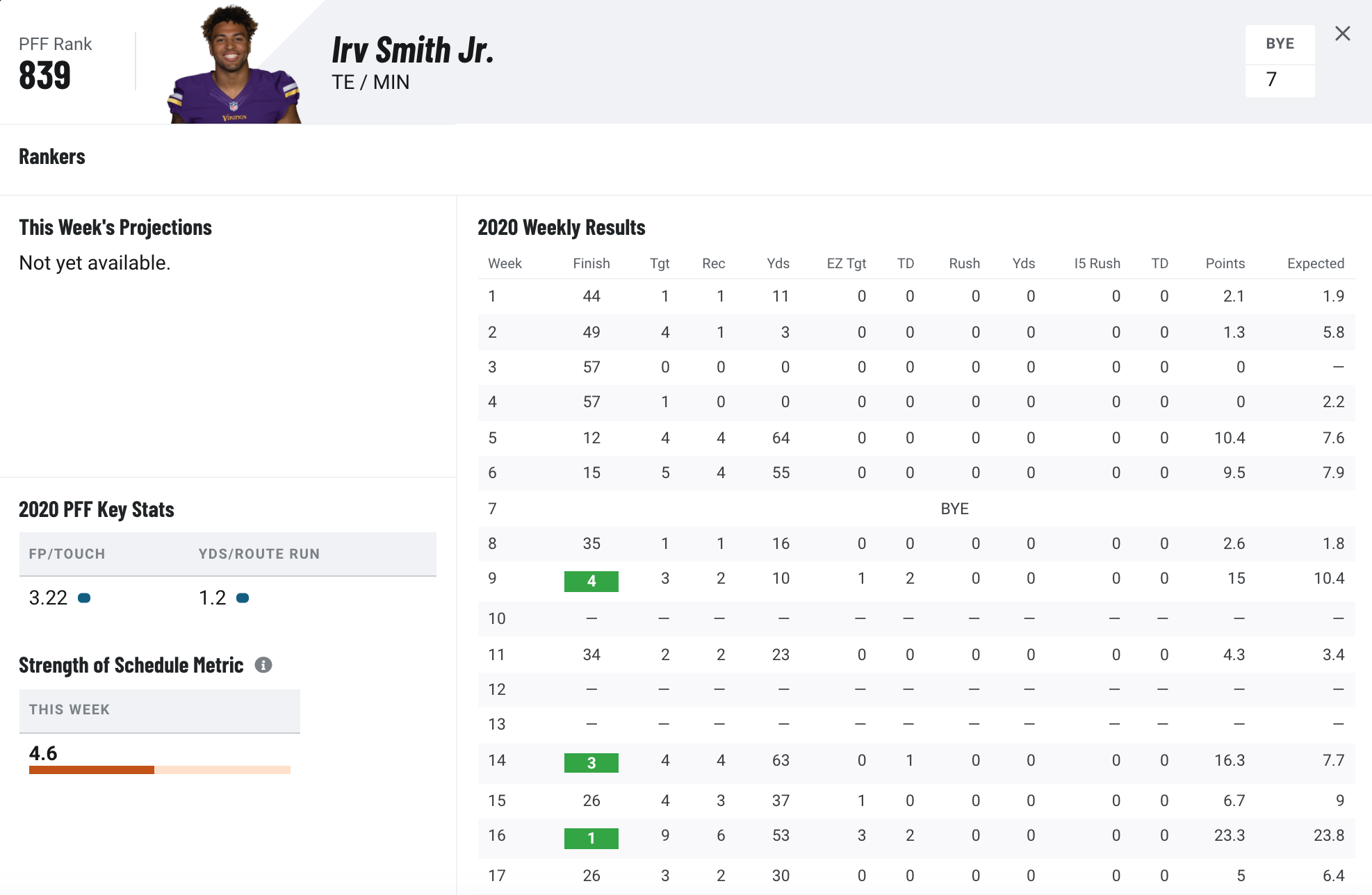 Justin Jefferson and Adam Thielen are going to get virtually every target in Minnesota's passing game: With Smith and potentially his backup Tyler Conklin also injured, the Vikings just don't have a trusted third option entering the season. Last year, Dalvin Cook saw the third-most targets (51) on the team behind those top two wideouts. Click here to find PFF's NFL player grades.
The Vikings prefer to spread the ball around in multiple tight end sets: Three different tight ends saw between 25 and 41 targets last season. None are heavily targeted, but they provide valuable outlets and designed patterns for Kirk Cousins, who may have to adjust early in the season.
Dalvin Cook may end up having to pick up the most slack: Cook was already a big part of the passing game relative to other tertiary options, and he may also see his workload ramp up as the Vikings opt to skew conservative and run the ball. Click here for PFF's premium stats. 
Bet Vikings to miss playoffs: The Vikings continue to have their pass-catching unit impacted by injuries, with their top three options all dinged up during the preseason. This is another concern for a team that was already thin outside of its top two pass-catchers. PFF's Power Rankings page shows value on the Vikings to miss the playoffs. As injuries continue to stack up, this looks like even more of a positive expected value bet. PFF's new Power Rankings Tool offers projections based on 10,000 season simulations given Team Point Spread Ratings, Strength of Schedule and team records.
Bet Kirk Cousins under season-long passing yards prop: Cousins has seen his passing yardage prop increase by 100 yards after opening at 4100.5 on Draftkings. PFF's fantasy projections have moved in the opposite direction, but not at the same rate as the player prop market. With the uncertainty surrounding the pass-catching options, Cousins has taken a 50-yard hit but is still expected to go over his prop number. Given the market direction and uncertainty, this could be a spot to go rogue on the projections and bet Cousins under. PFF's Betting Futures Tool reveals betting opportunities within season win total and future markets.