Fantasy football strategy needs to constantly evolve to adapt to the current state of the NFL.
Take the tight end position as an example. At one point, the tight end was the centerpiece of most offenses, but the position's role in the game has declined in recent years now that teams are using more three- and four-wide receiver sets.
Rob Gronkowski and Jimmy Graham ruled the fantasy football world 10 years ago, but anyone who missed out on those two was still capable of finding a quality tight end in later rounds of their fantasy draft. Fourteen different players scored at least 150 points at the position in 2011, and at least 10 tight ends hit that mark for the majority of the decade. The league's emphasis on the position allowed fantasy owners to wait on tight ends because a good option would always be available in the late rounds.
That strategy became harder to implement in 2017. Once star tight ends such as Greg Olsen, Martellus Bennett and Dennis Pitta had the least productive seasons of their careers in 2016, and not enough young tight ends stepped up to fill the void. As a result, the number of tight ends hitting 150 fantasy points has been in the single digits ever since.

---
Click here for more PFF tools:
Fantasy Draft Kit | PFF Betting Dashboard | PFF Fantasy Rankings
PFF Fantasy Projections | NFL Premium Stats | Win Totals Tracker
---
The scarcity of the position has caused the top tight ends to move up draft boards, as fantasy managers don't want to miss out. And this situation is only getting worse.
Only seven tight ends reached 150 points in 2020, a year when the league was once again flooded with rookie wide receivers. It is now more necessary than ever to get one of the top fantasy tight ends; the fantasy managers who don't will be at a disadvantage throughout the season.
The Usual Suspects
Tight ends are a unique position in that, relative to other positions, the top-scoring players remain relatively consistent from one season to the next.
Travis Kelce has ranked first in fantasy points at the position for five consecutive seasons, heading into 2021 fantasy drafts as the consensus top tight end. Not far behind Kelce has been Darren Waller, who ranked second in fantasy points every season he's been an NFL starter. George Kittle and Mark Andrews have finished in the top five in fantasy points per game every year of their careers except their rookie seasons.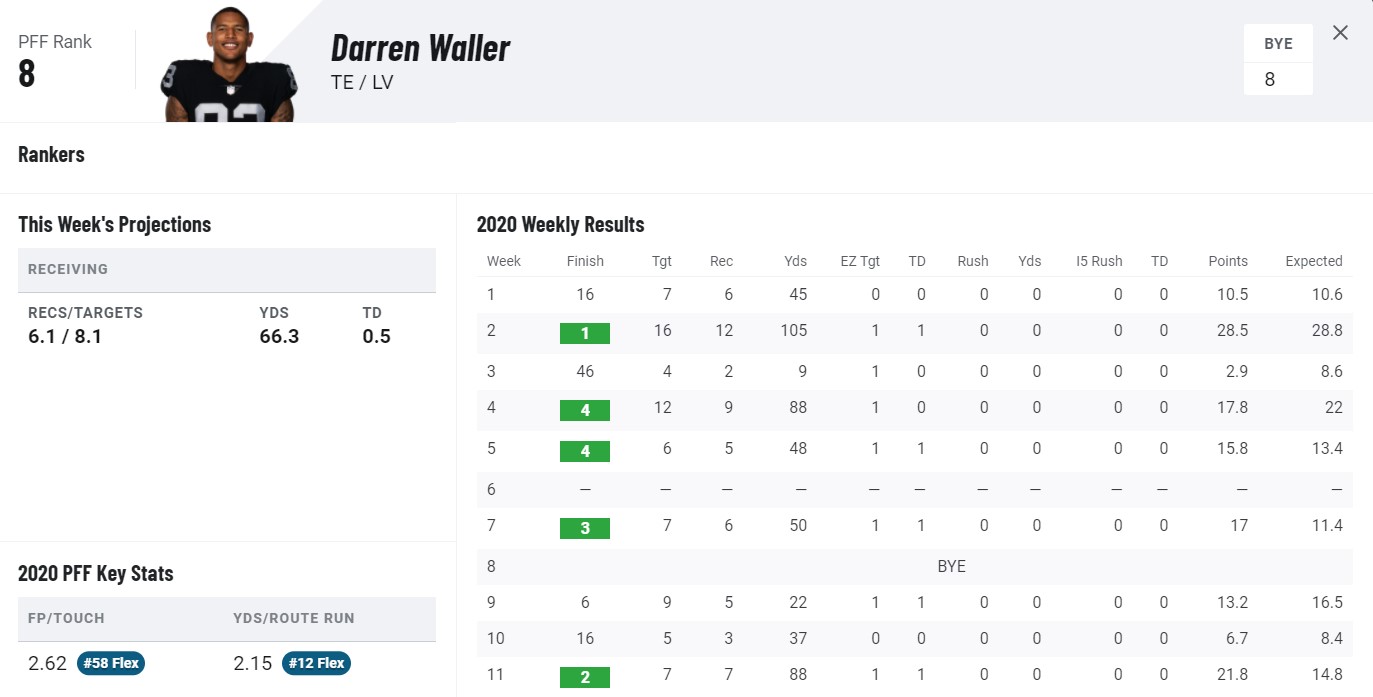 These players make up four of the six must-draft tight ends.
Related: 2021 Fantasy Football Tight End Rankings via Nathan Jahnke
Subscribe to PFF Edge to continue reading
Already have a subscription? Sign In