• Amon-Ra St. Brown leads the Lions to victory: The Lions' second-year sensation caught nine passes for 116 yards and two touchdowns, as well as a 58-yard carry in Detroit's decisive first win of the season.
• Nick Chubb achieves a hat trick: Chubb, arguably the best running back in the NFL, managed three touchdown carries on 17 carries.
• Christian Kirk dominates the Colts: The new Jaguars wide receiver caught six passes for 78 yards and two touchdowns in their blowout victory.
---
PFF's fantasy football recap focuses on player usage and stats, breaking down all the vital information you need to achieve fantasy success in 2022.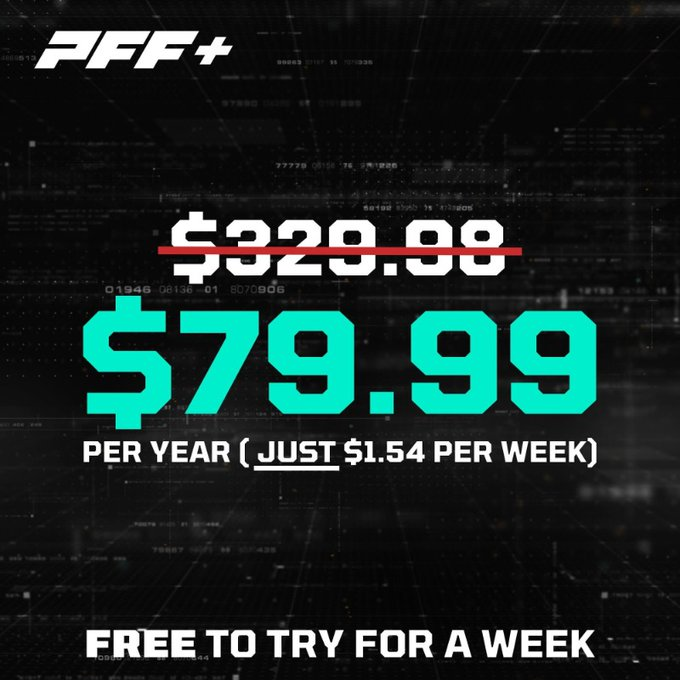 ---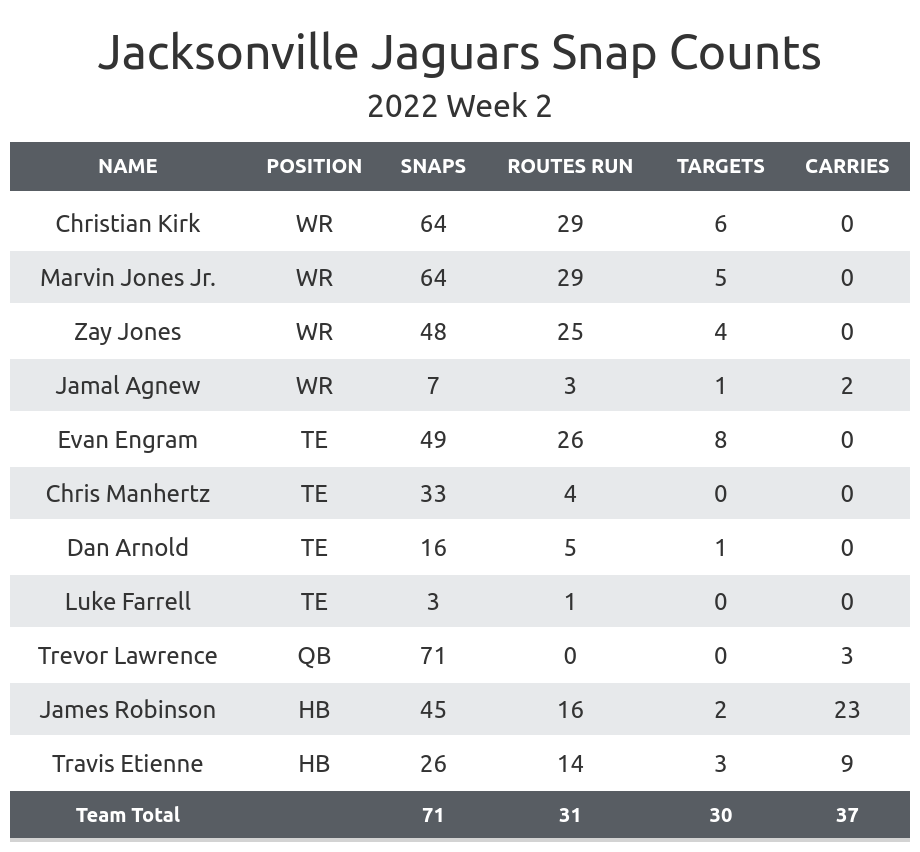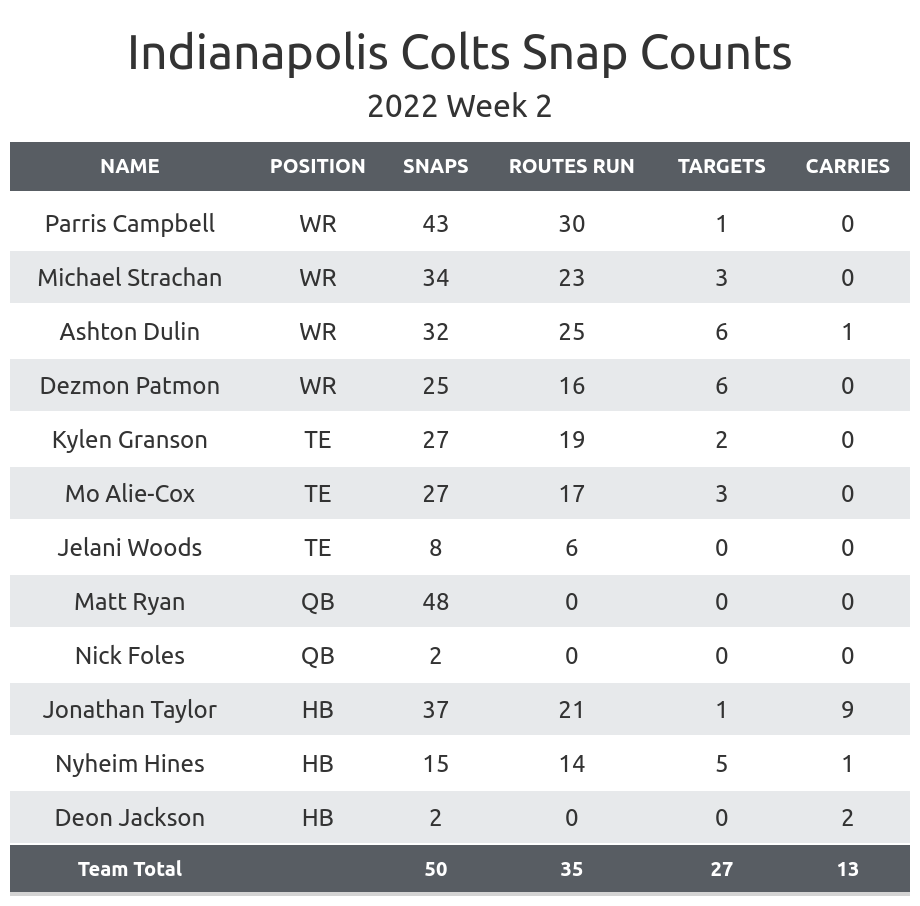 The Jaguars' running back committee: The Jaguars' running back rotation has become clearer, with a fumble last week potentially influencing the Week 1 usage.
James Robinson

was the clear player on early downs, seeing more than twice as many snaps as

Travis Etienne

.

Robinson received most of the short-yardage work, as well as all of the goal-line work.

The Jaguars used Robinson on third-and-5 or less, and Etienne on third-and-6 or more.

Their fantasy value will largely be dependent on game script going forward. In games like this where the Jaguars are clear winners, Robinson was by far the better fantasy player. In games where Jacksonville is behind, Etienne should put up much better numbers.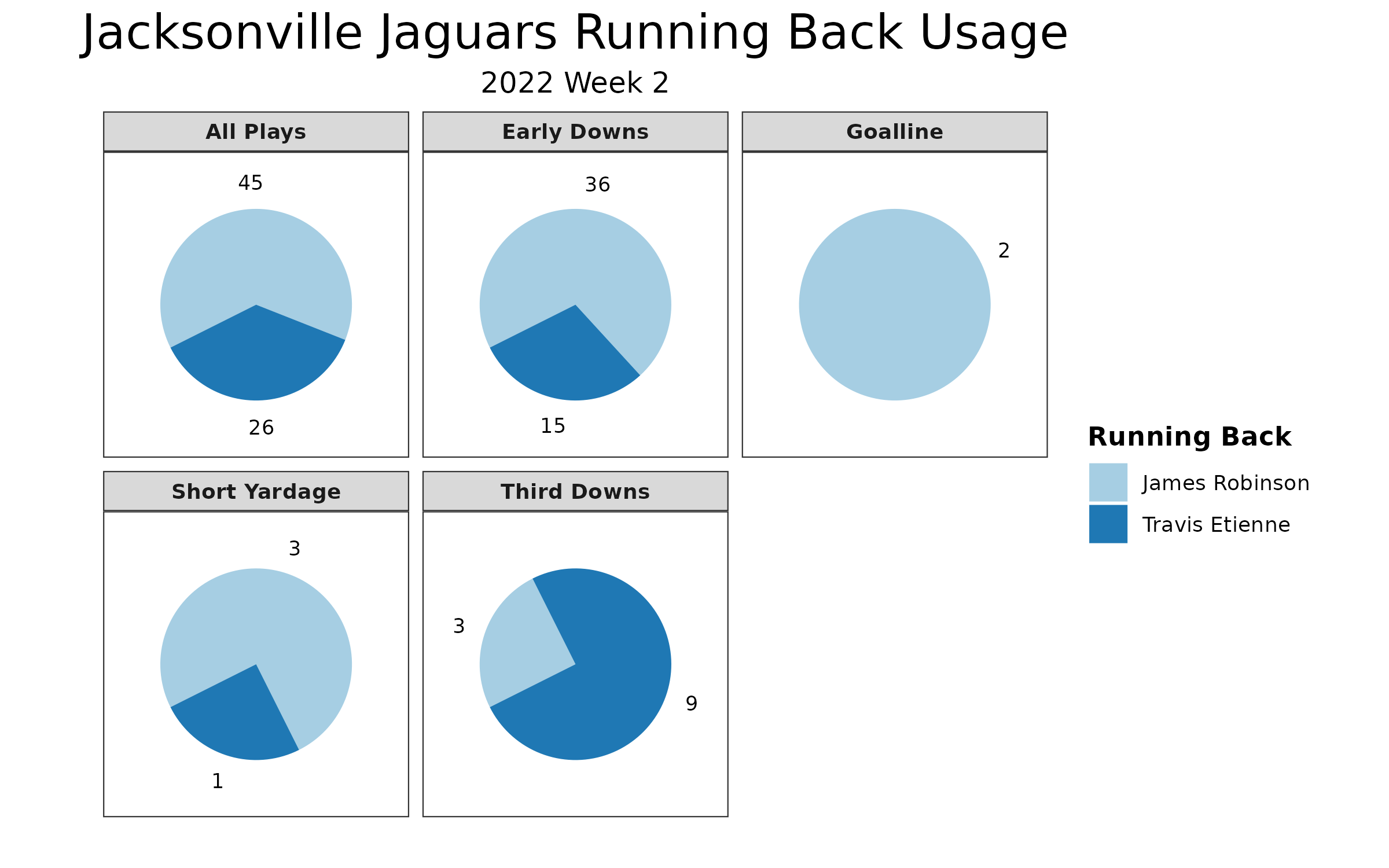 Start Christian Kirk: Kirk continues to dominate for the Jaguars, leading the skill players in offensive snaps and routes run.
He also caught six passes last week on double-digit targets for 117 yards.

The Jaguars passed only 30 times against the Colts but will do so much more in most of their other games this season, giving Kirk even more chances for targets.

Kirk was started in 36.7% of ESPN leagues.
Avoid most Colts receivers: The Colts didn't have Michael Pittman Jr. or rookie Alec Pierce due to injuries. Unlikely players stepped up instead of the team's usual starters.
Parris Campbell

was the only starting receiver to play, but he didn't have a catch on his only target.

Ashton Dulin

led the way for Indianapolis, catching five passes for 79 yards. He may have earned more playing time in future weeks.

The Colts continued to split their tight ends, resulting in both players staying under 15 receiving yards.

None of the wide receivers or tight ends who played should be on fantasy rosters in the vast majority of leagues.
---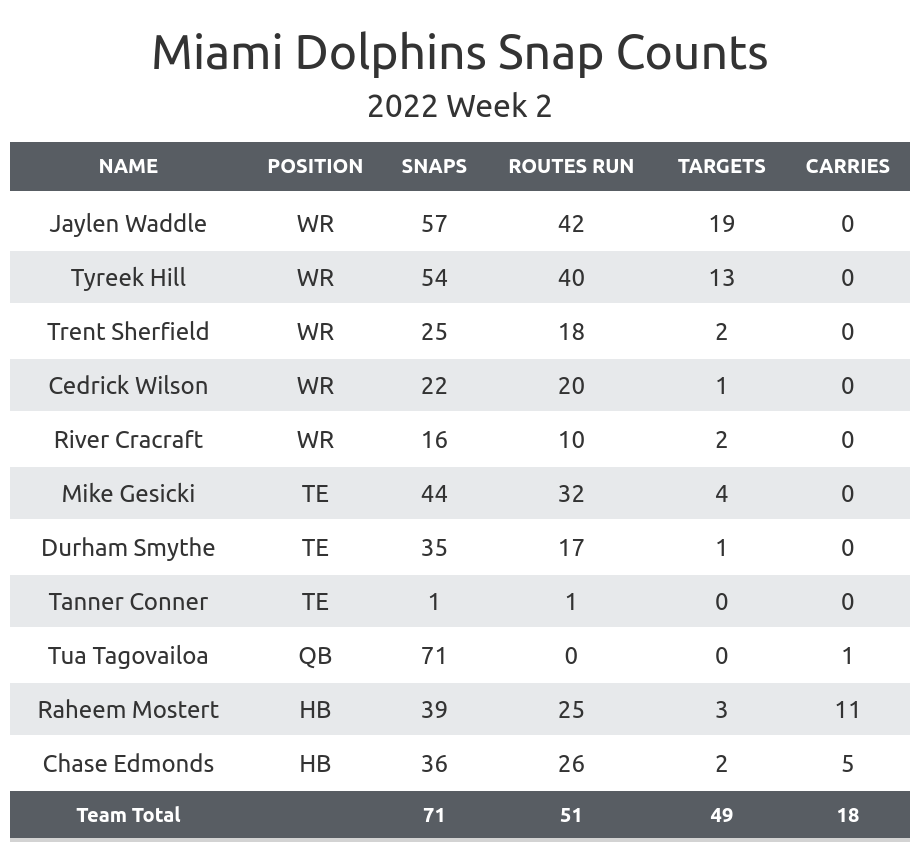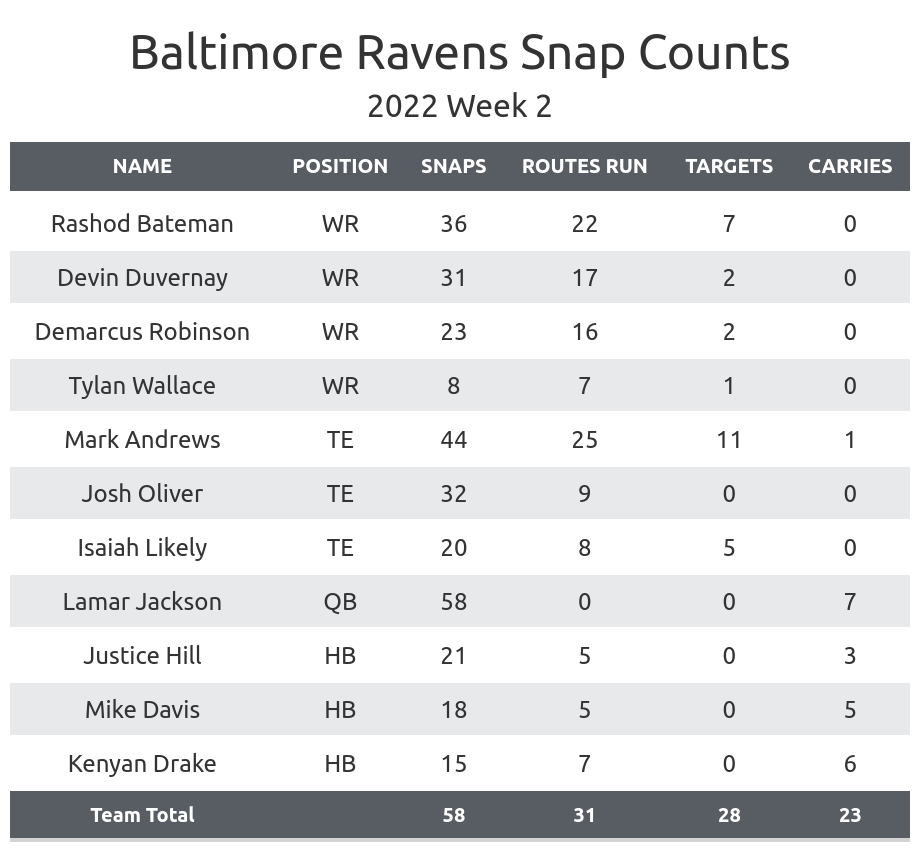 Add Raheem Mostert: Mostert was more involved this week compared to last, gaining 51 yards on 11 carries and catching three passes for 28 yards.
Chase Edmonds

had played in a majority of early-down snaps last week, but that changed to Mostert seeing a majority this week.

Mostert had never run 20 or more pass routes in a game prior to Week 2.

Edmonds seemed to be a reliable fantasy starter due to Mostert's lack of use in the pass game throughout his career, but that may no longer be the case.

Mostert still didn't play much in the obvious passing situations, which limits his upside some.

Any back with the potential for double-digit carries each week, and a few catches, needs to at least be on fantasy rosters.

Mostert is available in roughly half of ESPN leagues.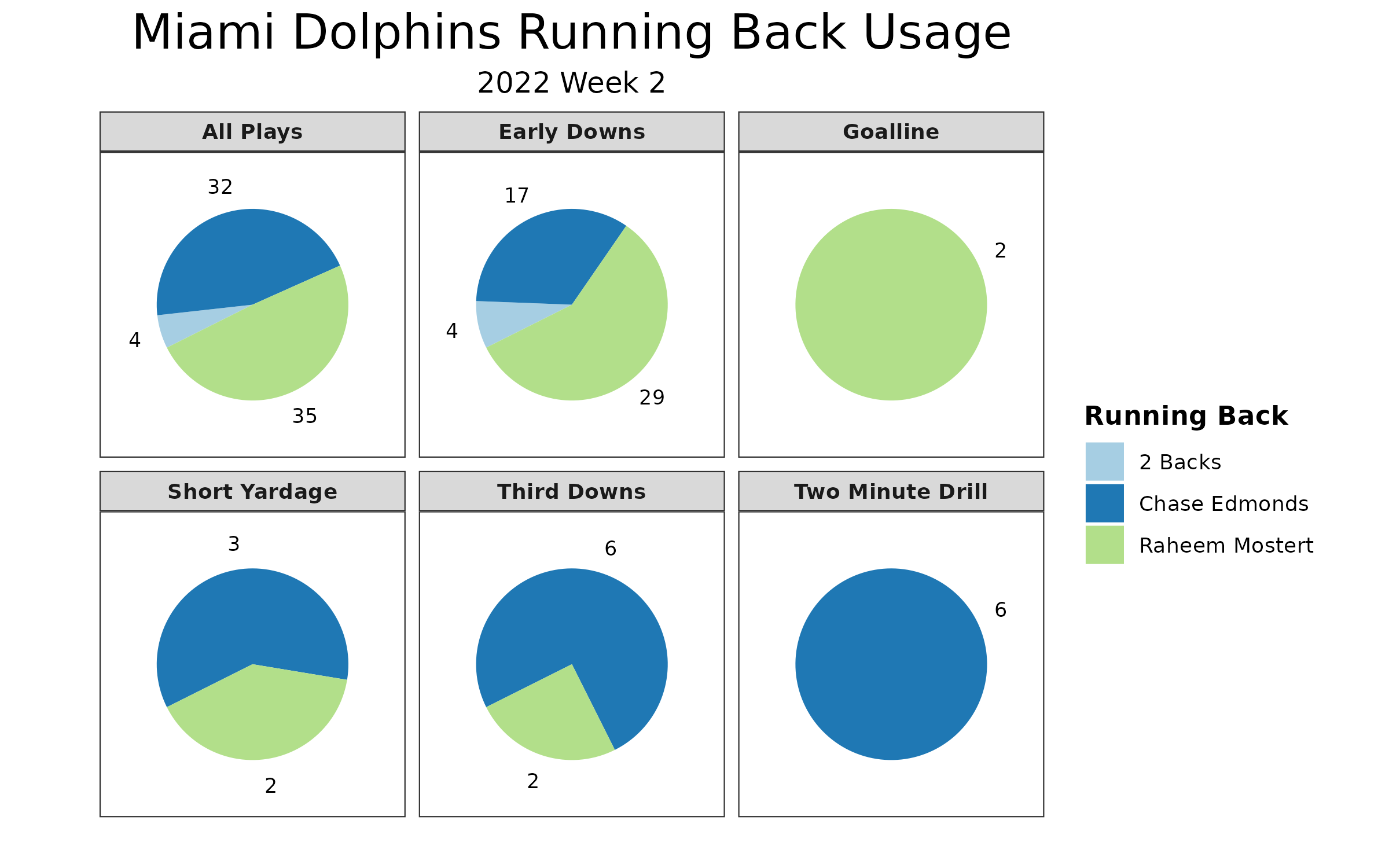 Don't rely on the Ravens' running backs from this game: Kenyan Drake was a clear leader for Baltimore in Week 1, but he fell to third on the depth chart this week.
Mike Davis

was the clear goal-line and short-yardage back, while

Justice Hill

was the clear two-minute drill and third-down back. Drake was typically the player in any other situation, but even then it was still a rotation.

This kind of three-man backfield makes it impossible to rely on any of the three, especially when

Lamar Jackson

can run the way he does.

Ideally,

J.K. Dobbins

is back next week and will eventually be a clear leader.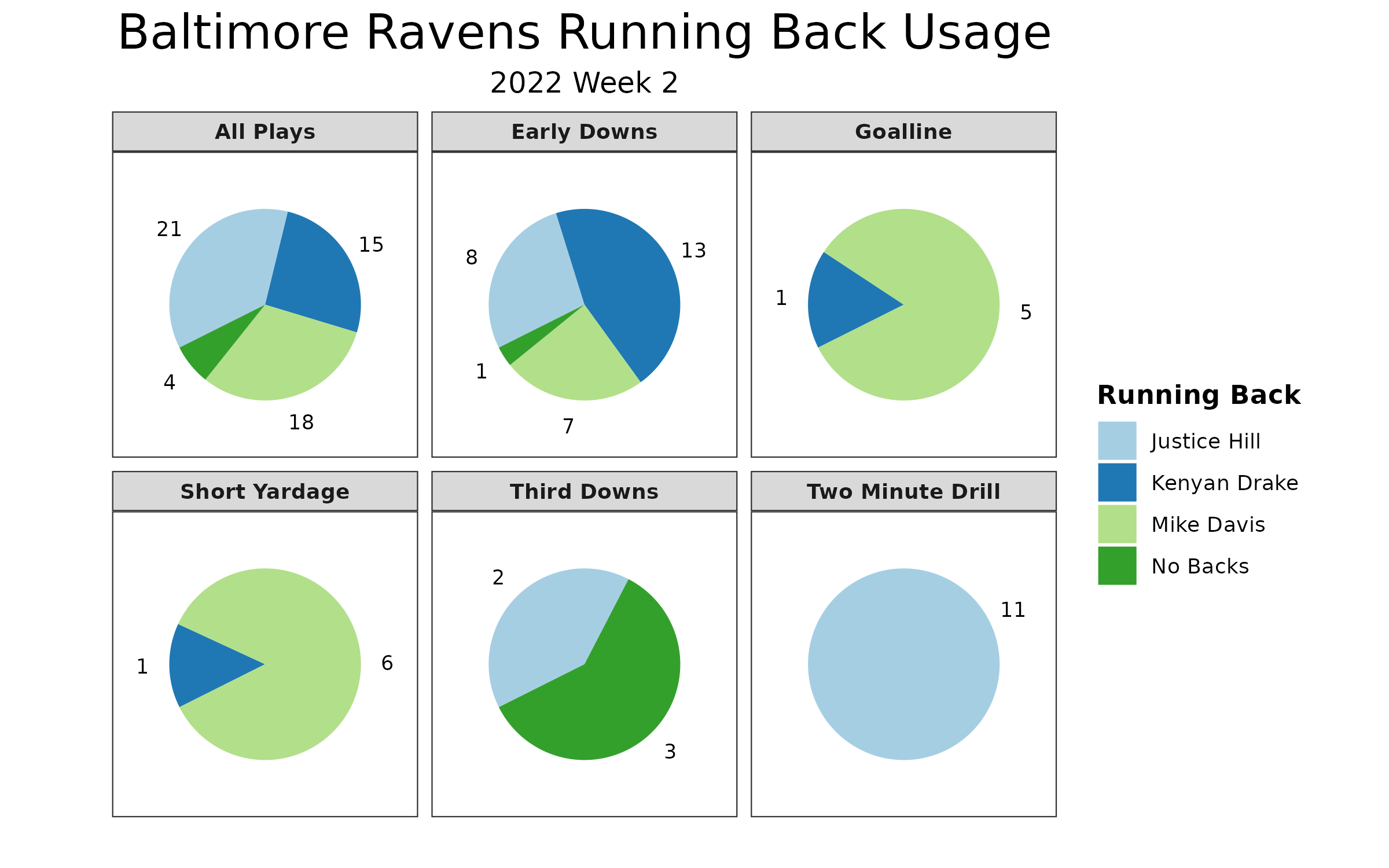 Monitor the Devin Duvernay concussion: Duvernay suffered a concussion late in the fourth quarter of the Ravens' loss to the Dolphins.
Duvernay took the opening kickoff for a touchdown.

He also caught two passes for 42 yards.

Baltimore didn't rely much on wide receivers. Their most frequent personnel group was 22, where only one wide receiver is on the field.

They used three-receiver sets only nine times.

Duvernay can be left on the waiver wire even if he is healthy because he doesn't see enough playing time despite being the team's No. 2 wide receiver.
Monitor the Cedrick Wilson ribs injury: Wilson suffered a ribs injury in the fourth quarter and didn't return.
Wilson didn't catch his only target prior to the injury.

He hasn't seen as much playing time as expected despite signing a big contract this offseason, with

Trent Sherfield

and

River Cracraft

both seeing roughly as much time as him before the injury.

The committee among third wide receivers just makes it more likely the Dolphins rely on their top two, as they did in this game.
---
Nick Chubb

: 17 carries, 87 yards, 3 touchdowns, 3 receptions, 26 receiving yards

Garrett Wilson

: 8 receptions, 102 yards, 2 touchdowns, 1 carry, -2 rushing yards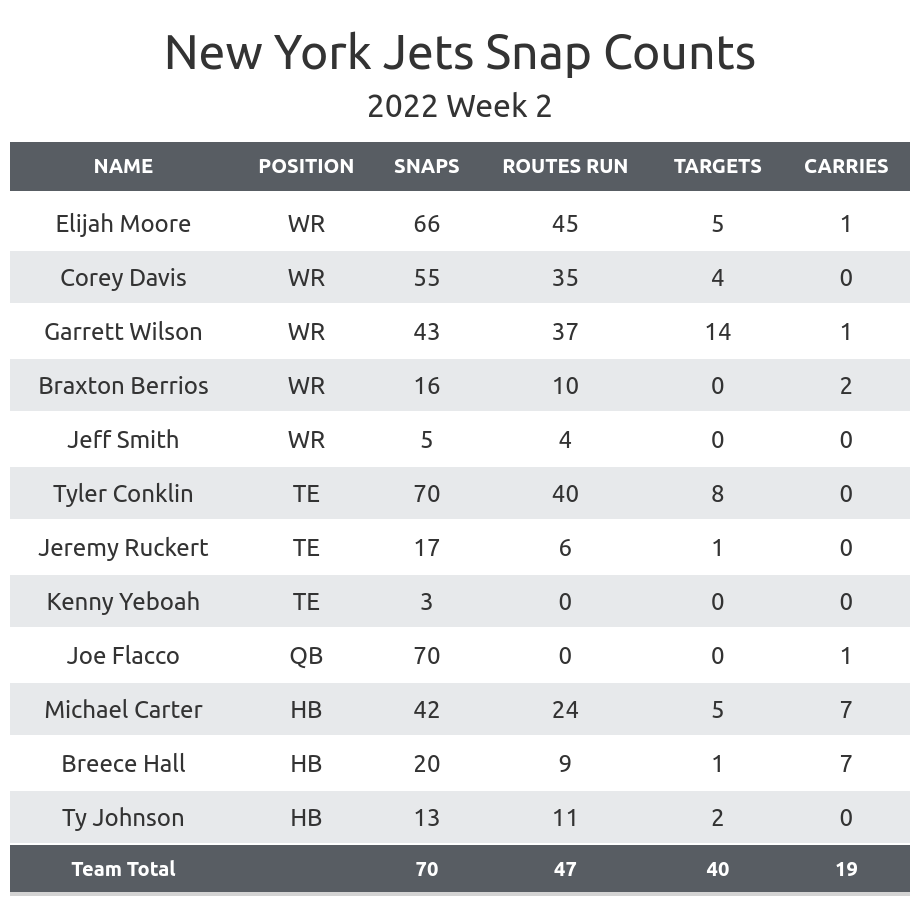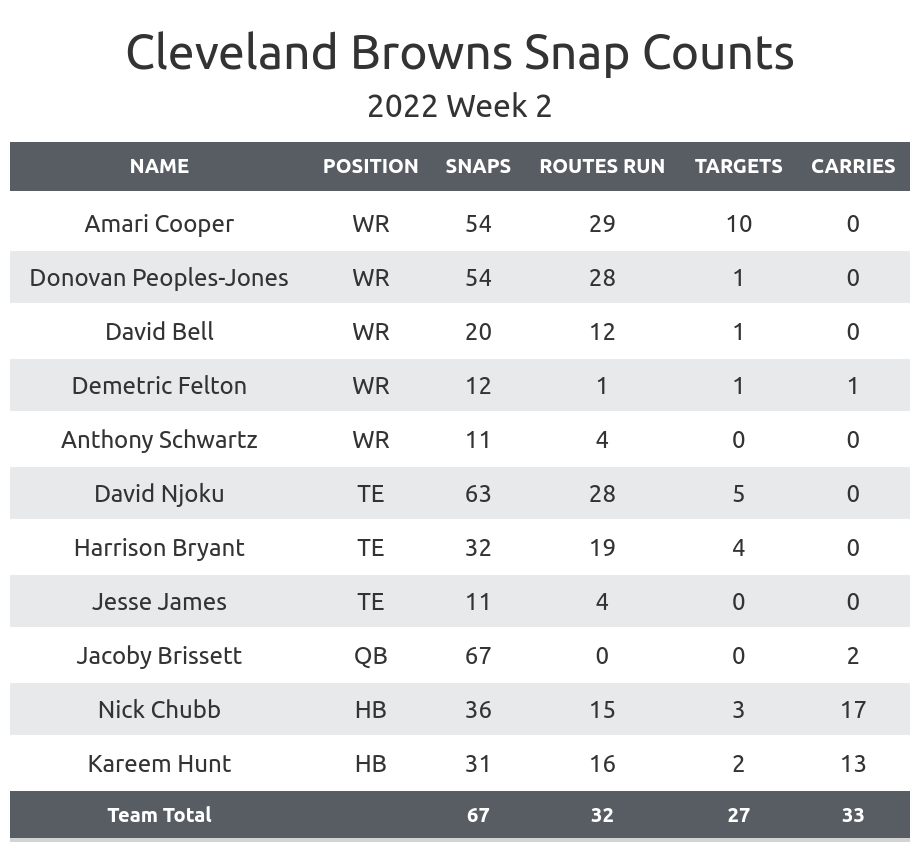 Hold off on starting Garrett Wilson: Wilson was a much larger part of the Jets' offense, seeing a target on 14 of 37 pass plays.
Wilson largely took playing time from

Braxton Berrios

. The rookie led the team in slot snaps (21).

While Wilson saw significant time in the slot, most of his production came when lined up out wide.

Wilson was targeted on 10 of his 16 snaps when lined up out wide for a ridiculous 62.5% snaps share. He achieved 5.19 yards per route run from that alignment.

In contrast, his target share was only 22.2% in the slot for 1.06 yards per route run.

He will likely need to take more snaps from

Corey Davis

as an outside receiver before he becomes a consistent fantasy producer. That is certainly possible this upcoming week, but it might be better to wait and see it happen first before trusting him.
Bad news for the Jets' running backs: The Jets' presumed two-man committee has become a three-man committee, with Ty Johnson taking away valuable playing time.
Both

Breece Hall

and

Michael Carter

split carries, with seven each.

Carter was used much more in the pass game, which resulted in five receptions for 27 yards. Hall's fantasy value benefited from his only catch resulting in a touchdown.

The Jets threw a lot more to the wide receivers and tight ends this week compared to Week 1.

Ty Johnson emerged as a third-down back and also took some snaps in passing situations.

It is very discouraging for Hall that he wasn't used more in these situations over Hall.

Hall will likely take at least some snaps from Carter going forward, making it hard to trust any of the three.

Hall is a sell-high candidate because of the three-back committee.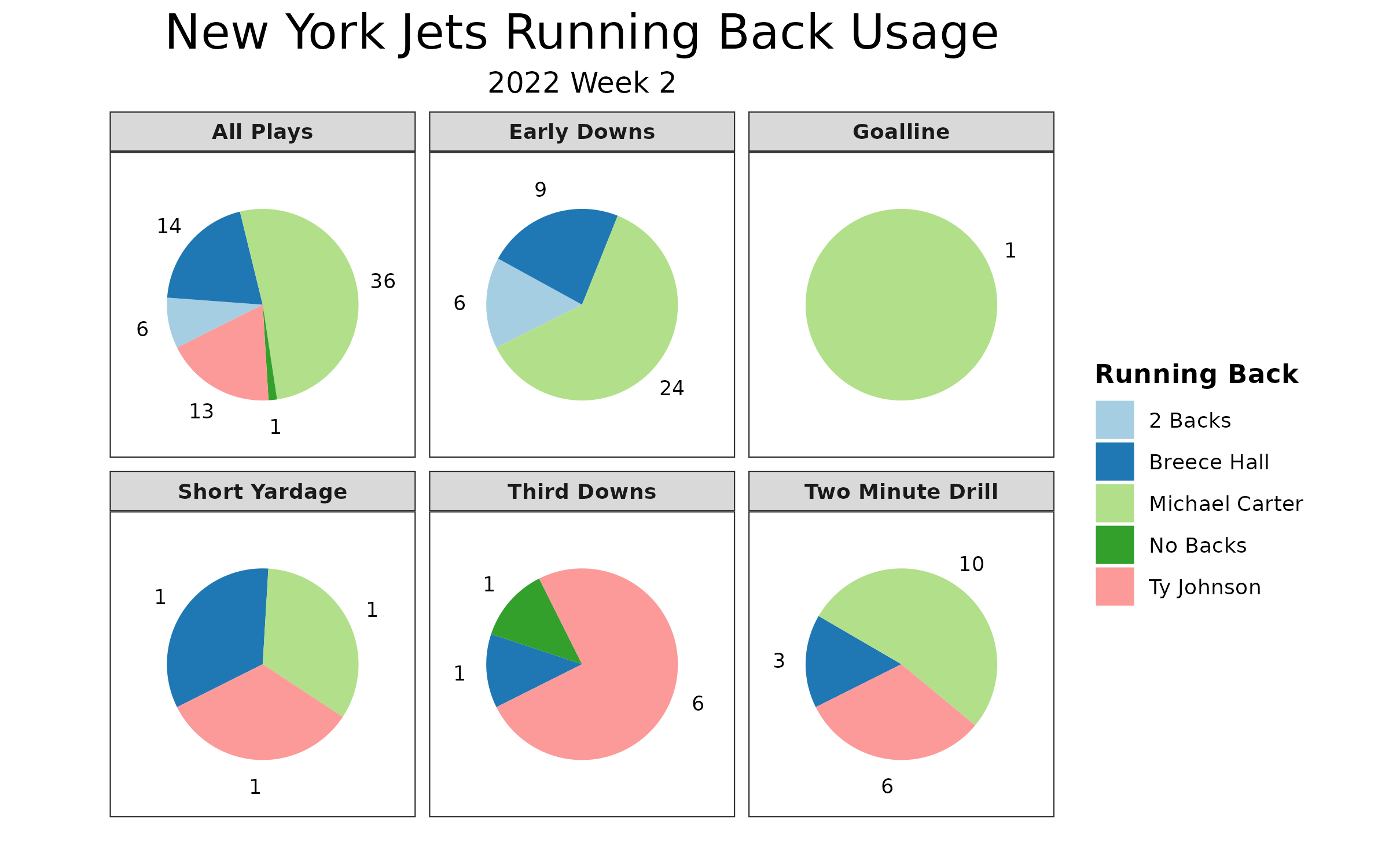 Potentially start Amari Cooper: Cooper caught nine passes for 101 yards and a touchdown and was the Browns' only trusted receiver.
Cleveland continues to use three different players for their third receiver spot. The three of them combined for two targets.

The Browns continued to rely heavily on two-tight end sets. This included a combined nine targets to tight ends, but they gained only 87 yards.

Cleveland was leading the vast majority of this game, allowing the team to run more than pass. In most games, the Browns will need to be passing more, which means more targets for Cooper.
---
Amon-Ra St. Brown

: 9 receptions, 116 yards, 2 touchdowns, 2 carries, 68 rushing yards

Curtis Samuel

: 7 receptions, 78 yards, 1 touchdown, 1 carry, 21 rushing yards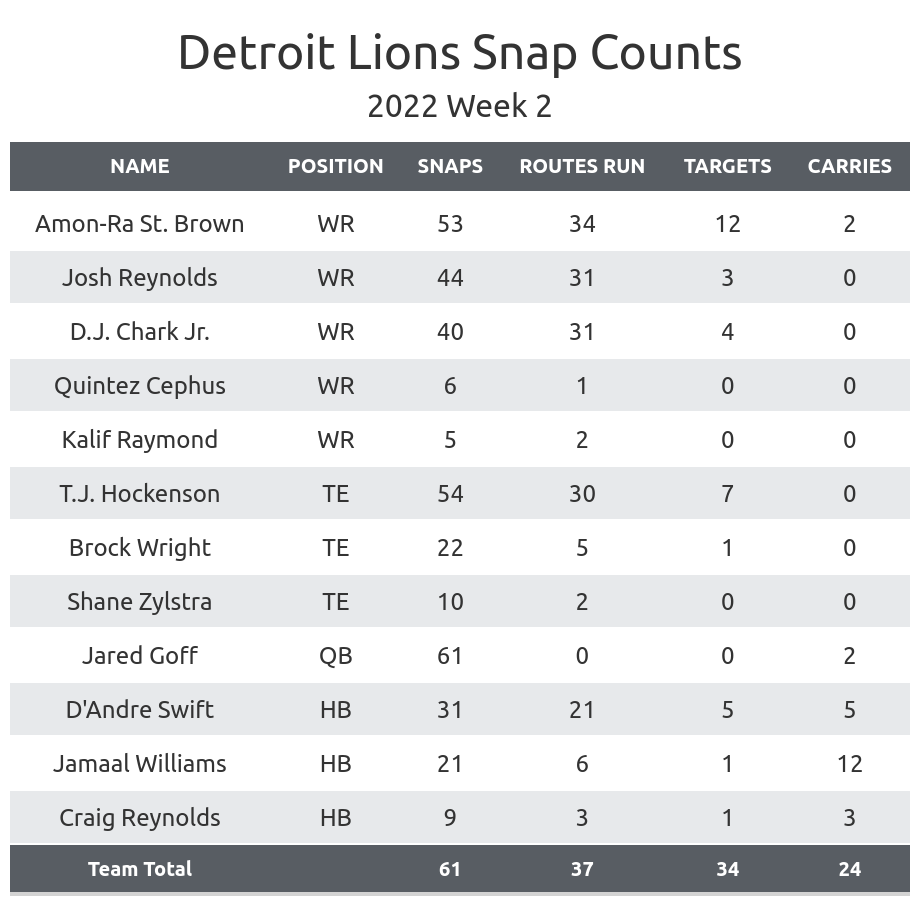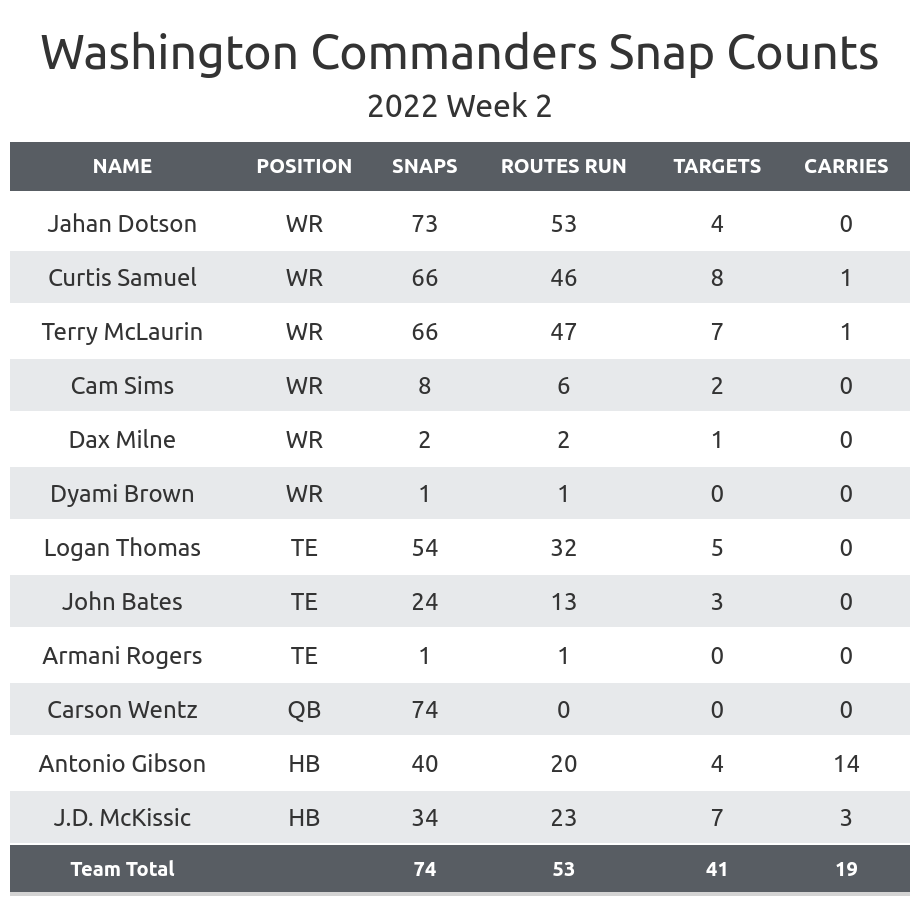 Add Logan Thomas: The Commanders tight end caught three of five passes thrown his way for 37 yards and a touchdown.
The veteran tight end was limited to 48 of a possible 77 snaps in Week 1. He didn't play at all in the preseason and had last played in Week 13 of 2021.

His playing time increased significantly, including running a route on 32 of a possible 53 pass plays while the other tight ends weren't involved in the pass game.

Most of the routes he was out for occurred in the fourth quarter. Those are snaps he would likely take in the future as he's further eased back into the offense.

He should continue to see the playing time necessary to be a fantasy starting tight end like he was in 2020. 

The biggest concern for Thomas is a competition for targets among the wide receivers, something he didn't have as much of in 2020.

He's available in over 80% of leagues at ESPN.
Continue to trust the Commanders' wide receivers: Washington continues to rely heavily on the pass game, rarely rotating out its wide receivers.
All three ran over 46 routes out of a possible 53 pass plays.

They each caught at least four passes for over 50 yards, and two of the three caught touchdowns.

The Commanders will likely be playing from behind in most games, which means they will need to continue to throw a lot.

All three should at least be on fantasy rosters, and

Curtis Samuel

and

Jahan Dotson

are closer to becoming fantasy starters.
D'Andre Swift's performance while playing hurt: Swift was restricted to five carries and two catches.
He was questionable coming into the game with an ankle injury, which explains part of his lack of touches.

He was still used heavily on third downs and in two-minute drills despite the injury.

Craig Reynolds

played nine offensive snaps, which probably would not have happened had Swift been 100%.

Luckily, anyone who started Swift was rewarded with a 50-yard carry and a receiving touchdown. He remains a must-start player each week.

If anything, Swift might be a sell-high candidate. Jamaal Williams

in both games has seen more than half of the goal-line and short-yardage snaps. This will make it difficult for Swift to keep scoring so many touchdowns.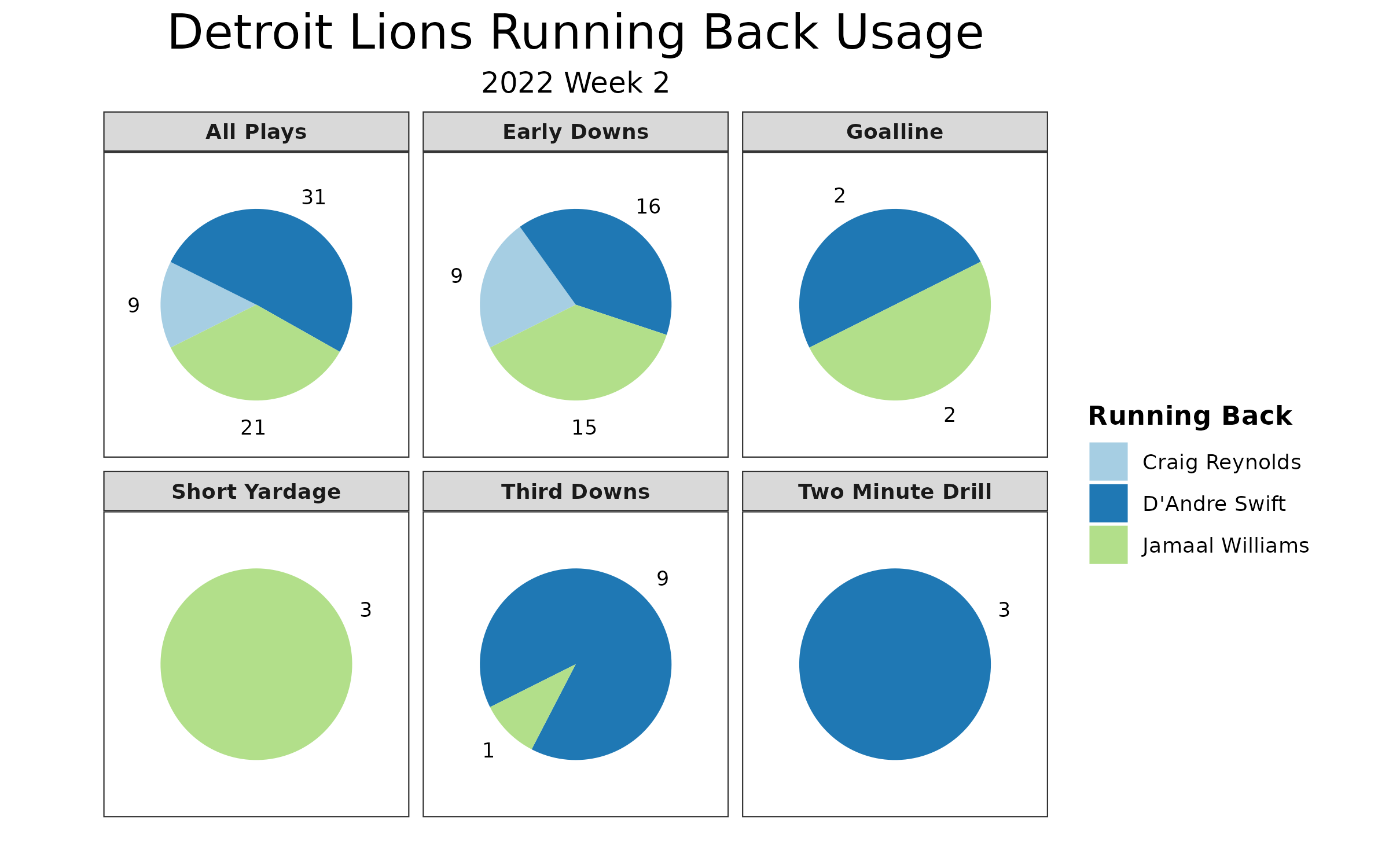 ---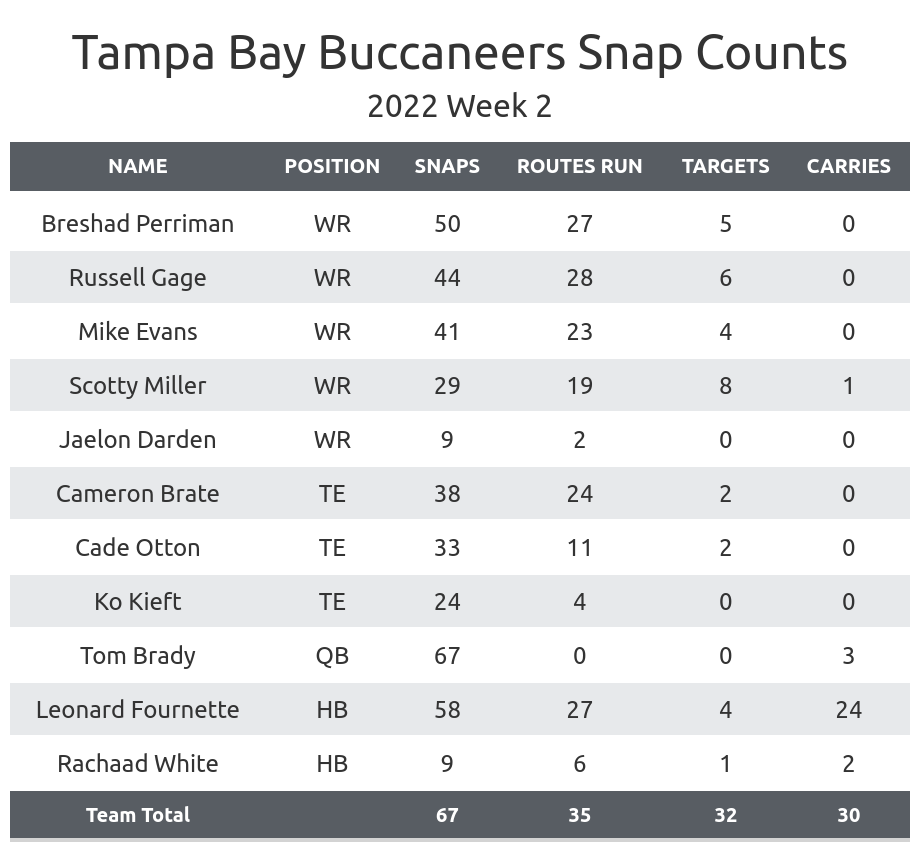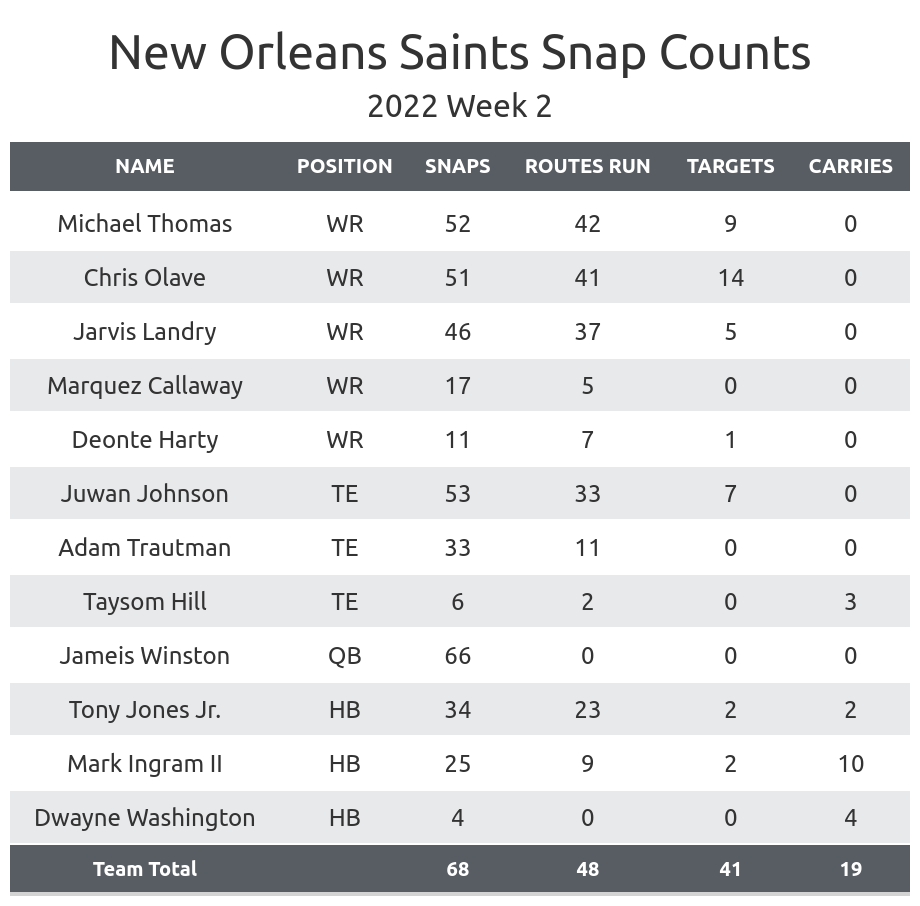 Chris Olave's breakout game: The Saints rookie was the clear leader in targets for New Orleans (13), catching five passes for 80 yards.
He played on 12 of a possible 13 snaps in 12 personnel, which was a passing formation more often than not for New Orleans.

He was taken off the field eight times in three-receiver sets, which is a situation where his playing time could increase going forward.

The Saints' offense is pass-happy enough that any one of their three wide receivers can have a big day any given week.

He would have been a perfect buy-low candidate before his 51-yard reception within the last three minutes.

Olave maintained a 26.1-yard average depth of target on his 14 targets.

He is the first player to have an over 25-yard aDOT on 10-plus targets since Mike Wallace in Week 12 of 2013, and he's the only one on 13-plus targets in PFF's 17 years of data.

His game is so unprecedented in terms of usage that it would still be a little hard to trust him in your starting lineup, but it's definitely promising going forward.
Don't add Juwan Johnson: He was a deep sleeper tight end target off the waivers last week, but his playing time was cut in Week 2.
Adam Trautman

was primarily used as a blocker in Week 1 as well as the preseason but started playing more as a receiver this week.

Johnson ran a route on only 33 of a possible 48 pass plays.

This is only borderline fantasy starter usage, but it makes it harder when you consider his talent compared to that of the Saints' wide receivers.

Taysom Hill

also doesn't need to be on fantasy rosters. He's a clear third on the depth chart. He will have the random big plays like in Week 1, but those will be far too unpredictable in redraft leagues.
Buccaneers dealing with injured receivers: All five wide receivers on the Buccaneers' depth chart showed up on the injury report, with Chris Godwin and Julio Jones both missing the game.
Mike Evans

stayed on the field the vast majority of snaps before getting ejected for getting into a fight.

Russell Gage

and

Breshad Perriman

both saw significant playing time. Perriman played more on early downs, leading to more run blocks, while Gage played more in clear passing situations.

Gage played in the slot more often than not. Ideally, he would have rarely left the field. It is hard to know how much he can be trusted once everyone is healthy.

Scotty Miller

and

Jaelon Darden

played 13 and three snaps, respectively, in the first three quarters. Miller joined the starting lineup after Evans' ejection.
---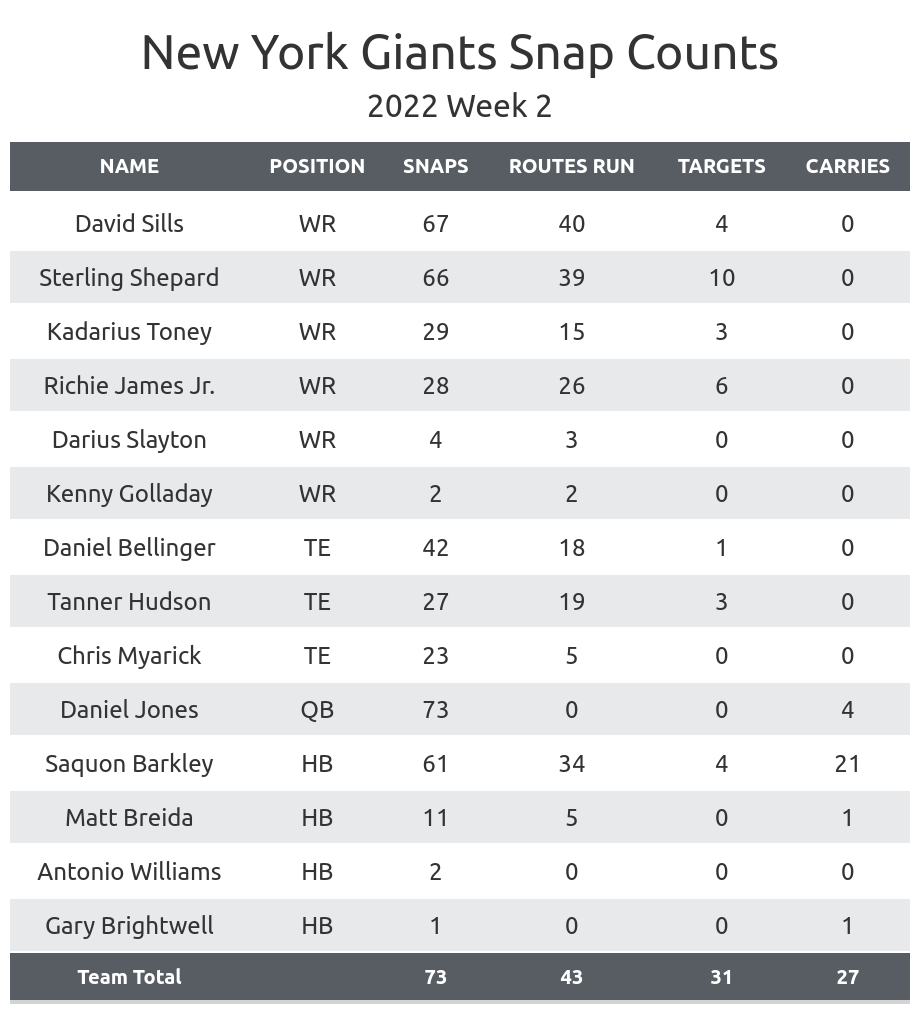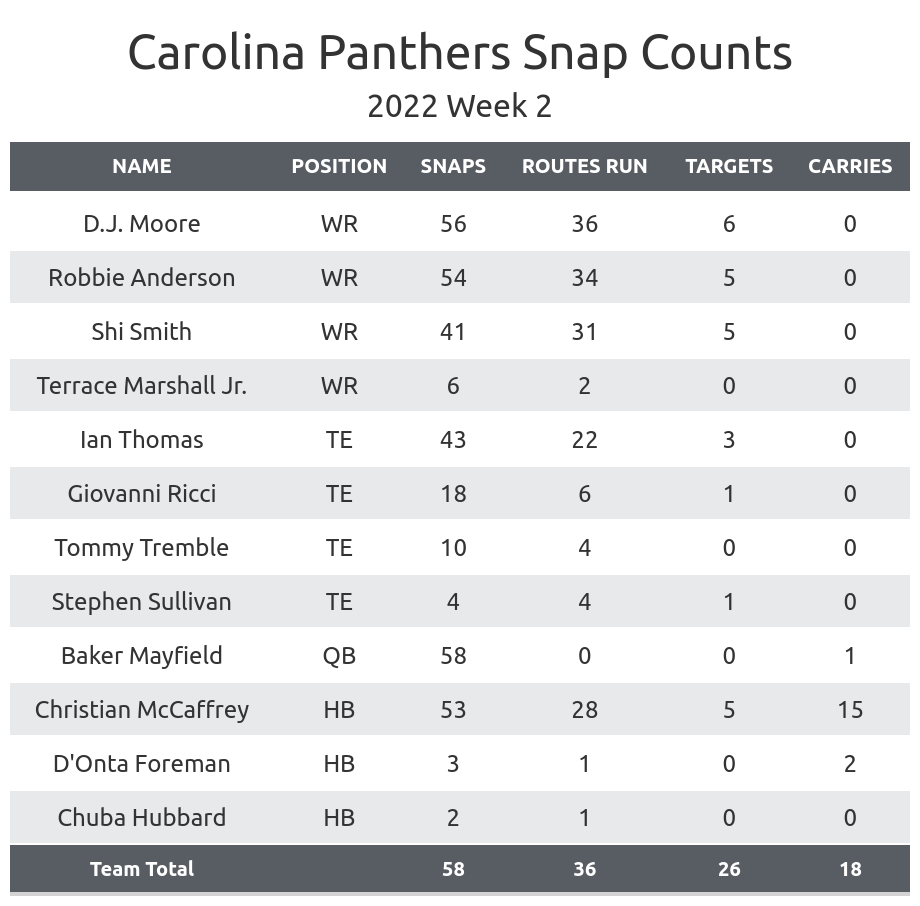 Drop Kenny Golladay: Golladay was held to two offensive snaps, falling to sixth or potentially seventh on the Giants' depth chart.
Sterling Shepard

and

David Sills

have emerged as the Giants' clear starting wide receivers for now..

Richie James Jr.

was the typical player coming in for three-receiver sets in the slot.

Kadarius Toney

earned more playing time than he received last week but remained fourth on the depth chart.

Rookie

Wan'Dale Robinson

was inactive due to an injured knee, but he is likely to take significant playing time from James once he's healthy.

Shepard and Stills might lose some playing time, but that would be due to Toney rather than Golladay.

The former Lion could regain some playing time back, but it probably won't be enough for him to be a fantasy starter unless there are multiple injuries.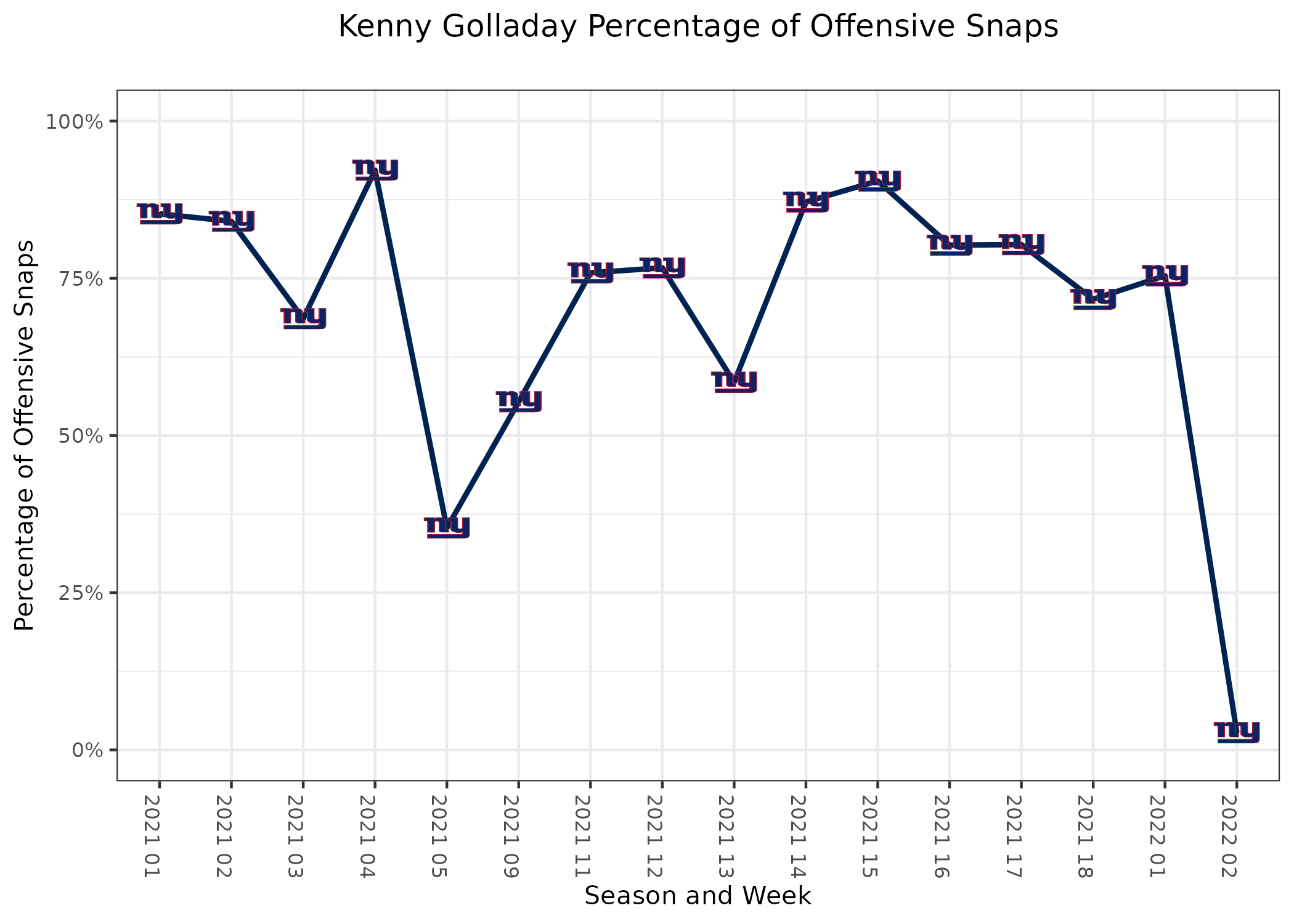 The return of Christian McCaffrey: McCaffrey finally saw the playing time we're used to him getting, which helped lead to his first 100-yard game of the season.
He left the field for only five plays on offense, giving him a higher percentage of offensive snaps than what he typically saw last season.

The Panthers' low time of possession continues to hurt their fantasy players.

They had the ball for 24 minutes, which led to 54 plays.

The Panthers continue feeding their starting players rather than spreading the ball, which is at least somewhat good news. Twenty-two of 29 passes went to McCaffrey and their top three wide receivers.

If Carolina can sustain drives and increase the number of plays they end up running, these players will put up much better fantasy numbers.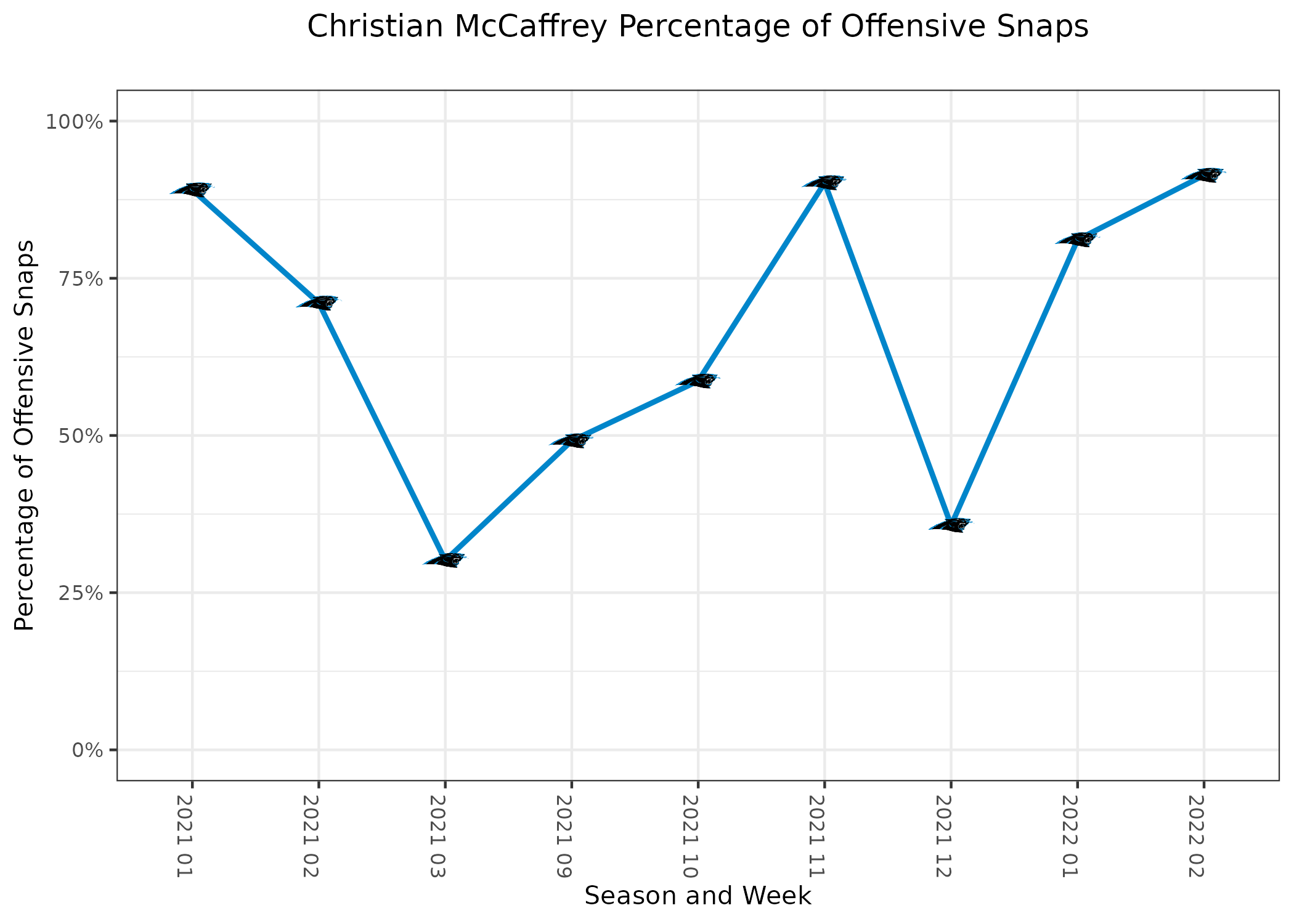 ---
Nelson Agholor

: 6 receptions, 110 yards, 1 touchdown

Damien Harris

: 15 carries, 71 yards, 1 touchdown, 2 receptions, 16 receiving yards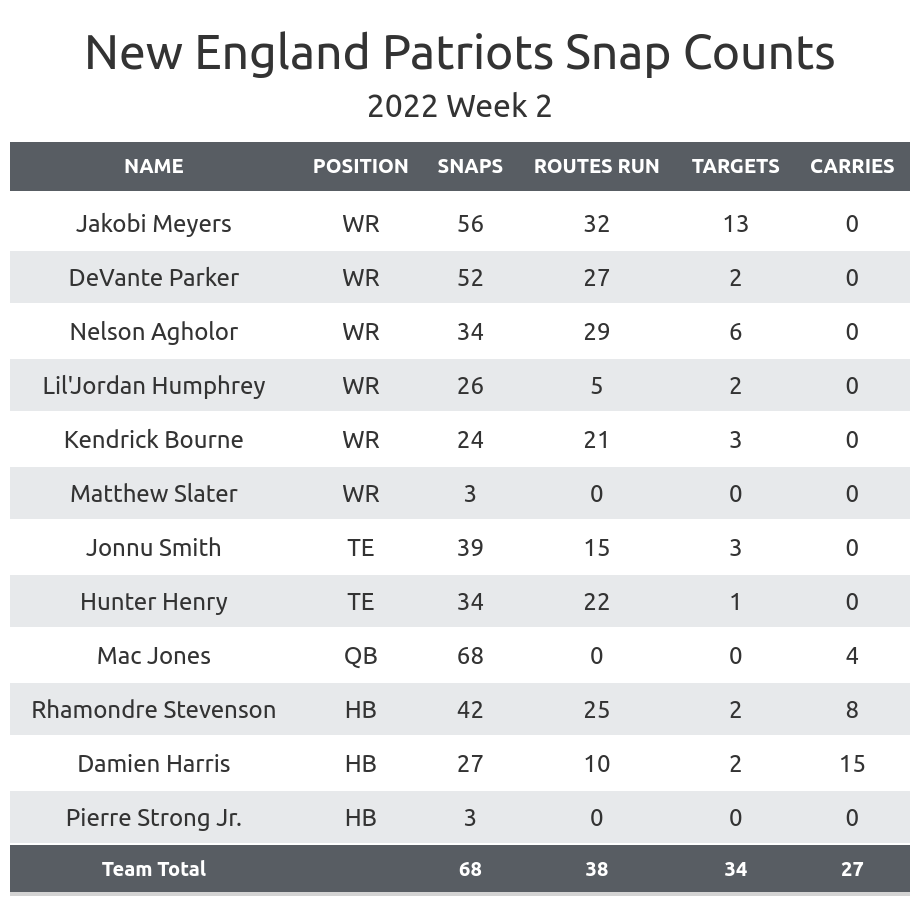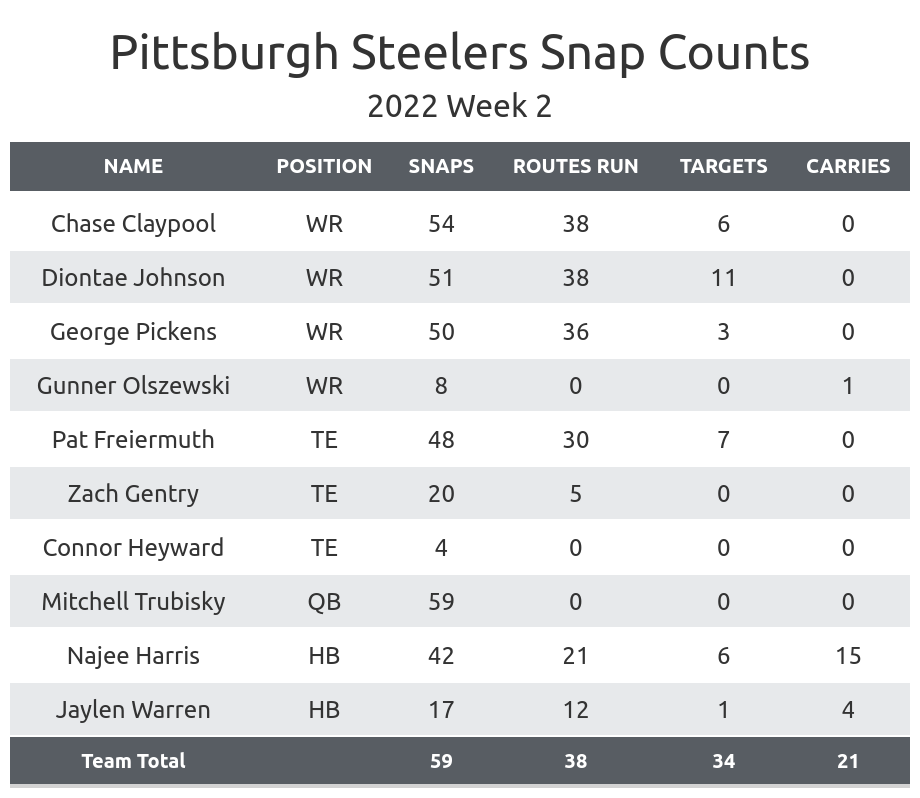 Patriots become a two-man backfield: Ty Montgomery was the clear third-down back in Week 1, but he landed on injured reserve. New England gave its two other backs more playing time rather than bringing a third player into the rotation.
The Patriots rotated their backs by drive rather than the situation. Typically, the only times both backs saw snaps on a drive was if the drive lasted for double-digit plays.

This means they had no preference for

Damien Harris

or

Rhamondre Stevenson

on third downs, and both are likely to be used there for the immediate future if healthy.

Harris suffered a knee injury on the Patriots' last normal offensive play of the game. It's unclear at this time how serious it is.

If Harris misses time, Stevenson would become a must-start player, as he would see a clear majority of offensive snaps.

Pierre Strong Jr.

's only offensive snaps came on the three kneel-downs to end the game.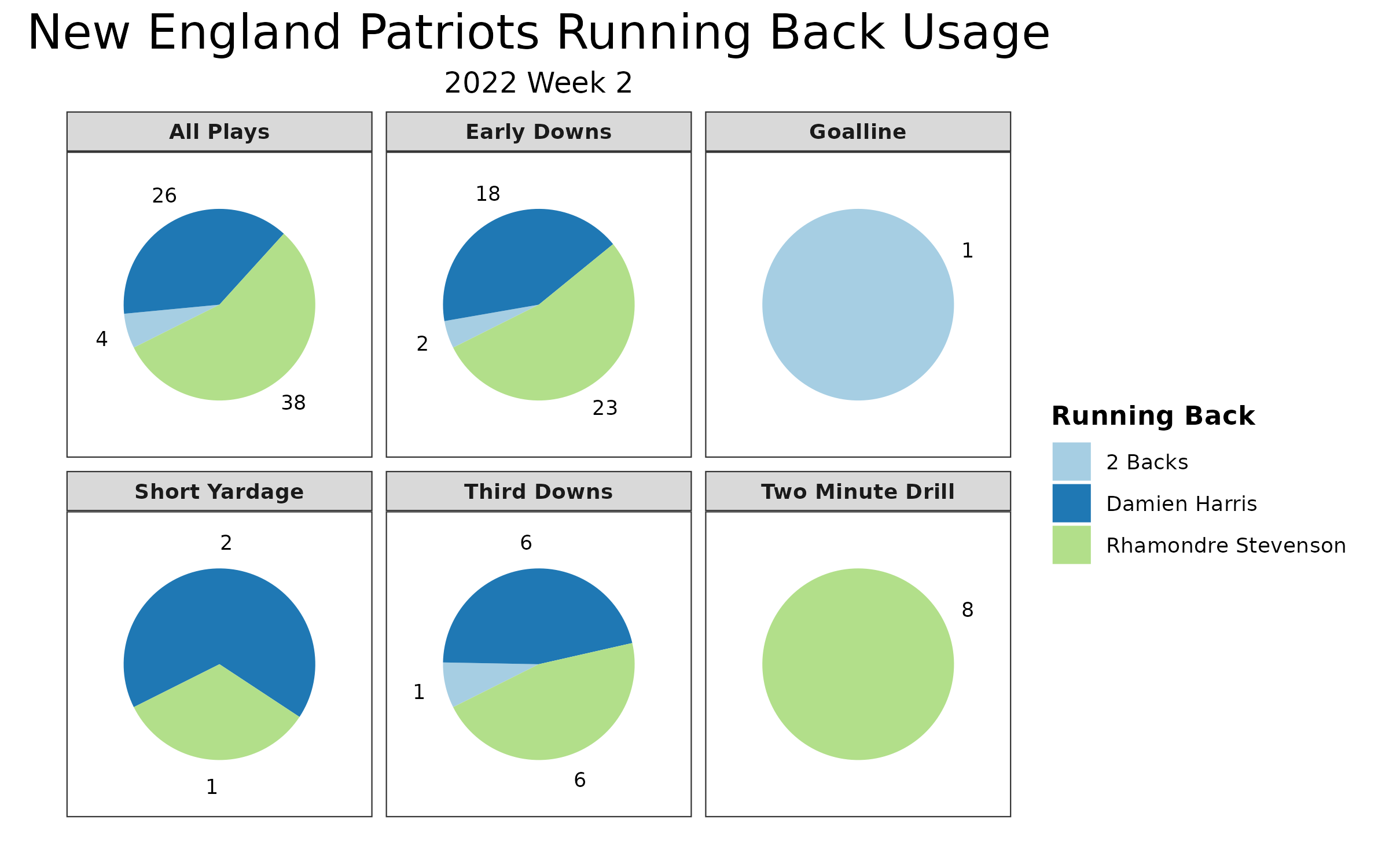 Patriots' crowded receiver room: The Patriots used a five-man rotation at wide receiver, which is likely to continue going forward.
Kendrick Bourne

saw more offensive snaps compared to last week and ran a route on over half of the Patriots' plays.

This cut into the playing time of all of the New England wide receivers.

Nelson Agholor

and

Jakobi Meyers

both saw significant time both outside and in the slot, and they finished first and second in receiving yards for the Patriots at both positions.

DeVante Parker

is borderline cutable, as he seems like the most likely player to lose more playing time. He was held without a catch after catching one pass for nine yards last week.

Second-round rookie

Tyquan Thornton

was placed on injured reserve at the start of the season and will miss at least two more games, but he will further complicate the rotation once he returns.

The Patriots stayed in 11 personnel for 60 of 62 plays outside of kneel-downs, including every pass play. This makes both of their tight ends much harder to trust in fantasy football. They can be cut in fantasy, too.
The ineffective Steelers offense: Pittsburgh's skill players are seeing the playing time that should lead to fantasy success, but the offense hasn't played well enough to achieve it.
Najee Harris continued to see less playing time compared to most of last season.

He should continue to see over 70% of offensive snaps, which is typically enough to be a clear fantasy starter.

He ran the ball 15 times but gained only 49 yards. His five catches for 40 yards certainly helps in PPR leagues, but he needs a higher yards per carry and some touchdowns.

He's gained 10 yards before contact on his 25 carries this season, compared to 62 yards after contact.

All four Steelers receivers saw at least 30 routes on the 38 pass plays, but Diontae Johnson

was the only one to achieve over one yard per route run. It's not their playing time holding them back.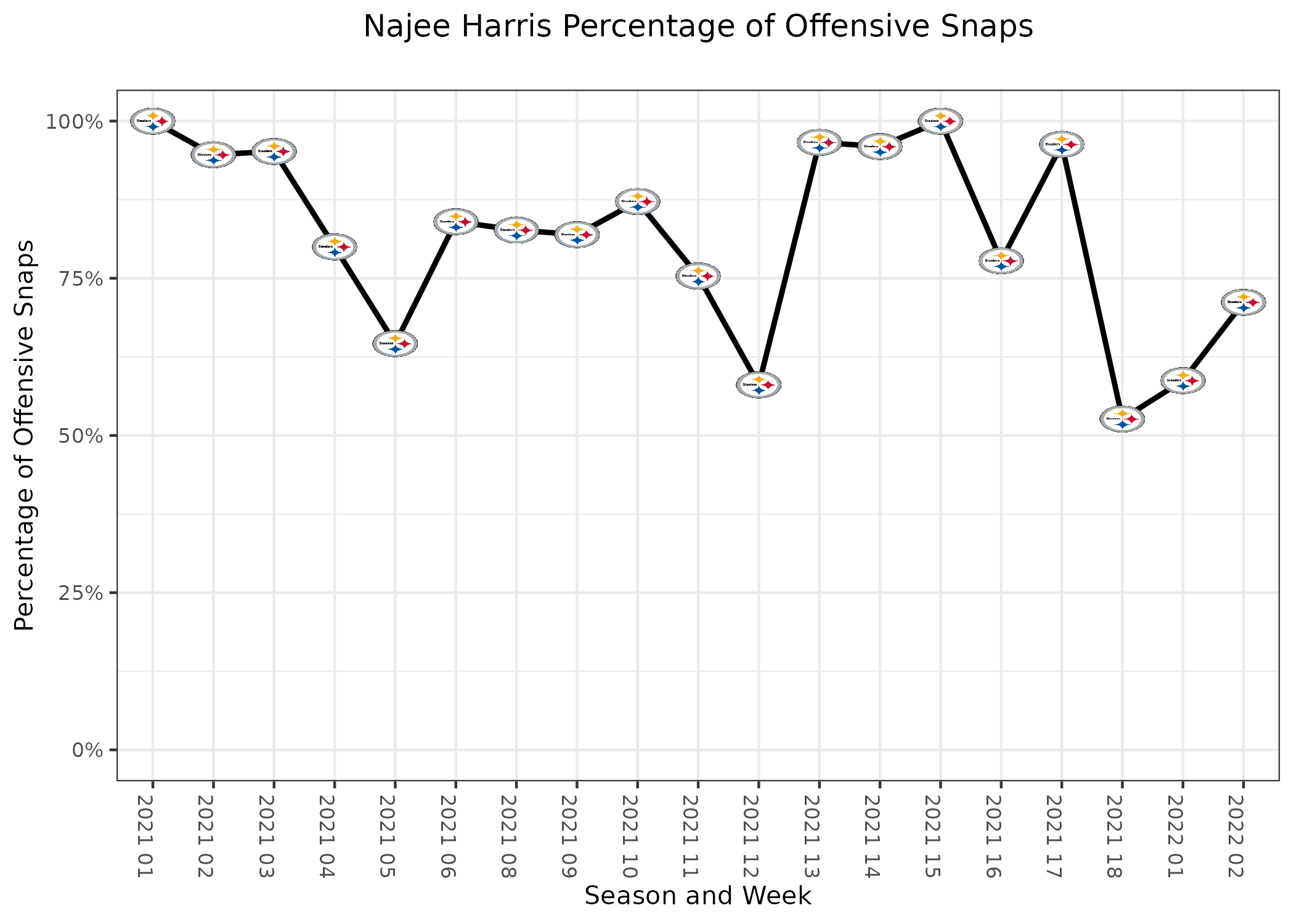 ---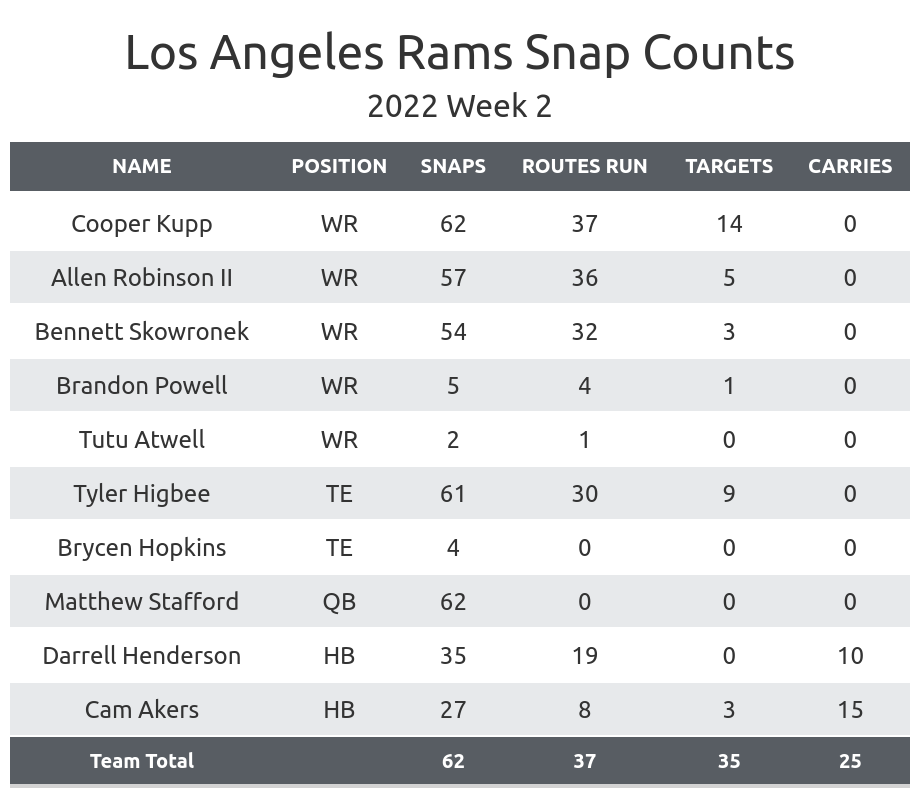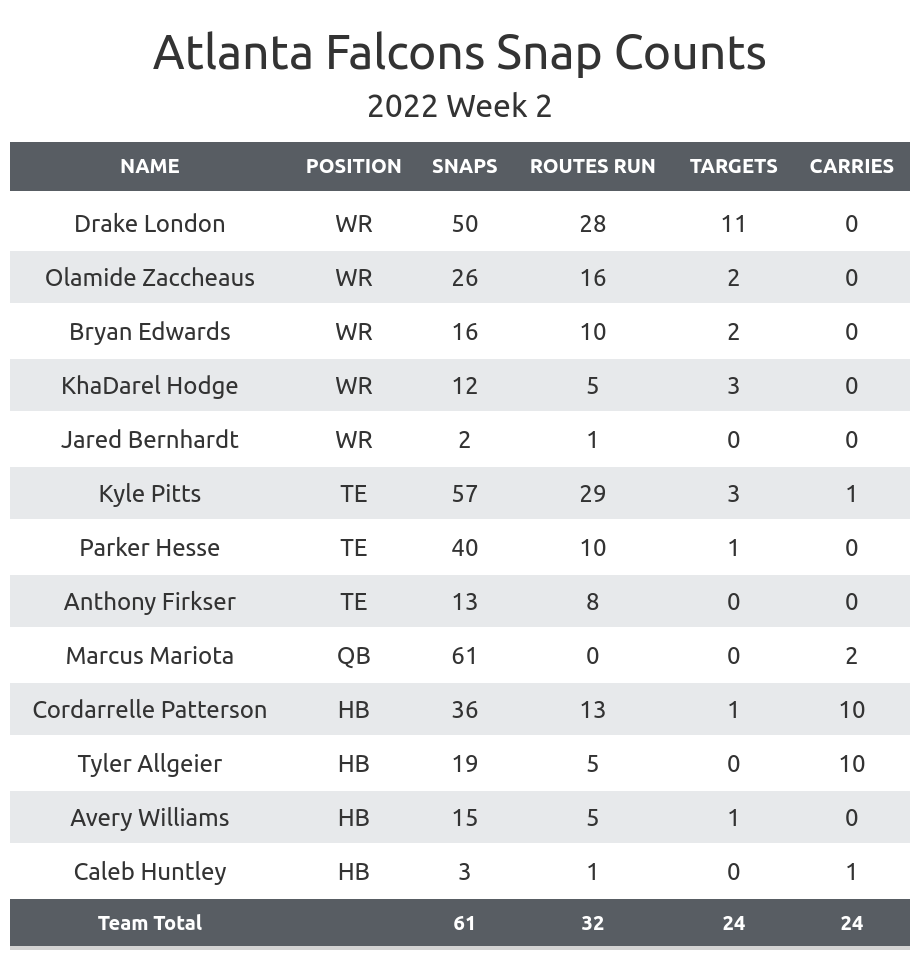 The Rams' running back committee: Darrell Henderson dominated offensive snaps for Los Angeles in Week 1, but now the team appears to be back in a committee, similar to the Super Bowl.
Cam Akers

saw a slight majority of snaps on early downs, while Henderson was the clear back in passing situations.

This would typically mean Akers would be the better back going forward, given the Rams will be winning games more often than not, but Henderson still saw significant short-yardage and goal-line work.

Akers caught more passes despite Henderson being the receiving back, and Henderson scored the rushing touchdown despite Akers handling more carries.

They will both be borderline fantasy starters going forward, depending largely on the matchups and other running back options on your fantasy roster.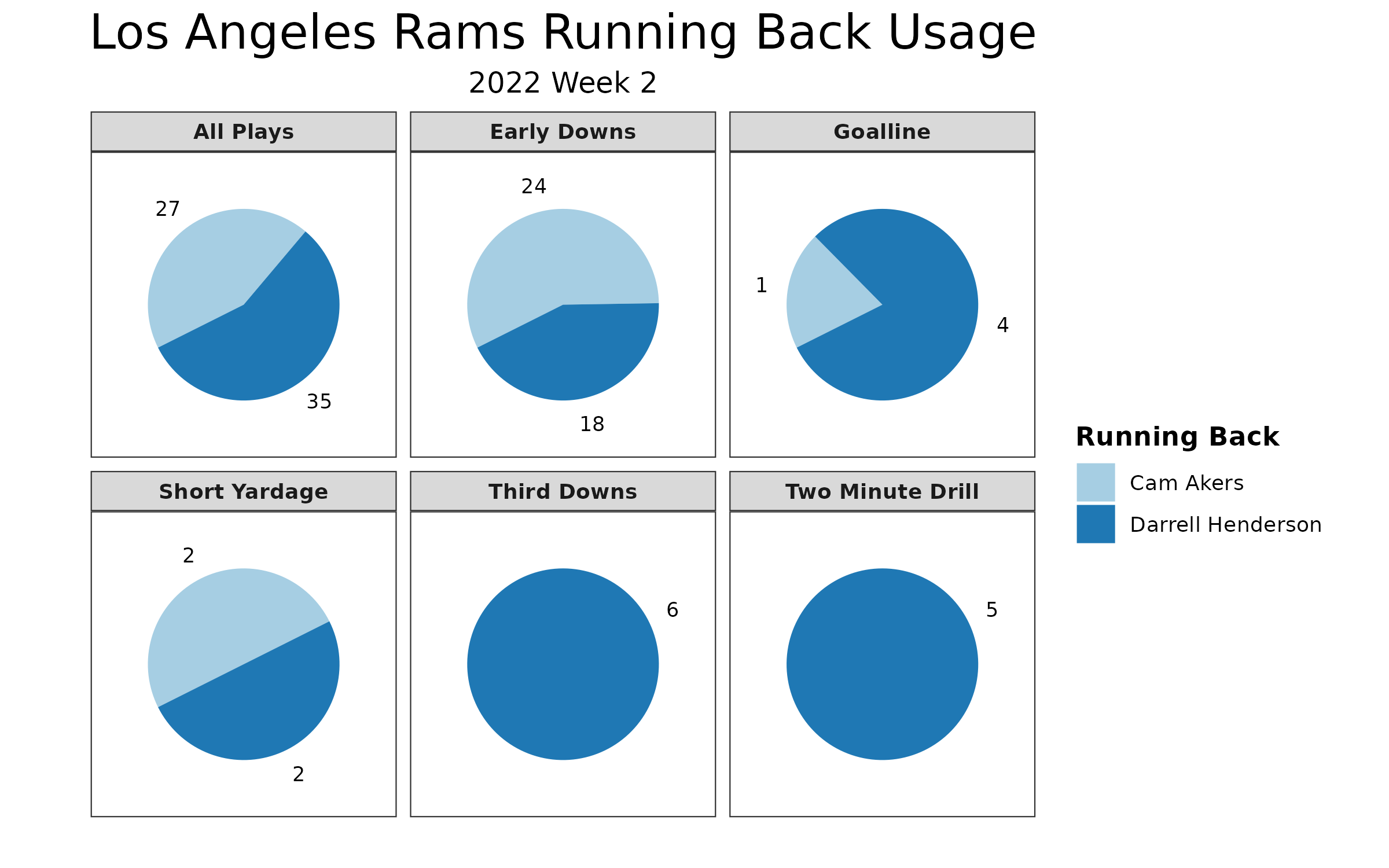 The Falcons' ridiculous running back rotation: Cordarrelle Patterson had a huge Week 1 performance, but the sell-high window has closed, as the Falcons rotated him out significantly in Week 2.
Damien Williams

was the clear starter for Atlanta to begin Week 1, but he suffered an injury that landed him on injured reserve.

Patterson saw 22 carries in part because they were short-handed at running back.

Tyler Allgeier

, who was a healthy inactive Week 1, was on the active roster, while

Caleb Huntley

was brought in from the practice squad.

Allgeier and Patterson split carries, making Allgeier a potential waiver wire addition.

It wasn't surprising that Patterson shared carries, but it was surprising how much other running backs ran pass routes, including

Avery Williams

taking the two-minute drill.

Patterson remains the running back to have in this backfield due to his short-yardage work and receiving ability, but it doesn't seem like he will be reliable.

Nothing would be surprising for how these snaps are distributed going forward.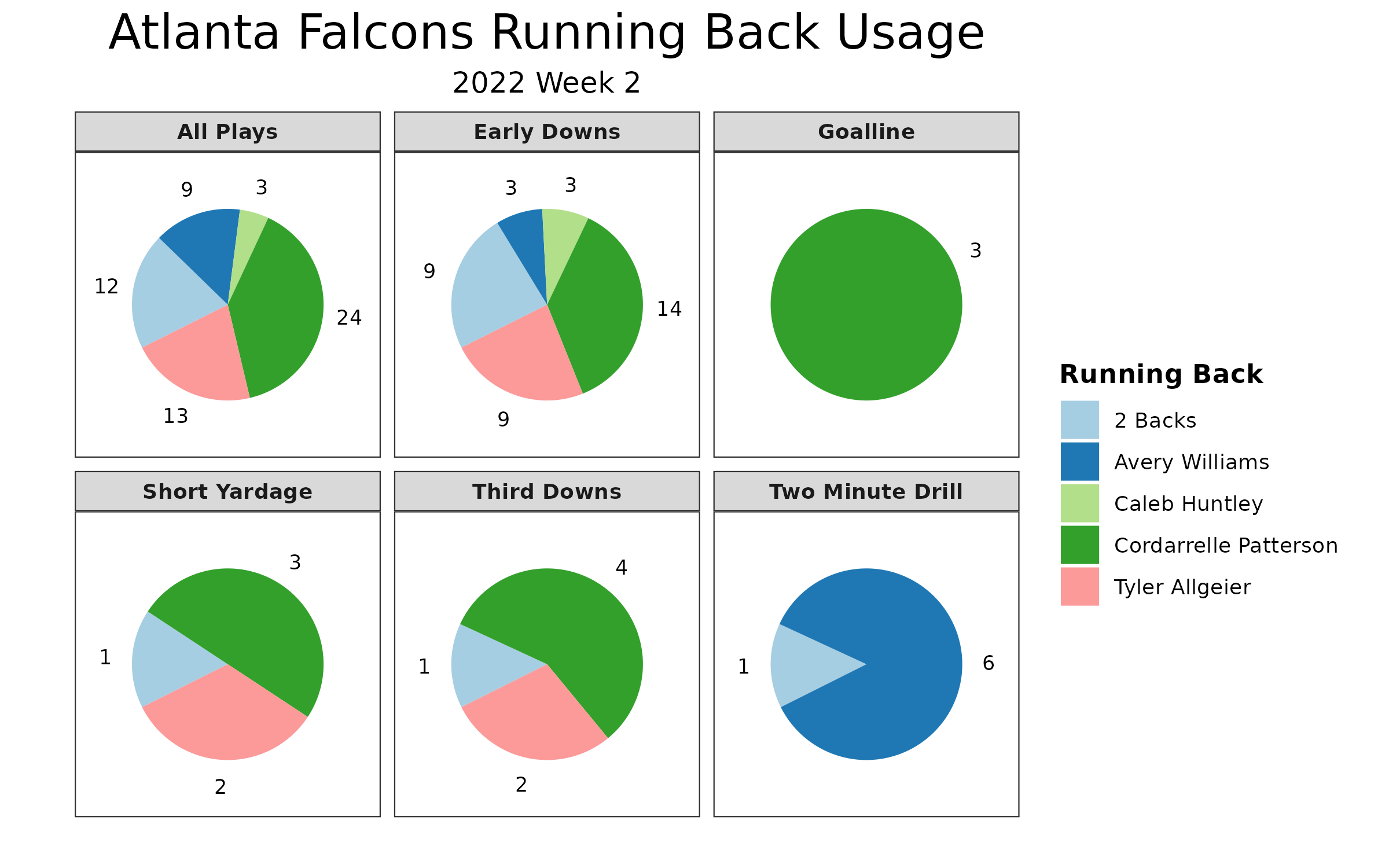 Start Drake London: London is the clear-cut No. 1 wide receiver on the Falcons.
He is rarely leaving the field, unlike the rest of the Falcons' wide receivers, and is seeing the targets necessary to be a fantasy starter.

He will have a high floor, as Atlanta will likely be passing significantly in most games.

He was in starting lineups in less than 20% of ESPN leagues.
---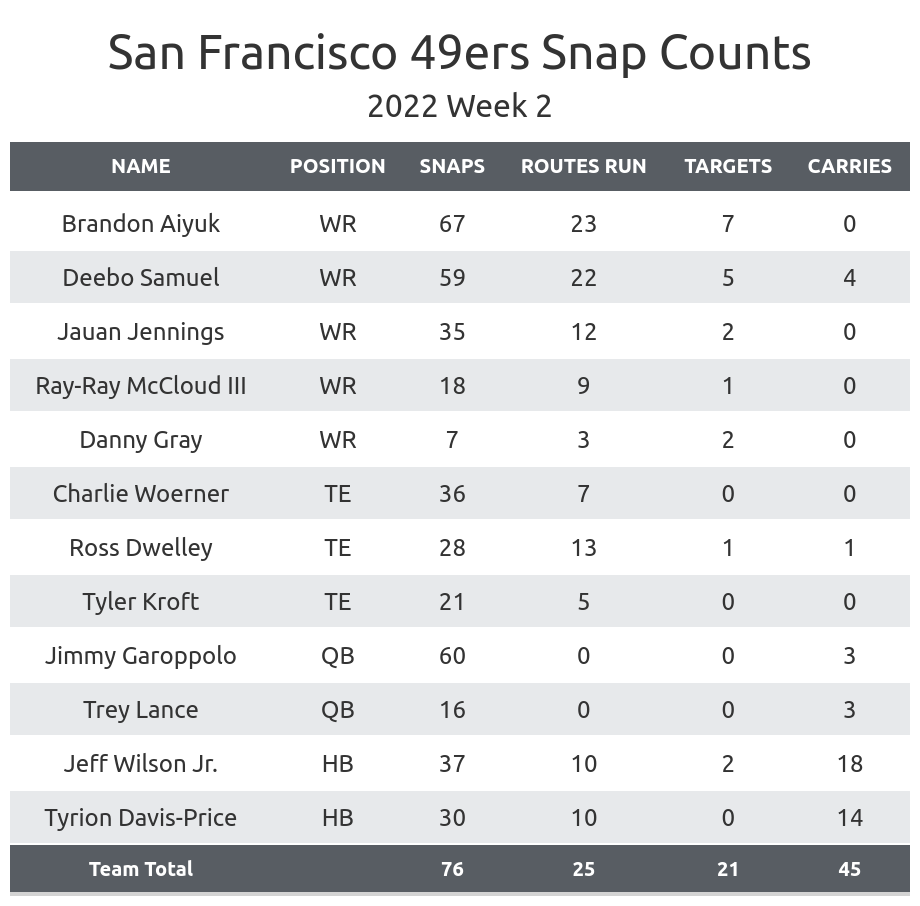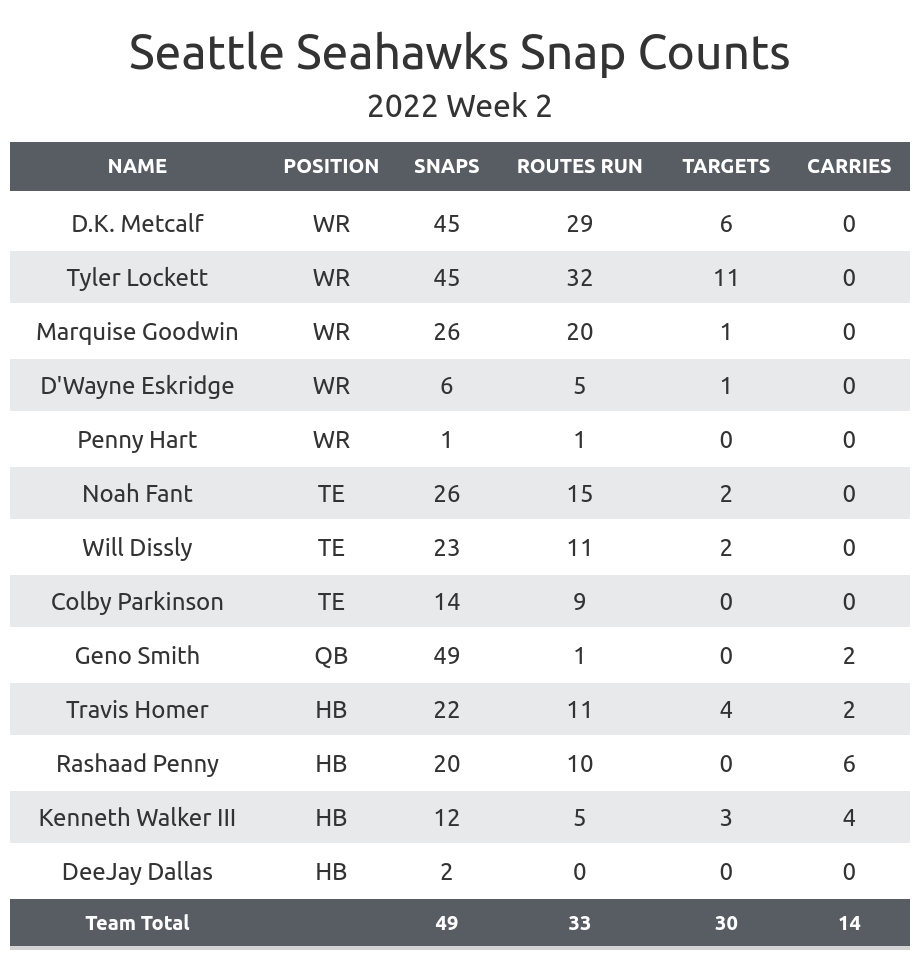 Add Jimmy Garoppolo: Trey Lance was carted off the field in the first quarter with a significant ankle injury that's expected to end his season.
Garoppolo will be the starter for the rest of the season. He was QB17 last year, making him a trustworthy backup, and a borderline fantasy starter in the right matchups.

For all of the receivers, this increases floors but decreases upside. It likely means the 49ers will pass more often than before, which means more volume, but there are plays that Lance could make that Garoppolo couldn't, which leads to fewer potential big plays on offense.

This helps the running backs a little bit because it makes it more likely they will score at the goal line instead of the quarterback, although that didn't stop Garoppolo from taking a one-yard run in the fourth quarter in this game.
The 49ers new starting running back: Jeff Wilson was the new lead rusher for San Francisco, as expected. He saw significant carries but didn't score.
His situation wasn't as good as expected, but he will still see a relatively high floor.

He lost over half of his third-down work to

Kyle Juszczyk

.

Rookie

Tyrion Davis-Price

also saw double-digit carries but wasn't nearly as effective running.

Wilson maintained most of the important goal-line and short-yardage snaps, even though he didn't score a touchdown.

Wilson also received a higher percentage of snaps in the first half but then received more of a split in the second half while San Francisco was clearly ahead.

He will remain a fantasy starter for most teams going forward, assuming he keeps this kind of role.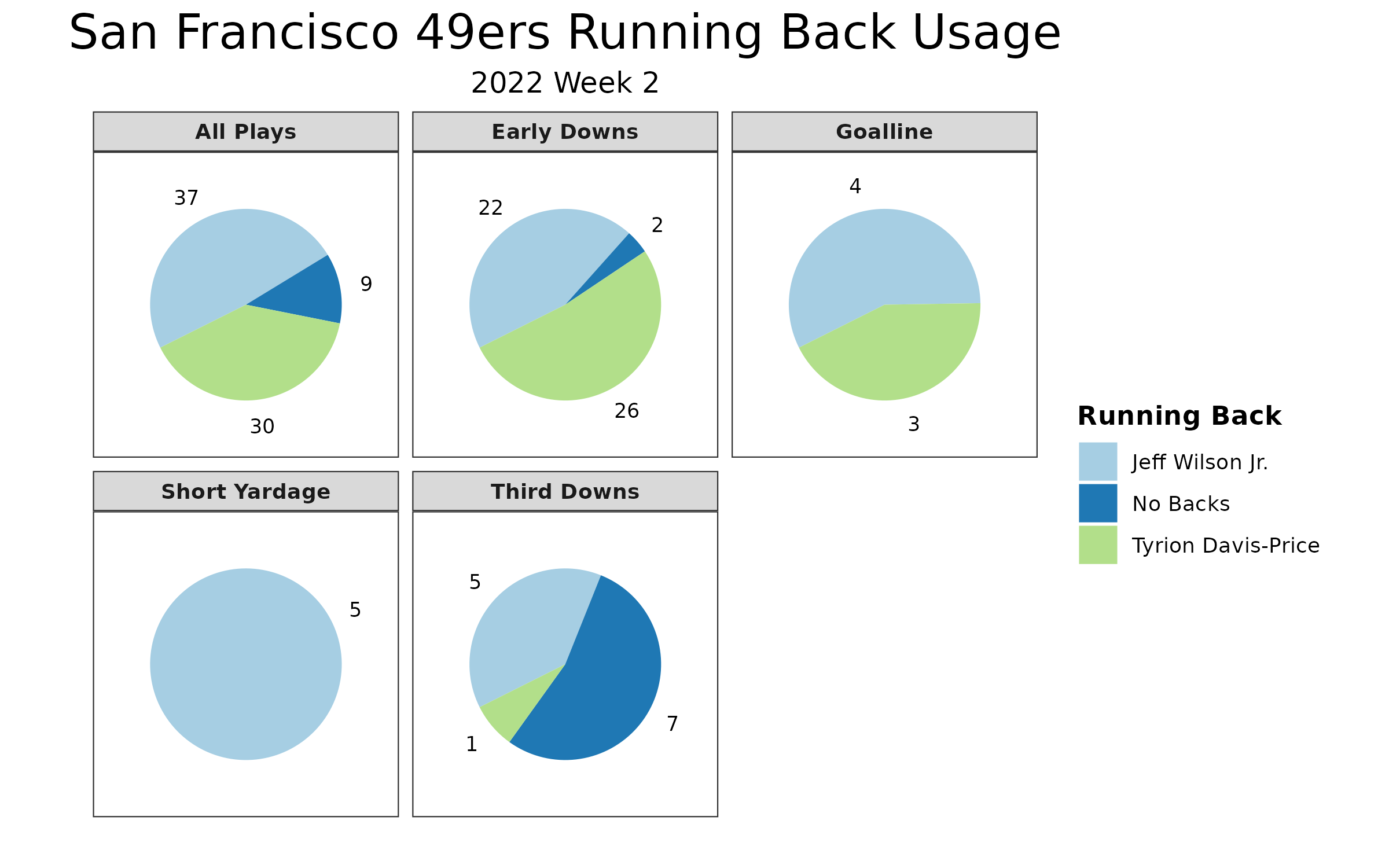 The Seahawks' new committee: Ken Walker made his NFL debut after missing Week 1, but it was a quiet start.
He ran the ball four times, gaining 10 yards.

Rashaad Penny

was the clear leader on early downs, but that only led him to 15 yards on six carries.

Walker will likely see his playing time increase as the season progresses, making it hard to start either of the Seattle backs.

The Seahawks were down for most of the game, causing third-down back

Travis Homer

to see the most snaps and lead the backfield in fantasy snaps.

Homer will continue to see significant playing time in every game where the Seahawks lose by a lot, which could be often.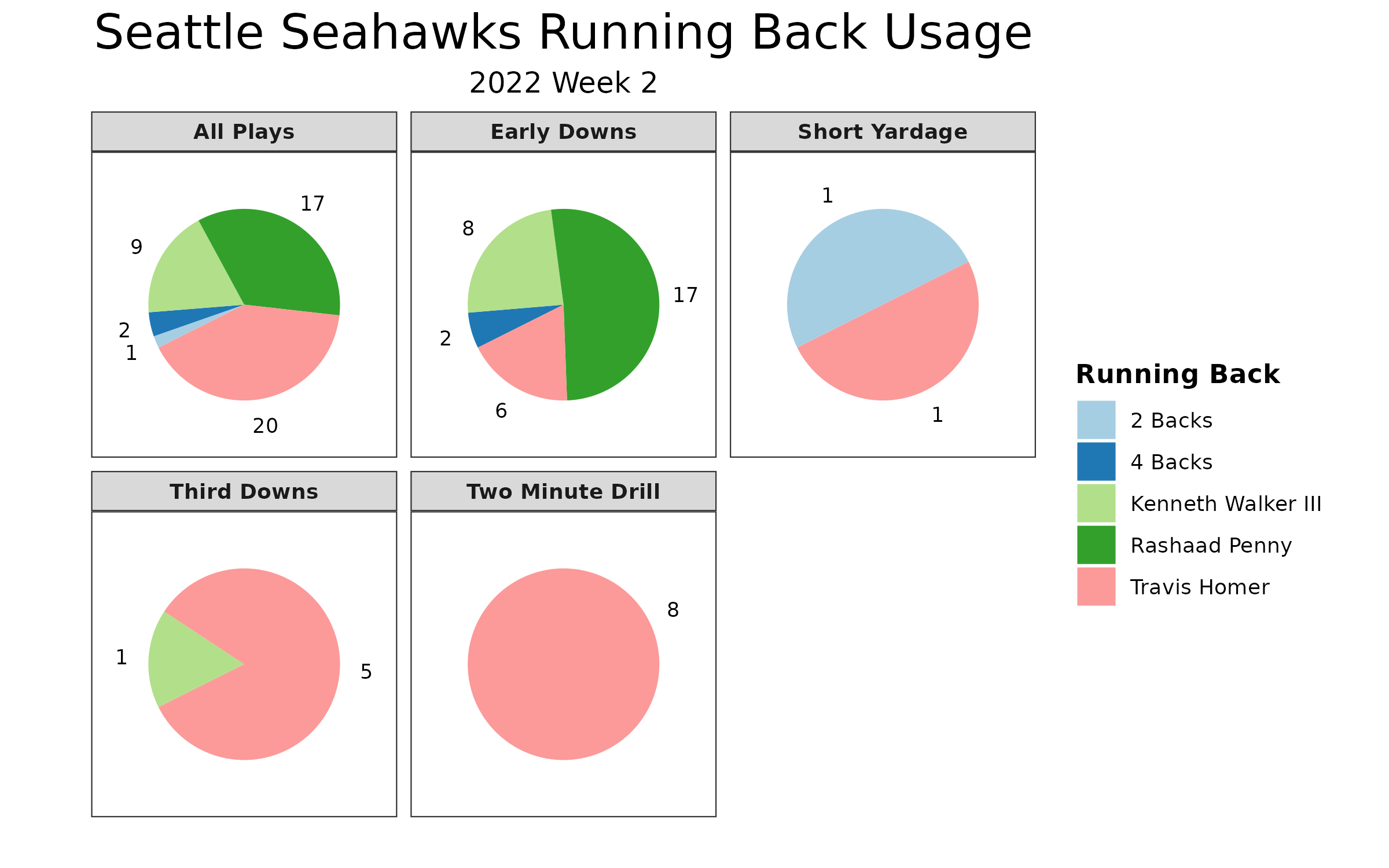 ---
Noah Brown

: 5 receptions, 91 yards, 1 touchdown

Tony Pollard

: 9 carries, 43 yards, 1 touchdown, four receptions, 55 receiving yards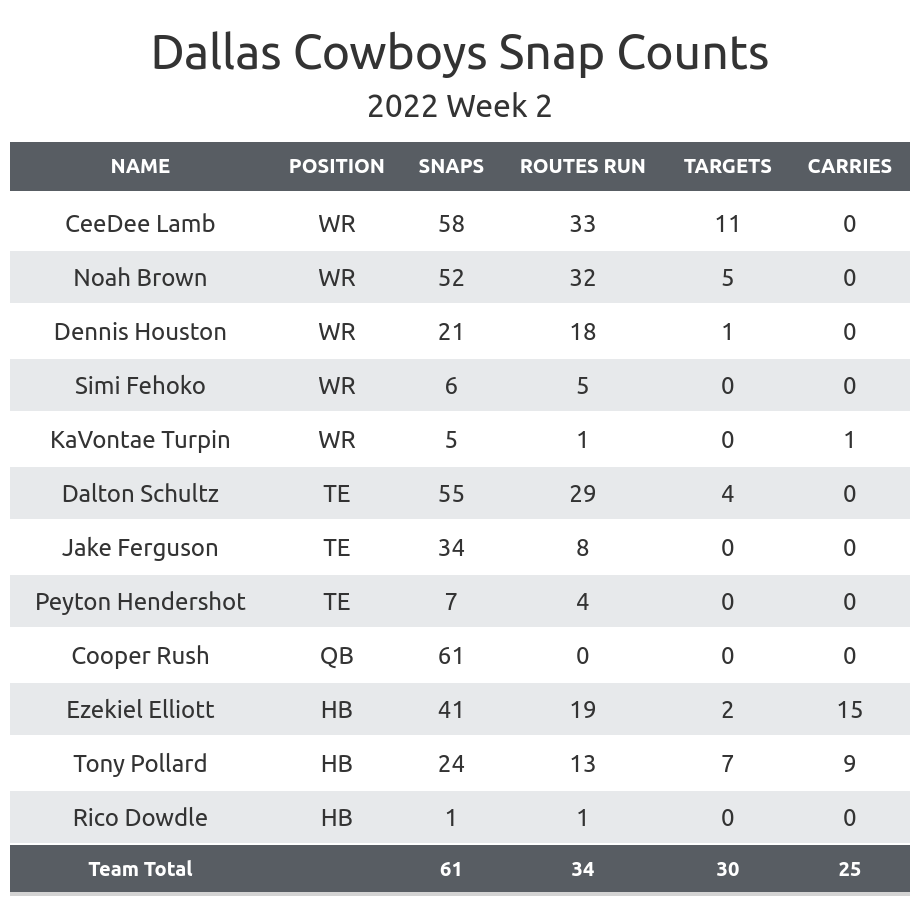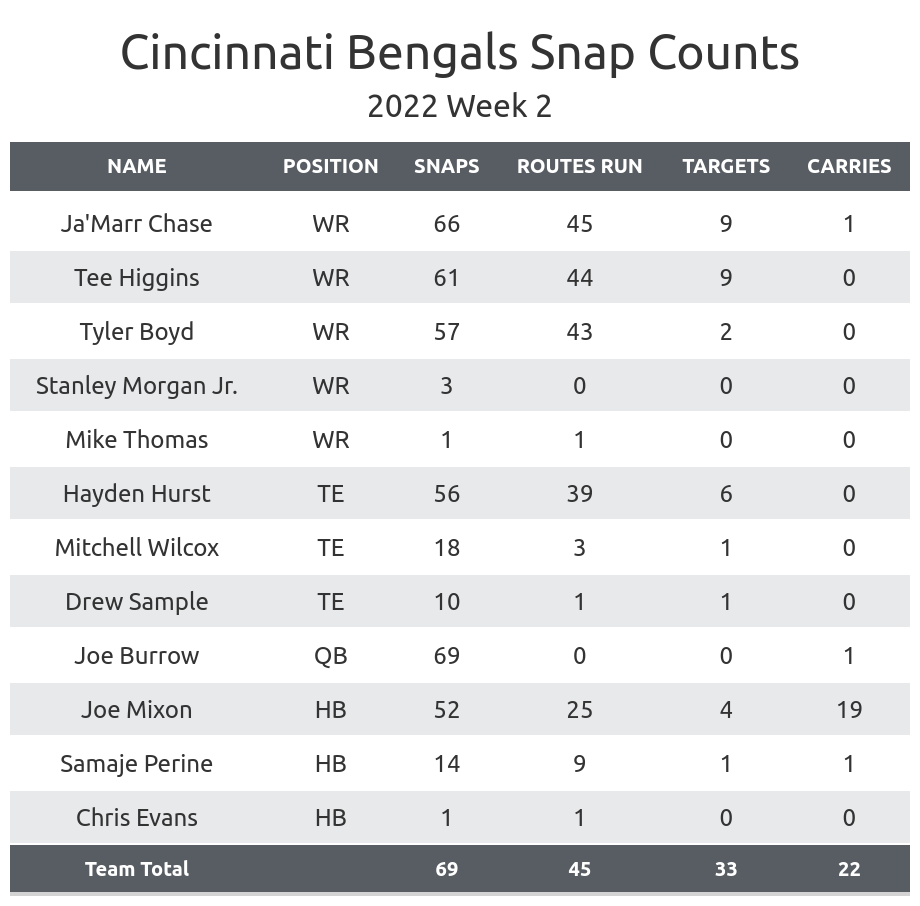 Monitor the Dalton Schultz injury: Schultz injured his right knee late in the fourth quarter and returned for one play before exiting again.
His day was quiet before the injury, with two receptions for 18 yards on four targets.

Rookie

Jake Ferguson

has seen significant playing time in the first two weeks, mostly as a run blocker. He hasn't garnered his first NFL target yet.

Undrafted rookie

Peyton Hendershot

ended up with more routes run than Ferguson in the last two minutes after the injury.

Neither player is worth a waiver wire addition even if the injury is serious, as the two might be splitting the work. It's possible one of the two could emerge depending on Week 3 usage.
Add Hayden Hurst: The Bengals tight end saw a clear majority of offensive snaps similar to their other skill players, leading to seven targets.
He caught five passes for only 24 yards.

He isn't a fantasy starter, given the Bengals' current offense, but we can expect the offense to improve based on last season.

When that happens, Hurst will be one of the few fantasy tight ends who wasn't a high fantasy draft pick but is seeing a clear majority of snaps within a high-powered offense.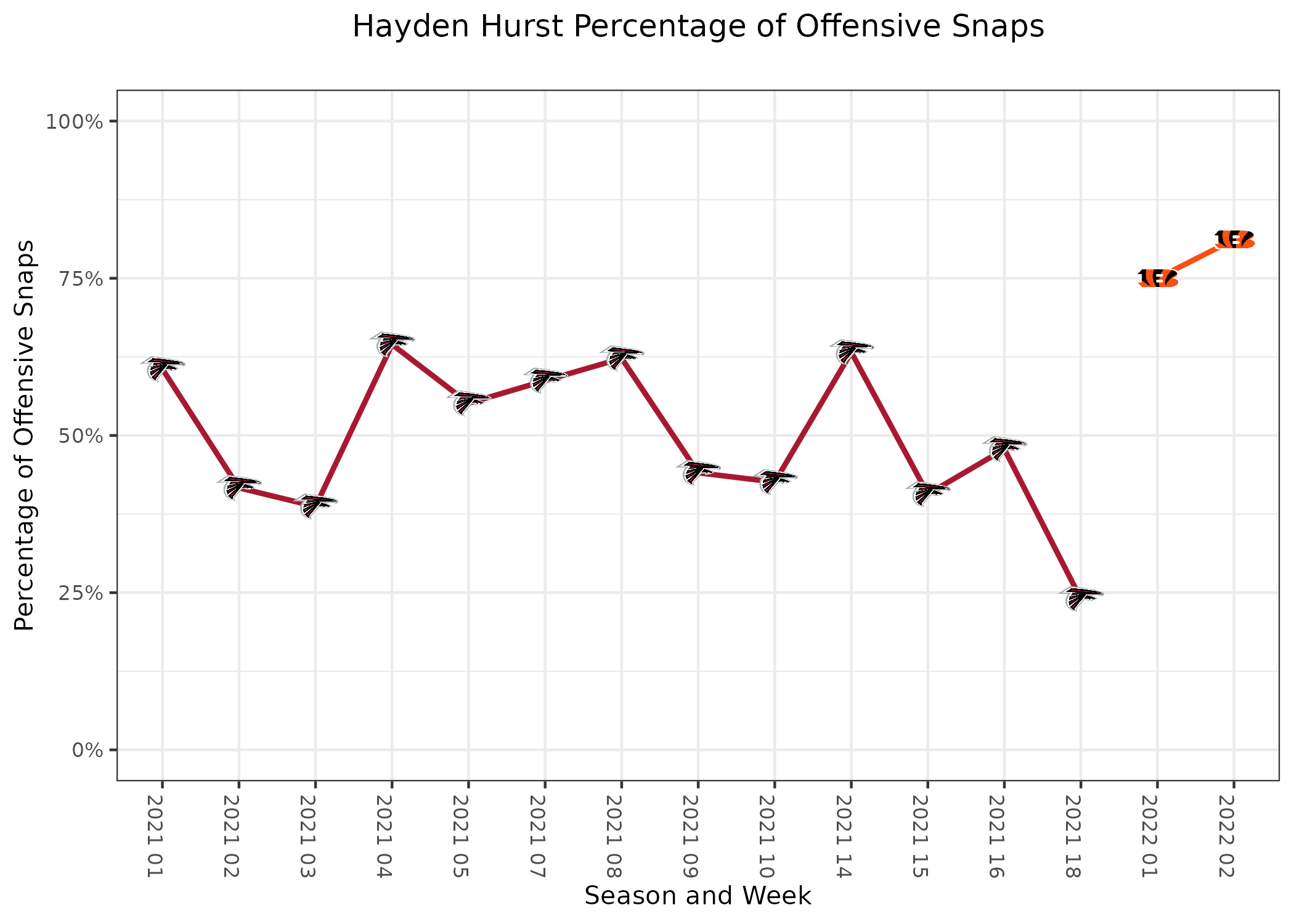 ---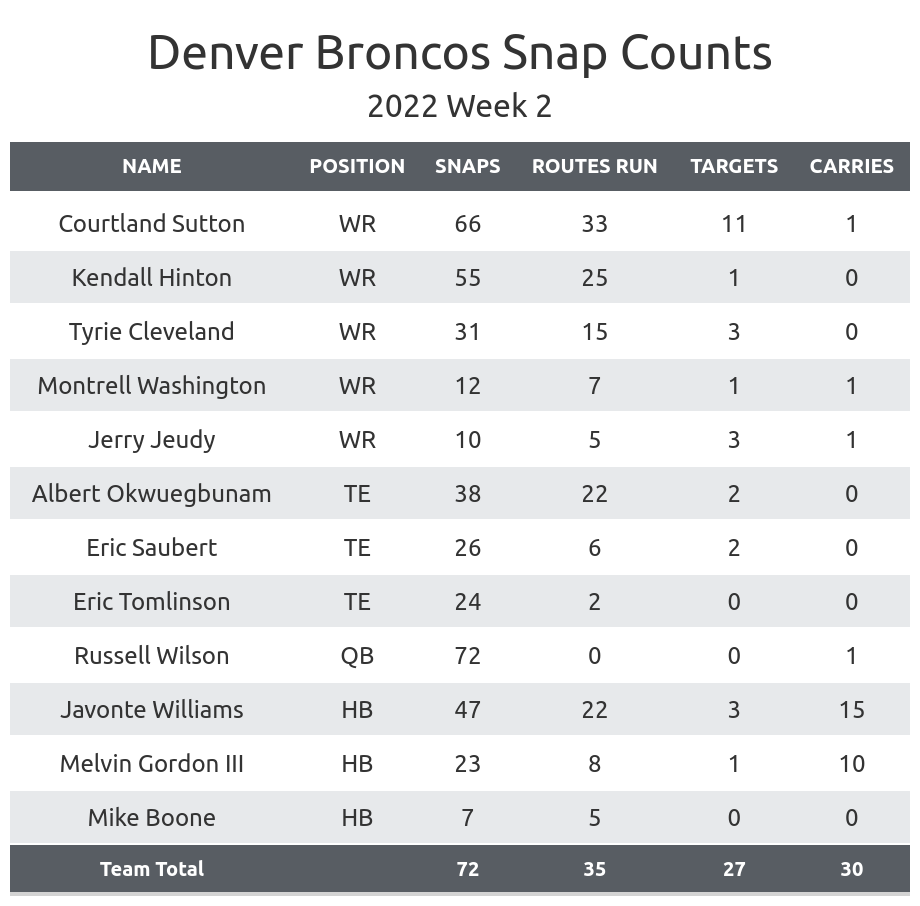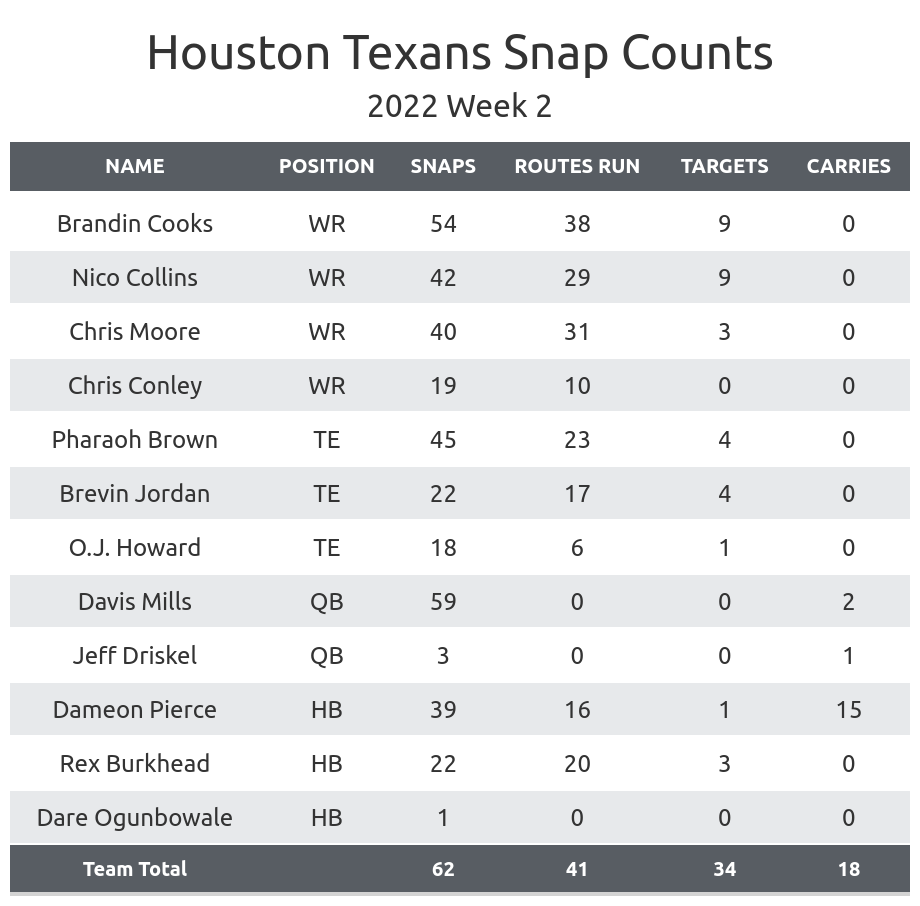 Monitor the Jerry Jeudy injury: Jeudy injured his shoulder late in the first quarter and was ruled out for the rest of the game.
Dameon Pierce's emergence: Pierce became the player we thought we'd see in Week 1, gaining 69 yards on 15 carries.
He saw a clear majority of snaps on early downs, leading

Rex Burkhead

to not see a single carry.

Pierce played a few snaps on third downs, but they were all relatively short yardage. Three of them were with two yards to go or less and count toward short yardage in the below graph, while one was on a third-and-4.

It's unlikely Pierce sees this much of a majority of snaps in the future. Burkhead still received every two-minute drill snap and every third down snap of five yards or longer.

They will see more clear passing situations against other opponents, which will lead to fewer snaps.

This makes Pierce a potential sell-high player.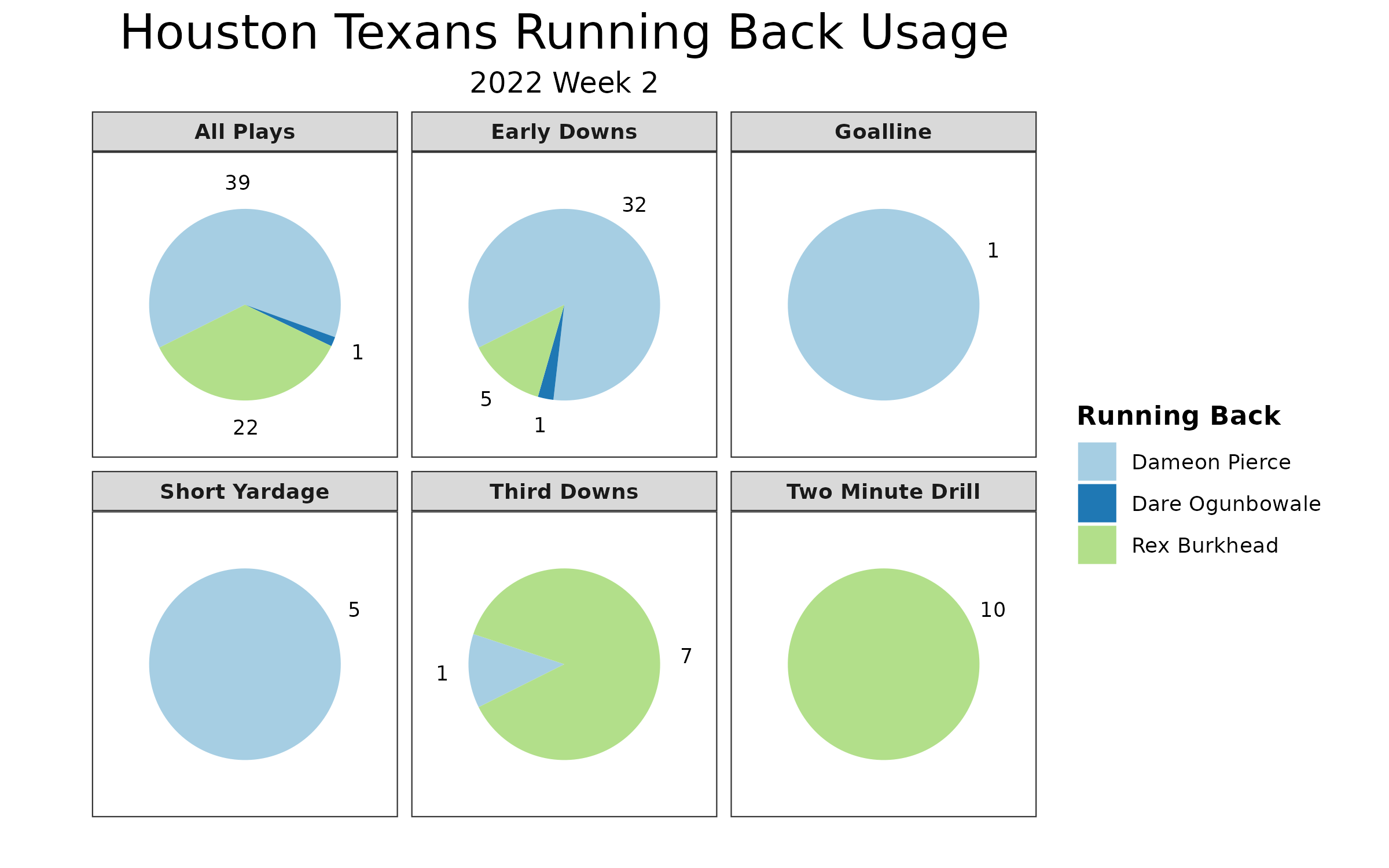 Update on the Broncos' backfield committee: Javonte Williams continued to lead the Broncos' backfield, but it remained partially a committee.
Williams led the backfield in both carries and targets.

Most importantly, he was on the field for all of the goal-line plays, and the clear majority of short-yardage plays. He didn't score in this game but should be the one scoring between him and

Melvin Gordon III

more often than not.

Ideally, he starts to see a clear majority of third downs, as he is the better receiver of the two.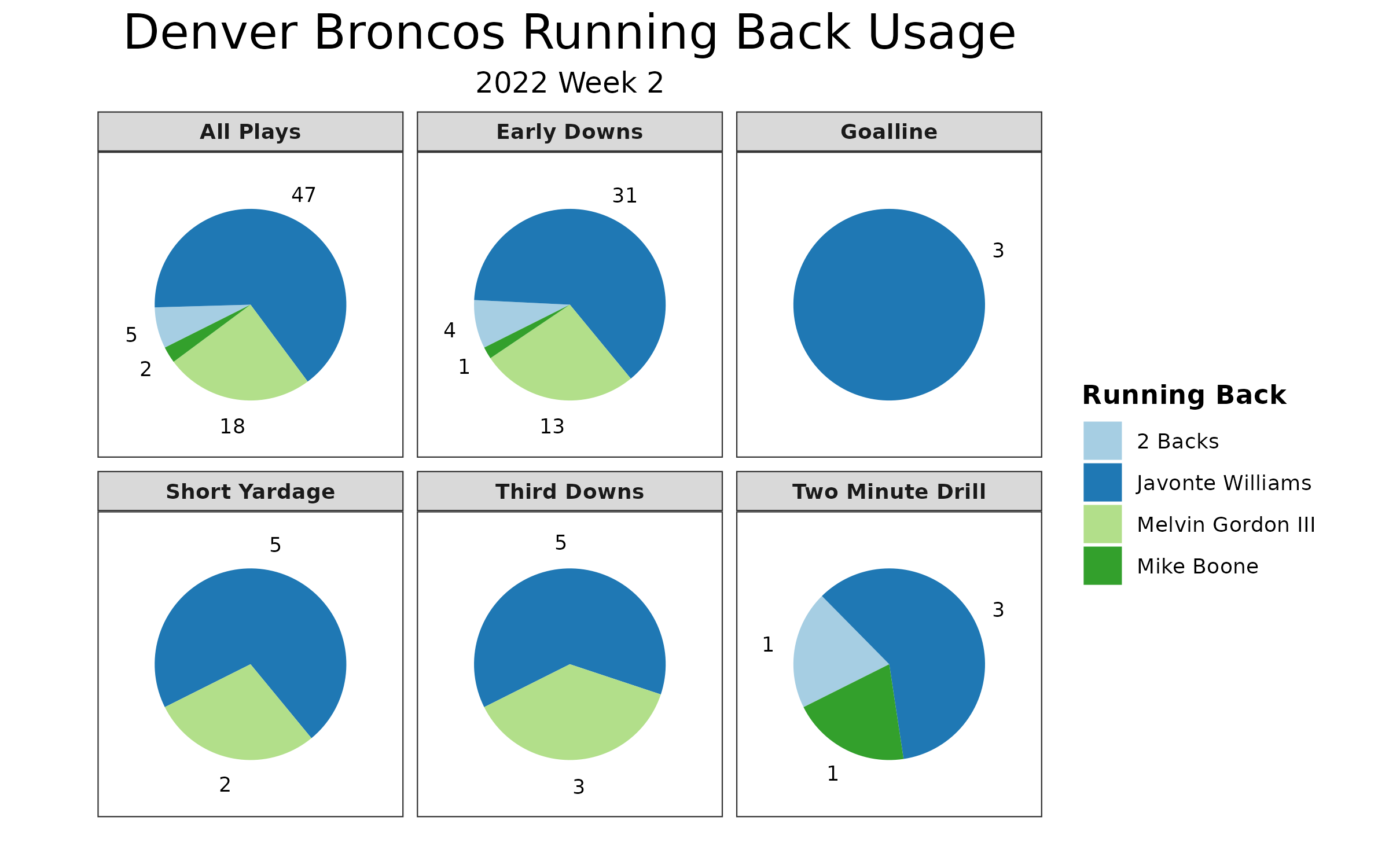 ---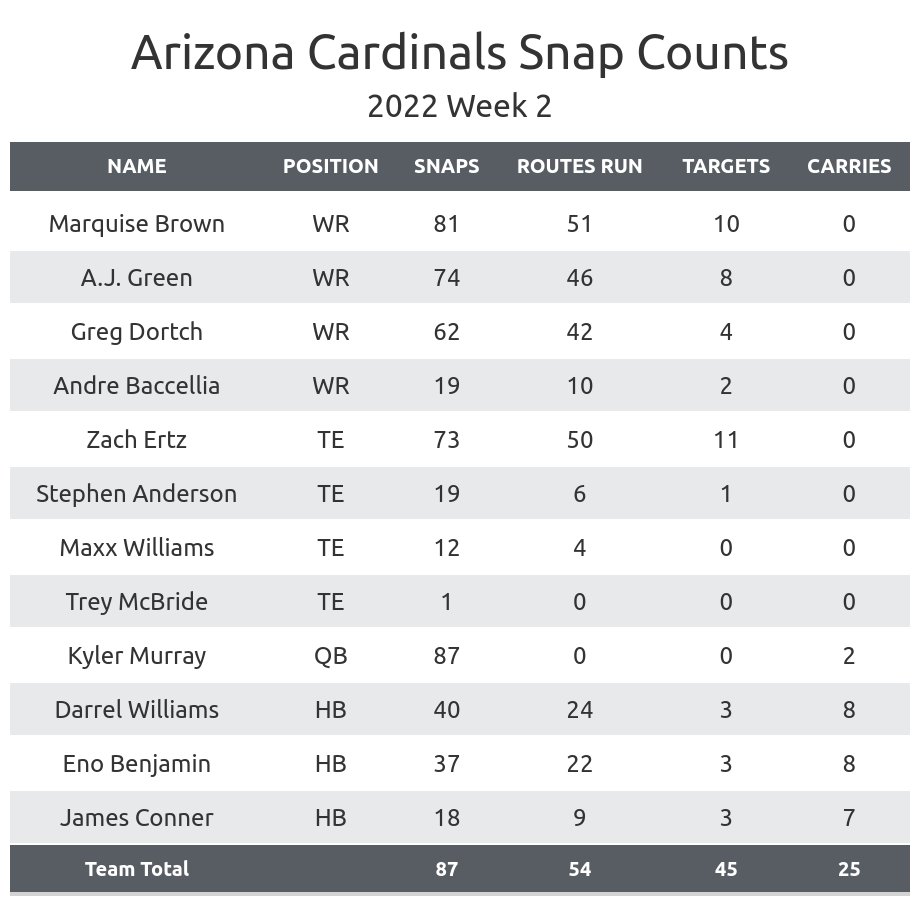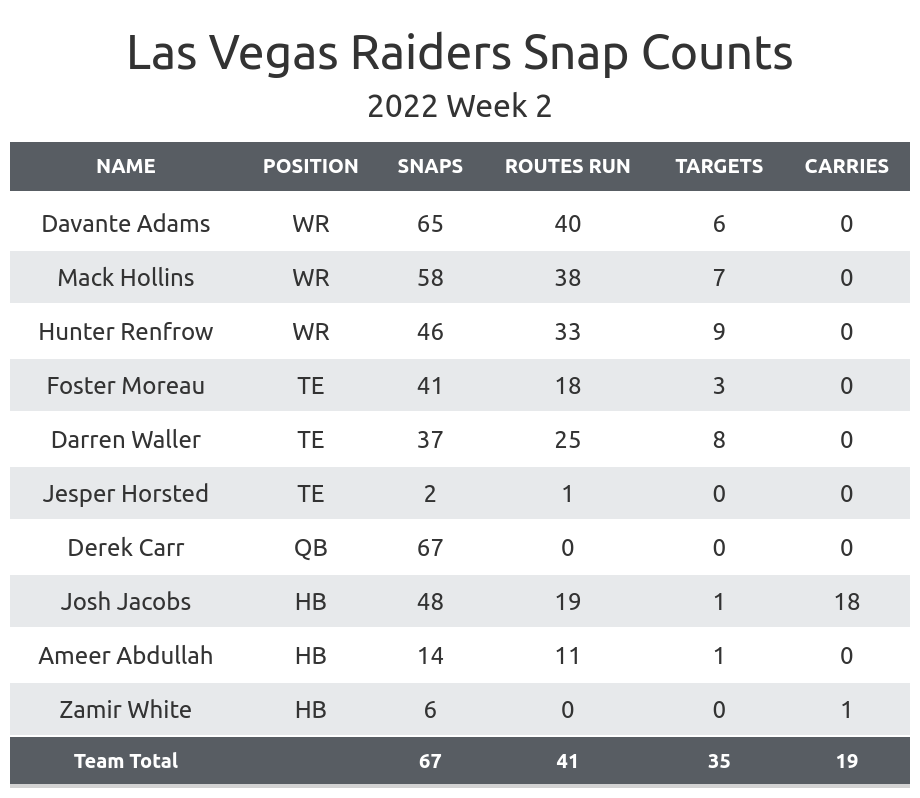 Monitor the James Conner injury: Conner injured his ankle in the third quarter and didn't return to the game.
Eno Benjamin

had been the clear backup in Week 1, but

Darrel Williams

was already mixing in more in the first half prior to the injury in some clear passing situations.

The two split snaps in the second half after the injury.

Benjamin seemed like the better option based on his previous usage, but Williams was the one of the two to break a long run, and he had the goal-line touchdown.

Both are worth waiver wire pickups if Conner misses time, but it would be hard to trust them, as either could end up leading in a 70-30 split rather than a 50-50 split, and we wouldn't know who the leader is until it's too late.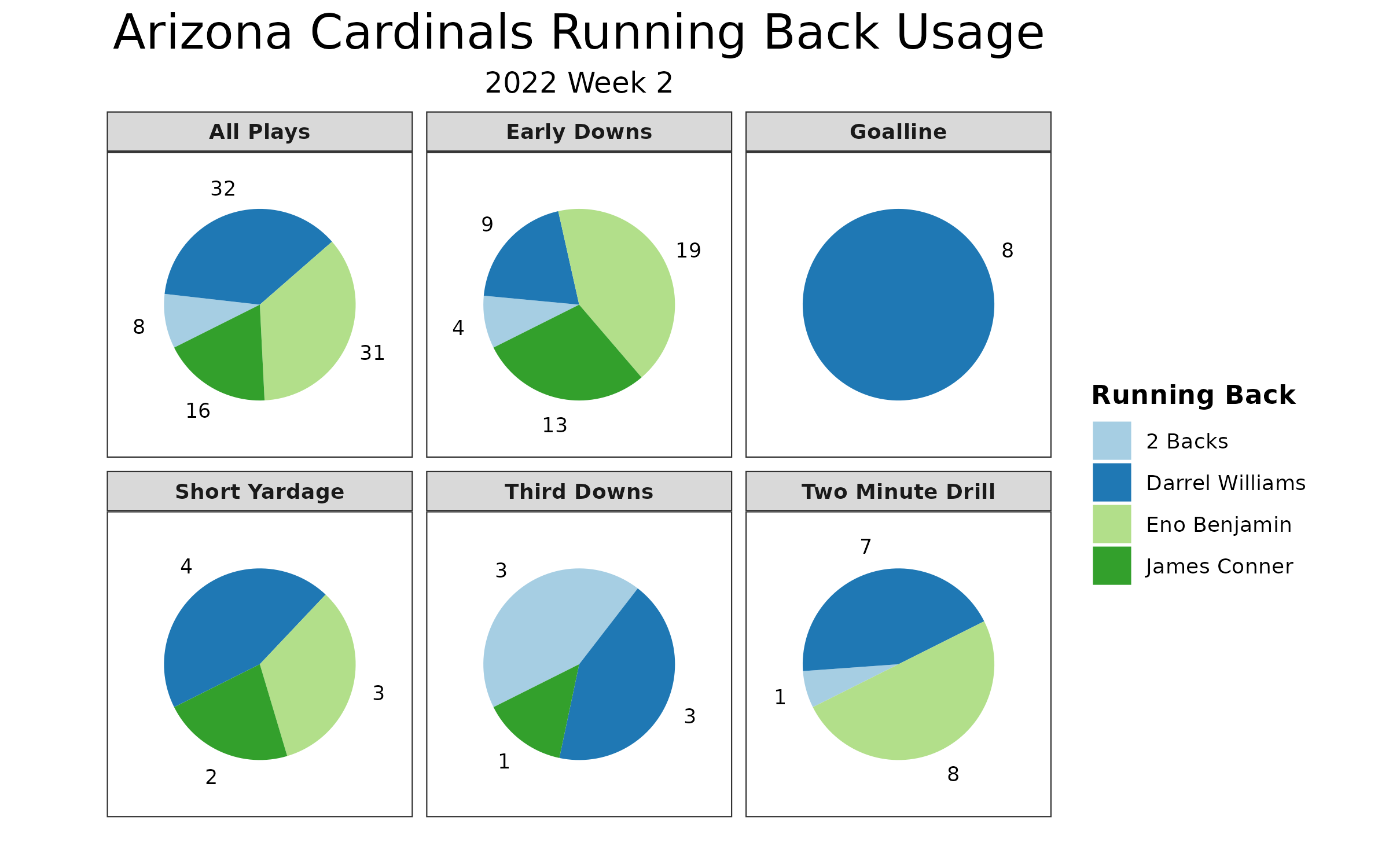 Monitor Darren Waller's Usage: Waller saw much less playing time than usual, losing some snaps to Foster Moreau.
Moreau took a clear majority of snaps out of 21 personnel. He took the only snap from that formation last week.

He split time with Waller in 11 personnel on early downs, with Waller taking most of the work on third downs.

This included Moreau seeing most of the work in the fourth quarter and overtime at 10 snaps to 4 over 13 plays.

Waller could be considered a sell-high candidate unless we find out some reason why the Raiders changed how they used him in this game.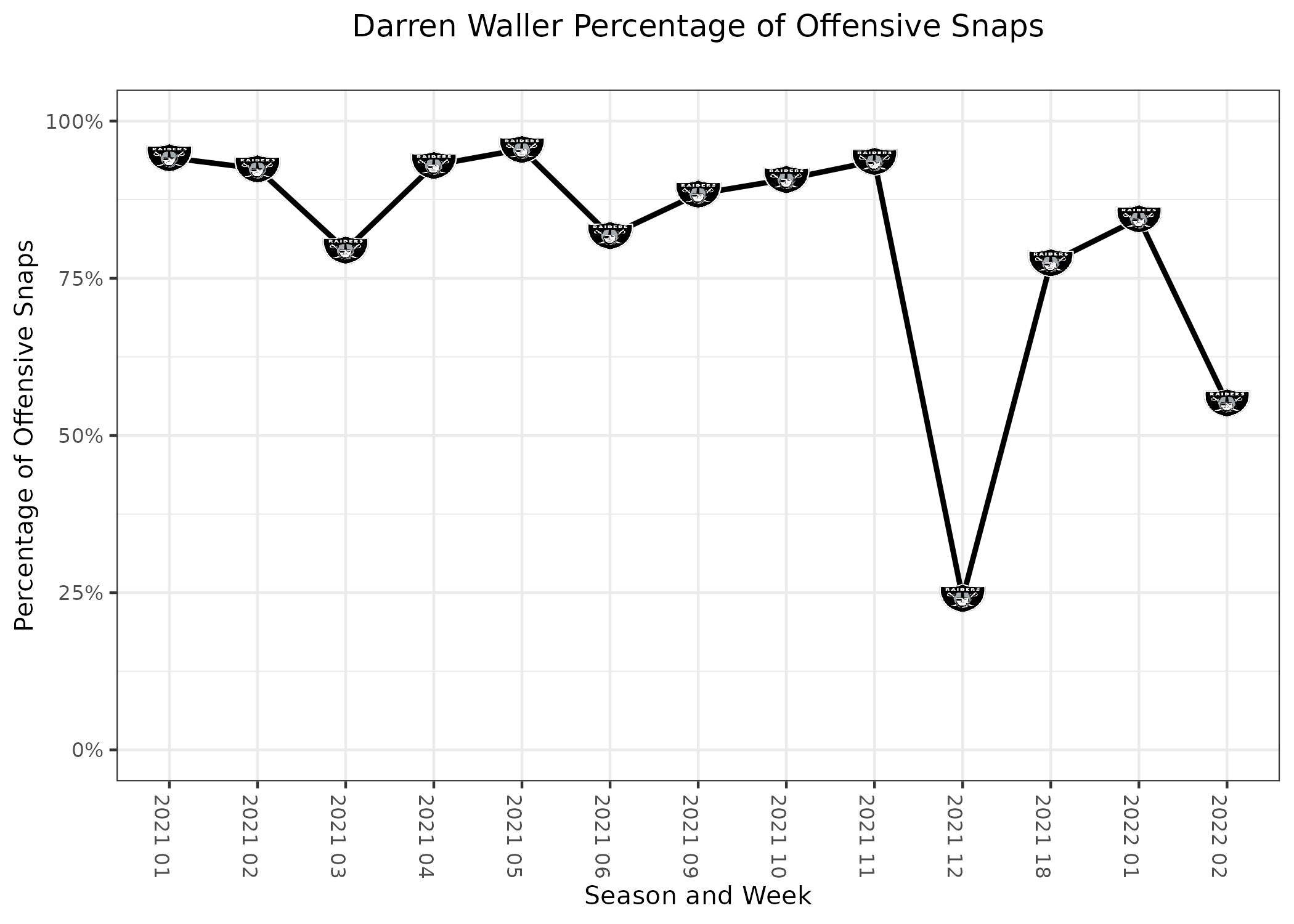 The Raiders without Brandon Bolden: The former Patriot was the clear third-down back for Las Vegas in Week 1 but missed this game with a hamstring injury. 
Ameer Abdullah

took over as the third-down back. He was expected to have that role based on the preseason.

The Raiders were in control for most of the game, which meant they didn't need a receiving back too often.

The injury didn't lead to a significant increase in snaps for

Zamir White

.

Josh Jacobs

still has a clear lead as the Raiders' primary rusher.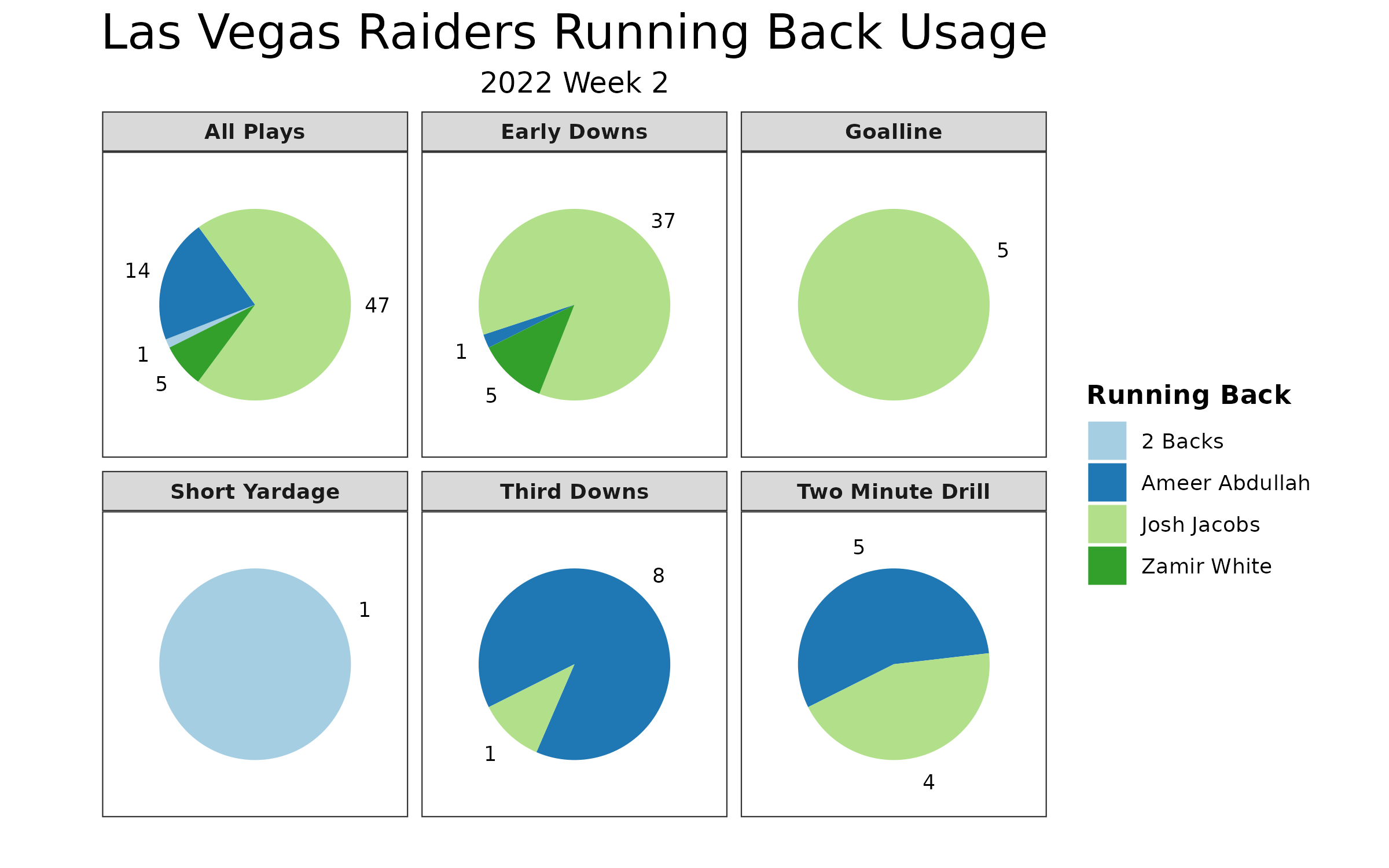 Monitor the Hunter Renfrow injury: Renfrow was being evaluated for a concussion based on a hit from the last play of the game.
He had an OK day if you ignore the fumbles, catching seven passes for 59 yards.

If he misses time,

Keelan Cole

would likely become the primary slot receiver. We could also see an increase in two-tight end sets or

Davante Adams

lining up in the slot more often with

Tyron Johnson

playing out wide.

None of these players would be good waiver wire targets because the snaps might be distributed among multiple players instead of one direct replacement.
---
Aaron Jones

: 15 carries, 132 yards, 1 touchdown, 3 receptions, 38 receiving yards, 1 receiving touchdown

David Montgomery

: 15 carries, 122 yards, 2 receptions, 14 receiving yards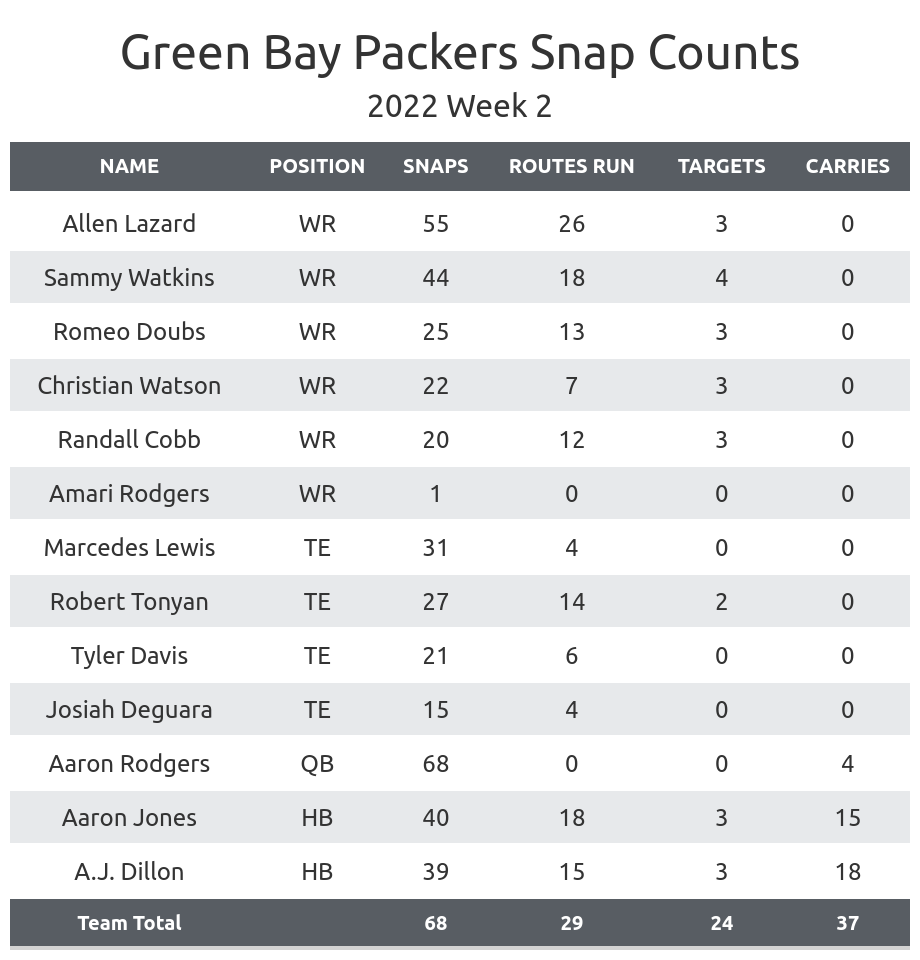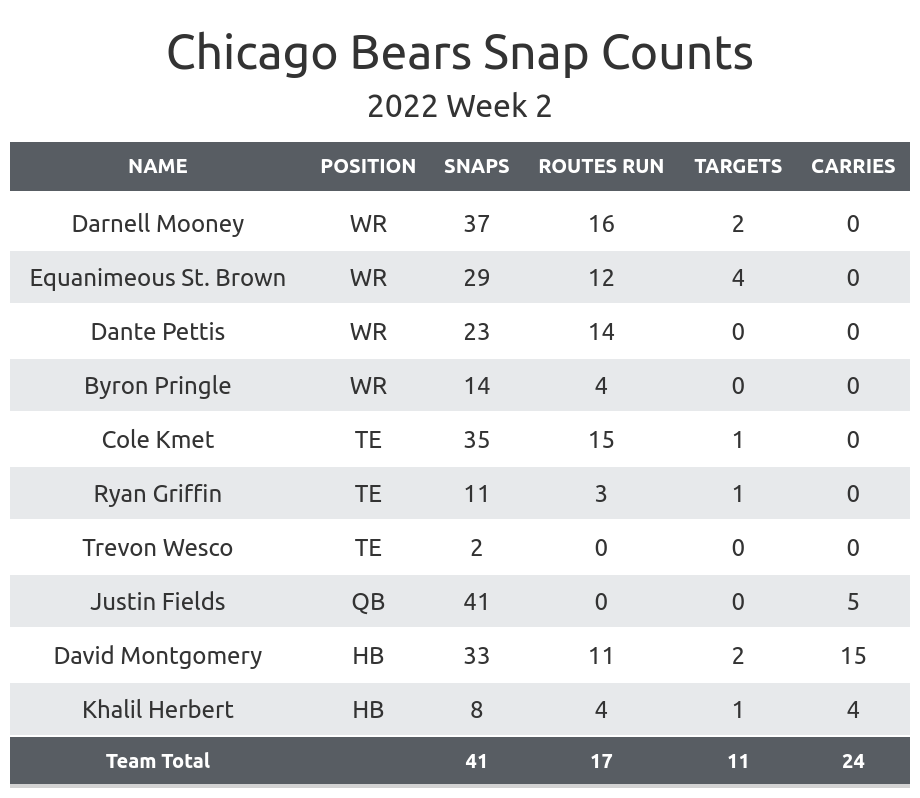 The return of Allen Lazard: Lazard missed Week 1 due to injury but returned this week and was the clear-cut No. 1 wide receiver in terms of snaps and routes.
Sammy Watkins

wasn't too far off from a clear No. 2, although he still rotated out more often than a typical No. 2 would.

He could be considered a waiver wire target, but it would be hard to trust him in starting lineups with the rookies on the team.

Randall Cobb

's time as a clear starter appears to be over. He can be dropped in any league he is still rostered in.

Romeo Doubs

appears to be the Packer to have on your roster over

Christian Watson

. They saw similar snap totals, but Doubs ran more routes and had more targets.

Over time, we can expect the rookies to earn more playing time. That will take away from Watkins, but it might be a while before Lazard loses snaps if at all.
Drop Cole Kmet: Kmet has yet to catch a pass this season, with two targets over his first two games.
He is seeing the percentage of playing time and routes run needed to be a fantasy starter, but the Bears aren't running enough pass plays, and he's not getting targeted nearly enough.

The low target share should regress to the mean, but that would only be good enough to make him a fantasy backup.

He was one of the lowest-graded tight ends over his first two seasons.

There are plenty of other options seeing close to the same number of routes run, in offenses that are more likely to have their tight end score touchdowns.
Don't start Robert Tonyan: The veteran tight end continues to not see enough playing time to be a fantasy starter.
The Packers have continued to use a four-man rotation at the position.

Tonyan is the clear receiving tight end but is running a route on only half of the Packers' pass plays.

Ideally, this is the Packers easing Tonyan back into action after he missed most of last season as well as the preseason.

If he continues to see this little playing time for a few more weeks, it will be time to cut him.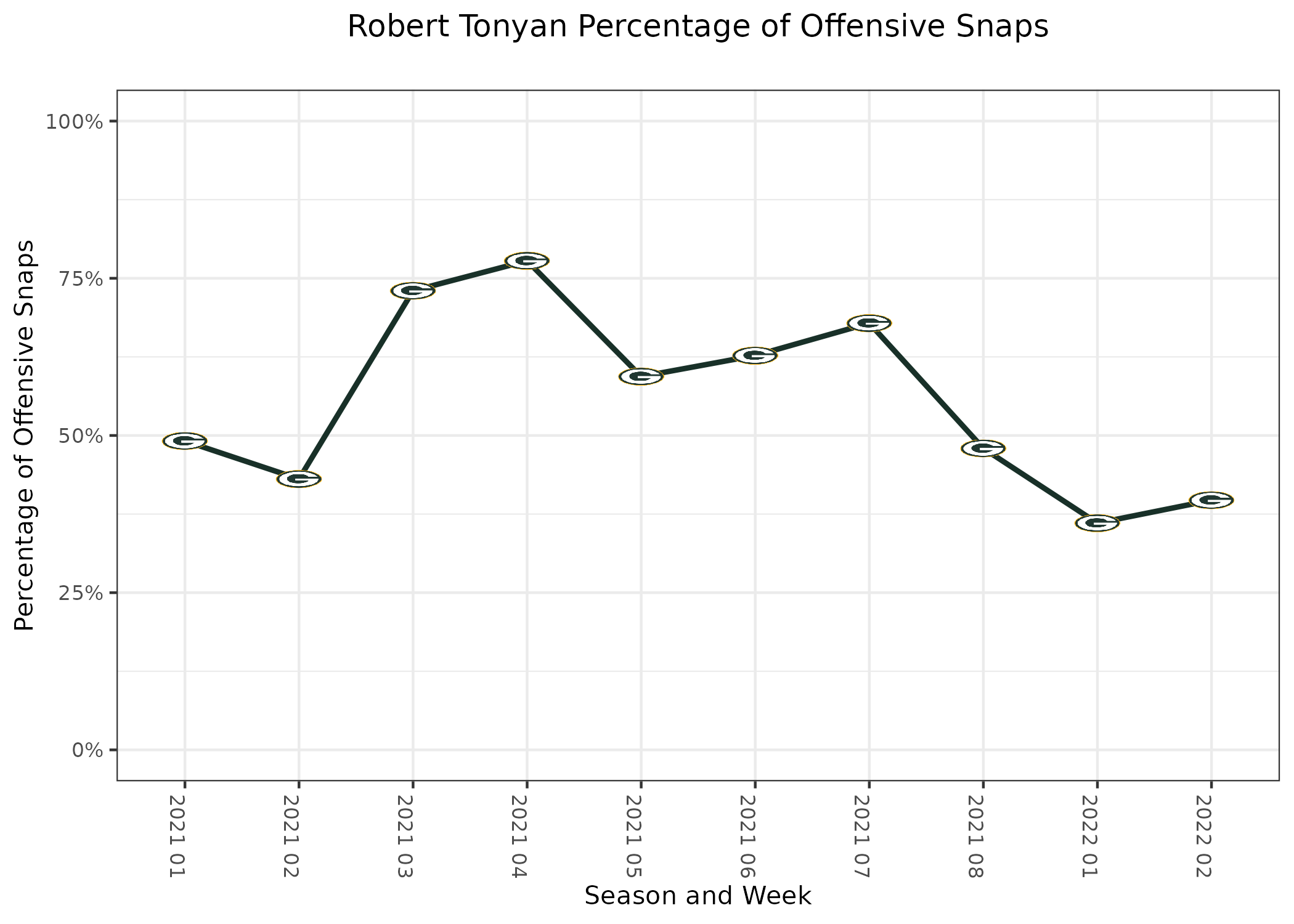 ---
Table Notes
Snaps include plays called back due to penalties, including offensive holding or defensive pass interference. The other three stats have these plays removed.

Targets may differ from official NFL sources. The most likely discrepancy would be from a clear thrown-away pass, where the NFL may give the target to the nearest receiver, while this data will not.

Carries are only on designed plays. Quarterback scrambles won't count for the total number of carries in the game.