• A.J. Brown wins his revenge game: Brown scored twice on deep touchdowns and gained over 100 receiving yards to beat his former team in the Titans.
• D'Andre Swift is finally back: Swift saw his most carries since Week 1 and his most receiving yards of the season, and he scored a touchdown in the Lions' decisive victory.
• Drake London shows a spark: The eighth overall pick of the 2022 NFL Draft started his career with back-to-back games of over 70 yards, followed by 10 straight games below 60. He put up a career-high 95 yards against the Steelers in Week 13.
---
PFF's fantasy football recap focuses on player usage and stats, breaking down all the vital information you need to achieve fantasy success in 2022.

Jump to a game:
GB@CHI | PIT@ATL | NYJ@MIN | JAX@DET
TEN@PHI | CLE@HOU | WSH@NYG | DEN@BAL | MIA@SF
SEA@LAR | LAC@LVR | KC@CIN | IND@DAL
---
• Christian Watson: 3 receptions, 48 yards, 1 touchdown, 1 carry, 46 rushing yards, 1 rushing touchdown
• A.J. Dillon: 18 carries, 93 yards, 1 touchdown, 3 receptions, 26 receiving yards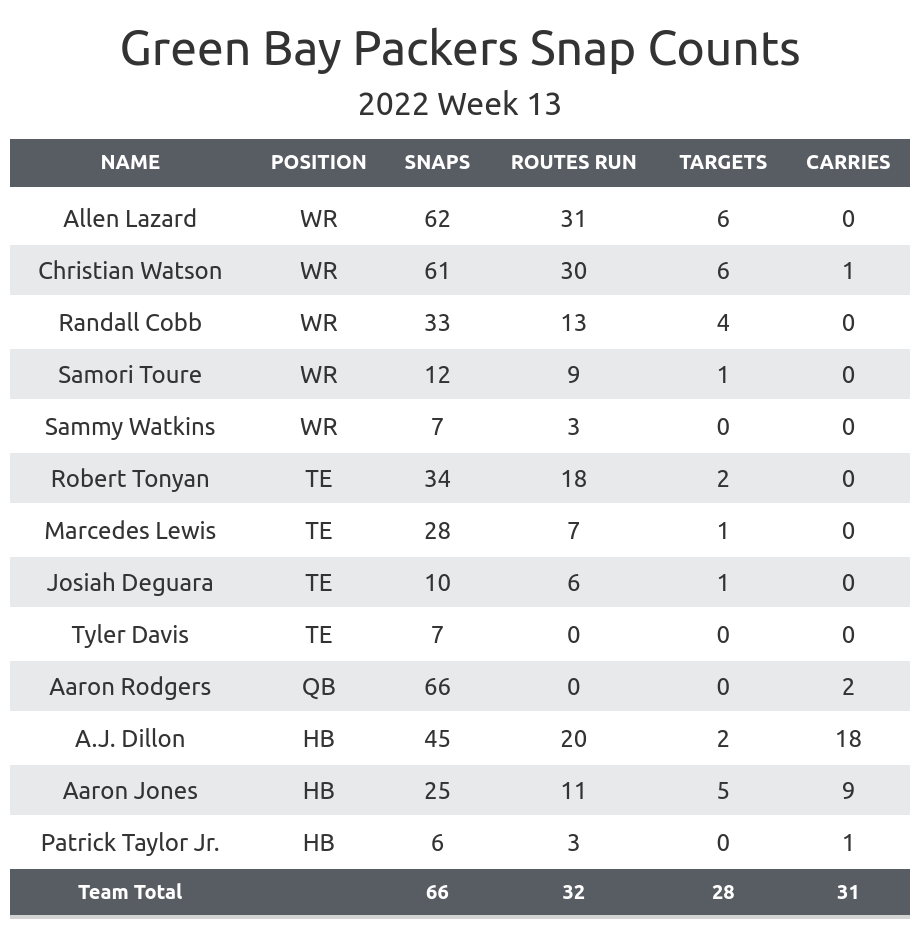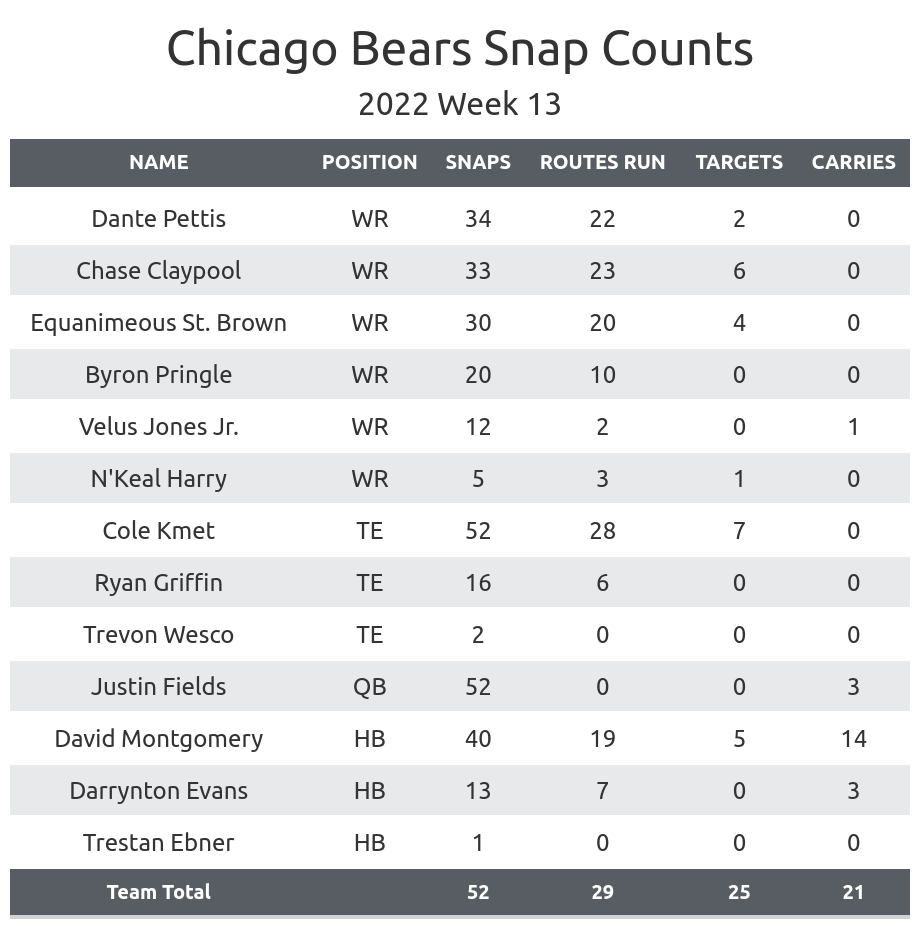 Monitor Aaron Jones' health: Jones left the game at the end of the second quarter with a shin injury.
The Packers used their running back significantly in the first half. Jones handled 12 touches, compared to 10 for

A.J. Dillon

. All other Packers combined had six.

Dillon took every snap for the Packers in the third quarter.

Jones returned for five snaps spread out over the fourth quarter, but Dillon still took the majority of the snaps (15).

Dillon would be a clear fantasy starter if Jones has to miss time.

Patrick Taylor

is the Packers' third-string back. He would be the primary backup but would only play when Dillon needs a break, as he did today.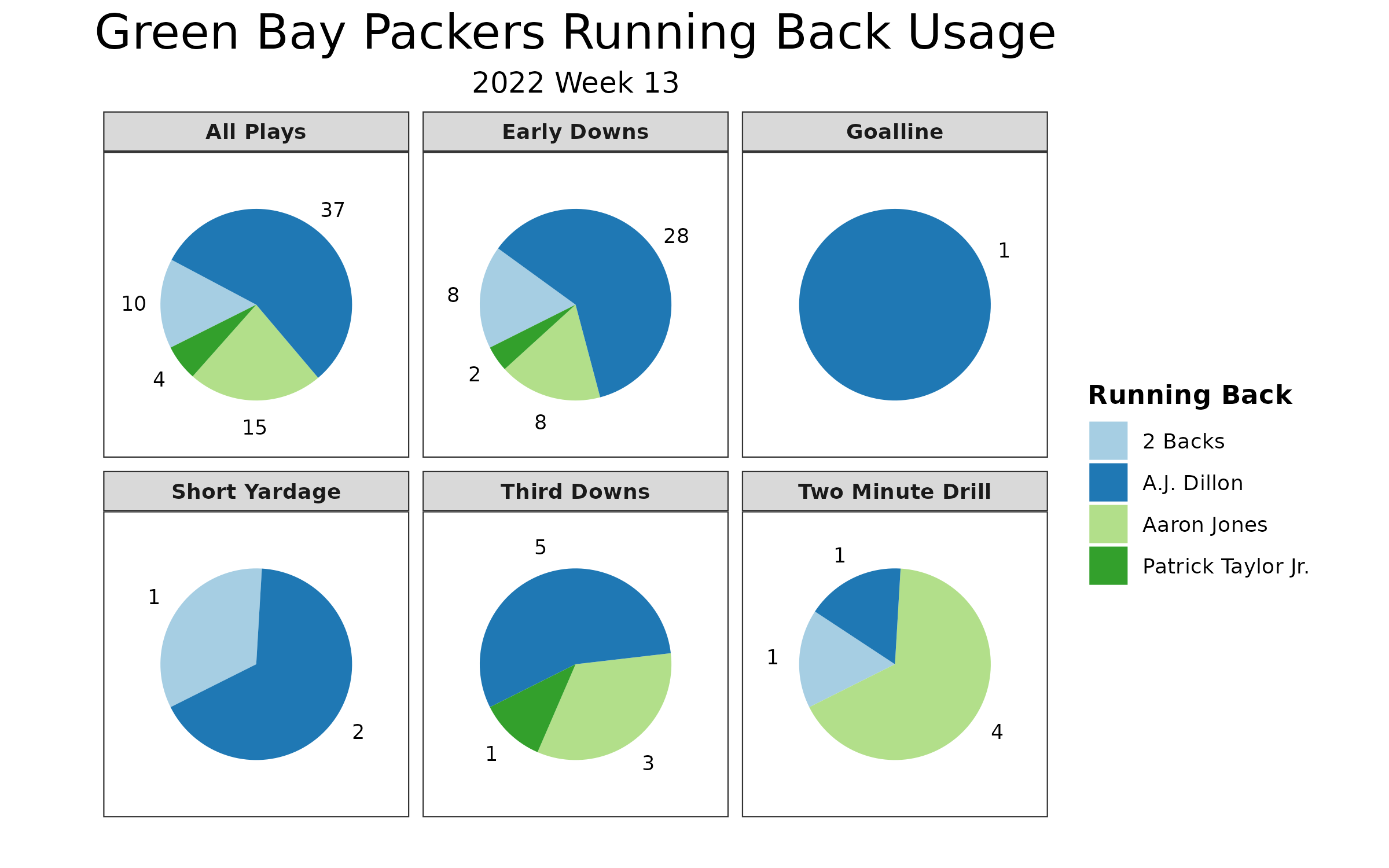 The Bears without Darnell Mooney: Mooney landed on injured reserve this past week, leaving Chicago with a six-man rotation at wide receiver.
Dante Pettis

took over as the Bears' slot receiver. He played 34-of-35 snaps in 11 personnel and didn't see a snap in any other personnel grouping. That led to just two targets for Pettis.

The five other receivers rotated throughout the game on the outside, with

Chase Claypool

and

Equanimeous St. Brown

as the two clear favorites, particularly on passing plays.

Claypool suffered an injury that cost him nine minutes of the game in the second quarter. He played 23-of-30 snaps in the second half, including 16-of-18 pass plays.

He is by far the best fantasy option of the six going forward, but since he doesn't have the same role as Mooney, he might not see the same production.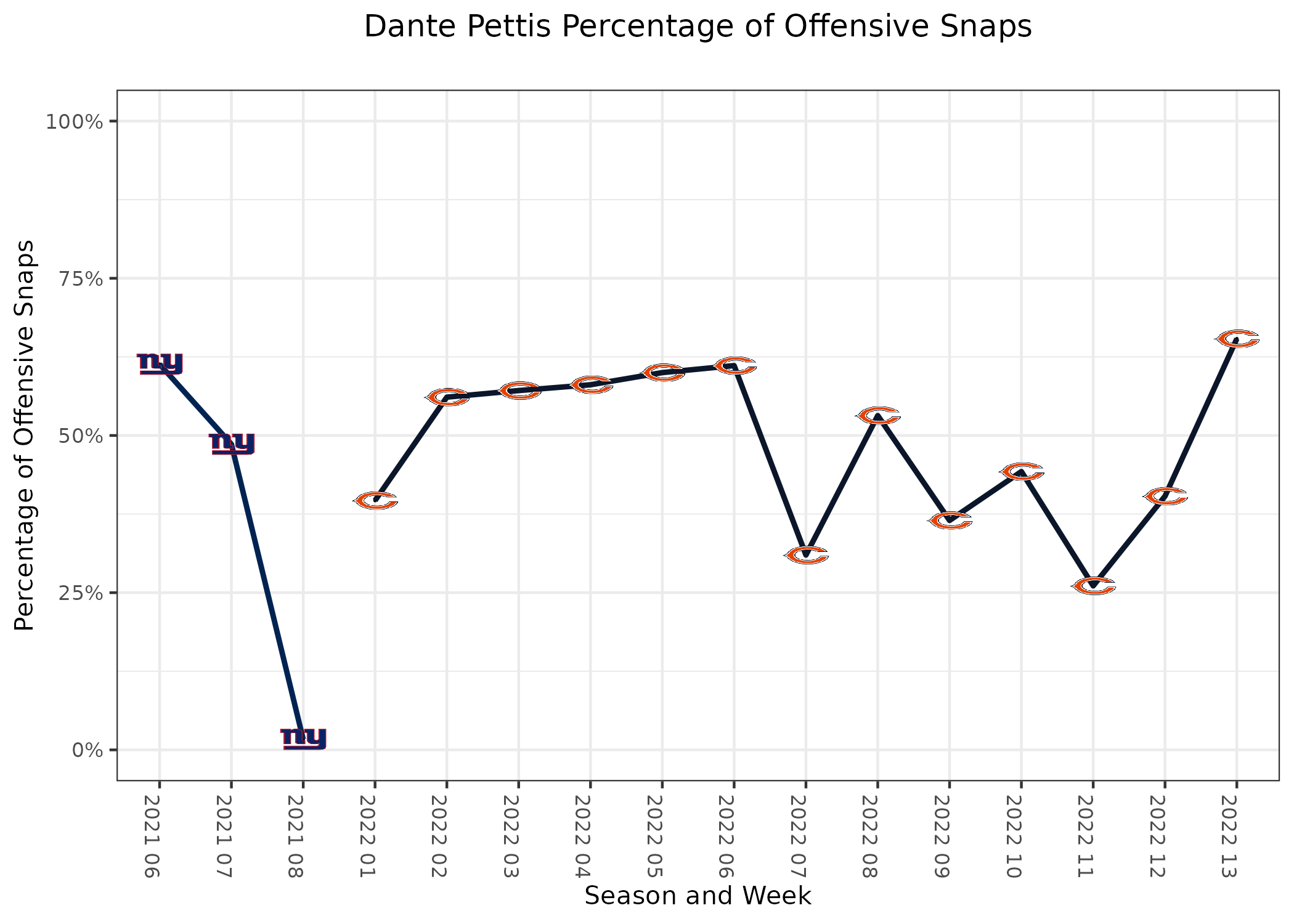 ---
• Drake London: 6 receptions, 95 yards
• Najee Harris: 17 carries, 86 yards, 1 reception, 6 receiving yards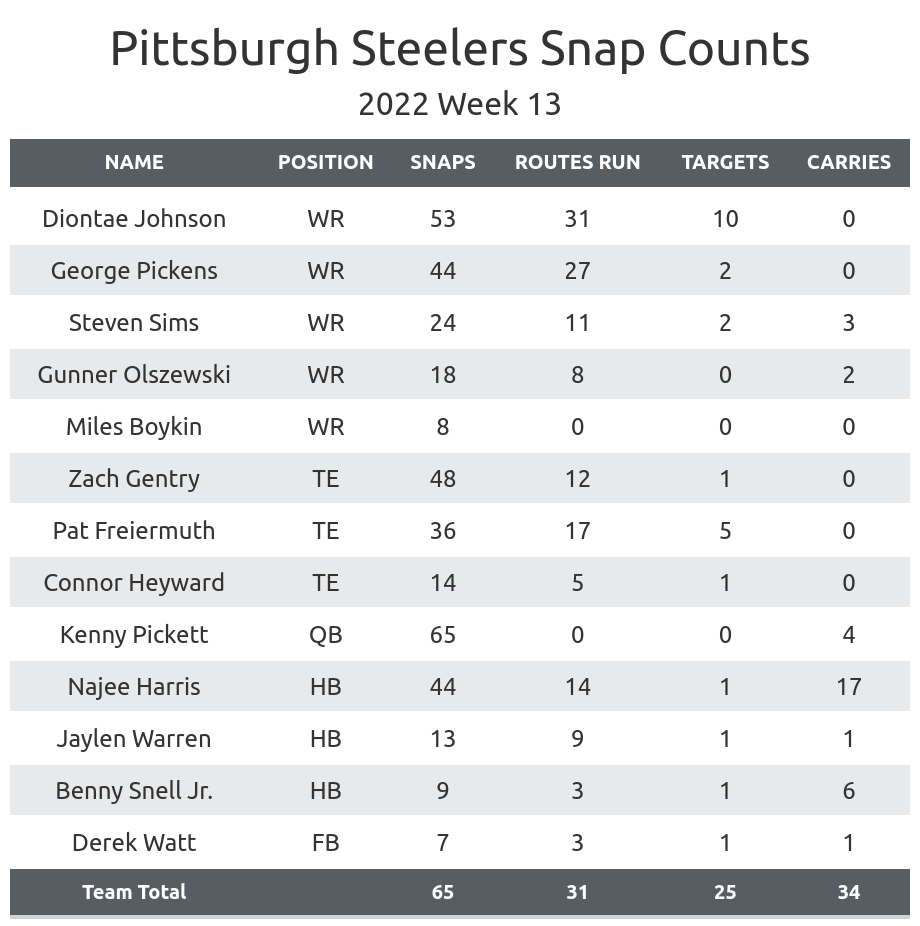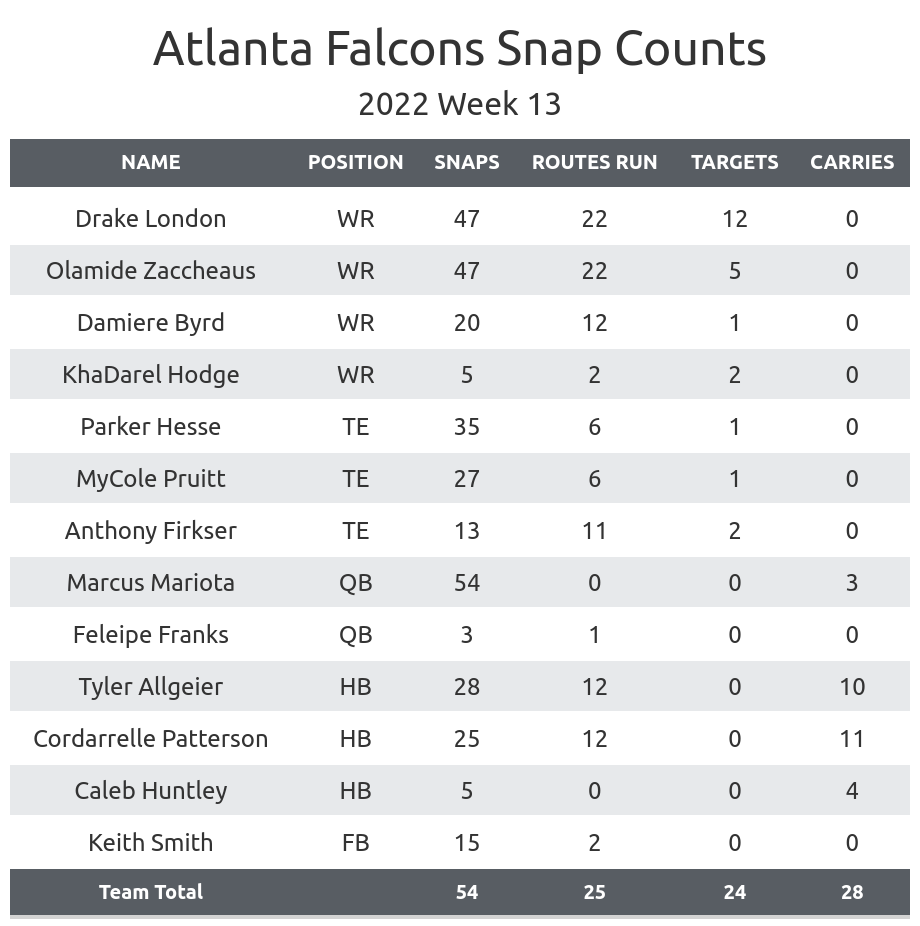 The Steelers are relatively healthy at running back: The Steelers were down to their third- and fourth-string running backs on Monday Night Football in Week 12 but had everyone ready for this game.
Najee Harris

didn't practice to start the week, dealing with an oblique injury he suffered on Monday Night Football, but surprisingly didn't have an injury designation on Friday.

His playing time was comparable to other recent weeks, and if anything, he played one or two snaps fewer than usual.

Harris finished above 5.0 yards per carry for the first time all season.

Jaylen Warren

also returned to the Steelers after missing last week and most of Week 11. He regained his passing-down back role.

He handled both fewer snaps and fewer touches than in recent weeks when he was healthy.

Benny Snell Jr.

took snaps as the third back. He also showed up on the injury report with a knee injury.

It wouldn't be surprising if Snell goes back to not seeing any playing time going forward.

The Steelers have a mix of good and bad matchups for their running backs the rest of the way.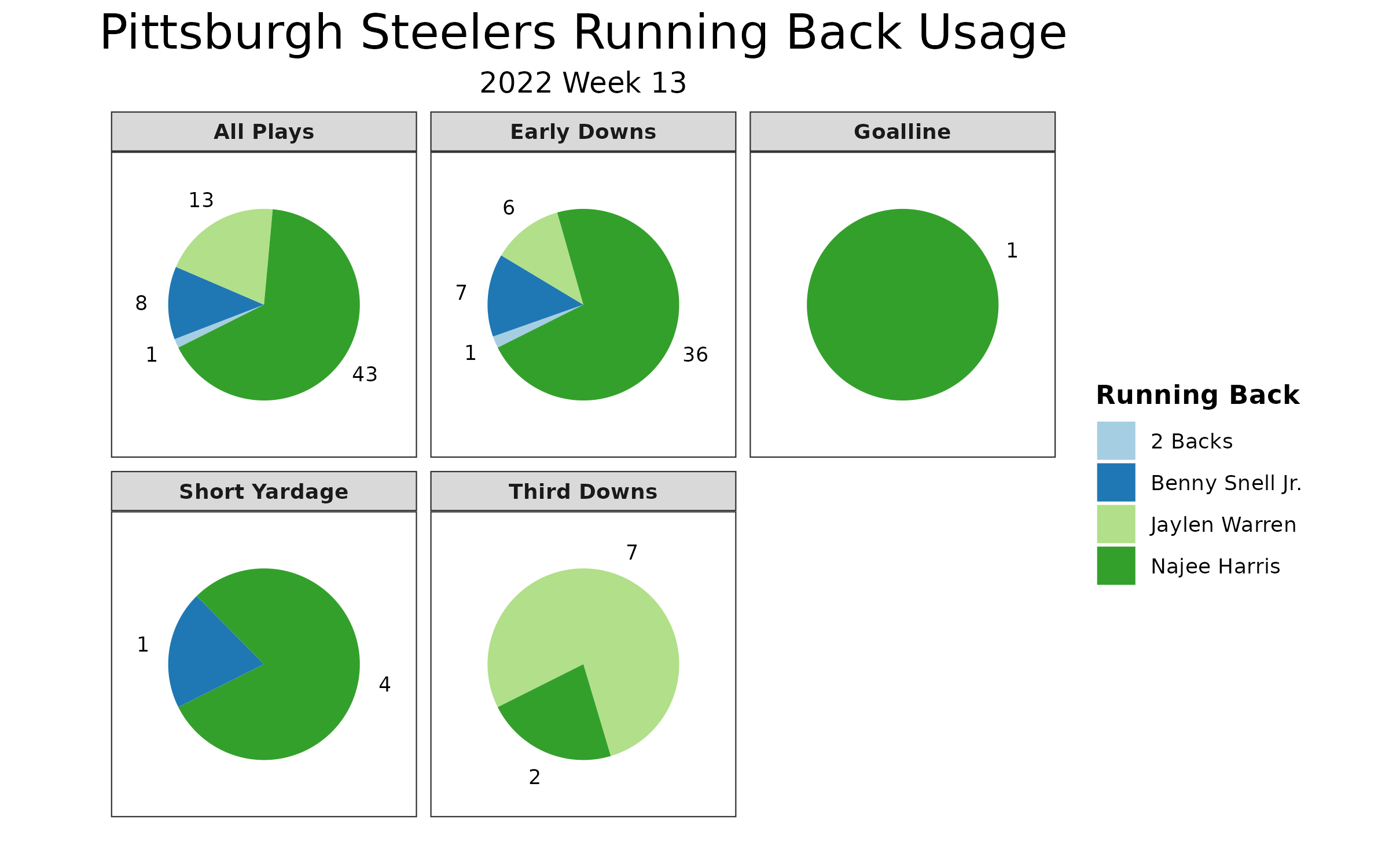 Reason for concern for Pat Freiermuth: The Steelers tight end led the team in yards (76) thanks to three catches, but his playing time has been on the decline.
Freiermuth has consistently been on the field for third downs and two tight-end sets all season.

He is almost never on the field in 21 personnel and shares snaps in 11 personnel with

Zach Gentry

on early downs.

There has always been a trend of Freiermuth playing more in passing situations from that personnel group and Gentry more on rushing, which remained true.

Typically, Freiermuth ends up with more snaps than Gentry in this situation, but against the Falcons, Gentry played 18 such reps compared to five for Freiermuth.

This might be a one-time thing, or it could be a sign of things to come.

It's still worth keeping him in fantasy starting lineups due to his talent, but this could hurt his ceiling over the rest of the season if it continues.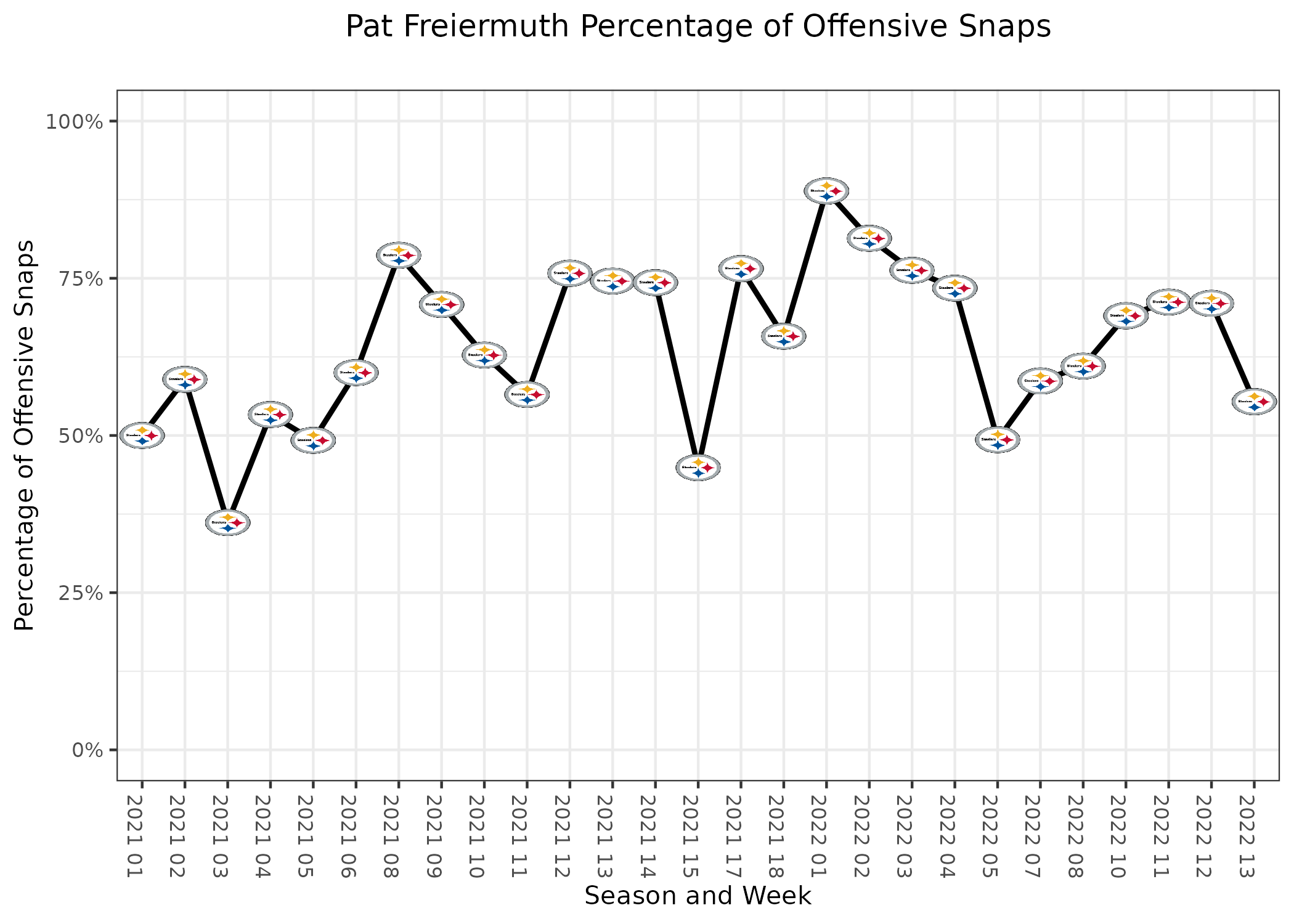 Drake London's big game: London recorded the highest receiving yardage total of his career, but that doesn't necessarily mean his stock is on the rise.
The Falcons didn't change how they used London.

London was targeted on over half of his routes, which isn't a sustainable rate.

He accomplished this against a Steelers defense that had allowed the most fantasy points to wide receivers coming into the week.

The Steelers use man defense on nearly 40% of their pass plays, which is the fourth-highest rate for defenses this season.

London had a target share of 27.7% heading into the week against defenses using man, compared to 23.3% against zone.

Atlanta has a bye next week and then faces three defenses that have allowed fewer fantasy points to wide receivers and play less man defense.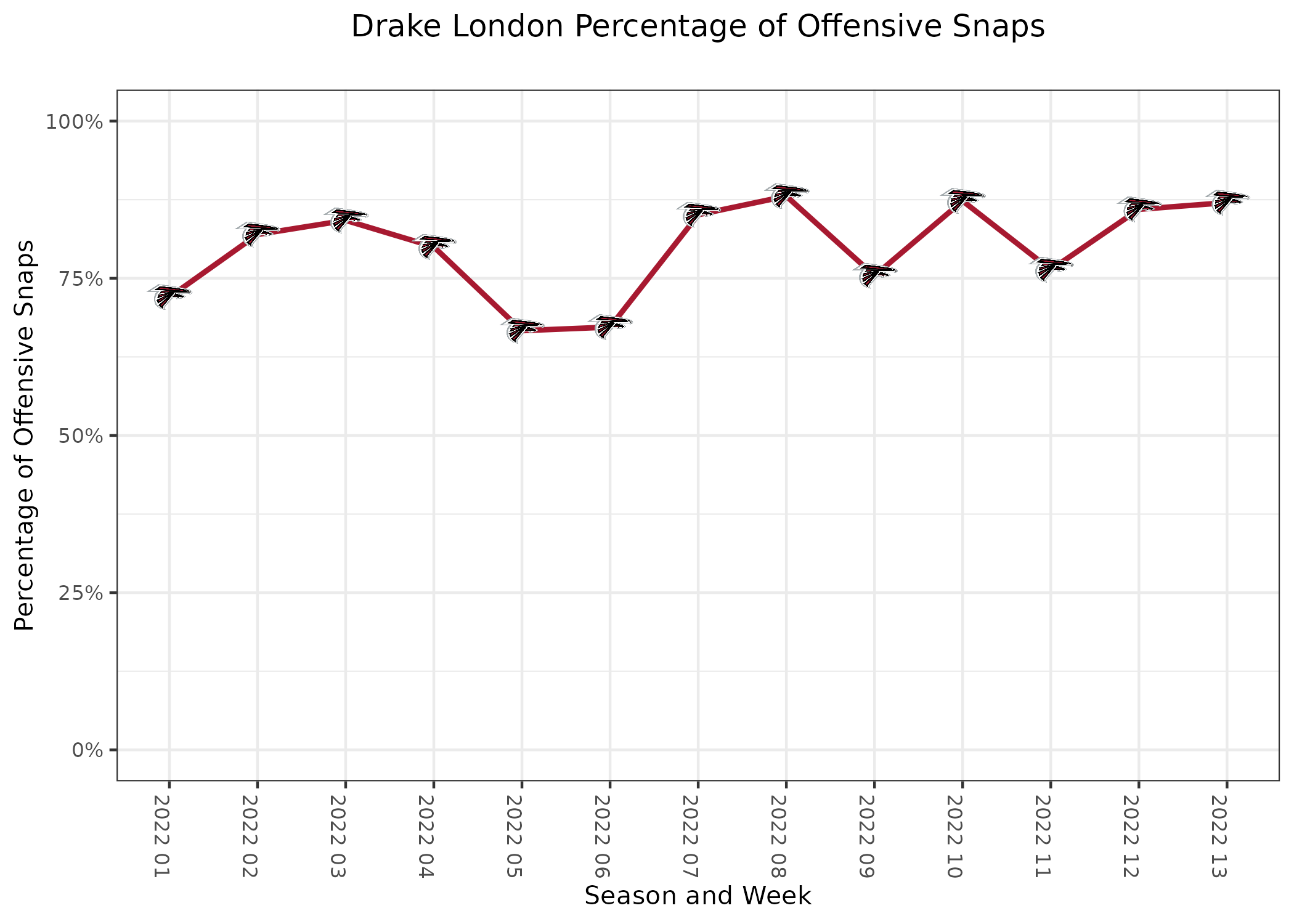 ---
• Garrett Wilson: 8 receptions, 162 yards
• Dalvin Cook: 20 carries, 86 yards, 1 touchdown, 2 receptions, -3 receiving yards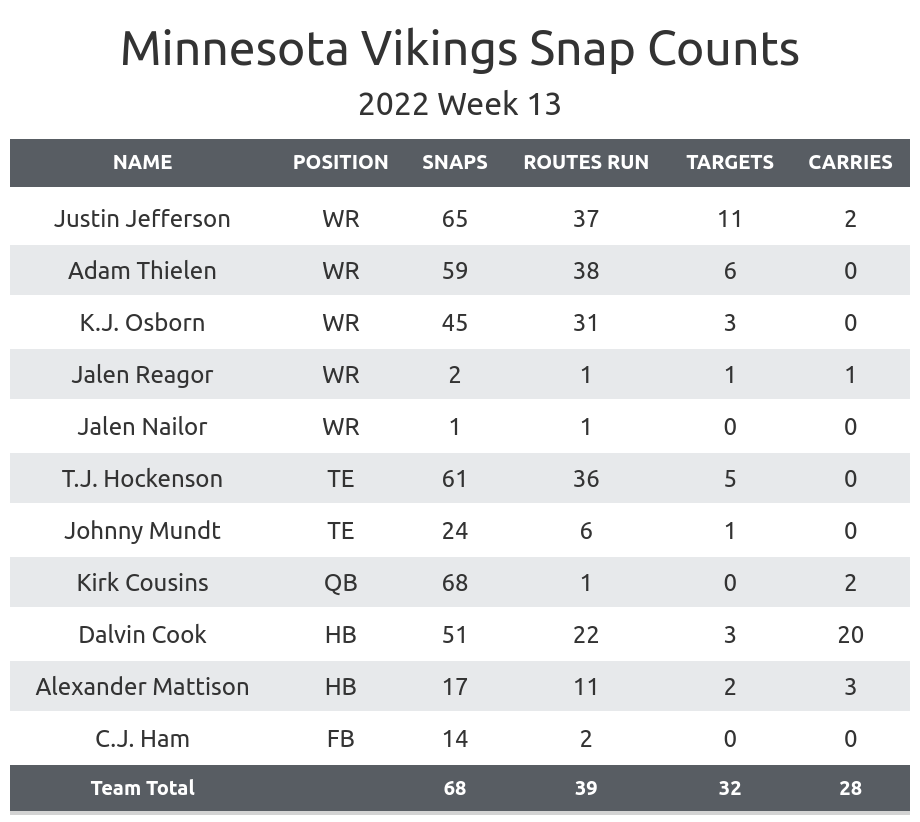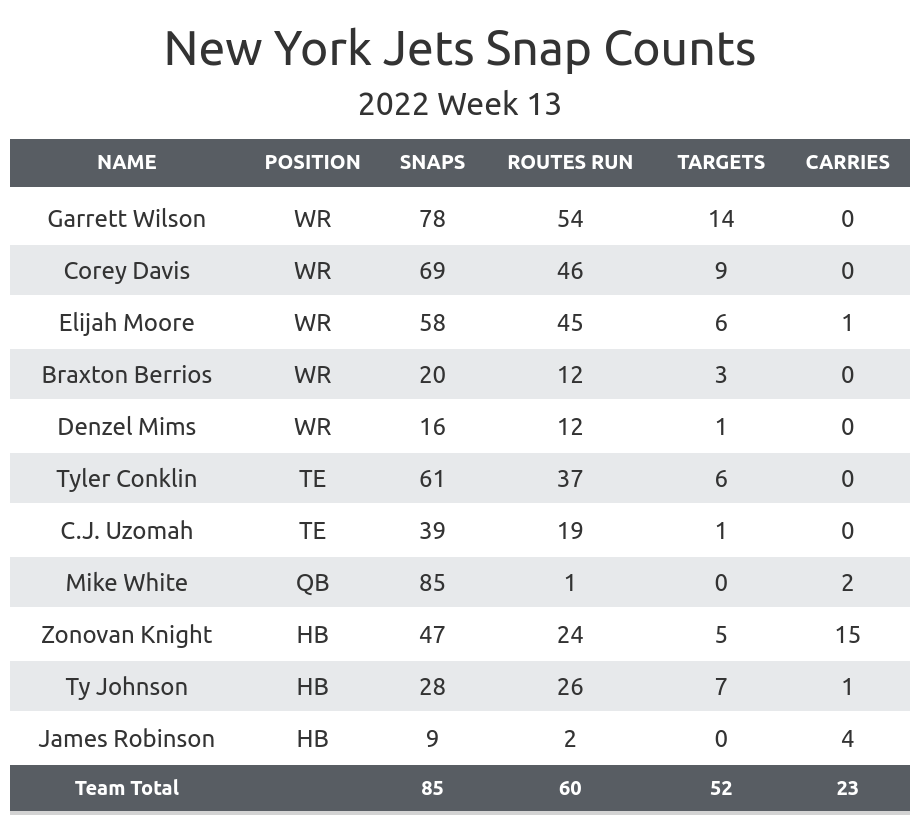 The Jets without Michael Carter: James Robinson was a surprise inactive last week in favor of rookie Zonovan Knight. Knight remained ahead of Robinson in Carter's absence.
Carter didn't practice this week while nursing an ankle injury and was officially doubtful. The fact that he didn't practice at all could mean he misses more time.

Robinson was active as the Jets' third running back but was used sparingly on early downs throughout the game.

Knight had a solid performance, finishing with 90 yards on 15 carries. He also caught five passes for 28 yards.

Ty Johnson

remained the third-down back and handled a few early-down snaps. He will likely keep this role for the foreseeable future.

Knight should at least be on fantasy rosters, but it might be hard to start him unless Carter is out for a while.

The Jets have a tough matchup against the Bills next week, a game in which they will likely fall behind, meaning more snaps by Johnson.

The schedule gets progressively easier from there, but so do Carter's chances of getting healthy and regaining the starting job.

Robinson can be cut from fantasy rosters at this point. He will likely be inactive again once Carter is back.

It's worth noting the Jets ran a ridiculously high 85 plays in a non-overtime game. That inflated the numbers of all offensive players. They've run 61 plays or less in half of their games.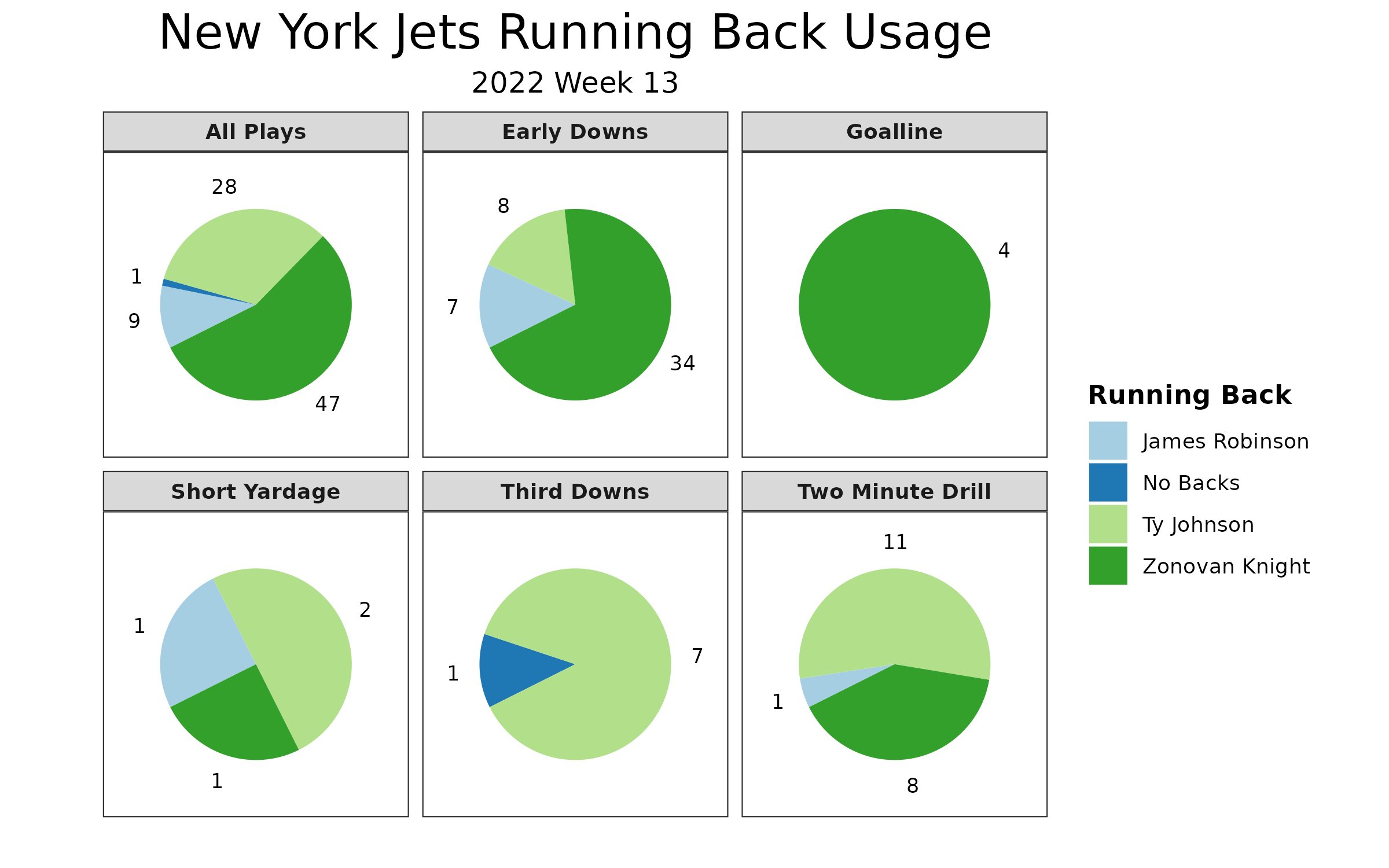 Adam Thielen's quiet season: Thielen caught just two of his six targets for 27 yards in what continues to be a relatively quiet season for the veteran.
He's yet to gain 75-plus receiving yards in a game this season. He did that four times last year.

His playing time was relatively low this week, but that was just because the team ran eight snaps in 22 personnel.

His target share has dropped from 19.3% last year to 17.1% this year.

His share has particularly dropped once the Vikings are within 10 yards of scoring. His share was 34.8% last season but sits at 15.4% this season. This has left him with fewer touchdowns.

Thielen hasn't been as good on contested targets. He caught 14-of-21 last year yet has snagged only 4-of-16 this year.

He hasn't avoided a tackle after shedding seven last season.

The Vikings have a great matchup next week against the Lions. If he doesn't put up good numbers in that game, it could be fine to drop Thielen depending on the league size and other receivers on your roster.

He is under contract for two more seasons and will likely stay in Minnesota at least one more year despite turning 33 before next season.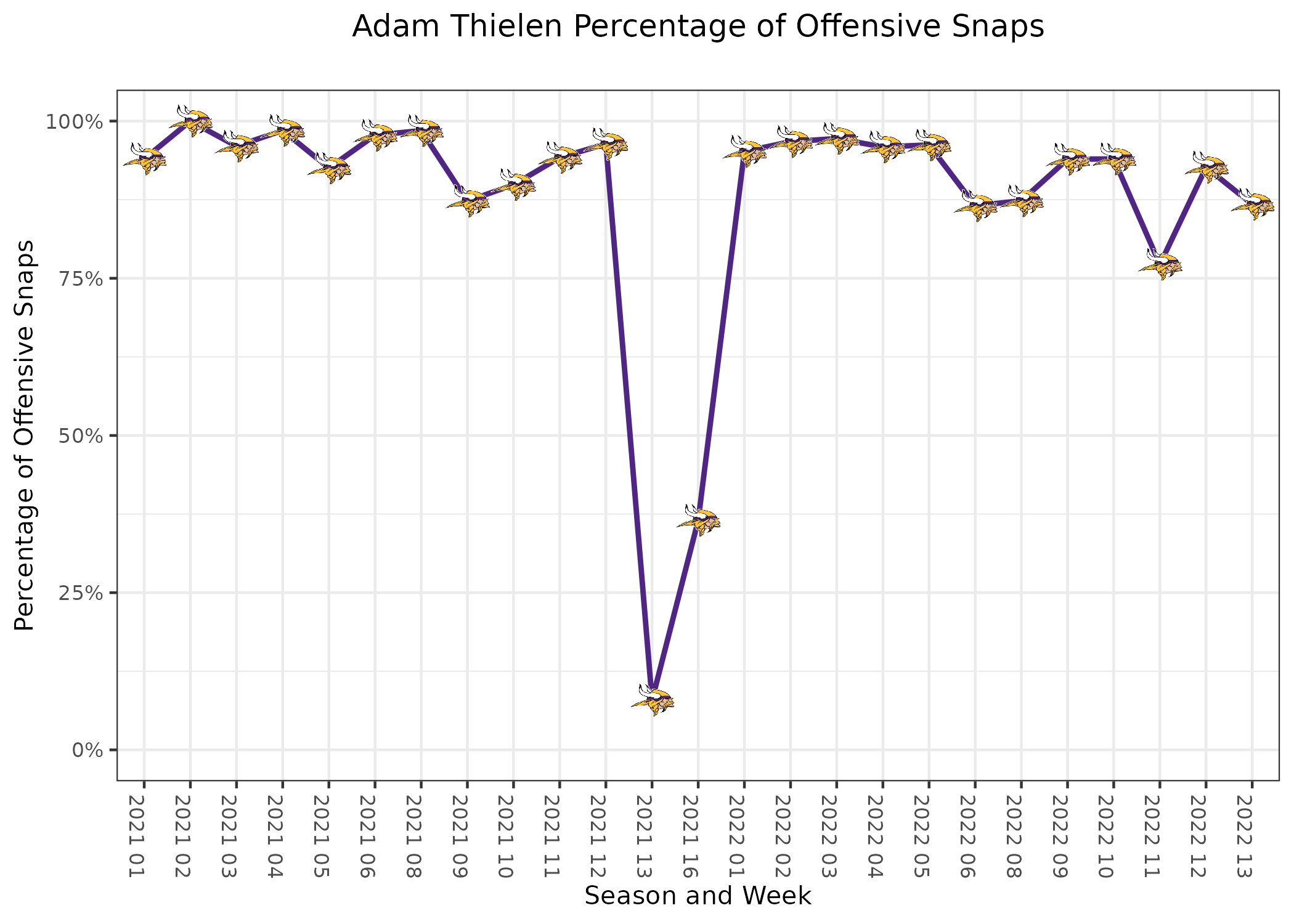 ---
• Amon-Ra St. Brown: 11 receptions, 114 yards, 2 touchdowns, 1 carry, 2 rushing yards
• D'Andre Swift: 14 carries, 62 yards, 1 touchdown, 4 receptions, 49 receiving yards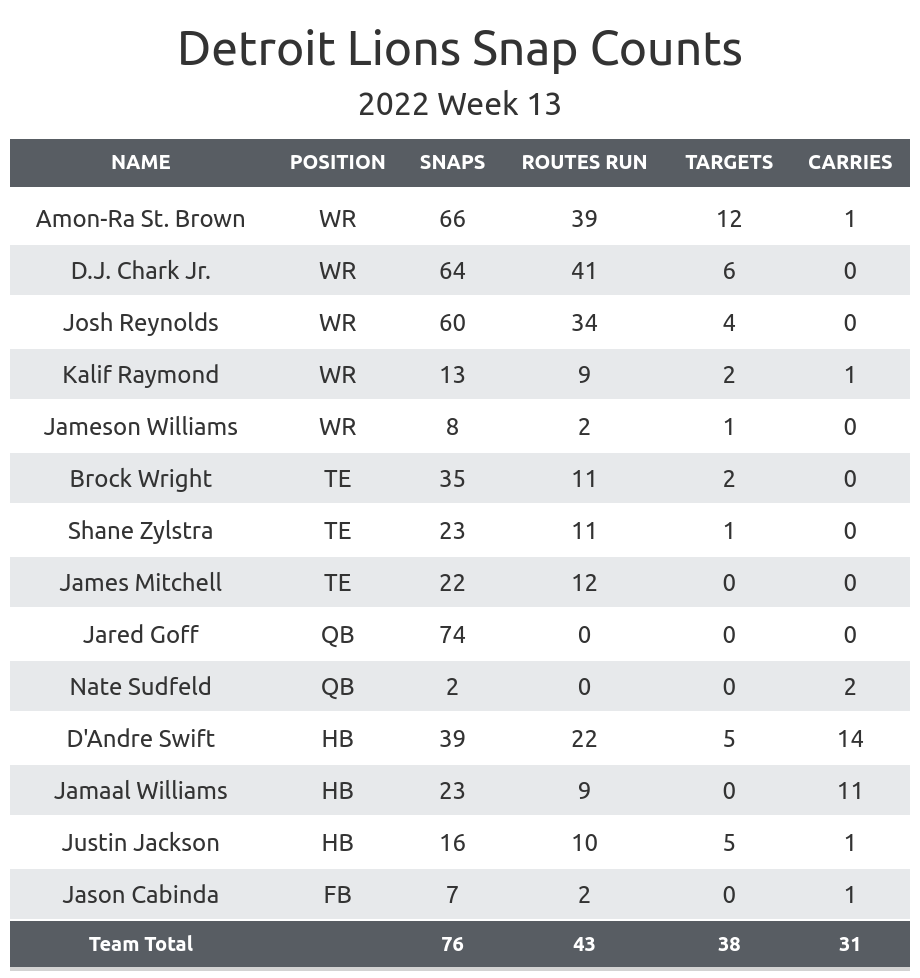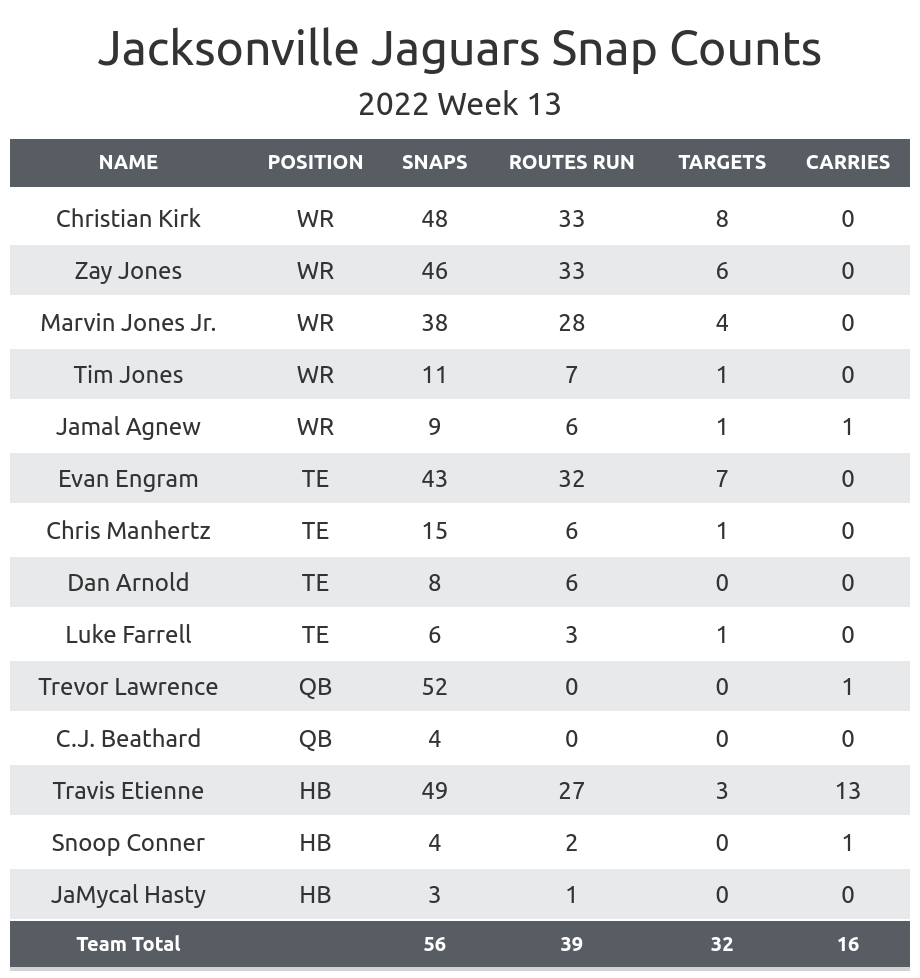 D'Andre Swift on the rise: The Lions got Swift more involved in the offense this week than they had in weeks past.
His playing time increase largely came on early-down snaps.

This seemed to be the plan from the start, as Swift saw a slight edge over both other backs on early downs in each quarter, with a big lead in the fourth quarter.

He continued to be the primary back on third downs.

Swift received some goal-line opportunities largely thanks to a hurry-up offense.

Jamaal Williams

should still be expected to see the majority of short-yardage and goal-line work going forward.

This remained a three-back committee. Williams saw a significant decrease in snaps, while

Justin Jackson

saw only a slight decrease.

Swift will be the player in the backfield to start the next two weeks, as the Lions will have competitive games against the Vikings and Jets.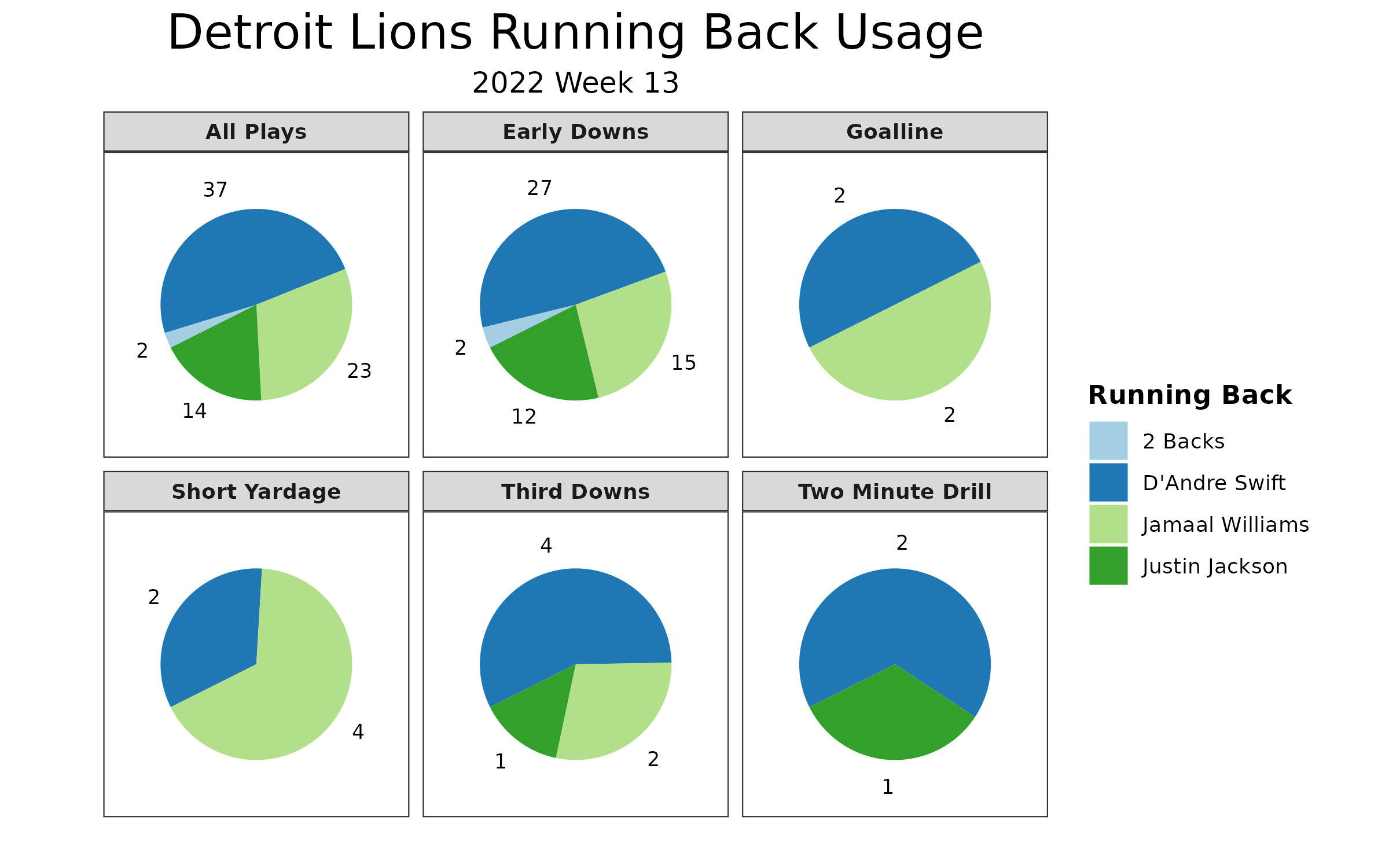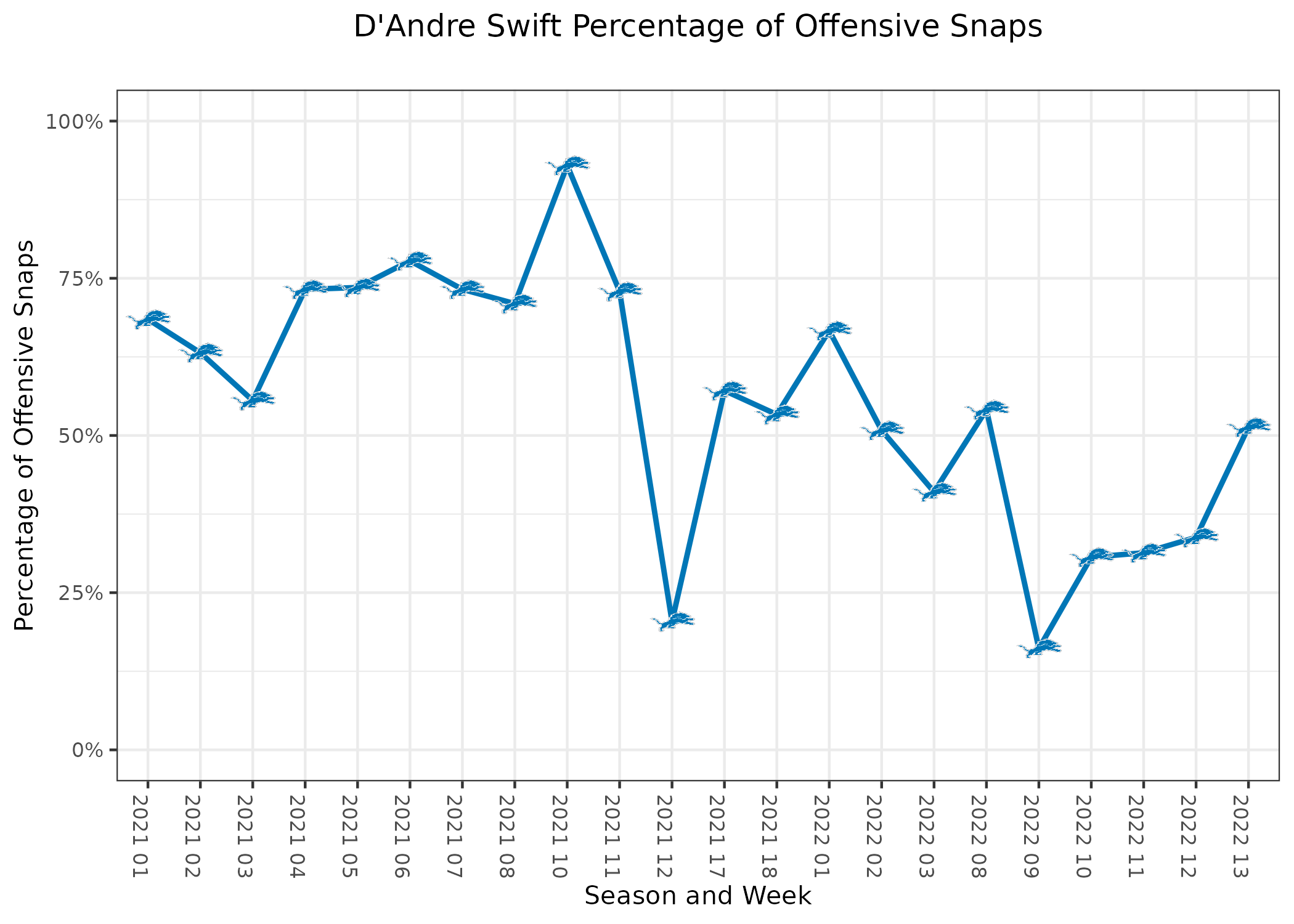 Jameson Williams' season debut: The first-round rookie played in his first game of the season, albeit in a very limited role for Detroit.
Both

D.J. Chark

and

Josh Reynolds

also returned in recent weeks and were given similar roles.

All three wide receivers in their first game back played just a few snaps per quarter — and more in rushing situations than passing.

Reynolds returned last week and was back to being a full-time No. 3 receiver for Detroit in this game.

Six of Williams' snaps came in two-wide receiver sets, and the other two came on the kneel-downs to end the game.

He didn't catch his only target.

There were reports before the game that Williams would be a gunner on the punt team, but Detroit never punted.

Williams will likely see more offensive snaps next week, but it was unclear who would be losing snaps based on how the receivers were used in this game.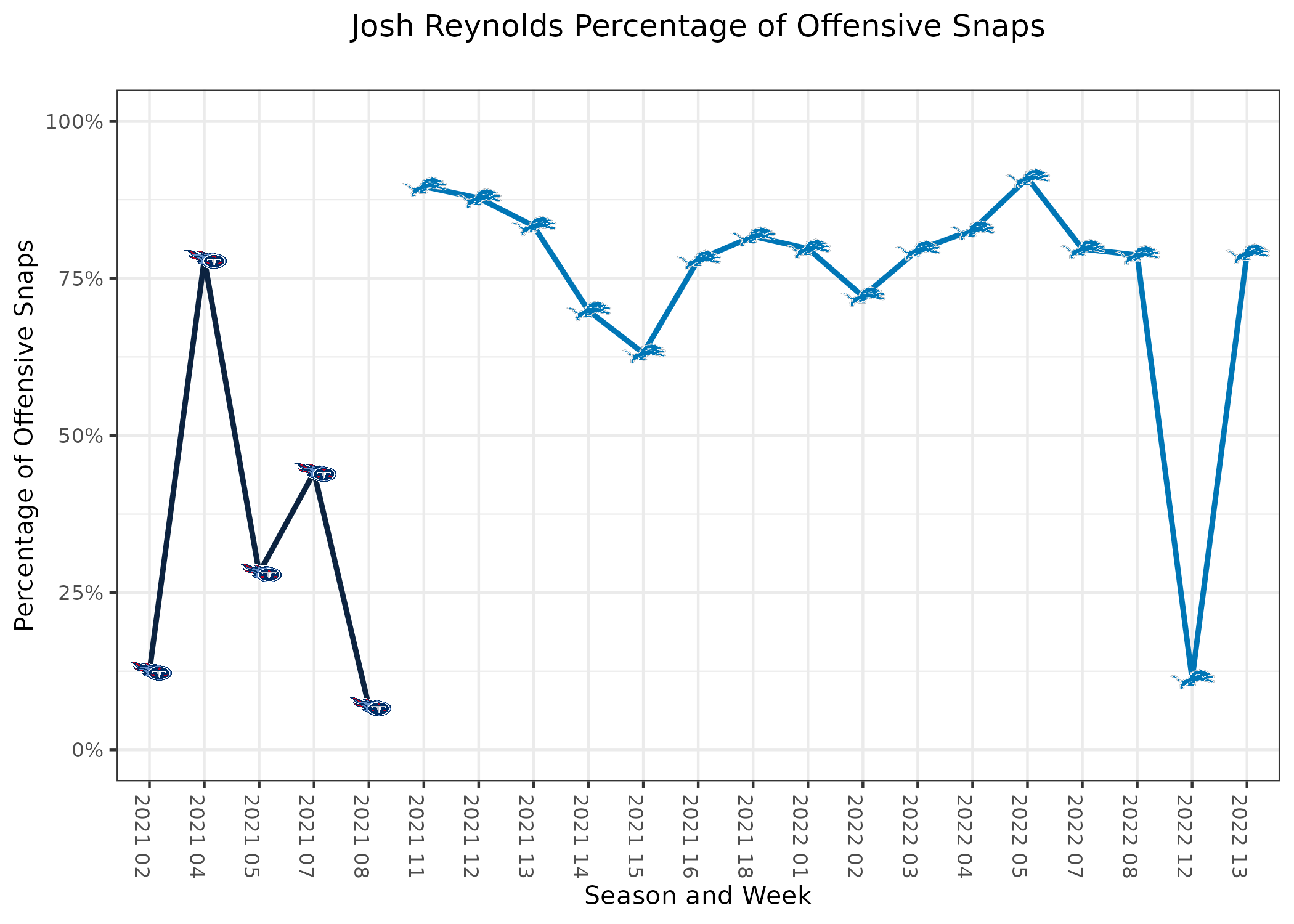 Travis Etienne's return: Etienne missed most of last week with a foot injury but played an even larger role than usual in this game.
There were reports last week that he could have returned to the game, but he was limited in practice all week with the foot injury.

He gained 54 yards on 13 carries and caught three passes for 12 yards.

He dominated offensive snaps unlike in any other game for him this season.

The Jaguars' offense struggled in general, with over half of their drives ending in four plays or less. Meanwhile, every Lions drive lasted seven or more plays and ended in a score outside of the kneel-downs to end the game.

This prevented the Jaguars from running many plays or having many scoring opportunities.

Etienne will have a high floor the rest of the season but could struggle these next few weeks against strong run defenses.

The Jaguars play the Texans in the fantasy football championship week, so any Etienne manager who can make their way to the final game has a good chance of winning with that great matchup.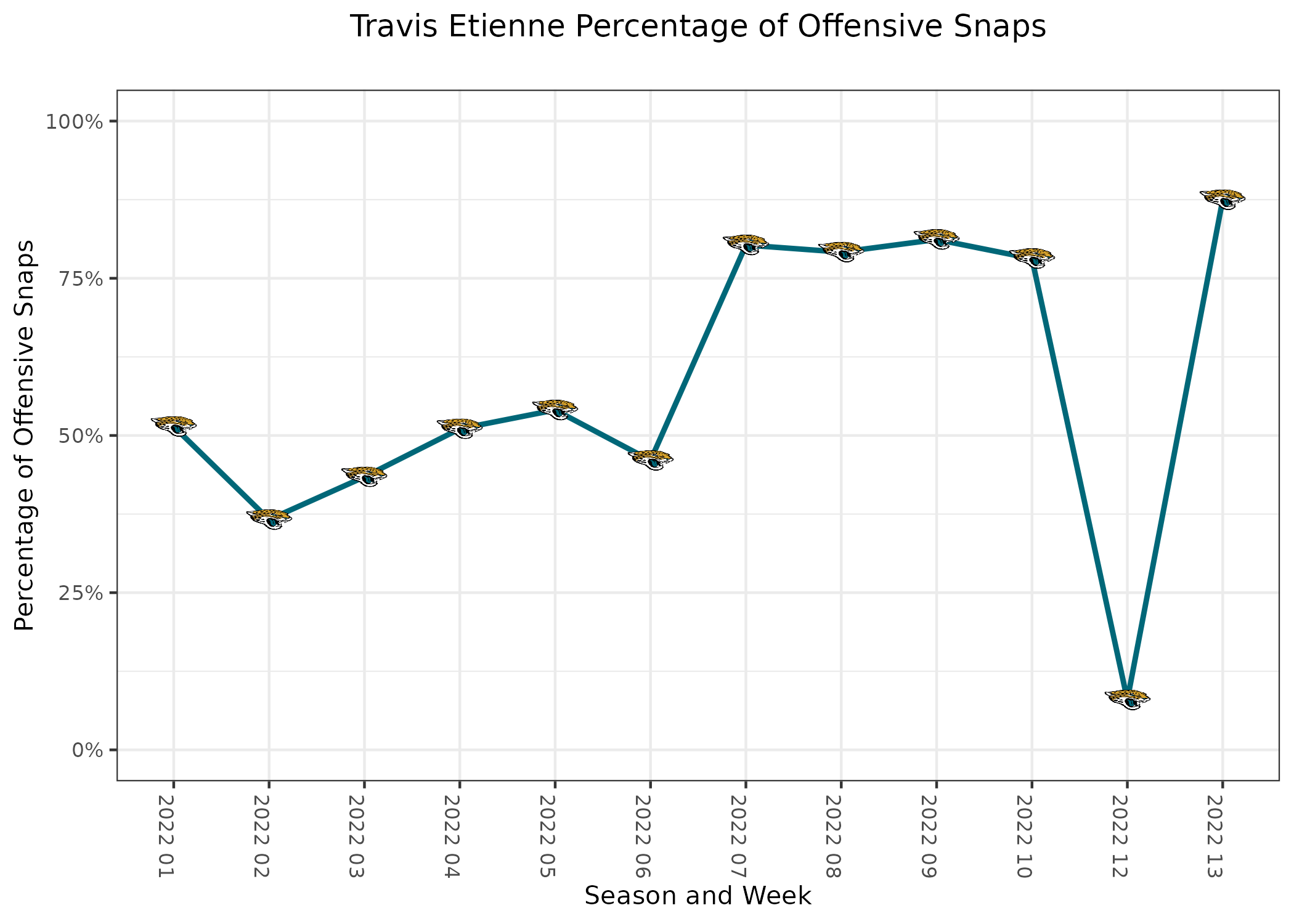 ---
• A.J. Brown: 8 receptions, 119 yards, 2 touchdowns
• DeVonta Smith: 5 receptions, 102 yards, 1 touchdown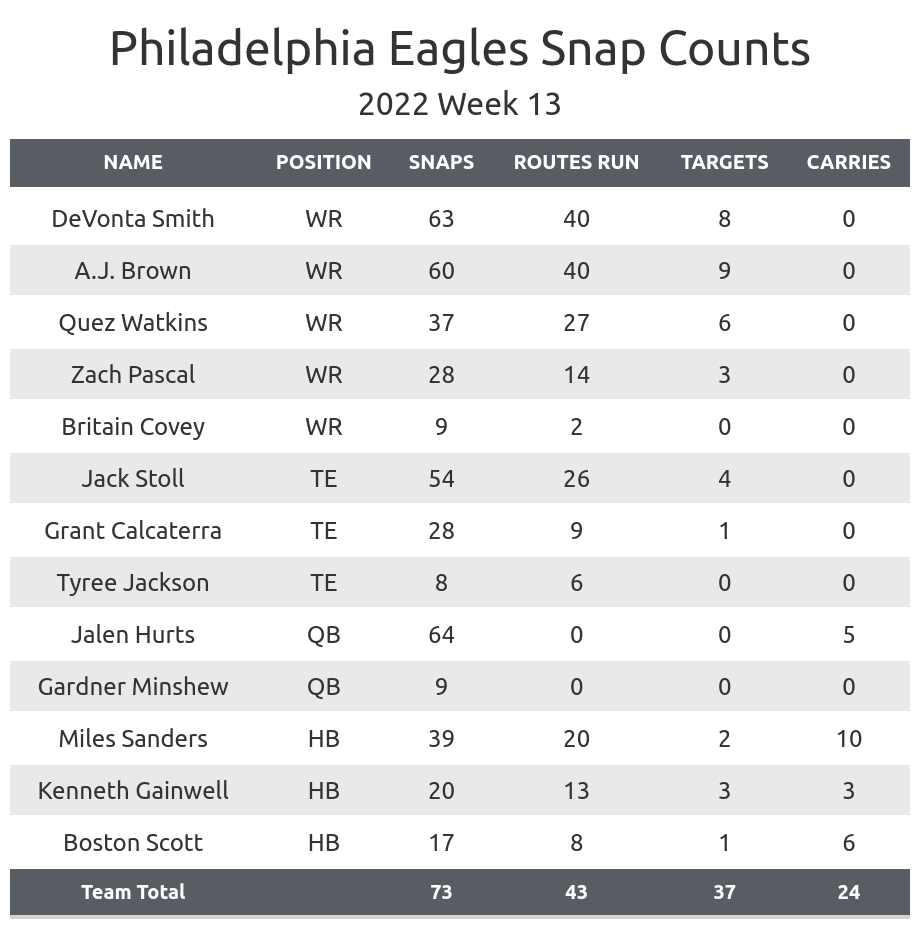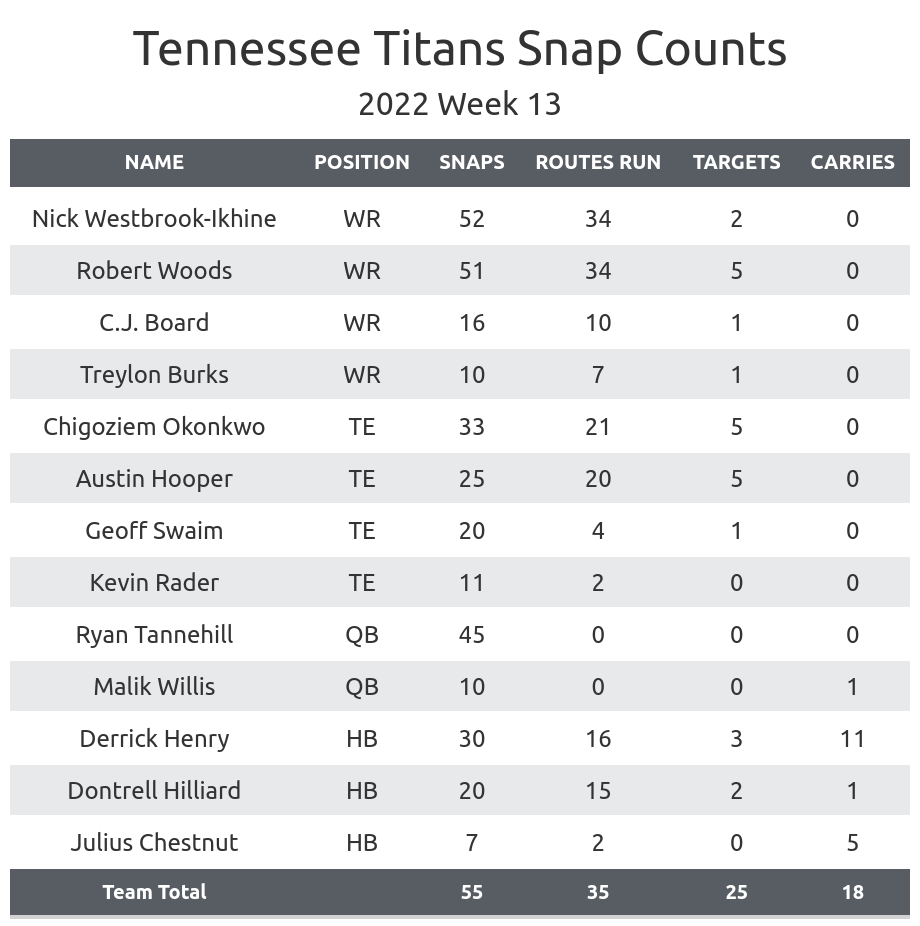 Monitor Treylon Burks' health: Burks took a helmet-to-helmet hit while scoring a touchdown late in the first quarter. He was able to walk off the field after staying down on the turf for a little while and was eventually ruled out with a concussion.
His 25-yard touchdown grab was his only catch of the game.

The Titans were using Burks the same way they had in recent weeks. He was consistently on the field in 11 personnel while rarely on the field in 12 personnel.

Cody Hollister

has been the fourth wide receiver for Tennessee most of the season and would have seen a larger role Sunday if he was healthy. Hollister was inactive due to a neck injury.

C.J. Board

had spent the 2022 season on three different practice squads. He's been brought to the Titans' active roster in recent weeks, and he became their third wide receiver.

All other Tennessee wide receivers combined for 16 receiving yards through the rest of the game.

Burks' one favorable matchup remaining on the schedule is next week against the Jaguars if he's able to play. The three teams Tennessee faces during the fantasy playoffs are above average at preventing fantasy points to wide receivers.

It would be OK to drop Burks if it doesn't seem like he will play this coming week.

None of the Titans starters should be considered off the waiver wire despite the favorable matchup next week.
The rise of Chigoziem Okonkwo: The Titans rookie tight end gained 68 receiving yards, which was more than twice as many yards as any other Tennessee receiver.
He's gained at least 30 receiving yards in each of the past five games after just 52 yards in the first eight weeks.

He's consistently been making one big play a game. This week, it was a 41-yard catch. His 10.4 yards after the catch per catch are by far the most for a tight end with 10 or more targets this season. 

His 2.75 yards per route run are also by far the most for tight ends.

This has led to an increase in offensive snaps, particularly in 12 personnel. He had been playing roughly half of the snaps in that group in the previous four weeks, but he played 23-of-26 snaps there today.

Those snaps largely came at the expense of

Geoff Swaim

, who split time with

Austin Hooper

.

He played only 4-of-22 snaps in 11 personnel.

It will be hard to trust him in fantasy if he's not playing in clear passing situations, but he's definitely a name to keep an eye on for the rest of the season and is an exciting dynasty prospect.

He and Kevin Rader are the only Titans tight ends under contract for 2023.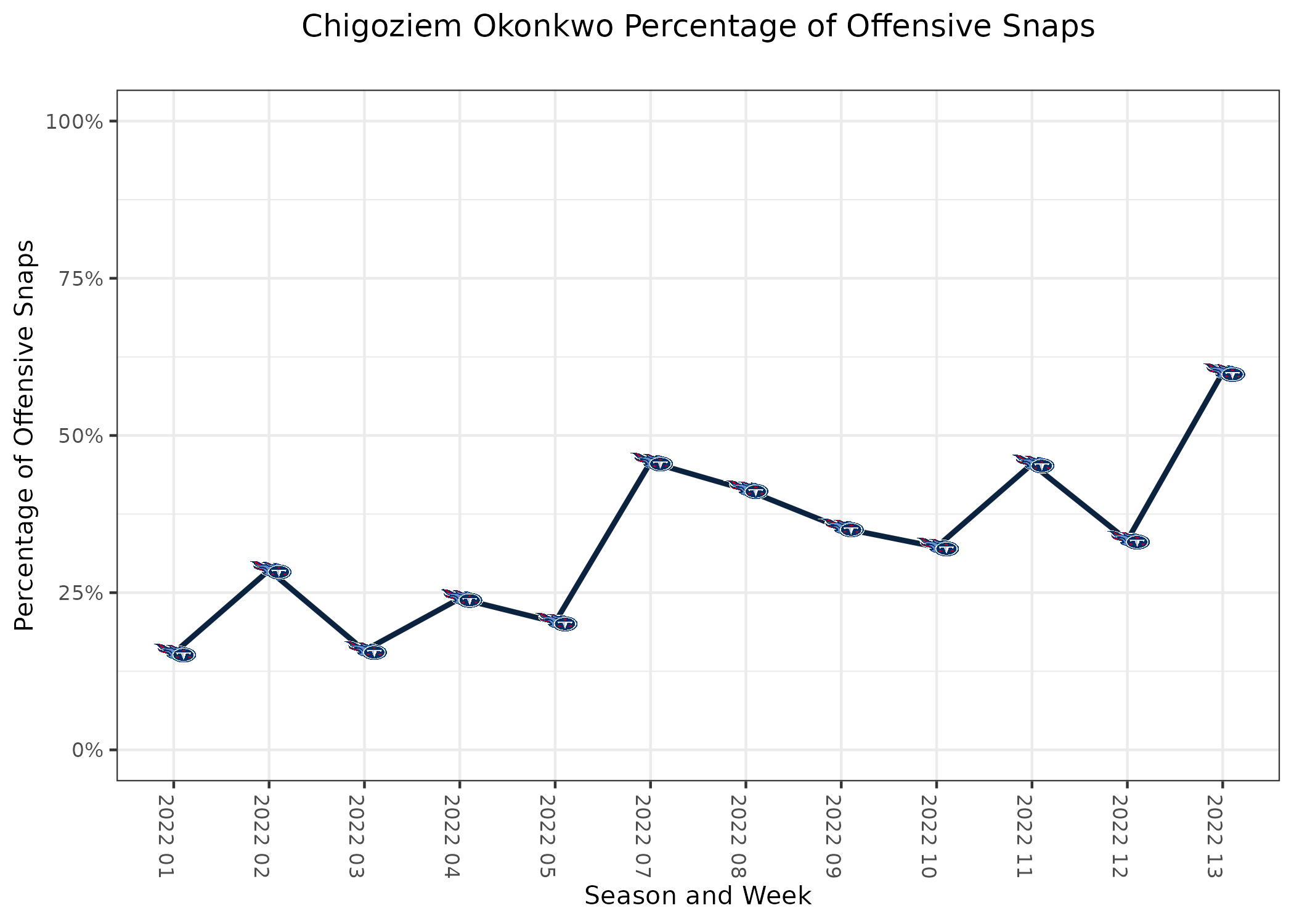 Don't add Jack Stoll: The Eagles tight end finished third on the team in receiving yards (41).
This was a career high in both receiving yards and receptions (three).

He has consistently been asked to stay in and pass block more than

Dallas Goedert

. He's had five games with three or more pass blocks, including today, compared to one by Goedert.

Goedert is eligible to return in Week 15 and is expected to be ready to go by that point. This gives Stoll just one more week as a starter in Philadelphia.

The Eagles have a favorable matchup against the Giants next week, but that probably won't be enough to trust putting Stoll in a fantasy starting lineup.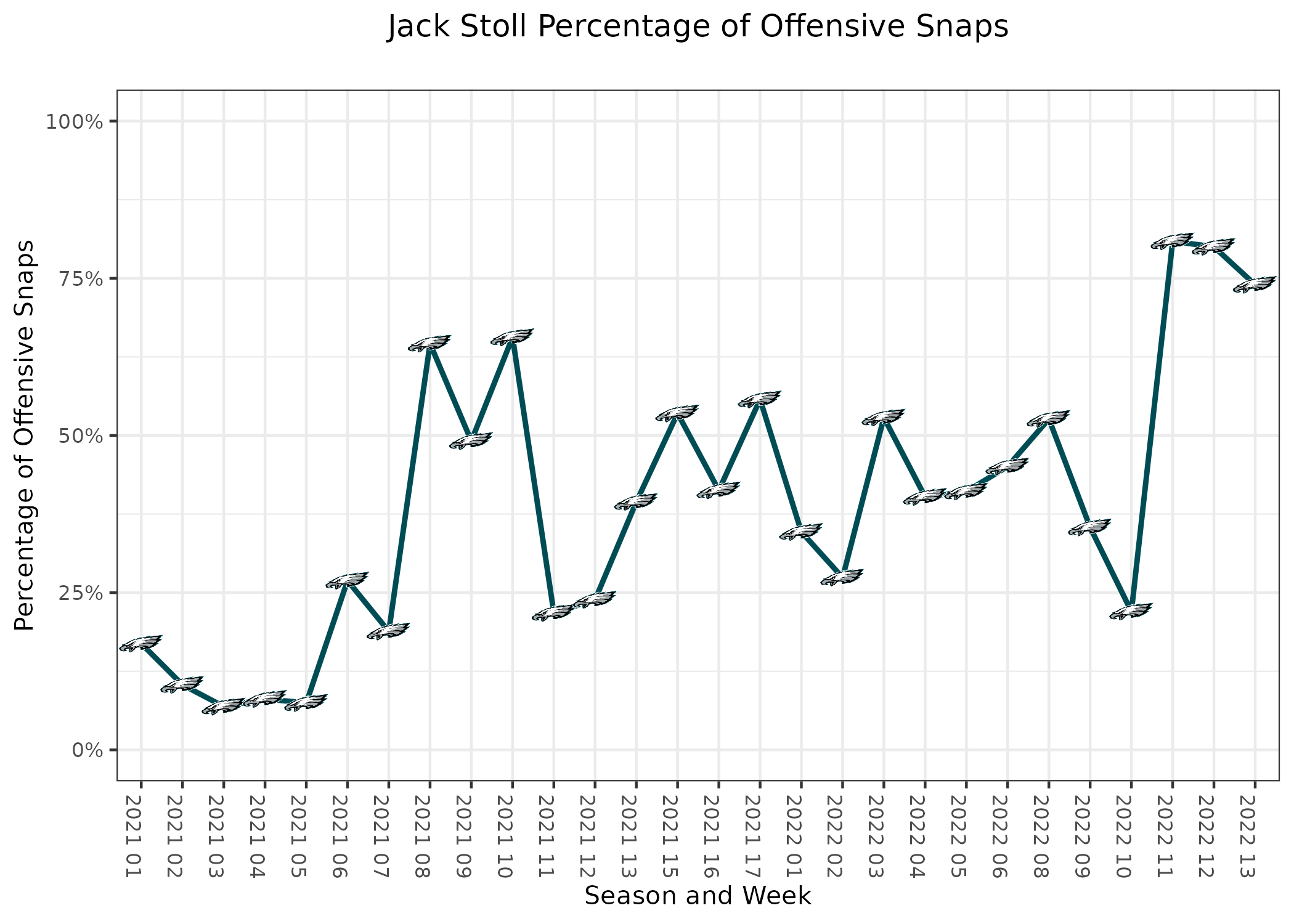 ---
• Dameon Pierce: 18 carries, 73 yards, 3 receptions, 22 receiving yards
• Nico Collins: 3 receptions, 35 yards, 1 touchdown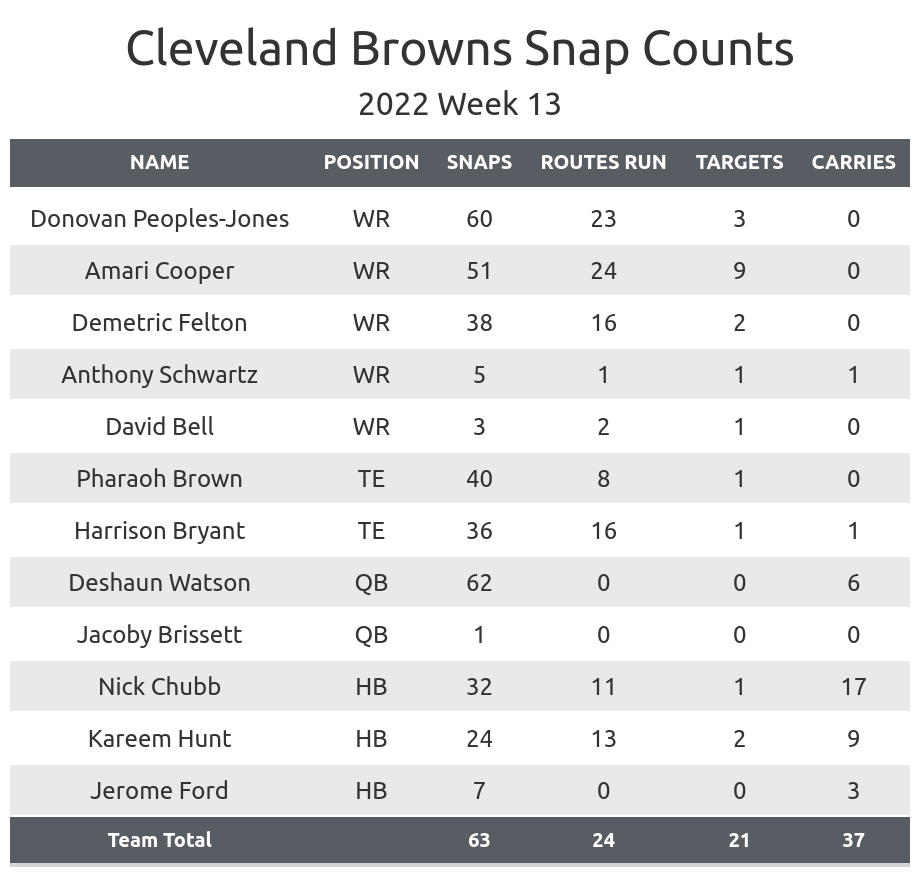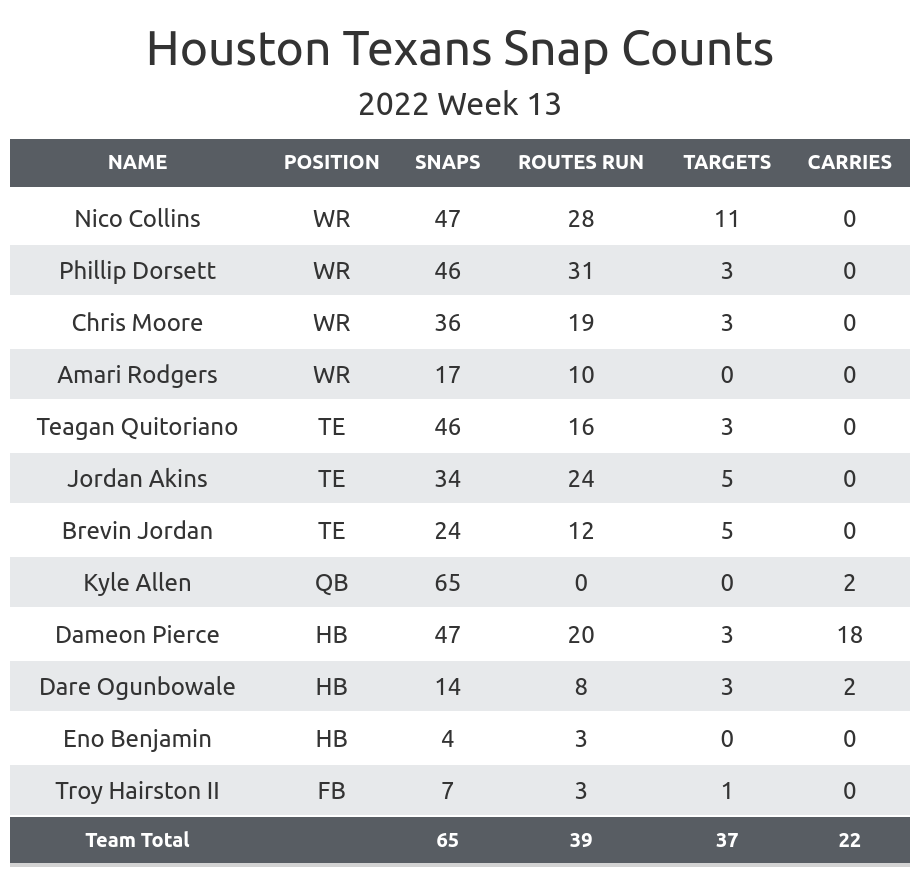 Monitor David Bell's health: Bell suffered a hand injury early in the first quarter and didn't return to the game.
The third-round rookie started the season as a rotational player but became the clear No. 3 receiver in Cleveland by Week 6.

Demetric Felton

took over the slot receiver role for the rest of the game, but that led to only two targets.

The game script allowed the Browns to use more two-tight end sets than usual, which meant they didn't need to have a receiver in the slot as often.

Amari Cooper

has been by far the Browns' most successful slot receiver this season even though he sees a fraction of his snaps in the slot, with 2.64 yards per route run.

Bell has 0.72 yards per route run from the slot this year, and Felton has 0.21.

If the injury is serious, Cooper ideally will see more snaps than usual from the slot.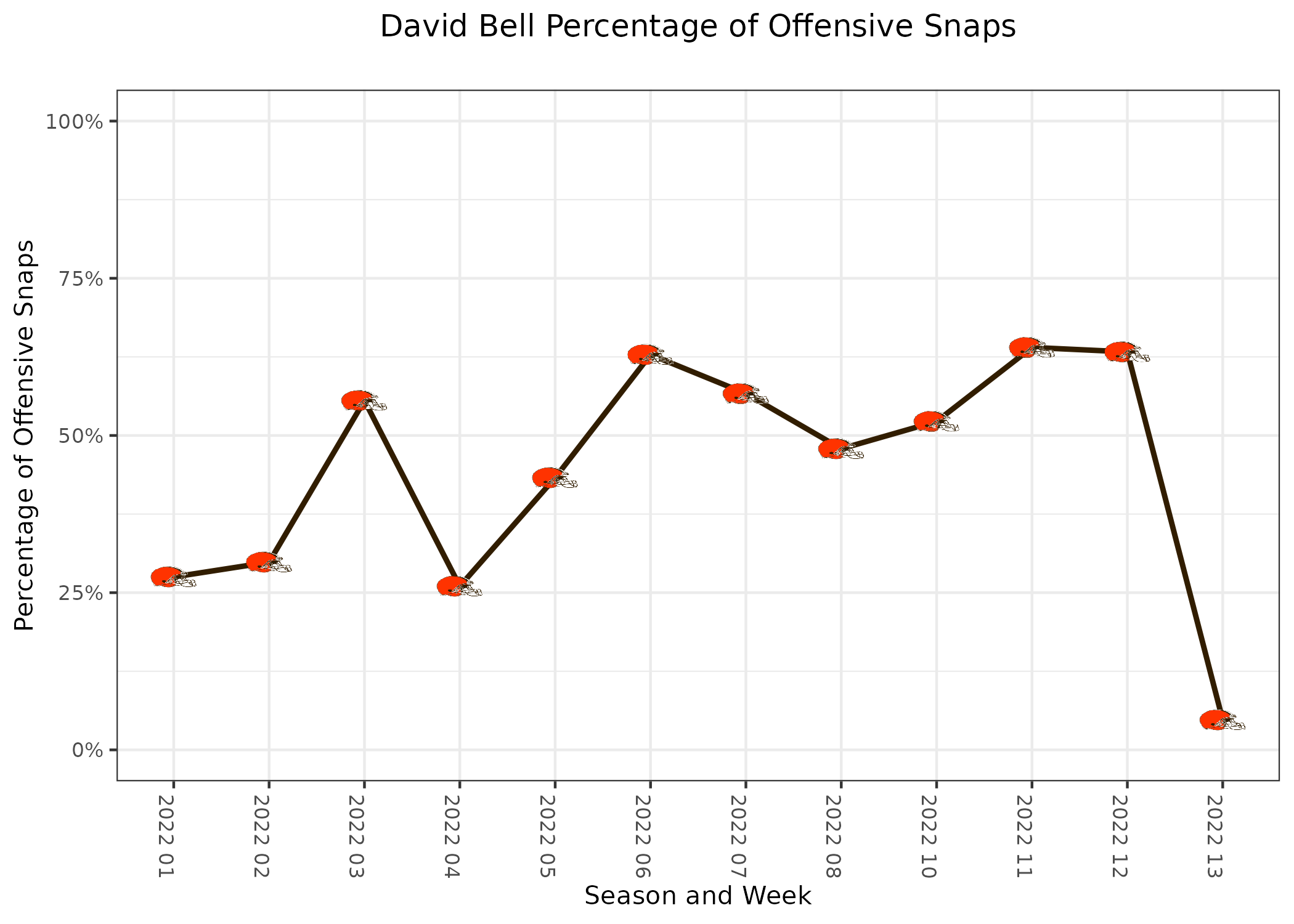 The Browns without David Njoku: Njoku didn't practice all week with a knee injury and was inactive.
Njoku had also missed Weeks 8 and 10 with an ankle injury.

Harrison Bryant

was the clear leader for the Browns in offensive snaps, playing 103 of a possible 138 in those games, including 45 routes on 71 pass plays.

The Browns changed their plan in this game, making

Pharaoh Brown

the primary tight end on first and second downs with Bryant coming in on third down.

Both played significantly in two tight-end sets.

Brown was playing in a revenge game, as he was playing for Houston earlier this year. The fact that he was familiar with the Texans' defenders could have contributed to his increased role.

Neither was much of a factor in the passing game, with both players catching their only targets.

Bryant should no longer be considered an option to start in games where Njoku is out due to this split in snaps.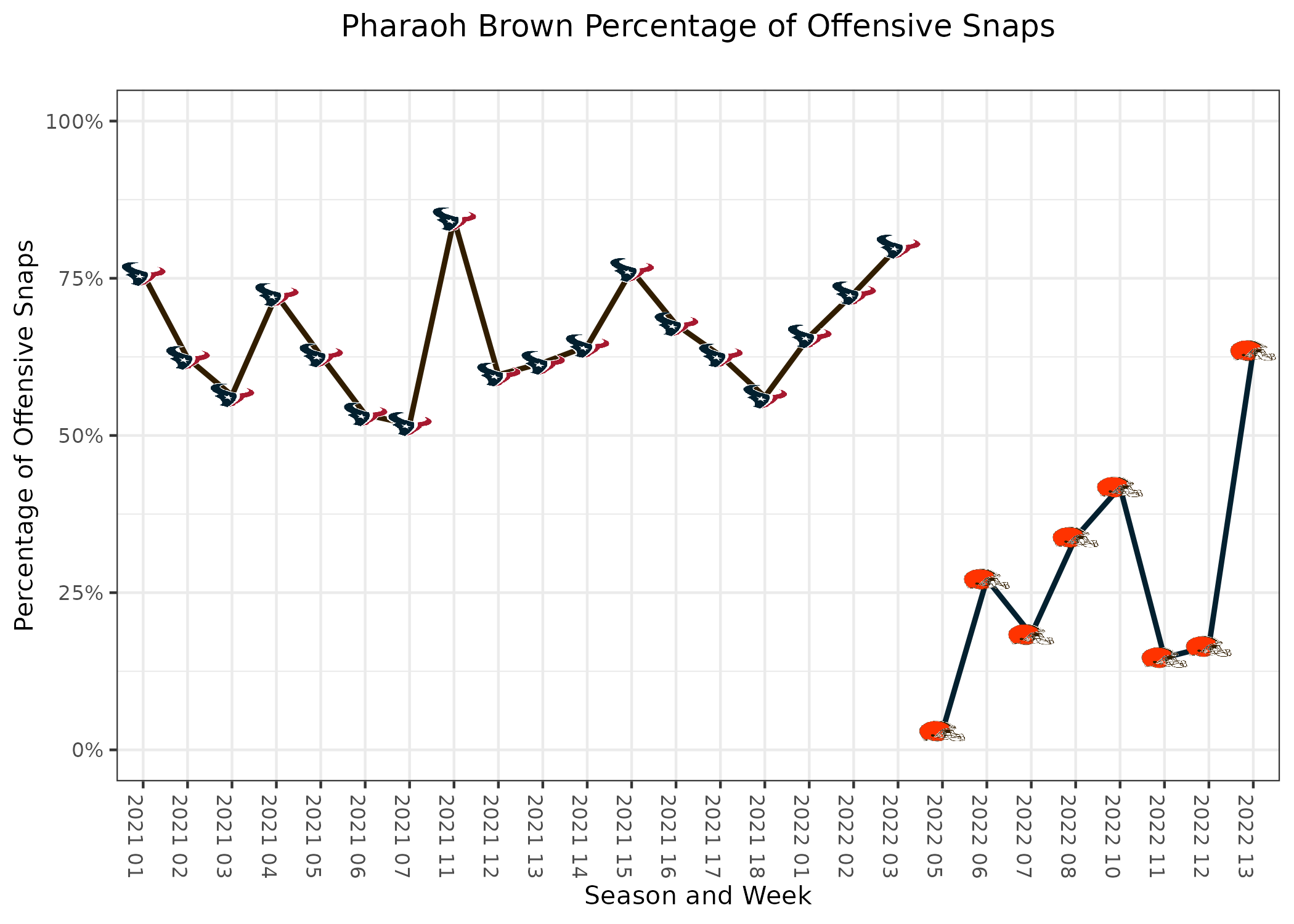 Add Nico Collins: Collins was the clear top target for Houston, seeing 11 targets on 28 routes.
He caught just three of those passes for 35 yards, but he did score a touchdown in garbage time.

His target share alone is enough for him to be on fantasy rosters.

Brandin Cooks

missed the game against the Browns with a calf injury.

The Texans are mathematically eliminated from the playoffs, and Cooks has been disgruntled with the team. There is a chance Collins remains the Texans' top wide receiver over the rest of the season.

Three of their next four opponents are in the top 10 in allowing fantasy points to wide receivers.
Texans try out different players: A few players either made their Texans debuts or saw more playing time than they had in recent weeks.
Former Cardinal

Eno Benjamin

was active and played four snaps with Rex Burkhead inactive after suffering a concussion.

Former Packer

Amari Rodgers

made his Texans debut as the No. 4 wide receiver. He ran 10 routes but didn't see a target.

Brevin Jordan

was the Texans' third tight end, taking the place of

O.J. Howard

. Jordan had been a healthy scratch in recent weeks, but Howard was the healthy scratch this week.

None of this will likely make an impact in fantasy leagues this season, but the Texans have one of the best Week 17 matchups against the Jaguars. It's possible one of those players could be relevant by then.
---
• Terry McLaurin: 8 receptions, 105 yards, 1 touchdown
• Saquon Barkley: 18 carries, 63 yards, 1 touchdown, 5 receptions, 18 receiving yards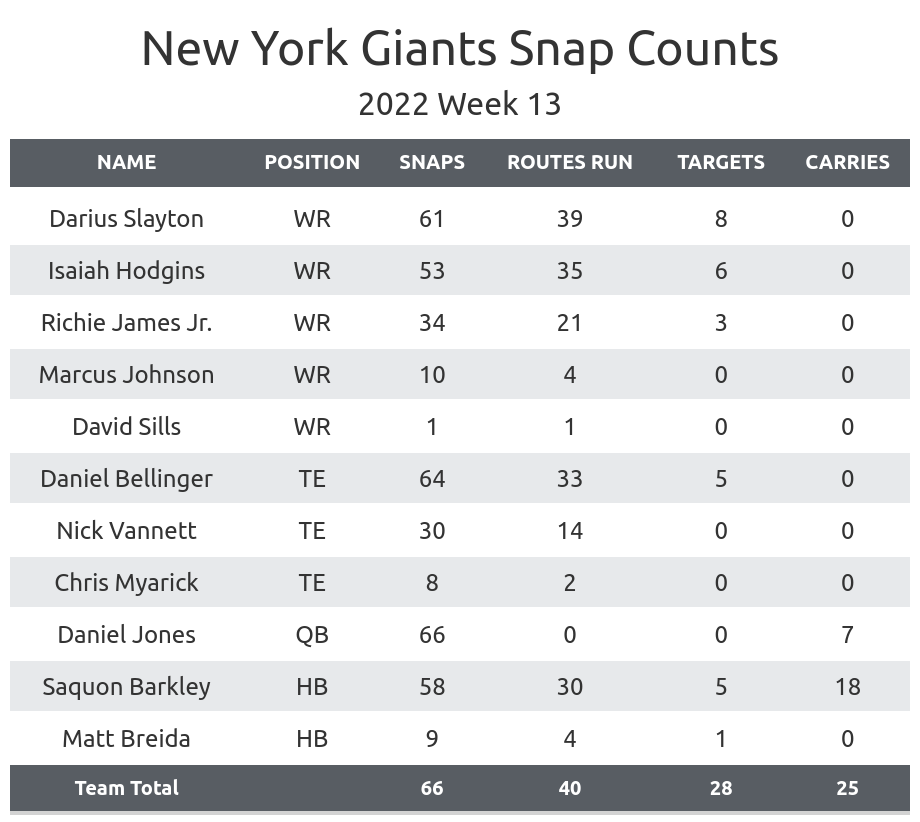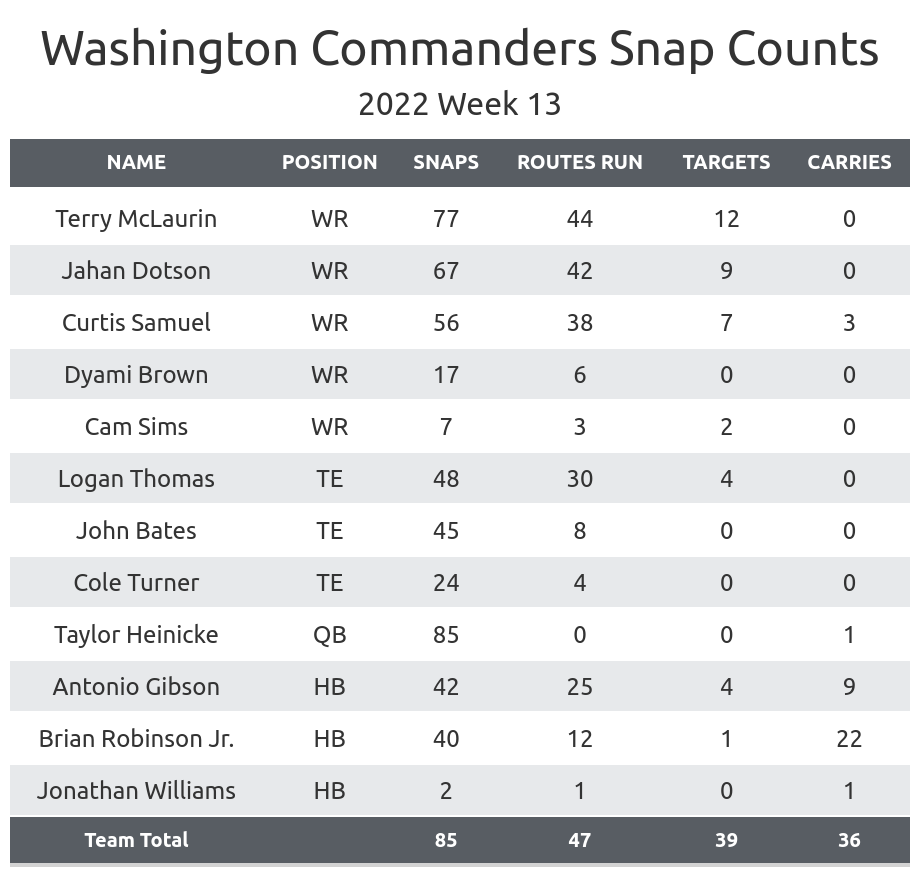 Daniel Bellinger's return: The Giants rookie tight end returned after having eye surgery and took on a bigger role than prior to the injury.
The Giants started the season with Bellinger playing on early downs,

Chris Myarick

playing in two-tight end sets and

Tanner Hudson

playing on third downs.

Bellinger took those third downs in Week 6 but lost them again in Week 7 prior to the injury.

Lawrence Cager

was elevated from the practice squad in Bellinger's absence and largely took Bellinger's role.

The Giants cut Hudson earlier in the week, which was a good sign Bellinger would have a role in the offense. Cager was inactive, which was an even better sign.

New York also largely replaced Myarick's role with

Nick Vannett

. Vannett had been with the Saints for the first half of the season and was seeing over 50% of New Orleans' snaps as recently as Week 8.

Bellinger left the field for only two plays and saw five targets in his return. He caught all five for 24 yards.

The Giants play the Vikings and Colts in Weeks 16 and 17, respectively. With the number of injuries to tight ends in recent weeks and today, it's possible Bellinger is a fantasy starter by that point thanks to his volume of snaps, potential for targets and the matchups.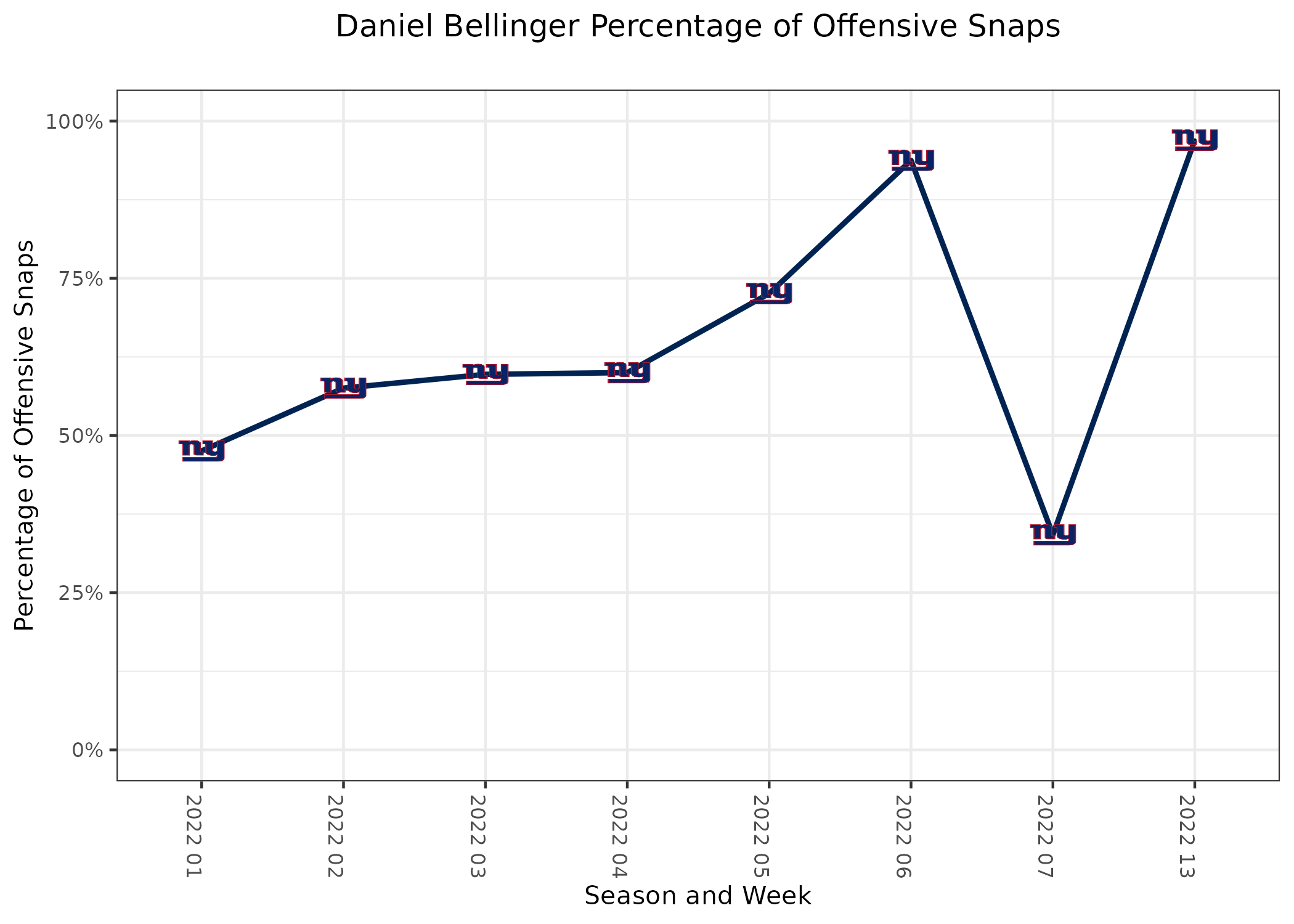 Logan Thomas sees fewer snaps: Thomas saw fewer snaps than in recent weeks, and it could be a continuing trend.
He played 70% of snaps in 11 personnel, which is only slightly less than in recent weeks.

His decline largely occurred in 12 personnel, where he played only 20% of snaps. He was playing 60% in the last month and was still over 50% last week.

These are mostly rushing downs, but it still leaves him with fewer routes overall.

Thomas had a good game two weeks ago against the Texans with 65 yards, but he's been held to 20 yards or less in six of his past seven games.

He is probably not an option in fantasy leagues anymore this year unless he dramatically improves.

He's under contract for two more seasons, but it wouldn't be surprising if he is a cap casualty in March.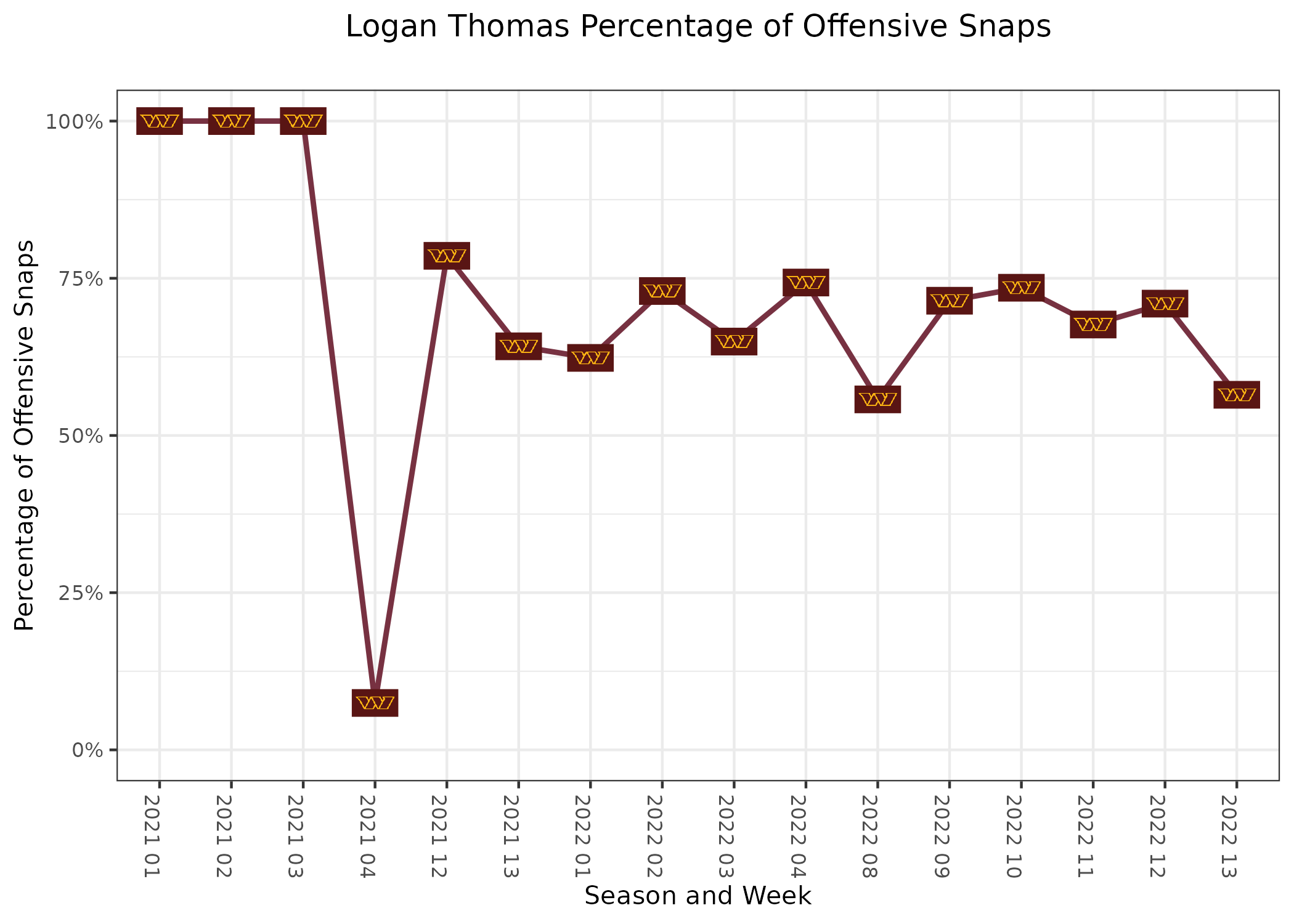 ---
• Greg Dulcich: 6 receptions, 85 yards
• Jerry Jeudy: 4 receptions, 65 yards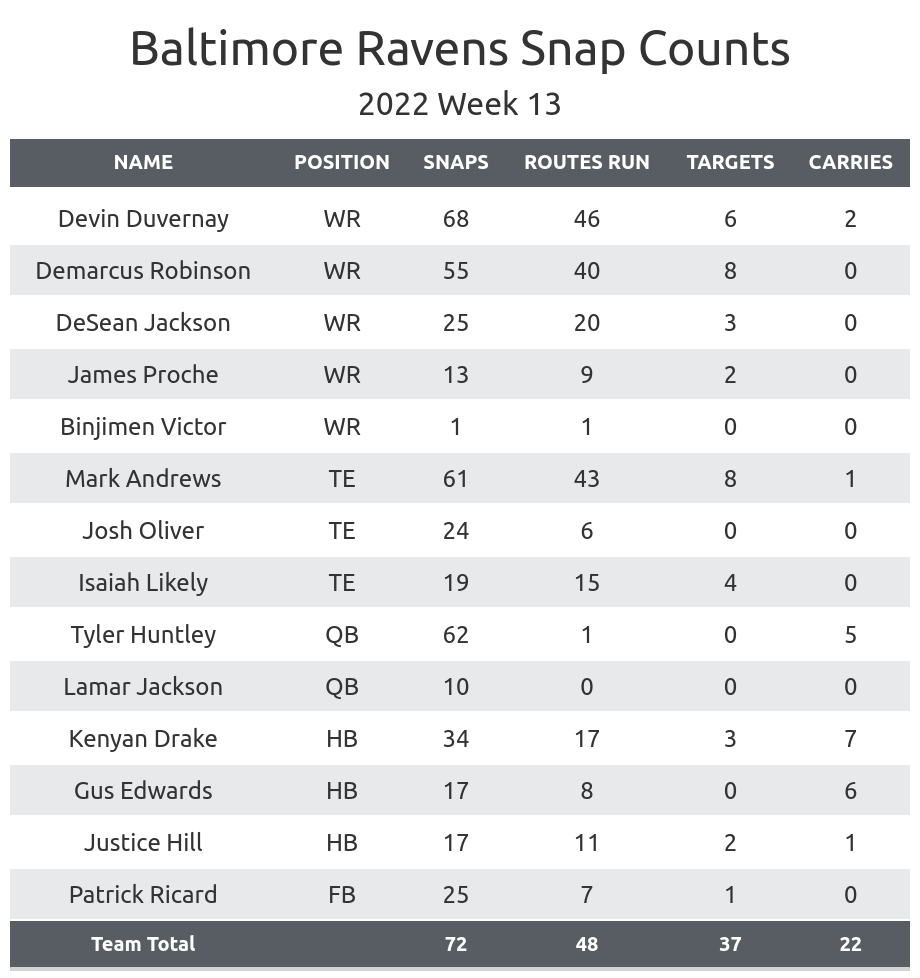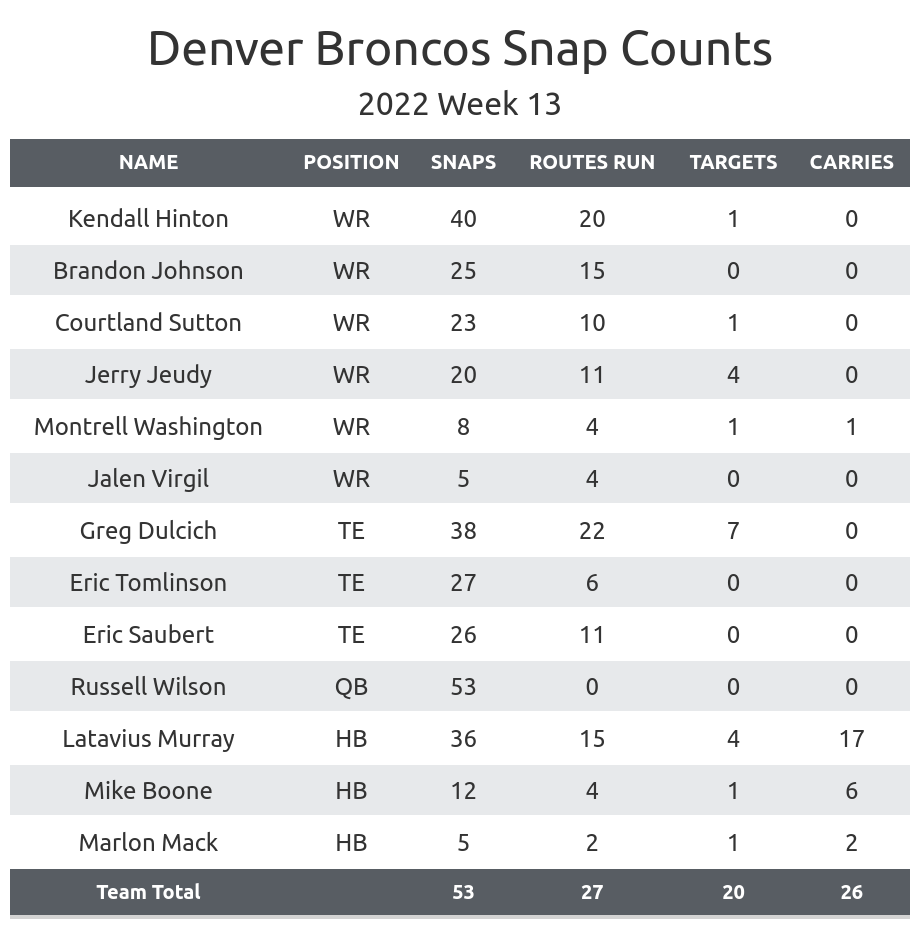 Monitor Lamar Jackson's health: Jackson suffered a knee injury at the end of the first quarter and was ruled out of the game by halftime.
Tyler Huntley

took over as the Ravens' starting quarterback. He gained 187 yards in the air and ran the ball 10 times, including for the Ravens' game-winning touchdown.

Huntley had a below-average 0.40 fantasy points per dropback in his limited time last year but had one week as the overall QB1 thanks to two touchdowns on the ground and another two in the air.

The Ravens have a favorable schedule over the next four weeks, including two games against the Steelers.

Huntley would be worth a waiver wire target if Jackson misses time. He is a fine replacement, particularly for those who have Jackson and for those with 20-plus quarterbacks already on fantasy rosters in your league.
The Ravens' three-man running back committee: Gus Edwards started for the Ravens, but after ineffective play, Baltimore turned back to Kenyan Drake.
Edwards was the only Ravens running back to touch the ball in the first quarter. He ran three times for seven yards. He also led in snaps (six), compared to only two for Drake and one for

Justice Hill

.

Drake became the primary early-down back over the rest of the game, but Edwards remained the short-yardage back.

Drake continued to split time with Hill in passing situations, as he did last week.

The practice period for

J.K. Dobbins

started last week, so it's likely his return will further complicate the backfield.

The Ravens' matchups for running backs are relatively favorable over the rest of the season, but there is a realistic chance any one of Edwards, Drake or Dobbins could lead the backfield in touches next week.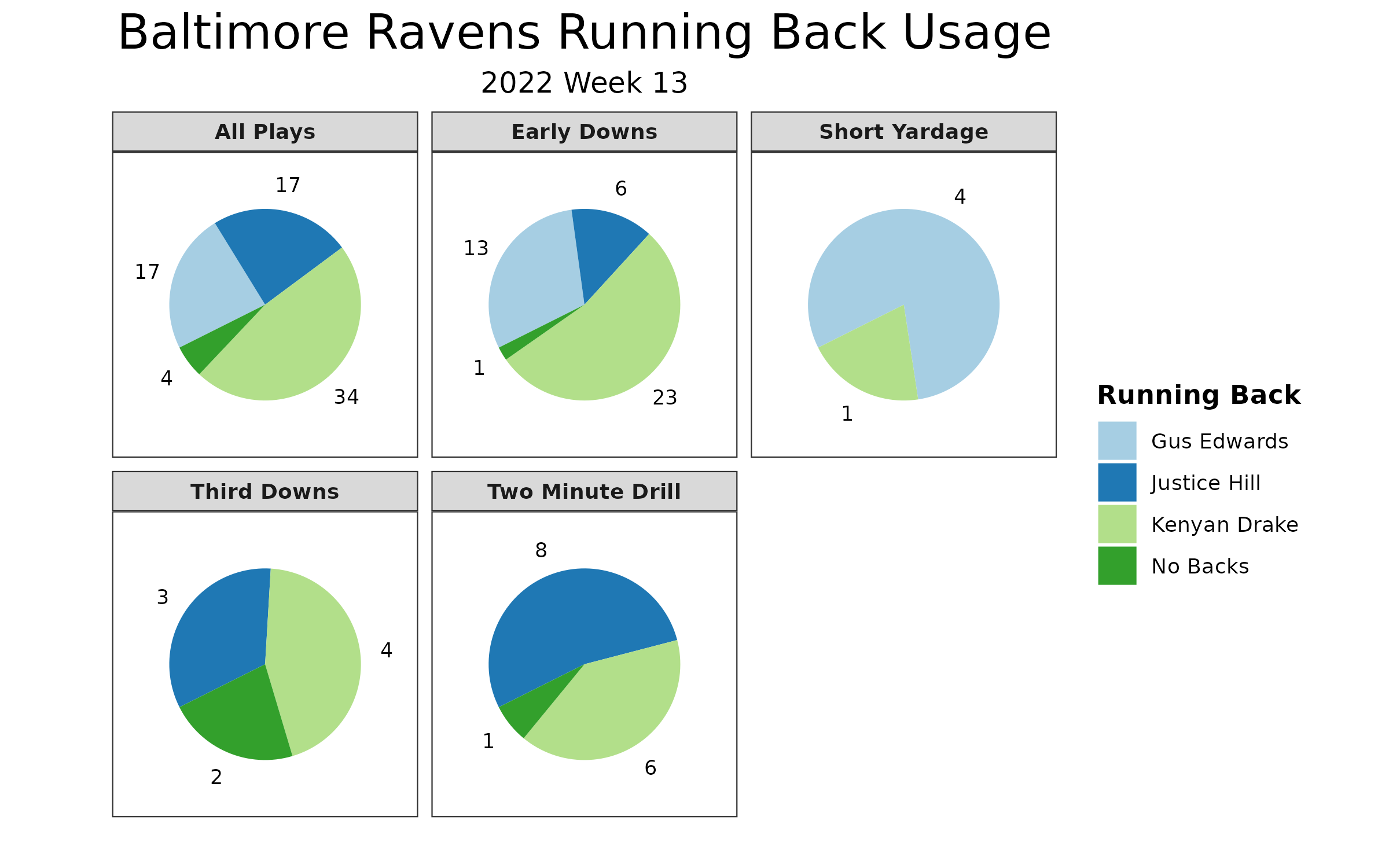 Monitor the health of the Broncos' wide receivers: All three of the Broncos' starting wideouts are dealing with injuries.
K.J. Hamler

landed on injured reserve Saturday with a hamstring injury, which will likely end his season.

Jerry Jeudy

wasn't practicing for most of the week with an ankle injury. He was questionable coming into the game.

Jeudy was on a snap count all game, playing just more than half of the snaps in 11 personnel, but rarely in 12 personnel and never in 13 personnel.

Courtland Sutton

suffered a hamstring injury before halftime and didn't return.

Kendall Hinton

will be a frequent receiver on the field for Denver over the rest of the season.

Brandon Johnson

had filled in for Jeudy some in the first half and rarely left the field in the second half.

Montrell Washington

and

Jalen Virgil

also received limited playing time, with the majority of their snaps coming in the second half.

It's best to avoid all of the backups given the current state of the Broncos' offense.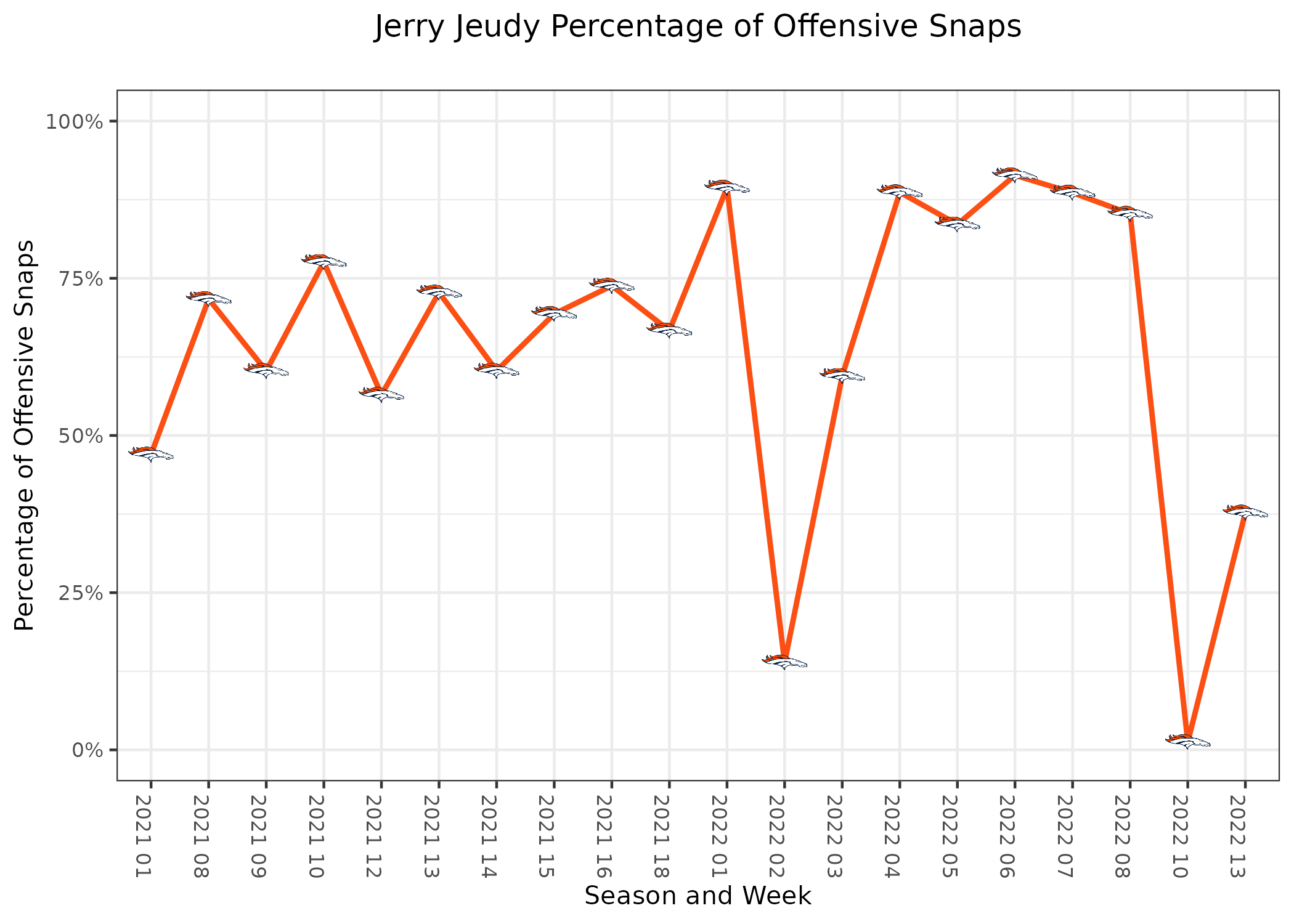 Mike Boone's return: Boone returned from injured reserve and played a limited role in Denver's offense.
He was used as the Broncos' receiving back earlier in the season. He took roughly half of the snaps in that role.

He was ahead of

Marlon Mack

as the primary backup on early downs.

He slightly cut into

Latavius Murray

's playing time this week and could further take snaps next week.

The game script was one where Denver could stick with running the ball, but two of the next four games are against the Chiefs.

Boone could end up seeing more playing time than Murray with the expected game scripts in some of their upcoming games. 

Boone is worth a waiver wire target in deeper leagues, as he could see close to 10 carries and potentially a number of targets going forward.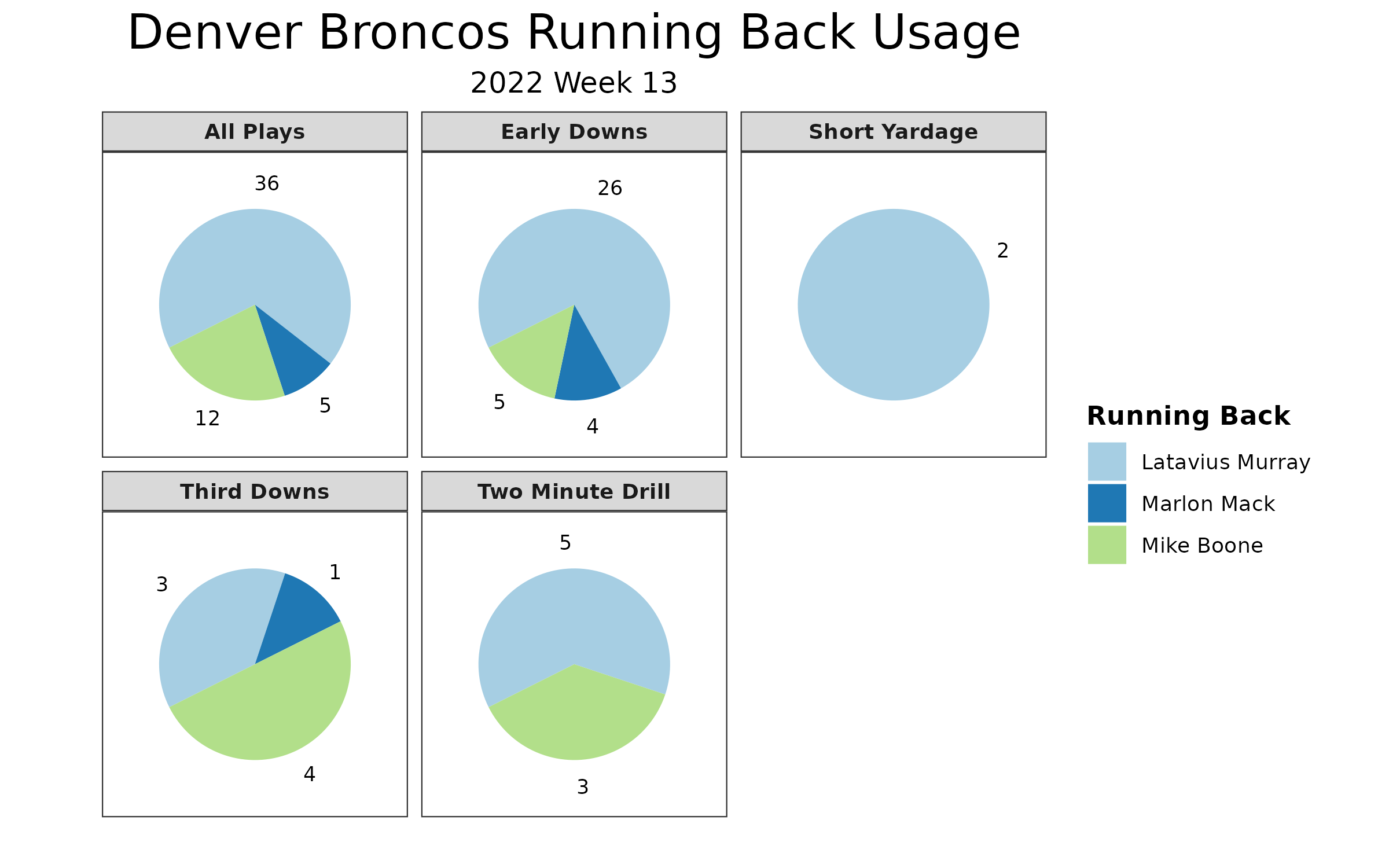 ---
• Tyreek Hill: 9 receptions, 146 yards, 1 touchdown
• Christian McCaffrey: 17 carries, 66 yards; 8 receptions, 80 receiving yards, 1 receiving touchdown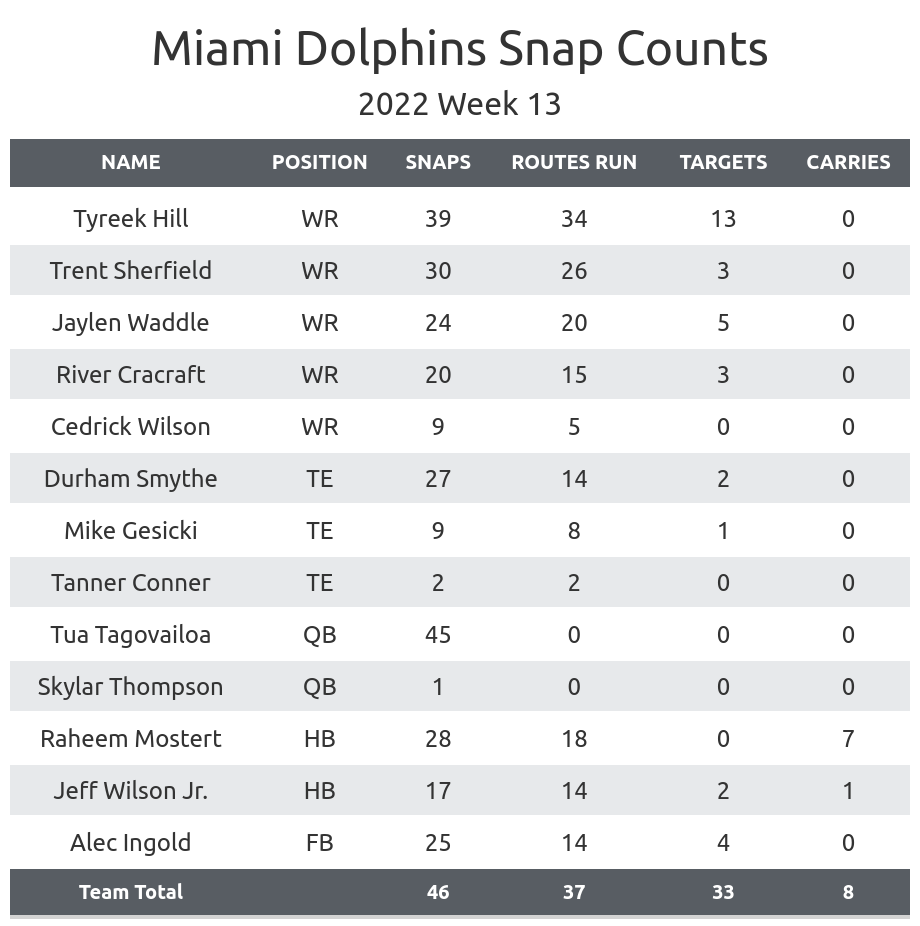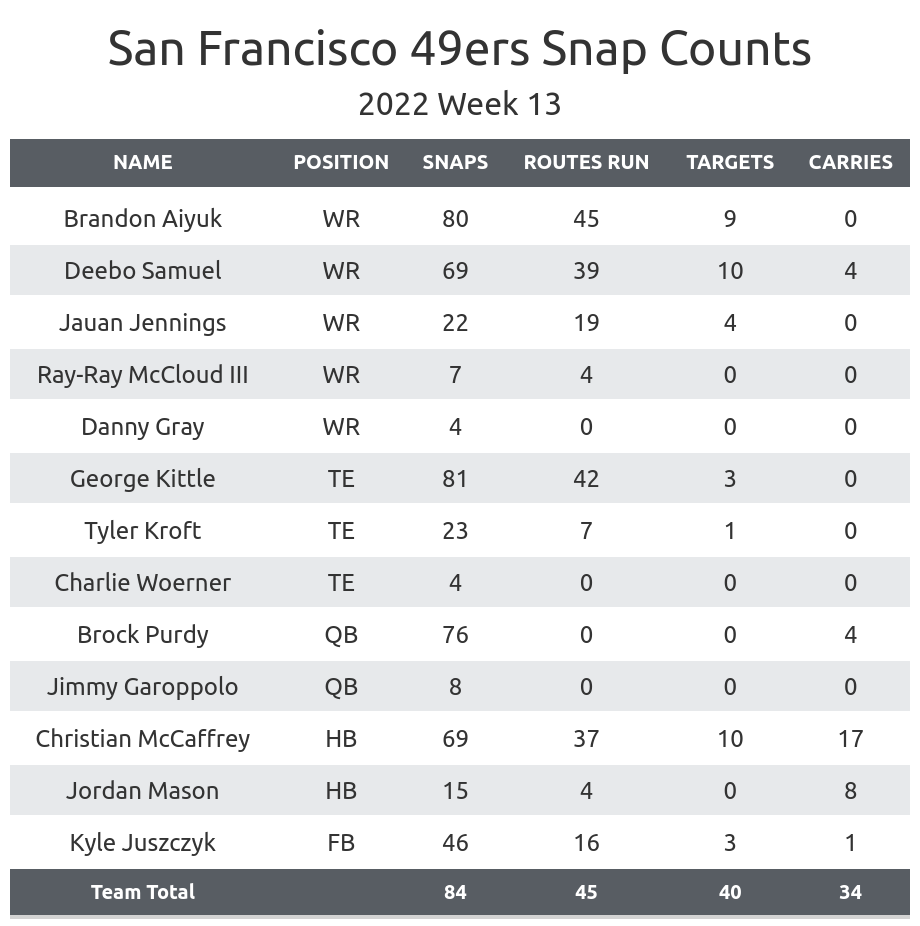 Monitor the health of both starting quarterbacks: Jimmy Garoppolo suffered a season-ending foot injury, while Tua Tagovailoa suffered an ankle injury at the end of the game.
Seventh-round rookie Brock Purdy took over as the 49ers' starting quarterback. Jacob Eason is on the team's practice squad and will likely serve as the backup going forward.
Purdy's average depth of target was a little lower than Garoppolo's, and he took slightly longer to throw the ball on average.
This likely means more targets for Christian McCaffrey and Deebo Samuel and fewer for Brandon Aiyuk and George Kittle in the future.
The 49ers have a relatively comfortable three-game stretch before a favorable Week 17 matchup against the Raiders.
Purdy isn't necessarily someone I'd look to pick up outside of superflex leagues.
At present, not much is known about Tagovailoa's injury.
Skylar Thompson went in for Tagovailoa and immediately threw an interception. Teddy Bridgewater would probably take over if the injury is serious, but Bridgewater was inactive with a knee injury today.
Reports after the game are that the injury probably isn't serious.
Christian McCaffrey dominates snaps: Some fantasy managers have been concerned about his usage recently, but that wasn't a problem this week against the Dolphins.
McCaffrey dominated snaps early on, with Jordan Mason working in slowly but surely as the game progressed.
Elijah Mitchell had served as the backup in recent weeks, but he is on injured reserve.
McCaffrey led the team in both rushing yards and receiving yards.
Now that the 49ers will be relying on a rookie at quarterback, they are less likely to have large leads where they might take McCaffrey out.
Unfortunately, it also means they are less likely to be in a position to get him touchdowns. He will remain a top-10 running back over the rest of the season, but it will be harder for him to finish top-three.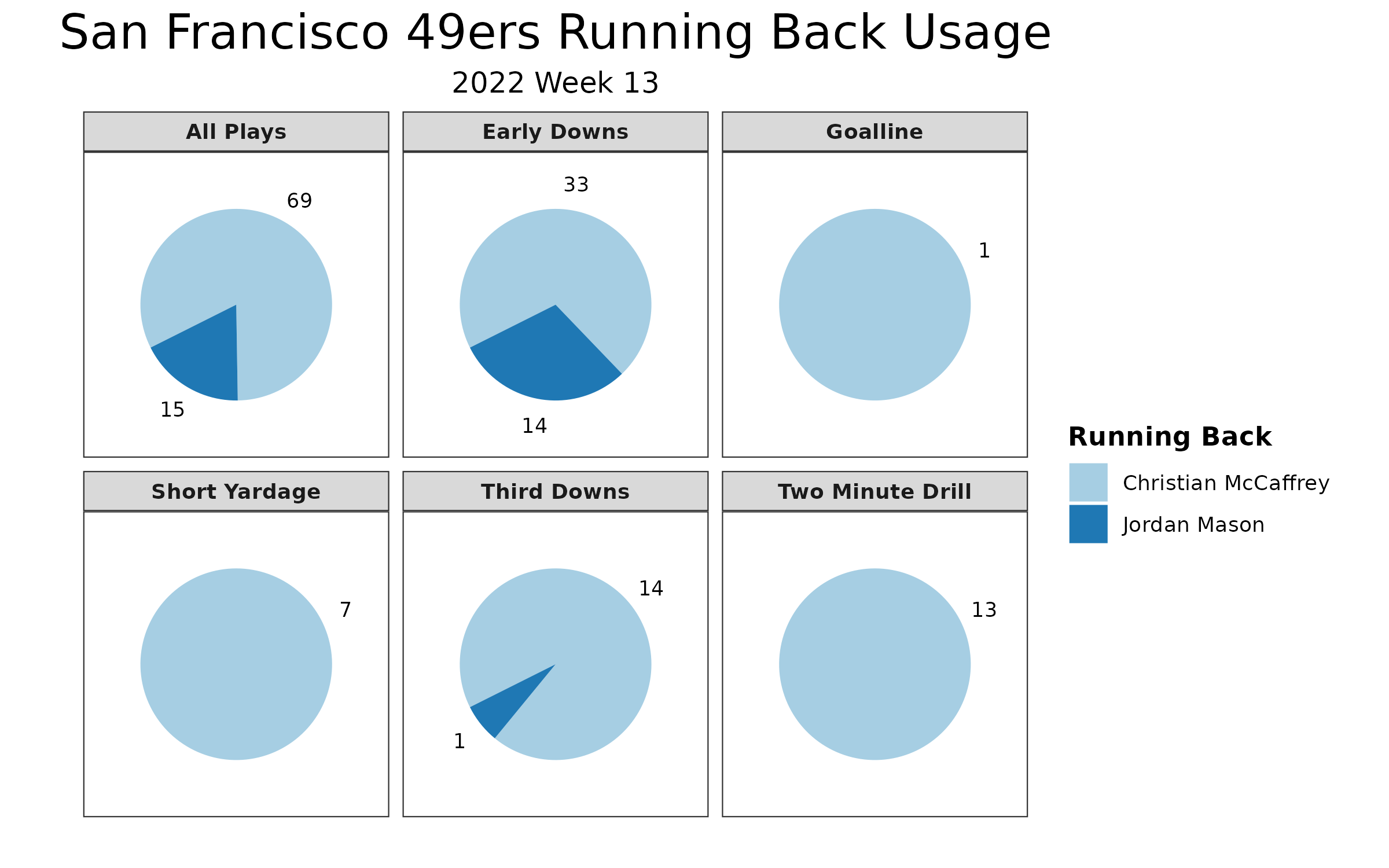 The Dolphins make a change at running back: Raheem Mostert dominated touches in the Dolphins backfield, even though Jeff Wilson had received more touches in recent weeks.
Mostert ran the ball seven times compared to one by Wilson.
Mostert started the game as he has in every game he played since Week 4.
He missed last week with an injury, and Wilson averaged only 3.0 yards per carry in that time.
His poor play last week may have been enough for the Dolphins to lean more into Mostert than Wilson this week.
Wilson dropped a pass in this game, adding to the recent string of poor play.
The 49ers dominated the time of possession, keeping the ball for over two-thirds of the game. It's possible Wilson would have played a higher percentage of snaps if the Dolphins had run more plays.
Mostert is probably the safer of the two backs to roster going forward.
Miami plays the Chargers next week, and they've allowed the second-most fantasy points to running backs. It's possible one or both running backs could be a fantasy starter next week.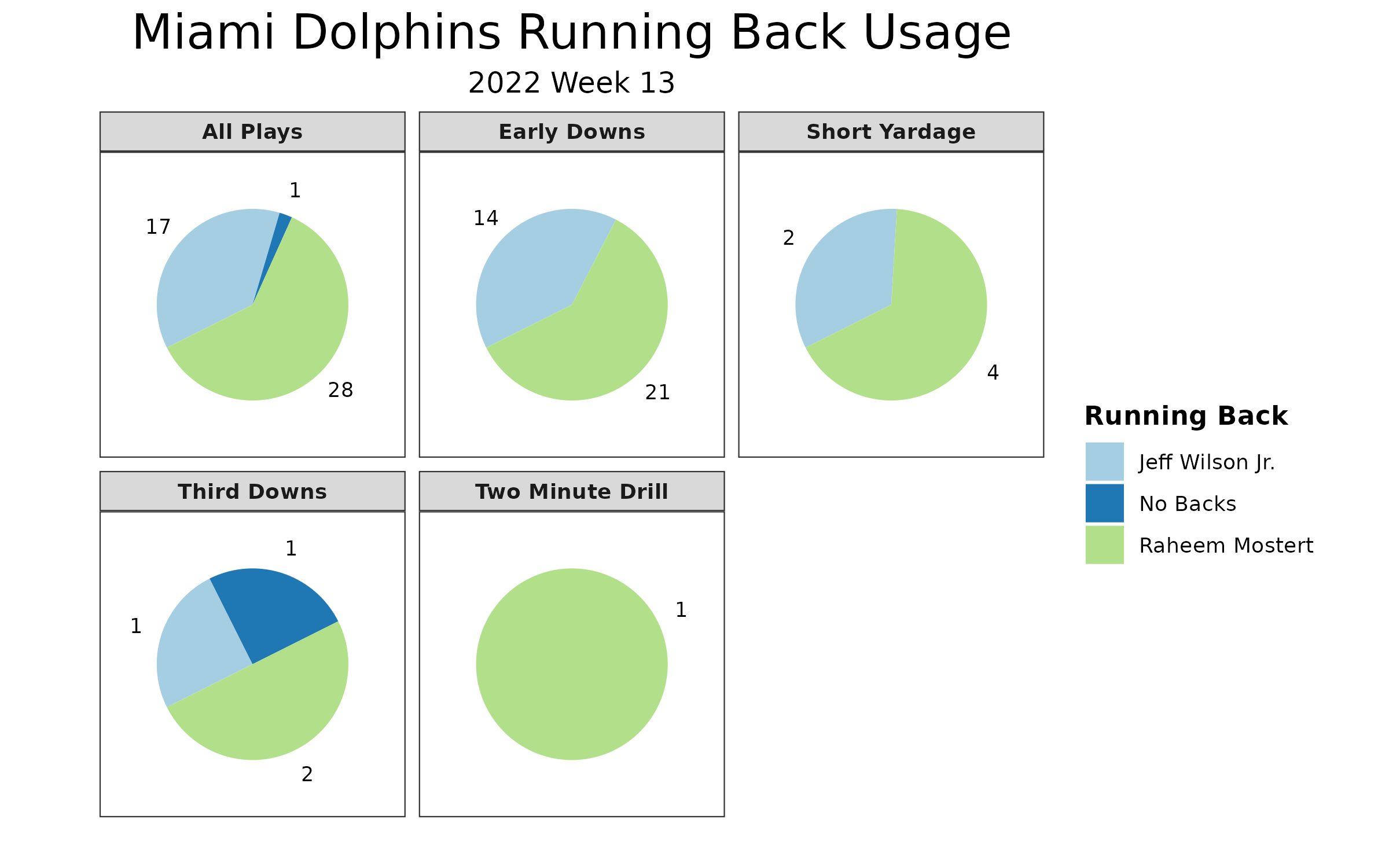 Monitor the health of Jaylen Waddle: Waddle left at the start of the third quarter with a leg injury. He returned later in the quarter but played only a few snaps over the rest of the game.
River Cracraft was the biggest beneficiary in snaps rather than Cedrick Wilson. Wilson signed a big free-agent contract with Miami this offseason but hasn't made much of an impact.
Trent Sherfield has been the Dolphins' third receiver all season. He scored a 75-yard touchdown on the first offensive play but didn't have a catch over the rest of the game.
Sherfield would be worth a waiver wire target if we find out the Waddle injury is serious.
---
• Tyler Lockett: 9 receptions, 128 yards, 1 touchdown
• D.K. Metcalf: 8 receptions, 127 yards, 1 touchdown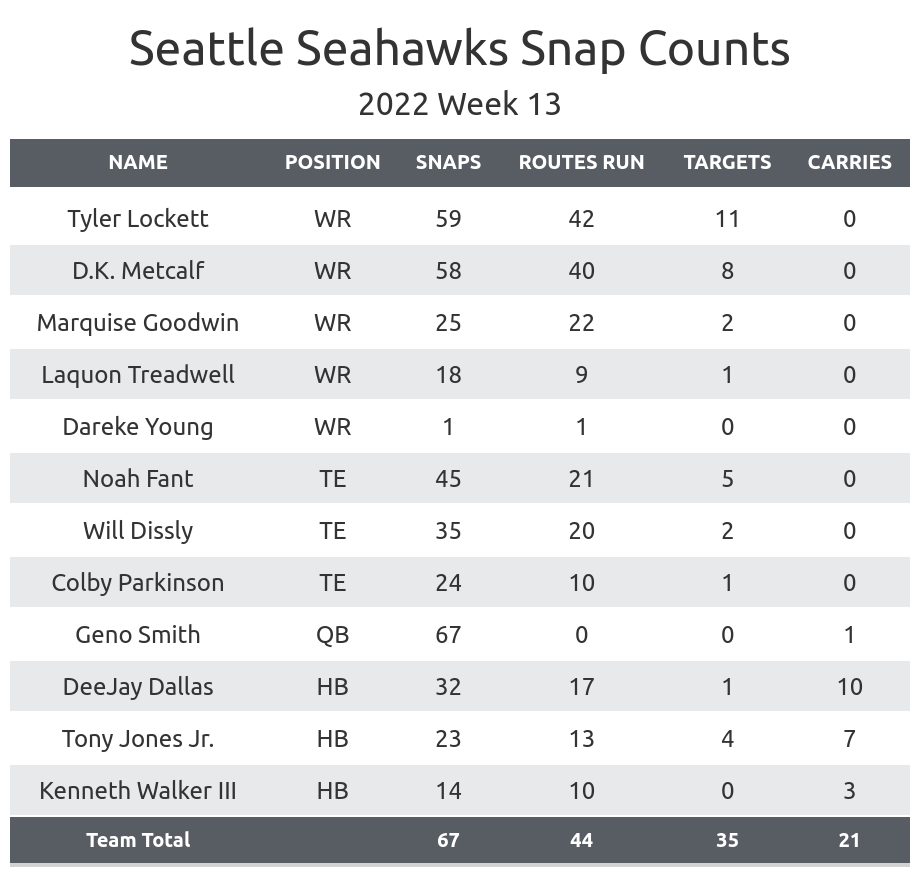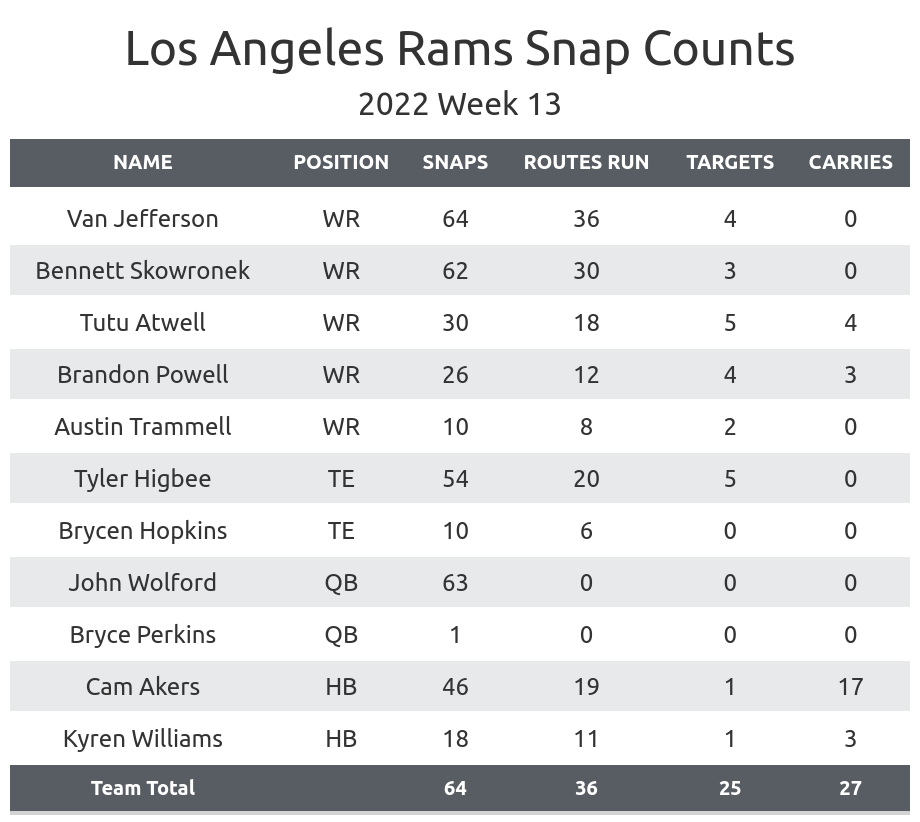 Monitor the Ken Walker injury: The Seahawks rookie injured his ankle early in the second quarter and didn't return to the game.
DeeJay Dallas initially took over as the early-down back, playing six early-down snaps in the second quarter to Tony Jones Jr.'s one.
Unfortunately, Dallas also suffered an ankle injury. He returned but didn't play as much as he did earlier in the game.
Travis Homer missed this game with an illness while also dealing with a knee injury. Ten Seahawks players were on the injury report with an illness this past week.
Homer was a limited participant on Friday and was ruled questionable.
It is worth starting whoever the Seahawks' starting back is next week, as they have a favorable matchup against the Panthers.
In games where both Homer and Allas played this season, Homer has played 37 snaps on early downs outside of two-minute drills compared to Dallas' 16.
Homer is probably the running back to have if Walker misses time, but Homer can get healthy by next week.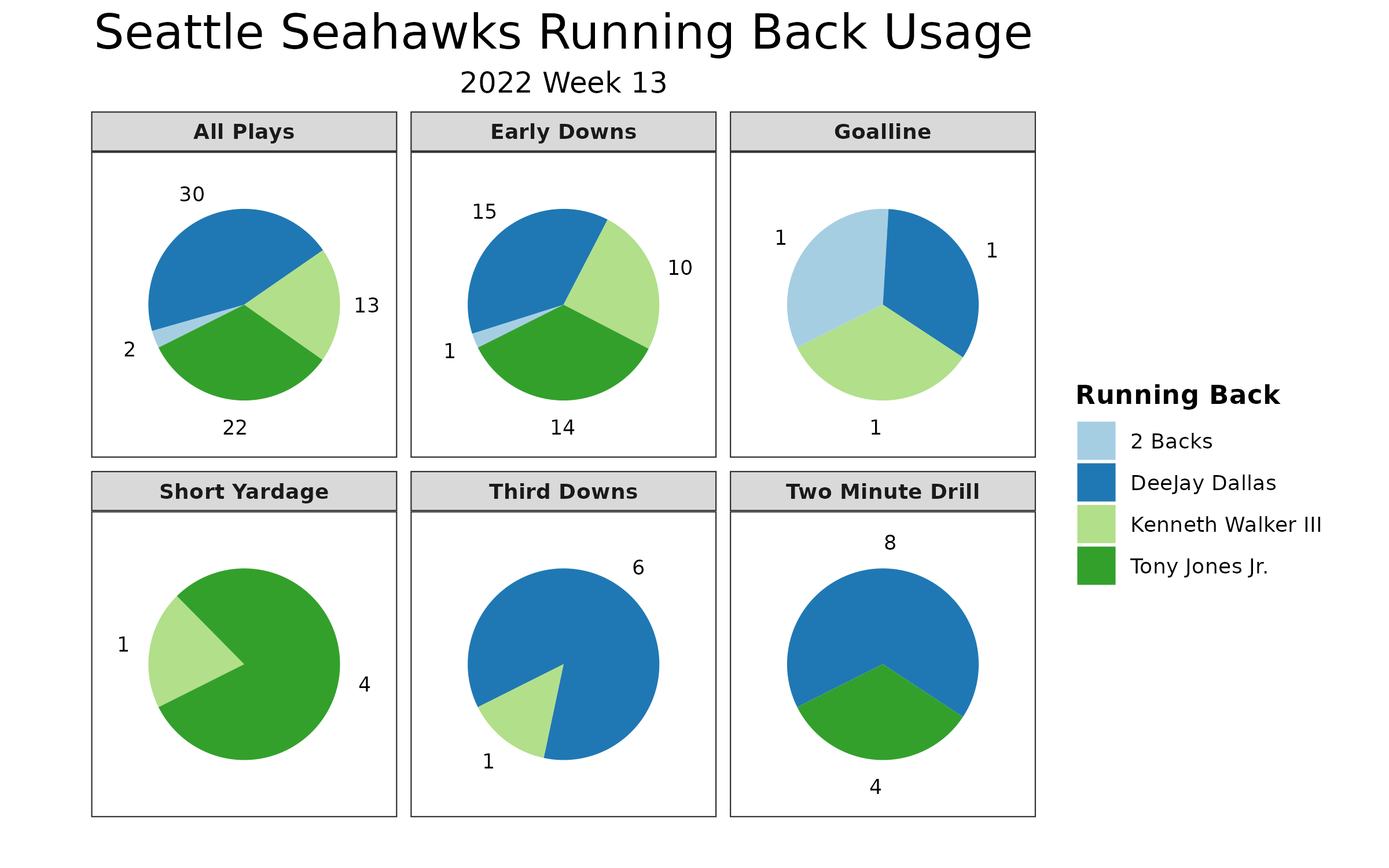 The Rams change course at running back: Kyren Williams was trending up since returning from injury in Week 10, but that momentum seems to have come to a halt.
Williams maintained his role as the Rams' passing-down back but lost almost all of his early-down work.
He played most of the early-down snaps last week and had been playing at least half of the short-yardage or goal-line snaps in recent weeks.
This week, Cam Akers took all of those snaps. He wasn't particularly effective, averaging 3.5 yards per carry, but he did score two touchdowns.
Akers is a waiver wire target, but it will be hard to trust him knowing that could change next week. Williams should stay on fantasy rosters for that reason.
Three of the Rams' next four opponents are against teams in the top seven at allowing fantasy points to running backs. Either running back could be a fantasy starter, but we would need some indication before the game on who will be the guy before starting either.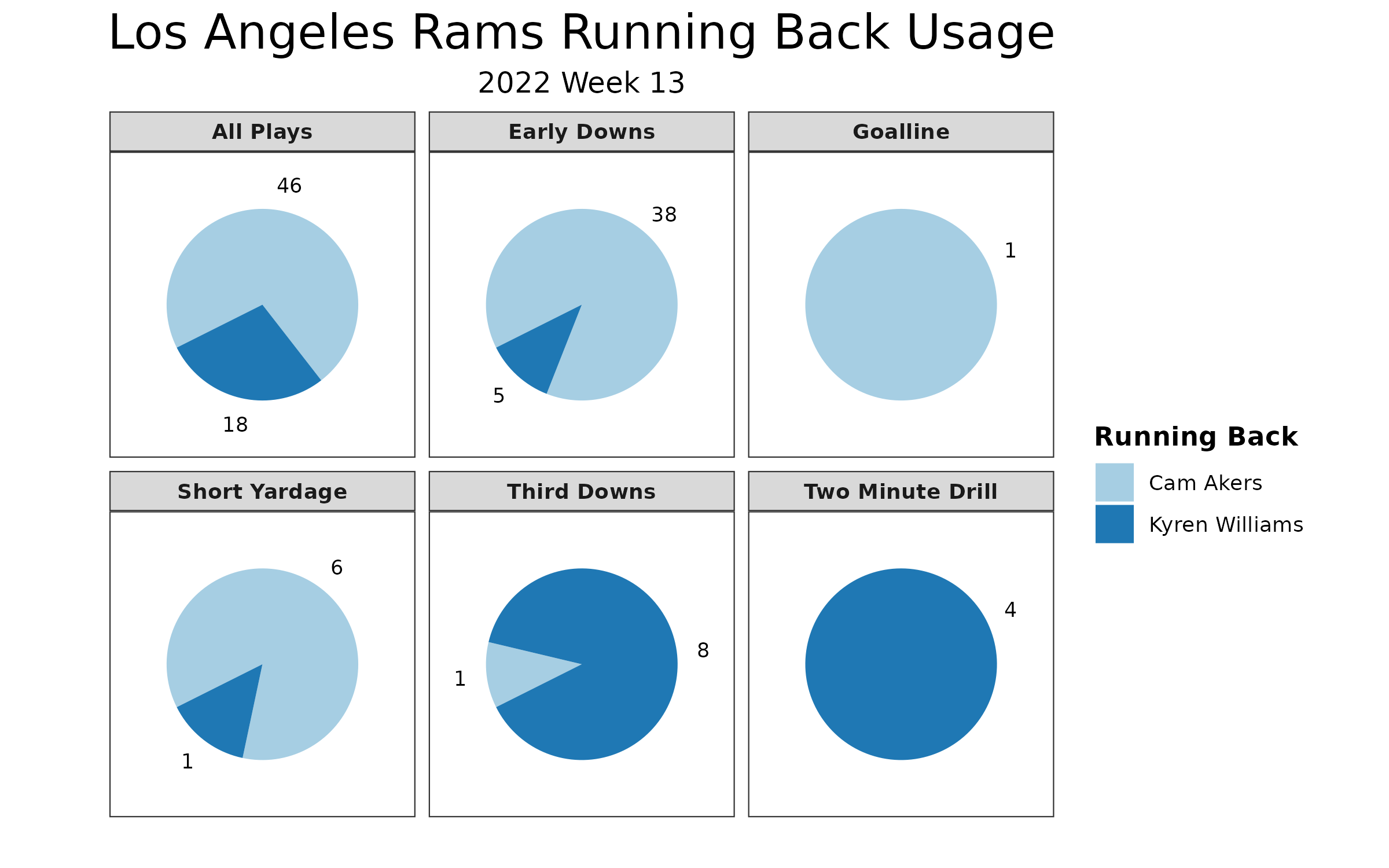 Rams have a clearer plan at wide receiver: The Rams used a heavy five-man rotation last week but had a clearer plan this week.
Van Jefferson and Bennet Skowronek were the clear starters, rarely leaving the field.
Tutu Atwell played roughly half the snaps but also rotated in and out with Brandon Powell and Austin Trammell.
The Rams stayed in 11 personnel the entire game.
Despite being on the field less than half of the time, Atwell and Powell were the biggest stars. They finished first and second in receiving yards at 48 and 39, respectively, and they also ran the ball a combined seven times for 68 yards.
This remains a situation to avoid, but there is a chance Atwell could be earning himself some playing time for 2023.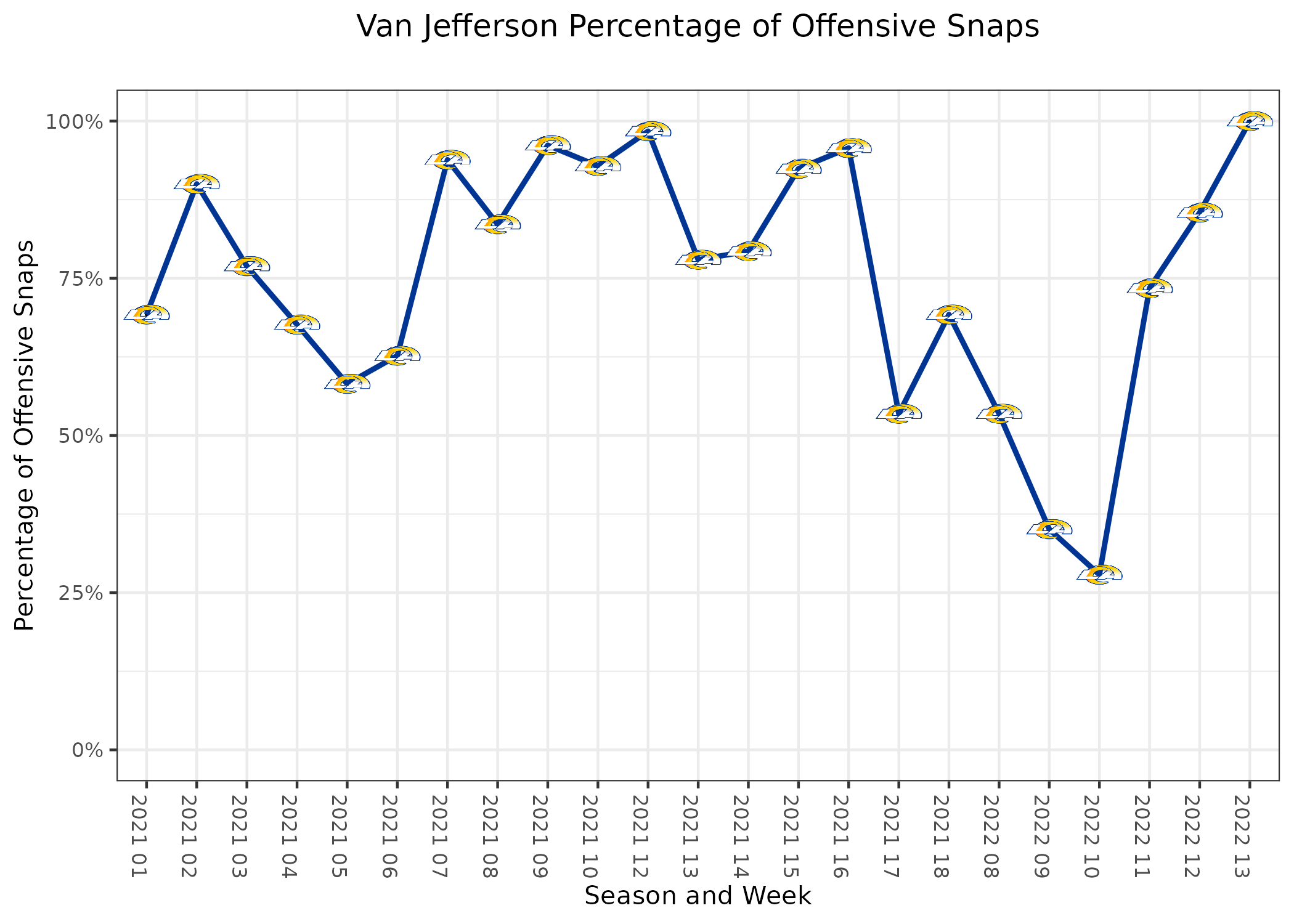 ---
• Davante Adams: 8 receptions, 177 yards, 2 touchdowns
• Josh Jacobs: 26 carries, 144 yards, 1 touchdown; 2 receptions, 6 receiving yards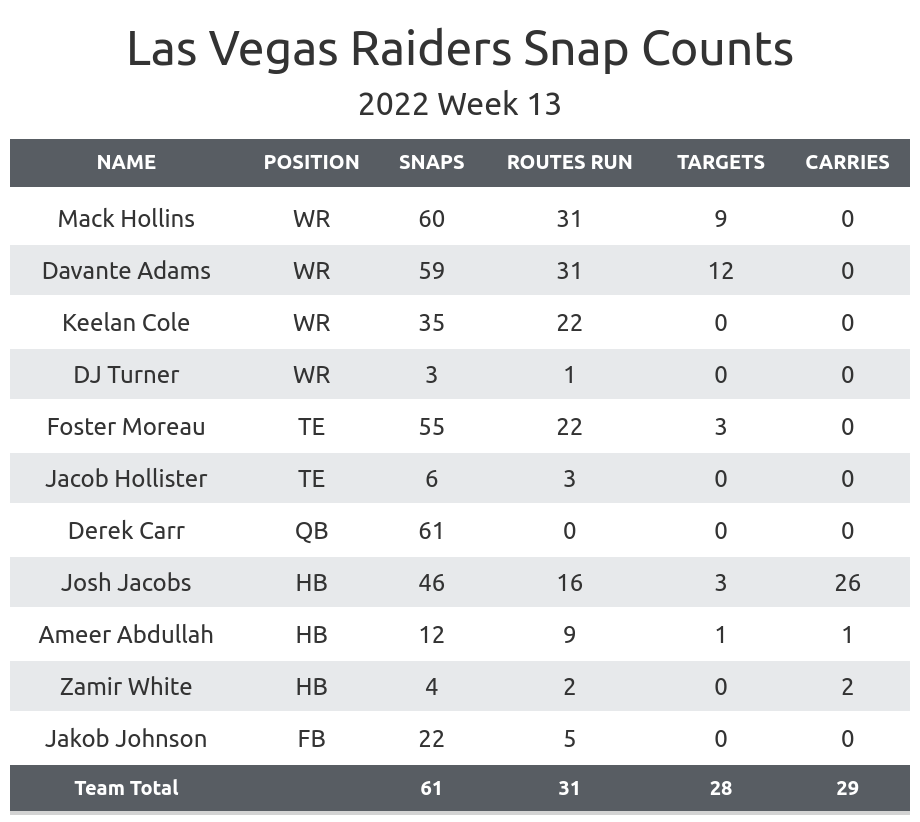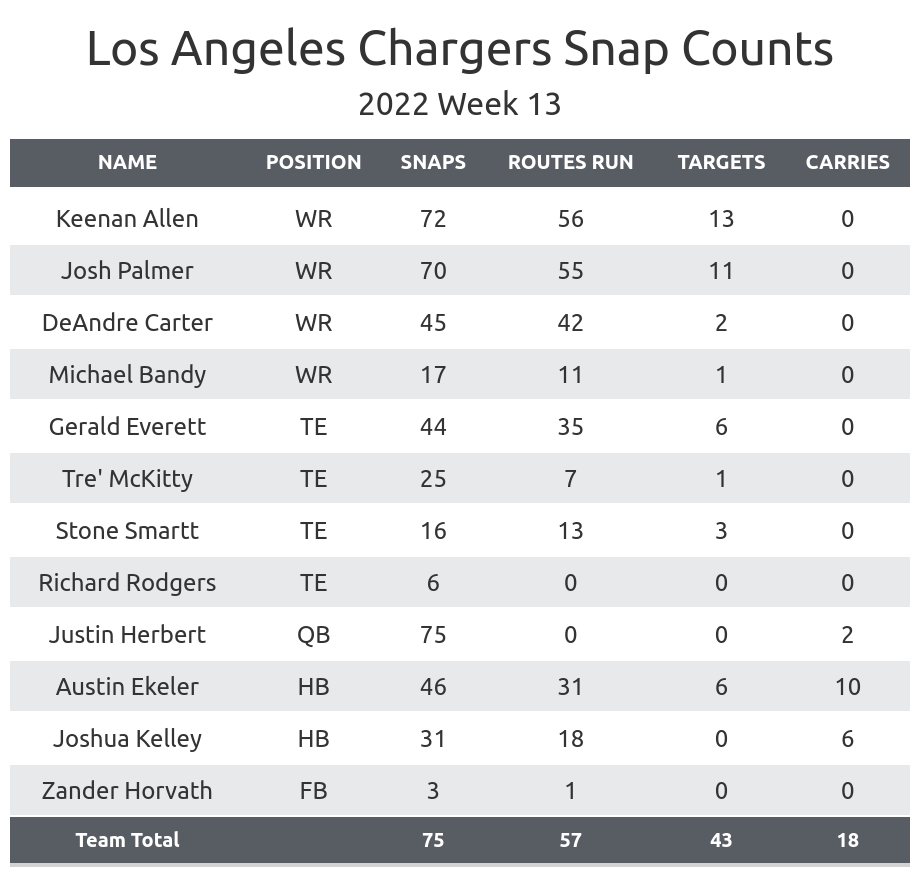 Joshua Kelley's role increases: The Chargers backfield went from a three-man rotation to a two-man rotation against the Raiders.
Kelley had missed a month and a half of football during October and November while on injured reserve.
He returned last week and split playing time with rookie Isaiah Spiller as Austin Ekeler's backup.
Kelley made this a two-back committee, playing the majority of third-down snaps, as well as a good amount on early downs and short yardage.
This likely won't be enough playing time to give Kelley standalone value this season, but it makes him the clear handcuff in Los Angeles.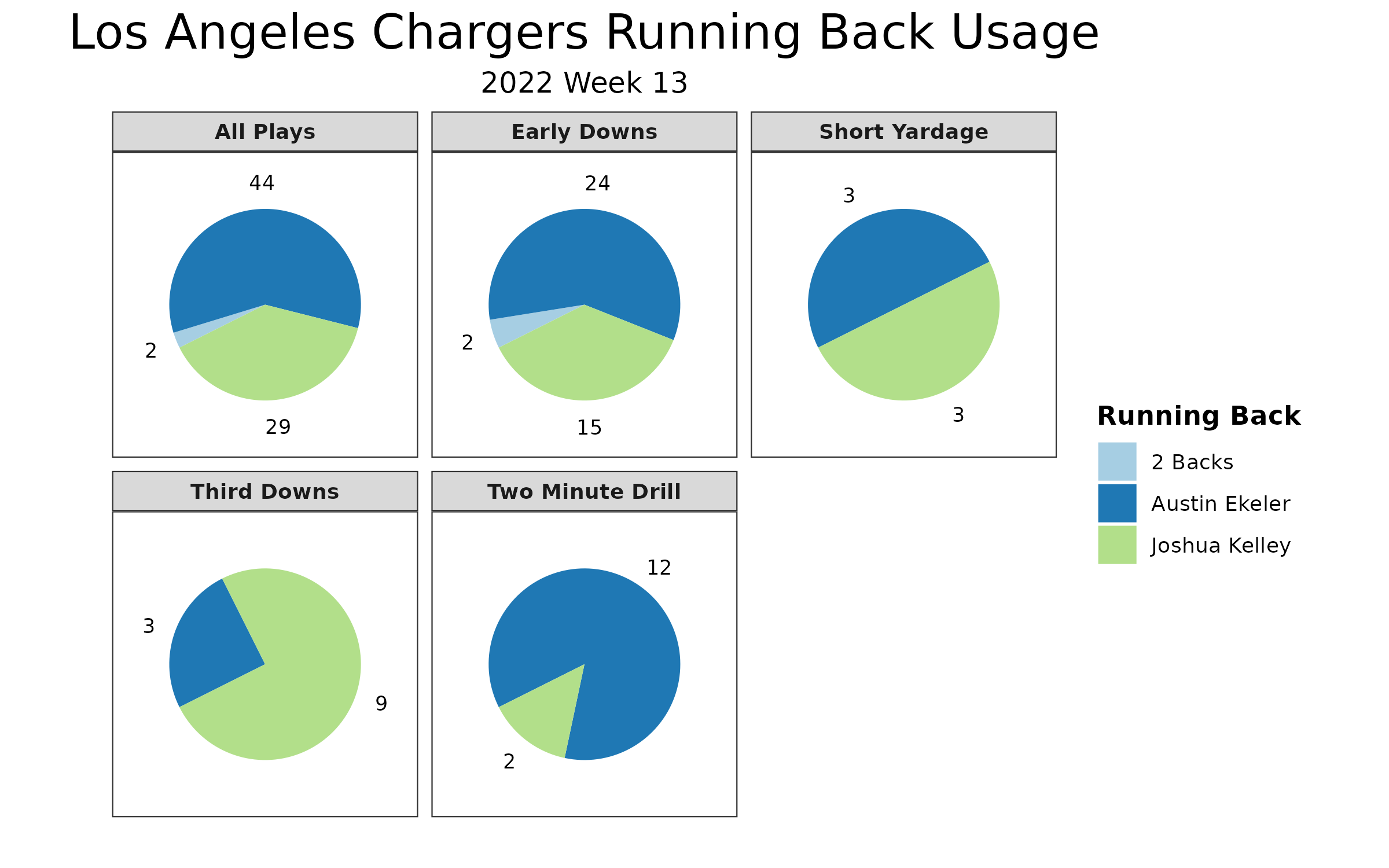 The Raiders' backup running back situation is unclear: Josh Jacobs was limited all week with a calf injury, leading some to speculate about who should be picked up if Jacobs misses time.
Jacobs played basically the same role as usual. However, he has typically played two-minute drills, and Ameer Abdullah took those snaps this week.
Zamir White played the second-most snaps on early downs this week. Abdullah had the second-most last week, and Brandon Bolden the week before that.
Backups saw the most snaps on early downs in Week 8, where White and Abdullah tied with five.
We could very well see a rotation of running backs on early downs, with no clear back seeing a majority of carries if Jacobs misses time this season.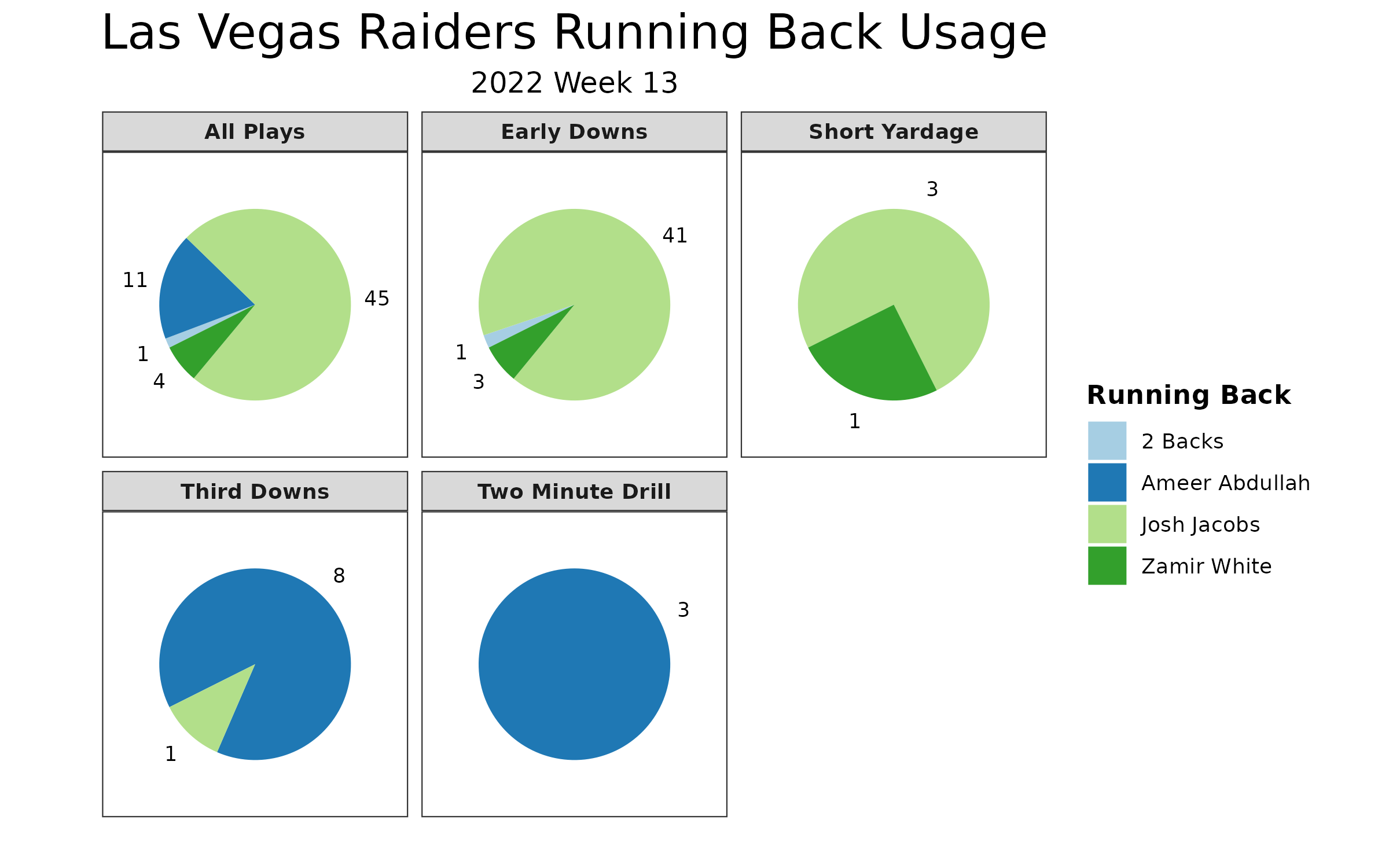 ---
• Isiah Pacheco: 14 carries, 66 yards, 1 touchdown; 2 receptions, 16 receiving yards
• Ja'Marr Chase: 7 receptions, 97 yards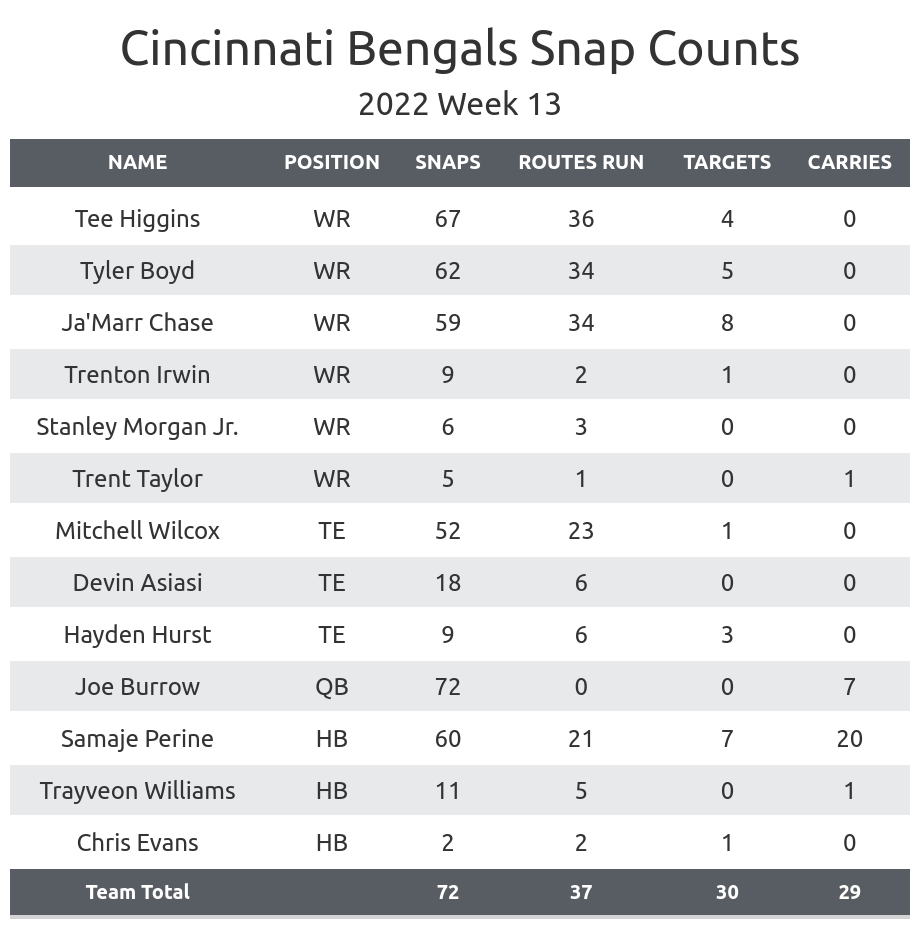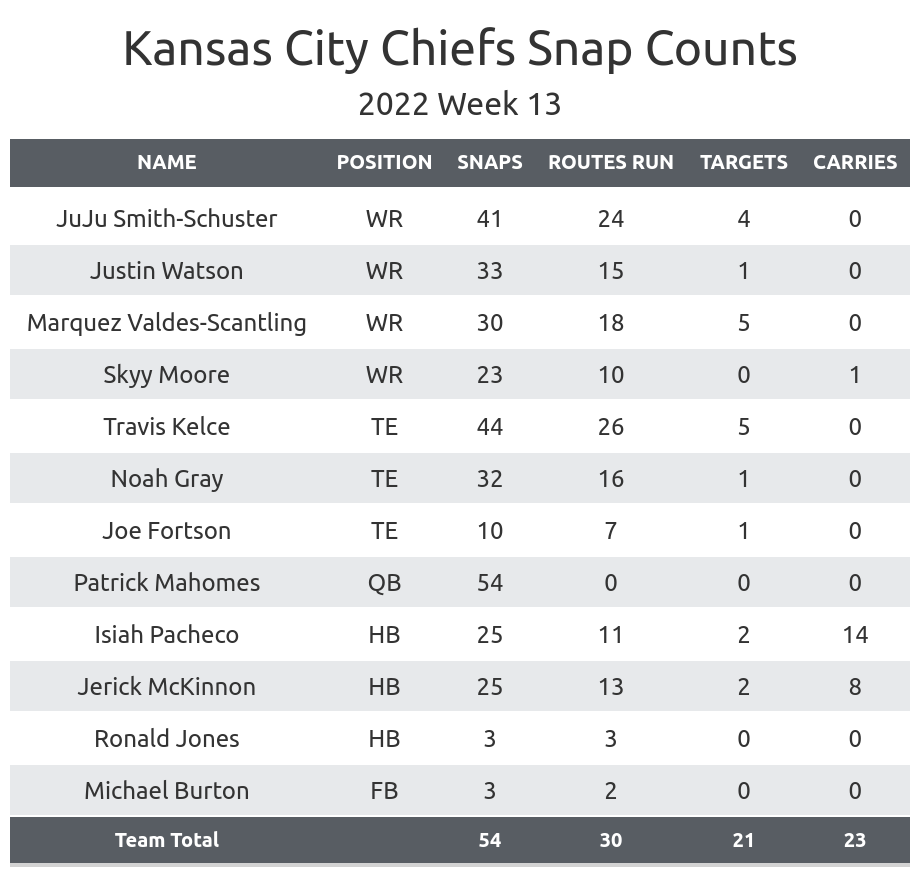 Monitor Hayden Hurst's health: Hurst suffered a calf injury late in the first quarter and didn't return to the game.
Mitchell Wilcox took over as the primary receiving tight end, taking all the snaps Hurst would have.
He didn't see the same number of targets as Hurst, and he caught his only target for 13 yards.
He has never recorded more than 18 receiving yards in a game in his two-year career.
The Bengals have the fourth-worst schedule for tight ends over the rest of the season.
Hurst has been a borderline fantasy starter all season, but Wilcox likely won't be with his lower target share and the schedule.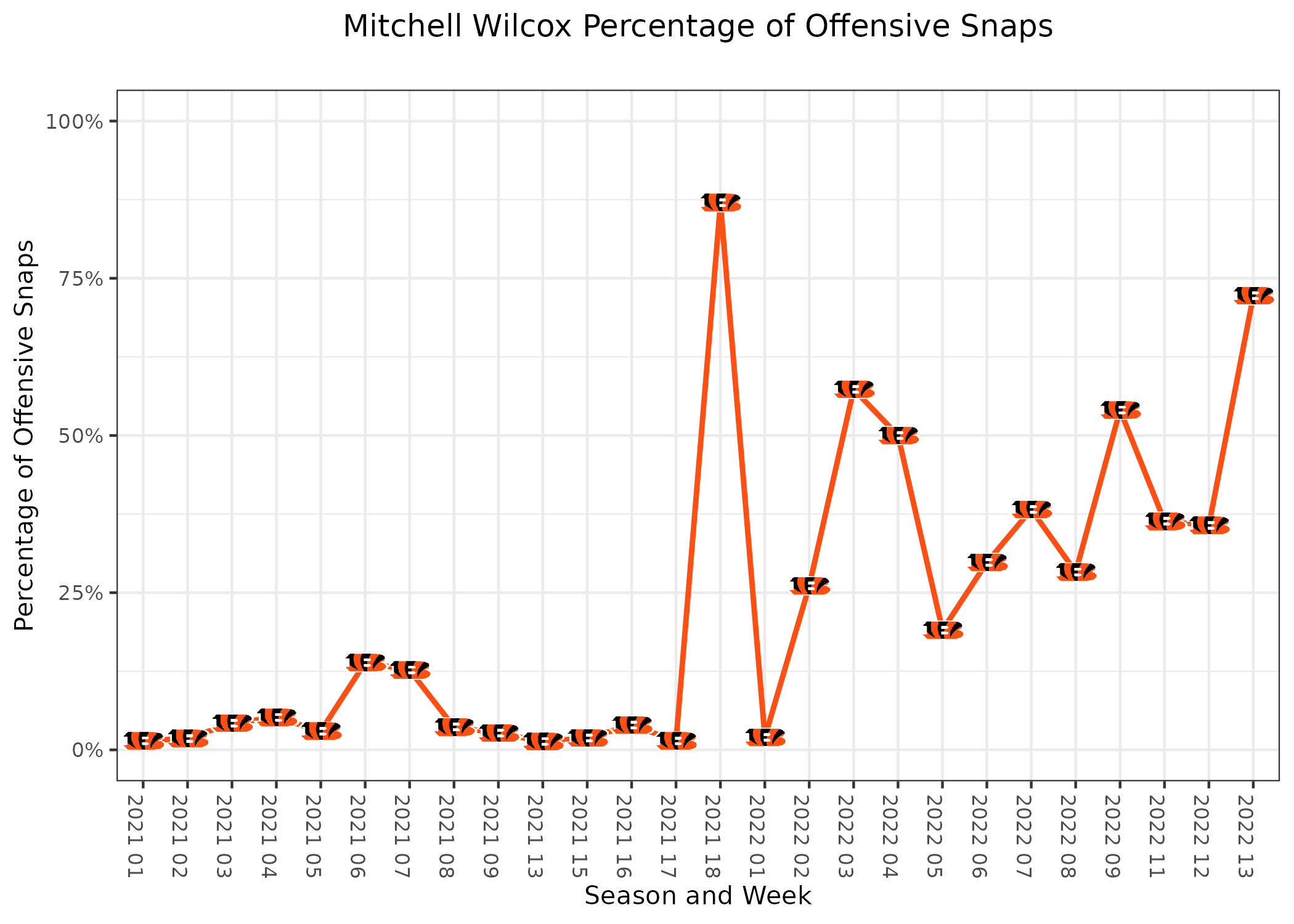 The return of Ja'Marr Chase: Chase missed a month of football but was back and primarily played the same role he had before the injury.
He was rotated out a little more than usual, but they were typically on run plays. He was only off the field for three pass plays, which is excellent for most wide receivers.
It wouldn't be surprising for him to be back playing more than 90% of offensive snaps as soon as next week.
He should be an elite fantasy receiver over the rest of the season.
JuJu Smith-Schuster rebounds: Smith-Schuster missed Week 11. And when he returned in Week 12, he played less than half of the offensive snaps.
He was back to leading the Chiefs wide receivers in snaps and was playing more than he had during the start of the season. However, he didn't reach his peak in terms of snaps played with the team.
Every other Chiefs wide receiver played fewer snaps, with Justin Watson seeing the largest decline.
Marquez Valdes-Scantling led the team in receiving yards thanks to a 42-yard catch and a 29-yard catch.
The Chiefs' next four opponents are the Broncos twice, Texans and Seahawks, teams that rank among the top seven at preventing fantasy points to wide receivers.
They are also opponents that Kansas City could overpower early, which won't provide friendly game scripts for fantasy wide receivers.
The circumstances, mixed with the Chiefs rotation at the position, make this a situation to avoid.
---
• CeeDee Lamb: 5 receptions, 71 yards, 1 touchdown; 2 carries, 23 rushing yards
• Tony Pollard: 12 carries, 91 yards, 2 touchdowns; 2 receptions, 15 receiving yards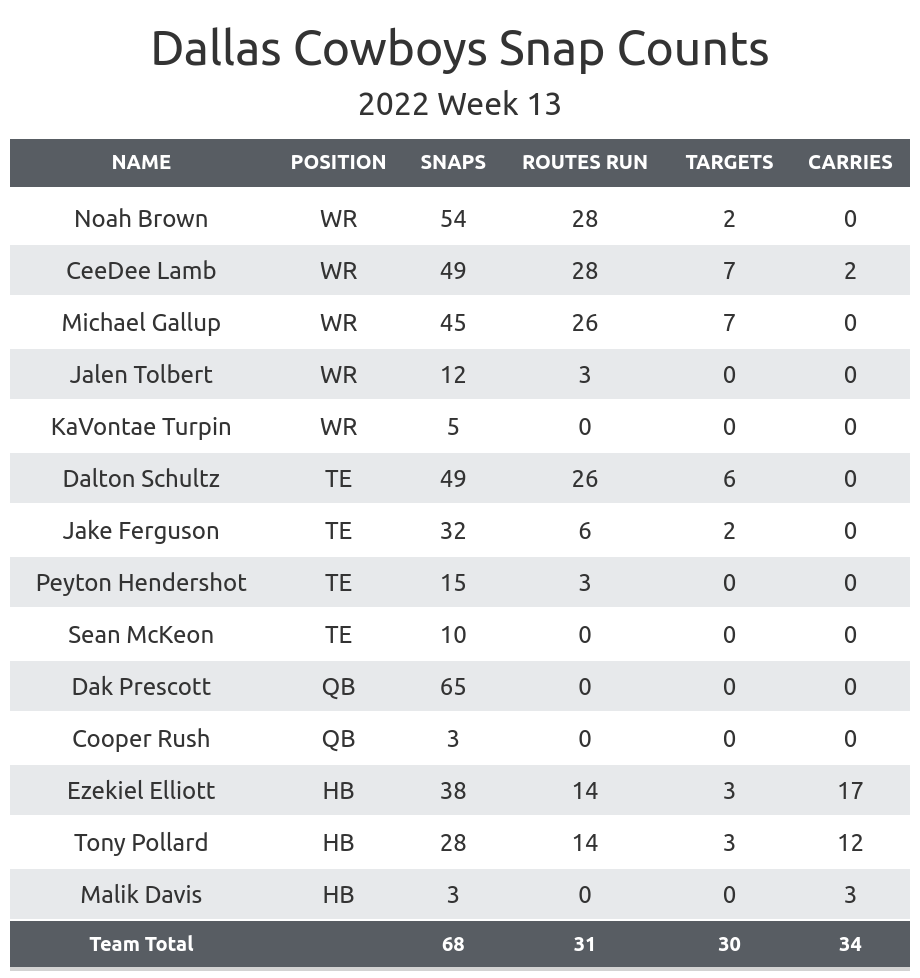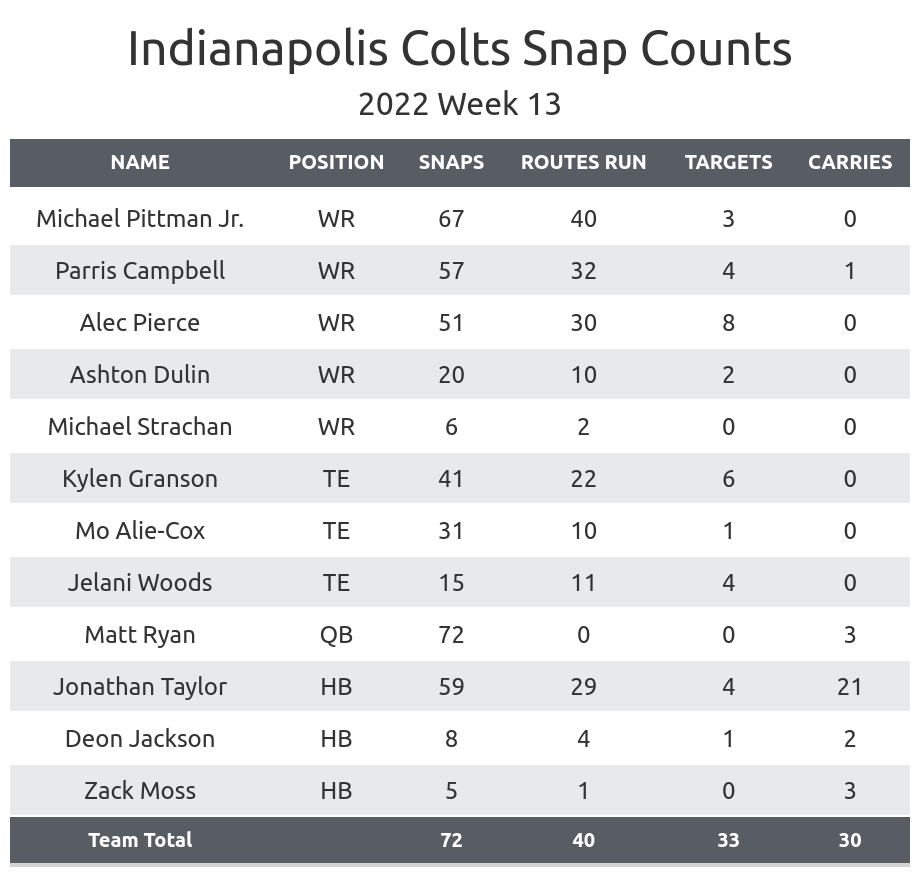 Add Michael Gallup: Gallup put together his second straight big game for the Cowboys.
He scored twice after scoring just once previously this season.

He put up just 23 yards on four catches, but he was also facing a Colts defense that has allowed the fewest yards per game to wide receivers this season.

Gallup gained snaps in 12 personnel over

Noah Brown

last week, but Brown reclaimed the majority of those snaps this week.

That didn't stop Gallup from being tied for the team lead in targets.

The Cowboys play the Titans in Week 17. Tennessee has allowed the second-most fantasy points to wide receivers in 2022. 
Avoid the Colts receivers: The Colts receivers have been very unpredictable from one week to another.
Jelani Woods

had the best game of his career last week, totaling eight catches for 98 yards, more than doubling his previous career totals.

He accomplished this while

Kylen Granson

was out with an injury.

Granson was back this week and returned to the top of the Colts' depth chart.

Mo Alie-Cox

also played ahead of Woods.

This left Woods with no targets for the first 50 minutes of the game.

Alec Pierce

was the clear top receiver for the Colts today. He caught four passes for 86 yards and a touchdown. It was his best fantasy performance of the season.

He had flashed at times particularly early in the season, but he's also been held without a catch in two of his last four games.

Indianapolis has their bye week next week and then a favorable matchup against the Vikings. The schedule only gets worse from there.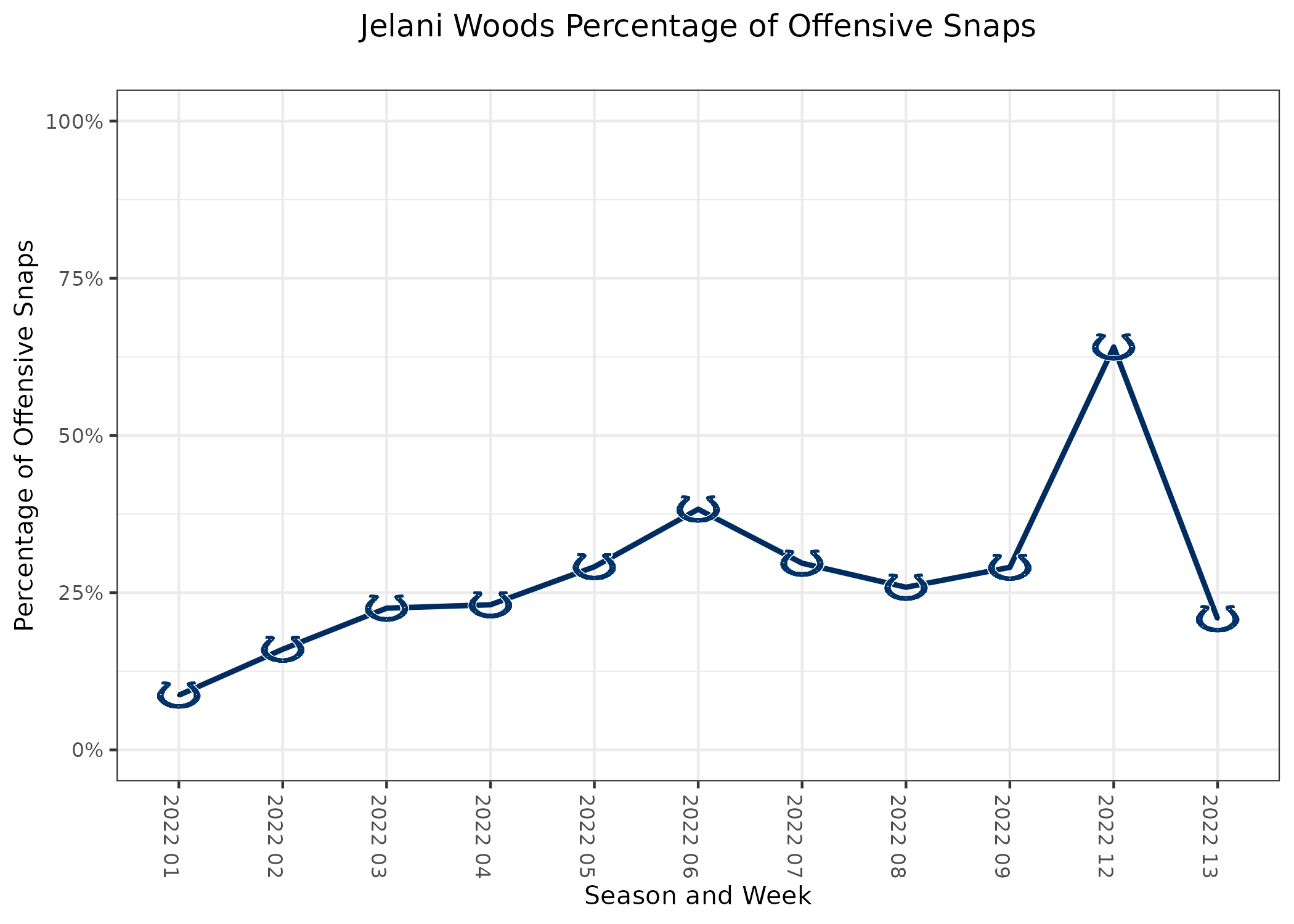 ---
Table Notes
• Snaps include plays called back due to penalties, including offensive holding or defensive pass interference. The other three stats have these plays removed.
• Targets may differ from official NFL sources. The most likely discrepancy would be from a clear thrown-away pass, where the NFL may give the target to the nearest receiver, while this data will not.
• Carries are only on designed plays. Quarterback scrambles won't count for the total number of carries in the game.