• Justin Fields' dominance continues: Fields broke the record for most rushing yards by a quarterback in a game last week and made another appearance on the all-time top-10 list against the Lions with 147 rushing yards this week. He also scored four touchdowns.
• Jeff Wilson Jr. thrives in the Dolphins' offense: Wilson put up his best statistical game of the season in his second contest with Miami, going over the 100-yard mark and scoring a touchdown.
• Nick Westbrook-Ikhine scores twice: The Titans' wide receivers didn't catch a pass last week. This week, Westbrook-Ikhine scored his first and second touchdowns of the season while surpassing 100 yards.
---
PFF's fantasy football recap focuses on player usage and stats, breaking down all the vital information you need to achieve fantasy success in 2022.

Jump to a game:
[email protected] | [email protected] | [email protected] | [email protected]
[email protected] | [email protected] | [email protected] | [email protected]
[email protected] | [email protected] | [email protected] | [email protected]
---
• Chris Godwin: 6 receptions, 71 yards, one touchdown
• Julio Jones: 3 receptions, 53 yards, one touchdown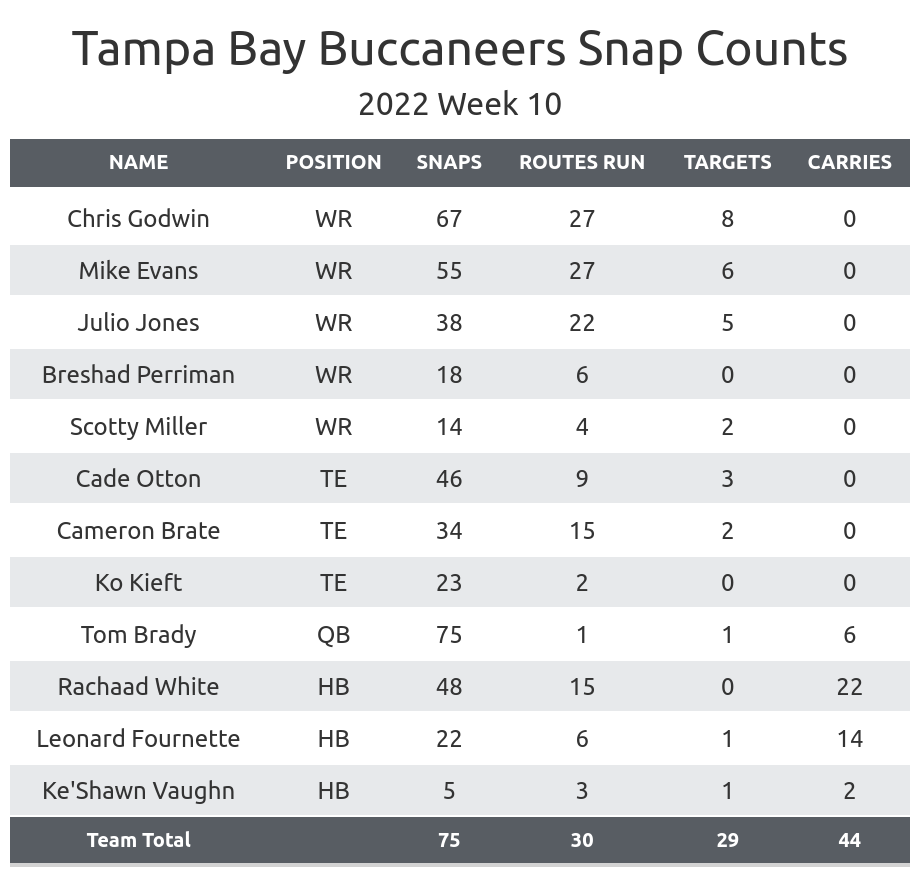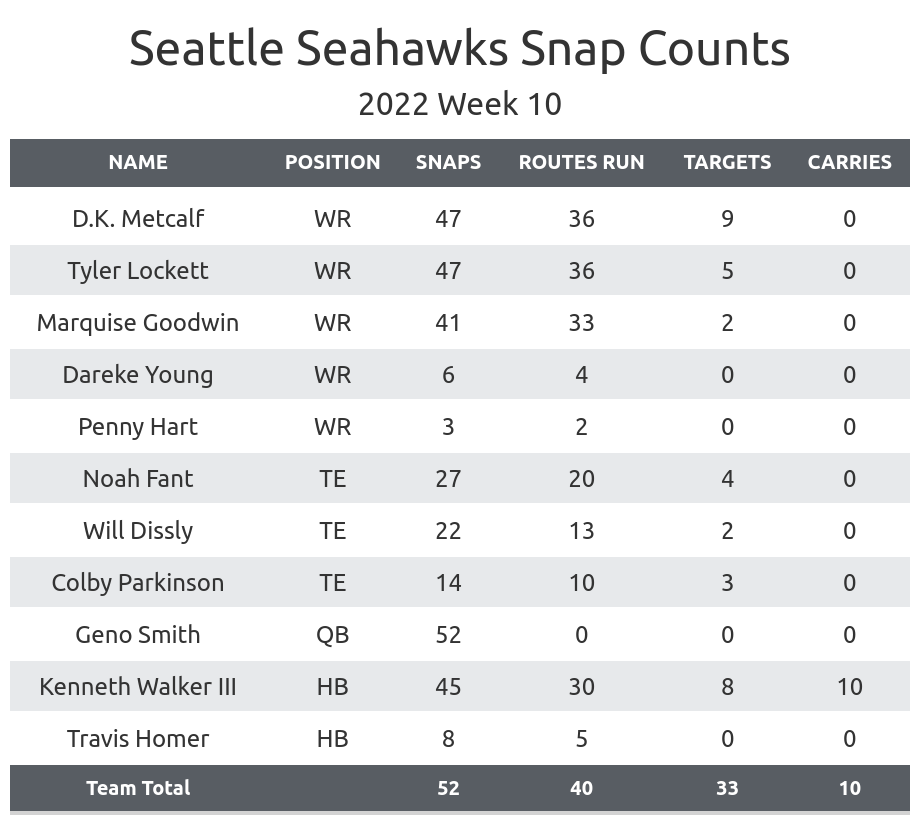 Rachaad White starts at RB: White received his first NFL start, taking over from Leonard Fournette as the lead back in Tampa Bay.
White took every snap on the first drive.

Fournette started the second drive. After that, the two mainly rotated by drive, although the drives were typically long enough for both players to play on most drives.

White got to end the first half and start the second half, which doesn't typically happen when a backfield has this kind of rotation.

He set a career-high in rushing attempts before halftime.

Fournette suffered a hip injury in the third quarter.

White played 20 of a possible 25 snaps after the Fournette injury, with

Ke'Shawn Vaughn

giving White a break at times.

He ended the game with 105 yards on 22 attempts.

White could be the top waiver priority this week, regardless of the Fournette injury.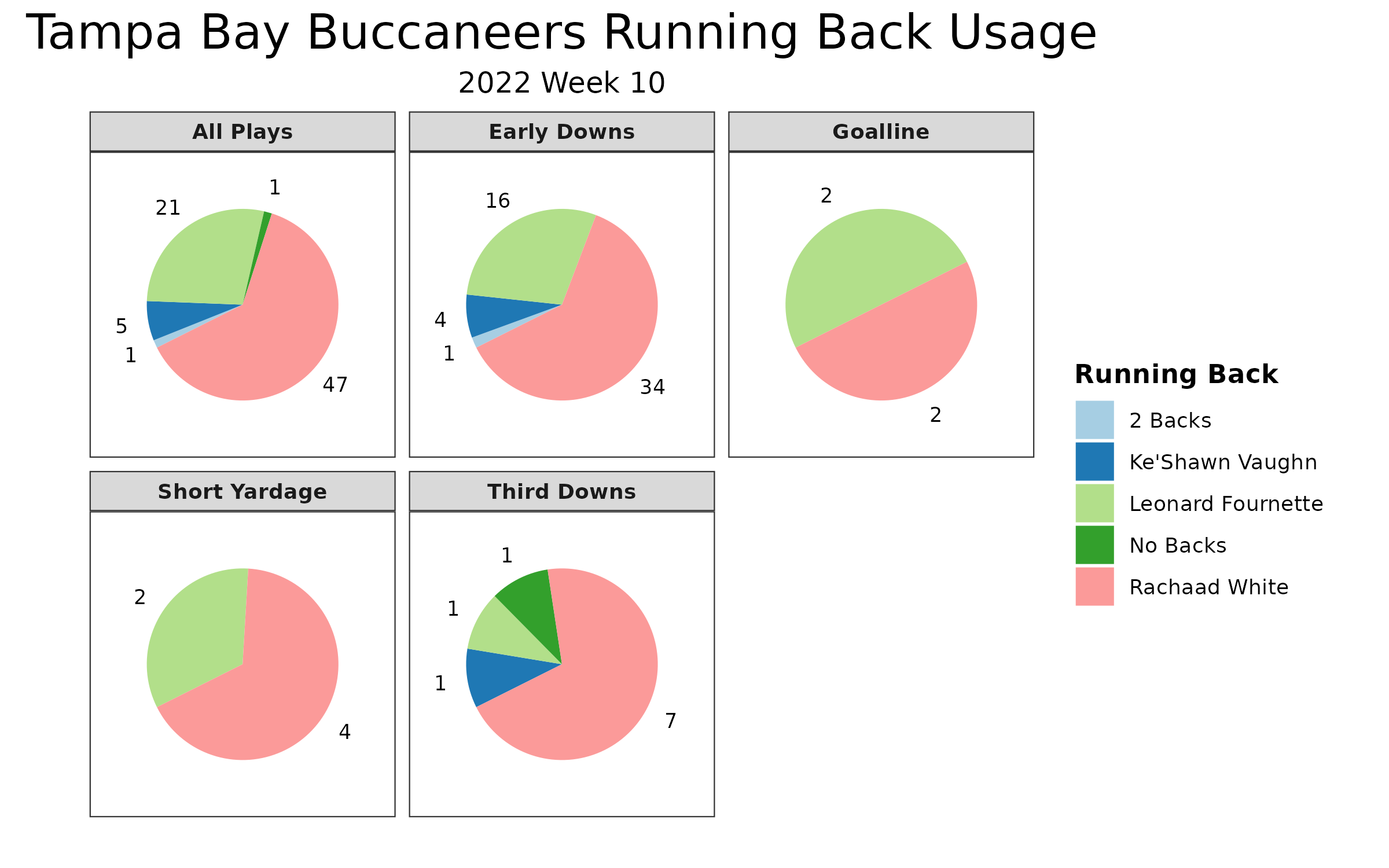 Cameron Brate's return: Brate missed the last three games with a neck injury but returned to the Buccaneers lineup in Week 10.
Brate took over as the lead receiving tight end and was arguably the player on the field in passing situations from 11 personnel.

He didn't get as much playing time as earlier in the season, as he was often off the field in two-tight end sets.

Cade Otton

had been the primary tight end for Tampa Bay these last few weeks. He stayed on the field in two-tight end sets and in run situations from 11 personnel.

Otton can be dropped in any fantasy league, as he won't run enough routes to have consistent fantasy value despite the three receptions against Seattle.

Brate could reach the point where he has fantasy value again in deeper leagues.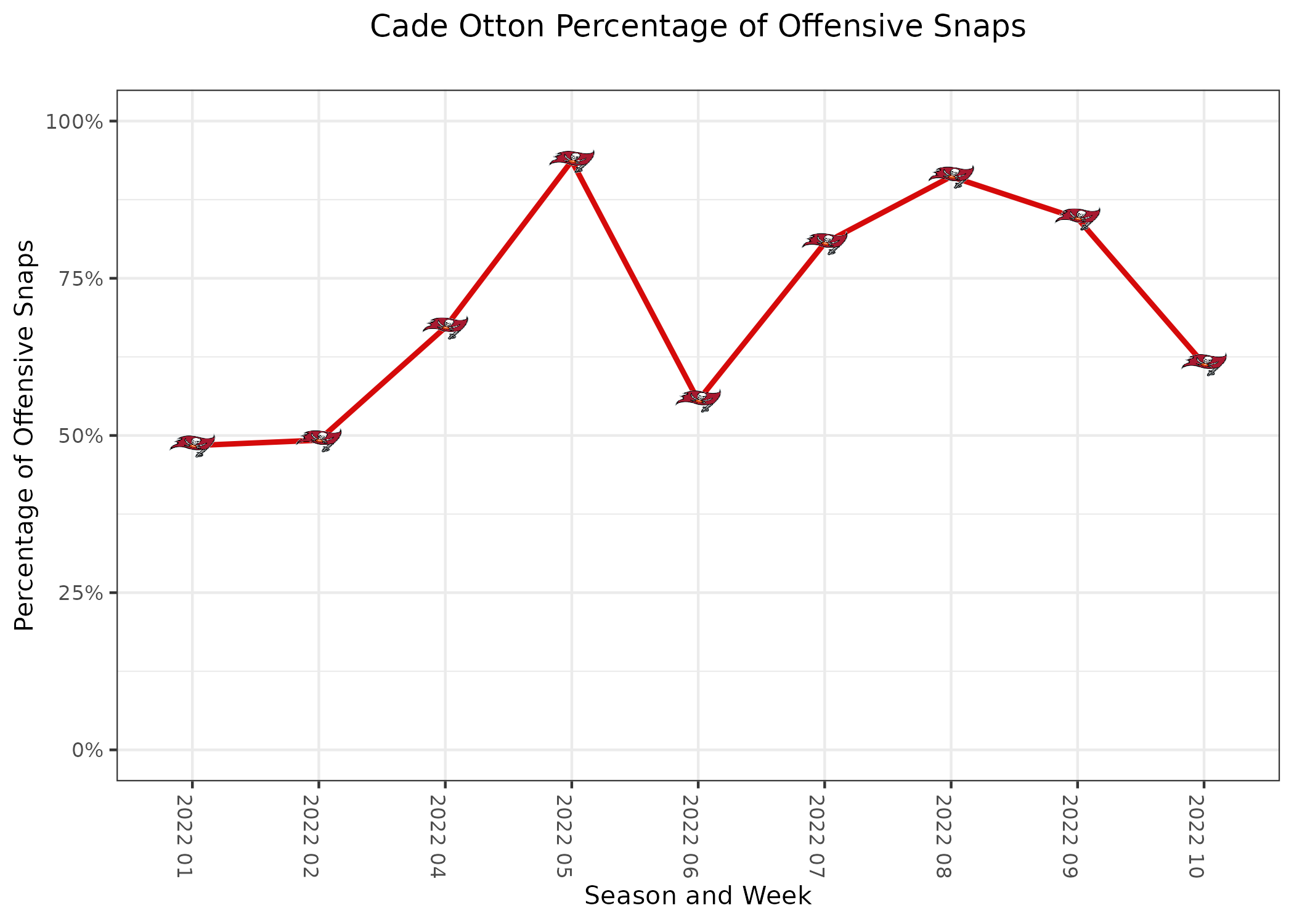 Monitor the Dee Eskridge injury: The second-year receiver "whacked" his hand on a special teams play and didn't return to the game.
In recent weeks, Eskridge had been splitting time with

Marquise Goodwin

in three-receiver sets.

Goodwin had been limited in practice with a groin injury this past week.

Goodwin played most of the snaps in three-receiver sets, and the Seahawks stayed in three-receiver sets today due to the game script.

This resulted in only two catches for 38 yards, but he did score a late touchdown.

The Seahawks have a bye next week, which will ideally be enough time for Eskridge's hand to heal.

The two receivers will likely go back to splitting time, making it unlikely either has much fantasy value.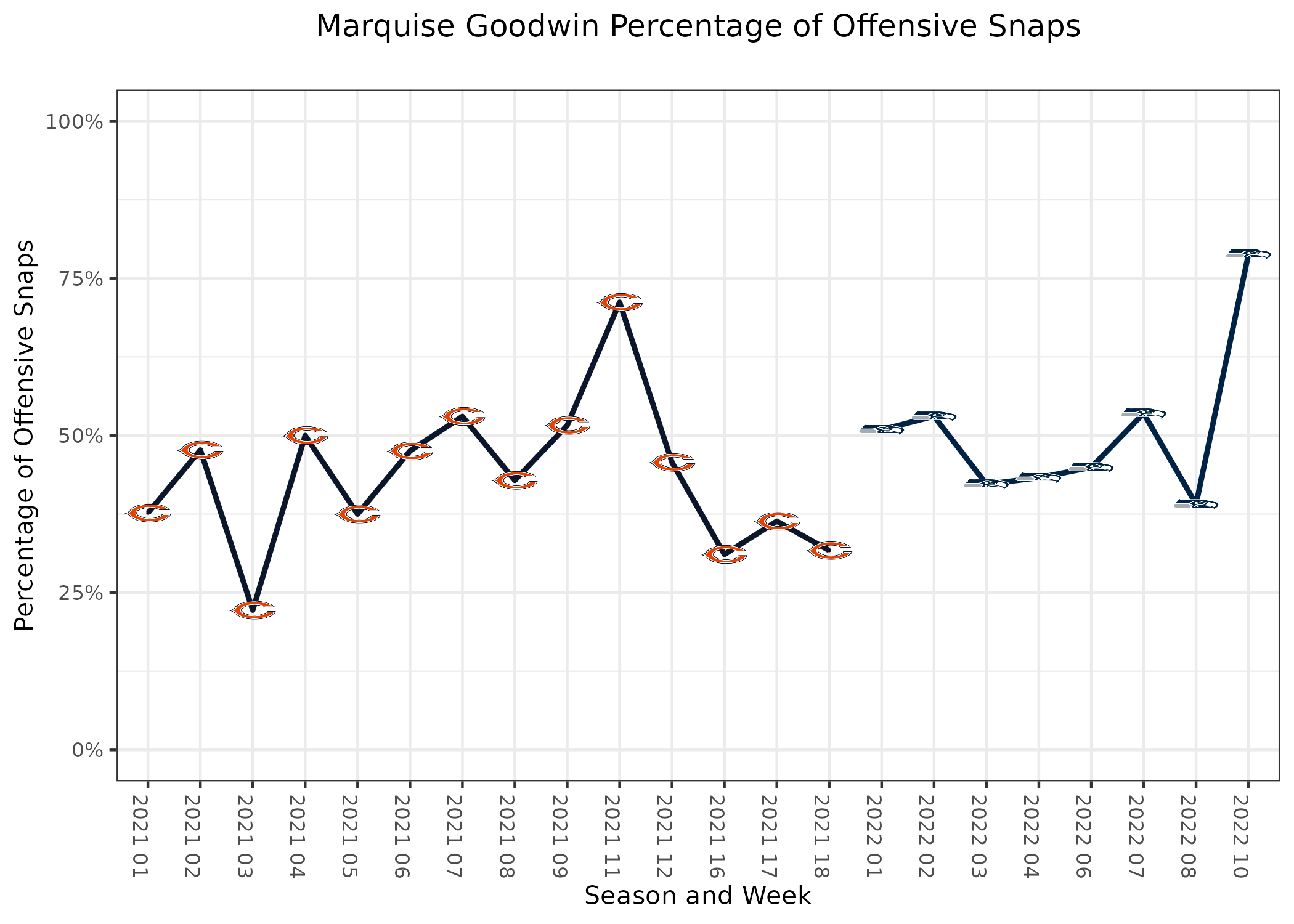 ---
• Cole Kmet: 4 receptions, 74 yards, 2 touchdowns
• Amon-Ra St. Brown: 10 receptions, 119 yards, 1 carry, 2 rushing yards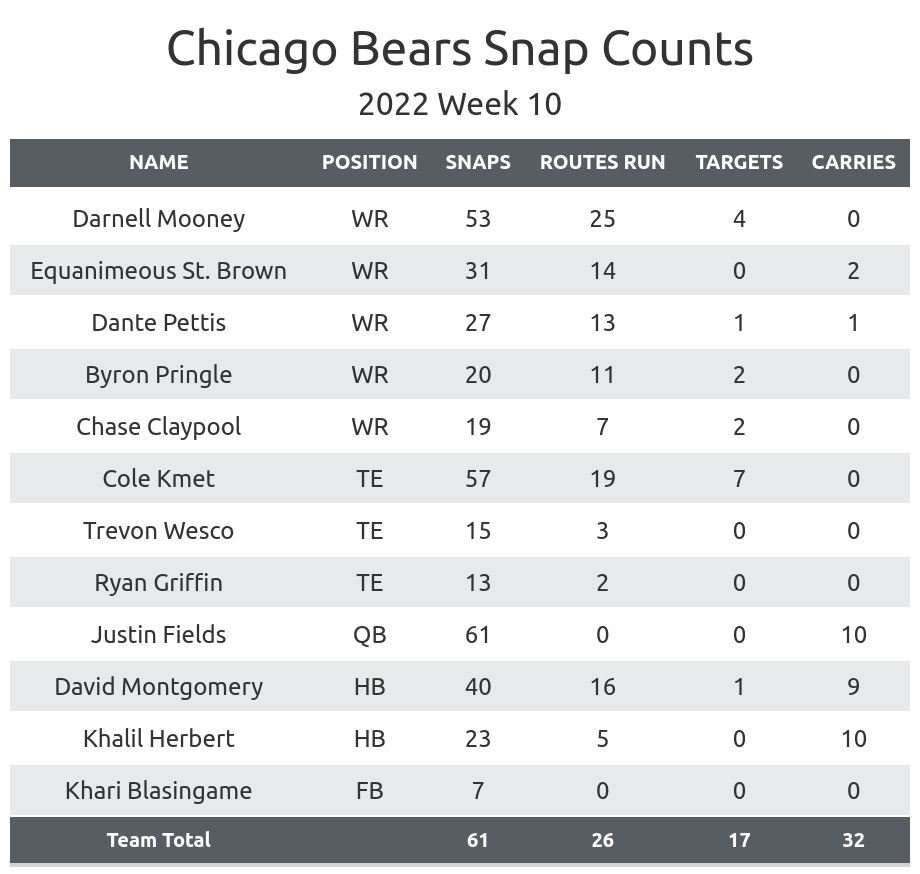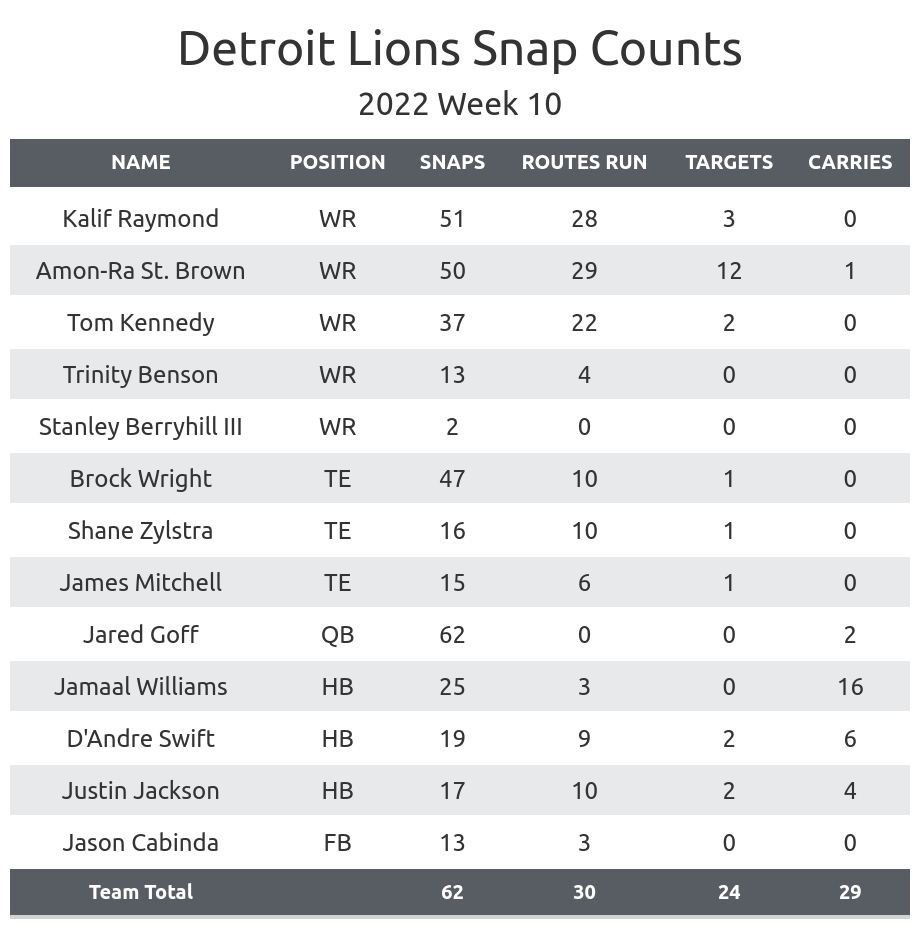 Monitor Khalil Herbert's injury: Herbert injured his hip against the Lions and was quickly ruled out.
David Montgomer

y took the first two drives and Herbert took the third. This is the same way Chicago has started every game this season when both were healthy.

Montgomery ran more routes, but Herbert ran the ball more over the rest of the game, which is also something that's become more common for Chicago in recent weeks.

Montgomery took every snap at halfback after the Herbert injury.

Montgomery would be the main person to see his fantasy value benefit if this injury is serious. He was playing over 75% of offensive snaps in his peak this season as well as last season. This slight increase in snaps would specifically be more carries.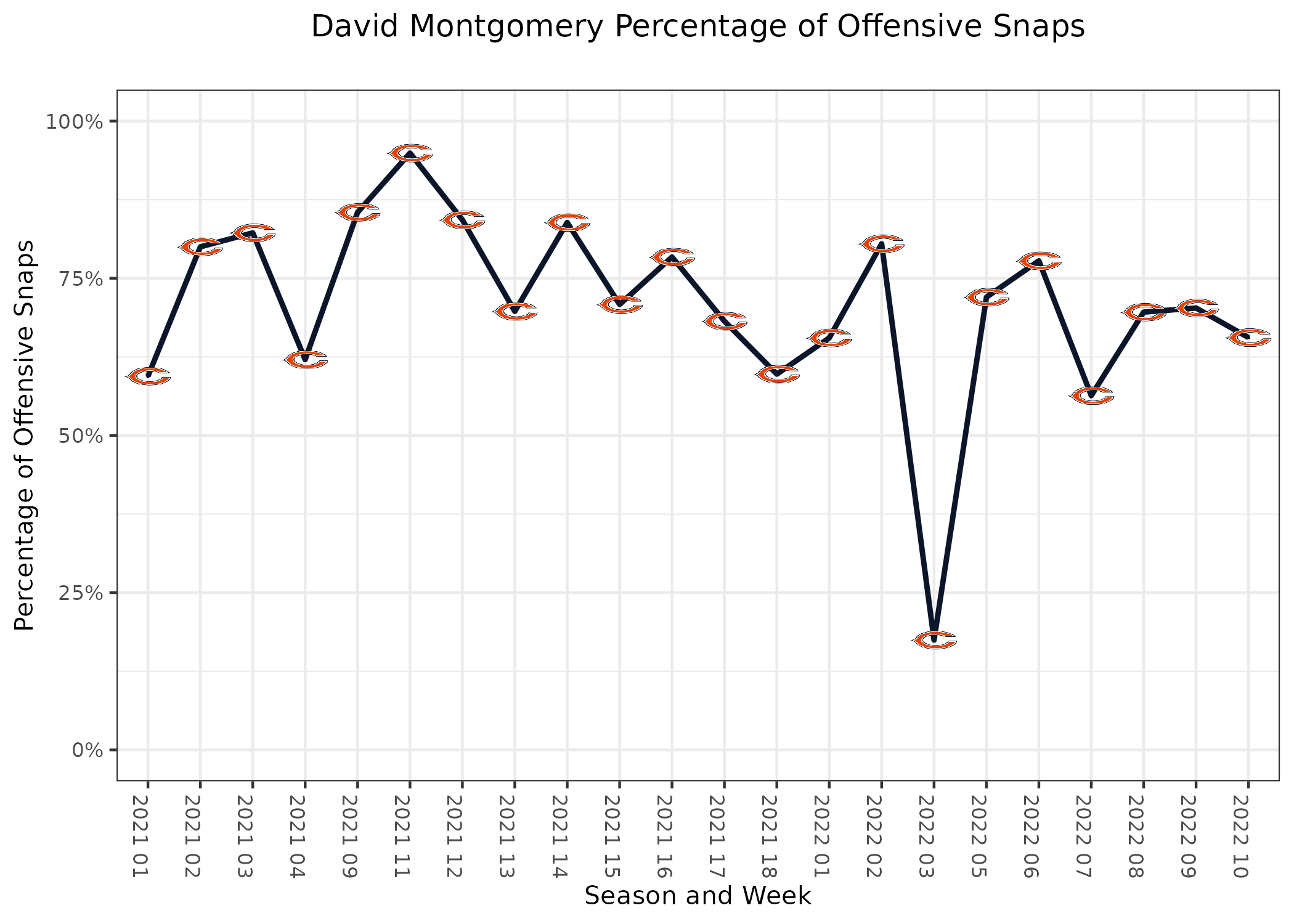 Byron Pringle's return: Pringle was activated off injured reserve and joined the Bears' crowded wide receiver room.
Pringle was injured for most of the offseason. He saw limited playing time in Week 1 and increased playing time in Week 2.

Pringle started in Week 3 but suffered a calf injury after two plays, leaving him on injured reserve.

This left both

N'Keal Harry

and

Velus Jones Jr.

as healthy inactives in Week 10.

Darnell Mooney

remained the clear top receiver as well as the clear slot receiver.

Pringle was one of four players rotating on the outside.

This most notably hurt

Chase Claypool

. The Bears traded a second-round pick for Claypool, but his percentage of offensive snaps declined rather than increased in his second game with the team.

It could be OK to drop Claypool at this point due to his limited snaps in a limited passing offense. His playing time could increase some, but even that might not be enough to trust him in a starting lineup.

The Bears have the

second-most difficult

schedule for wide receivers over the rest of the season.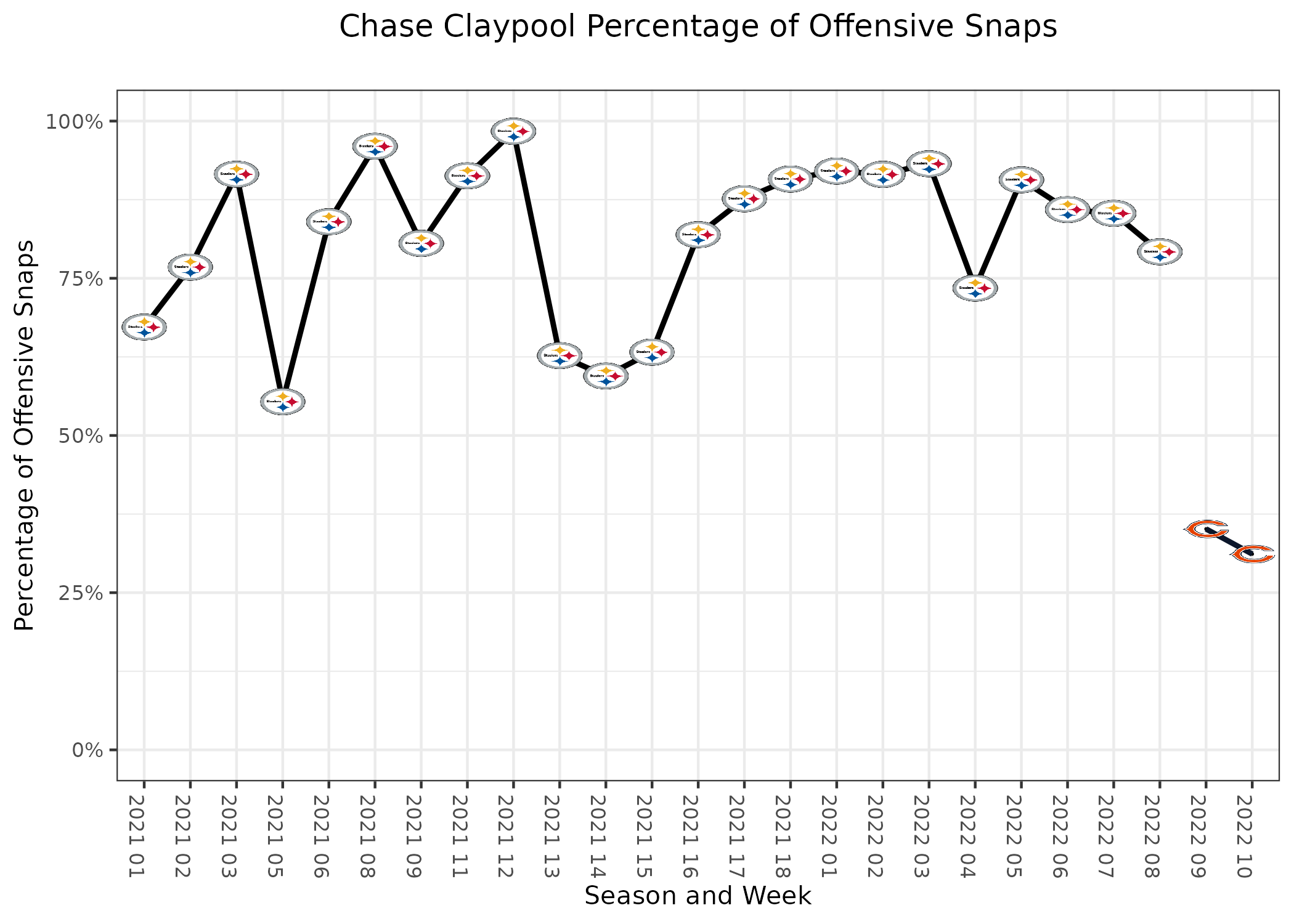 Add Cole Kmet: Kmet has scored five touchdowns in the past three weeks, which ties him for the second-most scores by a tight end this season despite not finding the endzone in the first seven weeks.
Kmet's playing time has remained among the best for tight ends in the league this season.

His problem has been a low target share in an offense that doesn't like to pass.

His targets per route run rate has increased to 26% over the past two weeks after sitting at 10.6% over the first eight weeks.

It's more likely than not that Kmet regresses going forward, continuing to see not enough targets and a rare touchdown. It's worth adding him just in case this is the start of his breakout.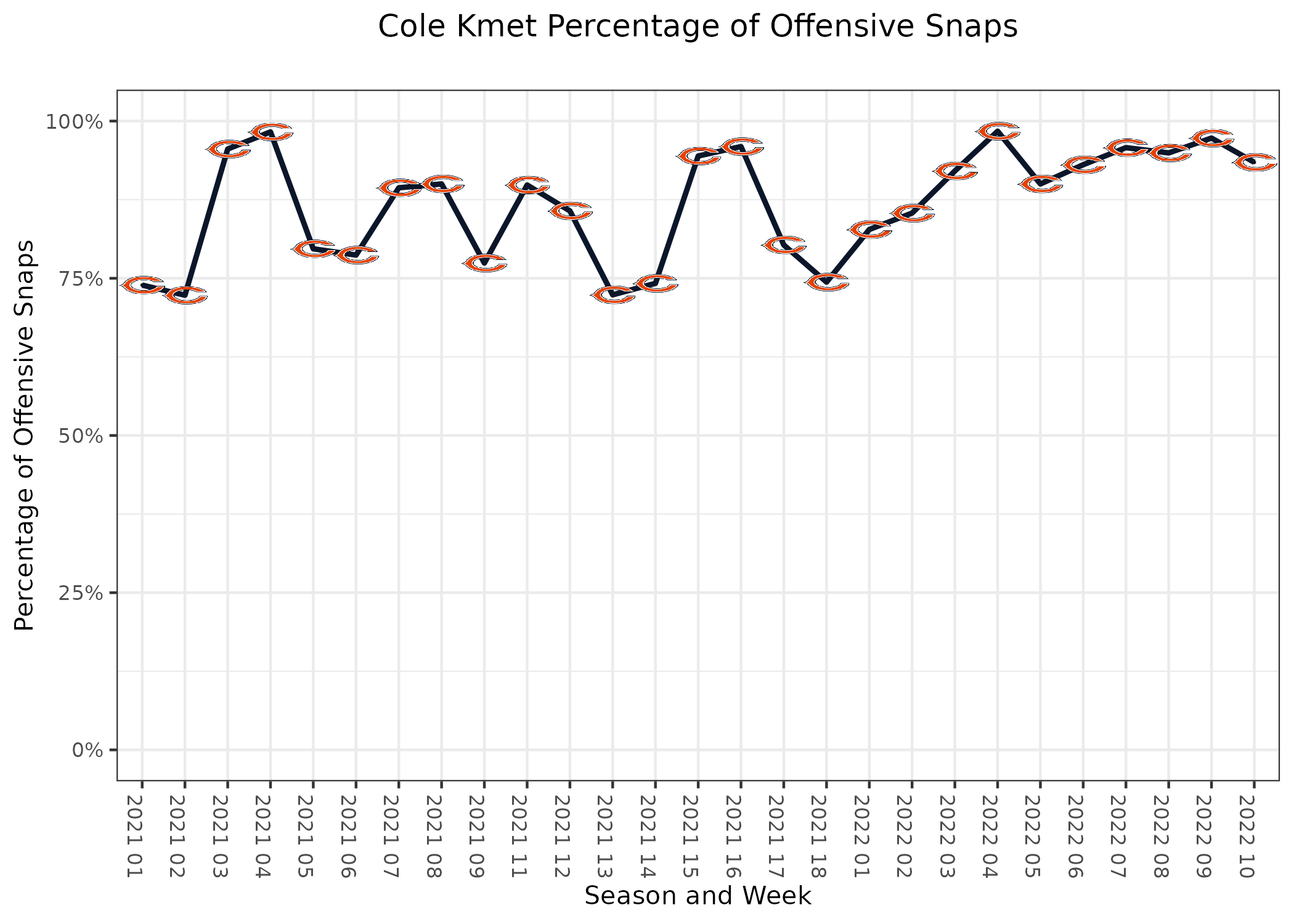 D'Andre Swift remains limited: Swift was a full participant in practice by Friday but still didn't see as much playing time as we're used to.
Jamaal Williams

remained in his usual role as the Lions' lead rusher, gaining 59 yards on 16 carries and scoring a touchdown.

Swift saw his most carries since September but averaged just one yard per carry. He still rewarded fantasy managers who took a gamble on him by scoring a nine-yard touchdown.

Craig Reynolds

landed on injured reserve earlier in the week, allowing

Justin Jackson

to take the role as the Lions' third running back.

Jackson ended up running more routes than Swift.

We can expect Swift to take snaps from Jackson going forward, but he might not overtake Williams as the primary rusher at any point this season.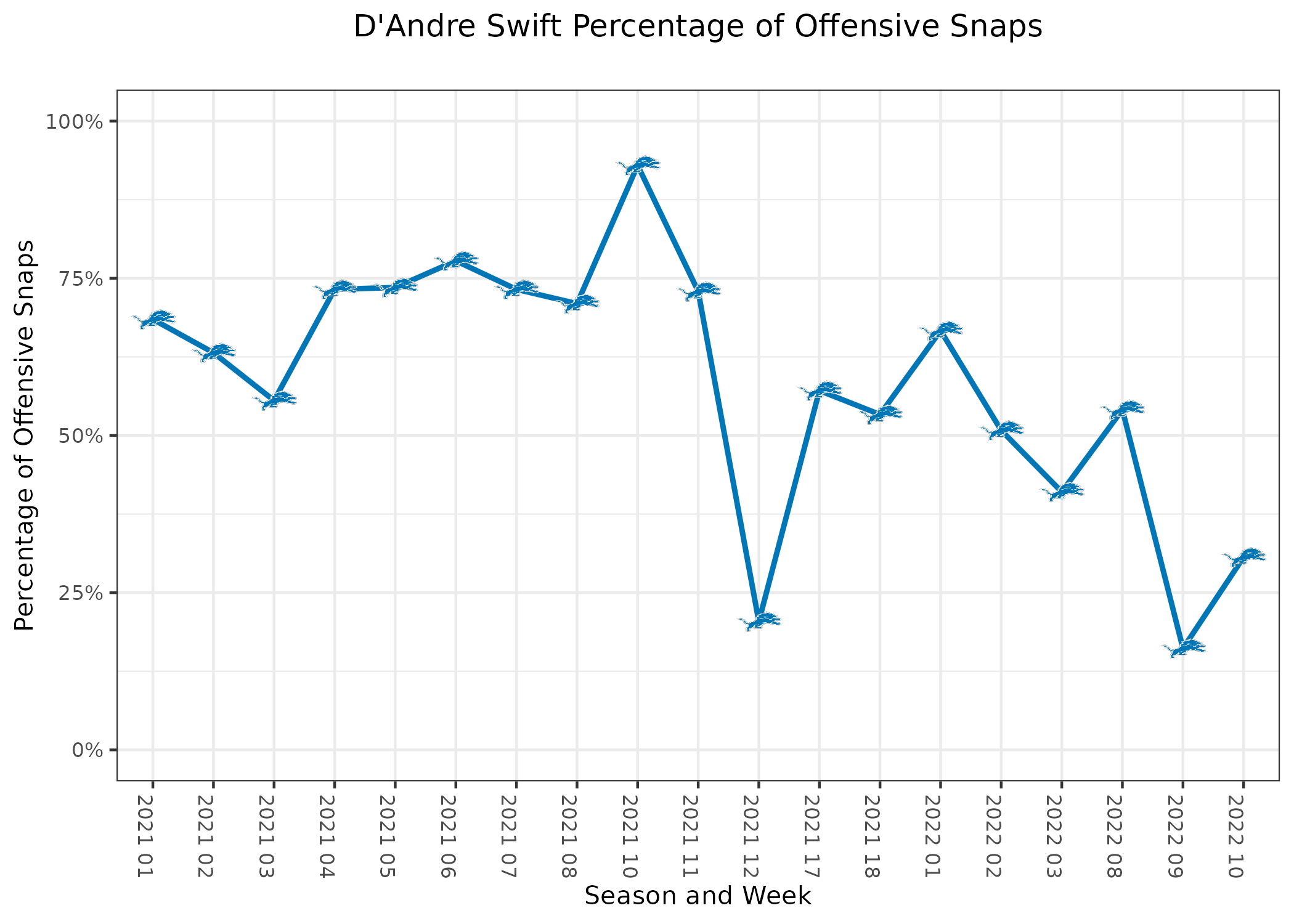 ---
• Jeff Wilson Jr.: 17 attempts, 119 yards, 1 touchdown, 2 receptions, 24 receiving yards
• Nick Chubb: 11 attempts, 63 yards, 1 touchdown, 3 receptions, 18 receiving yards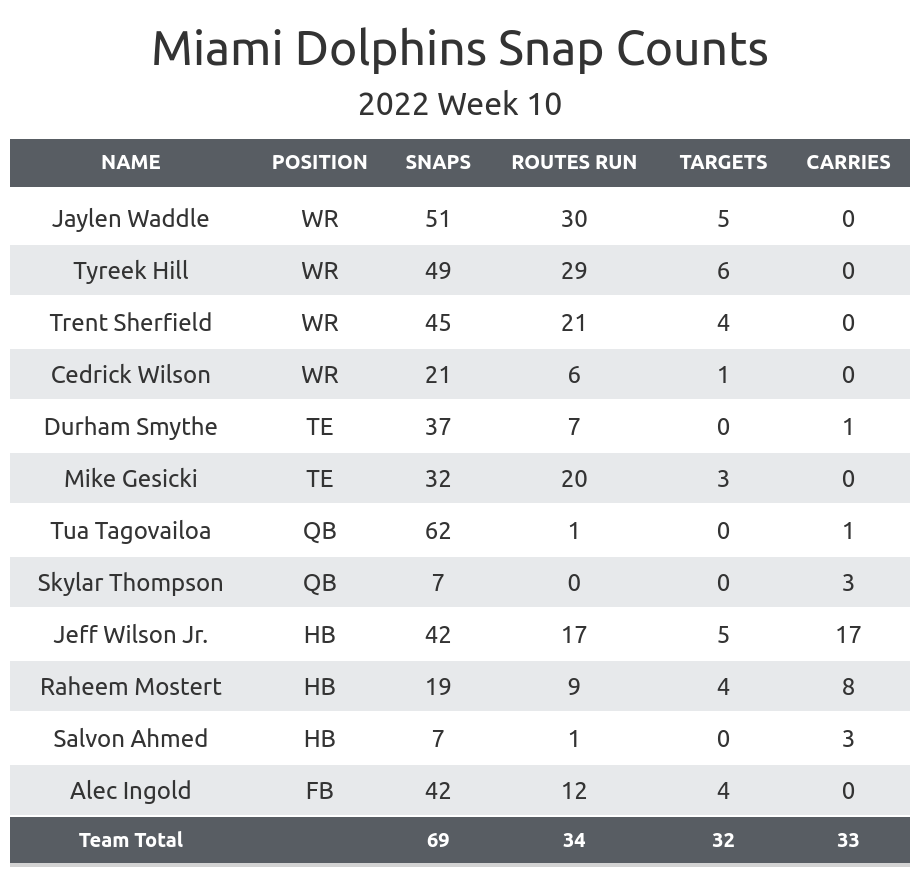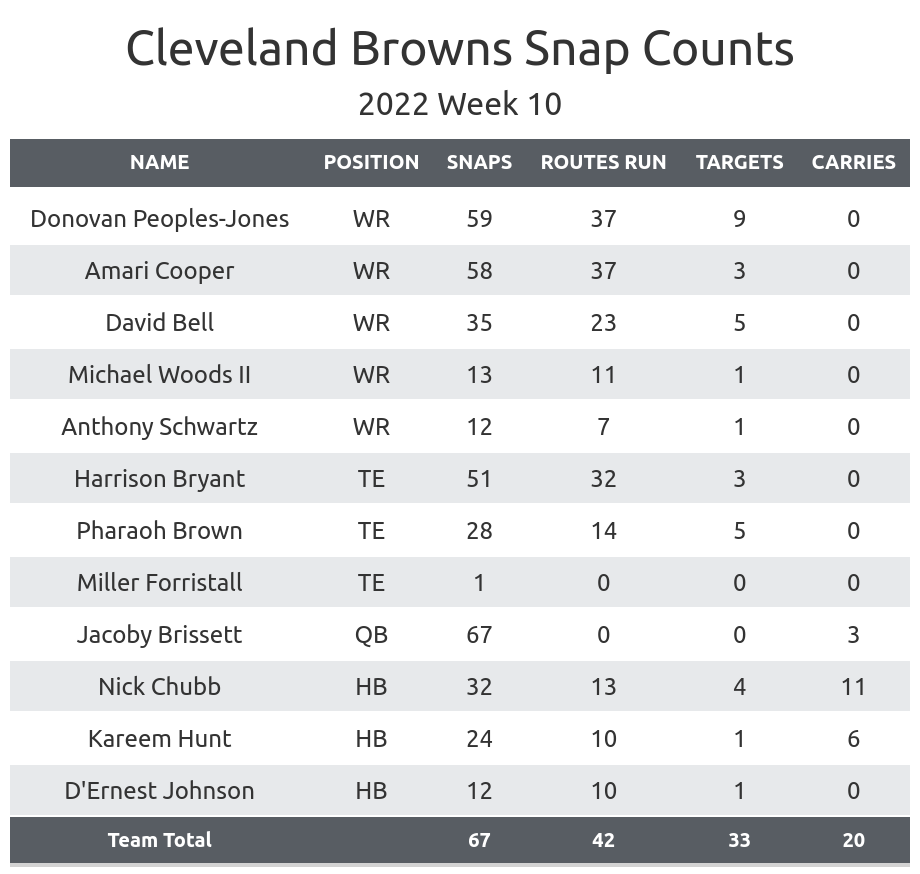 Add Donovan Peoples-Jones: The Browns starting receiver gained over 50 receiving yards for the sixth straight game.
He remained a clear unquestioned starter for Cleveland. He was subbed out for a few additional plays early in the game, but he's continued to see a clear majority of offensive snaps.

He caught five of nine targets for 99 yards, leading the team in offensive yards.

His totals in targets, receptions and yards is good enough to make him a fantasy starter, but he hasn't scored a touchdown this season.

The Browns have two more games with

Jacoby Brissett

at quarterback before they turn to

Deshaun Watson

. There is a chance Peoples-Jones can put up better numbers and start scoring touchdowns with Watson.

Cleveland has the

third-easiest schedule for fantasy wide receivers

from Weeks 15-17.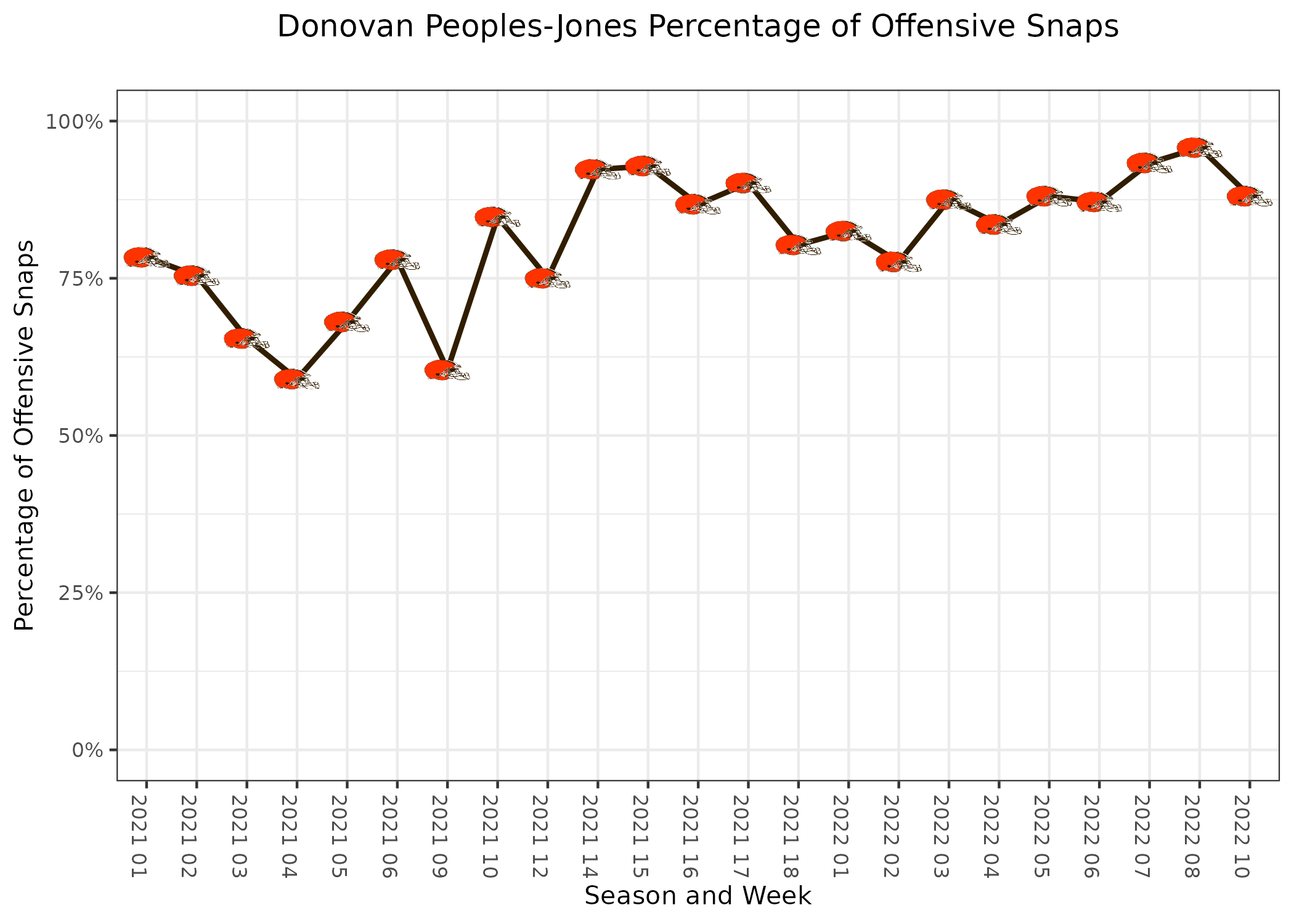 Start Jeff Wilson Jr.: The Dolphins running back took a clear majority of snaps and touches in most situations.
Raheem Mostert

was still the starter, but Wilson was substituted in later on the first drive.

Wilson out-snapped Mostert only 17-15 in the first half.

Mostert played just four snaps in the second half, compared to 25 for Wilson.

Salvon Ahmed

only played late in the fourth quarter while Miami brought in several backups.

Both running backs were very effective running the ball.

It's worth holding onto Mostert in case the Dolphins were just resting their veteran with a lead. There is at least a chance we see more of a 50-50 split going forward based on the first half.

The Dolphins have a bye next week, but then they face the Texans — an opponent where it might even be safe to start both players.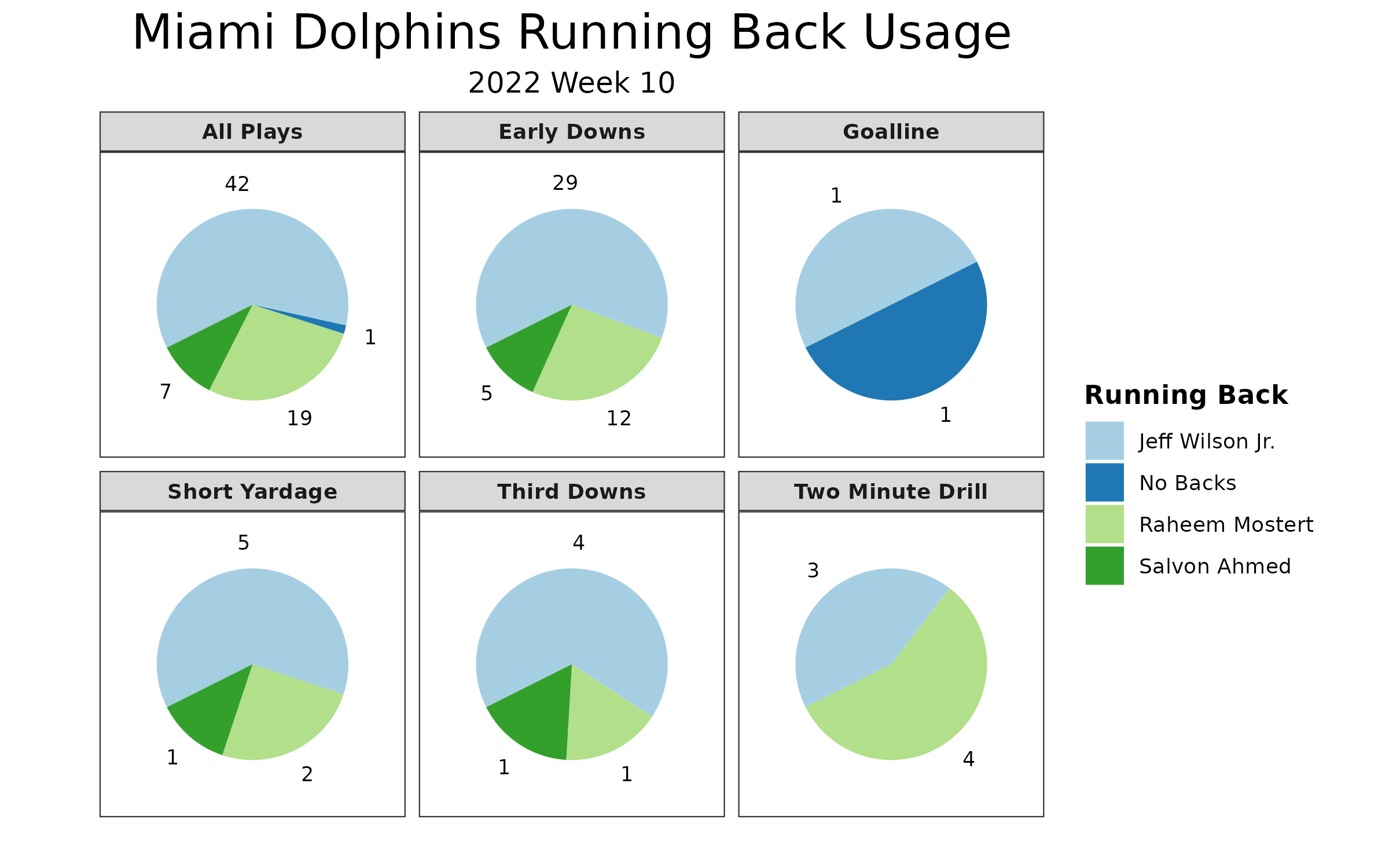 ---
• Nick Westbrook-Ikhine: 5 receptions, 119 yards, 2 touchdowns
• Jalen Virgil: 1 reception, 66 yards, 1 touchdown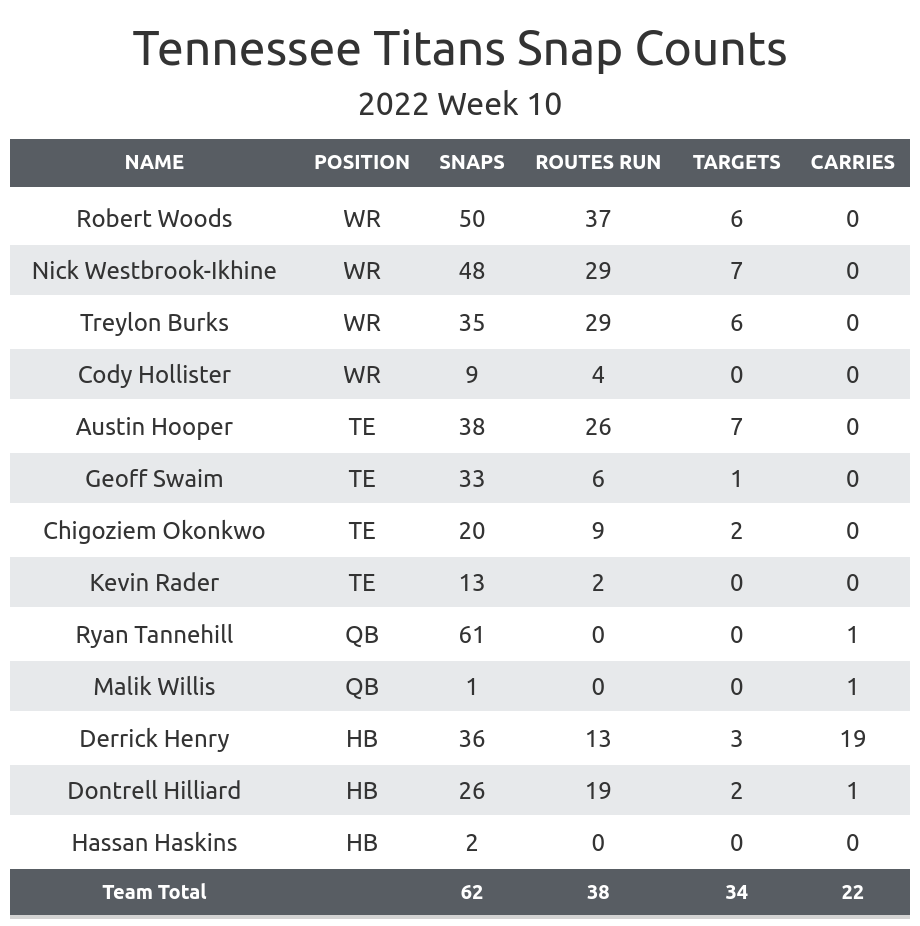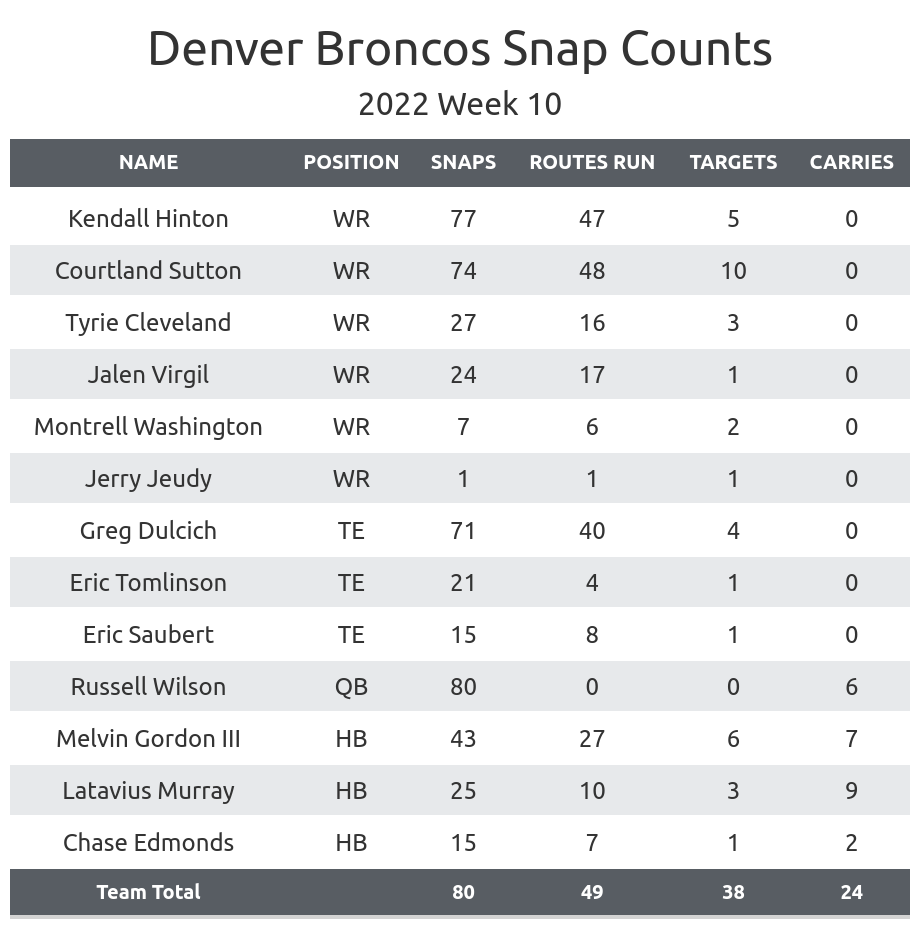 Monitor Jerry Jeudy's health: Jeudy suffered an ankle injury on the Broncos' first offensive play. He went to the medical tent, was carted to the locker room and didn't return.
The Broncos were already down one of their three top receivers heading into the game.

K.J. Hamler

was inactive with a hamstring injury.

Undrafted rookie

Jalen Virgil

started the game in place of Hamler. This was his first game on the field in the NFL.

Kendall Hinton

became the No. 2 wide receiver for most of the game.

Tyrie Cleveland

ended up splitting time with Virgil in three-receiver sets.

Virgil caught a 66-yard touchdown, scoring the first points of the game. That was also enough for him to tie the team lead in receiving yards.

Hamler could be a waiver wire option if the Jeudy injury is very serious. It could move Hamler from the outside to the slot, where he played in the past.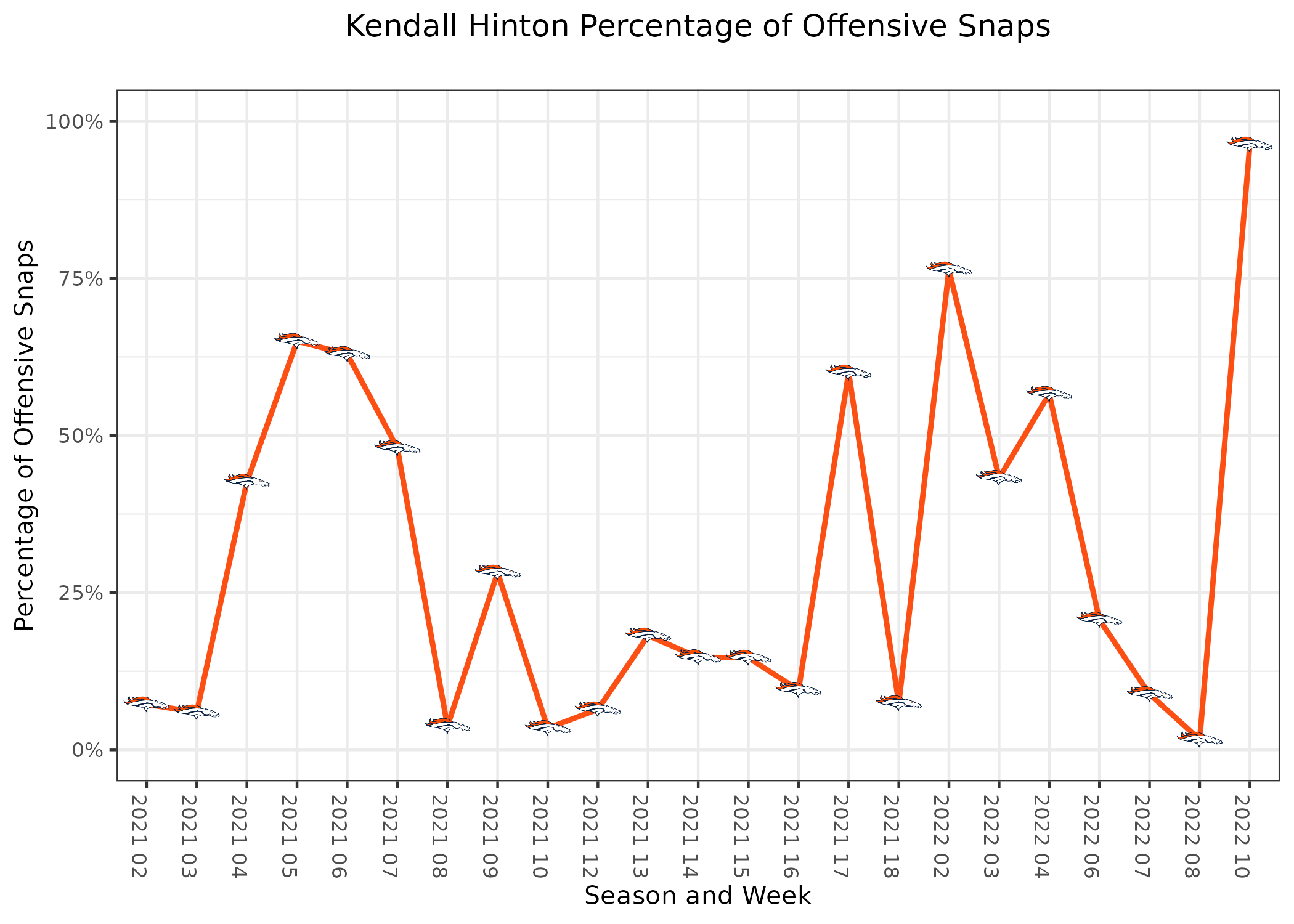 Denver is back to a three-man committee: The Broncos acquired Chase Edmonds at the trade deadline, giving them a three-man rotation.
Edmonds rotated in most situations rather than just focusing on passing downs.

Melvin Gordon III

and

Latavius Murray

continued to split early-down snaps, with Gordon seeing many more snaps due to his passing-down work.

It wouldn't be surprising to see Edmonds take more of Gordon's snaps on passing downs as the season progresses.

The Broncos have one of the

worst remaining schedules for running backs

, making this three-back committee on a bad offense one to avoid.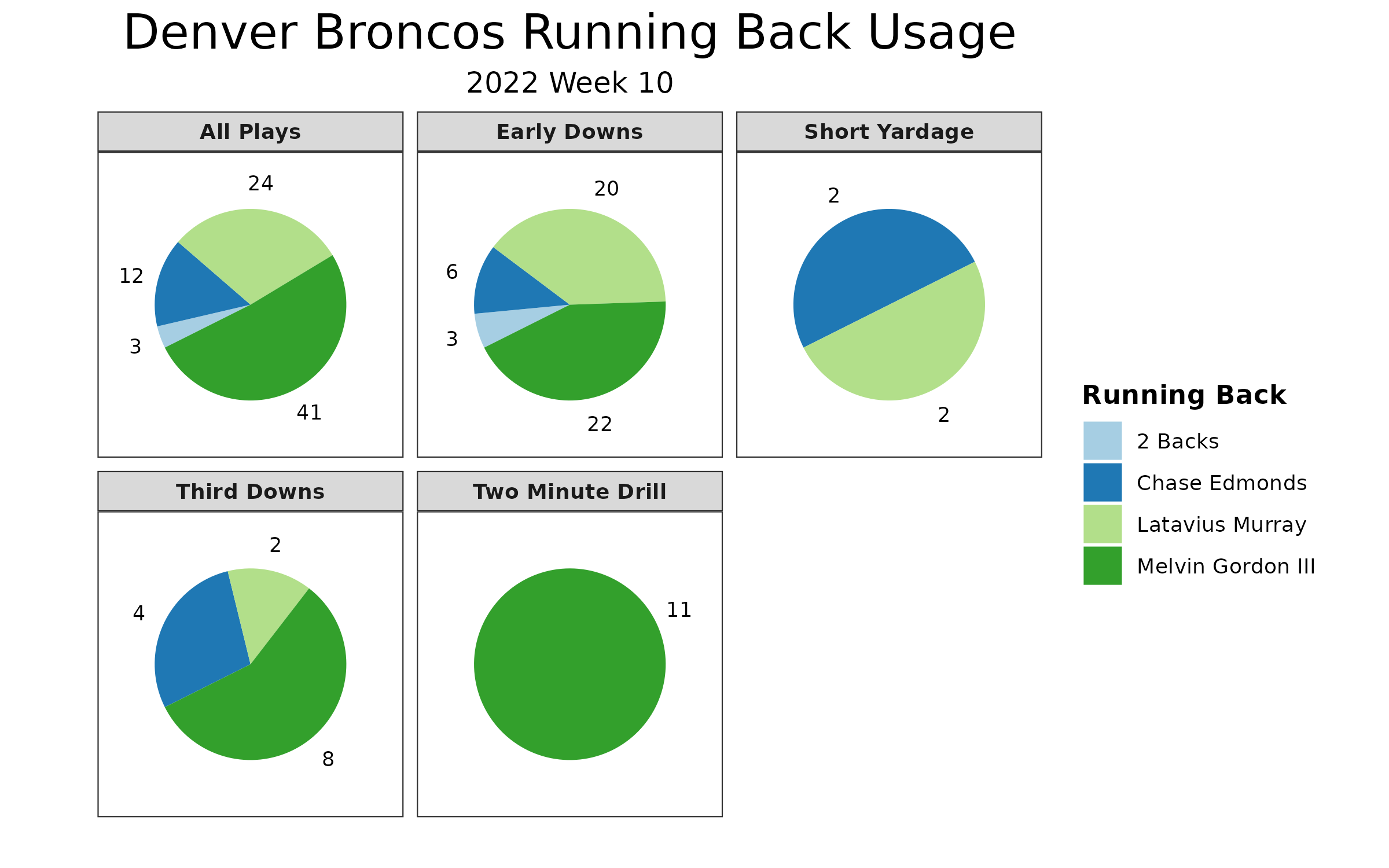 Treylon Burks' return: Burks suffered a toe injury in Week 4, which landed him on injured reserve. He was finally able to return against the Broncos.
He was not limited in his offensive usage. He played 27-of-30 snaps in 11 personnel and 7-of-18 in 12 personnel.

He didn't play at all in 13 or 21 personnel groupings, which are more run-heavy formations.

His percentage of offensive snaps could have been a career high with this usage if the game script was not in the Titans' favor in the fourth quarter.

Burks saw six targets but caught only three for 24 yards.

The Titans have an easier-than-average schedule

over the rest of the season, but that includes

difficult matchups for their wide receivers

. This is great news for

Derrick Henry

and bad news for everyone else in the Titans' offense for fantasy football.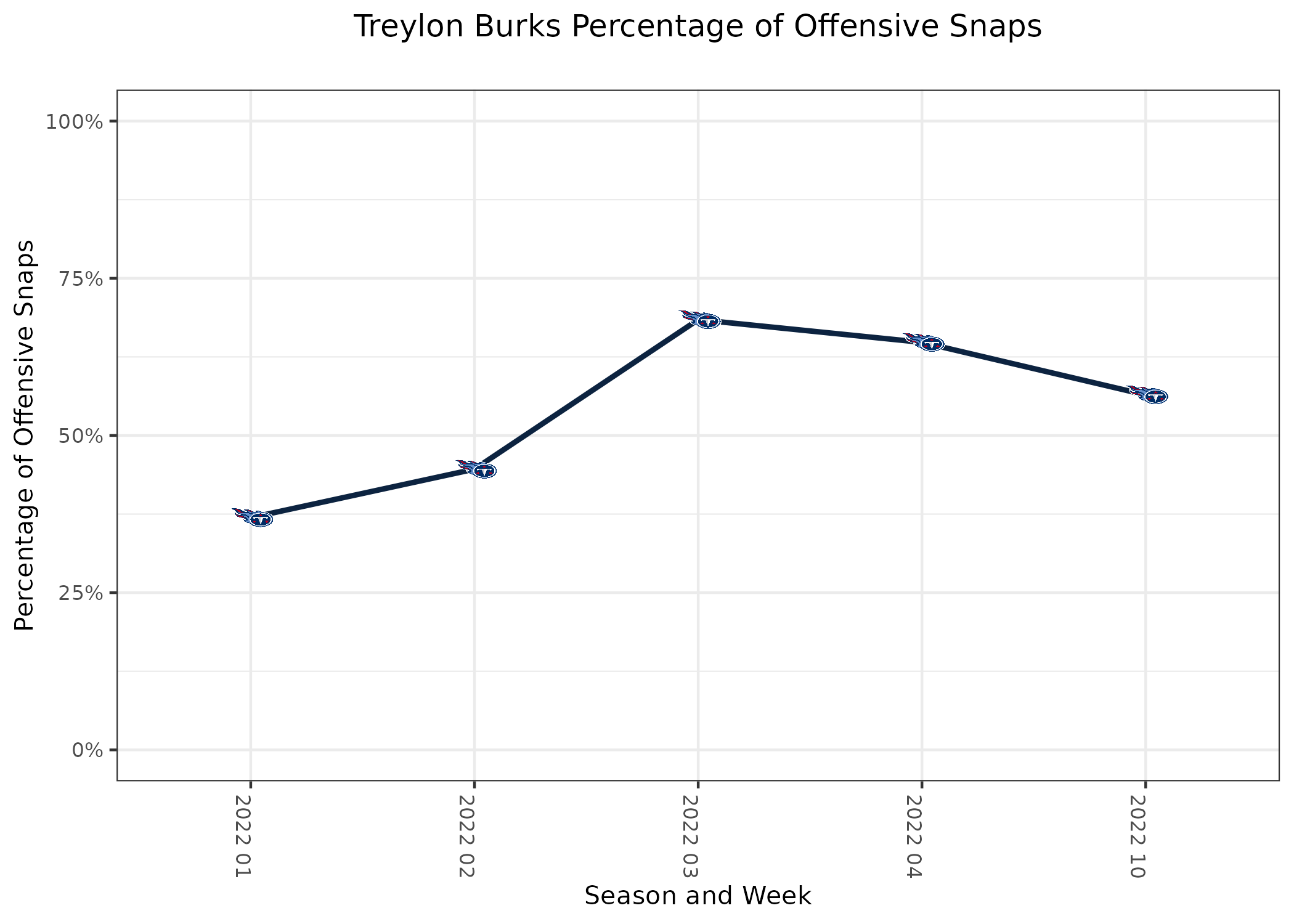 ---
• Justin Jefferson: 10 receptions, 193 yards, 1 touchdown
• Dalvin Cook: 14 carries, 119 yards, 1 touchdown, 3 receptions, 27 receiving yards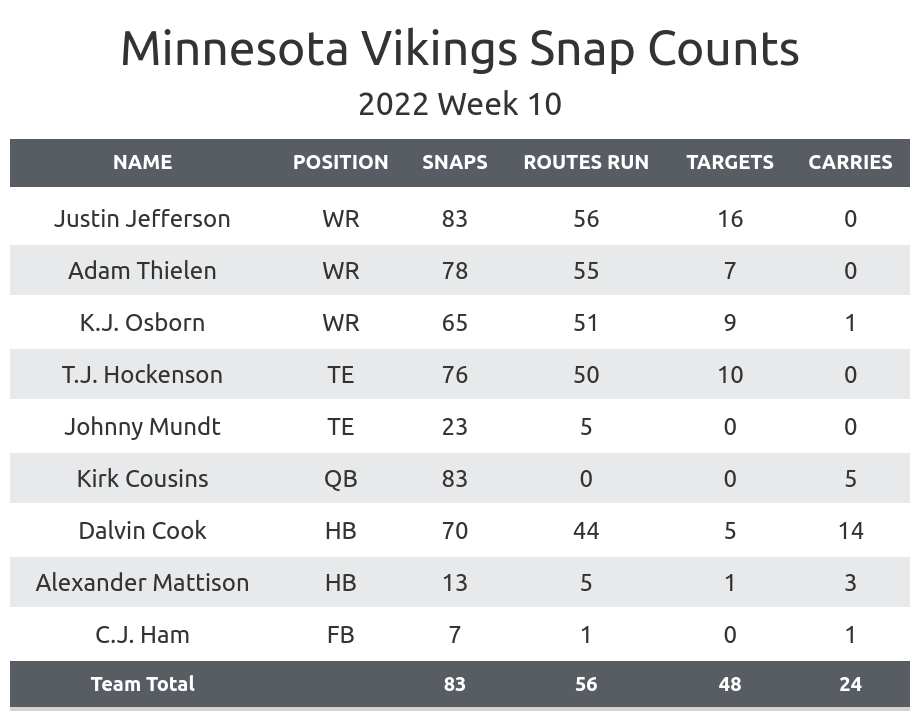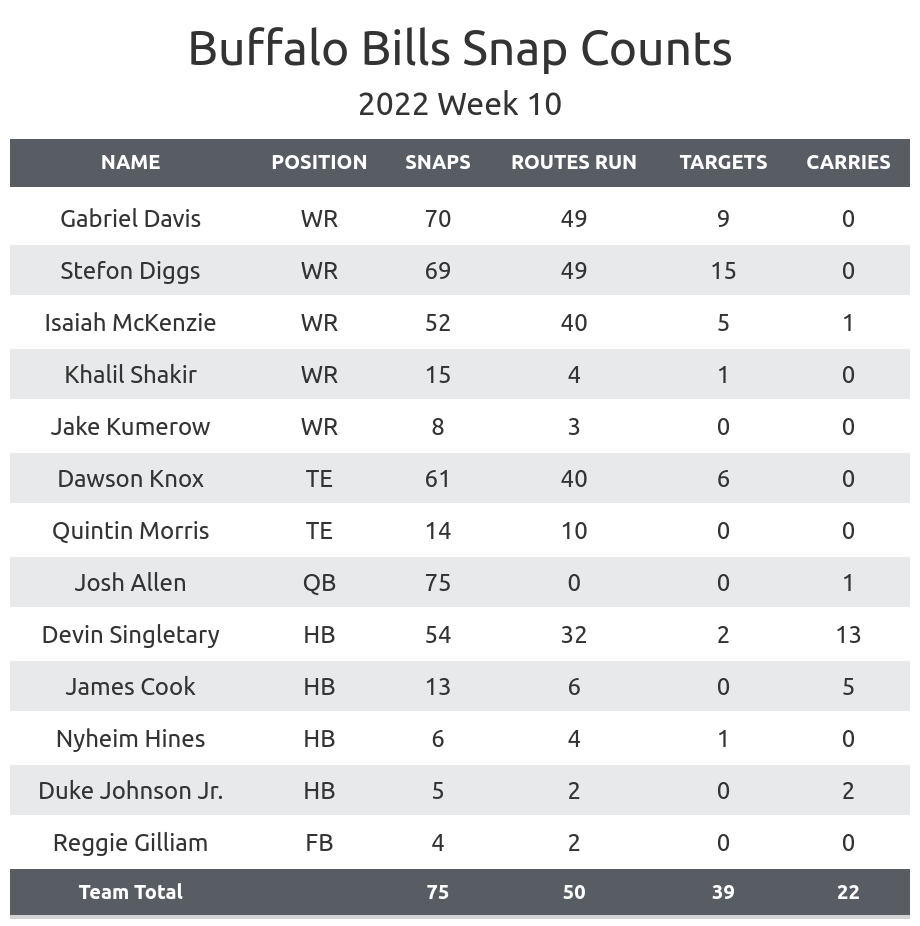 Add Isaiah McKenzie: McKenzie continues to see his playing time rise each week.
He caught four passes for 37 yards and ran the ball once for 18 yards.

He is particularly an interesting option these next two weeks, as the Bills will have a chance to beat up on two 3-6 teams after back-to-back losses.

Both teams are in the top half of the league in allowing fantasy points to wide receivers.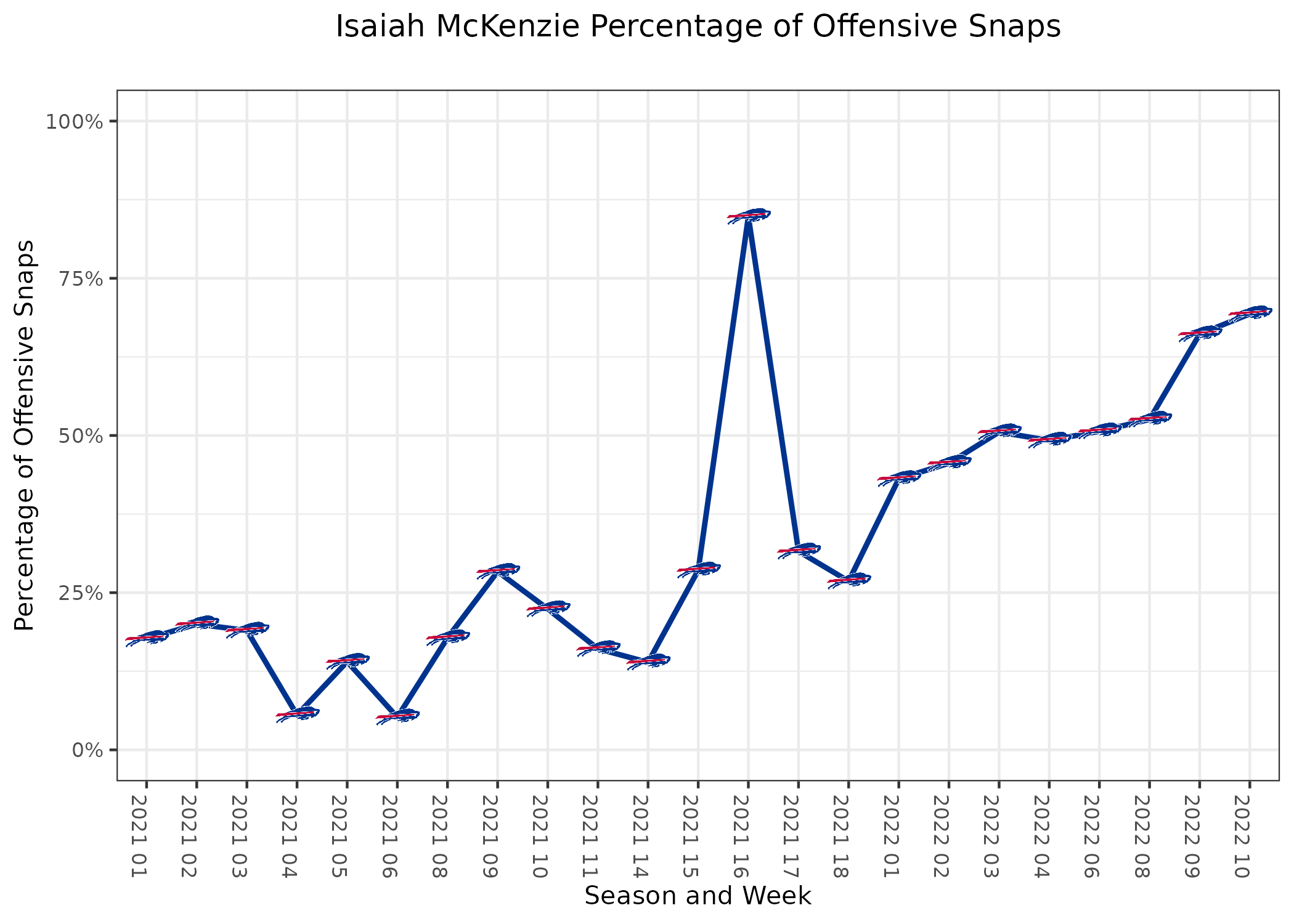 Bills' backfield gets more complicated: Buffalo traded for Nyheim Hines two weeks ago, but he received the fourth-most snaps among the team's running backs in one-running back sets.
James Cook

saw a slight decrease in playing time, which isn't too surprising given the game script. He carried five times for just the third time this season, and he didn't run many routes.

Duke Johnson

was active for the first this season and took significant snaps in short-yardage situations.

Hines primarily played on first downs despite being known as a third-down specialist. Half of his snaps came in two-running back sets.

If Hines doesn't see more snaps in the next week or two, it would be fine to drop him.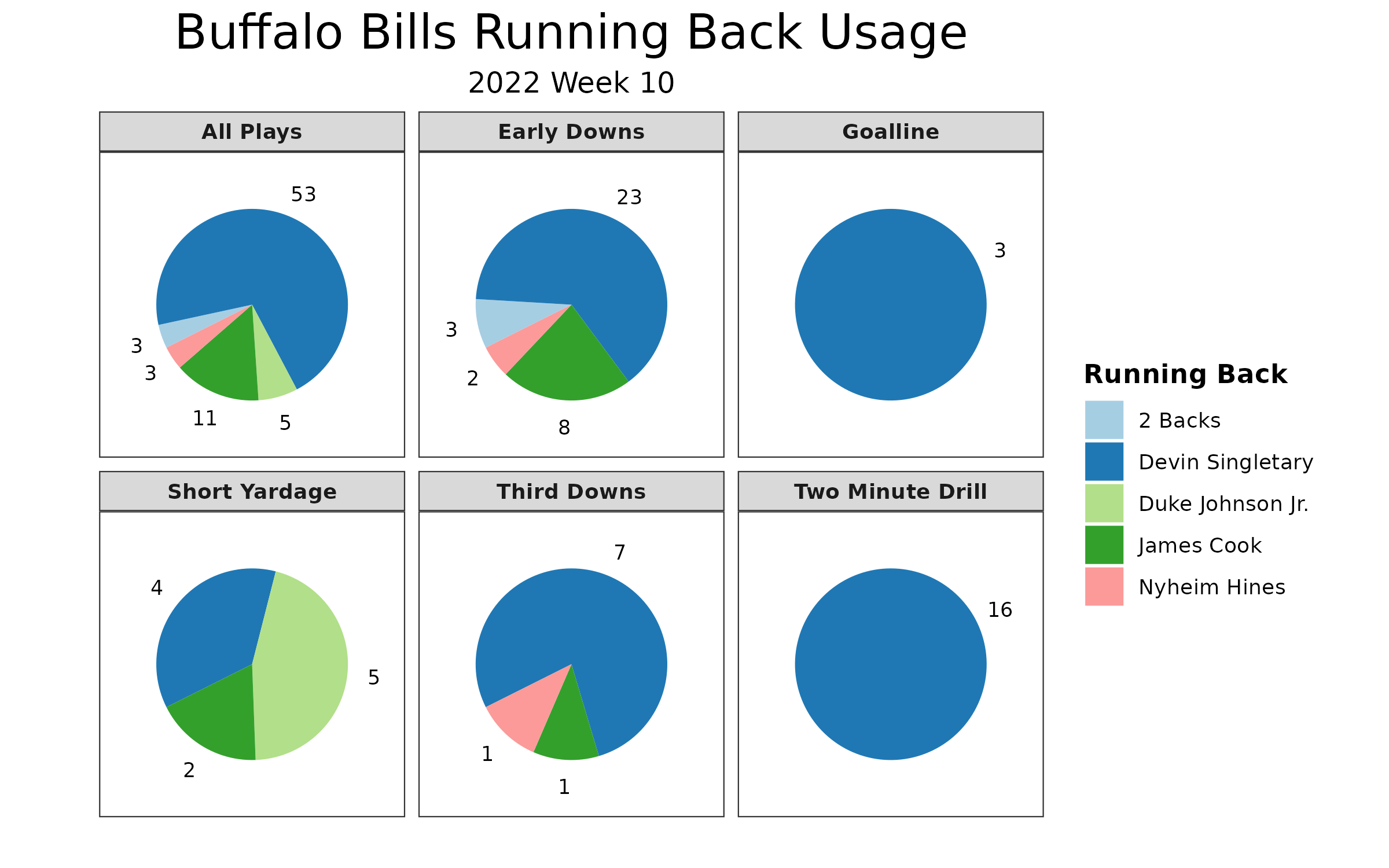 Drop Alexander Mattison: There was a point earlier in the season when the Vikings were moving closer to a running back committee. That is no longer the case.
We are on four straight games of

Dalvin Cook

playing over 75% of offensive snaps. It is the first time in Cook's career that he's played that much in four consecutive outings.

Mattison remains one of the top handcuffs in the NFL, but as the season progresses, the return value of holding onto handcuffs decreases.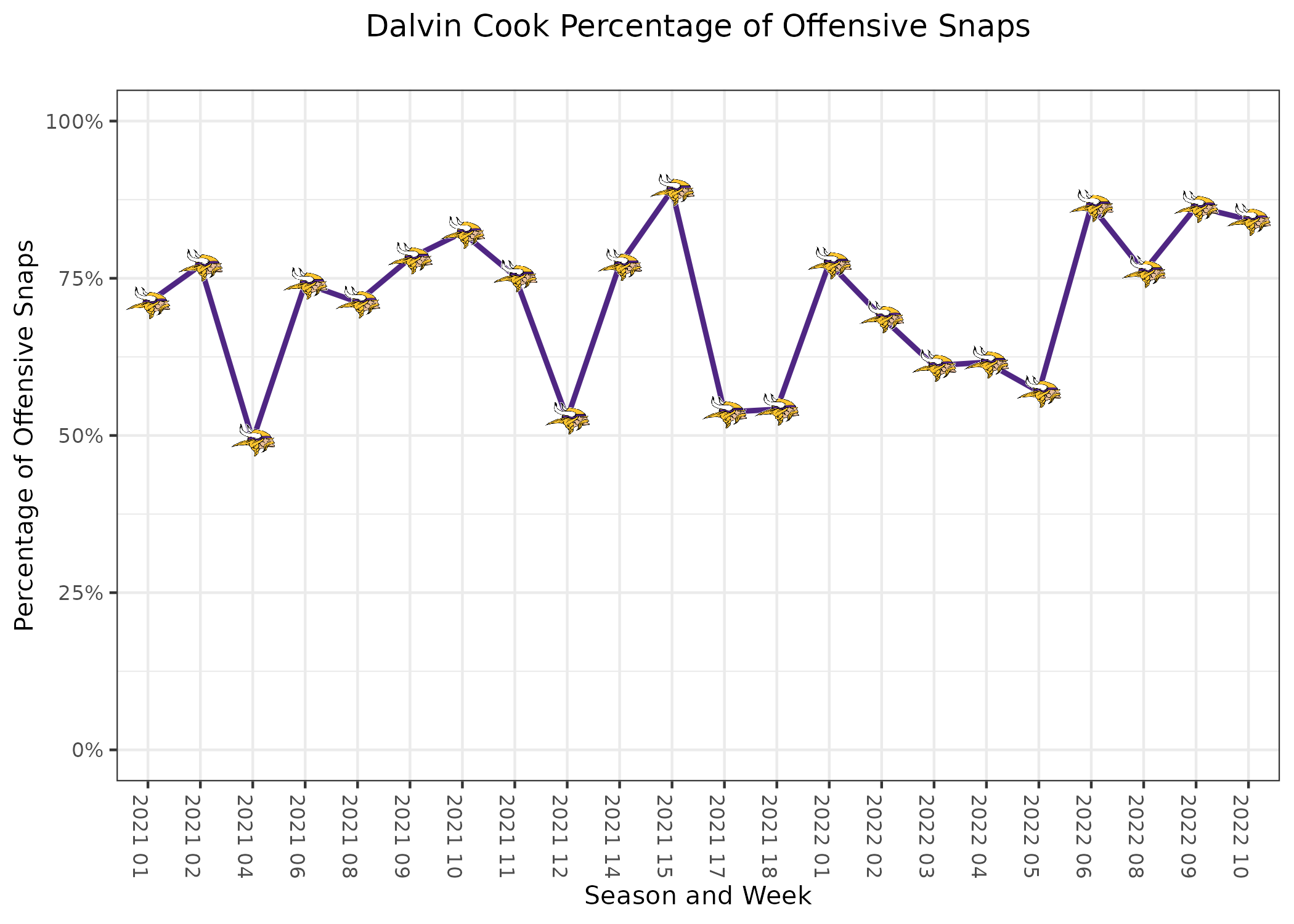 ---
• Saquon Barkley: 35 carries, 152 yards, 1 touchdown, 1 reception, 8 receiving yards
• Darius Slayton: 3 receptions, 95 yards, 1 touchdown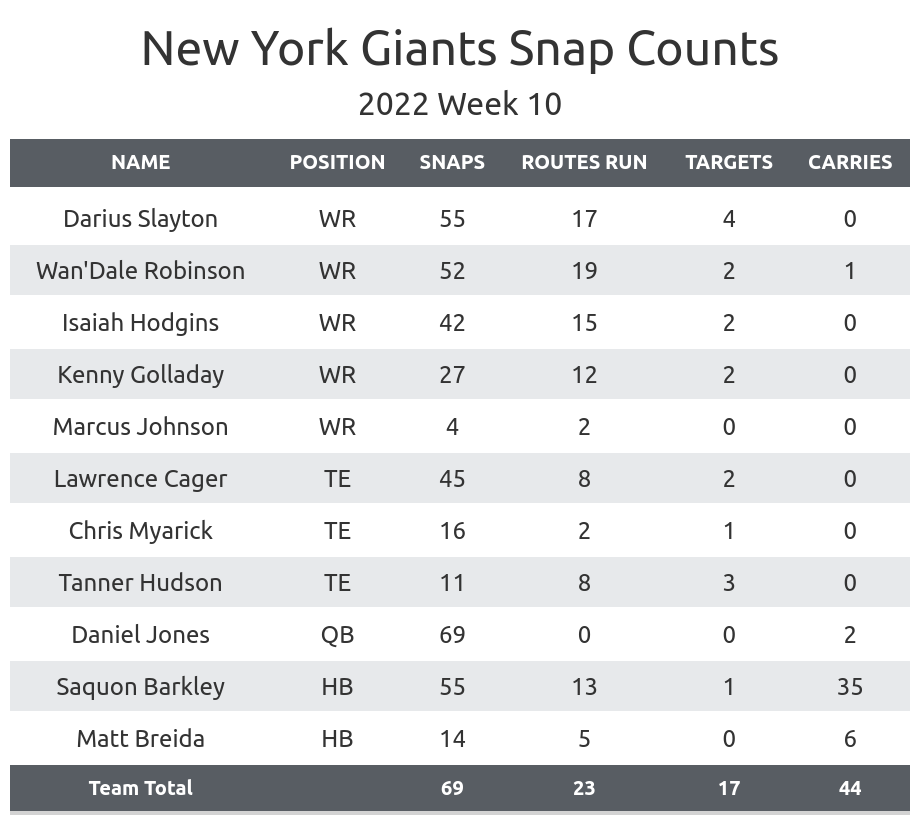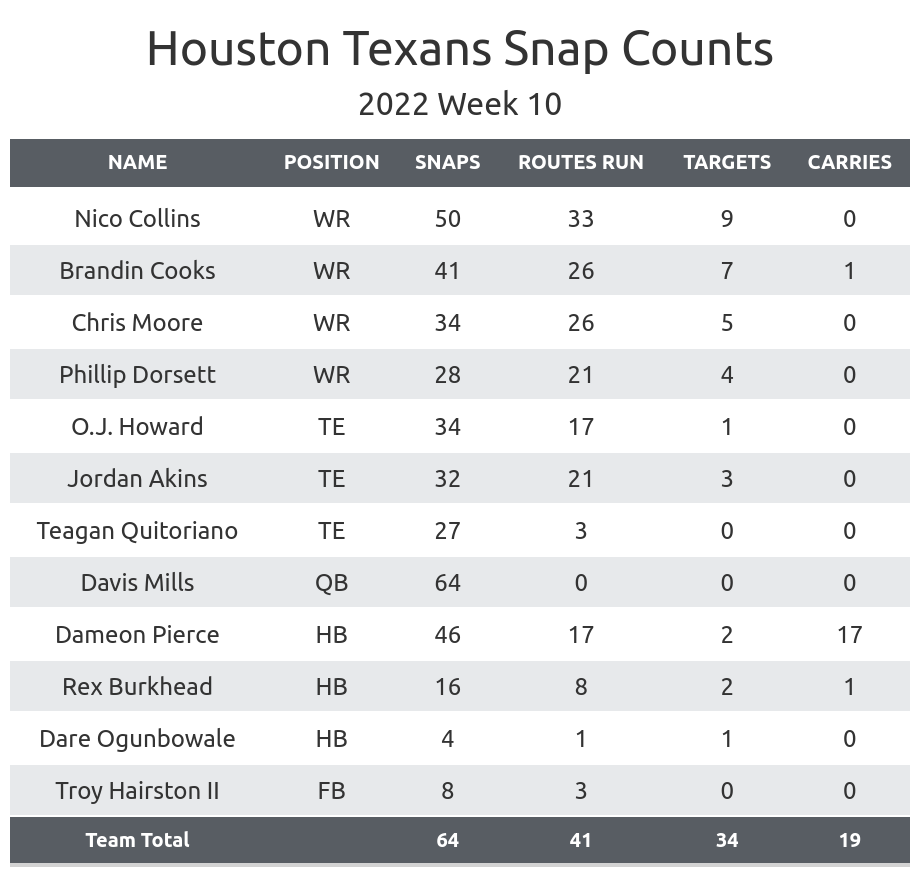 Brandin Cooks' return: The Texans' disgruntled receiver returned to the team after not being traded and missing last week, but he didn't see his usual snap share.
The team stripped him of his captain status before the game.

Cooks also appeared on the injury report with a wrist ailment, which left him limited in practice.

He caught four passes for 37 yards.

Phillip Dorsett

and

Chris Moore

started at wide receiver for Houston last week. They fell back to third and fourth on the depth chart, but both saw more playing time than usual with Cooks subbing out more frequently.

Nico Collins

missed last week due to injury. He was Houston's top wide receiver in this game, both in terms of offensive snaps and targets.

Cooks used to be a must-start in most fantasy leagues, but this is a situation that could get worse rather than better.

This makes Collins a waiver wire option in deeper leagues, as he could be the top wide receiver in Houston for the rest of the season.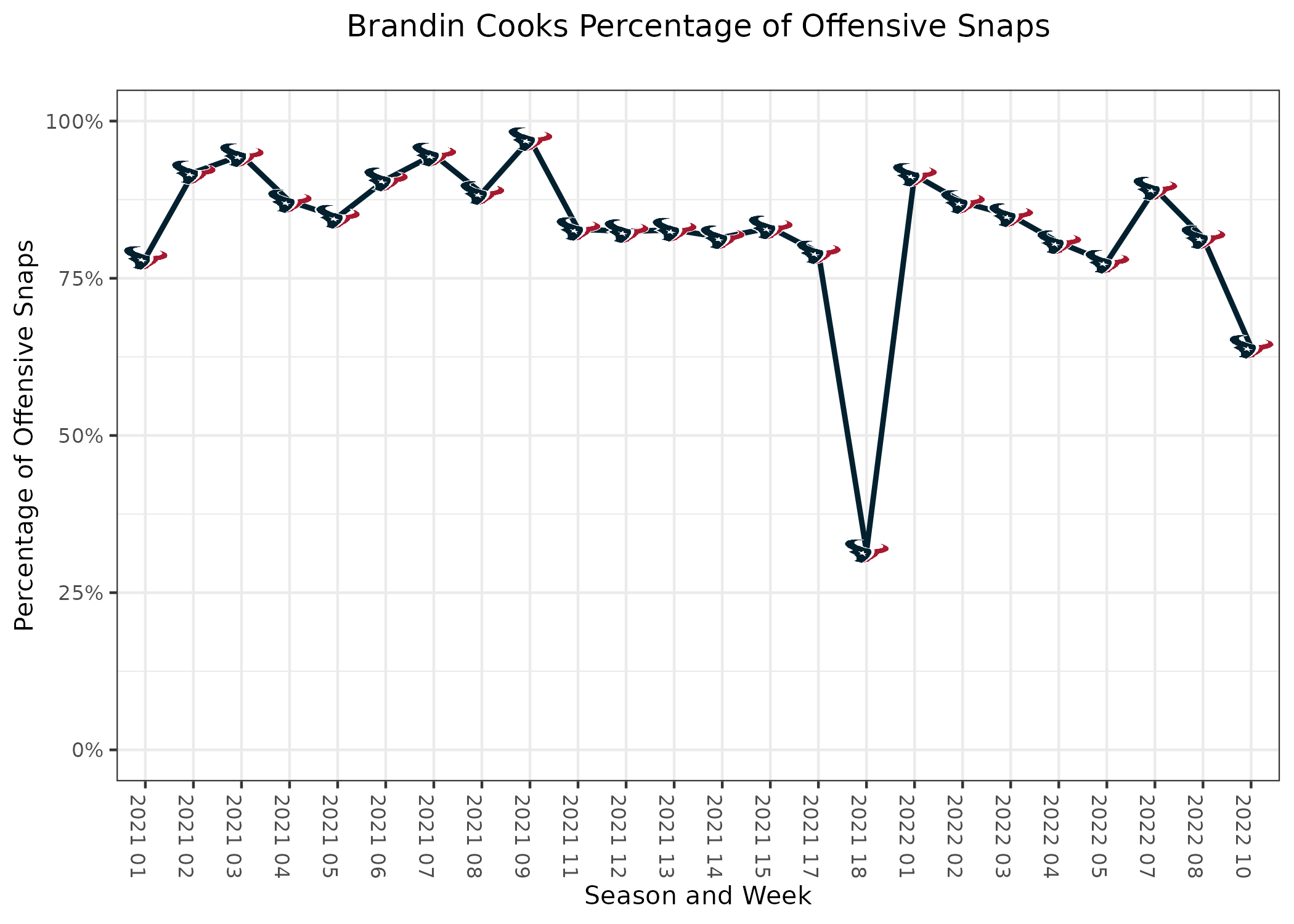 Texans' tight end room continues to evolve: The Texans tested out a complicated four-man rotation at tight end in recent weeks but went to a three-man unit in this game, with Brevin Jordan serving as a healthy inactive.
Jordan Akins

was the primary receiving tight end, but

O.J. Howard

also saw plenty of playing time in receiving situations.

Teagan Quitoriano

primarily served as a blocker.

Akins caught three passes for 72 yards, making it likely he remains the top receiving tight end.

This is still a situation to completely avoid. Jordan was the player who seemed to have the best chance of having any fantasy relevancy this winter, but that became less likely today.
Kenny Golladay's return: Golladay saw his first offensive action since Week 4, but his return was overshadowed by a recent addition.
Golladay was still limited all week with a knee injury.

Isaiah Hodgins

was added off waivers from the Bills a week ago.

David Sills

, who was once a starter, was inactive. His playing time was on the decline throughout the season.

Marcus Johnson

also plummeted down the depth chart. He had been a starter in recent weeks.

Golladay, Hodgins and

Darius Slayton

rotated as outside wide receivers in the first half, and

Wan'Dale Robinson

manned the slot in three-receiver sets.

Golladay was benched at halftime, with Hodgins and Slayton seeing all of the work in the second half.

Hodgins is worth a waiver target in very deep leagues, as he went from a bottom-of-the-roster player to a potential starter over the rest of the season.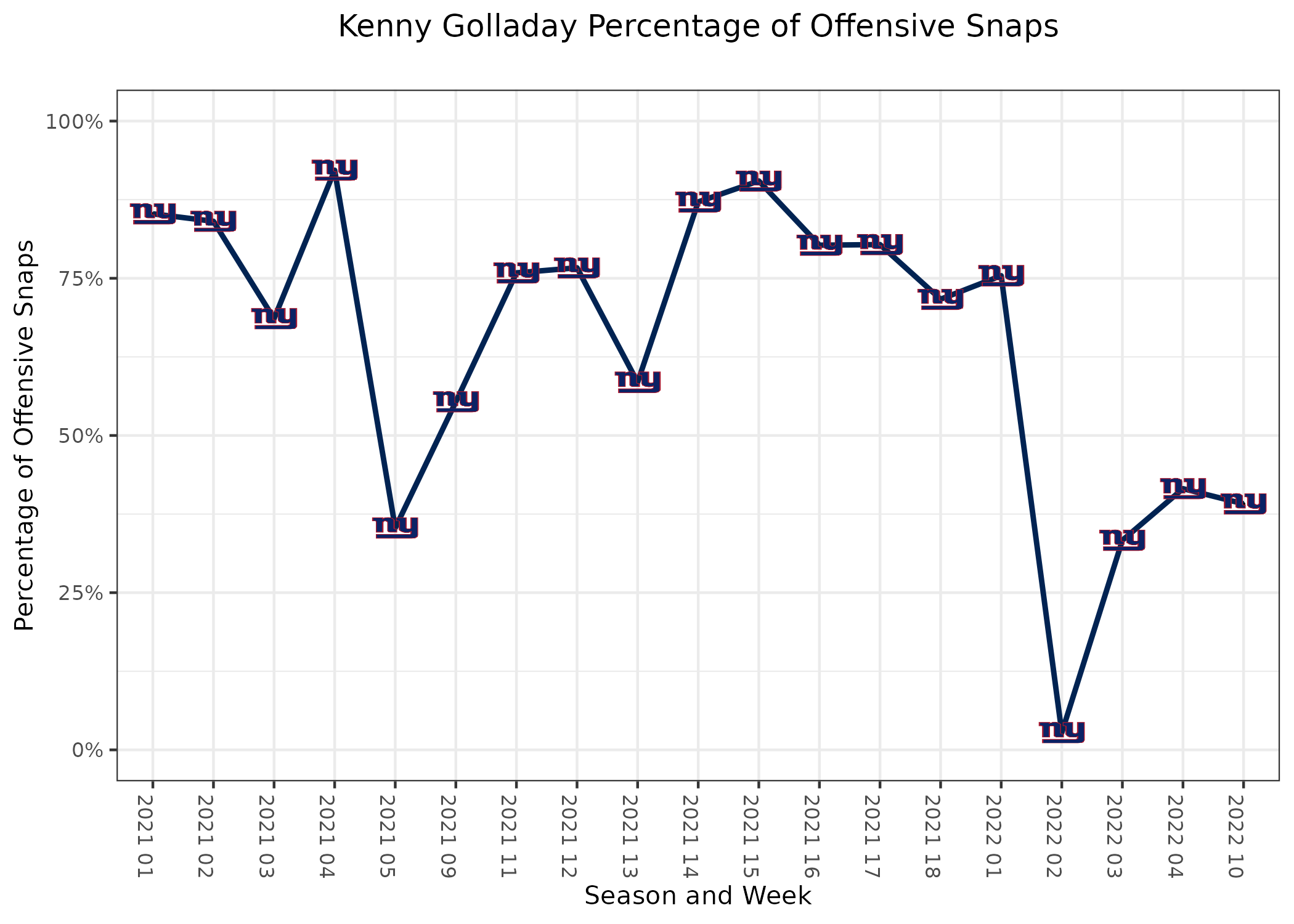 Lawrence Cager complicates Giants' receiver room: Cager became the Giants' primary tight end after making his team debut in Week 8 prior to their bye.
He took the majority of snaps in two-tight end sets, as well as 11 personnel, but served primarily as a blocker.

Cager played more offensive snaps in this game than in his first two NFL seasons combined.

Tanner Hudson

remained the team's third-down tight end.

Daniel Bellinger

is confident he can play again this season after he had surgery for his eye injury, but this makes it even more unlikely Bellinger can be fantasy relevant once he returns.
---
• Christian Kirk: 9 receptions, 105 yards, 2 touchdowns
• Travis Kelce: 6 receptions, 81 yards, 1 touchdown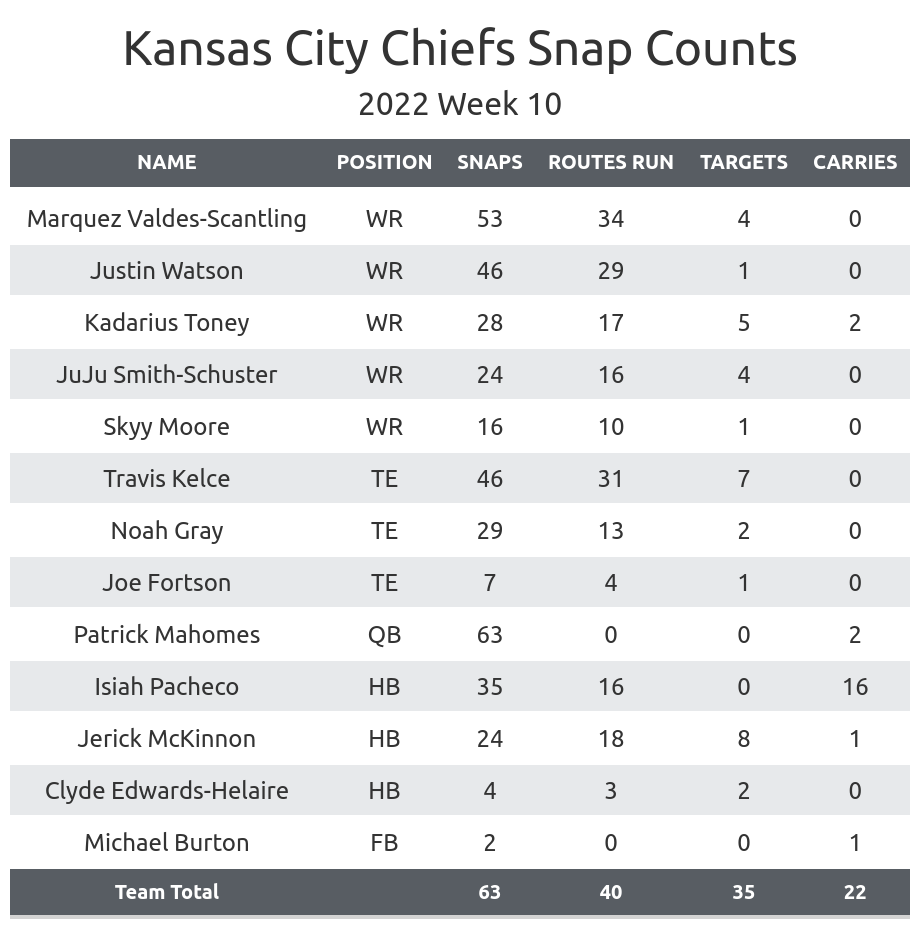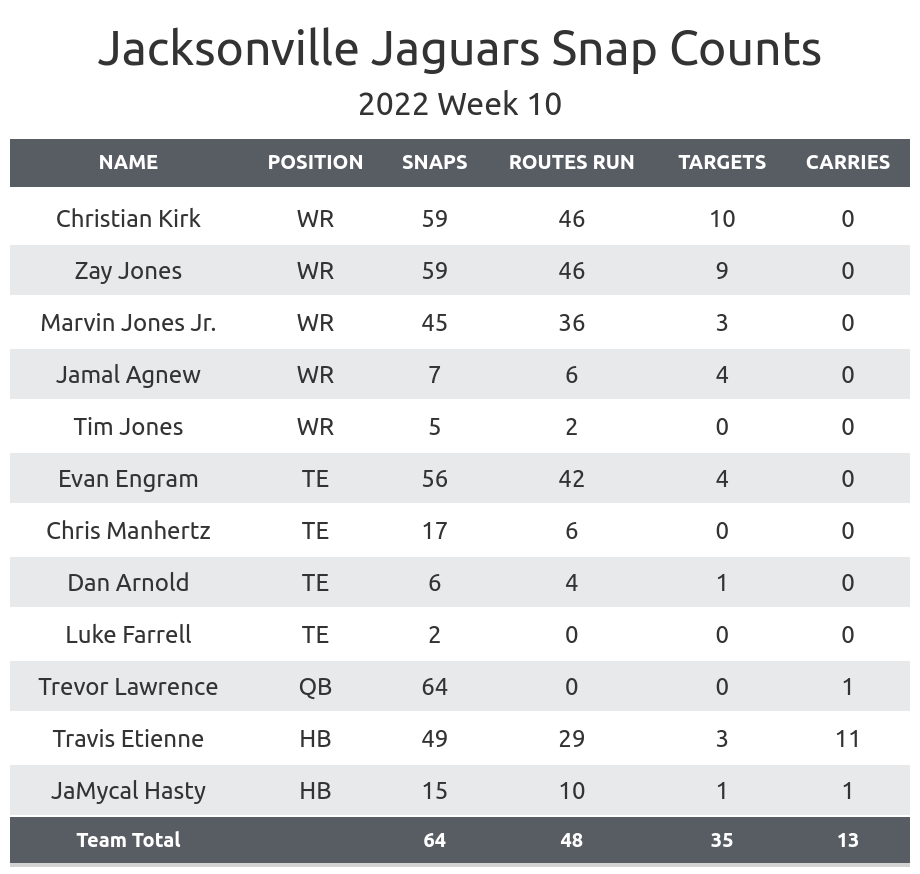 Monitor JuJu Smith-Schuster's health: The Chiefs wide receiver took a hit to the head in the middle of the second quarter and was placed in the concussion protocol.
The Chiefs were already without

Mecole Hardman

due to an abdominal injury that kept him inactive.

Kansas City usually employs a heavy rotation of wide receivers throughout the game, but both Smith-Schuster and

Marquez Valdes-Scantling

played 24-of-25 snaps on the first five drives.

Justin Watson

(12 snaps) and

Kadarius Toney

(9) split snaps in three-receiver sets on those five drives.

Skyy Moore

didn't see his first offensive snap until after Smith-Schuster's injury.

Watson played 33-of-37 offensive snaps over the rest of the game. Valdes-Scantling became the primary slot receiver, while Toney and Moore split time over the rest of the way.

Toney is the clear waiver wire target after gaining 90 yards and a touchdown in limited playing time. We can expect his playing time to increase, regardless of who is or isn't healthy.

Watson could also be a waiver wire target if the Chiefs' injured players miss more time. His numbers weren't great in this game, but he found success in limited action early in the season.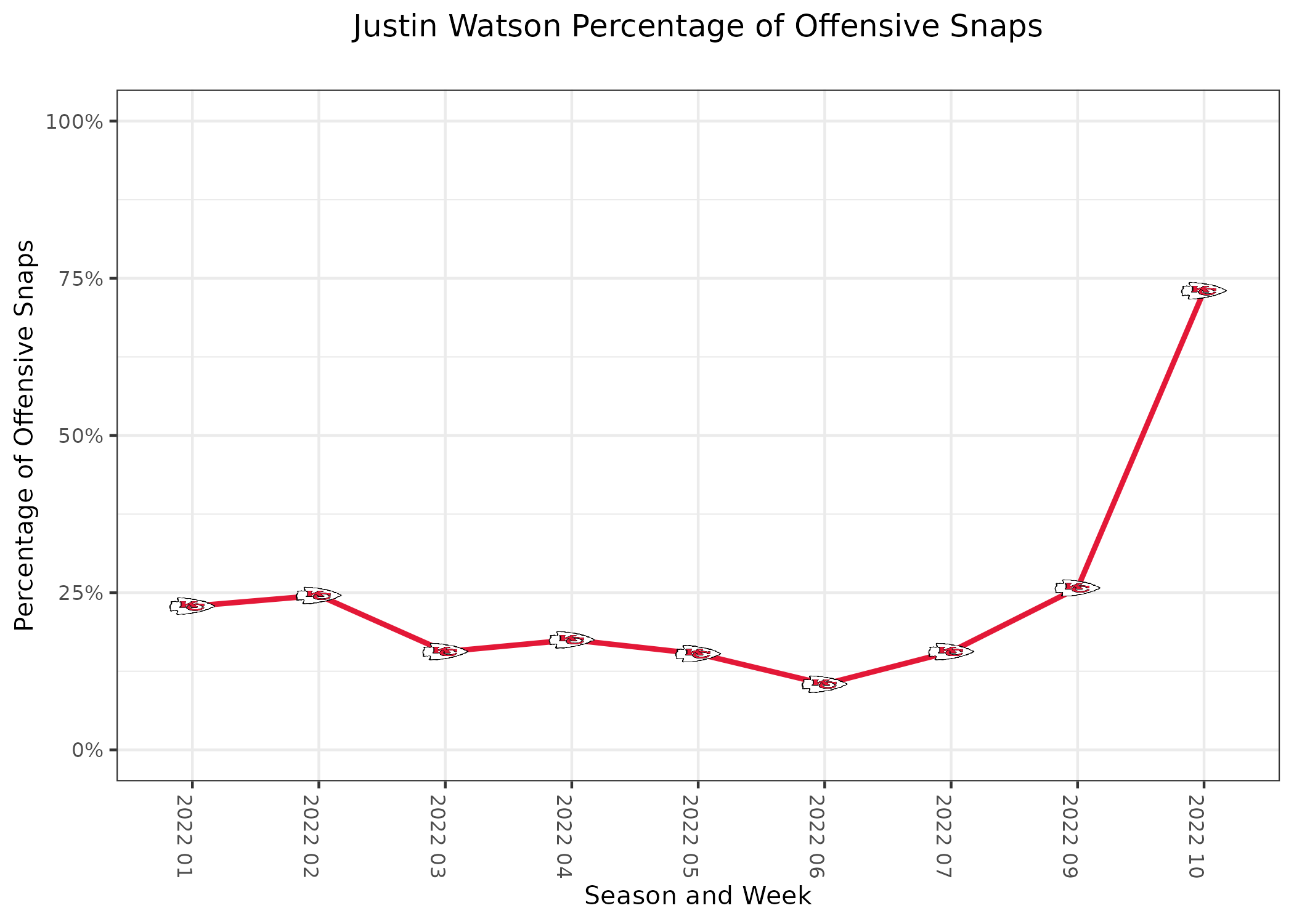 Add Isiah Pacheco, drop Clyde Edwards-Helaire: Pacheco started his third straight game for Kansas City, but this time he turned the Chiefs' three-man backfield into a two-person unit.
Pacheco took a clear majority of snaps on early downs, gaining 82 yards on 16 carries. 

Jerick McKinnon

remained the receiving back as well as the short-yardage back.

Edwards-Helaire has seen his playing time generally decline over the past two seasons, but this is a new low. He didn't see a single carry.

The Chiefs have the

fifth-easiest schedule

over the rest of the season. They should have several more games with game scripts like this where they can run a lot late.

Pacheco can not only be added, but also put in starting lineups when the Chiefs are expected to dominate their opponents.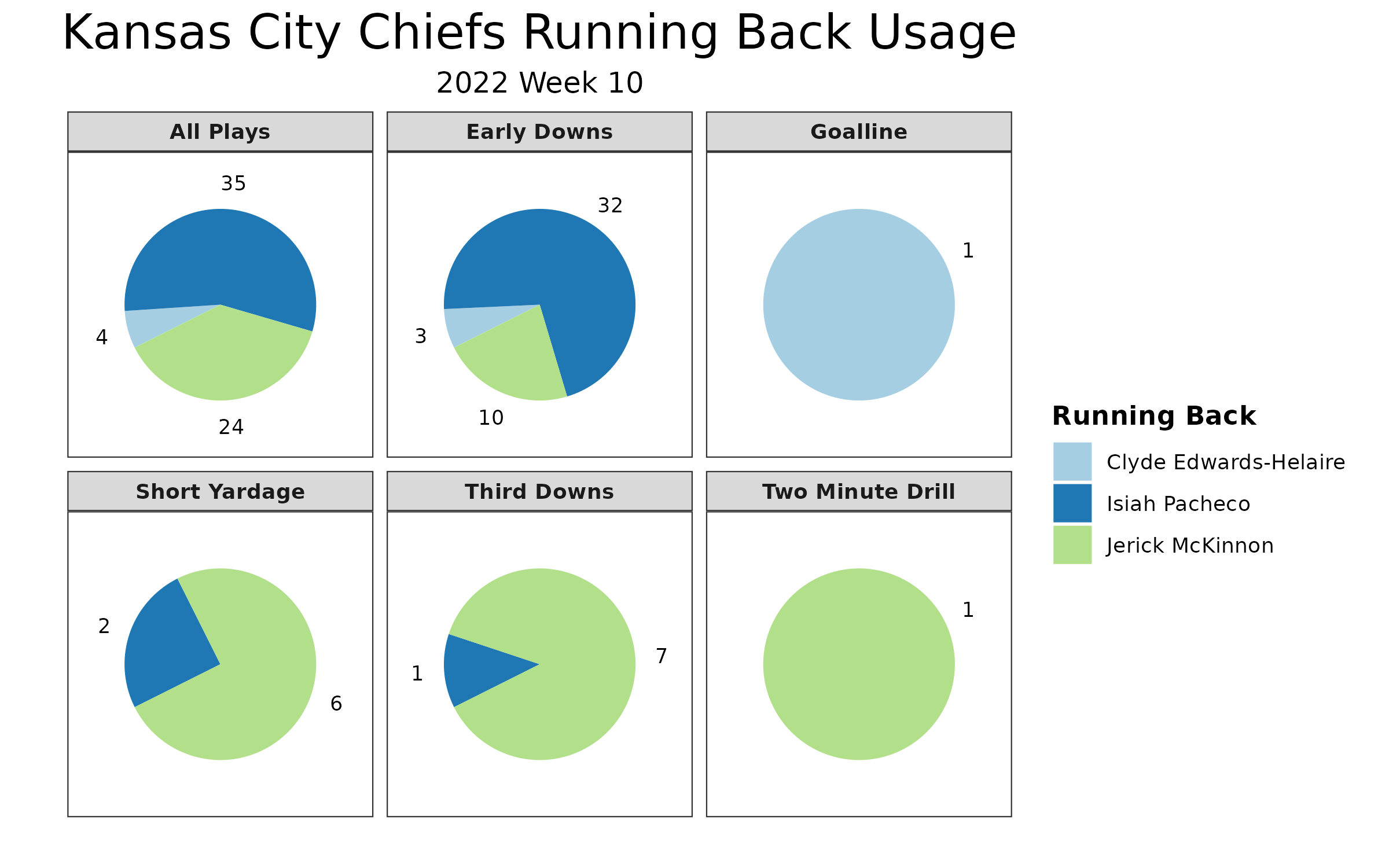 Buy low on Travis Etienne: Etienne's string of great games came to a halt, with him gaining 45 yards on 11 carries with no touchdowns.
He remained Jacksonville's clear lead back in nearly every situation, and that is unlikely to change this season, barring an injury.

The biggest problem for Jacksonville was the game script — down by 20 points at halftime.

The Jaguars have a bye next week, so a fantasy manager desperate to make the playoffs might be more willing to make a deal if they need to win in Week 11.

Jacksonville has the sixth-easiest remaining schedule for running backs, including a Week 17 matchup against the Texans, who allowed the most fantasy points to running backs.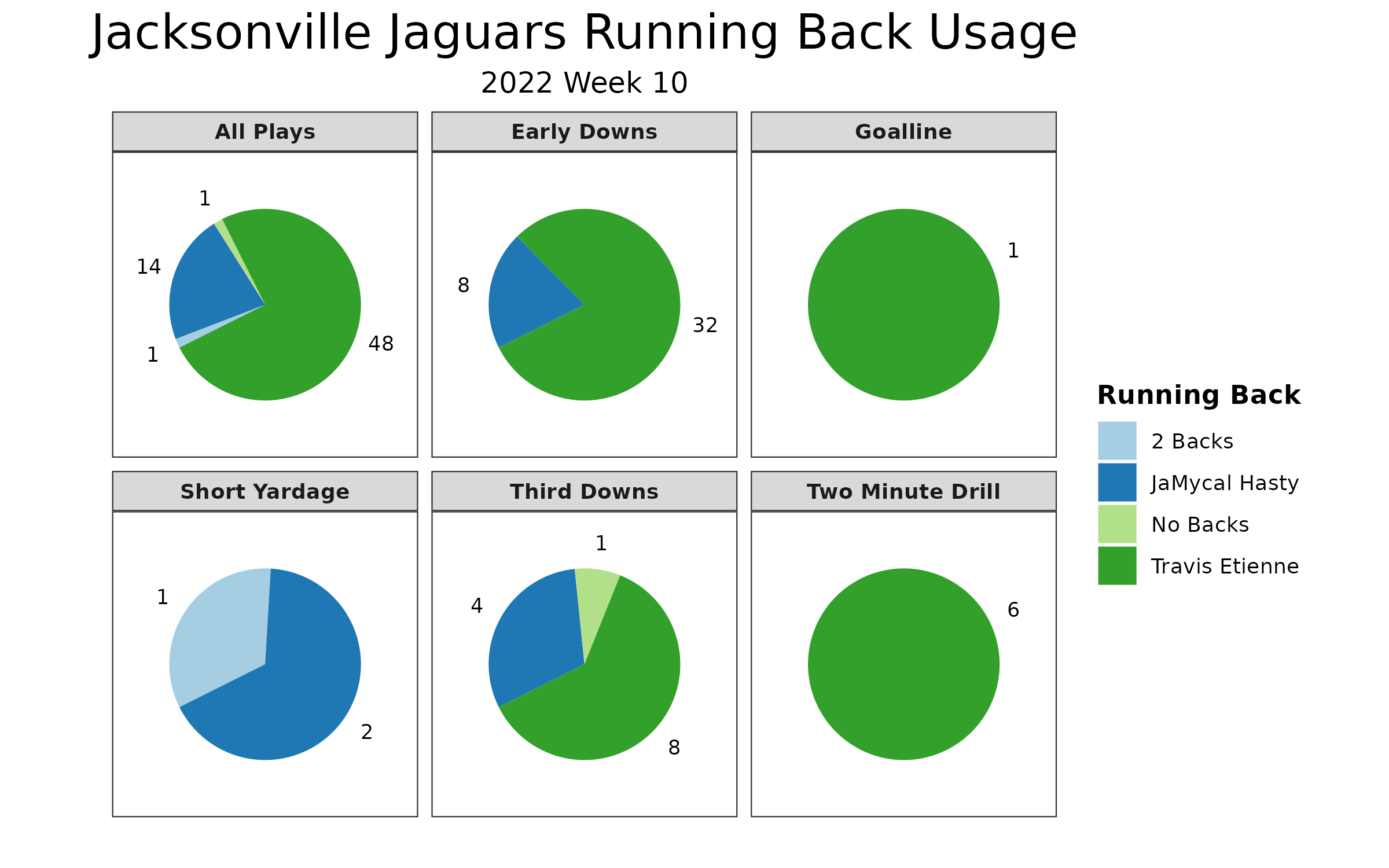 ---
• George Pickens: 3 receptions, 32 yards, 2 rushing attempts, 23 rushing yards, 1 rushing touchdown 
• Juwan Johnson: 5 receptions, 44 yards, 1 touchdown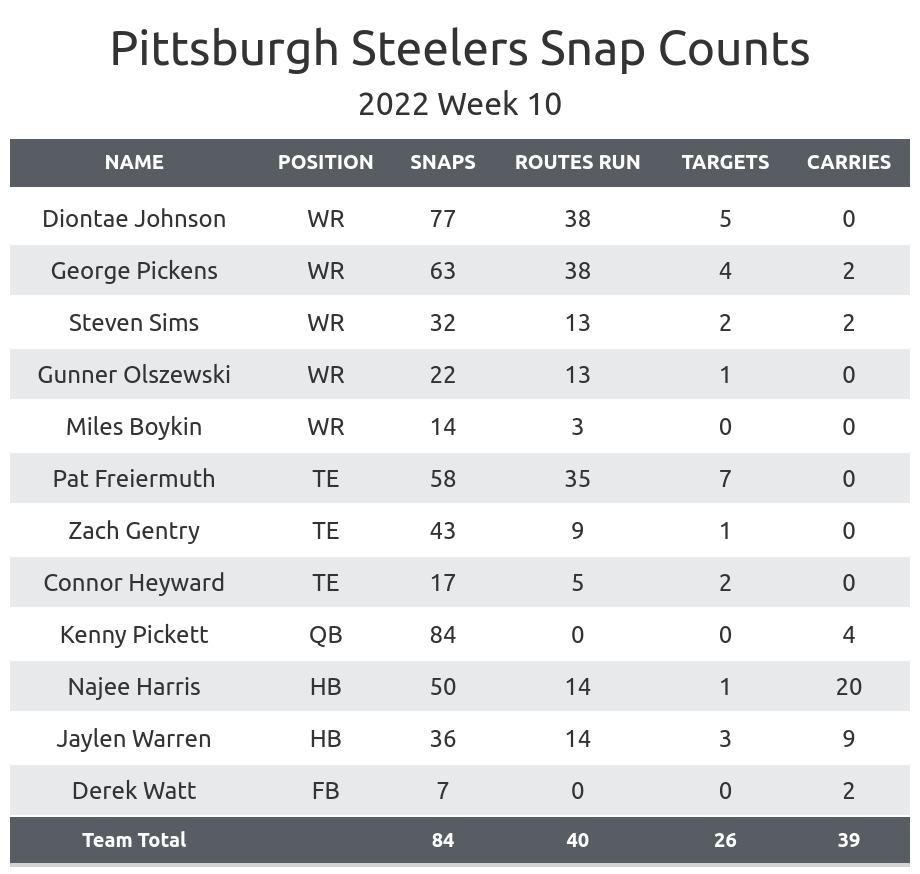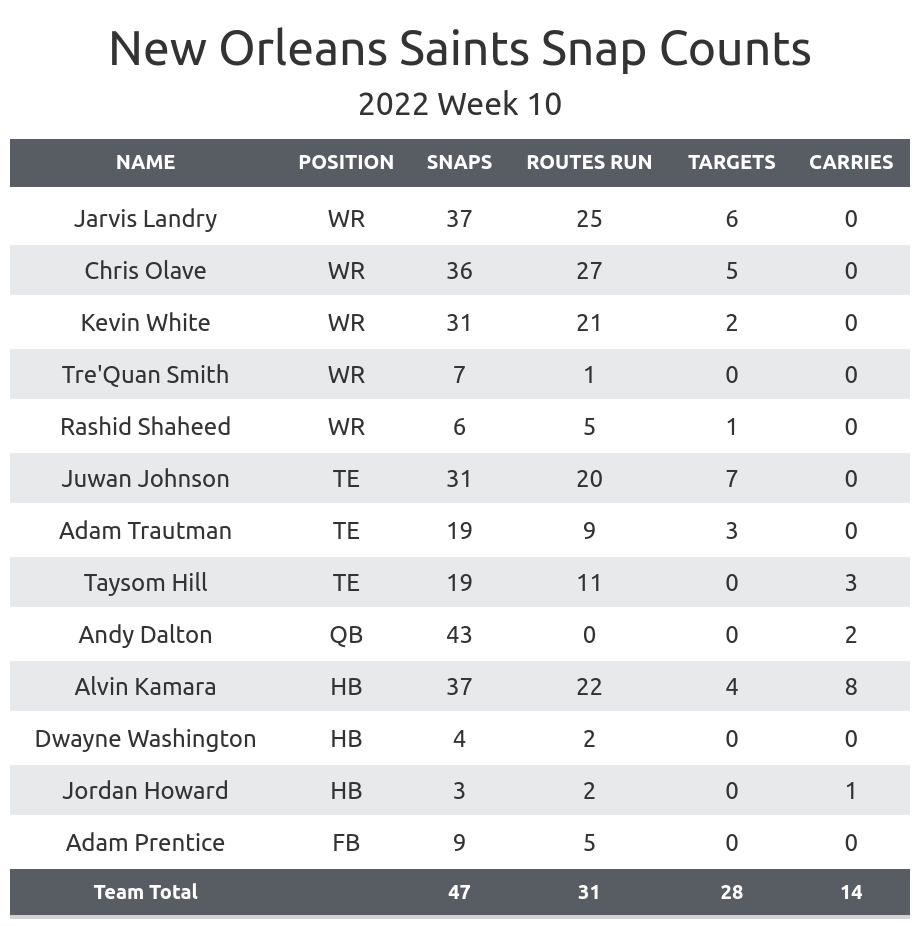 The Steelers without Chase Claypool: The Steelers traded Claypool over a week ago, but Pittsburgh was on a bye last week, making this the team's first game trying to replace him.
Claypool had played 60-of-84 snaps in 12 personnel over the first eight weeks.

George Pickens

unsurprisingly took most of those snaps, playing 19-of-27 snaps from that personnel grouping, including 17-of-18 on pass plays.

The trade also left the Steelers using more 12 personnel than they had earlier in the season.

Gunner Olszewski

and

Steven Sims

handled an even 22-to-22 split out of 11 personnel.

Sims was the player to take over for Pickens in 12 personnel in running situations, which is why Sims played more offensive snaps overall.

Pickens has been a waiver wire target most weeks, and he's still available in plenty of leagues.

It was a team effort taking over for Claypool, making no other player a waiver target.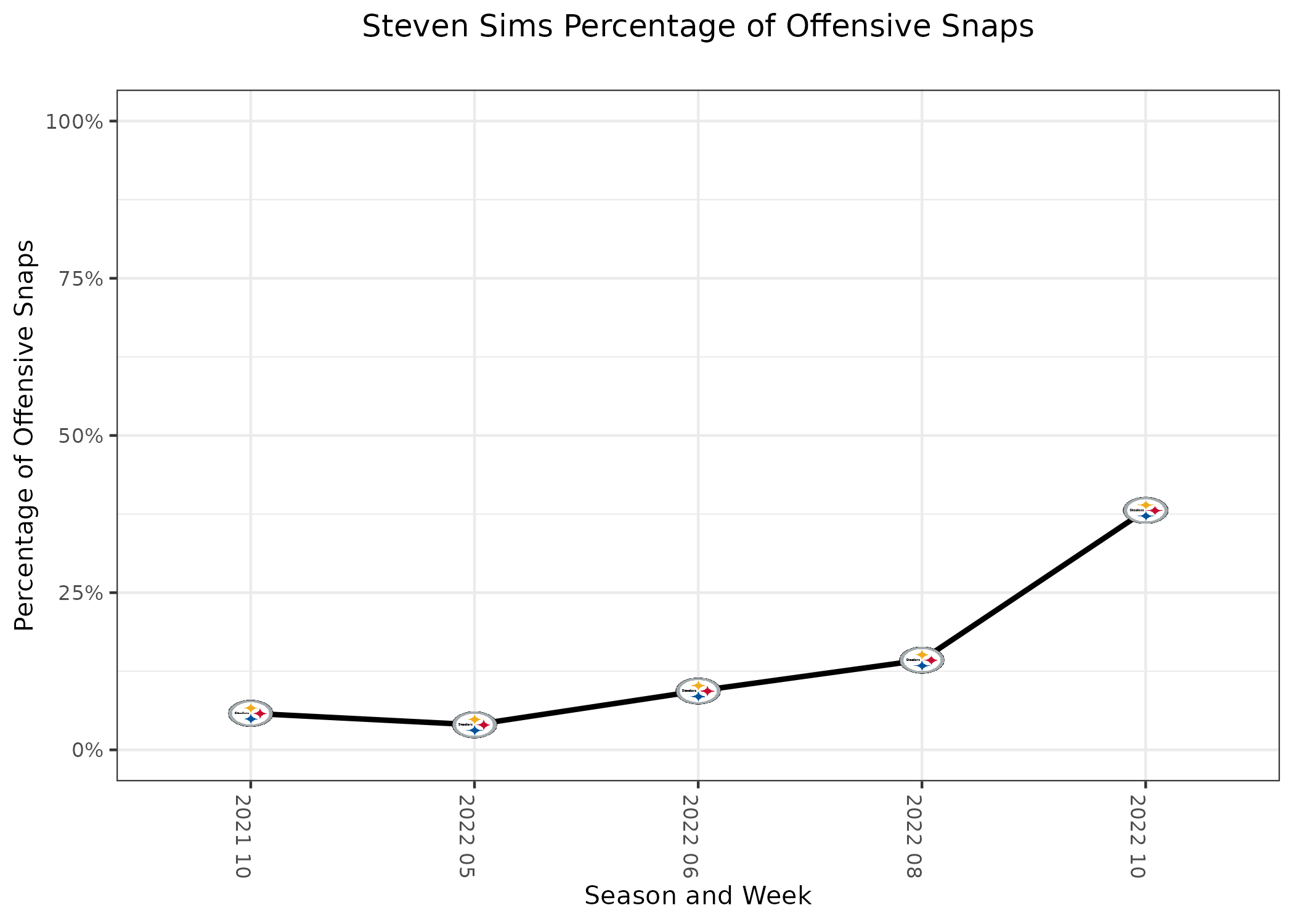 Add Jaylen Warren: Najee Harris put together his best rushing performance of the season, but that didn't stop Warren from seeing more offensive snaps than usual.
Warren was the team's third-down back, as has been the case in recent weeks.

The difference this week is that Warren saw a higher percentage of snaps on early downs, as well as some time in short-yardage situations.

Warren gained 37 yards on nine carries and caught three passes for 40 yards.

He could become a bigger part of the pass game after the Claypool trade, as he is no longer the clear fifth receiving option for the Steelers on third downs.

There is still a chance Warren overtakes Harris on early downs this season, as we've seen happen with other rookie running backs this week.

Harris is a clear sell-high candidate after this performance.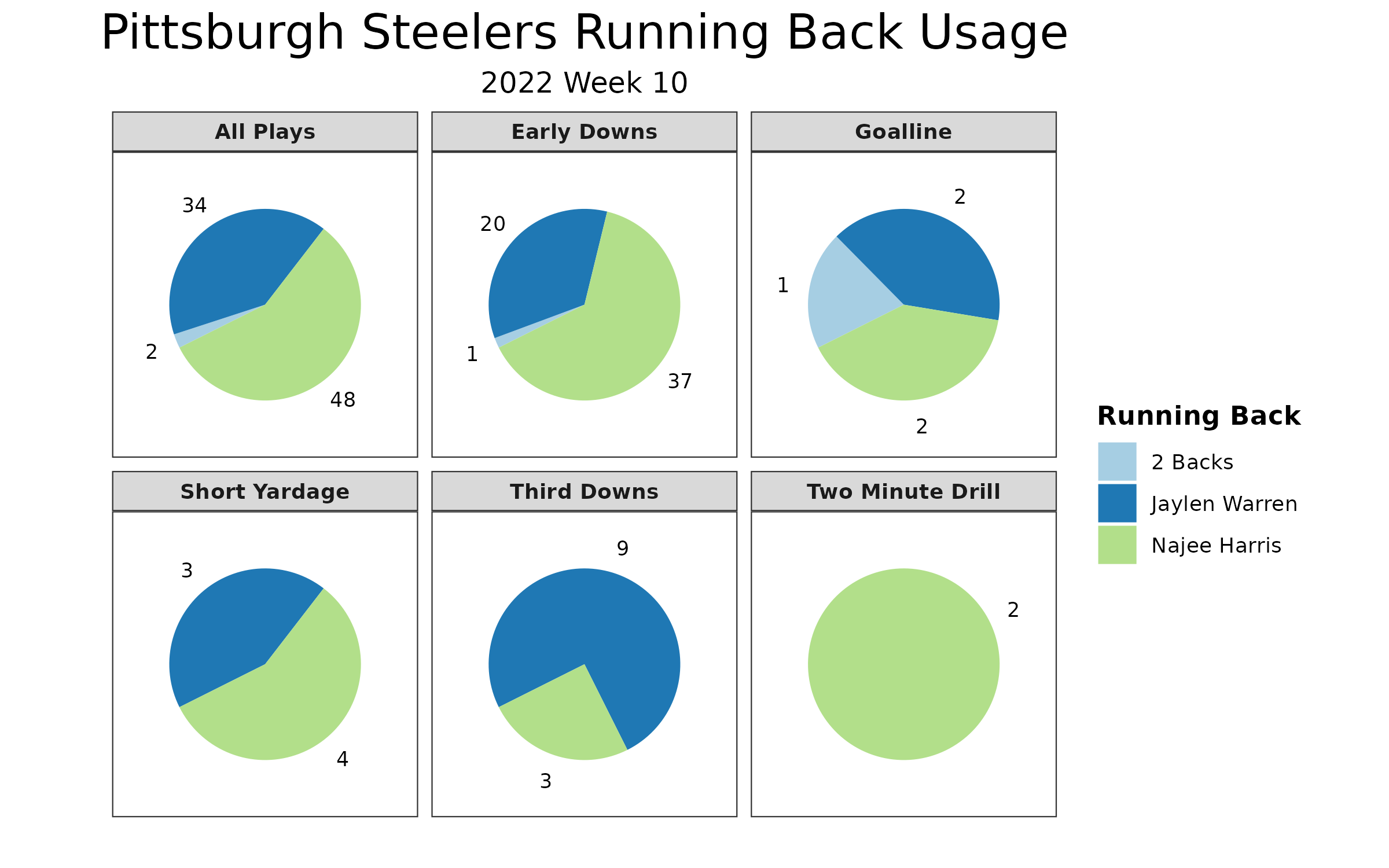 Jarvis Landry's return: The Saints wide receiver rejoined the lineup after last playing in Week 4.
He went straight to being one of the top options on the offense, playing a clear majority of snaps and finishing second in routes run and targets on the team.

His potential for targets is even higher than it was last time he was healthy since

Michael Thomas

is out for the season.

Marquez Callaway

was a healthy inactive with Landry back.

Landry caught three of his targets for 37 yards.

The Saints lost the time of possession battle. Landry's role will lead to more fantasy points when the Saints are running more plays.

This makes him a waiver wire target.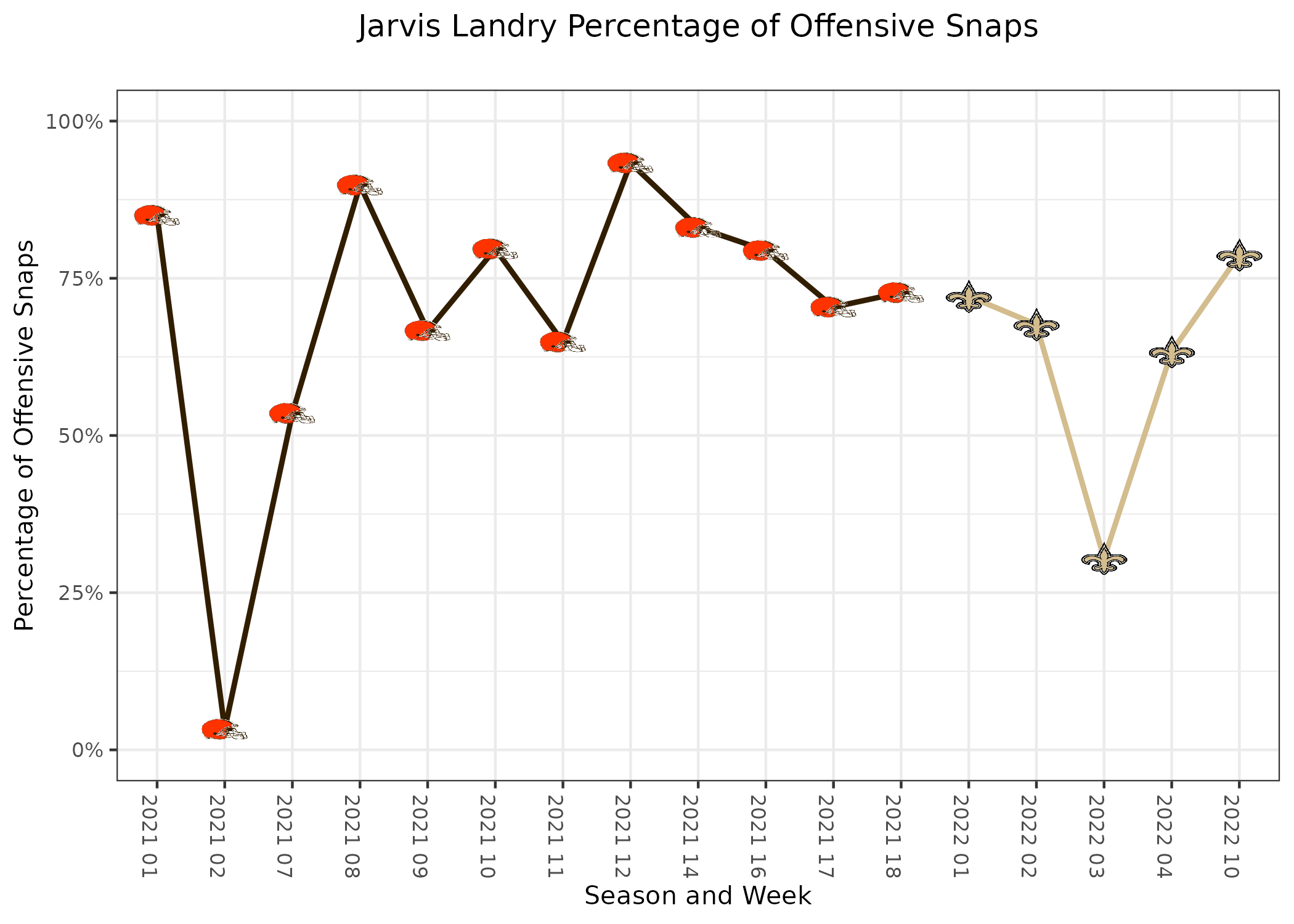 ---
• Jonathan Taylor: 22 carries, 147 yards, one touchdown; 2 receptions, 16 receiving yards
• Davante Adams: 9 receptions, 126 yards, 1 touchdown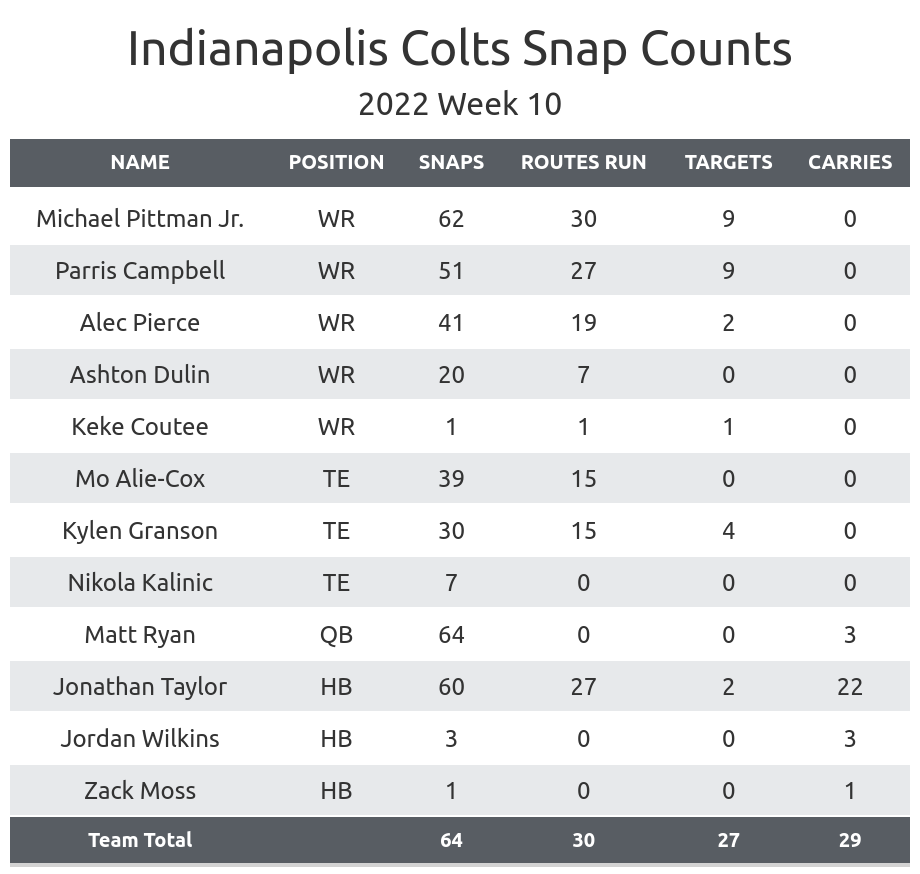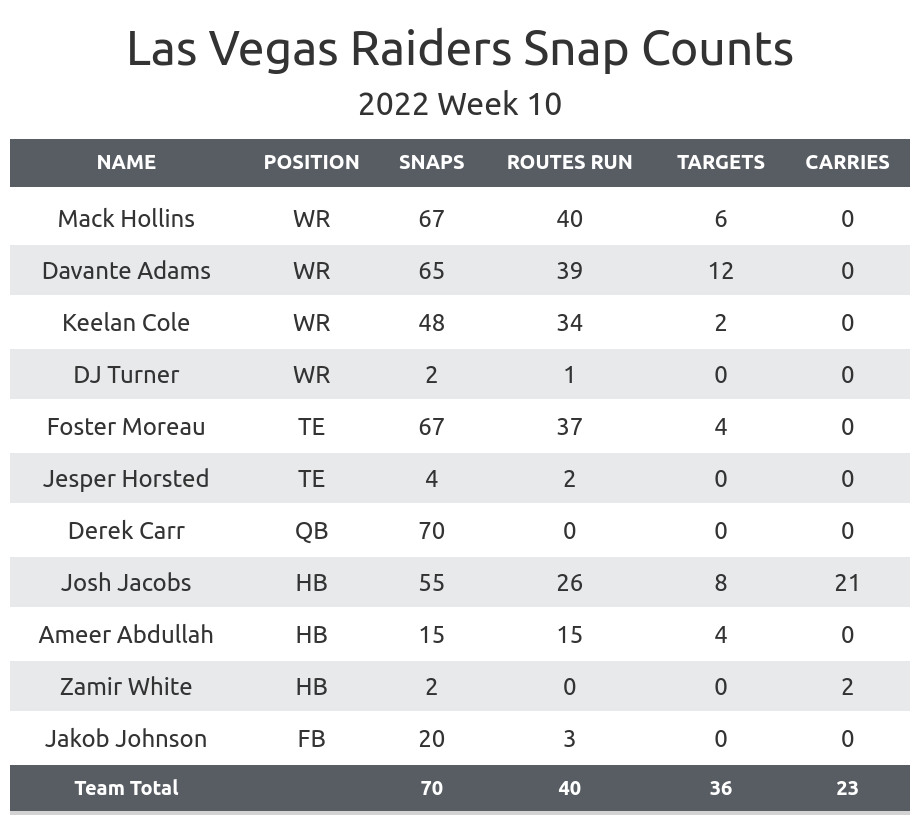 Add Foster Moreau: Darren Waller landed on injured reserve earlier in the week, so he will miss at least three more games.
Moreau took over as the top tight end, just as he's done whenever Waller has missed time.

The Raiders' starting tight end plays more snaps than most starting tight ends.

He caught three passes for 43 yards and a touchdown in Week 10.

The Raiders are 2-7, and their schedule is only

getting more difficult

. There is a chance Las Vegas might not want to risk bringing Waller back with little to no chance of making the playoffs.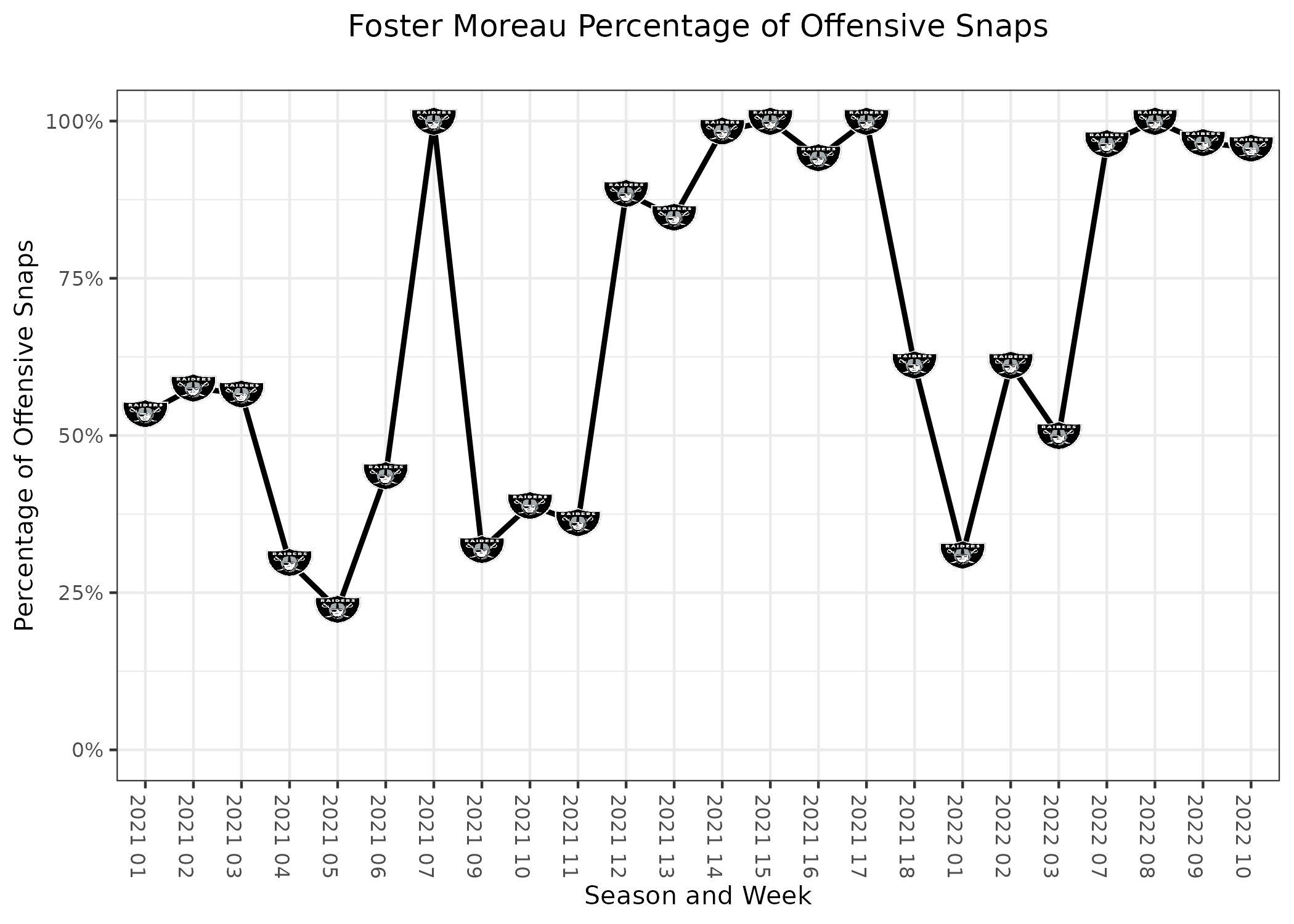 The Raiders without Hunter Renfrow: Renfrow joined Waller on injured reserve as he's dealing with injuries to his ribs and hamstring. 
Keelan Cole

took over as the slot receiver, playing every snap Renfrow would have in three-receiver sets.

He was targeted twice and didn't catch a pass.

Renfrow was struggling for fantasy relevancy in this offense. It is even less likely Cole will be able to contribute.

While this obviously hurts the team, it will generally help the fantasy value for other Raiders, as there will be more targets for their better players.
The return of Ashton Dulin: Dulin spent over a month on injured reserve after playing well at the start of the season.
He took snaps from both

Parris Campbell

and

Alec Pierce

in 11 personnel. 

Both Campbell and Pierce have been waiver wire targets after big performances earlier this season, but Dulin's return will make it more difficult for them to bring consistent value.

Their playing time has declined since offensive coordinator Marcus Baugh's firing at the beginning of November, but it's even more likely it decreases even further with Dulin back.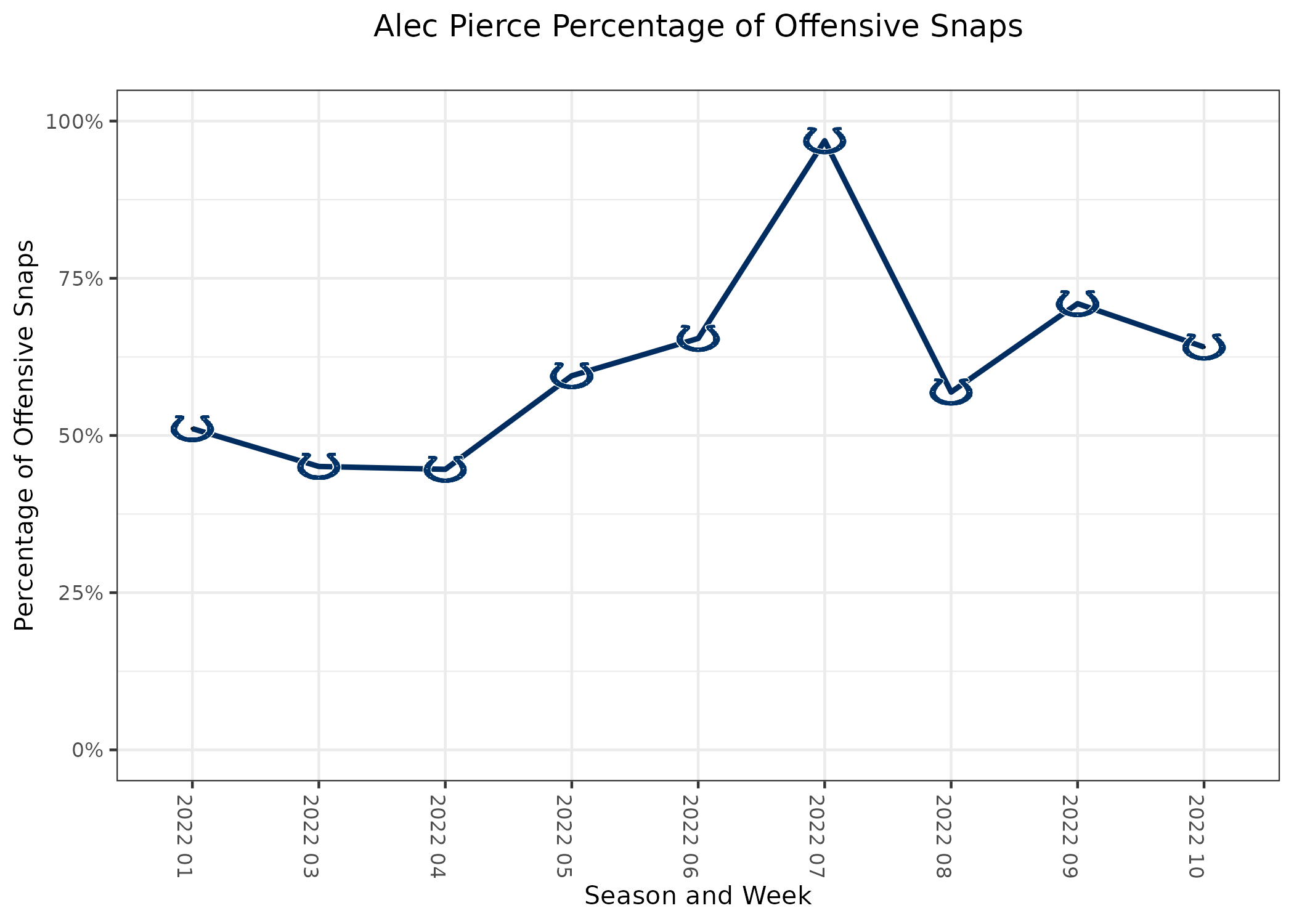 The return of Jonathan Taylor: This was the first game of the season with Taylor healthy in the backfield and Nyheim Hines off the team.
This combination meant Taylor almost never left the field.

Deon Jackson

was also inactive, which could have also contributed to Taylor's increased playing time.

This also could have been Jeff Saturday's decision to use Taylor even more.

The Colts have one of the

easiest schedules for running backs

during the fantasy playoffs. Those who drafted Taylor first overall might be happy they did as long as they can get into their fantasy playoffs.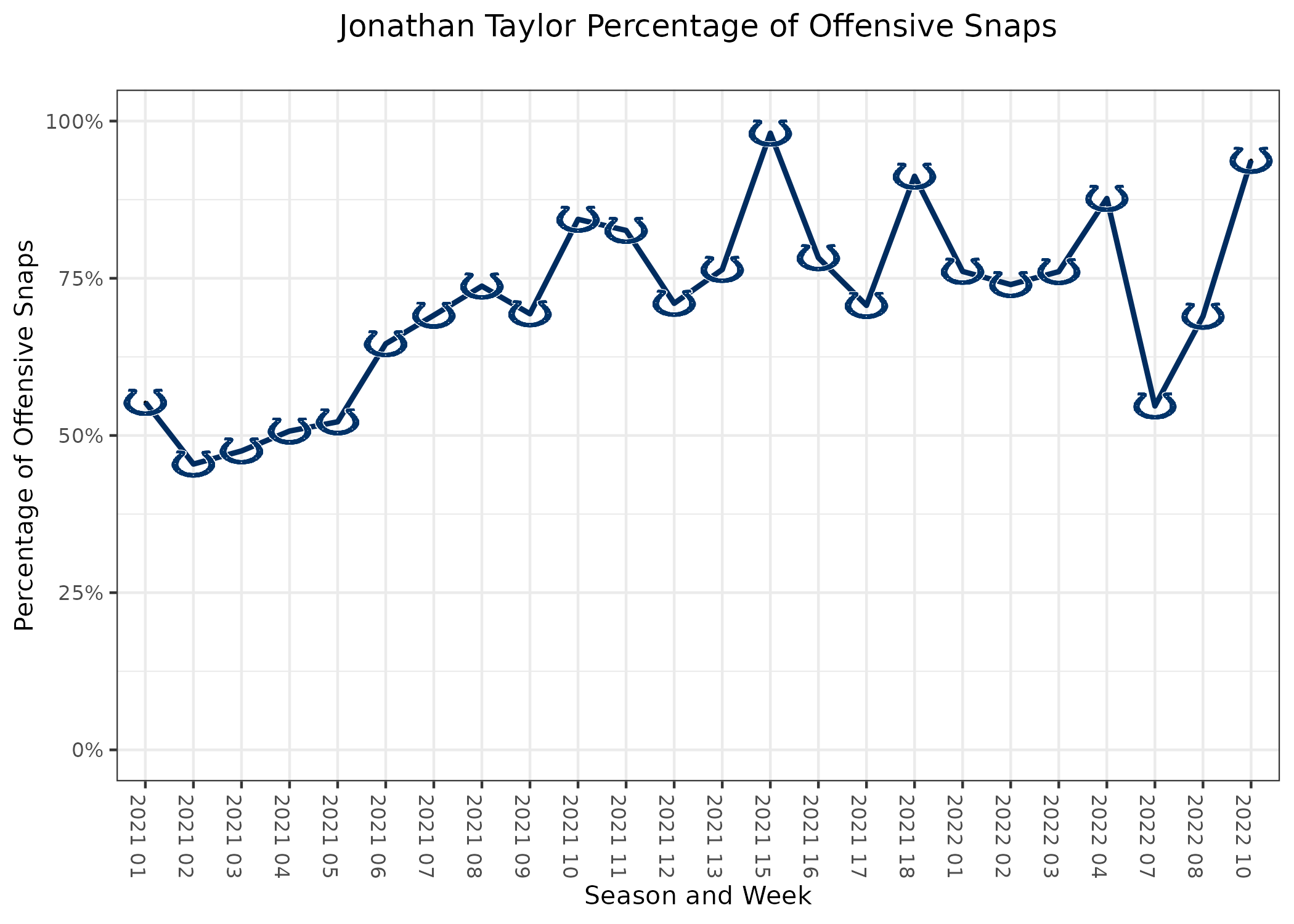 ---
• Christian Watson: 4 receptions, 107 yards, 3 touchdowns
• CeeDee Lamb: 11 receptions, 150 yards, 2 touchdowns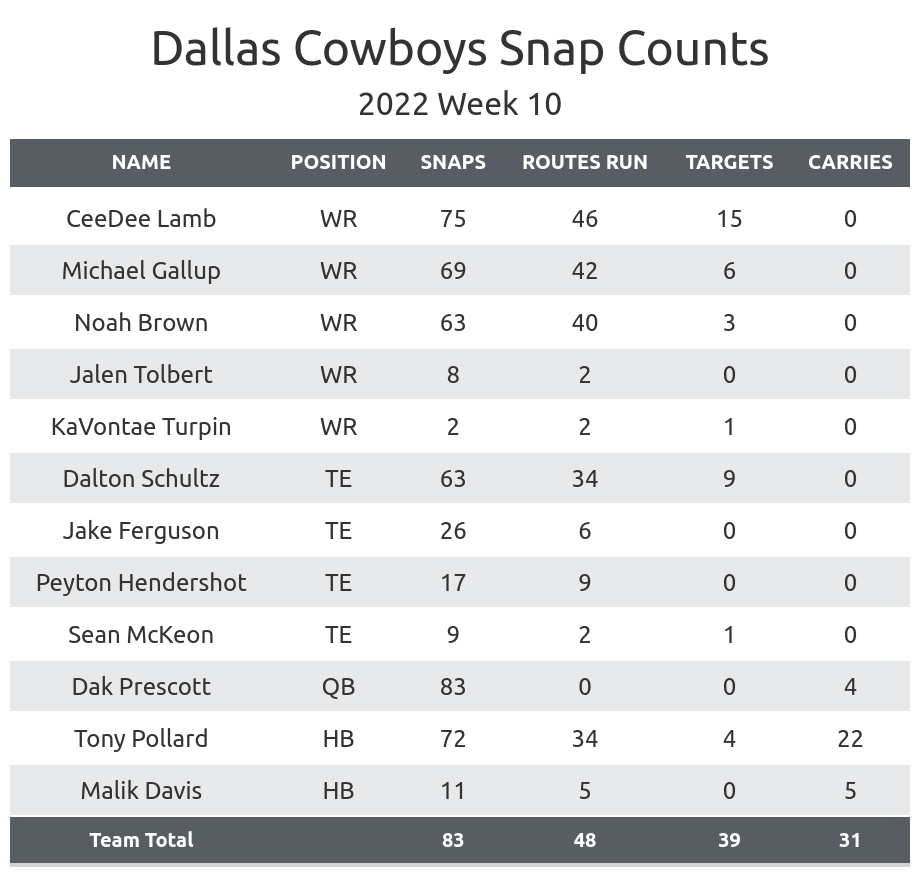 Add Christian Watson: The Packers rookie was Green Bay's top target and led the way with a three-touchdown performance.
Watson was the clear No. 2 receiver in terms of playing time. Part of this was by default, with

Romeo Doubs

and

Randall Cobb

out, but it's notable how much more he was involved than

Sammy Watkins

.

The Packers have wanted to get Watson more involved for a few weeks now, but he's constantly been dealing with injuries.

Watson's 25% target rate this season is behind only

Chris Olave

and

Drake London

among rookies.

His target share mixed with increased playing time could make him a fantasy starter over the second half of the season.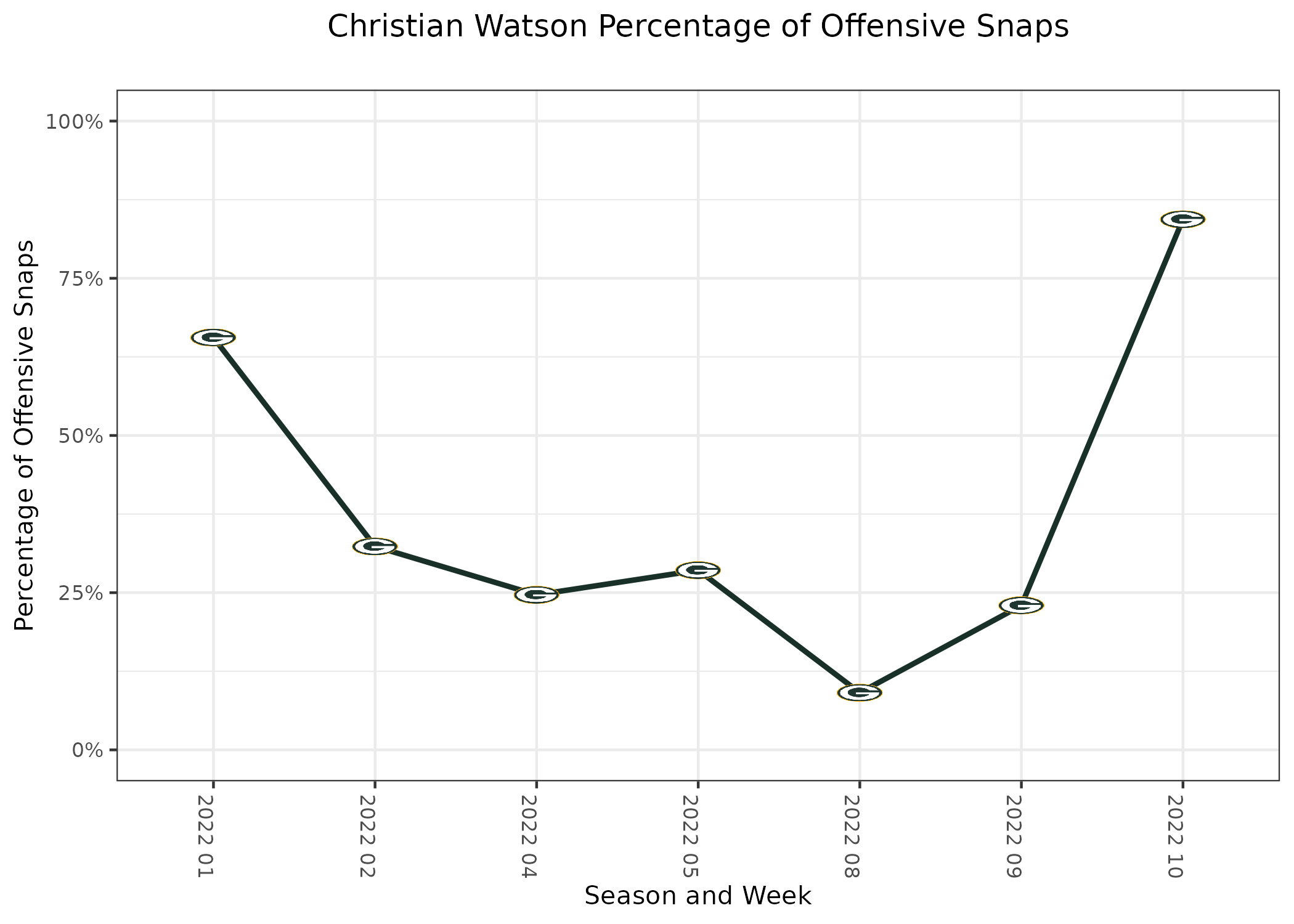 Start Dalton Schultz: The Cowboys tight end continues to play more and more after returning from injury.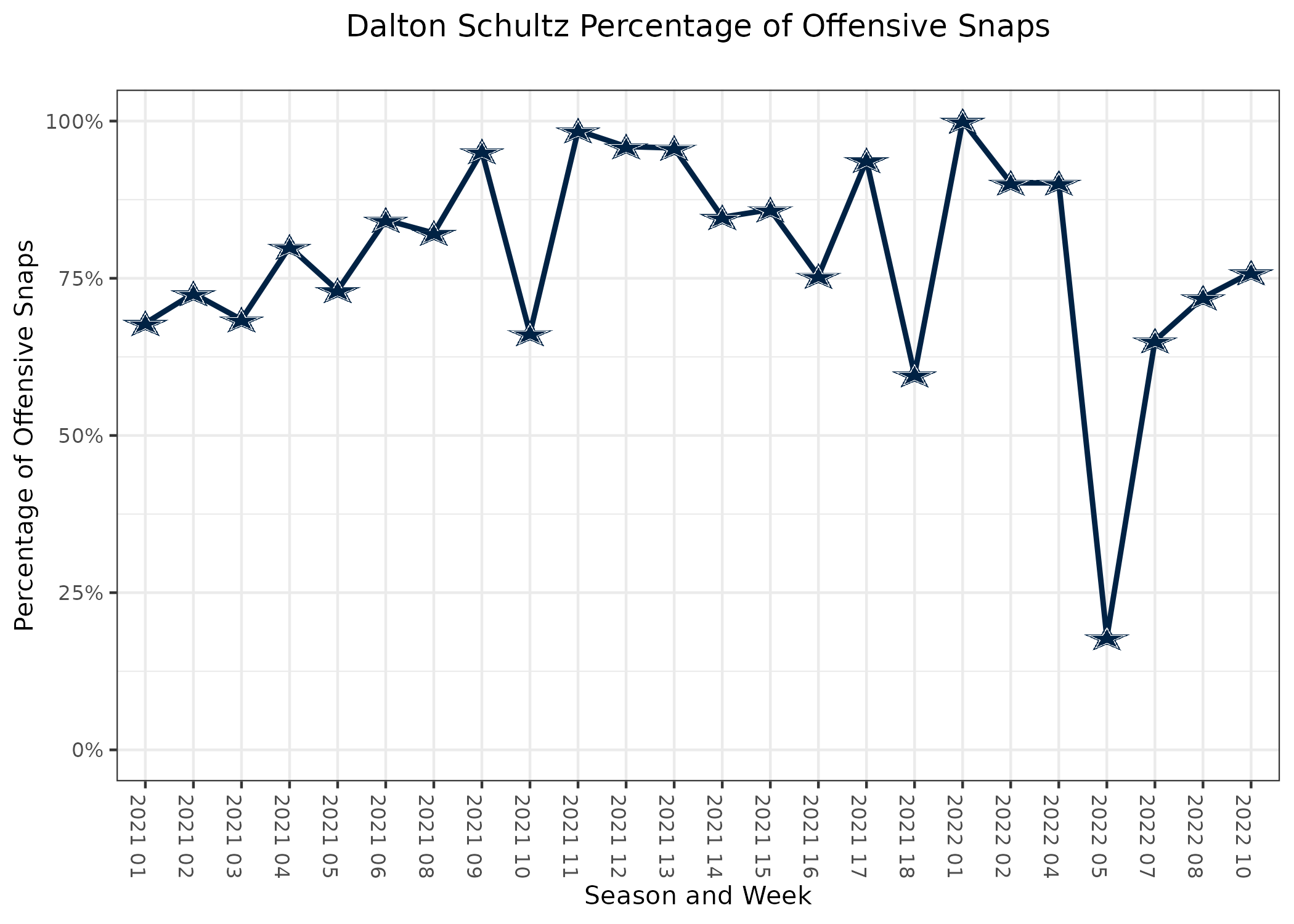 Tony Pollard dominates snaps: Pollard was used as a true workhorse back in Dallas for the first time in his career.
This happened with

Ezekiel Elliott

out of the lineup for a second straight week with a knee injury.

There were reports Pollard would never see this kind of role because he would lose efficiency.

He ran the ball 22 times and averaged over 5.0 yards per carry.

His yards per carry average was at least 3.9 in every quarter. He hit 4.8 in the fourth quarter and 7.0 in overtime.

This probably won't mean much for 2022 once Elliott is healthy again, but it could be big for wherever Pollard lands in free agency in 2023.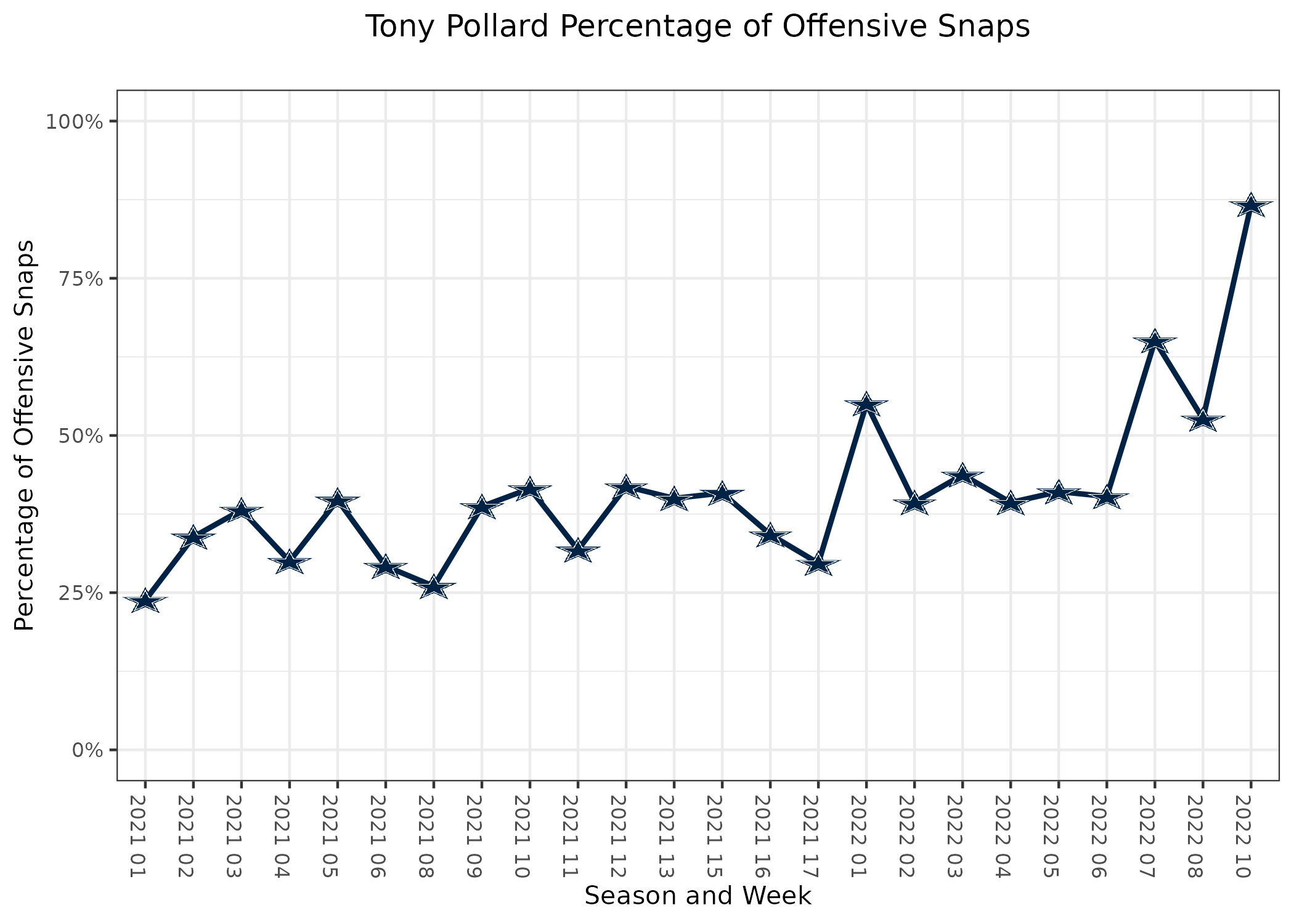 ---
• James Conner: 21 carries, 69 yards, 2 touchdowns, 3 receptions, 17 receiving yards
• DeAndre Hopkins: 10 receptions, 98 yards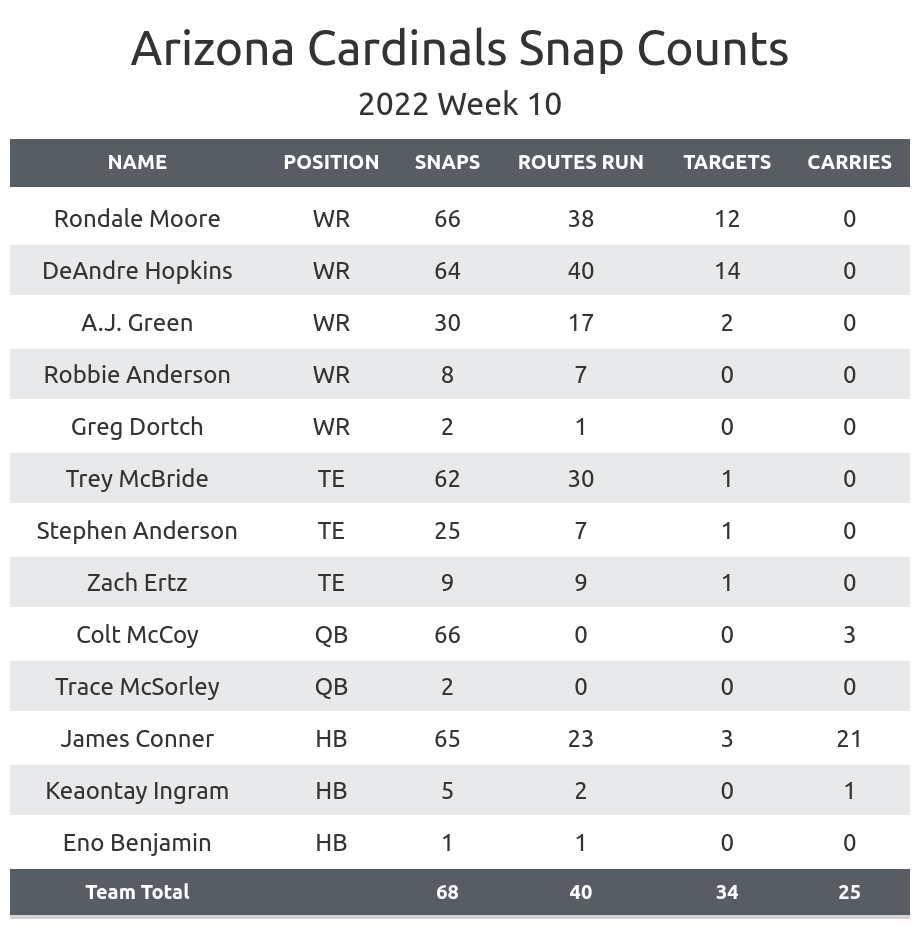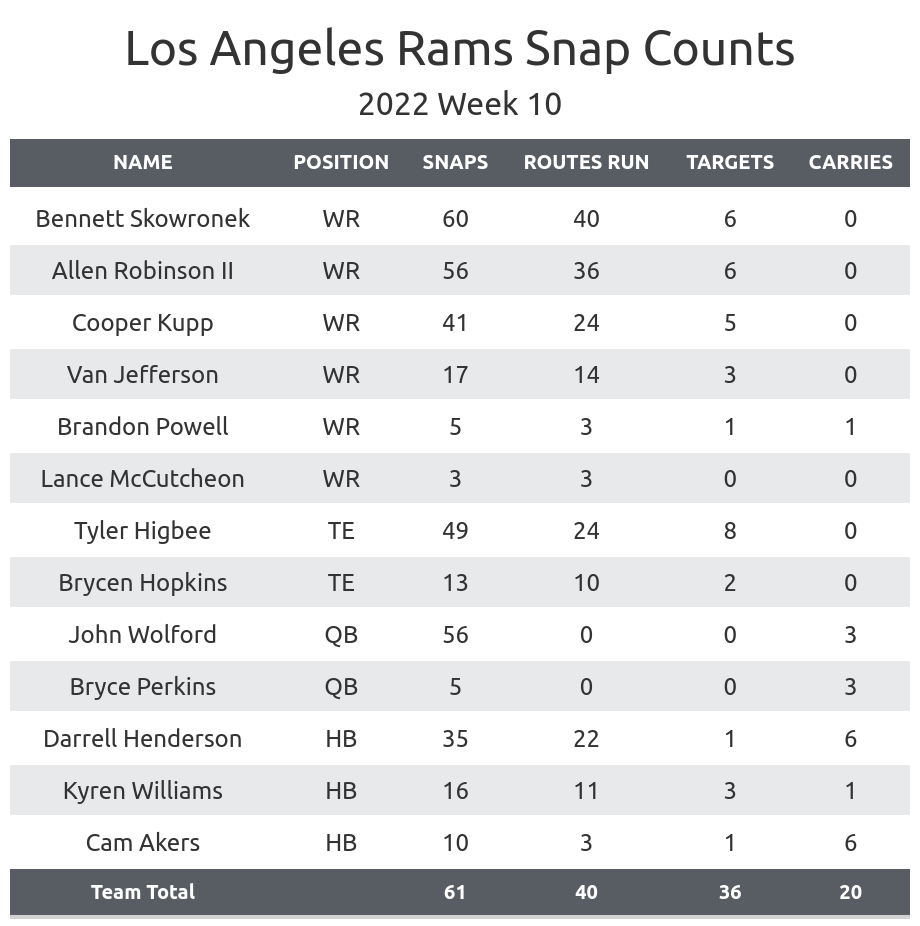 Monitor Cooper Kupp's ankle injury: Kupp suffered an ankle injury early in the fourth quarter. He was quickly ruled doubtful to return.
Van Jefferson

recently returned from injury and

was mixing in, but Los Angeles opted to keep him on the bench for most of the game against the Cardinals.

Kupp,

Bennett Skowronek

and

Allen Robinson II

each played at least 34 of the 38 snaps over the first three quarters.

Jefferson didn't play his first offensive snap until after the Kupp injury. He was the third receiver for the rest of the game.

Skowronek would be the biggest waiver wire target from the team if the Kupp injury is serious.

While he would see more targets, this could ultimately hurt everyone in the offense rather than help.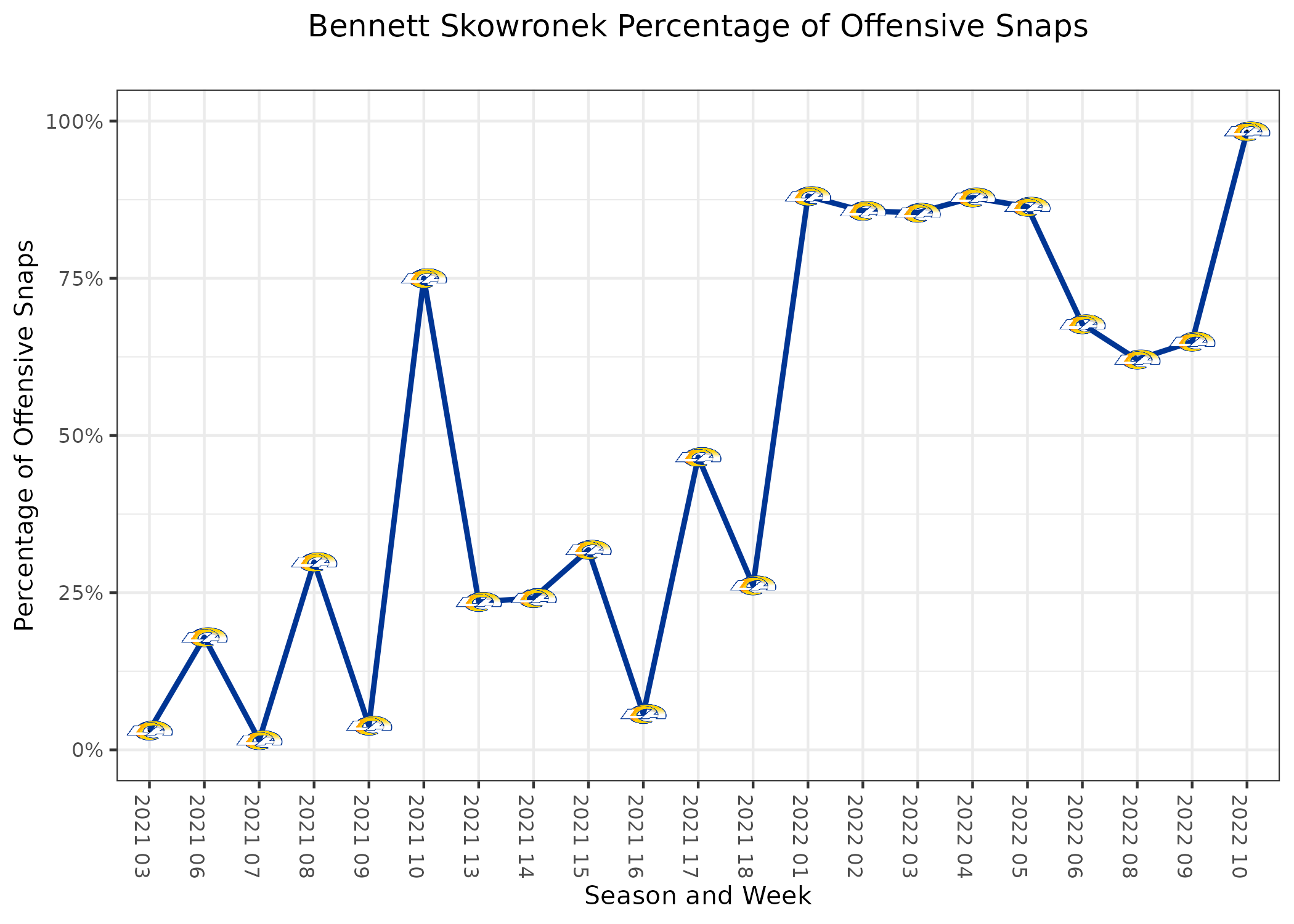 Kyren Williams' return: The Rams rookie got his first taste of game action since Week 1, and this was his first time playing on offense.
He played significantly in his first game, getting snaps in every situation.

This is a good sign he could eventually see a much larger role, rather than just a part-time role if he plays well enough.

His only carry went for 9 yards, while he caught three passes for 30 receiving yards to lead the running back room.

Neither of the veteran running backs had remarkable games. Both of them finished under 25 rushing yards on six carries.

Cam Akers

can be dropped at this point. He has fallen to the third spot in a three-man backfield, and it's unlikely he sees a significant increase in snaps this season.

Williams is worth a waiver wire target. He's no sure thing, but his usage in his first real game was promising.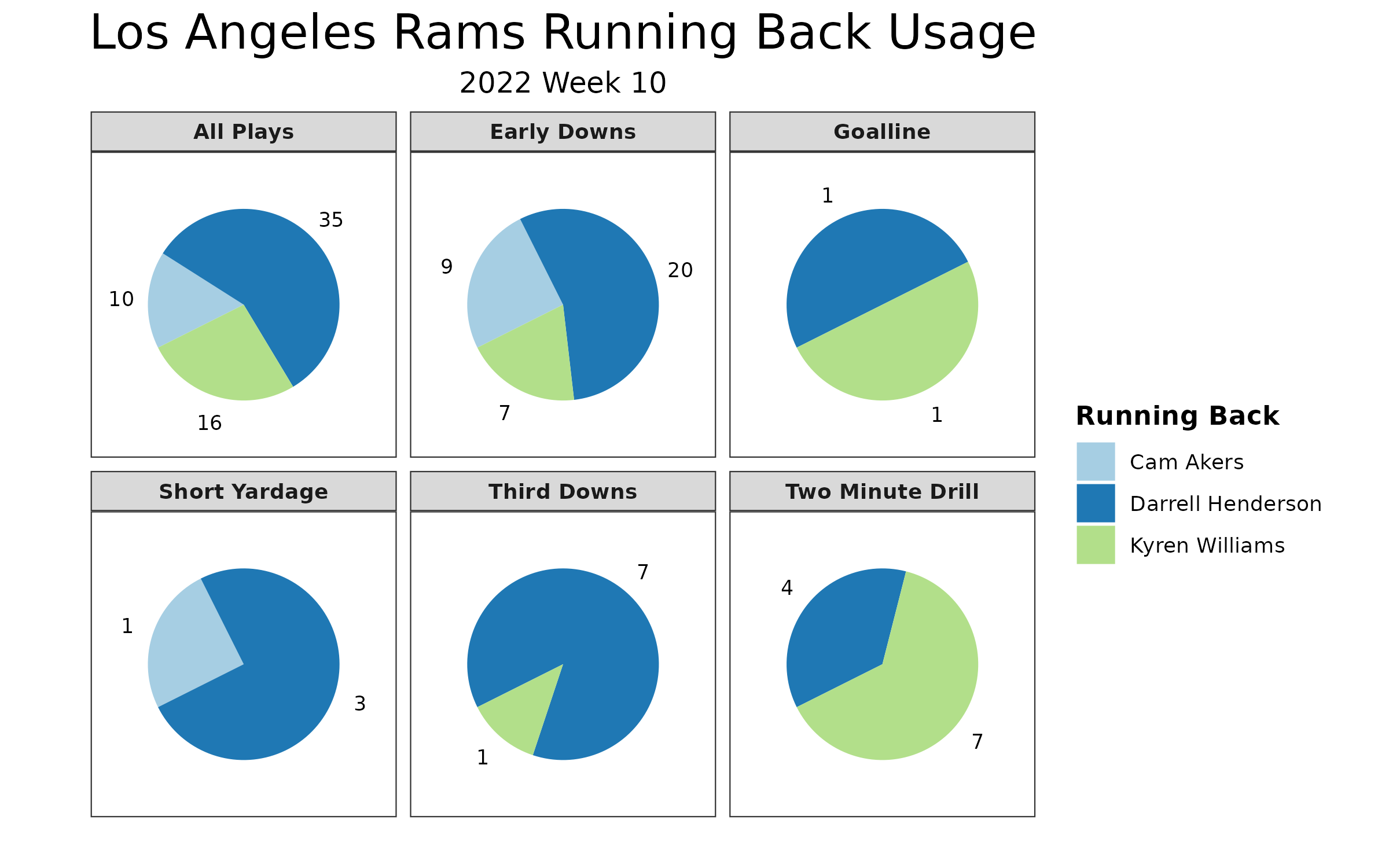 Monitor the Zach Ertz injury: Ertz suffered a knee injury late in the first quarter and didn't return to the game.
Second-round rookie

Trey McBride

took over as the primary tight end for the rest of the game. He played 54 of 55 offensive snaps over the last three quarters.

He caught only one pass for seven yards as Colt McCoy zoned in on the Cardinals' top two wide receivers.

McBride is a waiver wire target if the injury is serious. He was the clear top tight end heading into the NFL draft, and Ertz has been one of the top fantasy tight ends this season. There is at least a chance the rookie can fill those shoes.
The Cardinals' unclear third receiver spot: Arizona has flip-flopped over their WR3 in recent weeks.
A.J. Green

was the primary third receiver this week. He caught both passes thrown his way for 10 yards and a touchdown.

Robbie Anderson

was held without a target.

Anderson can now be dropped in most leagues.

Arizona could continue to switch who sees playing time until

Marquise Brown

is available again, in which case neither will get much playing time.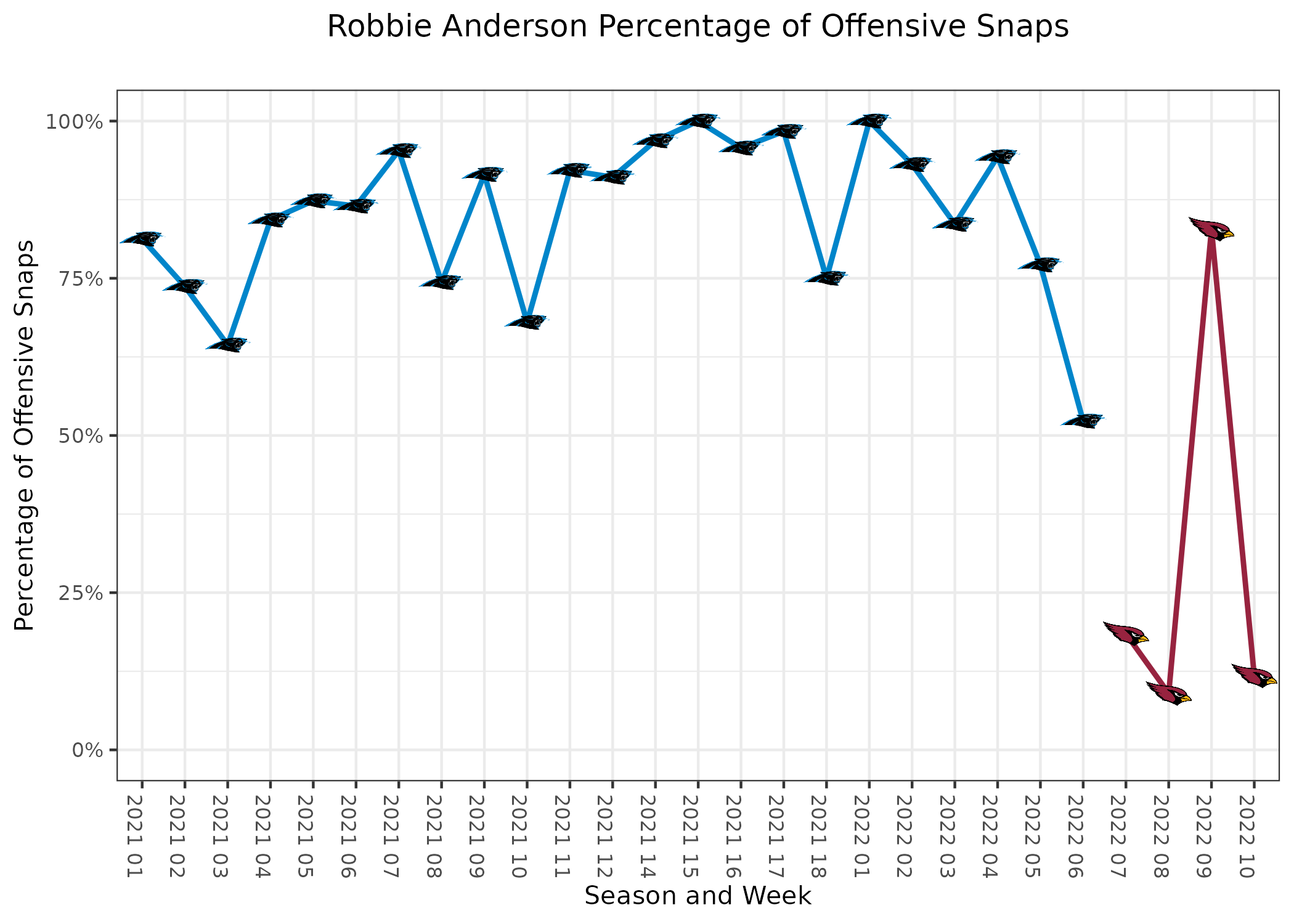 ---
• Christian McCaffrey: 14 carries, 38 yards, one touchdown; 4 receptions, 39 receiving yards
• DeAndre Carter: 4 receptions, 64 yards, one touchdown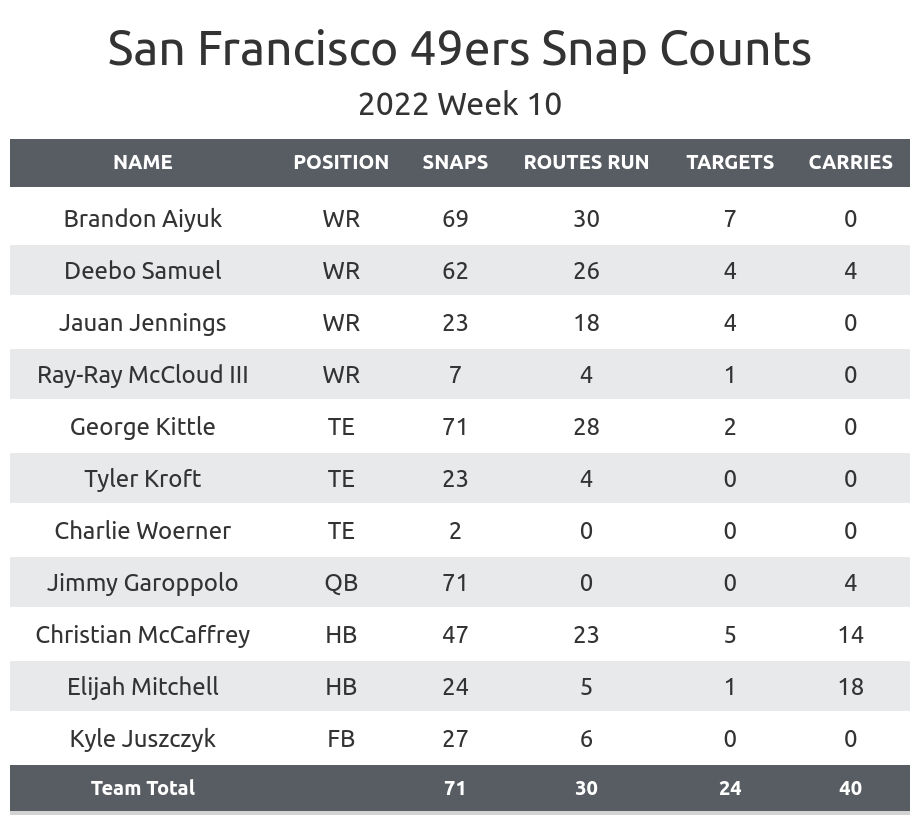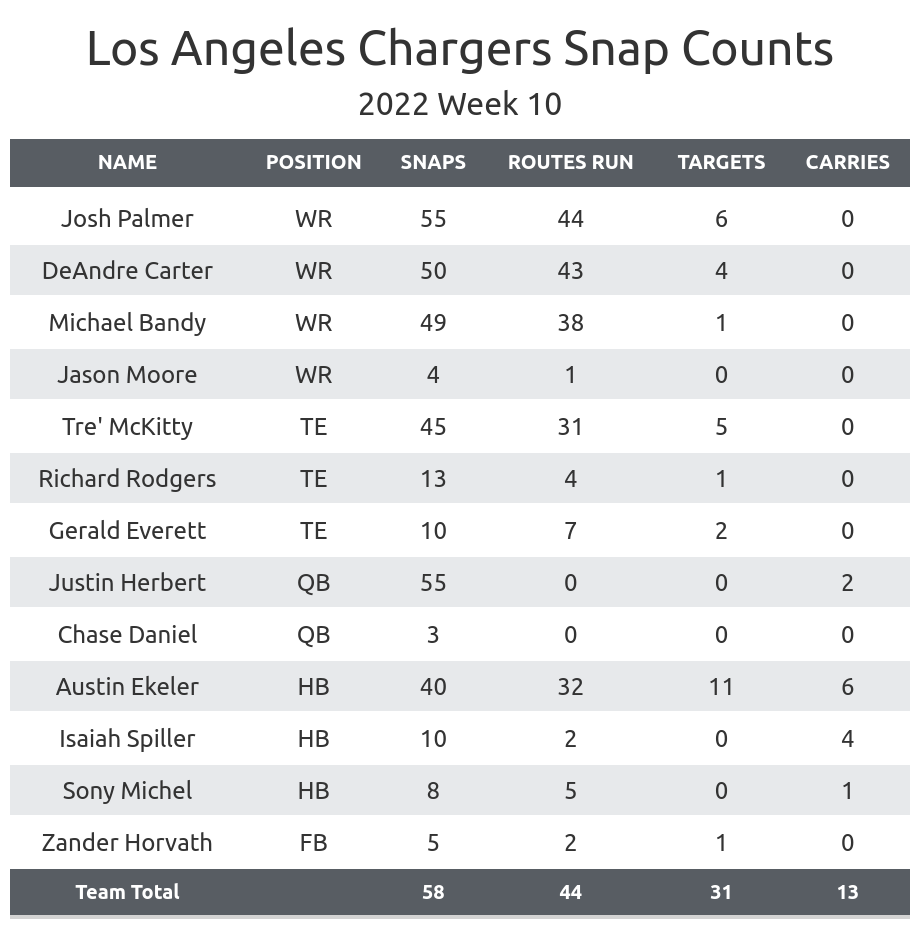 Elijah Mitchell's return: Mitchell suffered a knee injury in Week 1 and finally returned against the Chargers in Week 10.
He significantly cut into

Christian McCaffrey

's touches. He ran the ball more than McCaffrey, and he ran it more effectively.

McCaffrey unsurprisingly kept all the receiving, but he also kept a lot of the goal-line work, which is how he found the end zone in the fourth quarter.

McCaffrey is still a must-start and could still be a top-five running back going forward, but on limited touches, it will be harder for him to have weeks as the top overall running back.

Mitchell could still have some standalone value going forward, particularly in games where the 49ers are clear favorites.

Kyle Juszczyk

also returned to San Francisco after missing the last two weeks. He lost most of his snaps on third downs but still got significant work as a true fullback.

Deebo Samuel

ran the ball four times, his most in a game since September. He also further complicates the backfield.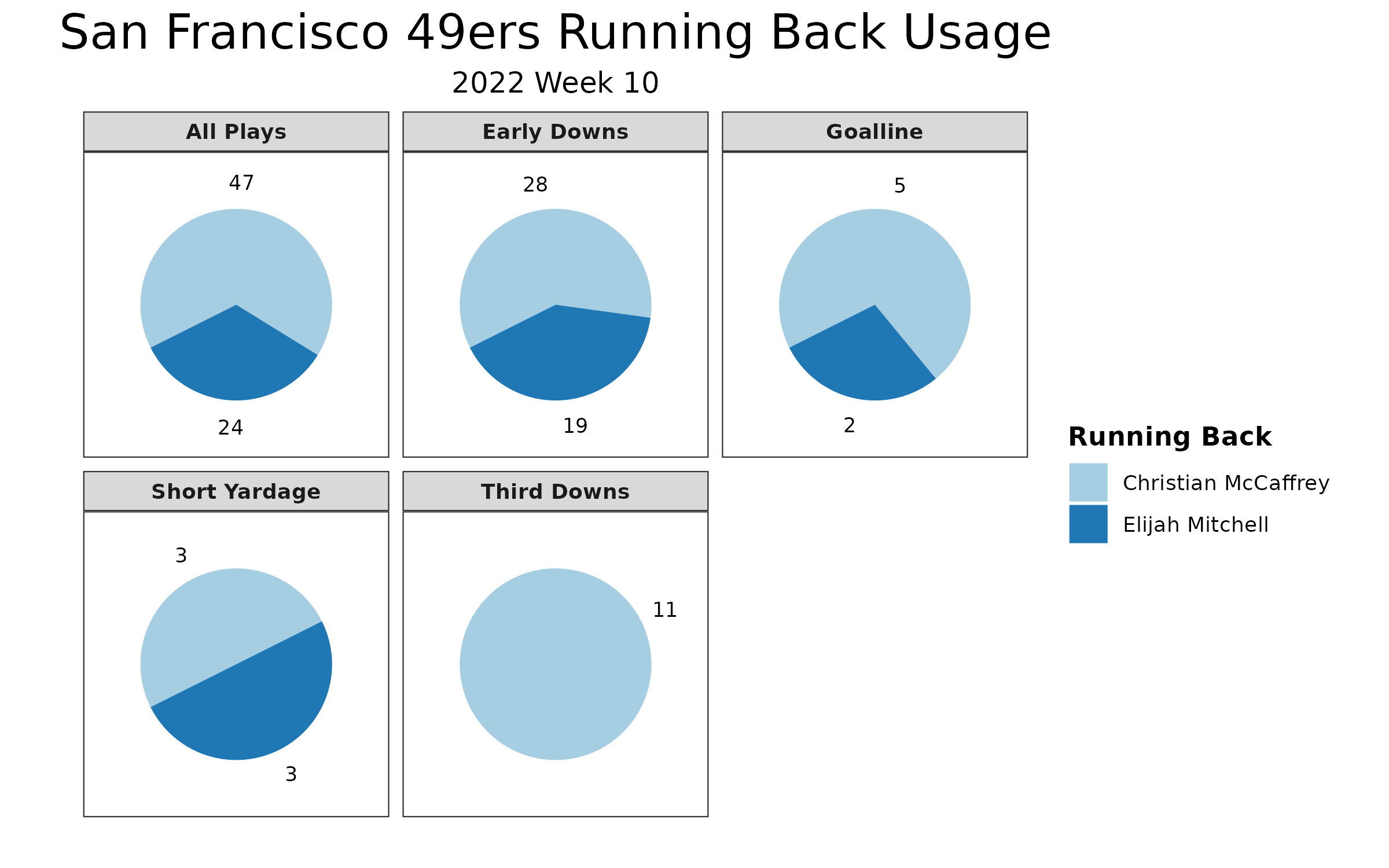 Monitor Gerald Everett's health: Everett played only 10 snaps against the 49ers, with his last snap coming in the middle of the second quarter.
The Chargers later reported that he had a groin injury and was questionable to return, but he never did.

Tre' McKitty

took over as the primary receiving tight end. McKitty has worked behind Everett for most of the season.

Richard Rodgers

remained a blocking tight end.

McKitty's target rate is by far the lowest among tight ends with at least 100 routes this season.

He caught three passes for 21 yards tonight.

He would be a waiver wire target in some deeper leagues if Everett's injury is serious, as every tight end who sees the vast majority of routes on a team has value in some leagues.
---