In any fantasy football draft, there will be players picked earlier than they should be. Each time that happens, quality players get pushed down the draft board for knowledgable drafters to scoop up.
The opposite is also true: There are players in every round of drafts whose average draft position (ADP) is lower than it should be. Identifying these players is crucial to securing value throughout fantasy drafts. These could be veterans written off too early, players returning from injury or young guys flying under the radar.
The ADPs are from Underdog Fantasy, and the list starts with Round 2 since few first-round picks are relative deals.
Editor's note: This piece has been updated since it's original release, as players such as Corey Davis and Adam Thielen have since risen in ADP and are no longer the most undervalued players. Irv Smith Jr. has also been removed due to his season-altering injury.

---
Click here for more PFF tools:
Fantasy Draft Kit | PFF Betting Dashboard | PFF Fantasy Rankings
PFF Fantasy Projections | NFL Premium Stats | Win Totals Tracker
---
Mixon was the most overvalued player in the first round a year ago because Giovani Bernard was still on the roster to take the third-down snaps. Now, he is an every-down back and healthy, but we constantly see players who were hurt last season but healthy now being undervalued. This is a trend that holds true for the first few players on this list.
The former second-round pick was RB8 through six games when he suffered his season-ending injury. He wasn't playing very efficiently but had the second-most carries at the time. He also ranked 15th in targets, which is better than previous seasons. He was already starting to take the receiving back role from Bernard as a respectable receiver.
There is reason to believe the volume will still be there. The Bengals didn't replace Bernard in free agency and only added to the backfield in the sixth round or later of the draft. The mid-second round is his floor if the volume remains.
If Mixon ends up playing better than last season, he could be one of the biggest steals of the draft. His expected usage mixed with his early career efficiency could put him among the top-five fantasy running back this season.
---
The veteran tight end has ranked in the top five among tight ends in fantasy points per game in each season since his rookie year. He has a case to make to be the second-best fantasy tight end if Trey Lance wins the quarterback job.
He's hauled in eight of 12 deep passes for 268 yards and two touchdowns over the past two seasons. The other great tight ends have between 26 and 31 deep targets over the same time span. Lance is more likely to attack downfield compared to past 49ers quarterbacks, which should lead to more big plays.
Kittle has had horrible luck when it comes to passes in the end zone during his NFL career. Typically, 55% of passes to tight ends in the end zone are catchable and 80% of those are caught. The 27-year-old has been targeted in the end zone nine times with only two of those passes being catchable (he caught both). His luck has been especially bad when the 49ers are within four yards of scoring: The former Iowa Hawkeye has seen six targets in that situation in his NFL career, and none were catchable. If even average passes came his way on those plays and his catch rate regressed to the mean, he would have seven more touchdown catches in his career.
It's important to draft a top-six fantasy tight end this year. One way to ensure that is drafting Kittle at the end of the second round so he doesn't fall to Round 3.
---
Carson has consistently hovered around the 12th spot in points per game over the last three seasons, but he currently has an ADP of RB18. There's plenty of reason to believe the former seventh-round pick can either maintain or even beat that mark this season.
Like the other players on this list, Carson doesn't have any added competition this year. The Seahawks are one of only a few teams that did not add a free agent or rookie running back. Carlos Hyde was Seattle's backup running back last season, but he's now with the Jaguars. He played 22% of the early-down snaps and 37% of the third-down snaps in 2020. Other Seahawks backups will likely take most of that work this year, but Carson should still carve out a bigger role compared to last season.
The 26-year-old back is a steal at the end of the third round. D'Andre Swift and J.K. Dobbins are both being drafted ahead of him even though they'll be part of two-man committees — Carson will have the vast majority of Seattle's RB workload to himself.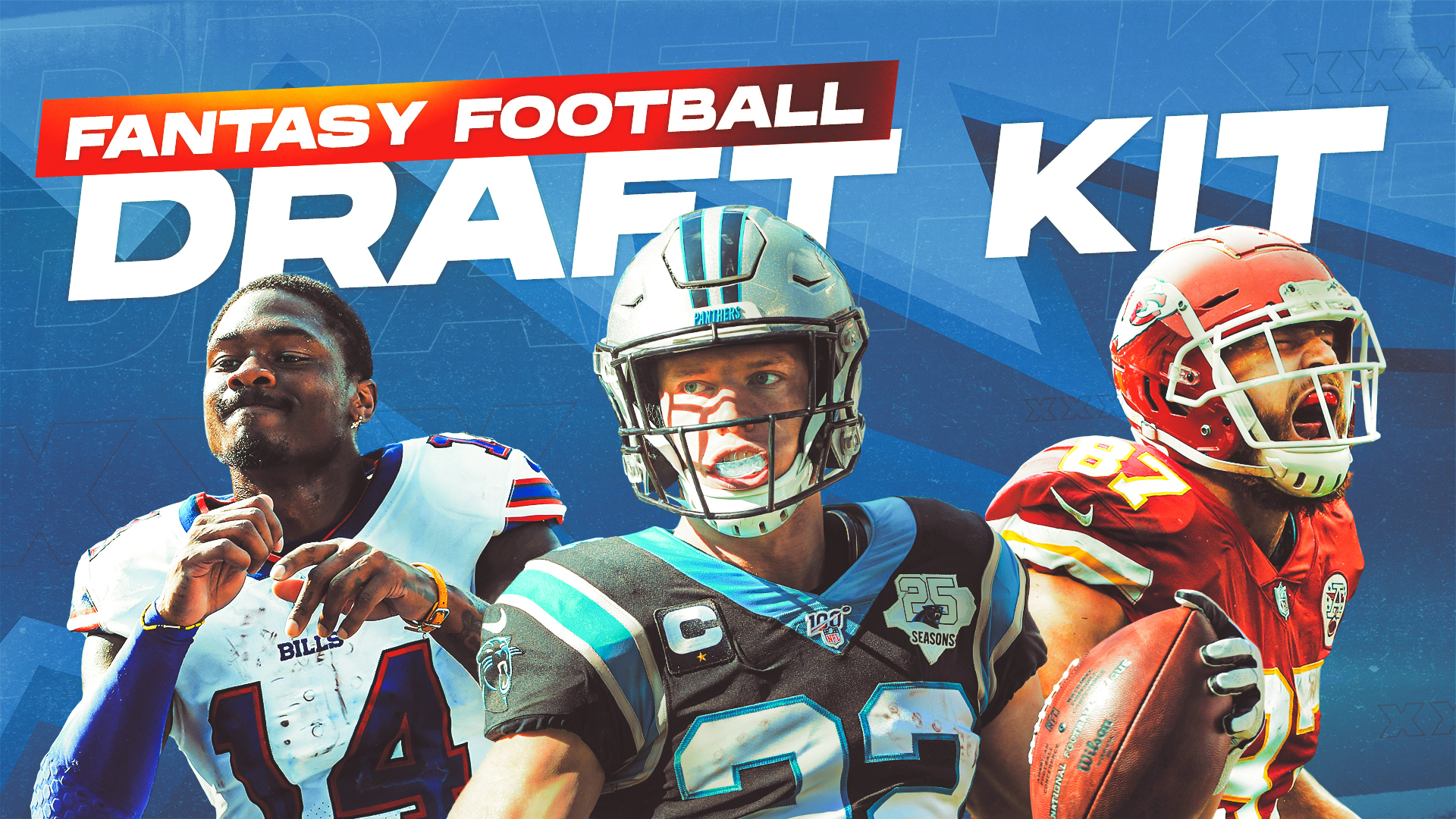 There are six tight ends fantasy managers need to draft this season, and Andrews is one of them. 
The veteran tight end has consistently ranked among the top-five fantasy tight ends since his rookie season, while his 17 touchdowns over the last two seasons rank first at the position. His 2.41 yards per route run since entering the league is second to only George Kittle over that span.
Andrews should have an especially strong start to the season, as the Ravens have been without their top four wide receivers and backup tight end Nick Boyle this preseason. It also doesn't help that J.K. Dobbins is out for the season. The fourth-year tight end will be a focal point of the offense as one of the few healthy starters remaining.
Several sleeper tight ends have seen their value decline over the last month, which also helps raise the value of the elite tight ends. Players like Adam Trautman and Anthony Firkser have been used in limited roles, while talented tight ends such as Dallas Goedert still have to compete with proven veterans for playing time.
---
The third-year tight end has improved throughout his NFL career and could make the jump to an elite fantasy tight end this season.
Hockenson's 20.3% threat rate over the last two seasons ranks 13th in the league. The only players remaining on the Detroit roster who saw more than five targets last season are the former Iowa Hawkeye, running back D'Andre Swift and sophomore receiver Quintez Cephus. The Lions added a few receivers this offseason, but no one is nearly as talented as the players who departed.
The 24-year-old is the best receiving threat on the team, which should increase his target share to at least 25%. His new quarterback, Jared Goff, had a 24.5% threat rate to his tight ends over the last two seasons, and he had much better wide receiver options in Los Angeles.
Hockenson's talent should not be slept on. His 76.3 PFF grade ranked ninth-best among tight ends who ran at least 300 routes last season. He is currently the sixth tight end off the board but should be fourth.
---
The Steelers receiver finished as a top-21 receiver in three of the four years in his NFL career and is currently WR39. The one exception was 2019, where Smith-Schuster missed four games and Mason Rudolph was his quarterback for most of the games he did play. He's consistently been a starting fantasy wide receiver as long as Ben Roethlisberger's been his quarterback.
There are reasons for his ADP to fall compared to the past, but he's fallen too far. One reason is Roethlisberger's play has declined. His PFF grades were lower the past two seasons than any other season in the previous decade, but that didn't stop Smith-Schuster last season. If anything, his low 6.0 aDOT should make him a more attractive target for an aging quarterback.
Chase Claypool will command a higher target share this season, which could result in fewer targets. Luckily, Smith-Schuster is still playing ahead of Claypool in two-receiver sets based on the preseason so far. The Steelers will also likely run more with the Najee Harris addition.
The downside to Smith-Schuster could all be counteracted with more improved play. He is only 24 years old and is entering his peak age, where wide receivers typically play their best. He graded better in his first two years than his last two, so we know he's capable of playing at a higher level.
---
The Jaguars' James Robinson was the biggest value in the eighth round at the start of the week, but Travis Etienne suffered a likely season-ending injury, which will cause Robinson's ADP to skyrocket. The biggest value of the round is now Mooney.
Mooney's big-play potential should excite fantasy managers. He led the Bears with 23 deep targets but only caught four, as 70% of his deep targets were uncatchable — the second-lowest rate for a receiver. Bears quarterbacks, in general, had the third-lowest accuracy rate on deep passes.
This problem should be fixed the moment Justin Fields takes over as the starting quarterback. The first-round rookie led all college quarterbacks last season with a 66.7% accuracy plus percentage on deep passes. He's also the most accurate quarterback in the PFF College era.
Mooney already has the target share to be a starting fantasy wide receiver. He should be a known name and starter every week if Fields earns the starting job and his talent successfully translates to the NFL.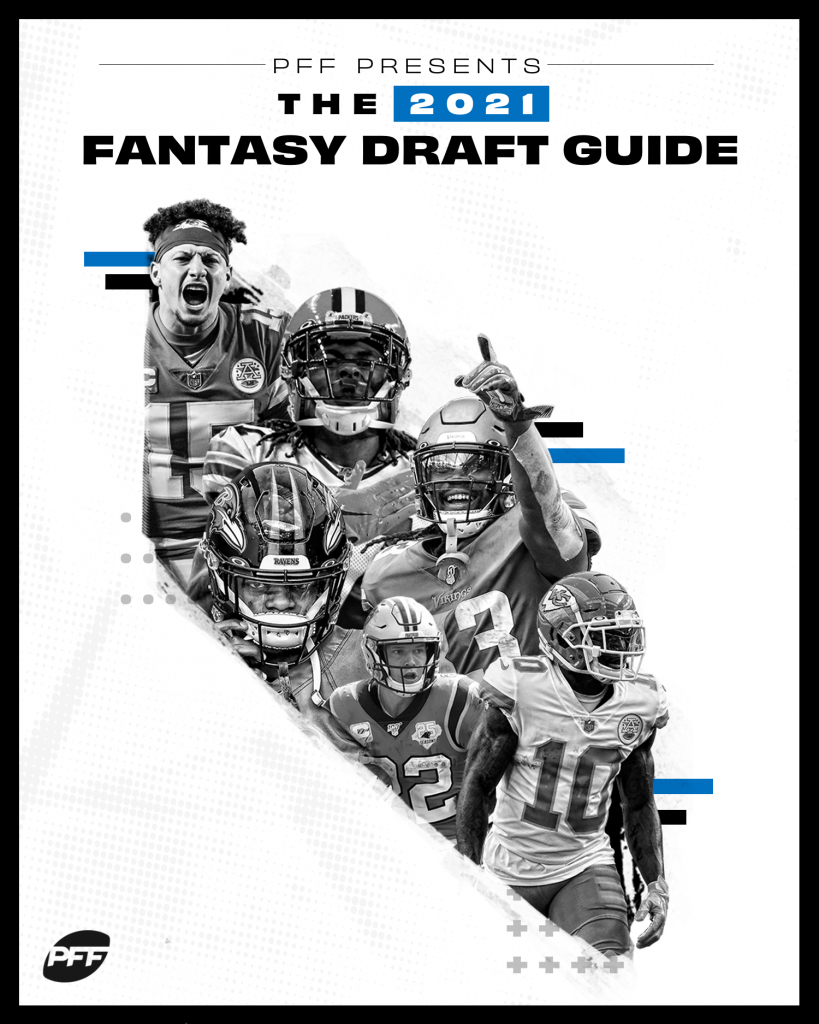 Jones has finished as a top-30 fantasy receiver in three of the last four seasons. The only season he fell outside of the top 30 came in 2018, a year in which he struggled through injury, yet he still finished top-30 in points per game that year.
The veteran wideout enjoyed three top-five finishes at the wide receiver position over a five-week stretch late in 2020. No other wide receiver with such proven success is available this late in drafts.
Jones signed with Jacksonville this offseason and could quickly become the team's top target this year, especially after every Jaguars receiver finished with a PFF receiving grade below 72.0 last season. The veteran has beaten that mark in five of the last seven seasons, including the last two.
Rookie QB Trevor Lawrence will run the show in Jacksonville. The best draft prospect PFF has ever seen might not live up to expectations as a rookie, but what Jaguars' pass-catchers could lack in quality they might make up for in volume. The team is fourth-worst in our power rankings and should be passing frequently in the fourth quarter.
Jones' every-down role in the offense is secure, based on the preseason. D.J. Chark Jr. has missed time with injury, but the Jaguars have used a few different players opposite Jones in two-receiver sets through two games.
Laviska Shenault Jr. has been limited to snaps in three-receiver sets only. The second-year receiver will see his fair share of touches but will be limited based on his playing time. This leaves a clear path for Jones to lead the team in targets.
The Jaguars' best chance to win involves throwing to Jones early and often, so there's no reason to expect his numbers to drop off even in Year 10.
---
Gordon was RB13 last season, and his fantasy value took a hit once the Broncos drafted Javonte Williams.
Denver has consistently used two running backs regardless of the quality of back in recent seasons. Gordon averaged 62% of offensive snaps per game, and it took multiple injuries to the quarterback position for the Broncos to rely further on a back. This has held true in the preseason, as Denver's been without two of its top three backs, and they've still rotated Javonte Williams out significantly when playing him.
If Gordon maintains his job from last season while Williams only takes over Phillip Lindsay's role, then this is one of the biggest steals of the draft. Even if it becomes a 50/50 split, Gordon is a value here. The most likely case is Gordon has a lead and slowly loses it over the course of the season, evening out to a 50/50 split, which would make Gordon a fantasy starter for the first half of the season.
---
The 34-year-old receiver has been consistent throughout his NFL career, recording at least 700 receiving yards and five touchdowns over the last eight seasons. 
He's now with Josh Allen, where he should be the second receiving option, and The Bills' final preseason game gave us a taste of what the future could look like. Stefon Diggs didn't play, leaving Sanders to be Allen's favorite target. He caught four of eight passes while lining up both out wide and in the slot. It's not often that someone as experienced as Sanders still has relevance in fantasy football, but the situation is right for the veteran to still put up big numbers.
---
The 2020 fifth-overall pick had a forgettable first season, but several of Tua's problems were out of his control.
Two of Miami's top four wide receivers heading into the season opted out, and another, Preston Williams, only lasted a game and a half after Tagovailoa was named the starter before landing on injured reserve. DeVante Parker played only 60% of the Dolphins' offensive snaps with the rookie quarterback due to injury. Miami trotted out eight other wide receivers throughout Tua's time as a starter — none played over 50% of the snaps or earned a PFF grade above 70.
The Dolphins changed their weakness to a strength this offseason by bringing in Will Fuller and drafting Jaylen Waddle. Fuller finished seventh with 0.33 fantasy points per snap last season. His four deep touchdowns were more than the rest of Miami's receivers combined while his 314 deep yards nearly doubled the Dolphins' best deep threat. Miami spent the sixth-overall pick in 2021 on the dynamic Jaylen Waddle — Tagovailoa's college teammate led his class in yards per route run over his college career.
Tua was the No. 2 prospect in the 2020 NFL draft according to PFF's big board. He should benefit significantly from a full training camp and more consistency at wide receiver.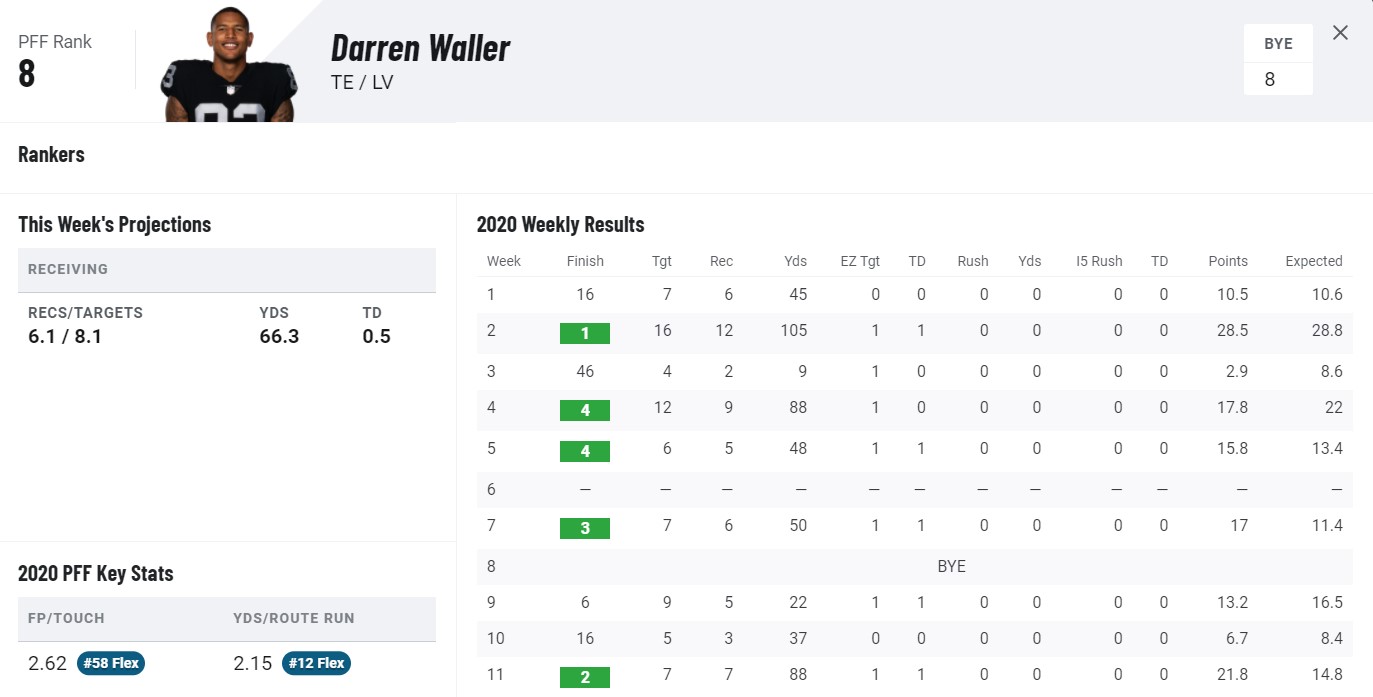 Shepard was WR44 last season despite missing four games and has a WR69 ADP this season. The 28-year-old receiver garnered a minimum of 80 targets in every season of his career. He was targeted at least seven times in over half of his games last year. His PFF grade has been on the rise, and it reached a career-high in 2020 (79.6).
The biggest reason to be optimistic about Shepard this season is his touchdown potential. With Golden Tate no longer on the roster, Shepard should see more time in the slot. He's scored 17 receiving touchdowns in his career from the slot compared to just three out wide. He's run roughly double the routes from the slot compared to out wide.
The Giants, in general, should see more touchdown opportunities. They were in the bottom-five in terms of red-zone and goal-line plays last season. The offense should take some pretty big steps forward with Saquon Barkley's return and the Kenny Golladay addition.
Add some touchdowns to Shepard's production, and you have a starting fantasy wide receiver.
---
Fitzpatrick has been fantasy gold when given an opportunity to start — he just hasn't been a starter in one place very long. He has finished as a top-eight fantasy quarterback in 46.7% of his starts over the last three seasons. There are eight other quarterbacks with a rate above 37% who are assured a starting role entering 2021, and they are the first eight off the draft board based on ADP.
The former Dolphin is now surrounded by playmakers in Washington D.C. Fitzpatrick finds himself with an average offensive line rather than one of the league's worst last season. His new favorite target, third-year receiver Terry McLaurin, avoided 14 tackles last season, ranking in the top 10 for wide receivers and beating every Dolphins wide receiver. His 1.87 yards per route run also topped everyone in Miami. Washington bolstered the rest of the receiving group with free agents Curtis Samuel and Adam Humphries along with third-round rookie Dyami Brown.
Fitzpatrick is a perfect quarterback to pair with either an injured quarterback or a rookie who isn't guaranteed the starting job. Washington starts out with three above-average matchups, per PFF's strength of schedule tool. He can function as a fantasy starter the first few weeks until someone else takes over.
---
Typically 29-year-old receiving backs don't have a lot of value in fantasy football, but White has a chance to become a fantasy starter again. The three-time Super Bowl champion was RB7 in 2018 and RB19 in 2019 before falling to RB42 in 2020.
His receiving grade has stayed remarkably consistent over the three seasons, and his threat rate and yards per route run were actually higher in 2020 compared to the previous two seasons. The problem is the Patriots ran a lot less. We can expect New England to pass a little more with either a healthy Cam Newton or rookie Mac Jones at quarterback.
A bigger problem for White: His rushing opportunities have decreased significantly over the last two seasons. That coincides with a decreased usage in general on first and second downs. But he has seen more use on early downs over two games of the preseason compared to past seasons. 
It's possible the Patriots' longtime three- or four-man backfield could be down to just White and Damien Harris. The Patriots traded Sony Michel last Tuesday, which led to a slight ride in White's ADP. He didn't end up too much higher with the hype for J.J. Taylor and Rhamondre Stevenson. White will still be a value because he should see more time regardless of which young back steps up. More early-down work means more rushing attempts and targets, leading to more fantasy production.
There is no guarantee that White will maintain his increased early-down work, but that is a risk worth taking in the late rounds of a fantasy draft.
---
Coleman signed with the Jets and a familiar coaching staff this offseason. The 28-year-old started his NFL career in Atlanta where Mike LaFleur was an assistant offensive coach. LaFleur was his passing game coordinator in San Francisco and now his offensive coordinator in New York. Even his new head coach, Robert Salah, and running backs coach, Taylor Embree, were in San Francisco while Coleman was there.
Coleman will be competing with rookie Michael Carter and incumbents La'Mical Perine and Ty Johnson for playing time. Based on the preseason the job is his, with Johnson as the primary backup and Carter as the third string. That is good news for Coleman, as the rookie will need to beat out two players for Coleman to see a decrease in playing time.
Carter is also at a disadvantage based on the recent history of fourth-round backs. No running back drafted in the fourth round has seen more than 500 offensive snaps as a rookie over the last five seasons — the average back has played just 267 snaps. Carter has less competition than most fourth-round running backs, but even the high-end of a playing time range leaves plenty of work for Coleman.
The 49ers have used one running back as the starter on rushing downs and one as a backup, with the leading rusher typically seeing around two-thirds of the carries. That should be enough opportunities for whoever leads the Jets' running game to function as a fantasy starter.