We're in the thick of the NFL offseason and it's officially time to start fantasy football prep. I'll be answering the biggest questions heading into the 2021 season. Click here to read the series of questions answered so far.
Few quarterbacks have generated the sort of buzz as a prospect that we've seen Trevor Lawrence carry ever since he was dubbed the No. 1 overall recruit of the 2018 class. All he's done since is win a National Championship while ripping off a blistering 38-2 record, generally making a mockery of pass defenses of all shapes and sizes along the way.
The Jaguars were thus presented with one of the easier first picks in recent memory and selected Lawrence with the No. 1 overall pick in the 2020 draft. There's no debate about his standing in Jacksonville: We're looking at the franchise's starting QB of the present and of the future.
What follows is a breakdown on just how good Lawrence was in college as well as what we should make of his fantasy football stock in 2021.
Lawrence largely didn't miss at Clemson
PFF stated the following about Lawrence in our 2021 NFL Draft Guide:
"The hype is all warranted. It's a special quarterback class, but there's still a clear gap between Lawrence and everyone else. He's the only quarterback in the PFF College era to grade over 90.0 overall as a true freshman, and he's repeated that feat in both years since. This year, despite having what was easily the worst offensive line and group of receivers he's ever had, Lawrence still put up a career-high 91.2 overall grade and showed continued growth. Most notably, his accuracy saw a considerable uptick. He's not a perfect prospect, but he's as NFL-ready as it gets."
Clearly we'll need to see if Lawrence can continue putting on weekly laser shows at the next level against improved competition, but it's tough to be anything other than majorly impressed with what he managed to accomplish over the past three seasons. All in all, he posted elite marks in overall PFF passing grade (90.3), intermediate grade (90.2), deep grade (97.7) and no-pressure grade (92.6) alike.
Lawrence isn't the fastest QB ever, and he doesn't have the biggest arm in the history of mankind. With that said: Few signal-callers are capable of forcing defenses to defend every square inch of the field on a play-by-play basis.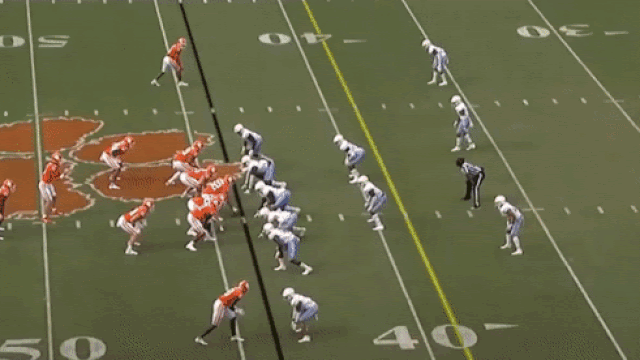 The reality that Lawrence has been slicing up secondaries since the day he walked on to campus as a true freshman reinforces the notion that we're looking at one of the best QB prospects in recent memory.
It seems like Lawrence is a can't-miss talent, although his new ball coach hasn't supplied a ton of optimism with his offseason movies thus far.
Urban Meyer keeps making more confusing decisions by the day
Let's go through a quick timeline on some of the more peculiar moves Meyer has overseen in Jacksonville through roughly five months on the job:
Subscribe to PFF Edge to continue reading
Already have a subscription? Sign In