When it comes to fantasy football, last week's NFL schedule release mattered, but only so much. We knew from the second last season ended each team's entire slate of 2019 opponents. Knowing them in order is great, but it's not like we're going to seriously upgrade a player because he faces an easy opponent in Week 4 as opposing to Week 10.
No, the biggest thing we learned from a fantasy perspective a week ago was the bye week schedule. Because that does matter for fantasy. The exact approach to planning for bye weeks is flexible — some try to stagger their bye weeks completely, while others choose to lump as many together at once and just take an L for a week — but one thing that is definitely a bad move is ignoring them altogether.
With that in mind, here is a look at what are likely to be some of the most problematic bye weeks for each position in 2019, and potential replacements who are in line to have a good matchup that week if you want to plan way ahead.
Obviously, the deeper into the season we get, the less obvious the pickups will be, because the season changes quickly. But this should serve as a decent starting point for figuring out moves to make during the season.
Week 4
Bye weeks: NY Jets, San Francisco
Our first bye week of 2019 isn't that significant, but you could run into some problems at running back, with Le'Veon Bell and the Tevin Coleman/Jerick McKinnon/Matt Breida trio off. It's a small problem, but worth knowing since it comes so early in the year.
Savvy pickup: Dion Lewis might be fully behind Derrick Henry on the depth chart after Henry's hot late-season run in 2018, but in Week 4 he and the Titans face the Falcons, the team allowing the most receptions to running backs each of the last four years. Lewis finished 10th in running back receptions in 2018 despite being 23rd in snaps. His draft stock will be lower than in recent years in 2019, but Week 4 could be a good one.
Week 5
Bye weeks: Detroit, Miami
Okay, so this one's even more boring. Moving on.
Week 6
Bye weeks: Buffalo, Chicago, Indianapolis, Oakland
The only particularly important quarterback missing Week 6 is Andrew Luck, and the only important tight end is Eric Ebron (I'll grant Jack Doyle if you want). But at running back, we'll be missing Tarik Cohen and Marlon Mack (and Isaiah Crowell and LeSean McCoy?), and at wide receiver we'll be missing Antonio Brown, T.Y. Hilton, and Allen Robinson.
Savvy pickups: At running back, possibly Rashaad Penny? The Browns were a subpar run defense in 2018 (though they'll be improved in 2019) and will be coming from a Monday night game to a Sunday early kickoff. Penny didn't have a monster rookie season in 2018 but does have a first-round pedigree and finished sixth among qualifying running backs with 3.40 yards after contact in 2018, one spot ahead of teammate Chris Carson.
At wide receiver, it's going to be tough to replace those two big names, but there's a good chance Marvin Jones will find himself on the wire after a Week 5 bye, and with a Monday night game against the Packers (who Jones has feasted against in his Lions career to the tune of 1.2 touchdowns and 21.3 PPR points per game), he'll be a good addition.
Week 7
Bye weeks: Cleveland, Pittsburgh, Tampa Bay, Carolina
Our first brutal bye week comes in Week 7. Notables you'll be missing:
Week 7 in 2019 is the bye-pocalypse.
Savvy pickups: If Mitchell Trubisky gets dropped during his Week 6 bye, he has a nice matchup against the Saints in Week 7. Otherwise, maybe Nick Foles against a Bengals team that couldn't have stopped me for most of the 2018 season.
At running back, LeSean McCoy is over the hill, but he too will be coming off a bye against a Dolphins run defense that has struggled in a big way and doesn't appear to be trying very hard to change that.
If Demaryius Thomas started the year on PUP, his first eligible week would be Week 7, and while he'd be no guarantee, he and the Patriots will draw the Jets, which could be a tasty matchup for the veteran's first game as a Patriot.
Another PUP candidate is Broncos TE Jake Butt, who started out well in three games in 2018 before suffering a(nother) ACL tear. He'll draw the Chiefs in Week 7 if he's back, and if he's just coming back.
Week 8
Bye weeks: Dallas, Baltimore
The only pass-catcher on either roster you're looking at on either of these teams is Amari Cooper, but at quarterback and running back you'll be missing Dak Prescott, Lamar Jackson, Ezekiel Elliott, and Mark Ingram.
Savvy pickups: The problem with the week after the bye-pocalypse is that none of the quarterbacks who were off the week before is likely to have landed on the waiver wire. But Marcus Mariota should draw the Buccaneers in Week 8, and that could be an appealing matchup for a once-appealing quarterback whose luster has darkened.
At running back, there isn't an easy pick here. Latavius Murray is the backup in New Orleans, and with no bye yet for the Saints and a tasty matchup against the Cardinals, it isn't hard to see them take it easy on Alvin Kamara to give him extra rest before the Week 9 bye, so Murray could get extra run.
Week 9
Bye weeks: Atlanta, Cincinnati, LA Rams, New Orleans
It's bye-pocalypse junior! In Week 9, you'll be without:
Those are some huge names to be missing all at once.
Savvy pickups: There's not a great chance Jackson or Prescott will be dumped during their Week 8 byes, but neither is such a sure thing that it's impossible. They'd be your first choices. Failing that, Ryan Fitzpatrick draws the Jets, and while he's certainly not the kind of guy you want to roll with every week, he's always good for one or two incredible games each season.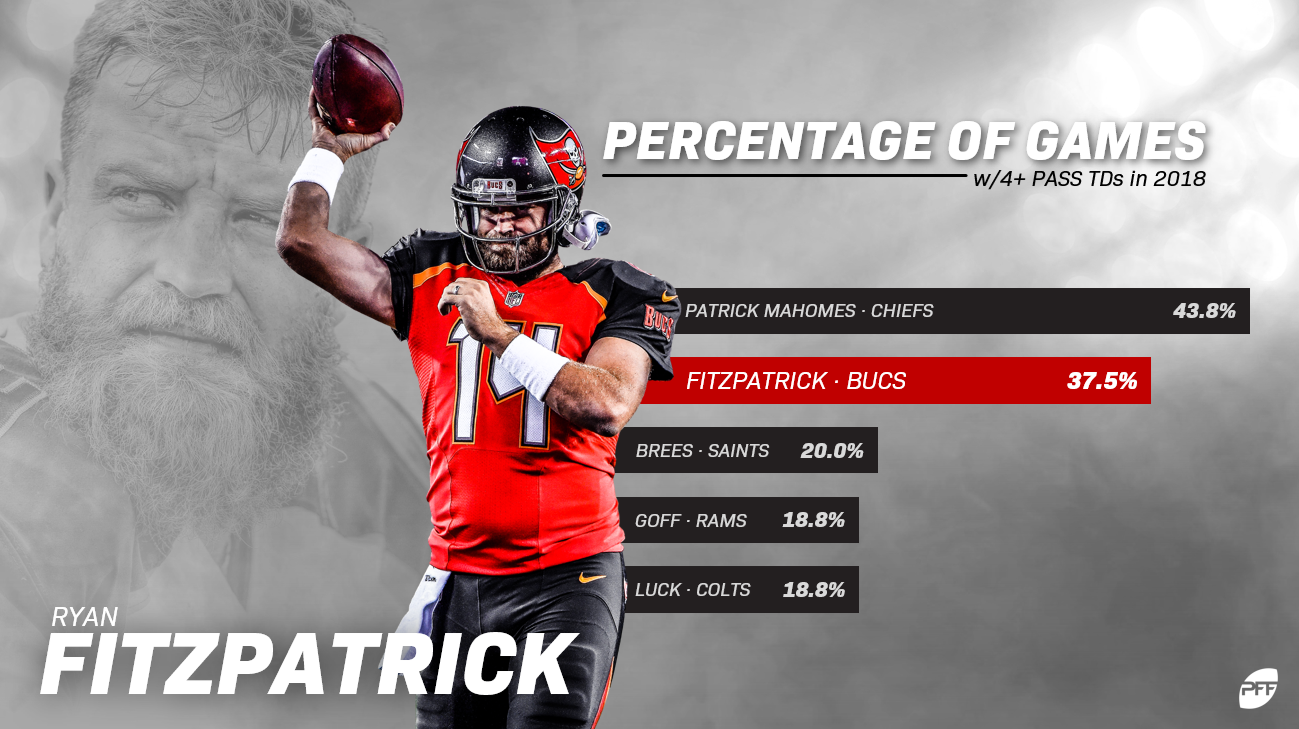 Week 9's a tough one for running backs, without an obvious addition. Obviously, if Ingram gets dropped during Baltimore's bye, he'd be the add, but otherwise, your best bet might be to just keep tabs on Ingram's backups — namely Kenneth Dixon — and see if he is getting much work, particularly as a receiver.
If you'd dive on Fitzpatrick at quarterback, it might make sense to look at a Dolphins receiver — Kenny Stills or Albert Wilson, probably — for this as well, against the Jets. Otherwise, you'll probably be looking at someone like Danny Amendola against the Raiders.
Your best bet at tight end is likely to be one of the Week 8 byes, most likely Mark Andrews, but of course keep an eye on (gulp) Jason Witten on the off chance he comes back productive in 2019.
Week 10
Bye weeks: Denver, New England, Philadelphia, Washington, Jacksonville, Houston
Our first six-team bye week of 2019 is rough in terms of quantity, but you aren't missing that much quality, relatively speaking:
It could certainly be better, but with six teams on bye, it could even more certainly be worse. Still, you'll have some moves to make.
Savvy pickups: Who will be the starting quarterback in Arizona this year? Either Kyler Murray or Josh Rosen will be an interesting pickup in Week 10 against the Bengals.
At running back, the Browns draw a rough Bills team, and Week 10 will be the first week of the season Kareem Hunt will be eligible? What will his workload be like alongside Nick Chubb? Tough to say yet, but it's rare a back with Hunt's skill level is available for any reason.
Obviously, the biggest names among the Week 9 byes won't hit the wire, but with the Falcons and Saints playing one another in Week 10, their second-tier names — Ted Ginn, Mohamed Sanu, maybe Calvin Ridley — will be appealing.
At tight end … good luck. It's helpful that Ertz is the only really big name off in Week 10, but your best bet is Austin Hooper off of a bye, or Tyler Eifert if he's still up and around that far into the season.
Week 11
Bye weeks: Green Bay, Tennessee, NY Giants, Seattle
The worst part of Week 11 will be the quarterbacks, with Aaron Rodgers and Russell Wilson out. We'll also be missing Aaron Jones, Derrick Henry, Chris Carson, and most painfully Saquon Barkley at running back; Davante Adams, Corey Davis, and Doug Baldwin at wide receiver; and a bunch of second-tier tight ends in Jimmy Graham, Delanie Walker, and Evan Engram.
Savvy pickups: The good part about a six-team bye week is the week after, when the waiver wire is filled with players who had to be dropped the week before because of all the absences. It's very plausible that, for example, guys like Jordan Howard, Lamar Miller, Emmanuel Sanders, Demaryius Thomas, DeSean Jackson, Josh Doctson, Dede Westbrook, Will Fuller, Austin Seferian-Jenkins, and Jordan Reed might have been axed the week before. At quarterback? Derek Carr and his new stable of weapons draw the Bengals.
Week 12
Bye weeks: Kansas City, Minnesota, Arizona, LA Chargers
The Chiefs having a bye makes this a tough week all by itself, but it doesn't stop there. We'll be without Patrick Mahomes, Kirk Cousins, and Philip Rivers; Damien Williams, Dalvin Cook, David Johnson, and Melvin Gordon; Tyreek Hill, Adam Thielen, Stefon Diggs, Larry Fitzgerald, Keenan Allen, and Mike Williams; and Travis Kelce, Kyle Rudolph, and Hunter Henry. It's a tough week.
Savvy pickups: Remember what I said earlier about Ryan Fitzpatrick having a few big games every year? The Browns are going to be better in 2019, but it's still only a middle-of-the-road defense and it could be a big Fitz week.
At running back, there isn't an obvious add. Maybe Rashaad Penny again, maybe Dion Lewis again. This will be one to monitor.
Wide receiver is easier. There are enough mid-range receivers on a bye in Week 11 — like Adam Humphries, Sterling Shepard, and whoever emerges as the Nos. 2/3 in Green Bay — that the wire should be fairly well stocked.
At tight end, the most appealing name that might not be widely owned will be Vance McDonald up against the Bengals.