The NFL is a matchup-driven league. Offensive coordinators are always looking to scheme their playmakers into one-on-one situations against a defender, while defensive coordinators will attempt to do anything in their power to upset the timing and rhythm of the opposing QB.
---
Click here for more PFF tools:
Rankings & Projections | WR/CB Matchup Chart | NFL & NCAA Betting Dashboards | NFL Player Props tool | NFL & NCAA Power Rankings
---
Despite the obvious impact that defenses have on opposing offenses, fantasy players and fans alike are often left with one-way metrics to describe offenses and defenses that they are then forced to compare against each other in an attempt to identify mismatches.
The goal here is to provide easy-to-decipher charts and notes to define each week's key matchups and advantages on both sides of the ball in:
Explosive Plays

Pace

Pressure

Yards Before Contact

Passing Game

EPA
The following charts display matchup-specific information meant to highlight the largest mismatches in these ever-important facets of football to ultimately gain actionable betting and fantasy takeaways. And, of course, to have fun.
Note: Data is from Week 1-4, 2021. There are obviously plenty of limitations to this due to the small sample size at hand; key discrepancies will be highlighted in the ensuing paragraphs and the metrics will get stronger as the season continues.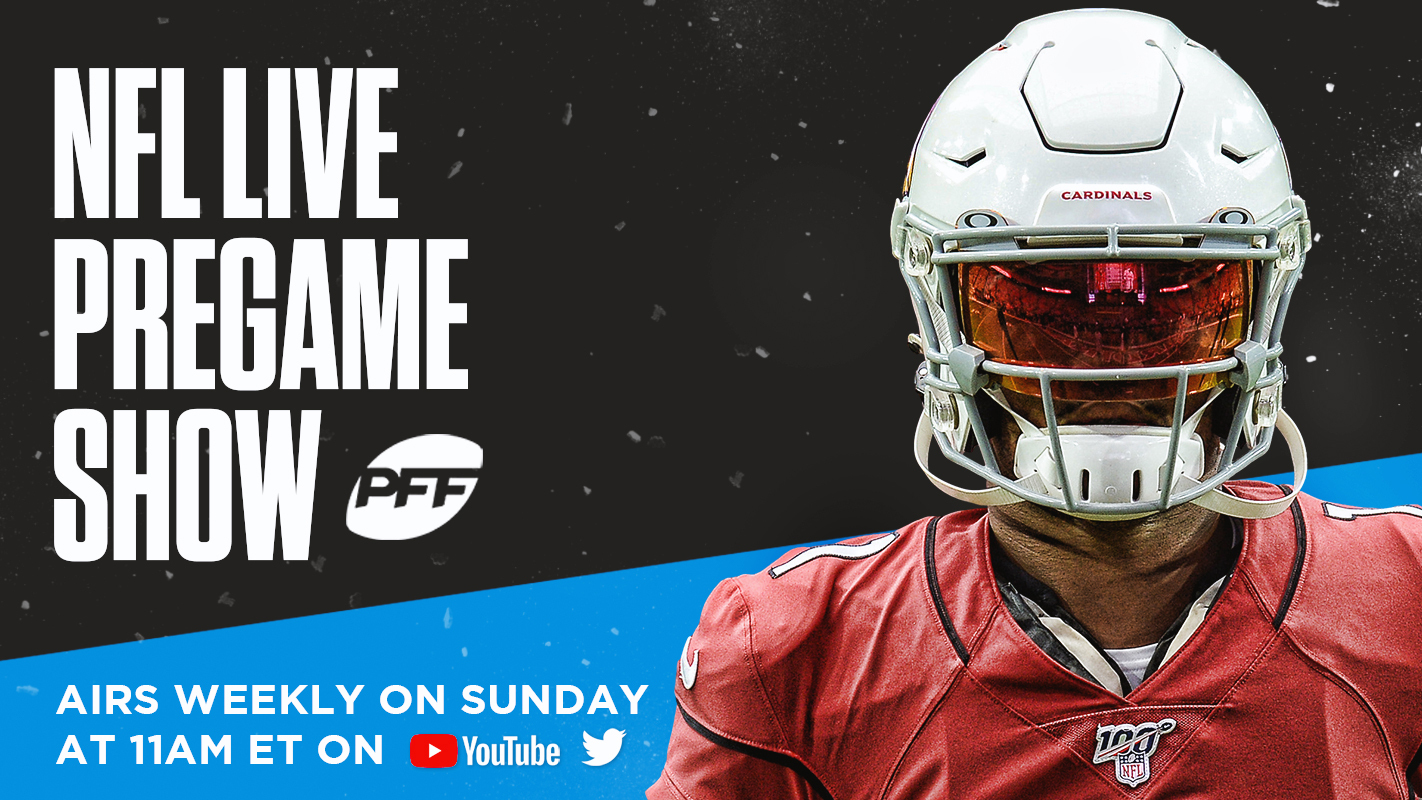 Explosive Plays
Big plays make the football world go round. Matchups between explosive offenses and leaky defenses are exactly what we're looking for when compiling game stacks in DFS, or when betting an over.
Explosive Pass Rate

: The sum of an offense's rate of 20-plus yard completions per pass attempt and the opposing defense's rate of 20-plus yard completions allowed per pass attempt. A higher percentage is better for offenses (blue  is good, red is bad).

Explosive Run Rate

: The sum of an offense's rate of 15-plus yard gains per rush attempt and the opposing defense's rate of 15-plus yard runs allowed per rush attempt. A higher percentage is better for offenses (blue  is good, red is bad).
Mismatch Manifesto Week 5: combined explosive play rate.

Higher or lower % = large or small combined sum of the pass/rush big-play rate from the matchup's offense and defense (blue = good, red = bad)

Big pass play: 20+ yds
Big run play: 15+

All data from 2021, PFF pic.twitter.com/dINhipCvv2

— Ian Hartitz (@Ihartitz) October 6, 2021
These offenses breed explosive plays: Seven offenses have managed to post an explosive pass play rate of over 10% through four weeks: Ravens (12.8%), Raiders (12.3%), Buccaneers (11.8%), Cardinals (11.8%), Bengals (11%), Seahawks (10.8%) and Rams (10.6%). We're a Trey Lance explosion away from the entire NFC West being in this group.
Speaking of the 2021 NFL Draft's No. 3 overall pick: It took Lance just 30 minutes to function as the fantasy QB17 of Week 4. He racked up 18.4 fantasy points in the performance, a mark that Jimmy Garoppolo (calf) only managed to surpass in eight of his 27 career starts with the 49ers.
Lance will be in the every-week QB1 conversation in fantasy land for however long Jimmy G remains sidelined; there simply isn't a rich history of high-usage dual-threat quarterbacks busting. The third overall pick's 7-41-0 rushing line last week reflects the sort of floor at hand; only Lamar Jackson and Jalen Hurts also push for this sort of usage on a per-week basis. Lance is the QB13 in my fantasy football rankings ahead of the likes of Kirk Cousins, Ryan Tannehill and Daniel Jones among others.
Good offense beats good defense in today's NFL: The clear-cut top-four offenses that appear set up to thrive based on their combined explosive pass play rate feature the Vikings, Buccaneers, Ravens and Raiders. That's funny, it's almost like Lamar Jackson is playing absolutely fantastic football at the moment.
The Ravens are 3-1 and it's like none of you even care: Jackson leads the league in yards per completion and ranks fourth in yards per rush. Madness. Defenses are forced to account for every square inch of the field with the 2019 NFL MVP under center, and this has grown increasingly difficult with Jackson displaying some borderline erotic ability as a passer when given the benefit of a clean pocket.
PFF passing grade when not pressured: 84.2 (No. 12 among 34 qualified quarterbacks)

Big-time throw rate: 4.8% (No. 12)

Turnover-worthy play rate: 2.2% (No. 22)

Yards per attempt: 9.4 (No. 4)
Too often Jackson is slandered for his passing ability; the man has been nothing short of fantastic despite his receivers missing on more than a few opportunities. Don't be surprised if he puts on a show as a rusher and passer on Monday night football against an overmatched Colts secondary.
Related content for you: NFL Week 5 Positional Fantasy Football Rankings via Nathan Jahnke
Offense is easier when the defense sucks: The only five defenses that have allowed an explosive pass play above 11% are the Titans (11.4%), Jaguars (11.7%), Texans (11.9%), Dolphins (12.8%) and Lions (15.8%). It'd make sense if the likes of Trevor Lawrence, Ryan Tannehill, Mac Jones, Tom Brady and Kirk Cousins put up some fireworks this week. This is especially true for the artist known as TanneThrill if A.J. Brown (hamstring) and/or Julio Jones (hamstring) manage to return.
Can we give it a rest on Tannehill already, the man is GOOD: The public seems to assume that Tannehill is back to his Miami form every time he has a somewhat mediocre game. That would apply to Week 4, as Tannehill converted 49 pass attempts into just 298 yards and one score while taking seven sacks along the way. Note that the performance would have looked far better had Josh Reynolds managed to come down with a potential touchdown and deep ball.
Through it all, Tannehill remains PFF's third-highest-graded passer on the season, ranking 12th in big-time throw rate and fifth in turnover-worthy play rate. Expect the counting numbers to improve if/when A.J. Brown (hamstring) and Julio Jones (hamstring) are able to return to action. AJB in particular is looking promising to return after practicing Wednesday.
 It'd sure be nice if both alphas are healthy enough to take advantage of this rather brutal Jaguars secondary:
Yards per attempt allowed: 9.65 (No. 31)

Explosive pass-play rate allowed: 11.7% (No. 29)

Pass yards after the catch per completion allowed: 5.8 (No. 24)

Pressure rate: 33.1% (No. 17)

QB rating allowed: 118 (No. 28)
Not every passing attack is meant to fly: Quarterbacks who could have an especially tough time slinging the ole pigskin this week include Jameis Winston, Justin Fields as well as whoever the hell is under center in San Francisco. Thankfully Matt Nagy finally came to his senses and named Fields the starter. This column would be a lot darker otherwise.
Finally a QB1 without red hair in Chicago: Coach Matt Nagy thankfully turned over play-caller duties to Bill Lazor in Week 4. The result was rather beautiful at times.
Justin Fields throwing dimes pic.twitter.com/y7Xl92rToA

— Ian Hartitz (@Ihartitz) October 4, 2021
We may never find out the ceiling of this passing game if Fields keeps throwing the ball a total of *checks notes* 17 times. PFF projections leave both Allen Robinson and Darnell Mooney outside of the week's top-30 receivers; it's tough to treat either as more than a low-end WR3 with such extreme volume and efficiency concerns against the league's 10th-best defense in PPR points per game allowed to the position.
Credit to each of Casey Hayward (PFF's No. 1 highest-graded corner), Nate Hobbs (No. 6) and Trayvon Mullen (No. 26) for collectively playing their asses off all year; don't feel like you have to start any receiver involved in the Bears' 31st-ranked offense in total pass attempts.
Gotta love the Jameis experience: We've seen the good and bad from Jameis through four weeks. In Week 1, his five-score masterpiece produced 2021's 11th-best single-game PFF passing grade. Unfortunately, Weeks 2 and 3 produced 2021's 115th- and 129th-highest graded passing game among 130 instances of a signal-caller having at least 10 dropbacks. But not so fast my friend: Winston's Week 4 performance was good for the eighth-best single-game performance of the season.
It'd make sense if Winston is again far more good than bad against a Football Team secondary that hasn't exactly slowed down anybody this season, although at this point it's anyone's guess as to which version of the ex-Buccaneers quarterback will show up on Sunday.
Winston's deep ball sure looks pretty when it hits, but ultimately the Saints have a league-low five completions of 20-plus yards this season. That's right: the freaking Bears (6) have more. Be better New Orleans.
Don't let these run games get hot: The five rushing attacks set up best to create some chunk runs are the Bears, Browns, Giants, 49ers and Bills. Unfortunately, David Montgomery won't be reaping the rewards for much longer: He's reportedly expected to miss four to five weeks with a sprained knee.
Remember that guy who scored two touchdowns in the Super Bowl all the way back in 2000?: Damien Williams is expected to work as the Bears' near every-down back. Khalil Herbert's involvement at the end of Week 4 could have been skewed by Chicago holding a multi-score lead over the Lions; I'm tentatively projecting Williams to see the sort of near every-down workload that Montgomery had in Week 2 (80% snaps) and Week 3 (82%).
The ex-Chiefs talent sure has the looks of an upside RB2. Consider your fantasy squad lucky if enough to snag Williams off waivers. Check out future Tuesday editions of The PFF Fantasy Football Podcast for complete thoughts on the upcoming week's waiver wire.
The Raiders have allowed the seventh-most PPR points per game to opposing running backs this season; find a way to squeeze Williams in starting lineups of most shapes and sizes as a projected three-down back with plus ability in the pass game.
These offenses might just want to pass the ball: Rushing attacks that are set up the opposite of good (bad) include the Saints, Football Team, Bengals and Steelers. Man, remember the good old days when we could look at the Saints' bad matchup in the trenches and laugh?
For the love of God throw Alvin Kamara the football: Kamara's targets in Weeks 1-4 by year:
2017: 28

2018: 47

2019: 24

2020: 35

2021: 14
Sheesh. While Kamara has some room for positive regression considering he's the PPR RB15 but the RB5 in expected points, the lack of 1.) an 80-reception floor, and 2.) top-tier scoring offense, significantly lowers the reigning overall fantasy RB1's ceiling.
The Football Team has allowed five receiving touchdowns to opposing running backs this season (sup Cordarrelle Patterson); no other defense has given up more than three. Perhaps this is the spot in which Kamara gets back to looking like a fantasy cheat code, but for the time being it's fair consider selling high after his next solid performance. He's still someone who will be in your starting lineup each and every week, even if there's a fire, although it could be worth shopping him to a bidder unaware of the difference in this year's overall usage.
Pace
Fast-paced games lead to more plays, which lead to more points. Every week usually consists of at least a few games that could resemble a track meet based on their combined situation-neutral pace (Football Outsiders).
Combined Situation-Neutral Pace

: Represents the combined situation-neutral pace between each matchup's two offenses. A lower number indicates fewer average seconds per play (blue = fast-paced game), while a higher number indicates more average seconds per play (red = slow-paced game).
Mismatch Manifesto Week 5: combined situation-neutral pace.

Low combined numbers (blue) = two fast-paced offenses
High combined numbers (red) = two slow-paced offenses

Data from 2021, Football Outsiders pic.twitter.com/722FYoyXJB

— Ian Hartitz (@Ihartitz) October 6, 2021
Get ready to see a track meet: The week's fastest-paced matchups, sponsored by Ricky Bobby: Rams (No. 1 in situation neutral pace) at the Seahawks (No. 18) and Dolphins (No. 8) at the Buccaneers (No. 4). Is it really too much to ask for all offenses to simply go fast.
We'll be moving plenty fast elsewhere too: Candidates to also be pushing Cal Naughton for second place include Eagles-Panthers, Browns-Chargers, Giants-Cowboys and Bills-Chiefs. Thank you NFL for providing Thursday and Sunday night football with two of the week's top-six fastest-paced games.
Unfortunately some offenses are slow and lame: And the NFL decided to feature one of the worst combinations on Monday night football. Overall, the Colts (No. 32) at the Ravens (No. 13) is the week's second-slowest projected matchup behind only the Packers (No. 21) at the Bengals (No. 31).
Seriously, what are you waiting for: More matchups that are simply too lame from a player per play perspective feature the Lions-Vikings, Broncos-Steelers and Bears-Raiders. At least in the latter game folks can always just go hit up the casino between plays.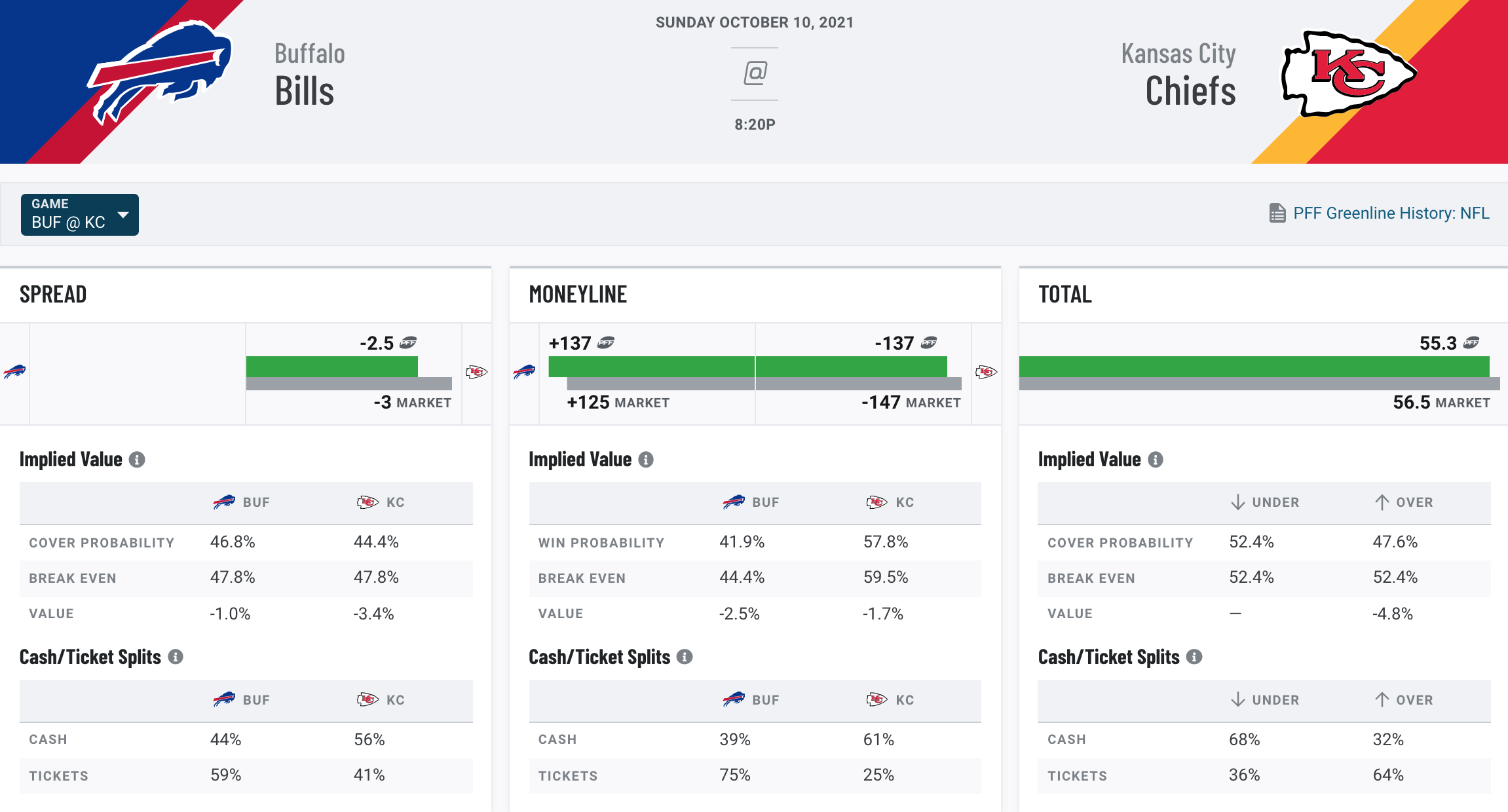 Pressure
An overmatched offensive line can result in poor fantasy days for all skill-position players involved. Meanwhile, QBs with all day to throw can help generate points in bunches. We can determine which offensive lines might be especially better (or worse) this week with help from PFF's offensive and defensive pressure statistics.
Combined Pressure Rate: The sum of the offensive line's rate of pressures allowed per dropback and the opposing defense's total pressures generated per dropback. A higher percentage (red) is better for defenses and indicates that quarterback could be under fire, while a lower percentage (blue) indicates that matchup's quarterback could face reduced pressure,
Mismatch Manifesto Week 5: combined pressure rate

Sum of pressure rates between opposing offenses and defenses.

Higher percentage: that offensive line could be in trouble (red)
Lower percentage: not expecting much pressure on QB (blue)

Data from 2021, PFF pic.twitter.com/HduTbcVAsr

— Ian Hartitz (@Ihartitz) October 6, 2021
Under pressure: good song, bad for fantasy football: Two quarterbacks stand out as particularly screwed in their quest to throw from a clean pocket: Jalen Hurts and Carson Wentz. Oh yeah, and the latter has not one but two sprained ankles.
Wentz's miraculous streak might be coming to an end Monday night: This isn't an insult on Wentz: He's managed to go the first four weeks of the season without registering a single turnover-worthy play as a passer. Note that his lone interception this season was off a fluky shovel pass.
The ex-Eagles quarterback is still holding the ball too long and not exactly making a habit of creating big plays downfield, but his ability to limit horrendous decisions through four weeks is nothing other than a positive.
Attempting to keep this streak alive while navigating the Ravens' blitz-happy defense for 60 minutes is probably wishful thinking; either way, credit to Wentz for at least looking a bit more like the guy we saw in 2018-2019 as opposed to 2020 so far.
It'd be a lot cooler if the Eagles' entire offensive line wasn't banged up: A matchup with Brian Burns and company isn't ideal on the surface, but Hurts could (again) be without starting tackles Lane Johnson (personal) and Jordan Mailata (knee) in addition to guards Brandon Brooks (pec, IR) and Isaac Seumalo (foot, IR).
And yet: It just might not matter. All Hurts has done in his eight career starts is put forward one fantasy-friendly performance after another:
Week 14, 2020: 167 pass yards-1 TD-0 INT, 18 carries-106 rush yards-0 TD, fantasy QB11

Week 15, 2020: 338-3-0 passing, 11-63-1 rushing, fantasy QB1

Week 16, 2020: 342-1-2 passing, 9-69-0 rushing, fantasy QB12

Week 17, 2020: 72-0-1 passing, 8-34-2 rushing, fantasy QB20 (in three quarters)

Week 1, 2021: 264-3-0 passing, 7-62-0 rushing, fantasy QB5

Week 2, 2021: 190-0-0 passing, 10-82-1 rushing, fantasy QB10

Week 3, 2021: 326-2-2 passing, 9-35-0 rushing, fantasy QB10

Week 4, 2021: 387-2-0 passing, 8-47-0 rushing, fantasy QB4
The latter performance with the same offensive line issues he could be facing this week could've been even bigger if not for nullified scores to both Dallas Goedert and DeVonta Smith. Either way, the rushing usage on hand remains a borderline cheat code in fantasy land: Hurts has racked up the 11th-most rushing yards in the league since taking over in Week 14 last season.
This sort of fantasy-friendly usage is matchup-proof; Hurts is a weekly must-start option and has earned top-five treatment at the position.

Some offensive lines and quarterbacks are just more prone to pressure: The only four offenses that have been pressured on at least 40% of their dropbacks are the Dolphins (40.8%), Saints (41.7%), Jets (42.8%), Broncos (43.7%) and Colts (46.6%). A fish, religious person, airplane and two horses. NFL mascots are weird.
Things could get ugly in Tampa Bay: Pressure is sometimes irresponsibly blamed on the offensive line when the quarterback is actually the primary issue. A look at the Dolphins' performance through four weeks reveals that this has been a bit of a double-edged sword:
Pressure rate: 47.7% (No. 31)

Pressure rate when ball is out in under 2.5 seconds: 24.4% (No. 26)

Pressure rate when ball is out in more than 2.5 seconds: 73.5% (No. 32)

Brissett average time to release: 2.88 seconds (No. 26 among 36 qualified quarterbacks)
The Dolphins haven't done a good job protecting Brissett even when he's gotten the ball out quickly, but the backup signal-caller hasn't helped matters by holding the ball longer on average than all but 10 quarterbacks.
Only seven teams have racked up more total pressures than the Buccaneers through four weeks of action; there's a reason why only the Texans (15.75) are implied to score fewer points than the Dolphins (19.25) this week. There's always a chance Waddle is peppered with enough high-end volume to make things work in full-PPR formats, and Parker is a good bet to win a jump ball against pretty much anyone; just realize the issues at the line of scrimmage are enough for me to treat both a borderline WR3 options at best despite the Buccaneers ranking dead last in PPR points per game allowed to opposing wide receivers this season.
Sundial joke about having a ton of time to throw: Our handy dandy combined pressure chart show blue skies ahead for the likes of Ben Roethlisberger, Joe Burrow, Aaron Rodgers and Taylor Heinicke. Oh don't worry, there's a catch with the former signal-caller.
Things are getting bad fast in Pittsburgh: An offense choosing to go for it on fourth down is often a sign of desperation. Sure, some analytically savvy teams rightfully go for it whenever the situation is right, but often it's an offense's last-ditch effort to continue the drive in a game not going their way.
And then there's Roethlisberger, who has essentially declined to even attempt to extend the play on three separate fourth-down chances over the past two weeks.
Nobody:

Absolutely no one:

Not a single soul on Earth:

Ben Roethlisberger on 4th down: pic.twitter.com/kwkxQKGwr9

— Ian Hartitz (@Ihartitz) October 4, 2021
Big Ben ranks 31st and 33rd in PFF passing grade and yards per attempt among 36 qualified quarterbacks. At this point calling him washed is an insult to washing machines; don't expect Roethlisberger to right the ship against Vic Fangio and the Broncos' second-ranked scoring defense.
The one nice thing I'll say about Roethlisberger: He knows how to feed Diontae Johnson. The Steelers' stud No. 1 WR's target totals in 15 non-injury-impacted games with Big Ben since Week 1 of last season: 10, 13, 15, 10, 11, 16, 13, 12, 7, 13, 14, 16, 10, 12 and most-recently 13. Say it with me people: Drops don't matter in fantasy football land when you're good enough to burn Jaire Alexander.
Lock in the Steelers' talented No. 1 WR as an upside WR2 at worst in fantasy land; the ceiling would be the roof with better performance under center.
Pass rushes that haunt the dreams of your favorite quarterback: Three pass rushes have managed to post a pressure rate of at least 40% this season: Chargers, Panthers and Browns. Headlined, of course, by Joey Bosa, Brian Burns and Myles Garrett. The former had rather hilarious comments on Raiders QB Derek Carr, noting, "We knew once we hit him a few times, he really gets shook. And you saw on (Covington's) sack, he was pretty much curling into a ball before we even got back there. Great dude, great player… but we know once you get pressure on him, he kind of shuts down." Great dude, great player, though.
The league's finest individual rushers of the passer: Eight defenders have racked up at least 20 pressures this season: Maxx Crosby (30), Myles Garrett (25), Harold Landry (24), Joey Bosa (23), Danielle Hunter (23), Aaron Donald (21), Jadeveon Clowney (21) and Trey Hendrickson (20). Only three players since 2010 have had more pressures than Crosby through four weeks: 2012 Cameron Wake, 2013 Tamba Hali and 2014 J.J. Watt. Madness.
Trench Battles
RBs receive most of the praise for an offense's rushing output, but an overmatched offensive line can thwart a team's run game before it even has a chance to get started. We can determine the offensive lines that might be especially better (or worse) off this week by looking at yards before contact.
Combined Yards Before Contact Per Rush

: The sum of an offensive line's adjusted line yards per rush and the opposing defense's adjusted line yards allowed per rush. A higher number (blue) is good for running backs, while a lower number (red) indicates that matchup's offense could have some trouble consistently running the ball.
Mismatch Manifesto Week 5: combined yards before contact per rush

Sum of each offense and defense's YBC/carry.

High number: Good run-blocking o-line vs. bad run-defending D (blue)
Low number: Bad run blocking o-line vs. stout D against the run (red)

Data from 2021, PFF pic.twitter.com/XN7qvOvpKk

— Ian Hartitz (@Ihartitz) October 6, 2021
Great day to be a great running back: The top three run games set up for the most success feature the Lions, Browns and Bills. If only these backfields were led by one clear-cut back. If only.
The Lions aren't getting as schwifty as fantasy folks prefer, but chill: Both D'Andre Swift (PPR RB7) and Jamaal Williams (RB20) have emerged as weekly fantasy starters inside of the Lions' otherwise dreadful offense. The former back is getting the Aaron Jones treatment: plenty of work more weeks than not, but the ceiling is limited due to the presence of Williams.
Ultimately, Swift's pass-down work is the difference-maker. He comes in as PFF's RB3 in expected points; literally only Derrick Henry and Najee Harris have had more fantasy-friendly production through four weeks. Williams is just fine at 21st in his own right; just don't get it twisted when it comes to who the superior back is in fantasyland.
Don't blame the Lions for not feeding Swift enough carries when Williams has vastly out-performed him on the ground this season:
PFF rushing grade: Williams (No. 5 among 46 backs), Swift (No. 45)

Missed tackles forced: Williams (15), Swift (45)

Yards per carry: Williams (19), Swift 42nd

YAC per carry: Williams (21), Swift (46)
The Vikings are one of just nine defenses to surrender at least 27 PPR points per game to opposing backfields. Fire up Swift as a legit RB1 in full PPR formats, while Williams is more of an upside RB3 that will disappoint more weeks than not without at least one trip to the end zone.
There's no doubt which NFL team has the best running back room: The Browns truly have an embarrassment of riches in their backfield:
PFF rushing grade:

Kareem Hunt

(No. 7 among 46 qualified backs),

Nick Chubb

(No. 11)

Missed tackles forced per carry: Hunt (No. 2), Chubb (No. 6)

Yards per carry: Hunt (No. 5), Chubb (No. 8)

Yards after contact per carry: Hunt (No. 2), Chubb (No. 5)
Both backs stand out as outliers in terms of their ability to make the most out of their opportunities.
Running backs yards after contact + missed tackles forced per carry ranks (PFF)

-Up: Better at YAC/rush
-Right: Better at MTF/rush
-Up and right: Beast at both
-Down and left: Struggling at both

Note: this is from rush attempts only, no receiving work counts. pic.twitter.com/3sSS2kOh2p

— Ian Hartitz (@Ihartitz) October 5, 2021
Hunt (PPR RB8) and Chubb (RB11) have each returned RB1 production through four weeks; both have the opportunity to keep on keeping on against a Chargers defense that is typically content to let their opponents run the ball to their heart's desire. Overall, only the Broncos have faced fewer rush attempts with at least eight defenders in the box than the Chargers this season.
Personal note: Check out my Week 5 Backfield Report for more specific information on the league's ever-evolving running back stables.
More running backs expected to have a little thing called success: More backfields that are looking awfully good on paper include the Ravens, Chiefs and Giants. Finally, a workhorse back we can gush over.
Hide your kids, hide your wife: Saquon Barkley is BACK: And boy is it awesome.
Saquon Barkley pure joy after scoring was the feel-good moment of Week 4pic.twitter.com/2hFHQk7dlB

— Ian Hartitz (@Ihartitz) October 5, 2021
The PPR RB10 overall and RB6 in expected points, Barkley is back to functioning as one of football's most fed backs and getting closer to fully looking the part of arguably the best real life player at the position. Overall, he posted 13-52-1 rushing and 5-74-1 receiving lines on a robust 88% snap rate during the Giants' upset victory over the Saints in Week 4.
Folks don't need more than one hand to count the number of backs you'd rather have on your team the rest of the season; Barkley is locked in as a high-end RB1 regardless of the matchup as long as he stays healthy.
Are we positive CEH isn't a fugazi: Clyde Edwards-Helaire has posted back-to-back RB12 finishes after many left him for dead following a disappointing first two weeks of the season. Still, Edwards-Helaire comes in as just the RB30 in terms of expected points through four weeks: he's largely overachieved thanks to converting two of his eight targets into scores. It'd make sense if the lead back in the Chiefs' second-ranked scoring offense manages to buck expectations more weeks than not; just realize Andy Reid's past RB1s like Brian Westbrook, Jamaal Charles and LeSean McCoy weren't forced to share an offense with two target hogs on the level of Tyreek Hill and Travis Kelce.
Up next is a Bills defense that largely declined to defend the run against the Chiefs when they met in Week 6 last season, leading to Edwards-Helaire converting his 26 rush attempts into a career-high 161 yards on the ground. Of course, CEH's performance in the AFC Championship (6-7-1) wasn't quite as exhilarating. Treat him as more of a mid-tier RB2 moving forward that should be in more starting lineups than not.
Gotta love a good run game scheme: Just four run games have averaged at least 2.0 yards before contact per rush: Chiefs (2.47), Ravens (2.32), Bills (2.07) and Eagles (2.01). It's almost like not having a statue quarterback might just help the run game.
Best Steven Tyler voice: Run away, run away from the pain yeah, yeah, yeah, yeah, yeah: Rushing attacks that could spend more time on their heels (ha!) this week include the Dolphins, Steelers, Raiders and Texans. At least the former and latter teams possess committees that are too muddled to mess with in fantasy land anyway. Here's to hoping Najee Harris and Josh Jacobs (!!!) can repeat their five-plus catch efforts from a week ago.
Passing Game
Some pass offenses are obviously more efficient than others, while certain secondaries are seemingly capable of shutting down any aerial attack. We can determine the week's biggest mismatches in the passing game using each offense and defense's pass yards per dropback.
Combined Passing Yards Per Dropback

: The sum of an offense's passing yards per dropback and the opposing defense's passing yards allowed per dropback. A higher number (blue) is good for quarterbacks and receivers, while a lower number (red) indicates that matchup's pass offense could be in trouble.
Mismatch Manifesto Week 5: combined pass yards per dropback

Sum of offense's pass yards/dropback with defensive rate.

Higher number: efficient pass offense vs. bad pass defense (blue)
Lower number: inefficient pass offense vs. good pass defense (red)

Data from 2021, PFF pic.twitter.com/Gh1A4ShF0g

— Ian Hartitz (@Ihartitz) October 6, 2021
Always let Russ cook, but at least for this week also these dudes: Matthew Stafford and Kirk Cousins stand out as the clear-cut top-two signal-callers in terms of combined pass yards per dropback. The only potential problem for the latter signal-caller's passing game: volume.
At least the Vikings know how to make the most out of a target: Justin Jefferson became a full-time starter in Week 3 of 2020. Since then he's scored and/or cleared 100 yards in 12 of 18 games. Let this be your weekly reminder that Jefferson was robbed of an additional score in Week 1. Equipped with the single-best WR/CB matchup of Week 4: Jefferson is locked in as an upside WR1 whose only potential pitfall is a lack of high-end volume if Dalvin Cook has his way with this front-seven.
Adam Thielen comes in with the week's third-best WR/CB matchup. The 31-year-old veteran has scored 18 times in his last 19 games. This is in large part thanks to his chemistry with Kirk Cousins in the red zone, although Jefferson (5 targets inside the 20-yard line) has actually been more involved than Thielen (4) in this area. Jefferson also holds commanding leads in target share (26% vs. 21%) and especially air yard share (44% vs. 28%). Fire up Thielen as an upside WR2 with confidence in this potential smash spot; just realize the usage suggests the disparity between Jefferson (PPR WR6 through four weeks) and Thielen (WR11) could grow as the season progresses.

The government calls it a passing league for a reason: More quarterbacks who should be allowed to spread their wings this week include Derek Carr, Lamar Jackson and Ryan Tannehill. The former quarterback might be coming off a rough Monday night performance, but at least the game taught us a valuable life lesson.
Take a bow, Hunter Renfrow: One of just eight players with at least five receptions in every game this season, it might have taken an absolutely incredible special teams play for us to respect Renfrow as the stud he truly is, but either way we're here. There simply aren't many corners capable of hanging with the Raiders' pint-sized slot receiver in space. Some of the routes he puts on film are truly ridiculous. Fantasy's overall WR21 and WR25 in expected points, fire up the Raiders' most targeted wide receiver as a legit WR3 against the Bears' 24th-ranked secondary in passer rating allowed to receivers aligned out of the slot.
And then there's Henry Ruggs, who has turned in 2-46-0, 5-113-1, 4-78-0 and 3-60-0 receiving lines this season. He'll be a solid enough WR3 in weeks when he comes down with one of his two or three deep shots, and a bust in weeks when he doesn't. Certainly the preferred option over Bryan Edwards at this point, although still not someone fantasy managers can feel all that confident about due to Darren Waller and Renfrow's stranglehold on Carr's target share.
These passing games might be a bit rough n' rowdy: It might be a rough debut for Justin Fields if these cool-looking charts mean anything, while Ben Roethlisberger, Jacoby Brissett and Davis Mills also aren't set up particularly well. Cool? Cool.
The Texans have one player worth concerning yourself with in fantasy land: And his name is Brandin Cooks. He's put forward the following production through four weeks:
Week 1: 5 receptions-132 yards-0 TD (7 targets), PPR WR22

Week 2: 9-78-1 (14), WR8

Week 3: 9-112-0 (11), WR11

Week 4: 5-47-0 (7), WR51
Nobody has a higher percentage of their team's air yards than Cooks (55%). Only Davante Adams is on his level in terms of target share (37%). It doesn't feel good starting anybody involved in this offense; just realize Cooks has the sort of ridiculous volume to continue to warrant low-end WR2 treatment even in tough matchups. Fingers crossed Tyrod Taylor (hamstring) is back sooner rather than later.
Dope secondaries always have the best nicknames: Let this be a challenge to the Bills, Raiders and Broncos, who boast the league's only three defenses to allow fewer than 5.5 pass yards per dropback this season. The Bills have outscored the Dolphins, Football Team and Texans 118 to 21 over the past three weeks. Sheesh.
EPA
Points are ultimately what wins football games. We can measure the expected points of every play on offense and defense by considering the down, distance and field position before factoring in the result. Estimated points added (EPA) is thus the value of a play that takes context into account and thereby better measures efficiency at the play level.
Combined EPA

: The sum of an offense's EPA/play and their opposing defense's EPA/play allowed. A higher number (blue) is good for offenses, while a lower number (red) indicates that offense could be in trouble.
Mismatch Manifesto Week 5: combined EPA per play

Sum of EPA/play of matchup's offense and defense to see biggest potential overall mismatches

High numbers indicate efficient offense vs. inefficient defense (blue), lower numbers are bad for o (red)

Data from 2021, PFF pic.twitter.com/dtFYrV4wST

— Ian Hartitz (@Ihartitz) October 6, 2021
Blowout alert: The anticipated largest difference in respective offensive matchups this week goes to the Bills! We'll find out just how much of their impressive last three weeks was due to them being good, and how much to their opponents for, well, not. The same goes for the Broncos, who boast the second-largest overall difference over the Steelers.
Over alert: Matchups featuring the most combined firepower on offense are headlines by the Rams at the Seahawks as well as the Giants at the Cowboys. The game total in both matchups has risen since opening and they now sit second and third in Week 4. Makes sense.
Upset alert: The Bengals (+3), Broncos (+1) and Bills (+3) represent the only three teams expected to have the offensive advantage, yet enter their matchups as underdogs. Qualifiers from the last two weeks have put up a more than solid 5-3 record both straight up and against the spread.
Under alert: Jets-Falcons, Patriots-Texans, Broncos-Steelers and Bears-Raiders stand out as the top-four potential low-scoring matchups. Only Jets-Falcons is outside of the week's bottom-three game totals. That over/under has somewhat surprisingly risen from 44 to 46, although it would make sense if Zach Wilson stays balling now that his schedule has chilled out a bit.
Zach Wilson is fun pic.twitter.com/7GritfbNJX

— Ian Hartitz (@Ihartitz) October 4, 2021