The NFL is a matchup-driven league. Offensive coordinators are always looking to scheme their playmakers into one-on-one situations against a defender, while defensive coordinators will attempt to do anything in their power to upset the timing and rhythm of the opposing QB.
Click here for more PFF tools:
Rankings & Projections | WR/CB Matchup Chart | NFL & NCAA Betting Dashboards | NFL Player Props tool | NFL & NCAA Power Rankings
---
Despite the obvious impact that defenses have on opposing offenses, fantasy players and fans alike are often left with one-way metrics to describe offenses and defenses that they are then forced to compare against each other in an attempt to identify mismatches.
The goal here is to provide easy-to-decipher charts and notes to define each week's key matchups and advantages on both sides of the ball in:
Explosive Plays

Pace

Pressure

Yards Before Contact

Passing Game

EPA
The following charts display matchup-specific information meant to highlight the largest mismatches in these ever-important facets of football to ultimately gain actionable betting and fantasy takeaways. And, of course, to have fun.
Note: Data is from Week 1-11, 2021. Key discrepancies will be highlighted in the ensuing paragraphs and the metrics will get stronger as the season continues.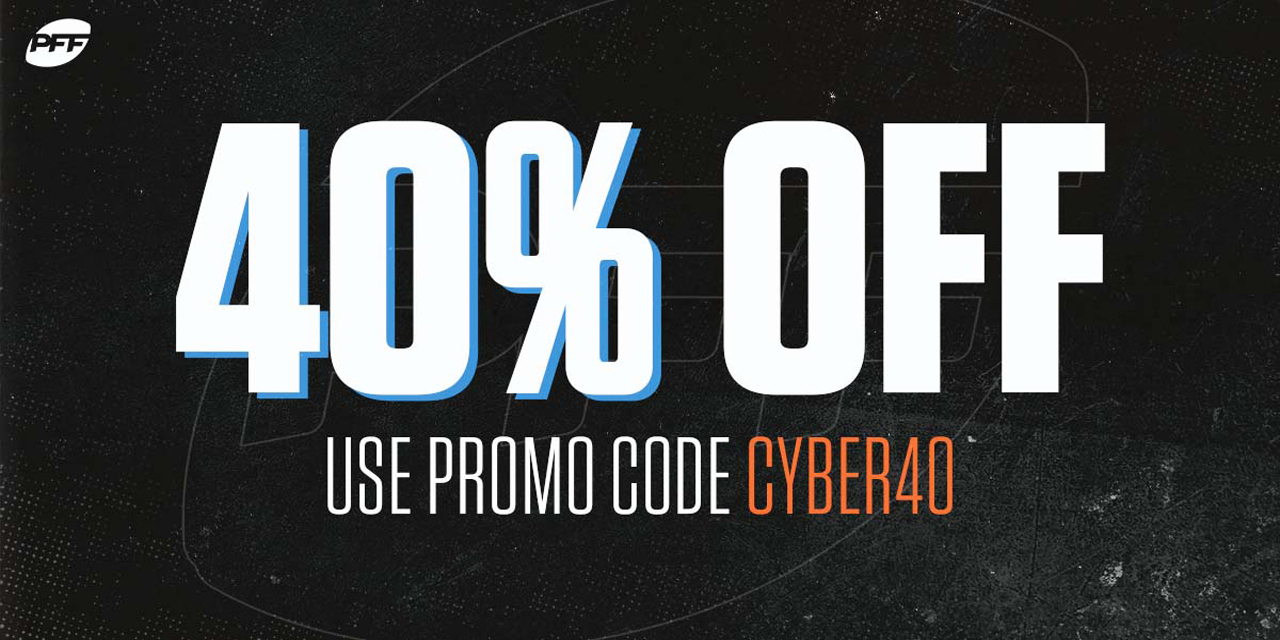 Explosive Plays
Big plays make the football world go round. Matchups between explosive offenses and leaky defenses are exactly what we're looking for when compiling game stacks in DFS, or when betting an over.
Explosive Pass Rate

: The sum of an offense's rate of 20-plus yard completions per pass attempt and the opposing defense's rate of 20-plus yard completions allowed per pass attempt. A higher percentage is better for offenses (blue is good, red is bad).

Explosive Run Rate

: The sum of an offense's rate of 15-plus yard gains per rush attempt and the opposing defense's rate of 15-plus yard runs allowed per rush attempt. A higher percentage is better for offenses (blue is good, red is bad).
Mismatch Manifesto Week 12: combined explosive play rate.

Higher or lower % = large or small combined sum of the pass/rush big-play rate from the matchup's offense and defense (blue = good, red = bad)

Big pass play: 20+ yds
Big run play: 15+

All data from 2021, PFF pic.twitter.com/5dbuV7mqSt

— Ian Hartitz (@Ihartitz) November 24, 2021
These offenses breed explosive plays: The Raiders (12.7%), Cardinals (10.9%), Rams (10.5%), Patriots (10.5%) and Vikings (10.2%) are the only five offenses averaging an explosive pass play on at least 10% of their dropbacks. Of course, the former squad has looked quite a bit different in recent weeks.
It'd sure be a lot cooler if Derek Carr was good again: Carr has turned in his three worst performances of the season in PFF passing grade in back-to-back-to-back weeks without Henry Ruggs in action. It's rather easy to see that this passing game has become a shell of itself without the services of the field-stretching ace:
Carr in Weeks 1-8: 90.2 PFF passing grade (No. 4 among qualified QBs), 8.5 yards per attempt (No. 6), 9.2 yard average target depth (No. 7)

Weeks 9-11: 51.7 PFF passing grade (No. 34), 7.2 yards per attempt (No. 16), 7.3 yard average target depth (No. 22)
This is just a small sample size, and DeSean Jackson should help matters down the stretch as long as he can remember where the end zone is. Still, things are so much easier for everyone involved in this Raiders offense when the opponent has to respect the deep ball; reduced efficiency could become a more constant occurrence for this passing game during the second half of the season.
Carr better hope the offensive line brings their A-game this week against stud Cowboys rookie Micah Parsons, who is PFF's top-graded pass rusher (92.7) on the year.
Good offense beats good defense in today's NFL: Offenses set up to thrive in their quest to create some explosive pass plays: Raiders, Browns, Bears and the Vikings. Obviously the middle two squads haven't exactly received high-level consistency under center this season, but at least one fantasy-relevant receiver is emerging in Chicago.
There's at least one reason to wake up early on Thanksgiving: Allen Robinson (hamstring) is expected to miss another week, leaving Darnell Mooney locked in as this passing game's undisputed No. 1 option. Nobody had more air yards than Mooney in Week 12, and he actually wound up with the week's third-most unrealized air yards despite turning in a more than solid 5-121-1 effort. This is largely thanks to him receiving a whopping 16 targets; there's too much fantasy-friendly volume here to treat Mooney as anything other than a WR2 in fantasy land despite the underwhelming situation under center.
Further helping matters is a Lions defense that simply hasn't been able to slow down wide receivers this season. The following numbers denote defensive metrics against the position:
Yards per attempt: 9.47 (No. 28)

Explosive pass play rate: 23.3% (No. 28)

QB rating: 98.2 (No. 17)

Contested target rate: 16.3% (No. 29)
Mooney is my WR21 on the week ahead of guys like DeVonta Smith, Jaylen Waddle and Mike Williams.
Of course, there's more than just one NFC North receiver set up well this week.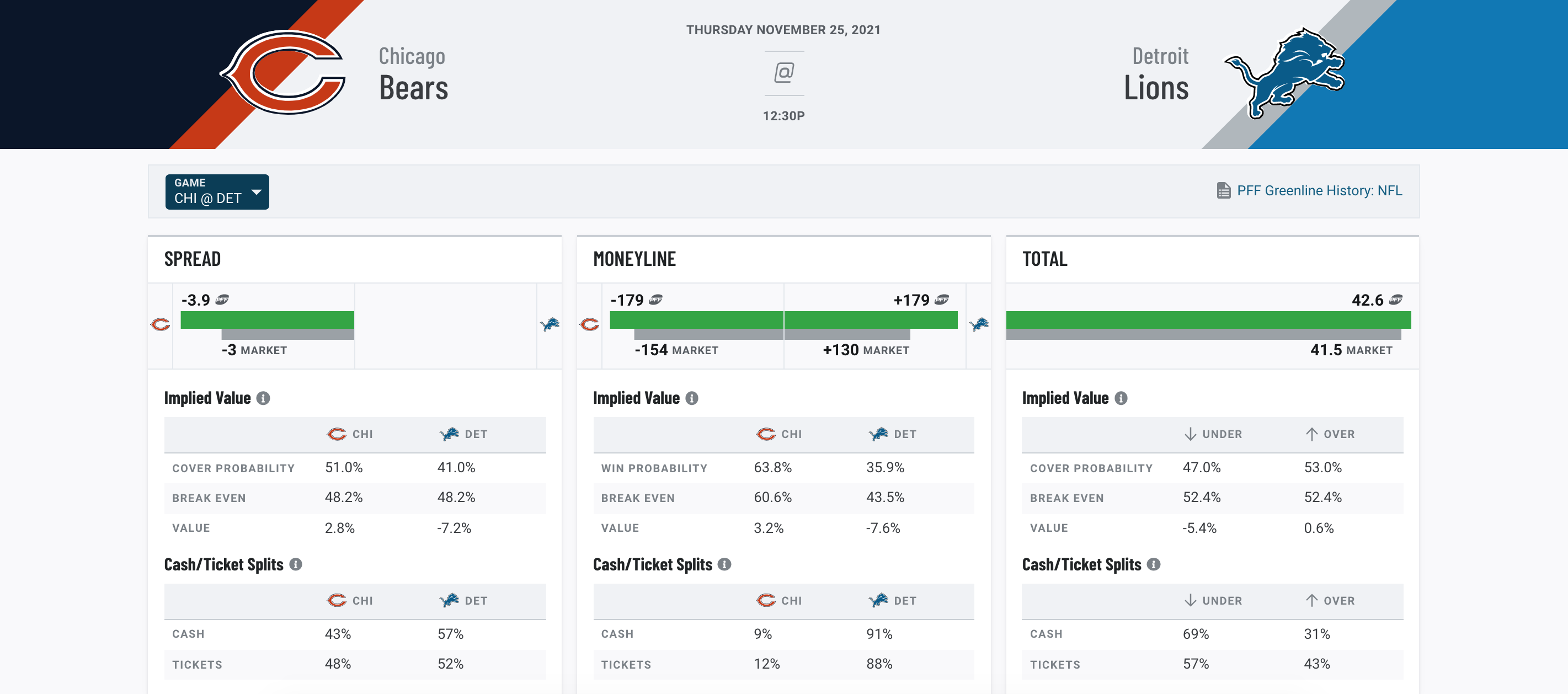 I feel like I would have been at least a decent real life Viking back in the day: Pick a stat, any stat: Justin Jefferson is one of the best wide receivers alive.
PFF receiving grade: 86.1 (No. 4 among 96 wide receivers with at least 25 targets)

Yards per reception: 15 (No. 20)

Yards per route run: 2.53 (No. 6)

QB rating when targeted: 129.2 (No. 7)
The WR5 in PPR points per game, Jefferson earned every-week WR1 treatment regardless of the matchup a long time ago.
The same is true to a lesser extent for Adam Thielen, who simply keeps outperforming expectations. Just four wide receivers have scored more than 30 fantasy points above expectation this season:
Both Jefferson (my WR5) and Thielen (WR18) should be started in fantasy lineups of all shapes and sizes ahead of this sneaky shootout. Only Buccaneers-Colts (52.5) and Raiders-Cowboys (51) have a higher game total than Vikings-49ers (49) this week.
Offense is easier when the defense sucks: The only four defenses allowing an explosive pass play on at least 10% of their opponent's dropbacks: Jets (12%), Ravens (11.9%), Lions (11.1%) and Jaguars (10.2%). It sure looks like a certain rookie receiver is set up well against the former squad.
Hey, you got any grapes?: Jaylen Waddle has played five full games with Tua Tagovailoa under center:
Week 1: 4-61-1 on 5 targets, PPR WR26

Week 6: 10-70-2 on 13 targets, WR4

Week 7: 7-83-0 on 8 targets, WR16

Week 8: 4-29-0 on 11 targets, WR60

Week 11: 8-65-0 on 9 targets, WR11
He's emerged as a low-end WR2 with this sort of volume; top-12 production is a consistent possibility down the stretch if the speedy rookie can ever bust open a big play or two.
This week's matchup against the Panthers' quick-footed outside corners might not render too many opportunities for big plays down the field, but Waddle should again have every opportunity to rack up receptions in the underneath areas of the field. Overall, the Panthers rank just 26th in contested target rate on passes to targets aligned out of the slot.
Waddle is my PPR WR23 on the week ahead of guys like Mike Williams, Chase Claypool and Tee Higgins.
Not every passing attack is meant to fly: The clear-cut bottom-six offenses in terms of expected failure in creating big plays through the air: Titans, Saints, Giants, Dolphins, Jaguars and the Football Team. Shoutout to the latter squad for receiving some truly great play under center over the past two weeks.
America loves a good journeyman quarterback: All Taylor Heinicke has done over the past two weeks is complete 78% of his passes while averaging 8.6 yards per attempt with four touchdowns against zero interceptions across two wins against the Buccaneers and Panthers. Only Mac Jones has a higher PFF passing grade over the past two weeks. Madness.
Heinicke ranks 25th in big-time throw rate and 29th in turnover-worthy play rate among 37 qualified quarterbacks; he's generally still struggled to provide a constant dose of "elite" throws while continuing to make too many mistakes for anyone's liking. Still, it's always a great day to be great, and Heinicke's recent play has been nothing short of masterful.
There's a floor here, but Heinicke has posted five top-12 performances in fantasy land through 11 weeks of action. He's firmly on the streamer map ahead of next Monday night.
The icing on the cake for Heinicke: For once the Football team isn't the NFC East team dominating headlines for the wrong reasons this week.
Say goodbye to the clapper: The Giants' decision to fire Jason Garrett leaves some mystery surrounding the target share in this offense moving forward. This will be doubly true once Sterling Shepard (quad) is healthy enough to return to action.
Ultimately, the hope is that rational coaching wins out and the Giants feature Kadarius Toney to the fullest extent allowed by the law. No wide receiver has broken more tackles per touch than Toney through 11 weeks. 61 receivers have at least 40 targets this season, and the Giants' electric rookie finds himself on the short list of the group's most efficient players on a per-route basis:
Alas, this target share is too muddled to treat anybody involved as more than a low-end WR3 until we have a better idea as to what the newfound pecking order will look like as well as who will be the odd man out with Shepard back. I'll be answering most close start/sit questions involving a Giants wide receiver with the other guy, particularly in a far from easy matchup against the league's second-best defense in fewest PPR points per game allowed to opposing wide receivers.
Don't let these run games get hot: The Mount Rushmore of rushing attacks expected to find all sorts of success in creating chunk plays: Cowboys, Browns, Colts and Ravens. Arguably the two best running backs in the league at the moment reside in Cleveland and Indianapolis.
Everyone loves a three-down running back:  And the Browns might have three of them. Nick Chubb has arguably been the NFL's single-best running back this season when looking at yards after contact and missed forced tackles per carry, two metrics that attempt to better quantify running back production independent of their surrounding cast.
RB ranks in missed tackles forced per carry and yards after contact per carry (rushing only, PFF)

Further left: Not forcing many missed tackles
Further right: Making a lot of dudes miss
Further down: Not racking up many yards after contact
Further up: Dragging dudes all day pic.twitter.com/E7sUdOf2w5

— Ian Hartitz (@Ihartitz) November 23, 2021
The PPR RB3 and RB6 in his last two games with Kareem Hunt (calf, IR) sidelined, Chubb is an every-week upside RB1 as the engine of a Browns offense that can't do anything other than run the ball these days. The ceiling isn't as high as usual with Cleveland limping to 17 or fewer points in six of their last eight games. With that said: Don't be surprised if Chubb finds a way to rack up explosive plays in Sunday's matchup against the Ravens' 31st-ranked defense in yards after contact allowed per carry.
Would Earth start Jonathan Taylor against the aliens in a game of football to save the planet?: Taylor's five-touchdown masterpiece in Week 11 demonstrated the heights he's capable of reaching with a true three-down role. PFF's highest-graded rusher (90.8) through 11 weeks, Taylor has more rushing yards after contact (726) than everyone else has total rushing yards with the exception of Derrick Henry, Nick Chubb, Joe Mixon and Dalvin Cook.
The whole world seemingly knows Taylor is getting the ball more plays than not, yet he's still averaging an asinine 5.8 yards per carry. This has dipped to 4.5 yards per carry when the defense has stacked at least eight defenders in the box, although Taylor's 11 explosive runs in these situations demonstrate the sort of risk defenses take when committing too many resources close to the line of scrimmage.
Seriously: How are you supposed to stop this guy?
Jonathan Taylor is terrifying enough just being so physical and fast … then the man starts making moves and you start to wonder if aliens could even contain the guy pic.twitter.com/GlhMxg9asT

— Ian Hartitz (@Ihartitz) November 24, 2021
This week's matchup against the Buccaneers is akin to an unstoppable force meeting an immovable object: Nobody has allowed fewer yards before contact per carry this season. Still, all-world run-stuffing DT Vita Vea (knee) could again be sidelined, giving Taylor the chance to join Khalil Herbert as the only running backs to gain 100 rushing yards against this group in 2021. Continue to fire up Taylor as a top-three weekly option; he's arguably fantasy's MVP through 11 weeks of action. 
These offenses might just want to pass the ball: Offenses that look pretty screwed in creating big plays on the ground this week: Falcons, Rams, Seahawks, 49ers, Packers and the Football Team. Luckily A.J. Dillon might just have enough usage on his hands to overcome this tough matchup if Aaron Jones (knee) is sidelined for another week.
This second-year back is a monster and I mean that in a good way: Dillon has been nothing short of fantastic in constantly picking up yards after contact this season: Nobody has gained at least 2.0 yards after contact on a higher percentage of their carries through 11 weeks.
Even more pleasant (for fantasy purposes) has been Dillon's more than adequate ability in the passing game. His 6-44-0 receiving line in Week 11 helped elevate an underwhelming 11-53-0 rushing performance, ultimately producing a PPR RB14 finish on the week. Overall, Dillon has caught 22 of 24 targets for 240 yards and a score, racking up a robust six forced missed tackles along the way. His average of 2.16 yards per route run ranks fourth among 51 running backs with at least 15 targets.
Dillon has enough volume to warrant weekly RB1 treatment during Aaron Jones' (knee) absence. Facing off against Aaron Donald and company isn't ideal; just realize that didn't stop the likes of D'Andre Swift (PPR RB2), James Conner (RB8), Giovani Bernard (RB11), David Montgomery (RB8) or Chase Edmonds (RB13) from turning in plenty stellar performances this season.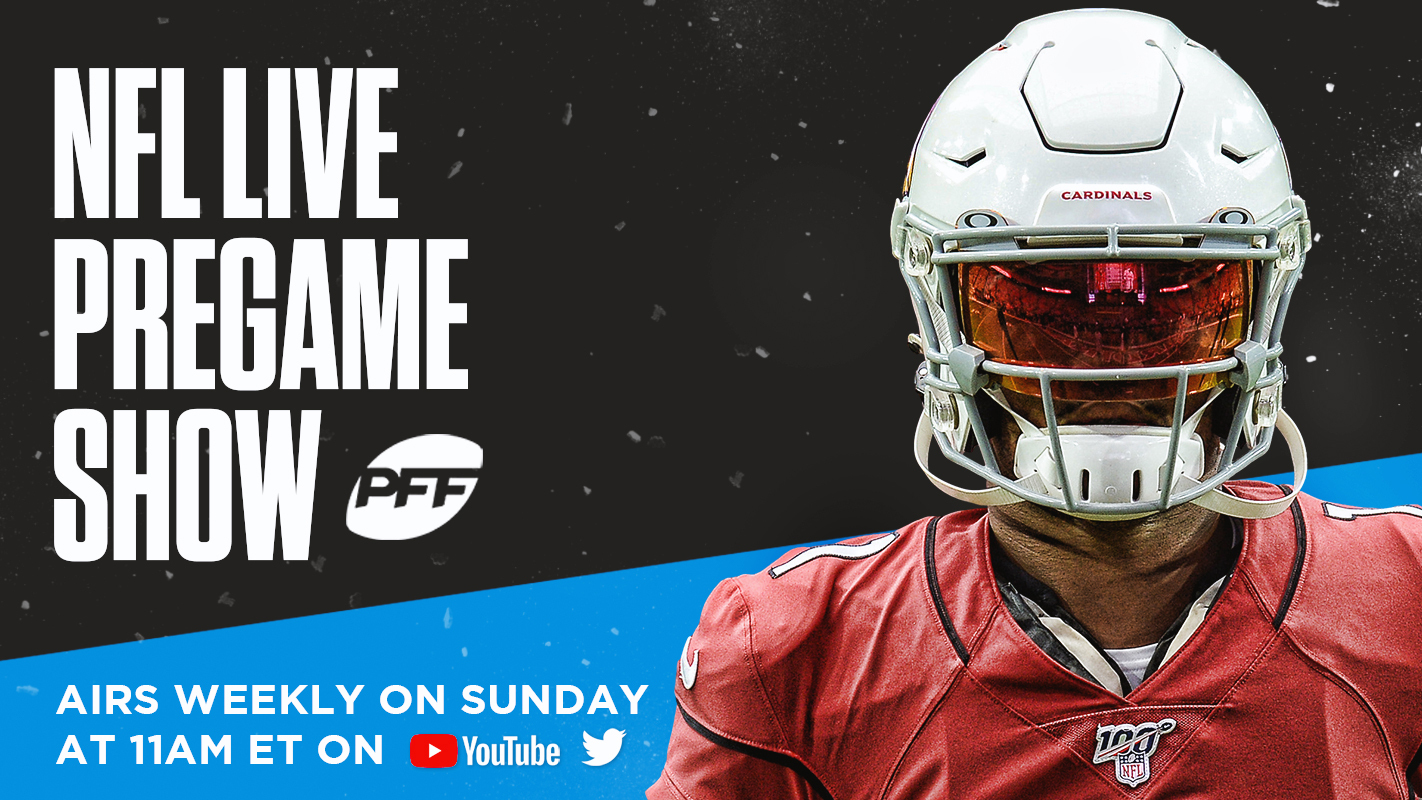 Pace
Fast-paced games lead to more plays, which lead to more points. Every week usually consists of at least a few games that could resemble a track meet based on their combined situation-neutral pace (Football Outsiders).
Combined Situation-Neutral Pace

: Represents the combined situation-neutral pace between each matchup's two offenses. A lower number indicates fewer average seconds per play (blue = fast-paced game), while a higher number indicates more average seconds per play (red = slow-paced game).
Mismatch Manifesto Week 12: combined situation-neutral pace.

Low combined numbers (blue) = two fast-paced offenses
High combined numbers (red) = two slow-paced offenses

Data from 2021, Football Outsiders pic.twitter.com/7E7lQKS6R4

— Ian Hartitz (@Ihartitz) November 24, 2021
Get ready to see a track meet: This week's sponsored Ricky Bobby "I want to go fast" highest-projected matchup features the Eagles (No. 3 in situation neutral pace) at the Giants (No. 10). Honorable mention goes to the Raiders (No. 13) at the Cowboys (No. 2). Here's to hoping that the Raiders-Cowboys game isn't a letdown; it's going to be tough to expect folks to stay awake after all that turkey otherwise.
We'll be moving plenty fast elsewhere too: More matchups expected to feature plenty of total plays include Bills-Saints, Falcons-Jaguars and Seahawks-Football Team. That Monday Night Football matchup sure has the look of a stinker; please get healthy, Russ.
Unfortunately some offenses are slow and lame: The single-slowest matchup of the week pits the Browns (No. 28) at the Ravens (No. 26). What the hell, Baltimore? The more Lamar Jackson (when healthy) the better, in this humble observer's opinion. 
Seriously, what are you waiting for: More matchups that might not supply the sort of volume fantasy managers are hoping for include Bears-Lions, Steelers-Bengals and Titans-Patriots. Interesting study that I won't do, but you could imagine: Is Andy Dalton vs. Jared Goff the single-worst Thanksgiving Day matchup of all time?

Pressure
An overmatched offensive line can result in poor fantasy days for all skill-position players involved. Meanwhile, QBs with all day to throw can help generate points in bunches. We can determine which offensive lines might be especially better (or worse) this week with help from PFF's offensive and defensive pressure statistics.
Combined Pressure Rate: The sum of the offensive line's rate of pressures allowed per dropback and the opposing defense's total pressures generated per dropback. A higher percentage (red) is better for defenses and indicates that quarterback could be under fire, while a lower percentage (blue) indicates that matchup's quarterback could face reduced pressure.
Mismatch Manifesto Week 12: combined pressure rate

Sum of pressure rates between opposing offenses and defenses.

Higher percentage: that offensive line could be in trouble (red)
Lower percentage: not expecting much pressure on QB (blue)

Data from 2021, PFF pic.twitter.com/Ipq1NifcDb

— Ian Hartitz (@Ihartitz) November 24, 2021
Under pressure: good song, bad for fantasy football: Quarterbacks that could feel the heat this week include: Tua Tagovailoa, Carson Wentz and Cam Newton. Win or lose: The NFL is more fun when Cam is starting somewhere.
Yeah, I'm thinking I'm back: Newton turned in the third-highest scoring fantasy performance of Week 11 (pre-MNF) thanks in large part to a more than stellar 10-46-1 rushing performance. He's now accounted for five total scores since rejoining the Panthers in Week 10, making some truly great plays along the way. Seriously: This was one of the best throws of Week 11.
What a fooking throw pic.twitter.com/mhYgZMg2sQ

— Ian Hartitz (@Ihartitz) November 22, 2021
Perhaps the Dolphins attempt to replicate their successful all-or-nothing strategy that helped them shut down Lamar Jackson by turning to Cover-0 to shut down the Panthers. Of course, leaving the likes of Christian McCaffrey and D.J. Moore in one-on-one coverage is risky business, and Newton is always just one broken tackle away from a chunk again himself.
Either way: Panthers games are fun to watch again, and we should all be thankful to Newton for this reality.
What's a good way to alleviate pressure? Play-action: Don't look now, but the Dolphins have won three consecutive games with the second-year quarterback coming off one of his better performances of the season. Yes, Tua has been a bit up and down this season by posting four games with a PFF passing grade under 55.0 and three games of 79.0 or higher. Also yes, the often-injured signal-caller has largely made the most out of a surrounding cast featuring PFF's 21st- and 28th-highest graded receiving and rushing groups. Only the Vikings have a worse team pass-blocking grade.
The one good strategy that the Dolphins have employed to help their young quarterback out: play-action. Only the Cardinals, Football Team, Ravens and Bills have posted a higher play-action rate this season, and Tua has responded by generally being good to great with these opportunities.
PFF passing grade: 86.2 (No. 5)

QB rating: 115.4 (No. 9)

Big-time throw rate: 3.5% (No. 24)

Turnover-worthy play rate: 1.1% (No. 7)

Yards per attempt: 9.1 (tied for No. 14)

Adjusted completion rate: 80.5% (No. 18)
Up next is a Panthers defense that ranks among the league's top-10 units in both QB rating and yards per attempt against play-action. The public doesn't seem to be buying the idea that this could be a sneaky shootout considering the game total has cratered to 42.5 points since opening at 51.5.
Some offensive lines and quarterbacks are just more prone to pressure: The Dolphins (43%), Colts (36%), Jets (35%), Seahawks (35%) and Titans (35%) are the league's only five offenses that have been pressured on at least 35% of their dropbacks this season. Here's to hoping the return of Zach Wilson doesn't screw things up for the Jets' second-round stud receiver.
Seriously, this rookie receiver class is loaded:  Elijah Moore is starting to look like the next big thing at the wide receiver position.
???? pic.twitter.com/Z3zz237P7j

— Ian Hartitz (@Ihartitz) November 24, 2021
The rookie has ripped off PPR WR36, WR26, WR1, WR27 and WR3 finishes in his past five games. The latter performance marked the first time since Week 1 that Moore played at least 80% of the offense's snaps; the Jets are finally using the 2021 NFL Draft's 34th overall pick as a full-time player. What a wild concept.
Fire up Moore as an upside WR3 at worst moving forward; he's my WR27 on the week ahead of guys like Brandon Aiyuk, Hunter Renfrow and Jerry Jeudy. The biggest potential problem is the presence of Zach Wilson under center in place of Mike White (covid, IR) and Joe Flacco (covid, IR); either way, there should at least be enough volume on the table moving forward to produce enhanced consistency compared to what we saw in the earlier parts of the season.
Sundial joke about having a ton of time to throw: Tom Brady, Ben Roethlisberger, Taylor Heinicke and Matthew Stafford are set up the best to work from consistently clean pockets this week. Can the Rams please get their stuff figured out please?
Both of these Los Angeles offenses are allergic to the deep ball lately: Early on in the season it looked like Stafford and company couldn't miss when they threw downfield. It's safe to say those days are in the past:
Weeks 1-8: 18 for 33 on deep balls, 13 big-time throws, 1 turnover-worthy play

Weeks 9-10: 0 for 7 on deep balls, 1 big-time throw, 4 turnover-worthy plays
This receiver room no longer has the likes of Robert Woods (knee, IR), DeSean Jackson (Raiders) or TuTu Atwell (shoulder, IR). Odell Beckham certainly showed the ability to get open deep earlier in the season; perhaps the bye week and extended presence of OBJ gives this offense its fastball back.
Don't be too fooled by the Chargers' Week 11 offensive effort: Justin Herbert has been nothing short of unstoppable when throwing the ball at least 20 yards downfield this season:
PFF passing grade: 96.5 (No. 3 among 44 qualified quarterbacks)

QB rating: 135.4 (No. 1)

Yards per attempt: 17 (No. 6)

Adjusted completion rate: 56.7% (No. 5)
The problem: Herbert has attempted just two passes at least 20 yards downfield over the past three weeks of action. Note that he averaged four-such throws per game in Weeks 1-6. Overall, Herbert joins Matt Ryan, Daniel Jones and Jimmy Garoppolo as the league's only four quarterbacks to throw a pass at least 20 yards downfield on fewer than eight percent of their attempts.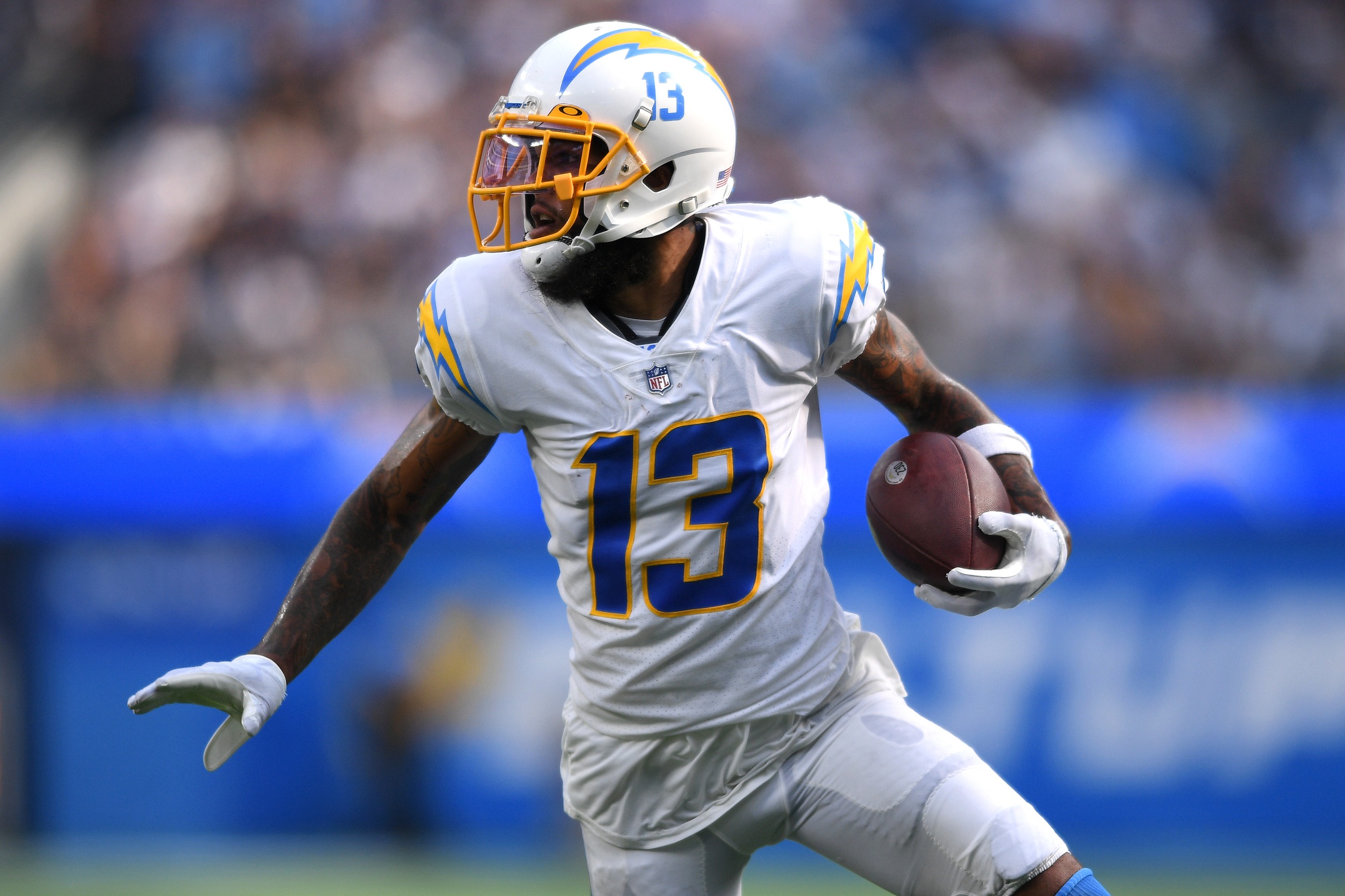 This strategy has been just fine for Keenan Allen; he's ripped off PPR WR14, WR3, WR9 and WR14 finishes over the last four weeks on target totals of 11, 13, 11 and 13. Meanwhile, Mike Williams has posted just WR79, WR46, WR45 and WR10 finishes on five, five, six and six targets. Don't be fooled by the latter performance; Williams was largely an afterthought after the first drive with the exception being a broken-coverage induced 53-yard score.
Allen is my WR6 this week, while Williams comes in at WR24, and honestly that feels a little high. It seems pretty clear this offense is at its best featuring Williams at something close to a similar level as Allen, but Joe Lombardi is running this offense, not fantasy managers.
Pass rushes that haunt the dreams of your favorite quarterback: The league's best pass rushes feature the Dolphins (37% pressure rate), Buccaneers (37%), Raiders (36%), Bills (36%), Jaguars (35%), Ravens (35%) and Packers (35%) above all else. Life must really suck for Tua at practice. League's worst pressure rate on offense against the No. 1 defense. Sheesh.
The league's finest individual rushers of the passer: Just 10 defenders have racked up at least 45 pressures this season: Maxx Crosby (66 pressures), Myles Garrett (54), Shaquil Barrett (52), Matthew Judon (50), Harold Landry (49), Jeffery SImmons (49), Raashan Gary (46), Trey Hendrickson (46) and Denico Autry (45). Aaron Donald (42) isn't too far behind. Naturally he's still PFF's top-rated interior pass rusher. Grass is green, after all.
Trench Battles
RBs receive most of the praise for an offense's rushing output, but an overmatched offensive line can thwart a team's run game before it even has a chance to get started. We can determine the offensive lines that might be especially better (or worse) off this week by looking at yards before contact.
Combined Yards Before Contact Per Rush

: The sum of an offensive line's adjusted line yards per rush and the opposing defense's adjusted line yards allowed per rush. A higher number (blue) is good for running backs, while a lower number (red) indicates that matchup's offense could have some trouble consistently running the ball.
Mismatch Manifesto Week 12: combined yards before contact per rush

Sum of each offense and defense's YBC/carry.

High number: Good run-blocking o-line vs. bad run-defending D (blue)
Low number: Bad run blocking o-line vs. stout D against the run (red)

Data from 2021, PFF pic.twitter.com/Uxz1uYuBEc

— Ian Hartitz (@Ihartitz) November 24, 2021
Great day to be a great running back: The Mount Rushmore of backfields set up well to run the ball this week: Eagles, Ravens, Jaguars, Lions and Cowboys. I understand that's five teams and Mount Rushmore consists of four presidents. That's what happens when you make a shoddy metaphor and confront a tie for fourth place. We'll watch the film and get better. Moving on.
Not enough people call Miles Sanders his real nickname: Boobie: Jordan Howard (knee) is expected to miss at least Week 12. The question is just how much of the leftover meat on the bone will be handed to Miles Sanders, who seemed to lose a pretty solid foothold on early-down work after losing a fumble on the Eagles' fourth drive of the game. This backfield deployed the following usage on the first four possessions of the game …:
Sanders: 15 snaps, 7 carries, 0 targets

Boston Scott

: 4 snaps, 0 carries, 0 targets

Howard: 2 snaps, 1 carry, 0 targets
… before heavily swinging things in favor of Scott and Howard for the rest of the contest.
Sanders: 20 snaps, 9 carries, 1 target

Scott: 20 snaps, 6 carries, 2 targets

Howard: 11 snaps, 9 carries, 0 targets
Don't get it twisted: Sanders is the only potential starter out of this group for fantasy purposes, even with Kenneth Gainwell likely to be elevated to the active roster during Howard's absence. Still, the level of involvement from the team's complementary backs will determine whether or not Sanders can rise into the position's top-15 or so options.
Nobody has more touches without a trip to the end zone than Sanders (98) this season; the man is overdue for some sort of good luck. That could certainly come this Sunday against the Giants' 28th-ranked defense in PPR points per game allowed to the position; just realize Sanders is essentially the No. 2 rushing threat in his own backfield even as the No. 1 running back. Overall, only Jonathan Taylor, Derrick Henry, Joe Mixon, James Conner, Nick Chubb and Ezekiel Elliott have more fantasy points from strictly rushing production than Jalen Hurts this season (pre-MNF). Sanders should be started in more lineups than not and warrants low-end RB2 treatment; just realize the only consistency in this backfield for most of 2021 has been its general inconsistency.
Personal note: Check out my Week 12 Quarterback Predictions for more fun facts and a forecast on every squad's starting quarterback.
Zeke should be eating on Thanksgiving (Get it? His celebration thing?): Ezekiel Elliott (knee) was banged up in Week 11, but continues to play through the pain and handle the majority of this offense's snaps. Of course, Tony Pollard has been the superior ball carrier virtually all season in most efficiency metrics.
PFF rushing grade: Elliott (71.5); Pollard (86.3)

Yards per carry: Elliott (4.6); Pollard (5.5)

Yards after contact per carry: Elliott (2.9); Pollard (3.4)

Missed tackles forced per carry: Elliott (0.1); Pollard (0.23)
Elliott might provide superior ability between the tackles and in pass protection; either way it's clear that Pollard brings a little extra juice to the table with the ball in his hands.
Perhaps both backs will be leaned on more than usual this Thanksgiving with both Amari Cooper (covid, IR) and CeeDee Lamb (concussion) likely sidelined. This is good news against a Raiders defense that ranks just 26th in PPR points per game allowed to the position. Continue to lock in Zeke as a weekly RB1 regardless of the matchup, while Pollard boasts more appear as a FLEX dart than usual with the Cowboys sitting as comfortable 7-point favorites.
Just one more personal note: Check out my Week 12 Backfield Report for more specific information on the league's ever-evolving running back stables.
More running backs expected to have a little thing called success: The Bills, Rams, Broncos and Buccaneers also stand out as groups that should see more open lanes than usual this week. Man, that'd be cool if Denver decides to feature their stud rooking running back coming out of their Week 11 bye.
Free Javonte Williams: The Broncos' second-round pick continues to look a lot like the next big thing at the position, leading the league in forced missed tackles per carry after 11 weeks of action. Of course, the Broncos' commitment to utilizing him and Melvin Gordon equally has prevented either player from supplying consistent RB2 production. Here's to hoping the rookie can seize the starting job following the team's Week 11 bye; the rest of season schedule on hand is borderline erotic:
Week 12 vs. Chargers: No. 25 in PPR points per game allowed to opposing backfields

Week 13 at Chiefs: No. 19

Week 14 vs. Lions: No. 30

Week 15 vs. Bengals: No. 27

Week 16 at Raiders: No. 26

Week 17 at Chargers: No. 25
Note that Williams out-snapped Gordon 12-3 following the veteran's costly 4th-and-1 fumble (per John Daigle). If there was ever a time for Williams to take over this backfield, it's Week 12. Even if he doesn't, the schedule is smooth enough for him to potentially supply top-24 production more weeks than not. Do everything you can to acquire the Broncos' stud rookie talent; his floor is fine and the ceiling is the roof.

Gordon also continues to be worthy of weekly RB3 treatment at worst; he's ripped off PPR RB26, RB25, RB6, RB9 and RB24 finishes in his last five games. Careful about trusting Gordon too heavily in this first game after the bye due to the chance that this backfield shifts toward Williams, but both backs will be weekly top-30 options at the position if their pre-bye usage persists.
You know who doesn't have a workload problem?
Lombardi Lenny: Leonard Fournette finds himself as one of just five running backs with more than 175 expected PPR points this season:
Najee Harris

(225.1 expected PPR points)

Jonathan Taylor

(202.7)

D'Andre Swift

(189.3)

Austin Ekeler

(180.1)

Fournette (177.7)
The main reason why: targets. Overall, Fournette (54 targets) joins Swift (65), Harris (62), Ekeler (55) and Myles Gaskin (51) as the only running backs with at least 50 pass-game opportunities this season. Volume is a helluva drug in fantasy land, and Fournette continues to have plenty of it.
Fournette has finished outside the position's top-16 fantasy options just once in his last seven games; he's an every-week RB1 as the bell-cow back inside of the league's top-ranked scoring offense.
Gotta love a good run game scheme: Only four offenses are averaging at least 1.9 yards before contact per carry: Chiefs (2.12), Ravens (2.03), Bills (2) and the Eagles (1.95). Call me crazy, but having a mobile quarterback might just help matters.
Best Steven Tyler voice: Run away, run away from the pain yeah, yeah, yeah, yeah, yeah: The Falcons, Steelers, Bears, Saints and Titans look like the most screwed offenses in terms of expected success on the ground before contact. Here's to hoping the former squad gets the services back of Cordarrelle Patterson (ankle) — PFF's highest graded receiver regardless of position. People forget the Falcons haven't scored a single point in seven quarters without the services of C-Patt.
Passing Game
Some pass offenses are obviously more efficient than others, while certain secondaries are seemingly capable of shutting down any aerial attack. We can determine the week's biggest mismatches in the passing game using each offense and defense's pass yards per dropback.
Combined Passing Yards Per Dropback: The sum of an offense's passing yards per dropback and the opposing defense's passing yards allowed per dropback. A higher number (blue) is good for quarterbacks and receivers, while a lower number (red) indicates that matchup's pass offense could be in trouble.
Mismatch Manifesto Week 12: combined pass yards per dropback

Sum of offense's pass yards/dropback with defensive rate.

Higher number: efficient pass offense vs. bad pass defense (blue)
Lower number: inefficient pass offense vs. good pass defense (red)

Data from 2021, PFF pic.twitter.com/8FDpUSVTB4

— Ian Hartitz (@Ihartitz) November 24, 2021
Sometimes it just looks so easy: The Raiders, Bengals, 49ers and Browns stand out as the week's top-four offenses in expected success through the air. Of course, nothing has been guaranteed in the Cleveland passing game lately.
Cleveland hasn't been rocking so much lately: Baker Mayfield continues to play through all sorts of injuries, but sheesh man. Nobody has a lower catchable pass rate when their wide receivers are considered open or wide open than the Browns. Only six offenses have failed to feed their wide receivers a catchable pass rate of at least 70% overall: Panthers (69%), Browns (69%), Football Team (68%), Jaguars (68%), Bears (66%) and Saints (66%).
Poor Jarvis Landry hasn't reached 75 yards or found the end zone as a receiver in a game all season. Sheesh.
Remember when everyone blamed Mayfield's problems on OBJ? Where is that same crowd when confronted with the reality that Mayfield has suffered severe declines in completion rate (-7%) and yards per attempt (-1.15) in his last four games with Landry compared to his previous four contests without?
Ultimately, Mayfield is 25th in PFF passing grade, 23rd in QB rating and 23rd in adjusted completion rate among 37 qualified quarterbacks this season; it's tough to point the blame anywhere else when he's worked behind PFF's ninth-ranked offensive line in team pass blocking grade.
Regardless: None of these Browns receivers are realistic fantasy options in anything other than the deepest of leagues. Rashard Higgins has one game with more than 30 yards this season, Donovan Peoples-Jones (groin) is banged up and I honestly didn't know who Ja'Marcus Bradley was before I started writing this article.
60% of the time, Ja'Marr Chase works every time against the Steelers: Chase has finished outside fantasy's top-24 receivers in four of his last five games. The rookie hasn't finished outside of the position's top-31 options during this span; he's hardly been a liability even during this relative down stretch. Still, the monster games that were a near every-week occurrence during the first half of the season have been missing in recent weeks.
Here's to hoping this week's re-rack against the Steelers gets Chase grooving again. He needed just five targets in order to rack up 65 yards and a pair of scores against this group back in Week 3, looking awfully dominant along the way.
Ja'Marr Chase against the Steelers in Week 3:

5 targets
4 receptions
65 yards
2 TD pic.twitter.com/pkl4ukZyJ5

— Ian Hartitz (@Ihartitz) November 24, 2021
It'd also make sense if the Bengals' complementary receivers really get going sooner rather than later as well. Tee Higgins has been active for eight games this season. The following Bengals have at least 10 targets in those contests:
Ultimately, the Bengals' slow-moving offense hasn't rung up enough plays for each of the Bengals' top-three receivers to consistently provide high-end fantasy production, but they're still each set up fine enough against the league's 11th-worst defense in PPR points per game allowed to opposing receivers. Both Chase (my WR8) and Higgins (WR26) are recommended starts in most fantasy formats, while Boyd (WR38) has settled in as more of a high-floor WR4 these days as the clear-cut No. 3 option in Burrow's pecking order.
The government calls it a passing league for a reason: The Rams, Seahawks, Buccaneers and Texans also stand out as passing attacks that should have plenty of success through the air. There are some awfully legit receivers on these squads.
Holy hell Cooper Kupp is good at football: Kupp has at least nine targets in every game this season. Only once has he finished with fewer than seven receptions *and* 90 receiving yards in a game. That's good for a whopping nine games with that criteria; no other player in the league has more than four-such performances. Hell, only 2014 Antonio Brown (12), 2015 Julio Jones (11), 2019 Michael Thomas (11), 2002 Marvin Harrison (10) and 1995 Michael Irvin (10) have him beat in the history of the NFL. Kupp is the overall WR1 on the week and figures to battle it out with Jonathan Taylor for fantasy MVP honors the rest of the year.
These passing games might be a bit rough n' rowdy: The Saints, Dolphins, Jaguars and Colts look like the bottom-four offenses this week in terms of expected aerial success. The Lions, Steelers, Panthers, Eagles and Titans don't look to be in especially great spots either, sometimes wide receivers are good enough to just win anyway.
HEISMAN: DeVonta Smith has returned PPR WR2, WR8 and WR34 receiving lines over the past three weeks. The latter performance deserves some extra leniency since it came at the hands of ace shadow corner Marshon Lattimore.
The 2020 Heisman Trophy winner has generally been as advertised this season, displaying borderline elite route-running goodness already in addition to some of the surest hands you'll find.
DeVonta Smith is good at football pic.twitter.com/0iByu9wOLH

— Ian Hartitz (@Ihartitz) November 24, 2021
Unfortunately, the Eagles' run-first offense lowers the ceiling at hand. Smith is tied with Ja'Marr Chase for the highest air yard share (45%) in the league; the problem is the Eagles haven't afforded their 2020 first-round pick more than six targets in a game since Week 7.
I love cranberry sauce (and second-year WR breakouts): Michael Pittman has essentially only busted once during his short career when afforded an even halfway decent number of targets. Overall, he's had at least eight targets in seven career games:
7 receptions-101 yards-0 TD (8 targets)

2-28-0 (9)

5-90-0 (10)

8-123-0 (12)

6-68-0 (12)

6-59-0 (8)

10-86-2 (15)
The latter performance came in Week 8. Pittman sandwiched that game with 4-105-1, 5-64-1 and 5-71-0 receiving lines on a combined 15 targets. When Carson Wentz throws the ball to Pittman, the two most-likely scenarios are 1.) he catches the ball, or 2.) some poor cornerback is forced to commit pass interference.
Obviously there will be times like last week when the Colts are able to run the ball to their heart's desire and not care about the passing game, but this week's spot against the Buccaneers' league-best defense in yards before contact allowed per carry *could* present the sort of environment where they're forced to throw the ball a bit more than normal. Throw in the reality that no matchup has a higher game total than Buccaneers-Colts (52.5), and I'm back in on Pittman (my WR16) as an upside WR2 recommended start who should be in far more starting lineups than not.
Not so fast my friend: Offenses that haven't averaged even 6.0 pass yards per dropback this season: Bears (5.3), Jaguars (5.5), Lions (5.6), Panthers (5.6), Dolphins (5.7), Texans (5.9), Steelers (5.9) and Eagles (5.9). Seriously, it's been brutal in Pittsburgh this season; thank God for high-end volume.
Big Ben? You mean the clock?: Diontae Johnson is the WR10 in PPR points per game this season. His streak of eight consecutive games with at least 50 receiving yards trails only Cooper Kupp (11). Volume is a helluva drug — and Johnson has plenty of it. The following list denotes the only receivers averaging double-digit targets per game this season.
He'll likely see shadow coverage from Chidobe Awuzie, who is PFF's 10th-highest graded cornerback in coverage this season and is hardly a pushover; just realize Johnson is an every-week upside WR2 at worst with this type of volume and should be started in fantasy lineups of all shapes and sizes in full-PPR formats.
And then there's Chase Claypool, who caught nine of his 15 targets for 96 scoreless yards against Apple when they squared off in Week 3. The talented second-year receiver is playing a near every-down role and locked in as the passing game's No. 2 option with JuJu Smith-Schuster (shoulder, IR) out of the picture. There's a floor here, but Claypool has flashed a ceiling with WR16, WR12 and WR26 finishes in three of his last six games. Fire him up as a boom-or-bust WR3 that has the potential to do a lot of the former when his elderly quarterback has a good day.
Dope secondaries always have the best nicknames: The Bills, Raiders, Panthers, Cardinals, Buccaneers, Packers and Patriots are the only seven defenses to allow fewer than 6.0 pass yards per dropback.

EPA
Points are ultimately what wins football games. We can measure the expected points of every play on offense and defense by considering the down, distance and field position before factoring in the result. Estimated points added (EPA) is thus the value of a play that takes context into account and thereby better measures efficiency at the play level.
Combined EPA: The sum of an offense's EPA/play and their opposing defense's EPA/play allowed. A higher number (blue) is good for offenses, while a lower number (red) indicates that offense could be in trouble.
Mismatch Manifesto Week 12: combined EPA per play

Sum of EPA/play of matchup's offense and defense to see biggest potential overall mismatches

High numbers indicate efficient offense vs. inefficient defense (blue), lower numbers are bad for o (red)

Data from 2021, PFF pic.twitter.com/COj0Tnryn0

— Ian Hartitz (@Ihartitz) November 24, 2021
Blowout alert: The clear top-four matchups in terms of one offense likely having a huge relative advantage over their opponent: Bills over Saints, Eagles over Giants, Panthers over Dolphins and the Buccaneers over Colts. The matchups feature spreads of -6, -3.5, -2 and -3 respectively. Did somebody say moneyline parlay?
Over alert: The highest combined matchups in expected offensive success: Rams-Packers, Chargers-Broncos, Browns-Ravens and Buccaneers-Colts. Each game total has risen since opening except for Browns-Ravens. Sheesh.
Under alert: Panthers-Dolphins, Bills-Saints, Bears-Lions and Jets-Texans stand out as the week's top-four matchups that could feature the most overall offensive futility. Makes sense, although never count out Trevor Siemian, who is somehow the single-worst quarterback in PFF's passing grade during the first three quarters of the game … but the single-highest-graded signal-caller during the final frame. Madness.
Upset alert: Teams expected to have a relative offensive advantage, yet aren't favored, feature the Browns (+3.5) and Seahawks (PK). Hope everyone has a great Thanksgiving and a happy Week 12!