With uncertainty surrounding a college football season in 2020, there's a chance that NFL teams could be more likely to part with future draft picks in exchange for veterans during the 2020 NFL season. Without a full college season and evaluation process, teams could view draft picks as riskier than usual. There are also salary cap implications — with the cap unlikely to increase next season, cheap veterans could also help control cost over the next couple of years.
Subscribe to PFF's EDGE or ELITE subscriptions to get access to the following tools, charts, etc.
– All Premium Article Content
– Fantasy Football Rankings & Projections
– Fantasy Football Draft Guide, Cheat Sheets & Advanced Stats
– Fantasy Football Mock Draft Tool (DraftMaster)
– Fantasy Football Strength of Schedule Matrix
– NFL Player Grades
– NFL Premium Stats
Any movement on NFL rosters will have trickle-down effects, as new homes will present new opportunities and available targets will go to others further down the depth charts. The following list includes veteran trade candidates from all 32 teams and breaks down the fantasy implications of any moves.
These players could be traded before the start of the season or closer the trade deadline. Some might even be cut. All are impending free agents for the 2021 season unless otherwise noted.
Graham could be a cheap tight end alternative for teams to target through trade as opposed to drafting a rookie. An undrafted free agent from Yale, Graham filled in for Austin Hooper as the Falcons' starting tight end last season. His snaps nearly doubled from Weeks 11-13, leading to seven receptions for 117 receiving yards and a touchdown while also running the seventh-most routes at the position.
He has also shown proficiency as a run-blocker — his PFF run-blocking grade (78.3) ranked third among tight ends with at least 75 run-blocking snaps. If a team trades for Graham, he is someone to keep tabs on as a potential tight end sleeper.
It would take extreme circumstances to see Fitzgerald traded from Arizona in 2020, but it is not outside the realm of possibility. This is potentially Fitzgerald's last season with the Cardinals, and Super Bowl contenders could come calling for the veteran receiver's services if Arizona fails to deliver on the hype. 
This would be an immediate boost for Cardinals third-year receiver Christian Kirk, who is being undervalued in fantasy drafts because he was unable to unseat Fitzgerald in 2019. Then, of course, the Cardinals traded for DeAndre Hopkins. But with Fitzgerald's days numbered and coming off his lowest PFF receiving grade (71.6) of his career, expect Kirk to be more involved and potentially push Fitzgerald out of the picture.
Head coach Kliff Kingsbury moved on from running back David Johnson and surely wants to get some of his wide receiver draft selections from last year — second-round pick Andy Isabella and fourth-round pick Hakeem Butler — more involved.
Edwards rushed for 5.3 yards per carry and 3.4 yards after contact per carry in 2019, which ranked second and seventh, respectively, among running backs with at least 100 carries in 2019. He has been nothing but an efficient rusher in his two years with Baltimore, earning PFF's 13th-highest grade as a rusher (83.4) among running backs with at least 200 carries. 
In his one start against the Pittsburgh Steelers in 2019, Edwards rushed for 130 yards on 21 carries for an average of 6.2 yards per carry and 5.6 yards per carry after contact.
Entering the 2020 season, Edwards could potentially be the odd man out in a running back room that includes starter Mark Ingram II, rookie J.K. Dobbins and second-year player Justice Hill. Edwards adds zero value in the passing game, with just nine receptions in his two-year career, so the Ravens could easily decide to move on from him in favor of getting Dobbins more involved.
This would be great for Dobbins' value — if he were to take over Edwards' role from last season, that would mean at least eight touches per game even while working in tandem with Ingram.
A team looking for a vertical threat at the receiver position — with 4.41 speed — would be wise to contact the Bills about Foster. The former undrafted product out of Alabama was a non-factor in 2019 (just three receptions) after turning heads in the latter half of the 2018 season. 
He recorded 304 receiving yards on passes 20 or more yards downfield, which ranked fourth in the NFL over the final eight weeks of 2018, which trailed only T.Y. Hilton, Tyreek Hill and Antonio Brown. He also ranked fourth in average yards per route run (2.65) and fifth in passer rating generated when targeted (142.3).
Foster fell out of favor in 2019 when the Bills brought in John Brown and Cole Beasley, and it seems even less likely he can contribute in 2020 with the addition of Stefon Diggs and fourth-round pick Gabriel Davis.
New offensive coordinator Joe Brady has stated that the Panthers intend to incorporate Samuel heavily in the offense despite trade rumors before the 2020 NFL Draft. The problem is that Brady also says he wishes he could have the opportunity to be out on the field with Samuel to build and design specific plays around the dynamic wide receiver.
In a shortened offseason, it is hard to buy into the idea that the Panthers will spend their limited offseason practice time on figuring out how to build different packages for Samuel while installing in a new offense with a new quarterback. If the Panthers start out slow, like we saw last year with the Cardinals under a new head coach and quarterback, teams could start calling for Samuel's services.
Carolina already brought in a vertical deep threat in Robby Anderson, and all the other receivers on the depth chart (Keith Kirkwood, Seth Roberts and Pharaoh Cooper) are slot receivers vying to take over snaps from the departed Jairus Wright.
Samuel could end up entrenched in a "gadget player" role, significantly tanking his fantasy stock in Carolina. It would immediately increase after a trade, but Anderson's value would rise even higher. 
The market is currently torn, with Anderson at WR55 and Samuel at WR58. Both could end up being values, but Anderson might be the better option in traditional redraft formats, whereas Samuel might be better long-term and in dynasty formats.
Robinson still has not received a contract offer from the Bears with his deal expiring at the end of the season. That could lead him to play out the season and sign elsewhere. It's hard to blame him — a WR can only put up with poor quarterback play for so long.
If the Bears start the season slowly, wide receiver-needy teams will be calling the Bears for Robinson, and considering the team might be in the market for a quarterback in 2021, it could use all the draft picks it can get.
A midseason trade would immediately vault Anthony Miller to the projected target leader on the team from the slot. We saw his production skyrocket after an injury to Taylor Gabriel in 2019 — he averaged eight targets per game when starting. 
From Weeks 11-17, Miller played 75% of his snaps from the slot, where he led the league in receptions (29), ranked third in targets (40) and ranked fifth in yards per route run (1.94) among receivers with at least 110 slot snaps.
Outside Miller, the rest of the Bears receiving corps is bare, featuring the likes journeyman Ted Ginn Jr., 2019 fourth-rounder Riley Ridley and 2018 seventh-rounder Javon Wims. Their 2020 fifth-round rookie, Darnell Mooney, might be the most interesting of the group — his 4.38 speed could help him see the field rather quickly, so he's an interesting stash in dynasty formats. Mooney broke 18 tackles on 96 catches over his past two collegiate seasons and averaged 17.6 yards per catch.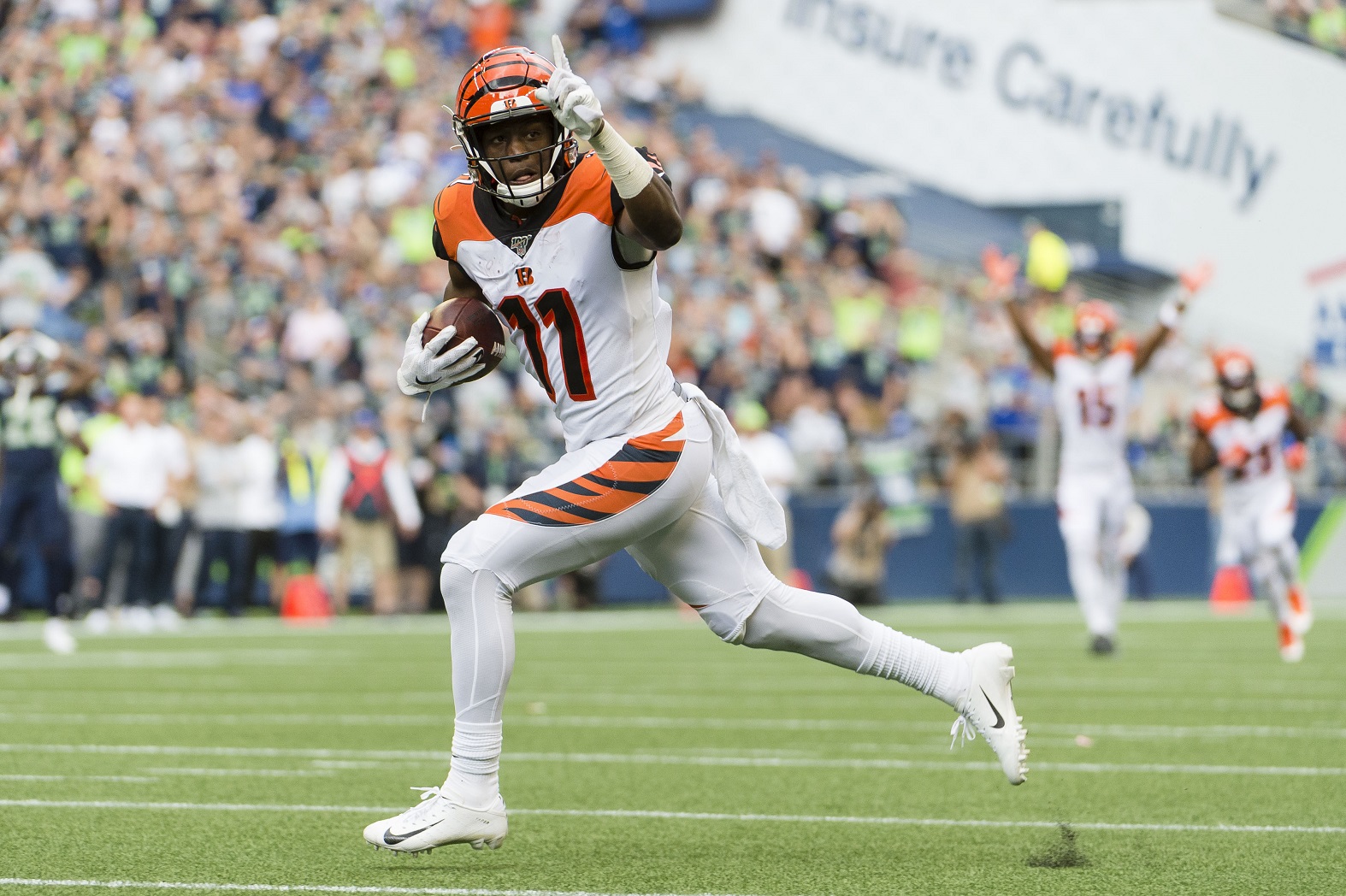 Ross is one of two wide receivers taken inside the top-10 selections in the 2017 NFL Draft who had their fifth-year options declined this offseason. After the selection of Tee Higgins with the 33rd overall pick, Ross is not in the Bengals' long-term plans, but that doesn't mean he won't serve a role in another offense.
Ross' first two games last season saw him go over 100 receiving yards, and he has shown a knack for scoring touchdowns. On just 49 receptions, Ross has 10 touchdown receptions over the past two seasons. The problem with Ross has always been his health — he has missed 24 games since entering the league three years ago.
A Ross trade would move Higgins up the ranks, but until then rookie is not likely to be heavily involved in the offense.
Njoku's camp as already requested a trade. If we learned anything from how the Duke Johnson Jr. scenario played out, there is a strong probability this one ends up happening. The Browns signed Austin Hooper to a lucrative contract and drafted Harrison Bryant in the fourth round, so you can understand why Njoku might want out.
He would be an immediate boost to any tight end-needy team, considering he looked like a rising star during his first two years in the league. From 2017-2018, he compiled over 1,000 receiving yards while ranking fourth in aDOT (9.8) and YAC per reception (5.3) among tight ends with at least 100 targets. 
His 2019 injury has soured fantasy gamers on Njoku's potential — his current draft price is TE29. In Njoku's second season in the league, he finished as the TE9 overall.
A Njoku trade would immediately cement Hooper as a reliable fantasy tight end option (who is currently being undervalued as TE12) and make Bryant a stash in dynasty leagues.
Gallup is not a free agent until the 2022 season, but with a huge Dak Prescott contract looming over the Cowboys next season, they are going to need to make some tough financial decisions. Adding CeeDee Lamb in the draft makes Gallup much more expendable, especially if the rookie can come out of the gates hot.
There were already trade rumors swirling about Gallup potentially going to the Jets in a Jamal Adams swap. If a trade ultimately happens, Lamb and tight end Blake Jarwin would see immediate spikes in values.
Both of those players are going late at their respective positions — Lamb as WR43 and Jarwin as TE19 — making them players you can draft late and be patient with.
Lindsay has rushed for over 1,000 yards the past two seasons, but the signing of Melvin Gordon III suggests that the Broncos do not see Lindsay as a three-down player. That was even apparent before they brought in Gordon — Lindsay had been losing pass-down work frequently to Royce Freeman throughout the 2019 season. Freeman ran more routes (278 vs. 211) and had more total receptions (43 vs. 35).
Lindsay would be the odd man out if the Broncos view Gordon as the early-down back and Freeman as the change-of-pace back on third downs. Pat Shurmur steps in as the offensive coordinator with no ties to Lindsay whatsoever, creating a scenario where Lindsay could be available. 
A trade for Lindsay would not move the needle much for Gordon because he should see most touches in the Denver backfield regardless, but it could boost Freeman's stock slightly. He costs absolutely nothing in drafts as the RB78.
The Broncos have shown a strong affinity for Freeman, even though Lindsay has outplayed him the past two seasons. Since 2018, Freeman has averaged almost 11 touches per game while Lindsay has averaged just under 16 touches per game. Based on their production, those touch rates do not add up.
Jones was another receiver rumored to be a trade target during the 2020 NFL Draft, but nothing ended up transpiring. That should not come as a surprise based on the events of the offseason, but that doesn't mean the Lions won't entertain the idea of moving the veteran receiver.
Jones is not likely to be re-signed with the Lions needing to lock up Kenny Golladay long-term. Not to mention, Jones has missed 10 games over the past two seasons. The Lions also added Geronimo Allison on a cheap one-year deal and drafted Quintez Cephus in the fifth round. Cephus is a speculative dynasty add after showing impressive ball skills at Wisconsin; he fell in the draft due to a lackluster athletic profile.
The real winner of a Jones trade would be T.J. Hockenson. He already has plenty of breakout potential heading into the season, but if a large portion of the offense opens up, that would vault Hockenson up the tight end rankings as  the no-doubt No. 2 passing option behind Golladay.
Both Packers running backs from last season have expiring contracts after this season, and the drafting of running back A.J. Dillon in the second round makes it obvious that somebody is on his way out.
Jones was a fantasy football star in 2019 due in part to his 19 total touchdowns. Williams was relegated to strictly pass game usage, particularly as a blocker, where he ranked 11th in PFF pass-blocking grade.
A Williams trade would be ideal for both Jones and Dillon, as a two-man backfield is much easier to dissect on a weekly basis. Jones would likely take all running back usage in the passing game, where he has excelled. Including postseason play, Jones has the sixth-highest PFF receiving grade (80.2) among running backs with at least 90 targets since 2018.
Dillon would see a general uptick in usage in the run game and likely vulture carries at the goal line. Williams averaged approximately 10.5 touches per game in 2019, so Dillon would be expected to see a similar touch share.
The Texans overhauled their wide receiver room this offseason, trading away DeAndre Hopkins and adding Brandin Cooks and Randall Cobb. Stills is commanding a lot of money ($7 million) for a receiver projected to be fourth on the depth chart.
His movement would be music to the ears of Keke Coutee truthers out there. He flashed as a rookie in 2018 with his ability to make plays after the catch, finishing fifth in YAC per reception (7.5) among wide receivers with at least 30 targets.
At worst, a Stills trade would further solidify the top three wide receiver options on the Texans' depth chart.
The Colts are in a win-now mode — bringing in quarterback Philip Rivers is a clear indication of how they view the 2020 season. That does not mean the season will necessarily play out that way. With Hilton due for a new contract and the Colts spending two second-round picks at the WR position the past two years in Parris Campbell and Michael Pittman Jr., a team with postseason hopes might try to acquire Hilton with the intention of also signing him long-term.
This would vault either Campbell or Pittman  into the No. 1 wide receiver role, which is hard to come by for receivers currently being drafted outside the top-60 WRs in fantasy. 
You should leave every draft with at least one of those receivers and target them aggressively in dynasty formats. Campbell is the preferred option as the WR with more experience; he's also less reliant on quarterback play due to his prowess as a YAC receiver. He forced five missed tackles last season on just 18 receptions.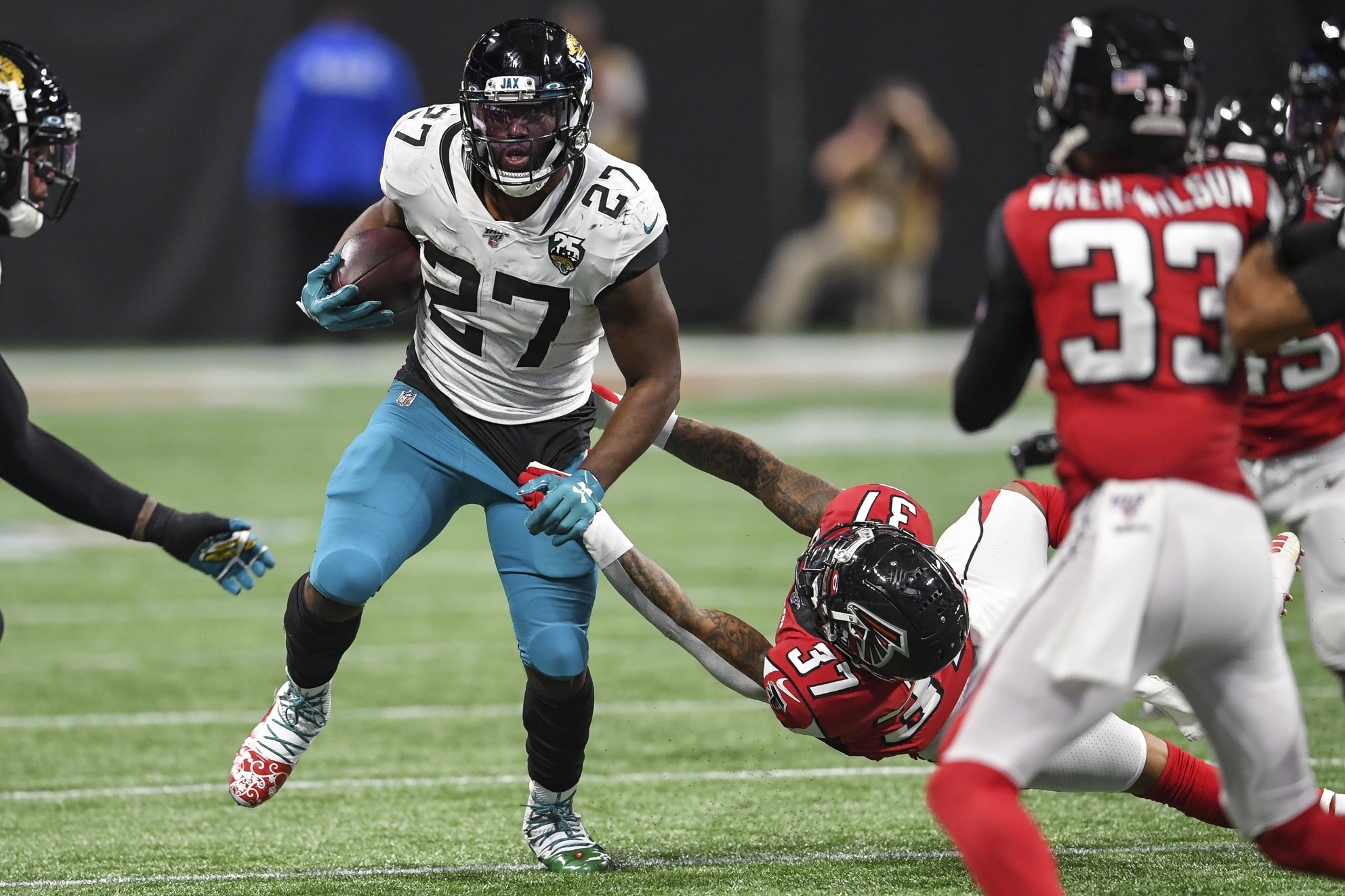 The Jaguars declined Fournette's fifth-year option, and trade rumors surfaced in April about the team shopping their lead running back. The team reportedly couldn't find a trade partner, but that doesn't mean it won't keep trying. 
It is no surprise that Jacksonville has issues with Fournette, as he's been previously suspended by the team. Plus, his play has been lackluster at times. Among running backs with at least 100 carries in 2019, Fournette's PFF run grade (65.3) ranked 41st out of 45 qualifiers, while his missed tackles forced per attempt (0.16) ranked 31st.
A Fournette trade would create more opportunities for both Ryquell Armstead and Devine Ozigbo to compete for the primary running back job. Armstead was decent as a pass-catcher in 2019 — his yards per route ranked 12th (1.62) among receivers with at least 20 targets. Ozigbo earned PFF's sixth-highest rushing grade (90.1) coming out of school in 2018.
Considering Armstead was a fifth-round pick and Ozigbo went undrafted in 2019, neither are long-term options at the position. But they have some appeal in best ball formats and are candidates to immediately flip for profit in dynasty to running back-starved teams.
The Chiefs convinced Sammy Watkins to come back on a cheaper deal, relegating Robinson even further down the depth chart to the No. 4 wide receiver spot. As a veteran WR who will not cost much money, teams could find value in acquiring a player like Robinson, who has shown flashes when given opportunities throughout his career — like Week 2 last year when he had over 172 receiving yards versus the Raiders.
A trade of Robinson would also signal that the Chiefs feel more comfortable with their second-year wide receiver Mecole Hardman, who would be scary with a bigger role after scoring four touchdowns of 40 or more yards and leading the league in yards per reception (20.7) in 2019.
If he's not traded, Jones is likely to be cut, as the former second-round pick from the 2017 draft has yet to make an impact with an NFL squad. His best season came in 2018 with the Bills, finishing as the WR35 despite more than doubling the next-closest receiver on his team in targets.
Moving on from Jones would further cement rookie Henry Ruggs III and Hunter Renfrow atop the Raiders' depth chart, with veteran Nelson Agholor taking Jones' place as depth.
This would be one of the bigger trades to happen, but with a Chargers team that is entering 2020 questionable at best as a contender, you must wonder whether Allen is in the team's long-term plans. Los Angeles picked up Mike Williams' option and placed the franchise tag on tight end Hunter Henry but has done nothing to address the star veteran receiver.
Tyrod Taylor's game does not fit Allen's particularly well, and with a rookie quarterback waiting in the wings, trading Allen for future assets might make the most sense.
Allen still has plenty in the tank based on his 13th-ranked yards per route run (2.01) and 19th-ranked YAC per reception (3.6) from 2019, which is why teams could be willing to aggressively target Allen. Perhaps the Indianapolis Colts will give him a call?
Allen is currently being drafted as WR22 behind the idea that he will stay in Los Angeles throughout 2020, but if he is traded it's hard to not see him seeing a spike in value.
In a similar vein to Robinson from the Chiefs, Reynolds is a veteran who could be acquired on the cheap. He has filled in nicely when called upon during his time with the Rams — Reynolds ranked sixth in YAC per reception in 2019 (6.8).
In 2018, when he took over for an injured Cooper Kupp midseason, Reynolds ranked eighth in fantasy points per touch (3.23) among receivers with at least a 50% snap share.
Adding Van Jefferson in the second round could make Reynolds expendable, especially if the Rams run 11 personnel less in 2020, making the need for three top receivers less crucial.
The Dolphins don't have many offensive pieces who other teams will be looking to acquire, but Ford is an interesting option. The former seventh-round pick didn't start seeing playing time until Week 14, but from that time on he led the Dolphins in receptions (21) and was second on the team in average yards per route run (1.96) — that mark ranked 10th among all receivers during that final stretch.
If the Dolphins don't value Ford over players like Allen Hurns, Albert Wilson and Jakeem Grant, he could be 2020's super deep sleeper with a new team.
The Vikings' third-string running back could be an attractive target based on his flashes in both the preseason and regular season — in addition to his freakish athletic profile. In Week 17 last year, Boone rushed for 148 yards and a touchdown on 17 carries, averaging an outstanding 5.12 yards after contact per attempt.
Dalvin Cook and Alexander Mattison are comfortably entrenched ahead of Boone on the depth chart. Unless Cook's holdout becomes an issue, Minnesota would likely be happy to welcome trade for Boone. It wouldn't leave any fantasy impact on the Vikings' roster but could cause a shakeup on Boone's new team.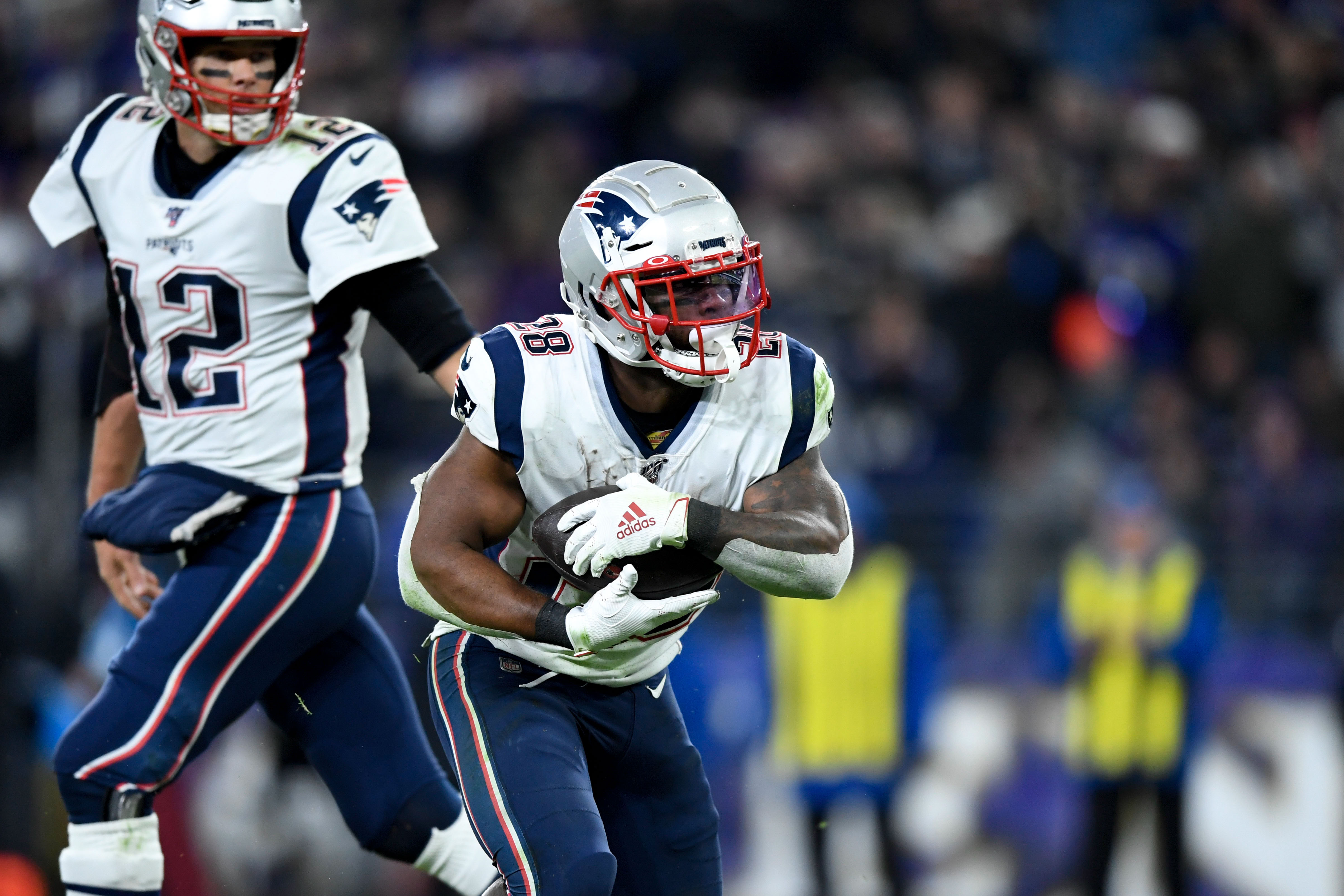 One of the most underrated running backs in the NFL, it might be a surprise to learn that White is a free agent in 2021. White offers so much as a pass-catcher, ranking as PFF's fifth-highest graded receiver (85.3) at the running back position in 2019. He could be serviceable for most teams at a solid price tag.
A trade of White would immediately thrust 2019 third-round pick Damien Harris into a potential third-down role playing alongside Sony Michel. He brought down 52 receptions for 407 yards at the collegiate level.
Harris is already on the radar of plenty of sharp fantasy players because of Michel's seemingly endless list of injuries, but knowing Harris could have an established role if the team moves White makes Harris a smash selection in the later rounds regardless of format. His current ADP is RB57.
Cook put up unsustainable production in 2019, which is why he is one of the better fades right now in fantasy drafts. The Saints also added to the tight end position in the 2020 NFL Draft, selecting Adam Trautman out of Dayton in the third round. Most teams will not thrust a rookie tight end into a starting role, but the Saints still have Josh Hill on the roster as well.
There are plenty of teams with a dire need for tight end production (Washington), and the Saints could move him if they get production from the newer pieces added this offseason in Emmanuel Sanders and Trautman.
If Trautman sees more snaps in the Saints' offense operating as the primary No. 1 receiving tight end, he could thrive in fantasy even as a rookie. No tight end had a higher PFF receiving grade (94.3) than Trautman did in his final year in college. To put that into perspective, his receiving grade was higher than the 2018 grades of Jace Sternberger, T.J. Hockenson, Irv Smith Jr.  and Noah Fant.
Tate is no stranger to switching teams — The Eagles traded for the prolific slot receiver in 2018, and the Giants signed him in free agency last offseason. New York has a potential out in Tate's contract for the 2021 season, so the veteran could be a hot commodity on the trade block for teams that need a wide receiver. 
Even at 31, Tate is still an effective receiver, especially in the slot where his yards after the catch per reception (5.4) ranked sixth in 2019 among receivers with at least 40 targets.
The Giants' current receiver room is quite muddled between Tate, Sterling Shepard and Darius Slayton. They're all going within 12 draft picks of one another outside the top-35 receivers in fantasy.
The clear-cut winner of a Tate trade would be Shepard — Tate's departure would allow Shepard to run more routes from the slot, which would greatly benefit his efficiency. Shepard's average yards per route run (1.89) ranked 11th among receivers with at least 150 slot snaps.
Herndon will not be a free agent until 2022, but considering the Jets signed Ryan Griffin to an extension and he was a disaster in his first season under head coach Adam Gase, no one would be too surprised if the Jets moved Herndon.
It would be unfortunate for Herndon to leave New York considering his rapport with quarterback Sam Darnold, but there is no denying that Griffin stepped up as the Jets' No. 1 tight end in 2019. Darnold's passer rating of 141.5 when targeting Griffin was the highest of any Jets player who saw at least 25 targets in 2019. Currently, Griffin is being extremely undervalued with an ADP of TE42.
Trade rumors about Jeffery surfaced back in February, when both parties agreed it would be best for them to part ways. A trade never transpired due in part to Jeffery's current health status — teams are not going to trade for injured players. With more reports surfacing that Jeffery is a candidate to start 2020 on the PUP list, the Eagles are going to have to get him on the field before they can move him.
With Jeffery starting slowly and his long-term outlook with the team looking iffy, every receiver in the offense gets a slight bump. The one player who could see the greatest benefit would be second-year receiver J.J. Arcega-Whiteside. He would be a popular candidate to fill the role of the 6-foot-3, 218-pound Jeffery, sizing up at 6-foot-3 and 225 pounds himself.
Arcega-Whiteside was hardly usable last season as he struggled to create separation. But when he did get his hands on the ball, he was able to translate it to fantasy points — his 3.29 fantasy points per touch ranked 15th among wide receivers who saw at least 25% of their team's snaps.
In a season where rookies may have a more difficult time adjusting to the NFL game, taking a flier on a second-year receiver like Arcega-Whiteside (with a path to opportunities) could be a sound approach.
The Steelers were non-committal in terms of extending Smith-Schuster, considering the receiver is going to demand a hefty sum. Then they drafted wide receiver Chase Claypool, which sure makes it seem like Smith-Schuster is no lock to be a Steeler long-term.
Moving Smith-Schuster would speak volumes about how much confidence the team has in second-year WR Diontae Johnson, who already has plenty of buzz around him in fantasy football after leading all rookies in receptions in 2019. Johnson's current ADP at WR35 is a bit pricy, but for a good reason because his value seems like it is going to continue on an upward trajectory.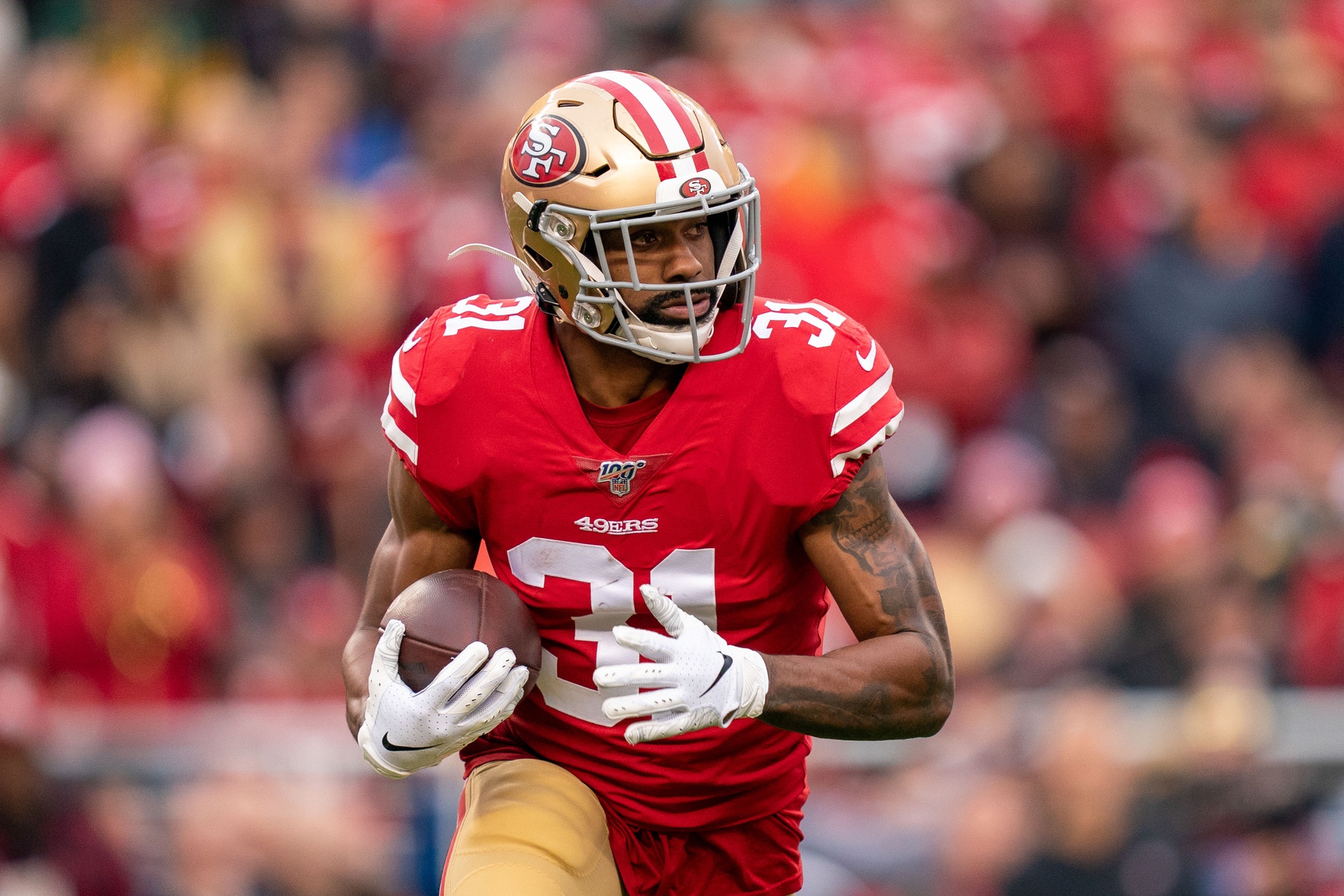 Mostert recently requested a trade because he wants to be paid more than a special teams player. Can't blame the guy at all, but in the current NFL paying running backs is a tough conversation.
If Mostert gets wish, Tevin Coleman will be a clear beneficiary, but with the 49ers so determined to utilize multiple running backs, Jerick McKinnon and Jeff Wilson Jr. could also be significant factors in the 49ers' backfield. Wilson saw a clear goal-line role in Weeks 2 and 3 of the 2019 season, rushing for four touchdowns on five carries inside the 5-yard line.
McKinnon has missed the last two seasons due to injuries but appears to be in good shape for this upcoming year. The last time we saw him healthy, he was PFF's sixth-highest-graded running back (77.7) in 2017.
Both RBs are worth late stabs because whoever gets touches in the 49ers' backfield is going to produce in fantasy football.
The Seahawks are acting like the Chicago Bears of the West and hoarding tight ends. In addition to Hollister, they also have Greg Olsen and Will Dissly on the roster. This could make Hollister expendable, and teams could be interested based on what he put on tape last season.
Hollister had the 10th-highest reception percentage (70.7%) among tight ends with at least 50 targets. He also finished as the TE11 through Weeks 9-17 when he started to play full-time in the offense.
If Hollister is removed from the picture and with Olsen getting up there in age, Dissly could emerge as sleeper tight end if he can stay healthy for a season. During Weeks 1-5 before Dissly's injury he was the TE8 overall and TE4 in fantasy points per snap. His current ADP is TE33.
Howard was the hot topic of discussion last season around the trade deadline but did not get moved. Still, that doesn't mean he is out of the woods with two more-than-capable tight ends, Rob Gronkowski and Cameron Brate, in Tampa Bay.
Howard could easily find success on a new team. He's been incredibly efficient over the past two seasons, ranking first in yards per reception (15.5) and sixth in receiving plays over 15 yards (33) among tight ends with at least 70 targets. He just needs to be in an offense that features him more. 
If the Buccaneers can move on from Howard, Brate could see the largest spike in value. He is currently being drafted as the TE37. That number seems extremely low, especially considering Gronkowski's injury history.  
Like John Ross, Davis' fifth-year option was also declined, as the No. 5 overall pick from the 2017 NFL Draft has failed to live up to the draft pedigree. The issue with Davis is that he has seen up and down quarterback play and has lacked overall consistency.
Rookie A.J. Brown clearly leap-frogged Davis in 2019, and with Adam Humphries also returning after signing with the team at the start of the 2019 season, Davis' best bet to resurrect his career is sure to be with another team. His yards per route run since 2017 (1.53) ranks 47th out of 71 qualifying wide receivers with at least 150 targets.
A Davis trade could get Humphries back to WR3 relevance and would also benefit fourth-year tight end Jonnu Smith with more targets up for grabs in the offense.
The story of Guice's career up to this point is health. He has not been able to stay on the field since entering the NFL, and all Washington has done is add more running backs this offseason
Guice won't hit free agency until 2022, but it would not surprise me to see the team move on from him under a new regime. Washington wants to get third-round pick Antonio Gibson more involved, and coaches have spoken glowingly of him, with comparisons to Christian McCaffrey. The team was also thrilled to get veteran Adrian Peterson back for another go around.
Gibson brings plenty of upside to the table as both a rusher and receiver, so he should be someone to target later in drafts. In his last season at Memphis, Gibson broke 16 tackles on 33 rushing attempts and 17 tackles on 38 catches.