It's fifth-year option time, as NFL teams now have to decide whether or not they want to remain married to their 2017 first-rounders for one more year, this time at a much higher price.
Many decisions are easy to make. The best players, for example, will have their options picked up immediately, while clear busts will not. However, it's not always that clear-cut — the first round is also littered with players who are solid contributors but perhaps not worth the hefty price tag the fifth year entails.
All players who have their fifth-year option declined will remain with their respective teams for one more season before becoming free agents prior to the 2021 season. Here's a look at the declined fifth-year options, along with some analysis as to which players still have enough to contribute elsewhere after free agency.
For each player, we will present a chart that shows how our view on this player changed over time since he entered the league in 2017 and how our best estimate of the true skill level of that player going forward looks like.
The technique used is called Bayesian Updating, and along with accounting for the sample size, the main feature is that it yields a distribution of possible outcomes (i.e., we can quantify the ceiling or floor of players based on their play).
To normalize the charts and make them easier to interpret, the performance is measured in percentiles (being in the 70th percentile among quarterbacks means that only 30% of all quarterbacks in the NFL are better). A player's career performance is compared to all players of the same position who have played at least 500 career snaps in the given facet of play, with necessary situational adjustments being made.
Naturally, the comparison includes situational contributors, role players and injury replacements. Thus, the 50th percentile doesn't necessarily represent an average NFL starter but more like an average player who got into the league and at least managed to stick around for two or three years while seeing some snaps. The 60th-70th percentile would be a more accurate bar for an average NFL starter.
[Editor's note: Subscribe to PFF ELITE today to gain access to PFF's Premium Stats and new Player Grades experience in addition to the 2020 NFL Draft Guide, 2020 Fantasy Rookie Scouting Report, PFF Greenline, all of PFF's premium article content and more.]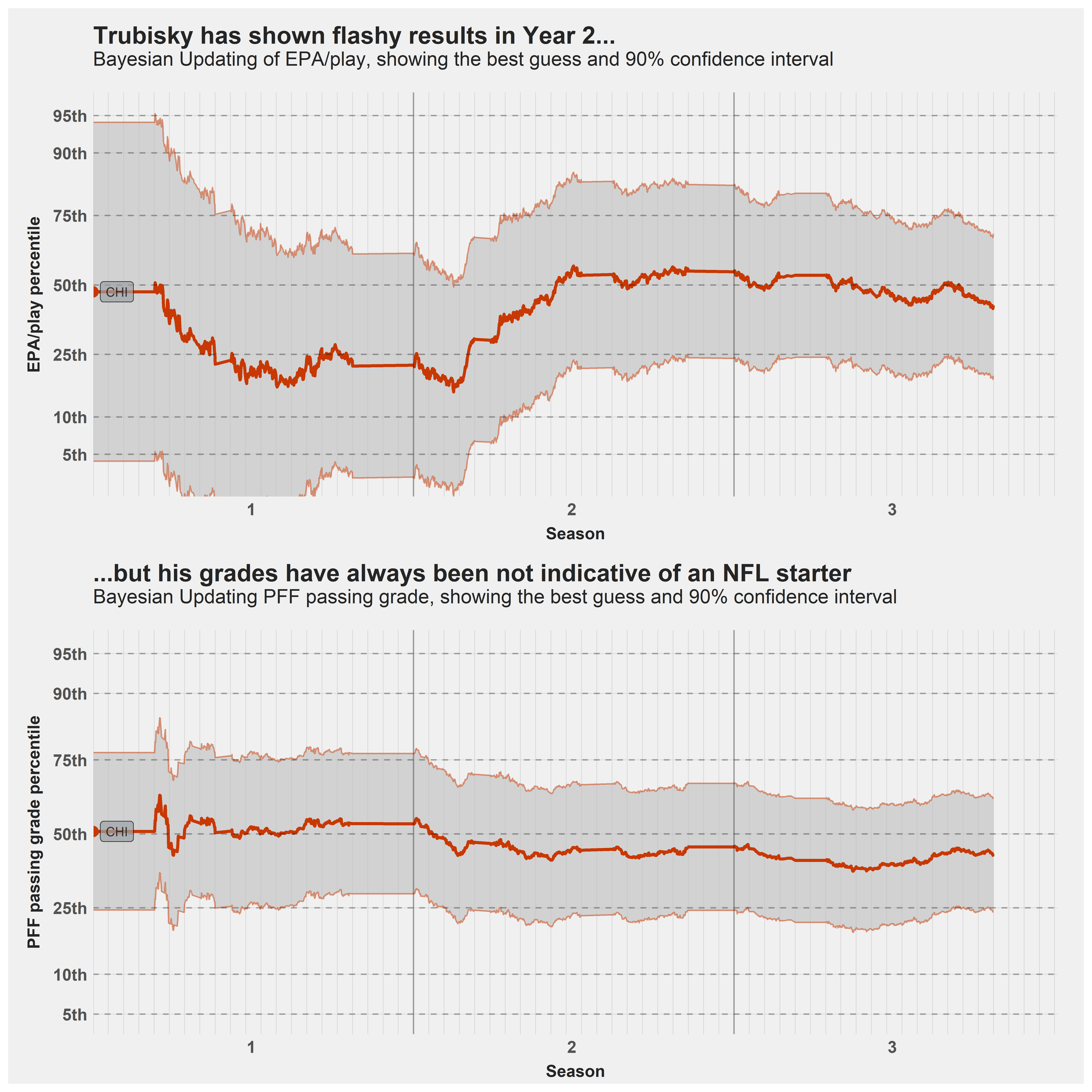 We've written a lot about Trubisky in the last year, making it clear we don't think he should be a long-term starting quarterback on any NFL roster. This hasn't changed, as Trubisky still struggles with accuracy, decision-making and reading defenses. This shows in his grading profile, as he has the third-highest rate of negatively graded plays since coming into the league, but he also doesn't make up for it with positively graded plays, as he ranks only 26th of 35 qualifying quarterbacks in positively graded play rate over that time.
Consequently, no active quarterback who has played at least 700 dropbacks since 2017 has a worse delta between positively and negatively graded plays, and no projected starting quarterback for 2020 has a worse passing grade over the last two years.
He had some success in 2018 when he generated 0.120 expected points added (EPA) per play in the Matt Nagy-led Chicago Bears offense, but hiding a quarterback's deficiencies over a longer time than one season seems to be a tough task for any offensive coach. For the future, Trubisky projects in a backup role behind an established starter. The rushing ability he showcased in 2018 gives him a reasonable floor if he has to replace an injured quarterback for a short time, especially since teams wouldn't be prepared for it, as they were in 2019.