Amid the Super Bowl 55 hype dominating headlines last week, another story that generated buzz had fantasy football implications. Per ESPN's Adam Schefter, the Eagles are expected to trade former second-overall pick Carson Wentz. Once the move is finalized, the starting quarterback job in the City of Brotherly Love will fall to dynamic second-year man Jalen Hurts.
The change sends ripple effects throughout the Philadelphia Eagles' offense, and we saw enough out of Hurts in 2020 to believe much of it will be for the better. Let's dive into the fantasy football fallout of the Eagles handing the offense to last year's surprise second-round pick.
JALEN HURTS' IMPRESSIVE ROOKIE SAMPLE
My initial response to rumors about Wentz being traded was to try to acquire as many shares of Jalen Hurts as possible across dynasty fantasy football leagues. (I even purchased a Hurts rookie sports trading card.) Hurts truly has the chance to take fantasy leagues by storm in 2021.
That might sound like a hot take of sorts considering Hurts struggled mightily as a passer in 2020. He completed just 52% of his passes (worst out of 41 qualifiers) and earned PFF's 37th-ranked passing grade (57.5).
But despite his less-than-stellar performance as a passer, he still put up gaudy fantasy numbers. 
During his time as a starter from Weeks 14-17, Hurts averaged 23.9 fantasy points per game — eighth-best among all quarterbacks. If you remove Week 17 when Hurts didn't play the full game, he averaged 26.6 fantasy points per game, which trailed only Josh Allen and Lamar Jackson.
His fantasy point totals weren't fluky, either. He averaged 22.8 expected fantasy points per game, which also ranked third behind Allen and Kyler Murray from Weeks 14-16.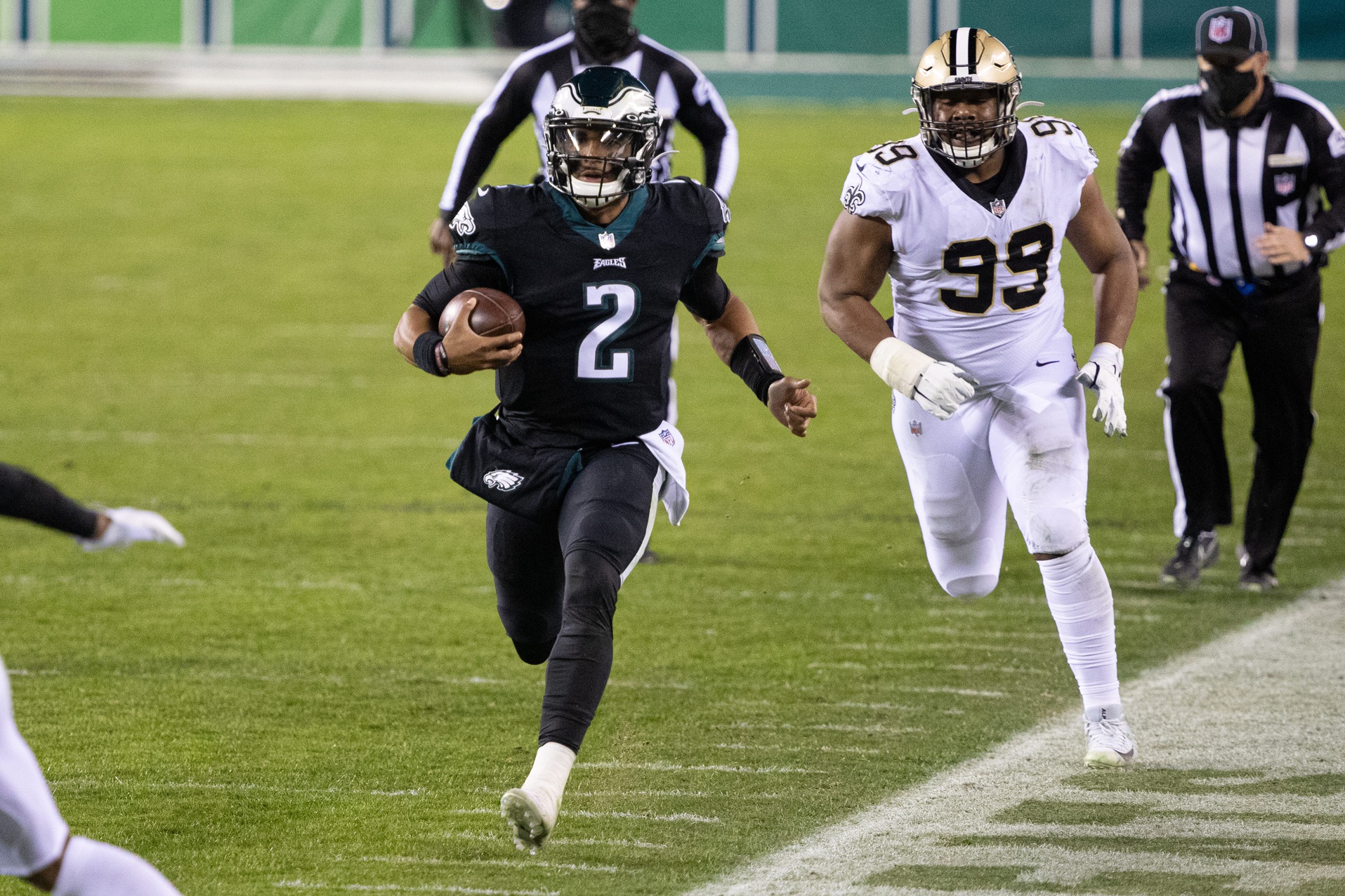 The majority of Hurts' fantasy scoring came from his astounding numbers as a rusher. He averaged 79.3 rushing yards and 12.6 rushes per game. 
Hurts still has a long way to go to be an effective NFL passer, but the glimpses of upside he showed as a rookie make him an easy late-round target in fantasy football drafts. 
There were encouraging signs when it comes to Hurts' passing. He was not afraid to attack downfield — his deep-ball rate (13.5%) and aDOT (10.8) both ranked seventh-highest at his position. Rushing QBs that are also aggressive at pushing the ball capture all the upside we want in fantasy football.  
The rookie quarterback also had extreme splits when facing man coverage versus zone coverage. 
Jalen Hurts splits | zone vs. man coverage 2020
| | | | | |
| --- | --- | --- | --- | --- |
| | PFF passing grade | Yards per attempt | Adjusted completion percentage | Passer rating |
| Man | 38.8 | 4.2 | 53% | 65.9 |
| Zone | 64.1 | 8.3 | 72% | 82.7 |