Without any actual football this past weekend — sorry, Senior Bowl — NFL fans were left twiddling our thumbs waiting for the next wave of transactions. On Saturday night, ESPN's Adam Schefter broke the news that the Los Angeles Rams are shipping two future first-round picks, a third-round pick and quarterback Jared Goff to the Detroit Lions for longtime starter Matthew Stafford.
The Rams just made the splashiest move to kick off what is surely going to be an absolutely wild 2021 offseason. 
Stafford's trade to the Rams dramatically shakes up how we should view several offensive pieces on the roster. Let's dive into the fantasy football fallout of this surprising trade. 
QUARTERBACKS
Matthew Stafford has been a victim of circumstance throughout his career in Detroit, playing with awful defenses and offensive play-callers who failed to realize the potential of the 2009 No. 1 overall pick.
Stafford has had his ups and downs as a fantasy quarterback, and 2020 falls into the latter category as he averaged just 16.2 fantasy points per game, ranking 25th in quarterback scoring. Goff was actually slightly better at 16.4 fantasy points per game.
But the Rams are betting on Stafford turning back the clock to 2019 when he was an elite fantasy producer until an injury sidelined him after Week 9. He ranked sixth in fantasy points per game (21.6), fourth in passing yards, second in passing touchdowns, first in big-time throw rate, first in touchdowns from a clean pocket and first in aDOT (11.4). 
Stafford's success came in his first season under offensive coordinator Darrell Bevell thanks to his tendency to be aggressive and push the ball downfield. 
Even without Bevell, we should still Stafford to offer that deep-ball threat — that's something Goff did not provide. 
Since the start of the 2019 season, Stafford ranks second in pass-play percentage over 20 yards (17%) and in aDOT (10.7), while Goff ranks 31st (9%) in pass-play percentage over 20 yards and 52nd out of 60 qualifying quarterbacks in aDOT (7.5).
On 20-plus yard passes over the past two seasons, Stafford has a 93.0 PFF passing grade (1,869 yards, 13 TD, 6 INT, 13.0 YPA, 98.1 rating). Jared Goff sits at just 77.6 (1,011 yards, 4 TD, 6 INT, 9.3 YPA, 55.0 rating).
I expect Sean McVay to embrace Stafford's ability to throw the ball vertically — that's what he did with Goff when the offense was coined the "Greatest Show on Surf" from 2017-2018. 
Goff had a 94.1 PFF passing grade on 20-plus yard throws and a deep-ball rate of 12%. 
Exchanging Goff for Stafford creates more upside for the offense as a whole. Stafford adds the downfield element while also offering the same steady production as Goff on intermediate passing attempts. Stafford (90.3) and Goff (90.8) have nearly identical PFF passing grades on attempts between 10-19 yards. 
Stafford is shaping up as a low-end QB1 for the 2021 fantasy season, especially with the Rams' defense likely to regress from its top-tier status. That will force Los Angeles to score more points on offense, which is probably the exact reason why they went out and acquired Stafford.
Just look back to last year when Goff played alongside an elite defense — he actually attempted more passes (552) than Stafford (528). I don't think the passing volume will be an issue. 
RUNNING BACKS
I wrote about Cam Akers as a running back to target entering the 2021 fantasy season, and the addition of Stafford makes me want to double-down. The threat of Stafford as a passer is going to force defenses to play fewer stacked boxes against the Rams offense.
Akers posted solid rushing statistics despite facing the second-most stacked fronts (52%) in 2020. While playing with Stafford, De'Andre Swift (36%) and even Adrian Peterson (48%) faced fewer stacked boxes than Akers.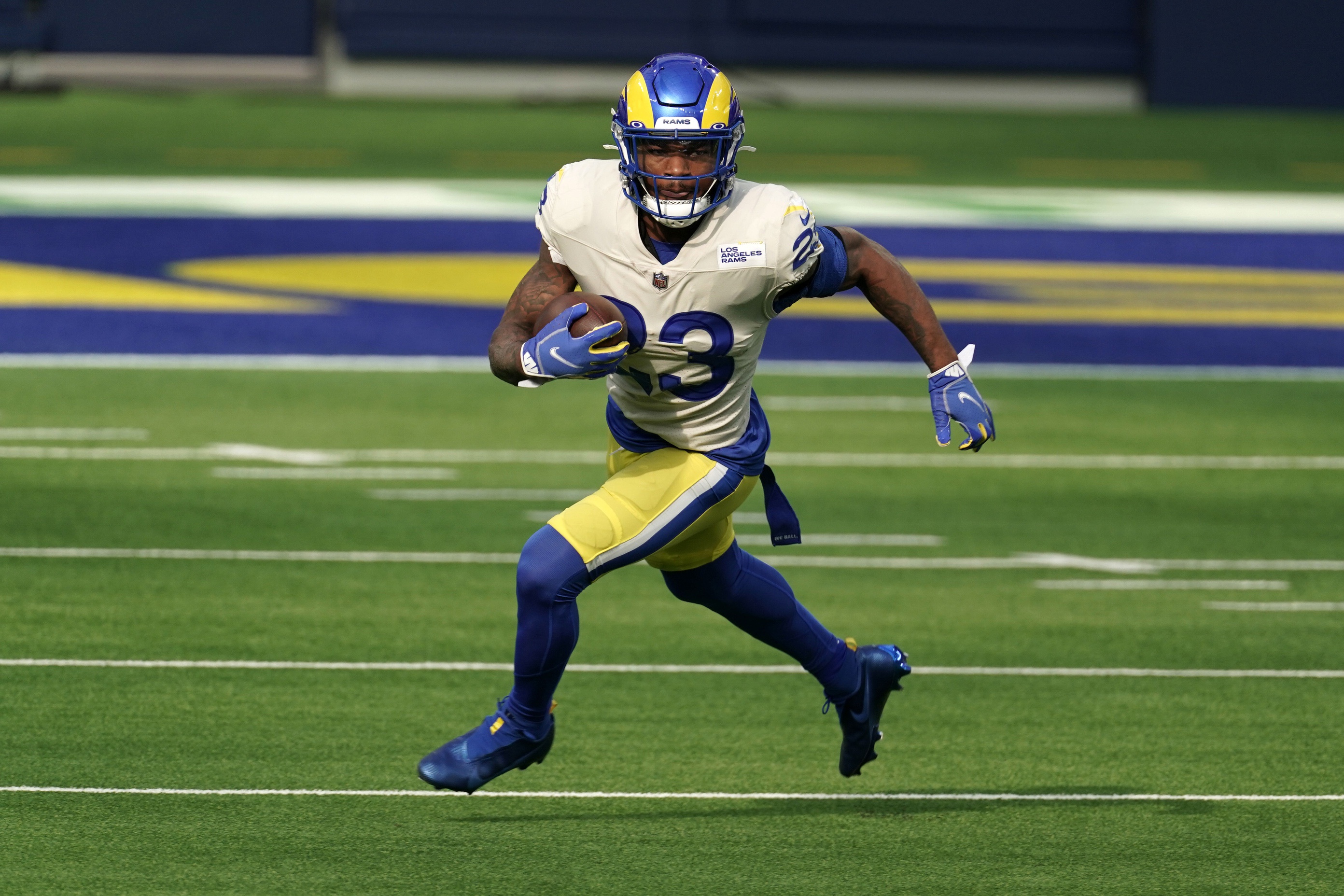 We also saw Swift finish his season with 46 catches and 56 targets, which were both the highest marks among the rookie running back class. Akers flashed in the passing game toward the end of the season, and that aspect of his game could now really take off in Year 2 with Stafford under center. 
WIDE RECEIVERS/TIGHT ENDS
I wrote a weekly piece this season on high-value opportunities that wide receivers saw each week. It was a good way to identify buy-low opportunities on players who see the opportunities to produce fantasy points, even if they didn't come to fruition on any given week. 
The Rams wide receivers continually ranked low in metrics like deep targets and end-zone targets, two of the most valuable targets wide receivers can receive.
Cooper Kupp (11) and Robert Woods (7) both ranked outside the top 75 players in deep targets last season. The Rams as a whole ranked second-to-last in end-zone targets (22).
The Lions ranked seventh in deep-ball passes to wide receivers (76), with Marvin Jones Jr. ranking fifth in the NFL (33). Kenny Golladay and Quintez Cephus both saw as many deep targets as Kupp during the regular season. 
The Lions also ranked seventh in end-zone targets (52). 
Needless to say, adding Stafford should further unlock the ceiling potential of all receiving threats in the offense. There will be greater touchdown equity and a higher chance of big plays down the field.
Initially, my lean is slightly toward Woods over Kupp because the former profiles more as an outside, downfield threat, but we have seen Stafford feed a slot receiver like Golden Tate in the past.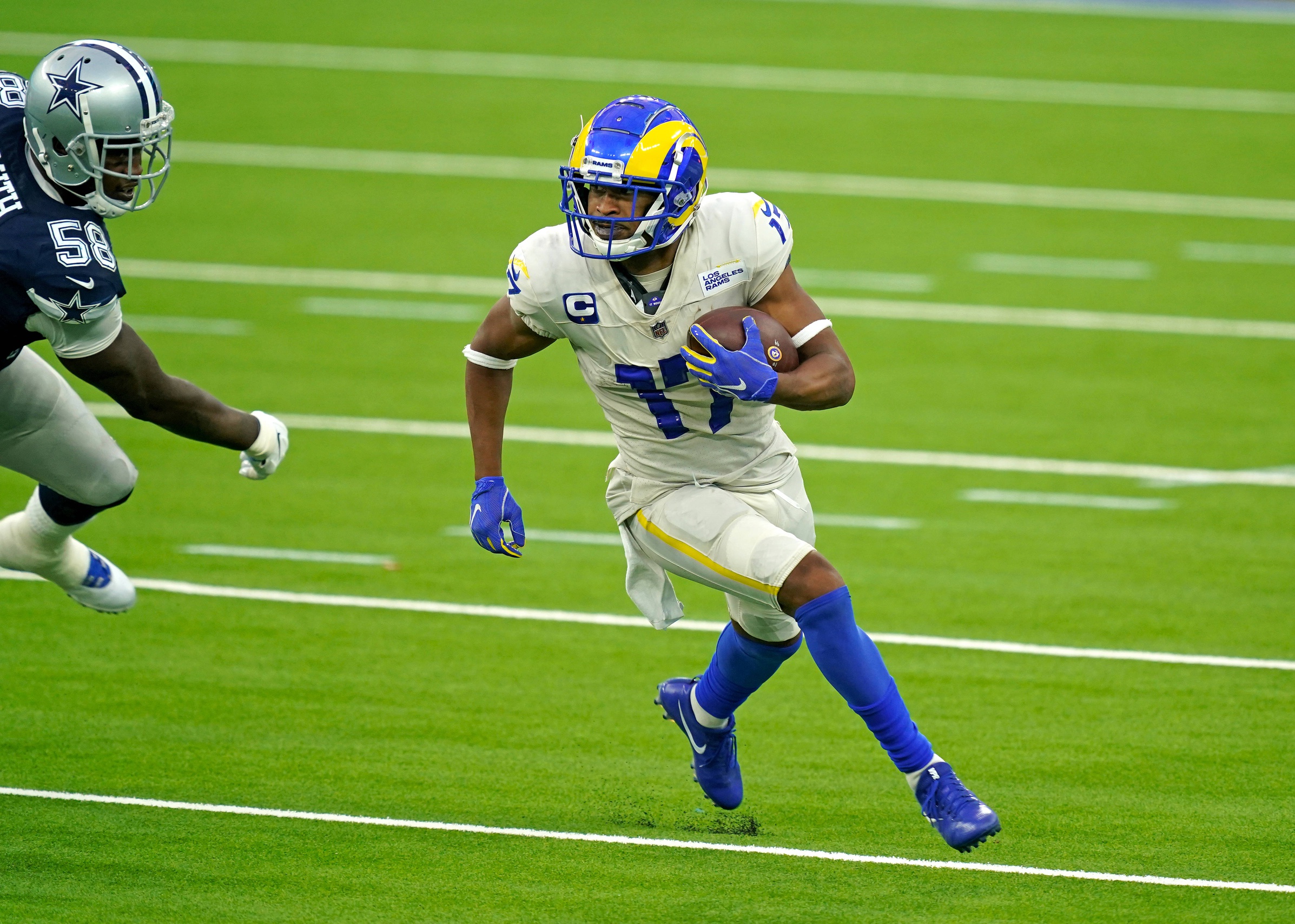 This situation also creates intrigue for Josh Reynolds or Van Jefferson Jr. Reynolds led the team in deep targets (15) last season and would seemingly be entrenched with the role if he doesn't leave in free agency. If he goes, savvy fantasy managers need to keep tabs on Jefferson, who could occupy a much bigger role in Year 2. 
As for tight ends, the Stafford addition does not have much of an impact on Tyler Higbee. Higbee was an utter bust last season after ending 2019 on fire. Stafford has never been one to unlock the potential of middling tight ends.
T.J. Hockenson was one of the league's best tight ends over the past two seasons — Stafford didn't really have to unlock him. The high-powered 2017-18 Rams offenses leaned more heavily on three-wide-receiver sets and less on tight ends in the passing game.