It's Week 12 of the NFL season, and while backfield committees have largely taken shape by now, there is still plenty that can change at a moment's notice. Week 12 also marks the final two bye weeks, with Todd Gurley and Kareem Hunt getting some much-needed rest and relaxation after Monday night's shootout.
Gurley tweaked his ankle in that game, and although he is expected to be fine, it should serve as a reminder that it's 'cuffing season for playoff-bound fantasy squads. Our Handcuff Index is a quick guide for potential RB1s who are likely available in your league: guys like Malcolm Brown, Spencer Ware, Carlos Hyde, Ito Smith, or Latavius Murray.
The current top-24 RB fantasy leaderboard is littered with names featured previously here and elsewhere on our site. Hopefully you were able to scoop up one or two of those guys. Regardless, even for teams that have locked in a playoff bye, now is not the time for complacency.
Before we dig into the top-three running backs who are trending up or down for Week 12, let's take a quick look at how things panned out for the players discussed last week.
Week 11 recap
5 trending up
Player
Snap%
Touches
PPR Points
Josh Adams
54.9

26.6

3.1

10

8

0

16

4.6

0

5 trending down
Player
Snap%
Touches
PPR Points
Isaiah Crowell
BYE

47.1

BYE

–

14

–

–

12

–
Notes: Adams was the lone bright spot in an ugly loss for Philadelphia, and he played twice as many snaps as any other Eagles' running back. His 28-yard touchdown burst was the kind of individual effort the team has not gotten from its other running backs. … Penny logged 17 snaps to Mike Davis' 22, although he did have eight carries to Davis' four. At the end of the day, Seattle boasts one of the league's top rushing attacks, so don't expect Pete Carroll to fix what's not broken. … Mike Tomlin doesn't do committees, which is why Swiss-Army knife Samuels is a particularly appealing handcuff for James Conner owners. … No sooner do I throw in the towel on Richard becoming anything more than he's been all season, Jon Gruden gives him a career-high 11 carries and draws parallels to Charlie Garner as the team's MVP.
Below are five running backs trending up and five trending down in their respective backfield committees.
3 trending up
(Week 12 projection: RB31)
Not only did Edwards turn his 17 carries into 115 yards and a touchdown Sunday, he also forced eight missed tackles and averaged 5.4 yards after contact. Considering those 17 carries were more than he had seen all season entering Week 11, you are forgiven for being skeptical about Edwards being able to string together more performances like that. However, he owns our fourth-best rushing grade (86.2) for the season, as nine of his 32 carries have gone for eight or more yards. Better yet, those nine long-gainers are dispersed across four of his five active games. Against Cincinnati Sunday, Edwards converted multiple key third downs to further help his cause.
The thing is, for what is looking like at least one more week, Lamar Jackson completely changes the script for the Ravens' offensive game plan. In this week's QB streaming segment, I noted how Jackson didn't just rack up 27 carries for himself, he also created generous running lines for Edwards by holding defenders up at the mesh point. Oakland is next up to try to find an answer for Baltimore's unique read option, but this is also a team that ranks just 27th in fantasy points given up to running backs.
(Week 12 projection: RB17)
There was valid concern for Lindsay's fantasy stock with Royce Freeman set to return from a three-week absence. Even though Freeman scored on one of his eight touches, Lindsay posted a week-high 1.62 fantasy points per touch and finished as the RB4. More importantly, he held a 32-13 edge in snaps behind a Broncos' O-line that boasts PFF's second-best run-blocking grade that is creating an average of 2.9 yards before Lindsay is contacted.
For his part, Lindsay does own PFF's eighth-best RB grade on the season and ranks 12th in PPR scoring. He's eluded tacklers as a runner (13.2%) more frequently than Alvin Kamara and Todd Gurley. Lindsay is tied with Saquon Barkley with 19 runs of 10-plus yards, the ninth-most among running backs. In every game this year that Lindsay has gotten double-digit carries – which is all but two – he has run for at least 60 yards. He's also on pace for about 40 catches. Put simply, he is here to stay as a fringe RB1, regardless of Freeman and Devontae Booker's presence.
(Week 12 projection: RB54)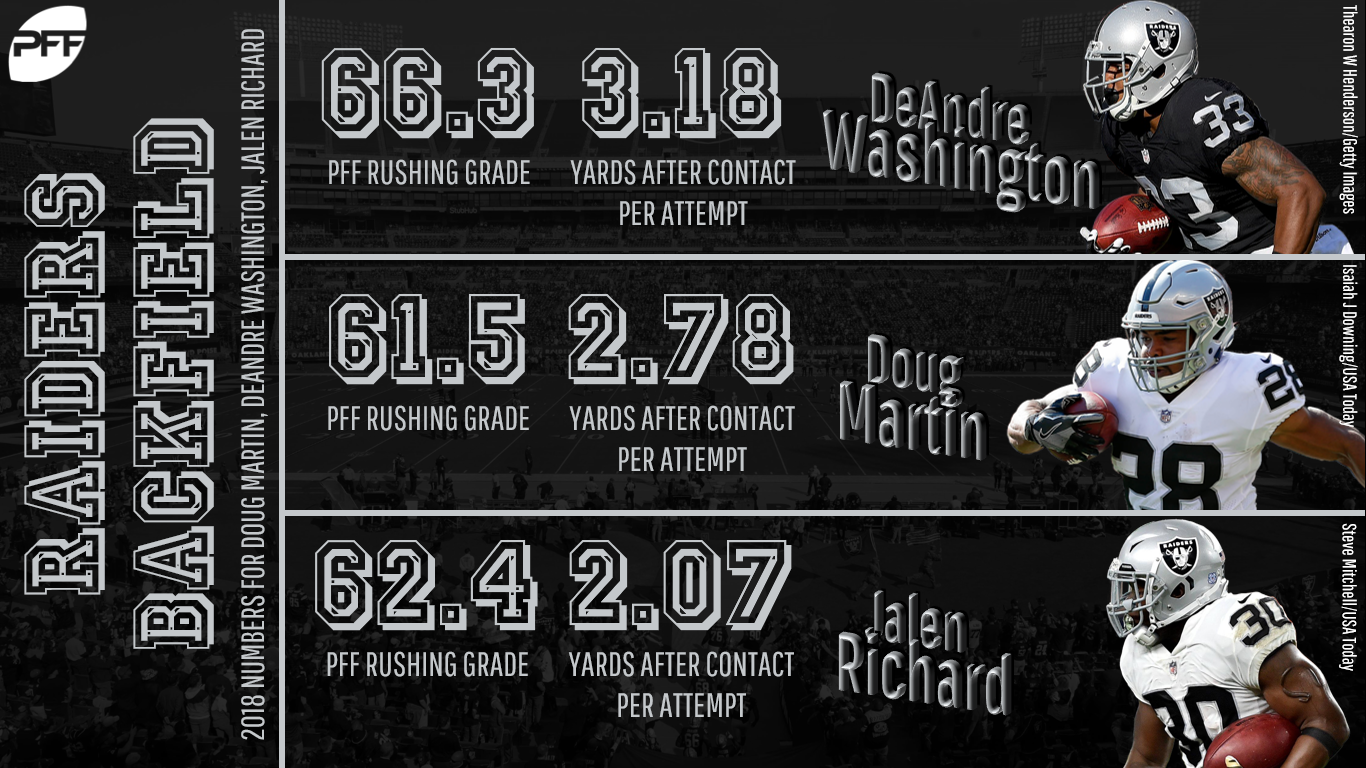 Out of 42 qualifiers, Doug Martin has posted the fourth-fewest fantasy points per touch since Week 8 (0.67) despite averaging 4.8 yards per carry. In other words, even though he's producing yardage at a higher clip than recent seasons, it hasn't moved the needle in fantasy scoring. He also exited the first half of Sunday's game with an ankle injury, and while coach Jon Gruden said he thinks Martin will be ok, he also said he wants to get Washington more involved in the final six games.
Look, there's not a ton of upside even if Washington overtakes Martin's lead gig. Jalen Richard still catches just about everything out of the backfield, and the Raiders are 30th in scoring. However, those in deeper standard leagues (12-plus teams) with a spare bench spot may want to take a flier on the third-year back. Washington averaged 5.4 yards on 87 carries as a rookie (including 3.3 YPC after contact) before taking a backseat to Marshawn Lynch. He's probably not the Raiders' RB of the future or anything, but it sounds like Gruden at least wants to give him a shot to find out.
3 trending down
(Week 12 projection: RB14)
Coming off a two-game stretch in which he touched the ball 42 times and was a top-seven PPR RB as the Titans' clear workhorse, Lewis' arrow was pointing up. Lewis even followed that up with a season-high 20 carries in a positive gamescript against New England in Week 10. However, he turned those 20 carries into only 57 yards, and over his last two games, Lewis ranks only 34th in PPR scoring and 42nd in points per touch. He's forced only four missed tackles in that span, averaging just 1.6 yards after contact.
The snap distribution between Lewis and Derrick Henry remains unchanged, although Henry has vultured four rushing scores over Tennessee's last four games. Since Week 9, Henry has looked the part of an effective NFL running back, turning 26 carries into 131 yards (5.0 YPC), albeit with a couple of positive gamescripts. Still, the Titans' upcoming schedule should offer more opportunities for Henry, who is the only qualified RB to rank inside the top-12 in elusive rating each of the last two years.
(Week 12 projection: RB38)
Although the clear leader in Miami's backfield throughout the season, Gore hasn't been able to parlay that into much fantasy success. Sure, he's averaging 4.5 YPC and is coming off a 90-yard effort on 13 carries. However, he's also caught only nine passes and is on pace for 845 yards with no rushing touchdowns. Since Week 7, Gore has produced the second-fewest fantasy points per touch (0.5) despite ranking seventh in elusive rating during that span with an average of 3.1 yards after contact.
Still, Gore remains owned in about one-third of fantasy leagues. If you are holding a roster spot for Gore, consider swapping him for a higher upside handcuff like Malcolm Brown, Spencer Ware, or Rod Smith.
(Week 12 projection: Marlon Mack RB10; Nyheim Hines RB33; Jordan Wilkins RB69)
Andrew Luck continues to pile up passing scores at a historic rate, and it has certainly had a ripple effect on Mack and company. Not only has Andrew Luck tossed three or more TDs in seven straight games, he continues to be the pace setter in both end zone throws (34) and end zone TDs (17). Comparatively, Colts' RBs have combined for 10 carries inside the 5-yard line this season.
Mack is still averaging 5.0 YPC on the season, although he's faded a bit of late. Going back to Week 8, he ranks 44th out of 50 qualifiers in elusive rating, with only four missed tackles forced on 58 touches. Since his back-to-back 100-yard games, Mack has produced 90 yards on 28 carries (3.2) to go with 17 yards on three catches, perhaps still feeling the effects of his ankle injury. Hines was 13th in PPR scoring through the first five weeks but has simply not gotten the job done of late as the Colts' third-down back. And while Wilkins is good for the occasional big run, the team went out and promoted Jonathan Williams from the practice squad this week. All told, even with Indy's top-notch O-line, the running back group has become muddled of late.