What are some of the top things we learned for fantasy football in Week 11 of the 2018 NFL season? Fantasy football is an ever-changing game, and what we thought was a sure thing a few weeks among might not ring true anymore.
Below are seven things we learned from Week 11 of the 2018 fantasy football season.
Lamar Jackson is a QB1 option for as long as he starts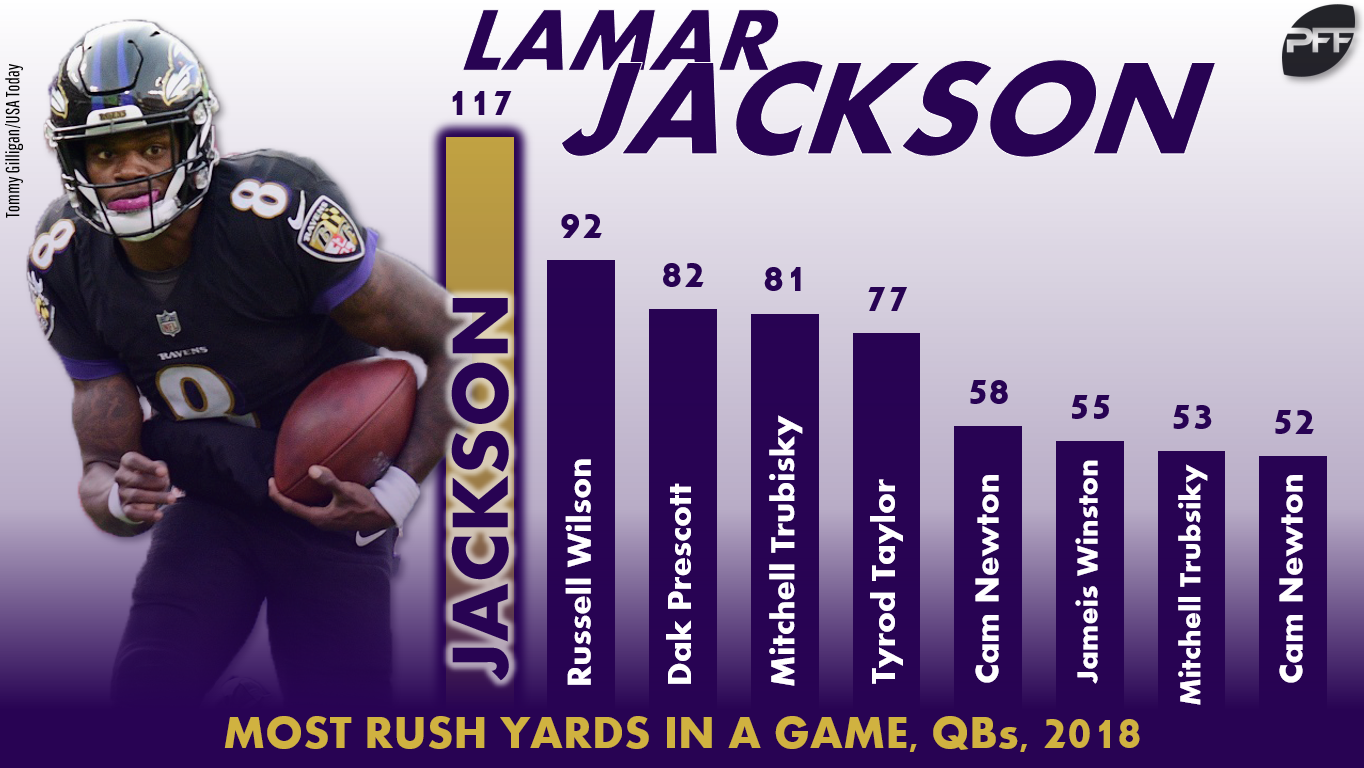 At this point in his career, Jackson is the ultimate QB/RB hybrid, which makes him deadly in fantasy. Jackson is this week's QB11 (pending Monday) despite not scoring any touchdowns. He had 27 rushing attempts — most by any quarterback since the merger — for 117 rushing yards, and he added another 150 passing yards for good measure. He won't go touchdown-less every week as a starter, but he will be a threat for 100 rushing yards on a routine basis.
There hasn't been a player like Jackson in a long time, so it's tough to know exactly what to expect, but we love running backs who carry the ball 20-plus times. Why would it be any different for a quarterback?
Freeman returned from injury in Week 11, gobbled up eight touches and scored a touchdown, and Lindsay was still a top-five running back on the week (pending MNF). Lindsay had over 100 total yards from scrimmage and scored twice. He now has over 60 rushing yards in six of his last seven games, with four touchdowns over his last four contests. Lindsay (32) also had nearly three times the amount of snaps as Freeman (13).
Gus Edwards — a real player I did not just make up — is your late-season waiver add
Gus Edwards is an UDFA out of Rutgers who ran for over 100 yards out of nowhere in an important divisional game in November.

You'd think he was on the Patriots. #Ravens

— Tyler Loechner (@LoechnerNFL) November 19, 2018
After a healthy dose of Alex Collins on the first drive, the Ravens then turned to Jackson and Edwards, who totaled 17 attempts for 115 yards and a touchdown. Edwards had just 15 rushing attempts all year prior to his Week 11 eruption.
Exactly how the Ravens divvy up rushing duties between Jackson, Collins, and Edwards moving forward remains to be seen, but it's clear that the Ravens are now a run-first (and second) team. Edwards needs to be added — especially in standard leagues. (His total of zero targets makes him less interesting in PPR leagues.)
T.Y. Hilton still has a freakish ceiling
Hilton was a breakout waiting to happen, and it finally arrived in Week 11 against the Titans, with Hilton blowing up for 155 yards and 2 touchdowns on 9 catches. It was Hilton's second 100-yard game of the season, and just his second game with a touchdown since Week 3, but it was a reminder of how good Hilton can be. Now fully healthy and operating in an Indianapolis offense that has produced at least three passing touchdowns in seven straight games, we can expect Hilton to return to his elite levels for the rest of the season.
Both explosive rookie wideouts had big games in Week 11, with Smith dropping 10-157-1 on the Eagles, and Moore going for 7-157-1 on the Lions. Smith has turned into a full-time player on the second-most explosive offense in football (sorry, Saints fans, but the Chiefs still have you there), while Moore has progressed beyond "gadget player" with at least five targets in five of his last six games.
Both players have juicy schedules down the stretch. Smith faces ATL, DAL, TB, CAR (x2), and PIT, while Moore takes on SEA, TB, CLV, NO (x2), and ATL.
Kenny Golladay is top-12 good when he's the lead WR
With Golden Tate gone and Marvin Jones sidelined, Golladay was thrust into No. 1 wideout duties on Sunday, and he didn't disappoint. He alpha'd his way to a season-high eight catches for 113 yards and a touchdown. It was his best fantasy performance of the season, and the best part is that everyone could see it coming. This game should have you excited for the prospect as Golladay as Detroit's regular No. 1 wideout in the near future.
Jonnu Smith continues to trend in the right direction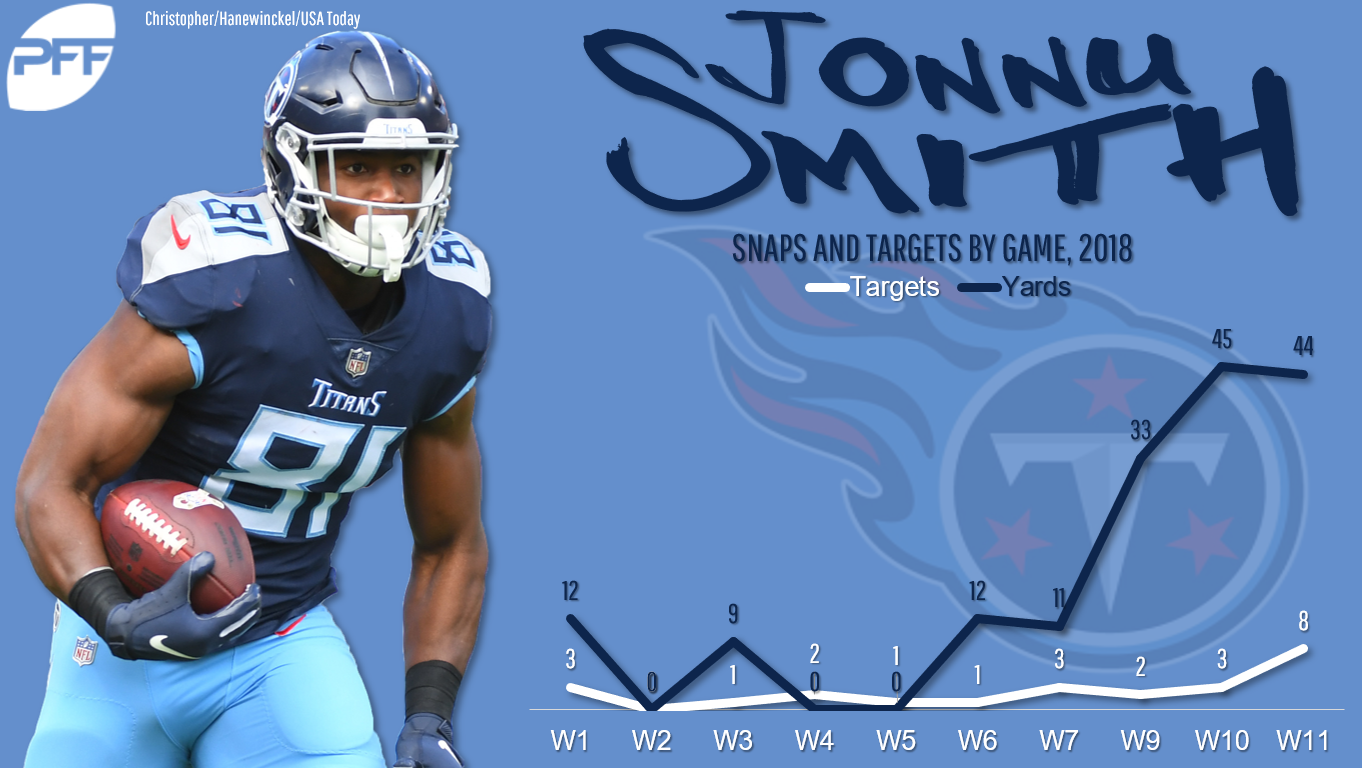 When Delanie Walker was ruled out for the season earlier this year, Smith was supposed to be "the guy." Walker, after all, had been a mainstay in Tennessee's offense for so long. But through injuries and inconsistent play, Smith had just two catches for 21 yards through the first five games combined.
Since then, he's been trending in the right direction. His reception count over the last five games: 1, 2, 2, 3, 6. His yardage count: 12, 11, 33, 45, 44. He has two touchdowns over the last three games, too. At the thin tight end position, Smith is working his way toward weekly streaming consideration.