The Baltimore Ravens' running back room just got a bit more crowded after rookie Gus Edwards exploded onto the scene Sunday with 115 yards and a touchdown on just 17 touches in Week 11. Fellow running backs Alex Collins, Javorius Allen and Ty Montgomery watched largely from the sideline as the undrafted free agent signing took the bulk of the carries and overall snaps in a much-needed performance for what was a reeling team.

Edwards surpassed 100 yards rushing just once last year at Rutgers, and he had more than 17 carries on only three occasions. In that regard, the Ravens coaches gave Edwards a surprising amount of touches — but he proved exactly why he deserved them. There was one aspect of his college game that stood out: missed tackles forced.
Rutgers finished the 2017 season at 4-8, but Edwards finished the season with 33 forced missed tackles on runs, eighth among 28 Big Ten running backs. On Sunday, Edwards was second among running backs with seven missed tackles forced, and led all backs with at least 10 carries in yards after contact per attempt (5.35). While it was quite the breakout showing, Edwards' time in the spotlight may be limited moving forward.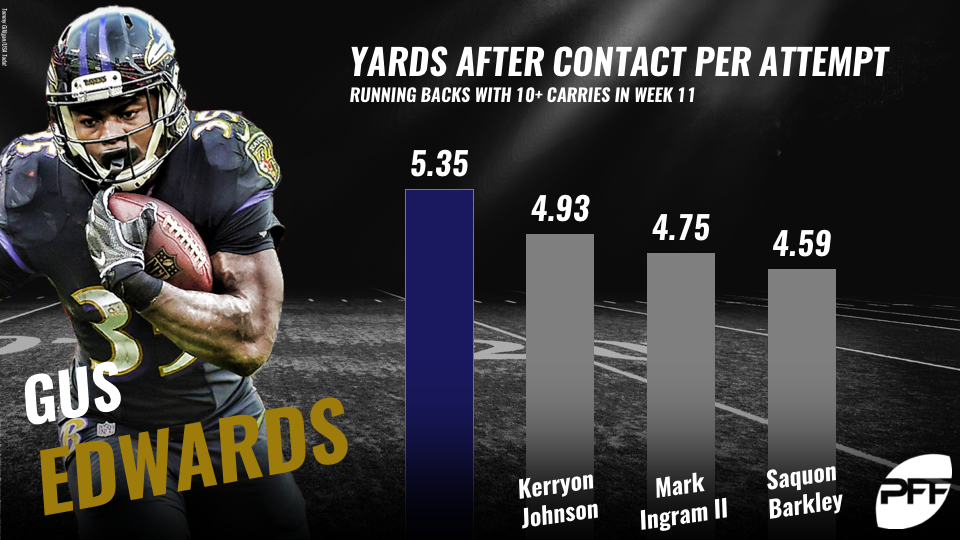 Alex Collins has garnered the largest share of snaps out of the Ravens' backfield this year, but his highest game grade on the year is a meager 70.3 and he's yet to accumulate more than 70 yards rushing in a game. Just a season ago, Collins put up the third-highest running back grade (83.4) and the highest rushing grade (86.9). But while it's been a down year, particularly in yards after contact per attempt (from 2.98 to 2.17), Collins' seven-touchdown total is already one more than he had a season ago.
If the Ravens want to keep Edwards involved in a running back by committee situation, they may consider using Collins exclusively in red zone situations. The numbers would back up such a decision, as Collins surprisingly averages a full yard more per carry in the red zone (where there is a lot less space to run in) than when running outside of it. His 4.48 yards per carry in the red zone is also supported by his touchdown output — all seven of them have come when rushing from his opponents' 20-yard line or closer. When outside of the red zone, Collins' average dips to 3.41 yards per carry.
It would be a similar situation to what the Ravens did on Sunday, with Collins taking three of his seven carries in the red zone compared to Edwards' running just twice in the red zone of his 17 total attempts. But, it would require a strong commitment to a rookie running back who still has a lot to prove. Nevertheless, it could be just what the Ravens need to jumpstart what has been an overall mediocre rushing attack.
Edwards finished his day against the Cincinnati Bengals with an elite overall grade of  90.4, and while that's a perfectly good reason to give him the start next week against the Oakland Raiders, the Ravens have a crowded (and talented) backfield that can be utilized in a lot of ways, especially with dynamic quarterback Lamar Jackson at the helm. As John Harbaugh put it in his post-game press conference, Edwards is "a good complement, but not the only compliment."