Last week, I analyzed the biggest hits and misses from my 2020 Fades List and found plenty of takeaways that have already helped when it comes to 2021 projections. 
Subscribe to
Today I'm running it back, but this time I'm looking back on the players I was high on entering the 2020 season. Some panned out better than others, but the point now is to re-evaluate the process and to determine whether the outcome was warranted. 
What could have been… Courtland Sutton was why the vast majority of my best ball teams went up in flames in 2020 — he was by far my highest owned player. So you can only imagine how I felt to see the superstar go down in Week 2.
It's a fair question to ask whether or not Sutton would have been able to thrive with the erratic Drew Lock behind center, but rookie Jerry Jeudy was able to flash at times, so I assume Sutton would have at least met his ADP of WR23. 
Keep in mind that Tim Patrick essentially played the Sutton role in the Denver Broncos' downfield-heavy attack and had a stretch where he averaged over 14 fantasy points per game (Weeks 3-11). 
Sutton is now being drafted as the WR28 on UnderDog and WR34 on BestBall10s. 
Buy him in every single fantasy football format, especially with the off chance that Deshaun Watson finds himself playing for the Broncos in 2021. 
The other player I heavily invested in during 2020 drafts was running back Josh Jacobs. I loved what I saw out of him as a rookie when he earned PFF's second-highest rushing grade (86.9) while also leading the league in forced missed tackles.
Fast forward to 2020 and his rushing grade (79.4) fell to 14th overall. His total forced missed tackles (51) also dipped slightly, though it still ranked inside the top five. 
Jacobs' yards per attempt fell from 4.8 in 2019 to 3.9 last season. Many will point to the Las Vegas offensive line being worse last year than in 2019, but the numbers don't indicate that. The team's average rushing yards before contact (1.4) was practically the same (1.3). Their overall PFF run-blocking grade (59.6) was also close (59.3).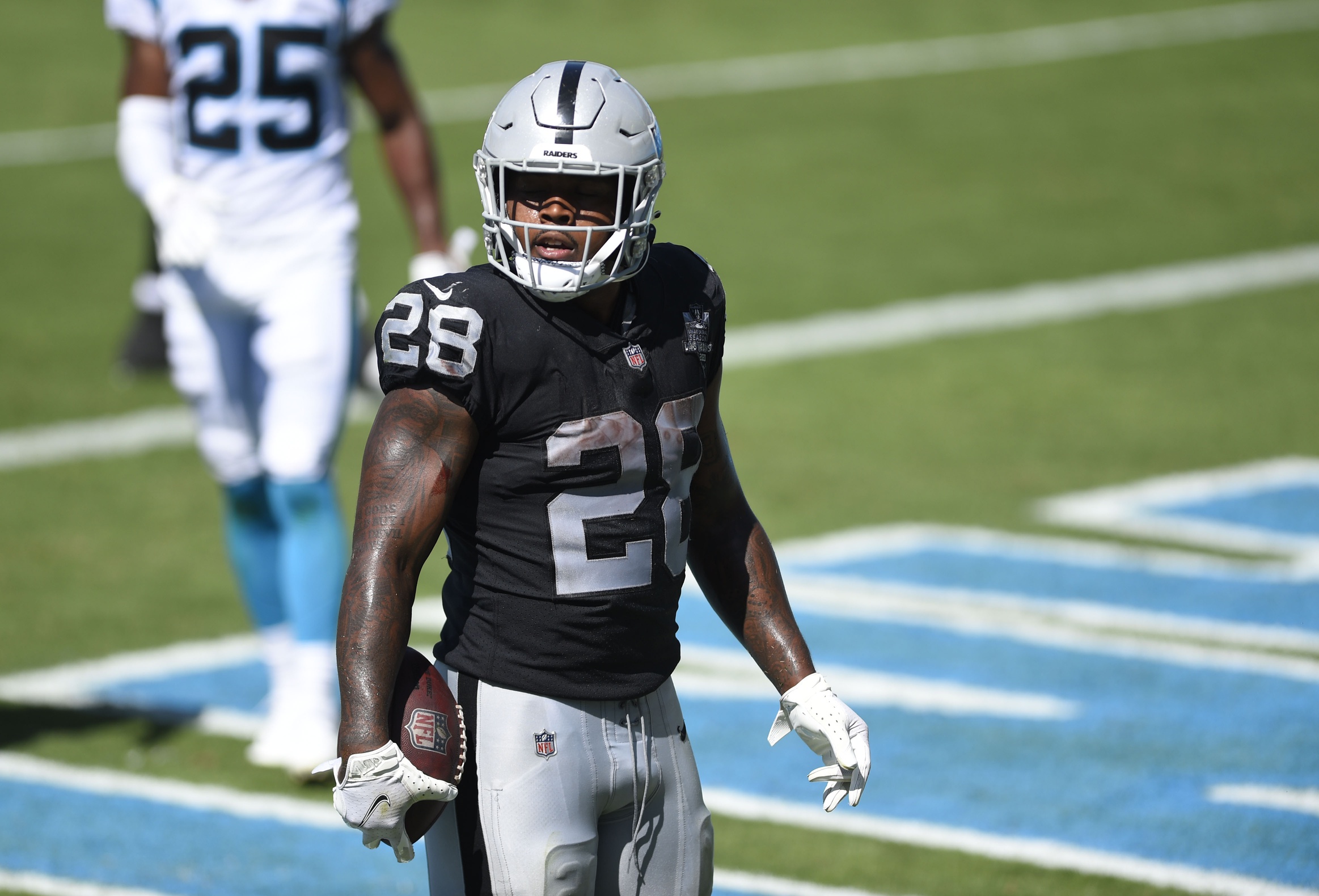 Jacobs was drafted as the RB11 last season and basically met those expectations, finishing as the RB10 from Weeks 1-16. Thirty-one percent (11th-most) of his production came from his 12 rushing touchdowns, which allowed him to overcome some efficiency woes.
The biggest concern for Jacobs heading into 2020 was whether or not he would be used more in the passing game. And, technically, he was more involved…. but it wasn't by much.
Josh Jacobs Receiving | 2019-20
| | | | |
| --- | --- | --- | --- |
| | Catches | Targets | Routes run |
| 2020 | 2.2 | 2.7 | 15.4 |
| 2019 | 1.5 | 2.0 | 11.3 |
Scatback Jalen Richard was a little involved in the passing game, but Jacobs still led all Raiders running backs in catches, targets and routes run. Derek Carr continued to heavily rely on checking the ball down to his RBs, finishing finished fourth in the league in RB checkdowns.
Basically, Jacobs delivered on the coach's narrative that he would be involved more in the passing game, but my aggressive ranking on him last season was too bullish.
I actually wrote an article about running backs entering Year 2 before last season that found running backs in their second seasons have averaged a 19% increase in receptions and 16% increase in targets dating back to 2013. 
Jacobs' receptions increased by 38% and his targets by 30%.
So the lesson here is that although we can expect second-year RBs to take a step forward in the passing game, we need to project that growth within reason, especially for RBs who didn't see much pass-game usage as rookies. 
When we apply this thinking to second-year running backs like J.K. Dobbins, Cam Akers and Zack Moss, we need to temper expectations despite any training camp buzz. All three of these RBs averaged fewer than 1.5 catches and two targets per game as rookies — right around Jacobs in 2019.
My biggest hit of the 2020 season was going all-in on Calvin Ridley. I made the bold prediction that he would outscore DeAndre Hopkins, and even though he narrowly trailed the Arizona Cardinals' No. 1 wide receiver, it was largely because Nuk didn't fall off a bit. 
Hopkins finished as the WR4 with Ridley one spot behind in total fantasy points from Weeks 1-16. 
Of course, Ridley did play one less game than Hopkins and actually outproduced him on a per-game basis.
Either way, Ridley was an awesome selection at WR15 last season. Identifying next year's Calvin Ridley — who was 2019's version of Chris Godwin — needs to be at the forefront of our drafting strategy in 2021.
Ridley was an ascending player entering Year 3 last offseason. His fantasy points per game had increased dramatically from his first season, and there was a large opportunity in the form of vacated targets in the Atlanta Falcons' offense after key players like Mohamed Sanu and Austin Hooper were removed from the equation.
The Falcons were also projected to throw a ton, which would lessen the impact of playing alongside an alpha wide receiver like Julio Jones. 
So as we glance over the landscape of some third-year WRs, who fits this mold as this year's Calvin Ridley? 
The first name that comes to mind has to be third-year receiver Diontae Johnson. A year after Johnson led all rookies in receptions and averaged 5.3 yards after the catch per reception (seventh), the Pittsburgh Steelers' wide receiver took a huge step forward in his second season.
His fantasy points per game increased from 10.1 to 15.4 — and that hardly does the production justice. He left several games early due to injury and played hurt other times, which influenced his final stats.
Johnson's eighth-ranked expected fantasy points per game in 2020 paint a much better picture of what he did and what why we should expect more from him in 2021. 
Still, I'd argue that Johnson's biggest competition for the title of "next year's Ridley" is his own teammate, Chase Claypool.
With JuJu Smith-Schuster likely leaving, Claypool can lay claim to a much bigger target share increase. Johnson's 139 targets during the regular season already ranked fifth in the league, so it's tough to imagine that growing much higher next season.
Claypool saw just north of 100 targets and ranked outside the top 50 wide receivers in total routes run. There's a ton of room to add volume here. 
As a rookie, Claypool hit a certain statistical threshold that I leaned upon before predicting Ridley's massive jump in 2020: receivers that had a combination of at least a top-12 season in terms of YAC/reception and aDOT.
At the time, the list of names included Ridley, Kenny Golladay, Stefon Diggs, Chris Godwin, Tyreek Hill and Chris Conley.
After the 2020 season, Terry McLaurin and Marquez-Valdes Scantling joined the list, along with Claypool.
Meanwhile, Johnson's aDOT in his two NFL seasons has yet to rank inside the top 30 among receivers with at least 80 targets. 
Claypool's ability to make plays after the catch and to be relied on downfield narrowly gives him the edge over Johnson for 2021. 
Last summer I wrote: "That's why I'm optimistic about Montgomery in 2020 — the workload is not going to change. With Tarik Cohen and Ryan Nall behind him on the depth chart, I fully expect him to see 240-plus touches again, which means his current draft price is at his floor."
Montgomery finished the year with 301 touches, which ranked fourth among all running backs. Cohen's injury certainly helped vault Montgomery to RB1 status, especially down the stretch — he was RB1 overall from Week 12 on — but Monty would have likely flirted with 250 total touches either way.
We simply can't ignore young RBs with guaranteed volume, even if they aren't exciting names or are athletic freaks. This is especially true when they're being drafted at their floors.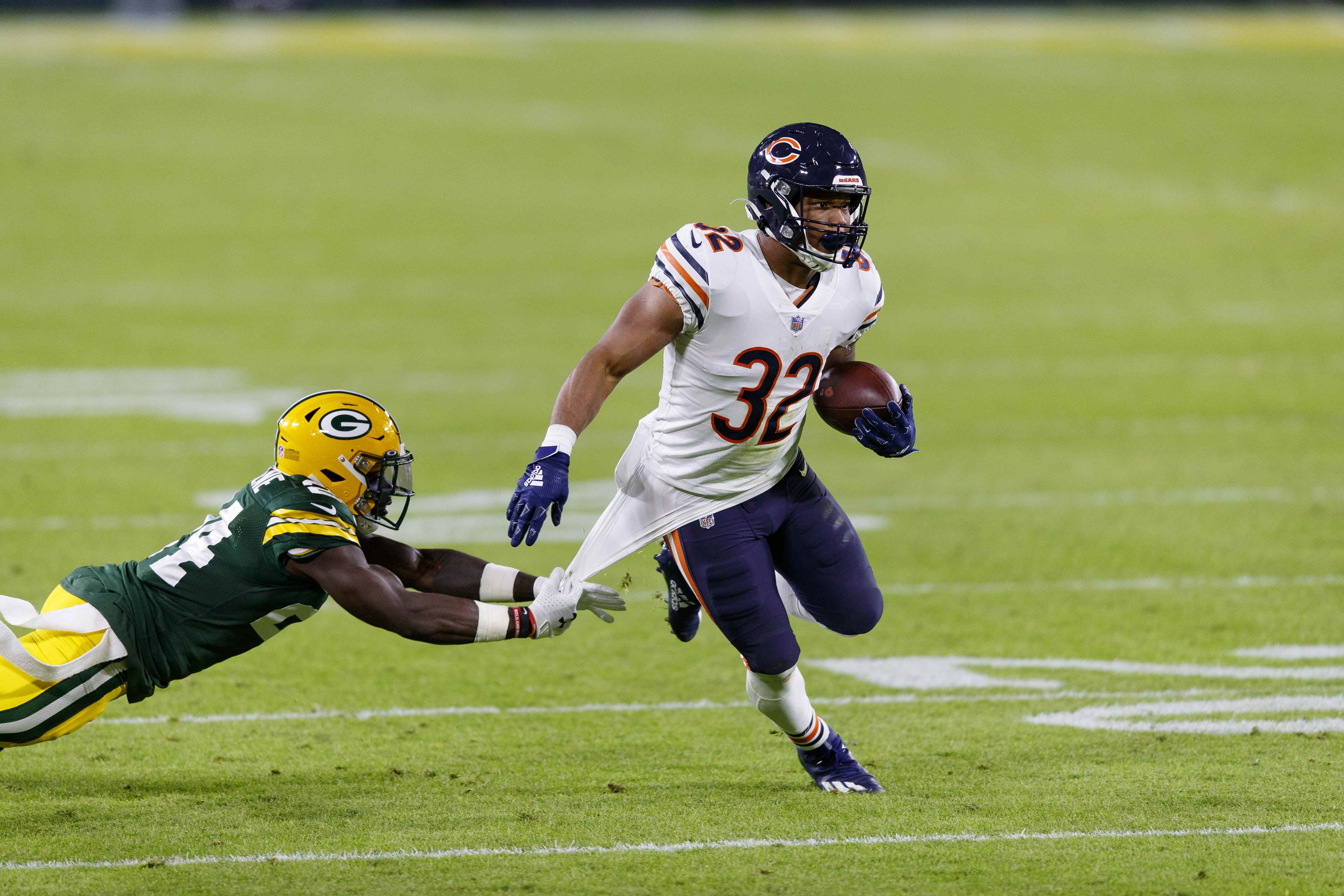 I also noted that the elusiveness Montgomery flashed as a rookie would eventually translate into more big runs, and that also transpired. He racked up over 100 more rushing yards on carries of 15-plus yards compared to 2019.
Heading into the 2020 season, Montgomery's ADP was hovering around RB23. He was a value then, and he's currently being drafted as RB21 meaning his price is already factoring in the return of Cohen.
I actually expect his ADP to fall after the NFL Draft as the hype for rookies like Najee Harris, Travis Etienne and Javonte Williams pushes their draft stocks at the expense of Montgomery. 
I was high on Ronald Jones II all preseason and felt good about the call early on. From Weeks 1-14, RoJo was PFF's fifth-highest-graded running back (82.8), and he ranked fifth in yards after contact per attempt (3.6) and fourth overall in rushing yards (900).
He was well on his way to hitting the coveted 1,000-yard mark but dealt with injuries and COVID to close out the season.
The addition of Leonard Fournette right before the season threw a wrench in Jones' fantasy outlook, but all it did was make Jones a discount in drafts. He functioned as the clear early-down back until "Playoff Lenny" emerged, and he's likely going to be in a similar position next season if Fournette isn't re-signed. 
Where I was totally wrong on Jones was projecting him to be an efficient pass-catcher in 2020 after being great in 2019. I won't make that mistake twice after Jones earned PFF's lowest receiving grade (29.6) among 58 qualifiers in 2020. 
Needless to say, if a player looks and feels like an early-down back and his upside as a receiver seems like a stretch, it probably is. But at the same time, that doesn't mean early-down RBs are completely useless in fantasy football, especially if they can be selected at a great value. 
Needless to say, touting Chris Herndon as the next breakout tight end did not work out in 2020. My main argument for being pro-Herndon was the fact that he and Sam Darnold had thrived together in 2018 during Herndon's rookie season.
What I overlooked in 2020 was the fact that Adams Gase was not behind that offense — a massive oversight on my part. The Jets were just so bad on offense that they could barely salvage any fantasy production for their WRs, much less a TE. 
Herndon also led all tight ends in pass-blocking snaps, which I think appropriately captures his suboptimal usage in the Jets' offense. 
At least Herndon wasn't expensive last year at TE19, and he'll be drafted this season even later as the masses jump off the bandwagon. I'm not ready to bail because we've seen players thrive in their post-Gase lives. There's no way I'll miss out on Herndon's return to form in 2021.
Herndon could play with a better quarterback in 2021 and command a larger share of the team's offensive targets. Both Jamison Crowder and Breshad Perriman might not be on the team in 2020. Crowder has been rumored to be a cap casualty, and Perriman is a free agent.
And let us remember that Herndon ended Week 17 on a high note with season highs in targets (nine), receptions (seven) and yards (68). It's never too early to get back on the Herndon hype train. 
Last summer, I coined Jonnu Smith my breakout tight end for the 2020 season. Smith was serviceable at times but didn't do enough to truly be a difference-maker at the position, finishing as the TE16 overall. 
That's the narrative at the tight end position — unless you have an elite option, it's pretty flat across the board. 
My biggest miss on Smith was the fact that I thought he could potentially operate as the clear No. 2 receiver behind A.J. Brown. Corey Davis' 2020 campaign took me by surprise.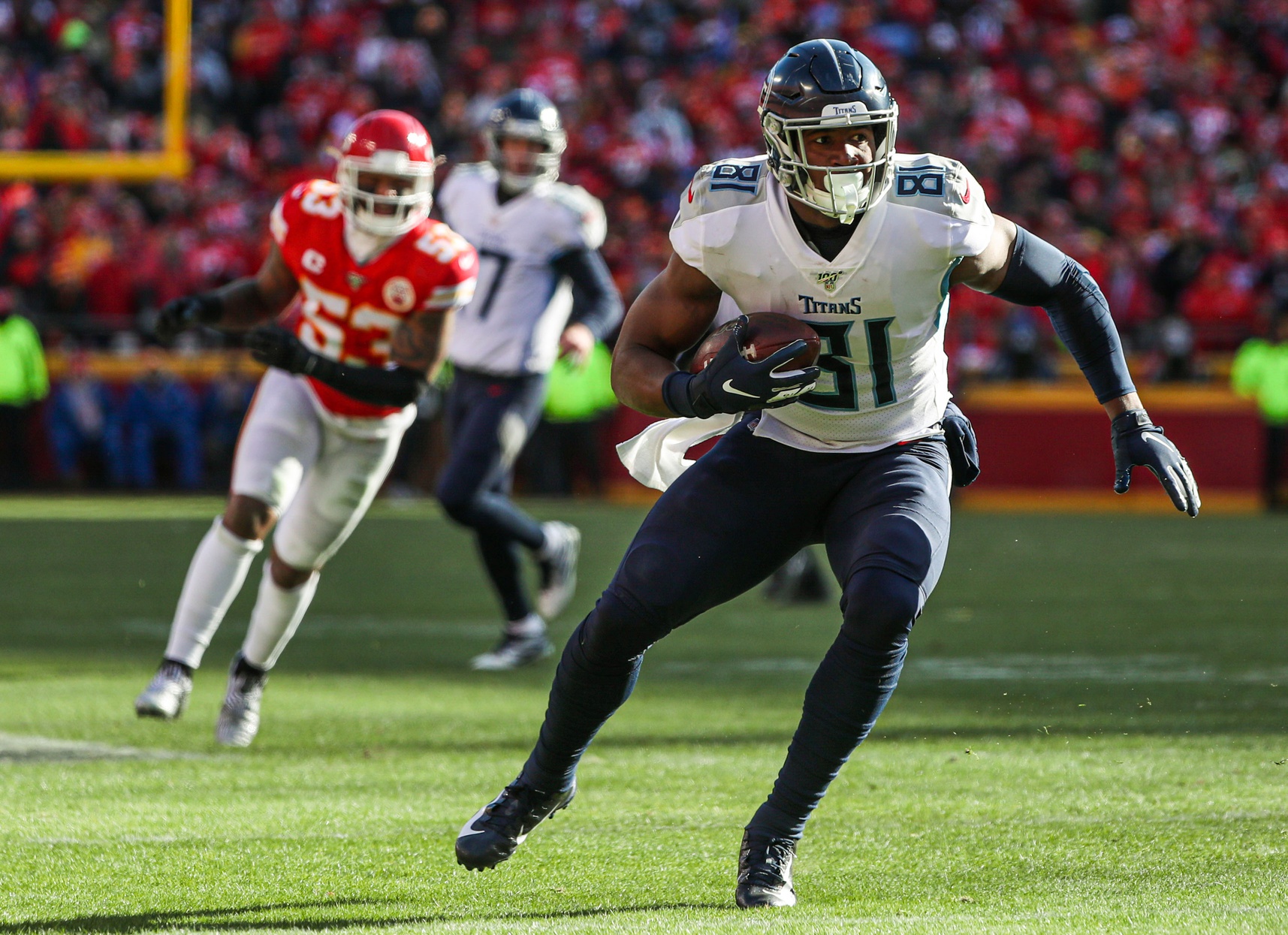 So although I was enticed by Smith's efficiency metrics that stayed consistent in 2020 — eighth in yards after the catch per reception (5.8) — it wasn't enough to overcome his lack of usage as a pass-catcher in the offense.
He finished the season 25th in routes run (300) and second in run-blocking snaps (377). The dedication to the running game carried over from 2019 when he was third in run-blocking snaps. I didn't take that role into consideration. 
Tight ends that spent way too much time blocking are going to be super frustrating to own in fantasy football. So let this be a warning to those who might be tempted to buy back into the Tyler Higbee hype this offseason after Gerald Everett leaves in free agency.
Higbee led all tight ends in blocking snaps in 2020.  That could be very problematic for those looking for the next breakout tight end in Los Angeles. 
I'll end my 2020 season in review with a hit and a miss on two rookie wide receivers. I had a ton of exposure to both Jalen Reagor and Brandon Aiyuk across all sorts of fantasy formats and felt good about it.
Each had the opportunity to be heavily involved in their offense from Day 1 as first-round selections. 
But I feel victim to the training camp hype that drove Reagor's ADP to WR39 — hardly a value when compared to Aiyuk at WR50. 
When it comes to rookie receivers, don't overexert yourself to draft one over another, especially when there's a significant ADP gap between the two. And, of course, don't be overly affected by glowing offseason beat reports.