One of the most productive and useful exercises we can do as fantasy football players is to re-evaluate our biggest hits and misses from the previous season.
This approach allows us to not only get the chance to take some victory laps — who doesn't love a good victory lap? — but to see where and why we were wrong about certain players' fantasy outlooks heading into a given season. 
Last year, I was a bit lower on Derrick Henry heading into fantasy football drafts, so I want to dive back into my analysis to see where my ranking went askew. 
Subscribe to
The goal is to improve our process to ensure similar mistakes or oversights aren't made again in 2021. I'll also spin the analysis into an actionable takeaway for next season. The majority of the players listed below were featured on my top fades list from last summer. 
There's no better way to start this article than by addressing the elephant in the room: Derrick Henry. He was my 11th-ranked player heading into 2020 and my RB9. The Big Dog stiff-armed me harder than Josh Norman, finishing as the fourth-highest non-quarterback and the No. 3 running back overall. 
Me vs the Henry lineups I faced yesterday pic.twitter.com/sbItQP6KrN

— Andrew Erickson™ (@AndrewErickson_) October 19, 2020
The basis of the argument against Henry was that he wouldn't be able to find the end zone nearly as often. I was concerned about his dependence on touchdowns. 
In 2019, Henry's 18 touchdowns accounted for 36% of his fantasy points. In 2020, he actually scored one fewer touchdown and was slightly less dependent on touchdown scoring (30%). 
I was banking on the Titans offense regressing after it was unsustainably efficient on a touchdown-per-drive basis a year ago. When Ryan Tannehill was under center, the Titans scored touchdowns at the second-highest rate in the NFL (33.6%) in 2019. 
At the time, no team had been able to repeat a touchdown-per-drive rate over 30% the following season dating back to 2016. But it didn't matter, as offenses exploded across the NFL last season. From 2016-2019, only six teams posted at least a 30% touchdown rate. Nine teams accomplished the feat in 2020.
The uptick in offensive efficiency was one of the major repercussions of a COVID-affected NFL season, where offenses could impose their will on defenses with little to no crowd noise. And because Henry is such a focal point of the Titans offense — 25 touches per game in 2020 — his touchdown totals stayed high.
I also cited Henry's high-end breakaway run rate — that was a massive oversight on my part. Breaking big runs is just part of Henry's game. It's the reason why he's such a nightmare to fade in DFS. The guy can break off a 90-yard rushing touchdown like nobody else.
So even though the breakaway run rate tends to be pretty volatile from year to year, we need to consider context when discussing certain players. Henry led the league in rushes of 15-plus yards in 2020 — there's no reason to think the bruising back won't be back atop the list in 2021.
It's older running backs like David Johnson who we should be wary of repeating their breakaway rates. DJ's breakaway rate in 2020 (36%) ranked seventh among all running backs and was the highest mark of his career. Entering his age-29 season, I highly doubt Johnson will break off as many big runs in 2021.
I also noted that the Titans offensive line wouldn't be nearly as great in 2021 as it was in 2020 with the loss of starting right tackle Jack Conklin. But Conklin's absence made little to no difference in run-blocking.
PFF graded the Titans' run-blocking as the fifth-best in the league (77.8), one spot higher than they ranked the year prior (73.8). The OL replacements and injuries impacted pass-blocking much more, as the Titans fell from 11th to 28th. 
Lesson learned: Offensive line changes, especially at the tackle position, need to be factored into projecting a team's pass protection more than run-blocking. 
The only take about Henry I was correct on was that he wouldn't see any role in the passing game. He caught 19 passes for only 114 yards after catching 18 for 206 yards in 2019. He doesn't seem destined to take on any kind of pass-catching role, and that just makes his floor a bit lower than some of the other top-tier running backs.
Henry can get game-scripted out at times, and that needs to be considered when drafting him in the first round in 2021. Last season, he scored fewer than 10 fantasy points in four games. 
All in all, my biggest blunder in projecting Henry was not considering the fact that he'd be a lock to see 20-25 touches per game. Volume is the biggest predictor for fantasy success at the running back position — even if the vast majority of touches are carries as opposed to receptions.
When it comes to projecting Henry in 2021, I currently have him ranked fifth in my way-too-early 2021 best ball rankings. He could still fall victim to touchdown regression — Henry has scored 10 rushing touchdowns over expectation in his last two seasons.
And, of course, even a back as great as Henry is unlikely to rip off another 2,000-yard season. Of the seven running backs who have rushed for 2,000 yards, the best fantasy finish the following season was RB5. Five of them finished as top-12 running backs, leaving just two that failed to return RB1 status. 
Running Back Fantasy Finish Post-2,000-Yard Season
| | |
| --- | --- |
| Player | Fantasy Finish |
| O.J. Simpson | RB9 |
| Chris Johnson | RB5 |
| Terrell Davis | Injured |
| Barry Sanders | RB10 |
| Jamal Lewis | RB24 |
| Adrian Peterson | RB8 |
| Eric Dickerson | RB12 |
The silver lining is that Henry leads all running backs in expected rushing touchdowns (22) over the past two seasons. So even if his touchdown totals regress to the expectation, it won't deflate his fantasy value enough to push him out of the top five RBs. 
I may have whiffed big time on Henry, but I felt like I was spot on with Kenyan Drake. He was being drafted as the RB10 overall but came in as RB15. In reality, Drake's performance was much less helpful for fantasy purposes as he came in 27th overall in fantasy points per game (12.9). 
My biggest concern was whether Drake and DeAndre Hopkins could match their draft cost with a mobile quarterback under center. Running QBs like Kyler Murray influence running backs so dramatically that it's hard to expect top-10 wide receivers and running backs on the same roster. That ended up playing out — with Hopkins finishing top-10 at his position but not Drake. 
There was also the issue of Drake's involvement in the passing game while splitting snaps with Chase Edmonds. We didn't know how involved Edmonds would be in the Cards offense, but it was clear that he would have some type of role. 
Drake's hype train was built upon his eight-game sample size with Arizona, but his touchdown numbers were clearly unsustainable. He had eight TDs in eight games in 2019. Drake ended up finishing 2020 with 10 touchdowns (yay!), but the impact of 10 scores over a 15-game stretch wasn't the same.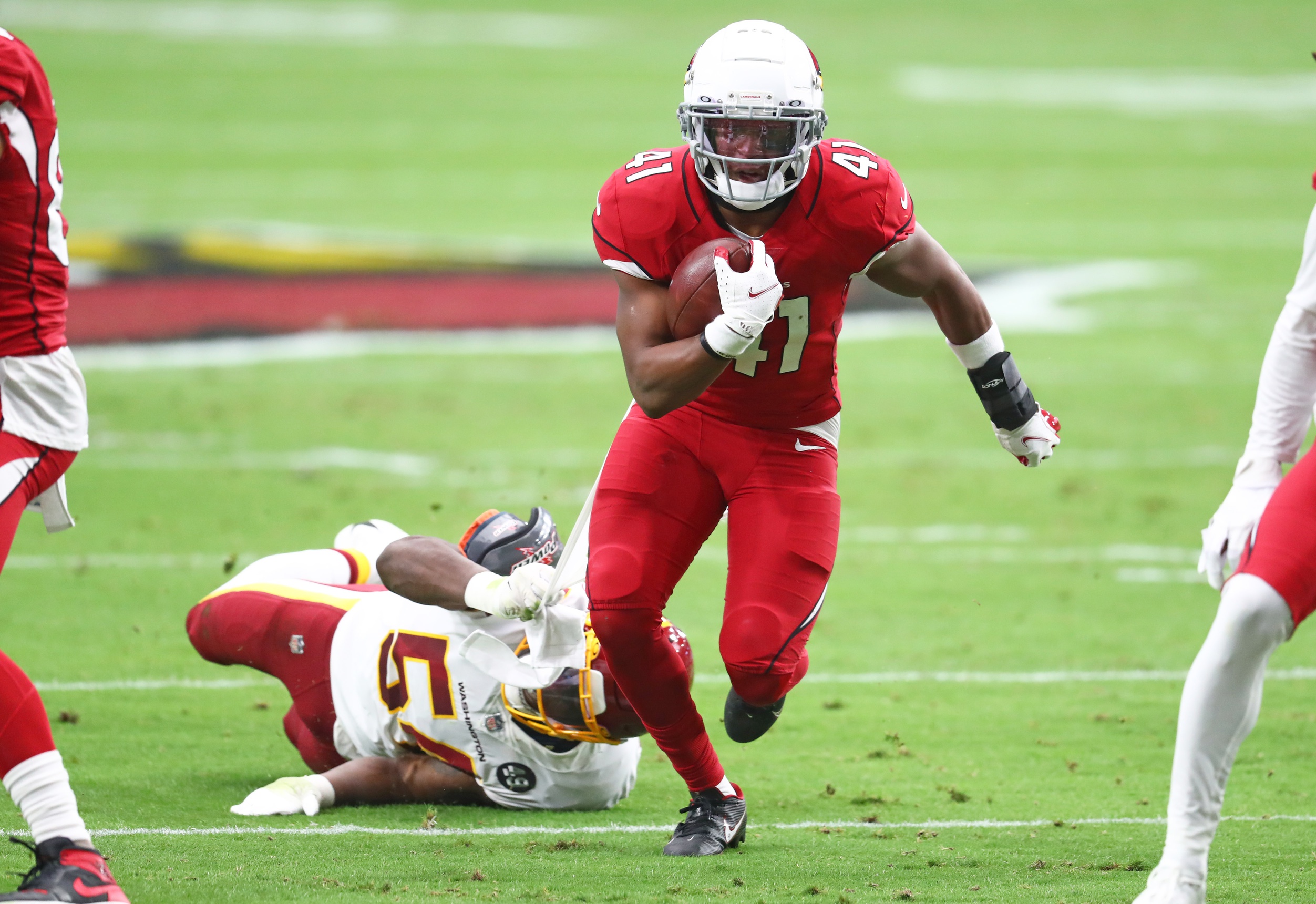 The lesson here is to be careful projecting players from a smaller sample size, especially when a ton of production is tied to touchdowns. 
Looking ahead to 2021, J.K. Dobbins draws some similar comparisons. He plays alongside a mobile quarterback, is likely to split some work with Gus Edwards and ended the season with seven touchdowns in his last six games.
The only major difference is that Baltimore doesn't have an alpha receiver — unless they add one in free agency — who projects to be a top-10 option. Dobbins isn't currently being drafted inside the top-10, so that bodes well for the second-year back.
Fading Raheem Mostert was probably the easiest drafting decision last season because his cost as an RB2 was way too rich. We had a huge sample size of the San Francisco 49ers rotating running backs, and his hot playoff run was unlikely to continue over an entire regular season. 
Mostert's injury obviously played a factor in why he didn't return value, but he never played more than 59% of the team's offensive snaps even when healthy. He was seldom used in the passing game, as the team leaned on Tevin Coleman, Jeff Wilson Jr. and Jerick McKinnon often. 
The value play was always taking another San Francisco running back later in the draft. Wilson (13.3 points per game) outscored Mostert (12.7 points per game) on a points-per-game basis.
Mostert's breakaway rate as a starter in 2019 (45%) was also unsustainably high. The only running back we see putting up that type of number year to year is Nick Chubb. Mostert isn't in Chubb's stratosphere, so it was reasonable to expect it to fall off. 
Looking ahead, David Montgomery's ADP could reach unwarranted territory based on his final six-game stretch as the RB1 in fantasy. Tarik Cohen is expected to return to the offense, and his role in the passing game will definitely limit Montgomery's ceiling.
Montgomery is known for being much more of a plodding running back — fantasy managers can't bank on Montgomery racking up a massive yardage total on chunk runs. He compiled nearly 200 rushing yards on four big runs during his hot streak to close out the year. Through the first 10 games, he had just 61 yards on such runs. 
We can't be proud to have faded Amari Cooper because the guy was an absolute stud with a healthy Dak Prescott from Weeks 1-5. 
Cooper was the WR4 in PPR, averaging 20.8 fantasy points per game. He led all wide receivers in expected fantasy points per game (21.4) and didn't have less than 80 receiving yards in a game that Prescott finished.
Obviously, his numbers fell off drastically with the hodgepodge of backup quarterbacks playing for Dallas after Prescott went down. In all likelihood, Cooper would have finished much higher than WR15, which would have made it worth selecting him as the WR10 off the board last year.
So why was I so off on Cooper?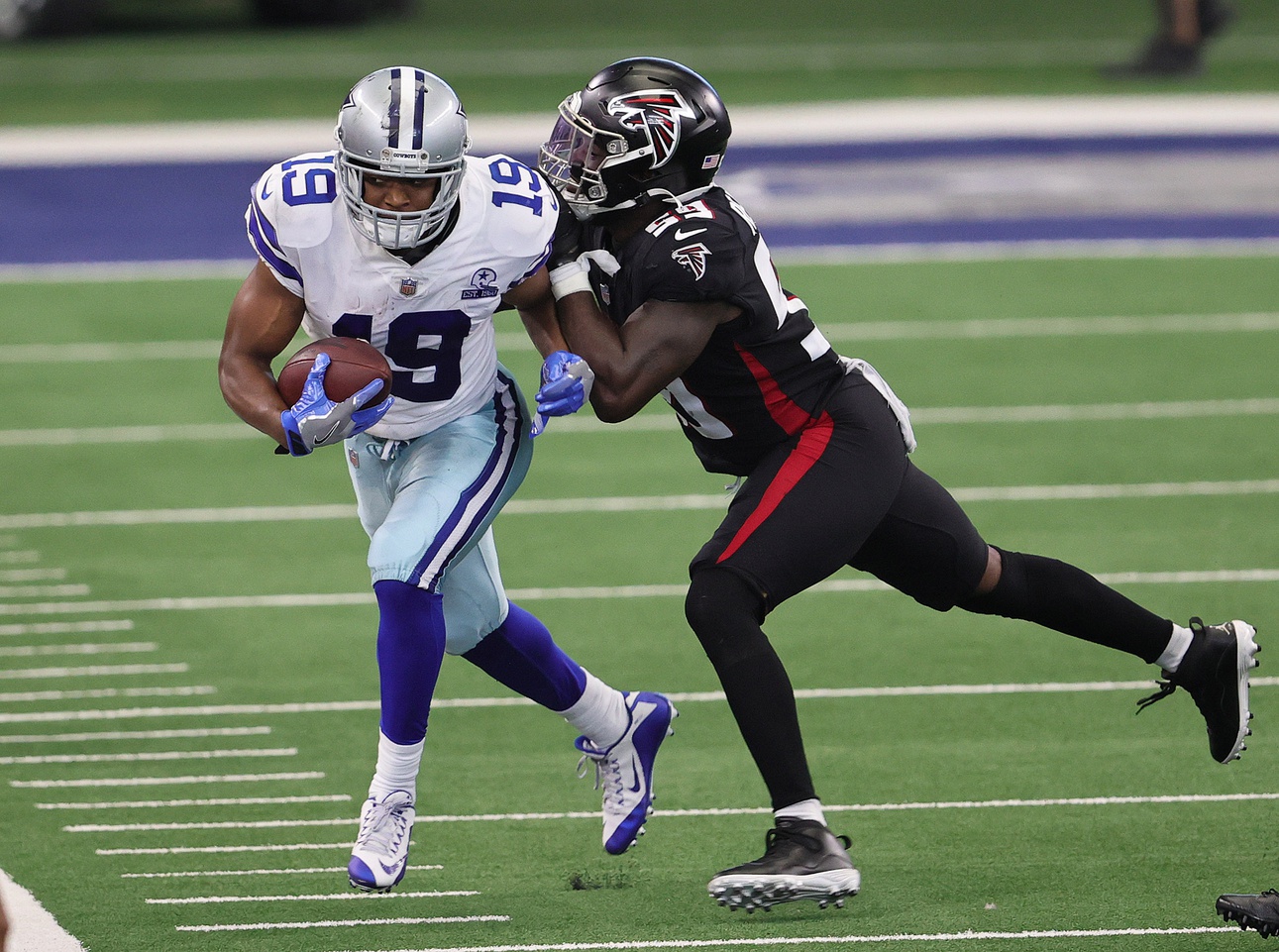 I was convinced that Michael Gallup and CeeDee Lamb would create a target squeeze in the Dallas offense that would make it nearly impossible for Cooper to be worth his ADP. But Gallup ended up being phased out of the offense during Prescott's five starts. 
Gallup's surge at the end of 2019 had me convinced that he could compete with Cooper, but I ignored the fact that he could easily be regulated to field-stretcher duties on the outside. Gallup has yet to play any type of role in the slot at the NFL level, so that in itself would make it more difficult to command targets with Cooper and Lamb moving more freely around the formation.
D.J. Chark Jr. is a player who could see himself competing for targets in a similar vein. Like Gallup, Chark doesn't spend much time in the slot. There's no guarantee that he'll emerge as the alpha with so many new pieces in Jacksonville: quarterback, head coach and potentially more competition beyond emerging second-year WR Laviska Shenault Jr. The Jags are a prime candidate to retool and add another receiver through free agency or the NFL Draft. 
Even amid poor quarterback play, Chark barely led the team with a 20% target share. 
I think I hit the nail on the head when it came to being lower than consensus on DeVante Parker. My main arguments against him were the return of Preston Williams and swapping gunslinger Ryan Fitzpatrick for Tua Tagovailoa.
Through the first nine weeks of the 2020 season — before Williams was hurt — Parker averaged 12.1 fantasy points, which ranked 41st in the league. Williams led the team in red-zone touchdowns (three) while Parker had just three red-zone targets. 
During Parker's insane run at the tail-end of 2019, he ranked second in the NFL in red-zone target rate (35.7%). With increased competition, Parker did not emerge as the clear red-zone guy.
His numbers also fell off dramatically when the rookie took over. In Tua's starts, Parker averaged just 9.9 fantasy points per game — a steep decline from his numbers with Fitzmagic (14.2).
The Dolphins' big-bodied receiver thrives with Fitzpatrick because he isn't afraid to throw the ball into tight windows. Per PFF's 2021 QB Annual, 24% of Fitzpatrick's throws were into tight windows — the highest rate in the league. 
Parker's 2020 campaign is a reminder that QB changes can create serious ripple effects. We have to discount production that occurs during a teammate's absence. 
It's hard to declare any losers at the moment with teams still forming their rosters for next year, but someone to pay attention to is wide receiver Brandon Aiyuk. I think Aiyuk is the superior receiver to Deebo Samuel, but we can't ignore the fact that Aiyuk caused plenty more damage with his counterpart sidelined and vice-versa. 
In the four full games they played together, their targets were practically dead even. Their fantasy production was also extremely close with Aiyuk (13.7 points per game) slightly edging out Samuel (12.0). 
In Aiyuk's final five games without Deebo, he averaged 18.2 fantasy points per game while commanding an absurd 30% target share. Samuel only played in one game without Aiyuk last season (Week 12 versus the Los Angeles Rams) and he went absolutely off.
The YAC-monster totaled 133 receiving yards and 136 yards after the catch on 11 receptions. 
What complicates things even further with the 49ers offense is the fact that George Kittle also missed a ton of games last season, so his return is also going to shake up the target distribution.
A.J. Green being drafted as a top-30 receiver seems only possible in a parallel universe, but that's exactly what happened in drafts last summer. Fantasy gamers were tied to a half-season of production all the way back in 2018 and felt there was some upside with Green — even at his older age.
That turned out to be false, with Green functioning as one of the league's most inefficient receivers. He ranked outside the top-100 players in yards per route run  (1.02). 
The NFL is a young man's game. We can't be chasing receivers who are older and coming off multiple injury-plagued seasons. Glancing at the top fantasy receivers from last season, Marvin Jones Jr. (WR18), Adam Thielen (WR10) and Cole Beasley (WR27) were the only WRs over age 30 to finish inside the top 40. 
When the range is expanded to factor in points per game, Julio Jones (WR14) and Antonio Brown (WR23) also made the cut. 
In the cases of Jones and Thielen, both are being viewed as top-18 options at the position despite being 30-plus years old and likely functioning as No. 2 receiving options in their respective passing attacks.
If the Atlanta Falcons or Minnesota Vikings invest any type of significant draft capital or dollars in free agency to a wide receiver — a la Tee Higgins to the Cincinnati Bengals — that could indicate that the end is inching closer for these two older wideouts.