Inspired by some recent fantasy football activity on my own, today I'm highlighting some of the best best ball values in current drafts.
Recently, I participated in an expert league Best Ball draft, dubbed the "MFL10 of Death." When the draft concluded I was told I made some "massive reaches." Unlike recent seasons, I haven't participated in too many BestBall10s (sometimes I reach 100) and so wasn't too familiar with their ADP.
Still, I felt strongly about many of these picks, even if I did reach multiple rounds by ADP. So after spending more time looking at the ADP, here are some of the top value as I see them.
Fournette might not be as good as initially advertised, but that's fine – efficiency is far less important for fantasy running backs than raw volume. As I outlined earlier this offseason, Fournette was much better for fantasy last year than his per-game numbers imply (which helps to explain his lowly ADP), has minimal competition, and is a strong bet to again rank top-three in touches per game.
Williams has legitimate top-five (and league-winning) potential if he's going to be used as Kansas City's bell cow this year. All evidence since the release of that article seems to indicate that this will indeed be the case.
Last year, including the postseason, Edelman averaged 18.3 fantasy points per game after returning from suspension (would have ranked 10th-best), while also reaching at least 16.0 fantasy points in 80% of these games. So long as he stays healthy, that makes him seem like a good bet to beat ADP, and especially following the losses of Rob Gronkowski, Chris Hogan, and (probably) Josh Gordon. That level of consistency is also important in best ball, though maybe less so than in redraft leagues, allowing you to lock up a consistent starting wide receiver while drafting receivers with more week-to-week upside later in the draft.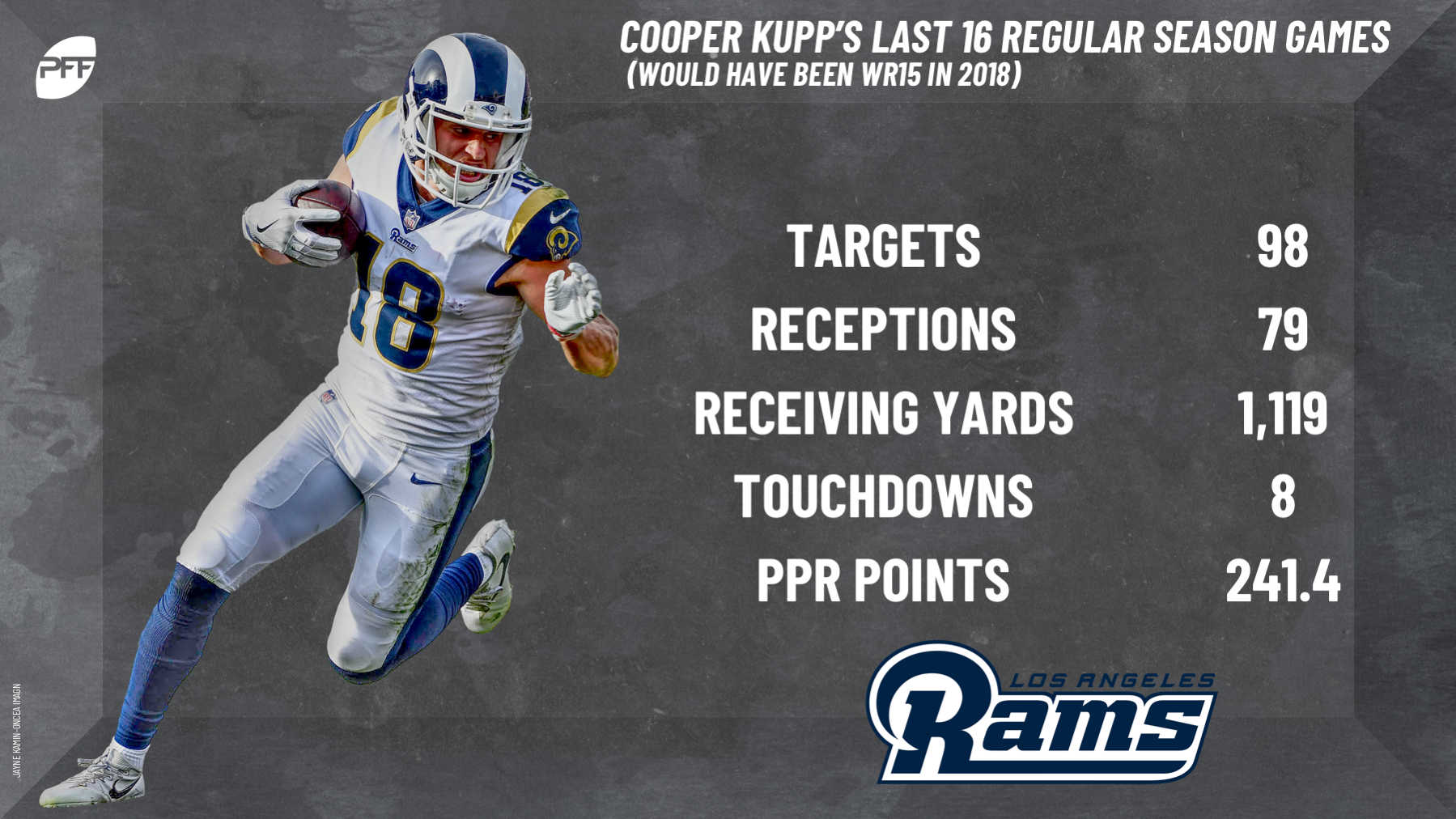 Kupp averaged 15.4 fantasy points per game across his final seven games in 2017, which would have ranked 10th-best over the full season. Last season, Kupp averaged 16.6 fantasy points per game, which ranked 14th among wide receivers. If we exclude games he left early due to injury, that number jumps to 20.6, which would have ranked fifth-best last year. Any way you look at it, Kupp seems like a terrific value at ADP (WR19).
Jeffery ranked 24th in fantasy points per game in 2017 (12.2) and 22nd in 2018 (14.3), while dealing with a shoulder injury for the majority of this stretch, and while seeing better volume with Carson Wentz under center than Nick Foles. In contrast to his current ADP, he's a safe value.
Tate has long been one of the league's most efficient, underrated, and dependable wide receivers. Now, on the Odell Beckham-less Giants, with $23 million guaranteed (10th-most), he's a strong bet to lead the team in targets. He's one of the top values at the position.
This should come as no surprise to anyone who has ready any of my recent love tomes to Coutee (here or here), but, yes, Coutee is one of my top targets in 2019 drafts.
If not for Patrick Mahomes, Ryan very well might be going three rounds higher by ADP. He not only finished second at the position in fantasy points last year, but he also scored 355.0 fantasy points, which ranks top-15 all-time. He's also been one of the league's most accurate quarterbacks over the past five seasons.
Since entering the league, Newton has ranked eighth (2018), fifth, 13th, first, seventh, fifth, fifth, and third in fantasy points per game. Priced just below his floor, with an ADP of QB9, he's an easy value.
One of these two running backs will be Tampa Bay's starter in 2019. Whether that running back will be the team's bell cow, or if they'll be used in a committee, both are worth gambling on at current ADP.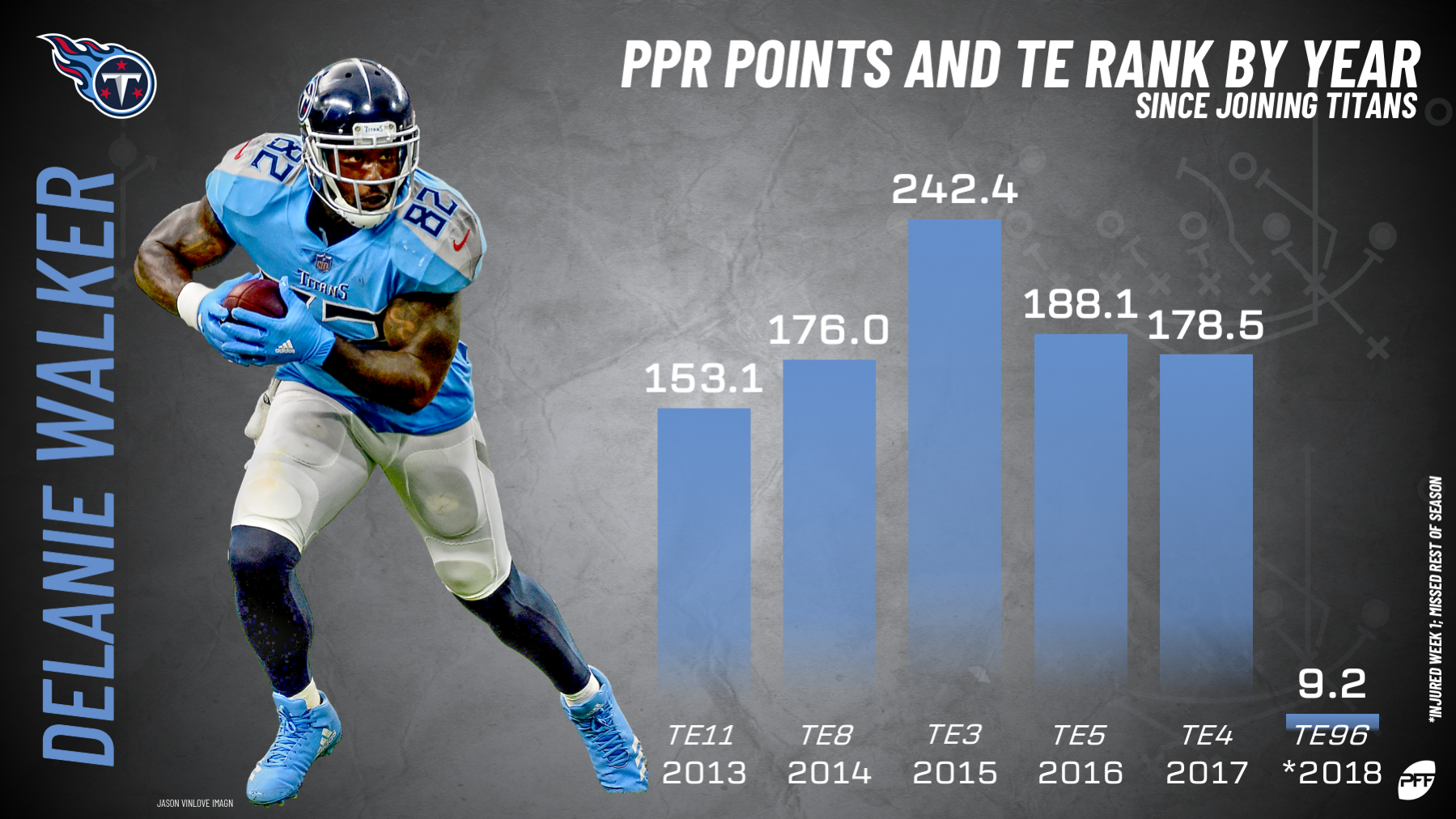 Last year, Walker played in just one game before dislocating his ankle and spending the rest of the season on IR. Across the previous four seasons, Walker finished sixth, sixth, third, and seventh among tight ends in fantasy points per game. He also led Tennessee's receivers in expected fantasy points per game in each of those seasons — and that sort of volume is likely to return in 2019, with Walker's former tight ends coach (Arthur Smith) now calling the plays. Clearly, Walker is a glaring injury discount, without much injury risk.
Allison very well could be a wasted pick, or he might be Green Bay's No. 2 receiver this season with Randall Cobb now in Dallas, which has typically returned good value for fantasy. Since Aaron Rodgers was named the starter in 2008, Green Bay's WR2 has yielded two WR1 seasons, four WR2 seasons, two WR3 seasons, and two WR4 seasons for fantasy. He's currently being drafted as a WR5 for fantasy. Across Allison's only four full games last season, he averaged 7.3 targets per game and 15.0 fantasy points per game.
Williams has long been one of the league's most efficient fantasy wide receivers on a per-target basis, though target volume has been far more suspect. He should see better volume this year, as Oakland's No. 2 receiver, and though he'll probably continue to be boom-or-bust for fantasy on a week-to-week-basis that certainly hurts you less in best ball leagues.
Eric Ebron is probably Indianapolis' TE1 next season, and there might not be enough fantasy points to go around after him, but at Doyle's ADP, it's certainly worth betting on that not being the case. Or maybe, ADP is just dead-wrong on who the TE1 will be. Last season, Ebron was outsnapped (331 to 164) and out-targeted (32 to 22) by Doyle in games both were active. He averaged a respectable 10.4 fantasy points per game last season, despite playing hurt in the majority of these games.
Prescott has finished 10th, 10th, and sixth in fantasy points scored across his first three seasons in the NFL. From Week 10 (Amari Cooper's first game with Dallas) until the end of the regular season, Prescott ranked third at the position in total fantasy points. Coming off a new career high in rushing attempts per game (4.7), and with a new offensive coordinator calling the plays, he might be the best value at the position.
Greg Olsen, TE, Carolina Panthers (ADP: No. 163, TE23)
Like Walker, Olsen is another injury discount worth gambling on. Over the past two seasons Olsen has spent 19 games either inactive or in the injury report, but prior to that, he posted three consecutive 1,000-yard seasons and five consecutive top-seven fantasy finishes.
Brown's ADP isn't just bad, it's insulting. His skillset was tailor-made for best ball leagues, and he's the safest bet to lead the team in targets this year. As I've highlighted here, here, and here, he's also a really special talent.
Darren Waller, TE, Oakland Raiders (ADP: No. 264, TE36)
Waller is reportedly, one of the NFL's "best-kept secrets," and will be given "the chance of the lifetime" as Oakland's TE1 this year. Last season, in Oakland, Jared Cook ranked fifth in total fantasy points. Waller is a longshot to match him but is still a strong value at ADP.
Josh Gordon, WR, New England Patriots (ADP: No. 242 , WR86)
In February, Ian Rapoport reported that "there's a chance" Gordon gets reinstated in time for training camp. "So, you're telling me there's a chance?" Last year, Gordon averaged 11.8 fantasy points per game with New England (would have ranked 29th). With even more upside than that, he's certainly worth the risk at the end of your draft.