Coming out of the 2018 NFL Draft, Keke Coutee was one of my favorite fantasy football sleepers. He ran a 4.43-second 40-yard-dash at the combine and was dominant by a number of our best metrics.
Among 103 receivers to see at least 75 targets in 2017, Coutee ranked first in yards after the catch per reception (9.0), third in WR rating (139.7), and sixth in yards per target (11.7). That yards-per-target ranking looks all the more impressive when considering he ranked 19th-lowest (of 103 receivers) in average depth of target (8.5 yards). By depth-adjusted yards per target, he finished his collegiate career as the single most efficient Power-5 wide receiver we had ever recorded. He was excellent in 2016 as well, earning a grade of 88.1, which, up until last season, was the highest grade we've ever seen from a wide receiver before the age of 20.
Coutee was only selected in the fourth round in the 2018 NFL Draft, but it seemed Houston had lofty plans for their Day 3 selection. In his NFL debut, he caught 11 passes, or the second-most by any player all-time.
Coutee dealt with a hamstring injury that plagued him throughout last season, never going more than two weeks without missing a game or earning a "questionable" tag because of it. He ended the season 39th in fantasy points per game (10.5) which I suppose partially explains his current ADP of WR49 in redraft leagues. By dynasty ADP he actually ranks even lower (which is quite bizarre for a 22-year-old player) at WR52.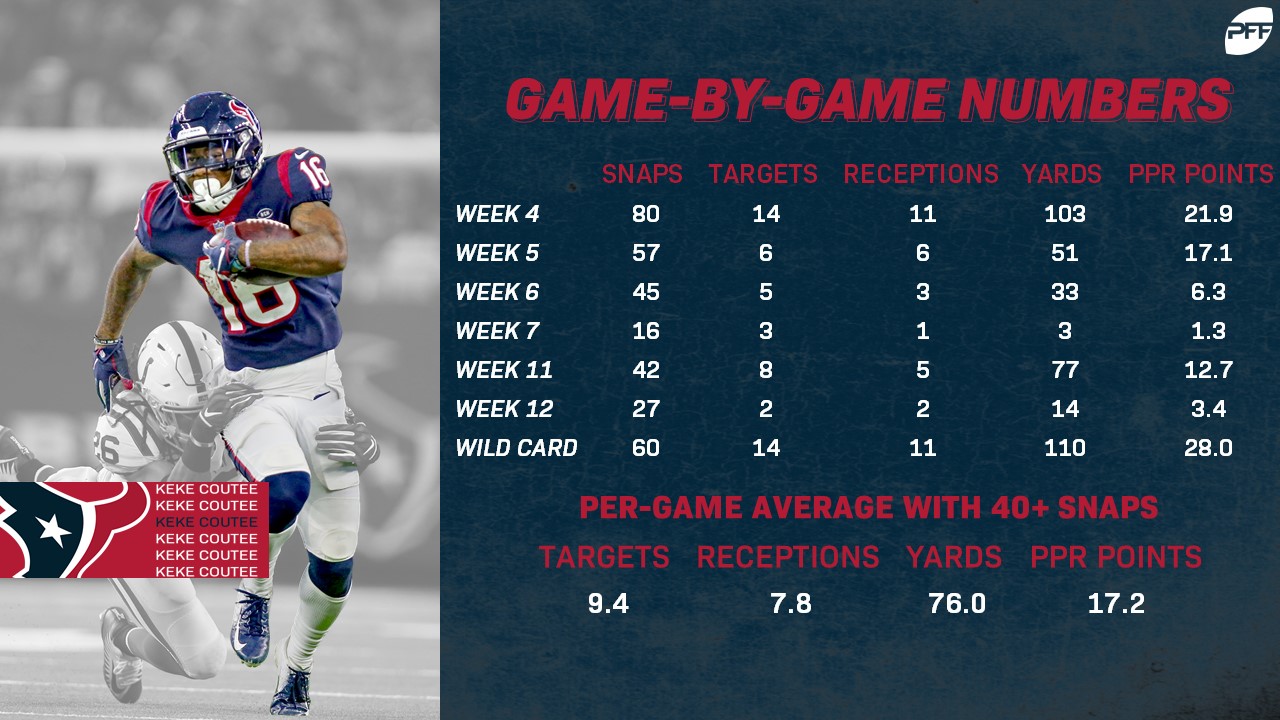 However, I'd argue that's a faulty stat and Coutee deserves to be selected much higher in redraft and dynasty leagues. Including the postseason, Coutee played in only five full games (games in which he played on at least 45% of the team's snaps). Across those games, he averaged 9.4 targets per game and 17.2 fantasy points per game. Over this span, Deandre Hopkins (five games) averaged 9.4 targets per game and Will Fuller (three games) averaged 3.7.
For perspective, 9.4 targets per game would have ranked seventh and 17.2 fantasy points per game would have ranked 13th among all wide receivers last year. And these numbers become all the more impressive when considering he played the entire season hurt and missed much of training camp (typically a death knell for a young receiver's prospects in his rookie season) due to that aforementioned hamstring injury.
It's clear Coutee is a massive value in both redraft and dynasty leagues, but how much higher should he go? In my own rankings, I have Coutee listed as the 38th wide receiver off the board. Although he significantly out-targeted Fuller when both were on the field, Coutee is still far from a lock to out-target him in 2019, and we know Hopkins will again come close to leading the league in target market share. Still, Coutee's athleticism and college and rookie year production paint the picture of a breakout waiting to happen.